Pages 283-290
Thoroton's History of Nottinghamshire: Volume 2, Republished With Large Additions By John Throsby. Originally published by J Throsby, Nottingham, 1790.
This free content was digitised by double rekeying. All rights reserved.
PAPPLEWICK and NEWSTEDE.
Besides what lay to Lindeby, the Conquerours great Survey mentions in Pappleuvic, some of the Land of the Taynes, which Alvric, and Alfa, and Elric had, and paid to the Dane-geld for two car. three bov. but they were then waste. There was pasture wood one leu. long, and half one broad. In the Confessours time it was valued at 20s.
(fn. 1) William Peverell gave what he had here to the Monastery of Lenton at the first foundation. King Henry the second gave to Lenton Priory fourscore acres of essarts of Curtenhale in Northanteser, and the mill of Blaccliff in exchange for the Land of Papilwich, which he gave to the Canons of Newstede in Schirwode, which he there founded.
(fn. 2) King Henry the second gave the Town of Papulwick, with the Church of the same, and the mill which the Canons of Newstede made, with the meadow of Beskewod along the water, with all the appurtenances, to God and St. Mary, together with the New Stede or Place, which he founded in Shirewod, for Canons (fn. 3) regular of the Order of St. Austine, to whom he gave also long and large wastes lying about the said Monastery within the Forest; which wastes in ancient Charters are called Kygell and Ravenshede, and are described by there bounds, and the particulars within them. He granted the Monks also view of Frank-pledge, and many other priviledges and freedoms, and a Park of ten acres according to the measure of the foot of the Forest, by the site of the said Monastery, to be inclosed as they should please, out of the view of the Verderers, Regarders, Foresters, and other Officers of the Forest, and a field of arable Land called Abby Field, lying between the Town of Papilwyke and the said Monastery, to hold inclosed with hedge and ditch according to the Assise of the Forest, upon the head of which the Canons made a Grange nigh the Town of Papilwyke, and ever kept that field several, and in their own tillage, and out of the covert of the Forest as their proper demesne. The said King Henry, son of the Empress, gave them also at the first foundation (fn. 4) Cs. Land in Shepewyke and Walkringham, to which belonged something in Misterton and Walcreth, and confirmed what Robert de Cauz, and John Cooke gave in Notingham.
King John, and the following Kings, confirmed and inlarged their territories and priviledges; and they had several other good benefactors, as in diverse places in this County will be noted, amongst whom Robert Lord Lexington was one of the most considerable.
The value of this Monastery in the first fruits Office is 1671. 16s. IId. ob.
(fn. 5) King Henry the eighth, by his Letters Patents dated May 28, 32 H. 8, granted this house, with the Mannor of Papilwick, and Rectory of the same, and all the closes by their several names about the Priory, and Commons in Raucushede and Kygell in the Forest, and all in Newstede, Paplewyk, and Lindby, &c. to Sir John Byron, Knight and his heirs. This Priory was surrendred 1 July 1539, 31 H. 8, (fn. 6) viz. the year before. It hath been almost ever since, and still is the principal Seat of that noble Family, of which therefore it cannot be improper to give some brief account in this place.
The first was Raph de Burun, whom the Book of Doomsday, Sect. xi, made in the latter part of the reign of King William the Conquerour, shows to have had in Derbyscr, the Mannors of Westune, Horselei, Denebi, Halum, and Herdebi; in the Park of Horseley, there was a Castle (some of the ruines whereof are yet visible) called Horestan Castle, which was the chief mansion of his next successours; in this County the same record Snodenghamscire, Sect. xv, mentions him to be Lord of the Mannor of Oscington, to which part of Almenton belonged, of one in Calum, now Kelum, one in Hockenale, one in Cortingestoche, one in Rampeston, one in Lambecote, and two in Codegrave, in which place it appears, his next successour and (as I suppose) his son, was Hugh de Burun, father of Hugh called Meschines, and Roger; Hugh became a Monk at Lenton, and Roger enjoyed the Barony, of which he gave an account to King Henry the second, concerning his Knights Fees, as in the Red Book in the Exchequer is manifest. This Roger married Nicola, the daughter of (fn. 7) Roelend de Verdun, who was by the Earl of Chester, about (fn. 8) 1 Joh. after his death married to Anketin de Brikesard, as in Cotgrave is likewise said, but I find not what children he left. Robert de Burun, somewhere, 2 Joh. stiled Lord of Horestan Castle, who was father of Henry and Peter, there also named, I suppose was his son: and so doth Samuel Roper, Esquire, in the great pedigree of this family, now in the possession of the Right Honourable Richard Lord Byron, done with great diligence and cost, upon a very large roll of velum, with transcripts of Evidences, wherein he lets down this Robert de Biron to marry Cecilia, the daughter and heir of — de Clayton in the County of Lancaster, by whom he had Sir Richard, the father of Sir James Byron of Cadeney in Lincolneshire, who married Alice, the relict of John Comyn of Ulseby, daughter of William Lord Ros of Hamlak, and Sir Robert Byron Lord of Clayton, in right of his mother, who, by Maud his wife, had William and Sir John de Biron, who, about 24 E. 1, was Governour [Custos] of Yorke, and had been some: five or six years before of Dover, he married Joane, the daughter of Baldwin Thies, Knight, [Teutonici] the widow of Sir Robert Holland, Knight, by whom he had Sir John de Biron, Knight, Lord of Clayton who married Alice the cousin and heir of Robert Banastre of Hyndeley in the said County of Lancaster, who was after his death, about 12 E. 3, married again to Sir John de Strykland, Knight, by her he had Sir Richard de Byron of Cadenay, Knight, Lord of Clayton, whole first wife was Agnes—his second Elizabeth, who after his death, 21 E. 3, was married to John, son of Thomas Colepeper, his son and heir was Sir James Biron, Knt. who by Elizabeth his wife, daughter of Sir William Bernak, Knight, had Sir John Byron, Knight, who died without issue, and Sir Richard Byron Lord of Clayton; who to his second wife had Joane, daughter of William de Colwick, and heir of her brother Thomas, which brought this family to have a considerable interest in this County again; by her he left a son and heir called John le Byron of Clayton, Knight, who, by Margery his wife, had Sir Nicolas Byron of Clayton, Knight, who married Alice, the daughter of Sir John Boteler of Beausey in that County of Lancaster, Knight, by whom he had Sir John Byron, who married Margery, the daughter of Sir Robert Fowleshurst, Knight, but died without issue 1488, having been made by King Henry the seventh, so soon as he began his reign almost, viz. Sept. 22, 1 H. 7, (fn. 9) Knight, and Constable of NottCastle, and Porter of the same, Steward and Warden of the Forest of Shirewood, and of the Parks and Woods of Billay, Birkeland, Rumwood, Duseland, and Fulwode, with 40l. &c. for the said offices; and Sir Nicolas Byron of Colwyck and Clayton his second son, who married Jane, the daughter of John Bussy of Hougham in Lincolnshire, afterwards married to Sir Gervas Clifton, by whom he had Sir John Byron Steward of Manchester and Rachdale, and Lieutenant of the Forest of Shirwood (this was called little Sir John with the great Beard,) who had this Priory granted, as before is said: his first wife was Isabell, the daughter of — Lemington, by whom he had no issue; his second was Elizabeth, the daughter of William Constantine, and the relict of Roger Halgh, on whom he begot (soon enough) Sir John Byron of Newstede, who married Alice, the daughter of Sir Nicolas Strelley of Strelley, and by her had Sir John Byron of Newstede, the husband of Margaret, the daughter of William Fitz-Williams, by whom he had Sir John Byron of Newstede, who had to wife Anne, the daughter of Sir Richard Molyneux of Sefton in the County of Lancaster, Knight and Baronet, who brought him many children, his eldest was Sir John Byron, Knight, of the Bath, created by King Charles the first Baron of Rachdale: he married Cecily, daughter of Thomas West Lord de la Ware; and after her, as I remember, Elinor Needham the Lord Kilmurreys daughter, but died without issue in France, in the year 1652, after he had eminently served the King, as his uncle Sir Nicolas Byron, Baronet, a twin with his father, and his brothers Sir Richard, William, Sir Thomas, Sir Robert, Gilbert, and I think Philip did: he was esteemed one of the best accomplished gentlemen of his time. His brother Sir Richard, now Lord Byron, succeeds in this place, who married to his first wife Elizabeth, the daughter of Geo. Rosell of Radcliff, Esquire, the relict of Nicolas Strelley, Esquire; and to his second Elizabeth, the daughter of Sir George Booth of Dunham in Cheshire, Baronet, by whom he hath no issue; by his first he hath William Byron, and Katherin: William married Elizabeth, the daughter of John Viscount Chaworth, by whom he hath three or four daughters, and a son named William.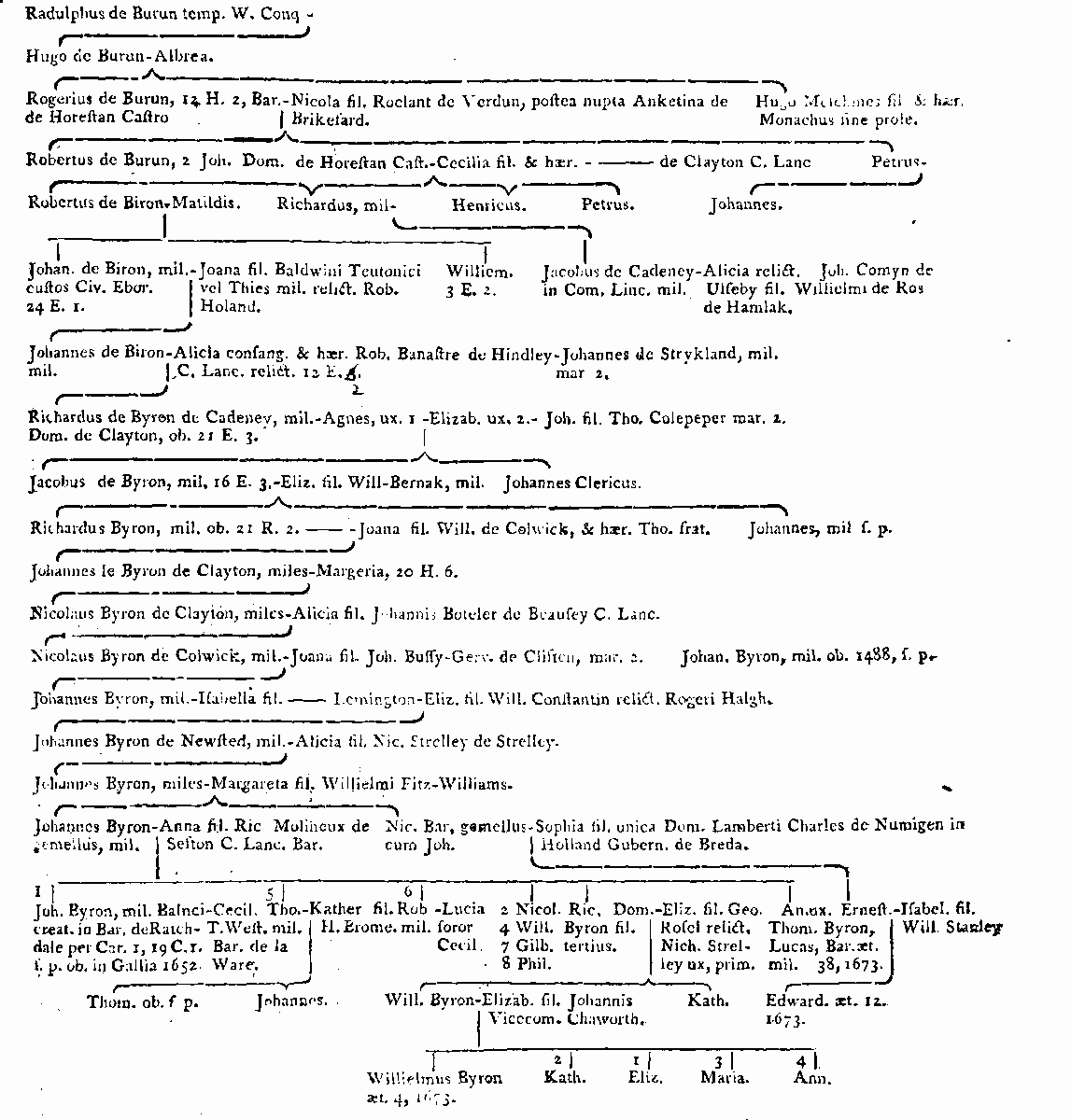 In the bow Window of the Hall at Newstede there is yet W. S. P. William Savage, Prior, and the Arms of Newstede Priory, viz. England, with a Chief Azure, in the middle whereof is the Virgin Mary, with the Babe Or, and Quarterly France and England. And Azure a Pall Arg. impaling Arg. a pale deeply indented (or Lozengy) Sable, Savage Bishop of —.
In the Pantry, Grey of Codnors, and Crumwell quartering Tateshall. In Henry the sevenths lodgings the Pictures of King Henry the seventh, and Elizabeth his Queen, and Prince Arthur. In the next Pane of the same Window, Arg. ten Torteauxes, and a file of three Labels Azure — Babington, Militis. Barry of six Arg. and Az. Henrici Grey. Sable, a Bend between six Crosse Croslets Arg. Arme Johannis Stanhope, Armig.
These Canons at several Altars were to pray for the souls of King Henry the second, and all the Kings their sounders; of Robert Lexington, who gave the Towns of Routhorn and Scarcliff (in Derbishire) and Starthorp, to supply four Canons; of William Cossall, who gave his Mannor of Cossall and Bullwell Wood, and divers Lands and Tenements in Nott and Egmanton; (fn. 10) of John Longvylers, who gave Tuxford Church; of Robert and Henry Edenstow, brothers, who gave North Muskam Mannor, excepting the stipend of the Chaplains at Edenstow; of Elias Breton, who gave diverse Tenements in Huknall; of Dionysia Eynell, who gave Tenements in Tershill; of Robert Ripers, Alice Palmar, Hugh Ropley, and of Thomas Sutton.
[Throsby] Papplewich and Newstede.
These places are not distinctly related by Thoroton. In what may by denominated the former is the domain of the honourable Frederick Montague. The village here is pleasantly situated, near the delightful pleasure grounds of that gentleman. Here are extensive cotton-mills which employ many hands.
In this lordship is a hollow rock called Robin Hood's Stable, handed down, as such' by tradition; it is a curious Cave on the side of a little hill, on a farm, of Mr. Montague's, near the Lodge at Papplewick-Hall. Hayman Rook, Esq. who favoured me with the drawings of the entrance and internal appearances of this Cave, from which the views below are taken, thinks there is a great probability of its being used by that celebrated depredator.
No. 1, is a perspective view of the entrance before the present door was put up and the wall erected.
No. 2, is a view of the inside. This Cave evidently appears to have been cut out of the solid rock, which seems to have been excavated with judgment; the little hollows (a) (b) (c), are well contrived for holding fodder; at (a) two horses may feed together; at (b) and (c) one each.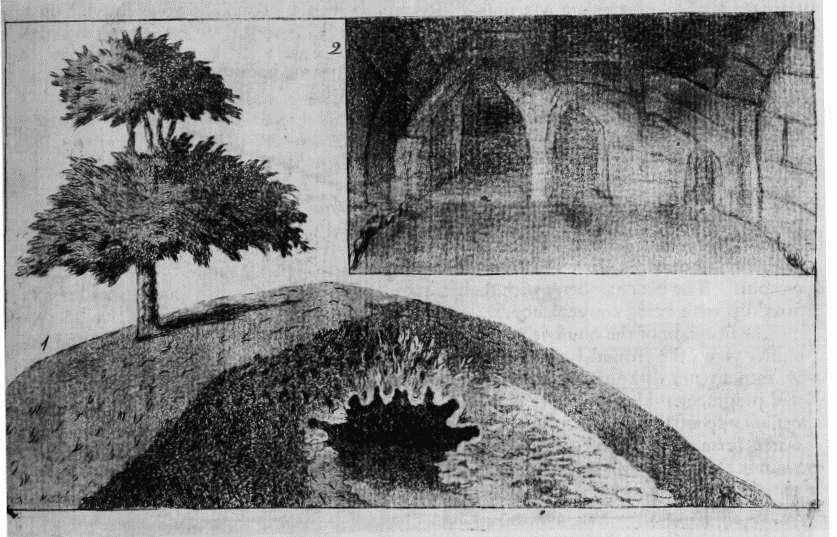 The Church or Chapel, which is dedicated to St. James, was rebuilding when I visited this place 1795, and is fitting up in a very elegant Gothic style, by Mr. Montague.— The Saxon sculpture in the preceding plate was found in pulling down the church. No. 1, and 2, are figures cut in stone, No. 3, in wood. The floor-stone in the same plate figure 6, is six feet three inches by six feet seven inches, and is in the nave of the church. By the figures represented thereon it is very probable that the person buried under it was an officer of Shirewood forest.
Certified value 17l. 8s. 6d. in Bacon. Hon. Frederick Montague, patron. Robert Stanley, Cur. Pri Newstede Propr.
Paplewick-Hall,
the seat of the honourable Frederick Montague, may be said to be a place of his own creating; it is altogether compleatly beautiful.
The house was built by the present Mr. Montague, and finished in the year 1787.— In the construction of this elegant stone edifice, taste and conveniency have been equally considered. The entrance at the east front, is into a Vestibule or Hall, 26 feet 10 inches by 17 feet 6 inches, in which there is a winding staircase. Facing the door is a drawingroom 36 feet by 24. On the right hand is a library very neatly finished and filled with a well chosen collection of books in all language; over the chimney is a fine bust, in statuary marble, of the late Marquis of Rockingham, under which are engraved on a brass tablet, the following elegant and characteristick lines, said to be written by Mr. Montague.
Charles watson weatworth, Marquis of Rockingham;
Gentle, intrepid, generous, mild, and just, These heartfelt titles grace his honour'd bust. No fields of blood, by laurels ill repaid, No plunder'd Provinces disturb his shade.
But white-rob'd peace compos'd his closing-eyes, And join'd with soft humanity his sighs. They moura their pathon gone, their friend no more And England's tears his short liv'd power deplore.
Joining to the library is a little study. On the left hand side of the hall is the diningparlour 25 feet by 22, in which there are several family pictures. The first Earl of Sandwich, the first Earl of Halifax, the second Earl of Manchester, Sir Edward Montague, Sir James Montague, and Charles Montague, Esq. Near the library is a breakfast parlour. The bedchambers, with their adjoining dressing-room, are spacious and neatly fitted up with every conveniency.
The situation of the house is well chosen, from whence there is a most pleasing and extensive view; the ground, formed by nature, into swells and declivities which slope smoothly into a plain without any abrupt or broken parts, has been laid out with infinate taste and judgment. Here a variety of beautiful scenes open to the view, which, with that necessary appendage a strong fore ground, and the fortunate combination of wood and water, form the most picturesque scenery imaginable. A walk, of about two miles, surrounds these improvement, and a ride of four is carried through well cultivated fields, enriched with a variety of spreading trees, and takes in the whole of what may truely be called a Farm Orne.
Newstede Abbey
The seat of the Right Honourable William Byron, Lord Byron of Rochdale, in the county palatine of Lancaster. (fn. 11)
The state of things about this delightful dwelling, is unlike what it has been. After its religious occupiers had been forced from it by the reformation it was converted into a splendid residence, by the ancestors of the present noble possessor. At the time when the annexed view was taken, about the middle of the present century, all about it was truly grand and beautiful, retaining, as it now does, a part of its original form.
How sweetly in front looked the transparent water, and the light religious remains, (equalled by no architecture, scarcely in the kingdom, except that of York Cathedral) backed by the most splendid field beauties, diversified by the swells of the earth on which they were rooted. Now alas! the former has retired from its extensive boundaries and rests within a narrow space, leaving only the traces of what it has been, rushy and miry. The building, in a great degree, has resisted the innovation of time; but the woods which sheltered it are almost no more.
The Park which once was richly ornamented with 2700 head of deer, and numberless fine spreading oaks, is now divided and subdivided into farms. Agriculture, perhaps more beneficial, has given in their stead, coarse fences and ploughed lands: of the former not one nimble head is to be seen, of the latter their stumps, even with the surface of the earth, remain an impediment to the traveller.
I observed, at some distance from this dwelling, a kind of conic ruin, which had nothing of attraction but its bulkiness. On enquiry, I found it was of man's labour, and once stood on a little island in the water, and was a costly erection to the present possessor. It is now on dry land.
Of this once splendid abode, we may say, what may be said of many others in this kingdom, and indeed of the whole of man's architectural labours, that from the moment of their elevation they make slow but sure approaches towards dessolution; unlike the animal creation, they have no progressive, infantine, matured and declining years.
Of this place, as a religious house, Thoroton has been pretty accurate and diffuse.— It being erected upon a piece of waste land in the forest, it acquired the name of New Stede or Place.—A little reflection on the past and on the present.
Here calm religion, I had almost said in times more congenial to the views of its heavenly author, sweetened the hours of those retired from the world and its vain allurements. Here, all that man in a state of penitence and humility, could wish for, both for his spiritual and bodily comforts, were administered. Here the founder of this holy sanctuary, whose views, no doubt were heavenly, poured forth his ejaculations to the Throne of Grace, for mercy and its prosperity. And here, and in such like institutions, not the slightest things to be considered in this retrospect, the poor, the sick, the maim'd, the blind, the fatherless, the widow, and the weary traveller, found at all times a comfortable asylum.—Dare we ask in these revolutionary times, founded, I fear, upon a disbelief of christianity, and stiled the age of reason; has man been highly benefitted by the reformation which gave, in many instances, to a single individual, those revenues which supported the unnumbered of all descriptions of the human kind? Nothing but the affected piety of a profligate prince, surrounded by sycophants, could, as it were, attempt to erase from memory, the names and godlike deeds of the founders of these noble institutions; monuments, till then, of all that was grand and noble, either in a religious or architectural view.
Let those amongst us, whose ancestors were favoured at that innovating period, remember that their possessions, some have said, are those of plunder; but using a milder phrase, it may be said, they are not the fruits of rectitude. Let them beware, particularly a noble Peer whose abundant riches flows almost wholly from religious foundations, and who may be thought by some, to favour the present political phrensy for reformation, or revolution; I say, let such remember, that in their attempt at power, they may destroy order, and themselves become the first sacrifices to their own ambition. What a reformation brought, a revolution may, with equal justice, take away; the rich at such awful periods, are invariably the first and not the least sufferers.