Pages 144-147
Thoroton's History of Nottinghamshire: Volume 3, Republished With Large Additions By John Throsby. Originally published by J Throsby, Nottingham, 1796.
This free content was digitised by double rekeying. All rights reserved.
KNAPTHORP. CHENAPETORPE.
Here was some in this township also soc to Laxington, viz. one bov. ad geld. waste, the land two bov. but the principal manor was of the fee of Walter de Ayncurt, which before the conquest Tori had, and answered the publick tax or geld for it, at three bov. ½. (fn. 1) The land being then returned sufficient for one plow, or one car. There Walter had in demesne one car. five vill. three bord. having one car ½, and two acres of meadow, pasture wood eight qu. long, two broad. This kept the old value 20s. Here was another parcel in Chenapetorpe, of the tayn land, which Alden (progenitor of the family of Crumwell) held of king William, which paid the tax for two bov. The land whereof was six bov. He had here 1 and 4 car. bord. having 1 bov. in the car. and 4 acres of meadow, pasture wood 2 qu. long and 1 broad. This also kept the old value, which it had in the time of Edward the Confessour, viz. 10s. 8d.
This manor of Deincurts fee continued to a branch of that noble family, whereof diverse had the name of Roger. The first I can fix any certain time to, was Roger de Ayncurt, 22 H. 2. (fn. 2) who then gave account of x marks of the amercements of the forest. (fn. 3) The next was Robert, whose son Roger is certified to have held of Oliver Deincurt in Knapthorpe, of the old feoffment, and Annora Deyncurt, (fn. 4) who in the former part of the reign of H. 3. paid for half a knights fee here, I suppose his wife; his son was also Roger, who by his wife Joane, the daughter of William de Thorpe, had John Deincourt, knt. who 4 E. 2 (fn. 5) had free-warren granted in Norton, Haseland Gildford in Darbyshire, & in Knapthorpe in Nottss. of which about 16 E. 2, (fn. 6) he left Roger Deyn court his heir then above thirty years old, but it seems he had another son named William, who was after lord Deyncourt, as in Granby may be noted.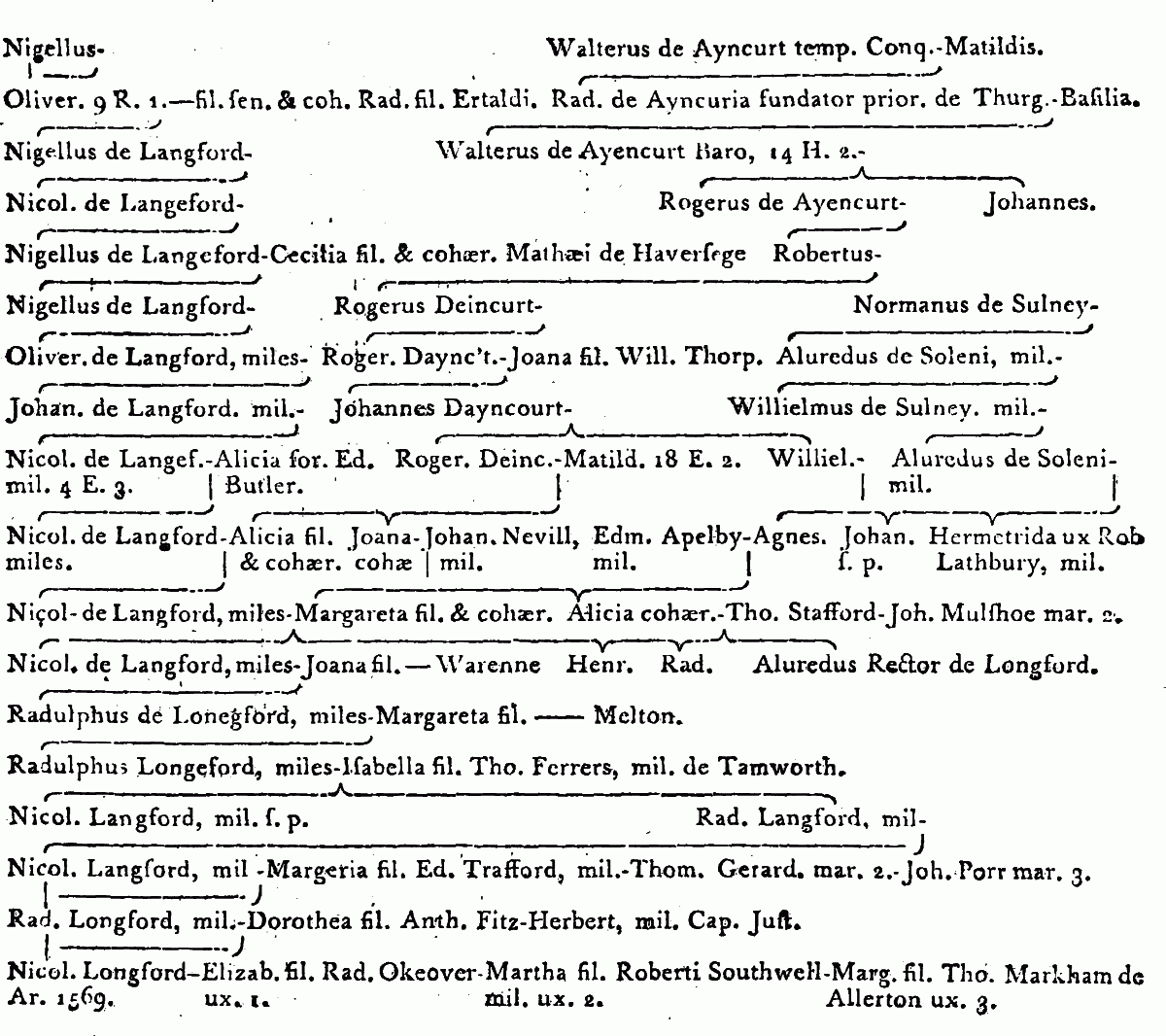 By a fine 18 E. 2. (fn. 7) between Roger Deyncourt, and Matilda his wife, quer. and Elena daughter of John Deyncourt, defore. the manor of Knapthorp, with the appurtenances, and fifty acres of land, and the third part of a mess. in Erleshogh, were settled on Roger, and Maud, and the heirs of their bodies; remainder to the right heirs of Roger, who claimed free-warren, and infangthef here, 3 E. 3. (fn. 8) This Roger had two daughters and heirs, Alice the wife of Nicolas, son of sir Nicolas de Langford in Darbyshire, who by her had Nicolas, and William, and Joane. his other daughter and heir, who was the wife of sir Robert Nevile lord of Scotton in Lincolneshire, who by her had sir Philip Nevile, who on Sara his wife begot a daughter and heir named Maud, married to sir John Bussy, knight.
(fn. 9) By a fine 6 R. 2. the moyety of the manor of Knapthorp was settled on John Bussy, and Maud his wife, and the heirs of their bodies, with remainder over to the right heirs of John. (fn. 10) This John was beheaded at Bristow, 1. H. 4.
John Bussey, esquire, son of John Bussey, knight, 28 H. 6. (fn. 11) ratified, &c. to Agnes Sutton, daughter of Hamon de Sutton, late wife of the said John Bussy, esq; John viscount Beaumont and others, his whole estate in the manor of Parkehall, and in lands there, and in North Wynseld, Pillesly, Stretton, Ashover, Bramton, Chesterfeld, Hasland, Braylessord, Tapton and Skeggeby, and in the lands in Knapthorpe, excepting the advowsons of the churches of North Wynseld and Marton.
There have been recoveries of this moyety of the manor of Knapthorp. Thomas Archer 11 H. 7. (fn. 12) claimed against John Bussy, knight, and Edward Bussy, the moyety of the manor of Knapthorpe, and one hundred acres of land, sixty of meadow, one hundred of pasture, sixty of wood, and 20s. rent in Knapthorp, and Barneby; and the same term, the same Thomas Archer claimed the same parcels against John Bussy. the younger, knight, and Edward Bussy; (fn. 13) and 16 H. 7. (fn. 14) Reginald Gayton, and Thomas Archer, offer'd themselves against Edmund Bussy, and Alice his wife, concerning the same parcels. Richard, William, and John Gresham, and Thomas Gresham, clark, in 22 H. 8. (fn. 15) claimed against John Bussy, esquire, the manors of Knapthorp, Balderton, Codington, and Barnebe, with the appurtenances, &c.
John Brende, and William Layton, 4 E. 6. (fn. 16) claimed against William Paget, knight of the garter, lord Paget of Beaudesert, and Richard Cowper, gent. the manors of Balderton and Knapthorp, &c. Thomas Forster, and William Parke, 3 and 4 Ph. and Mar. (fn. 17) claimed against Anthony Forster the manors of Balderton & Knapthorp, &c. with the appurtenances in those two places, and in Codington, Barneby, Farndon, Stoke, Elston, Syreston, Rolleston, and Holme, who called Christopher Alyn, knight.
William Mason, and Andrew Hatchett, 7 Eliz. (fn. 18) claimed against Robert Constable, and Christian his wife, the manor of Knapthorpe, &c. who called Gyles Forster, named in Balderton.
(fn. 19) The fore-named Nicolas de Longford, by Alice his said wife, the co-heir of Roger Deyncourt, had for his heir his son Nicolas de Langford, who married Margaret, one of the daughters and co-heirs of Edmund Apelby, knight, and Agnes his wife, one of the sisters and co-heirs of sir John Sulney, by whom he had sir Nicholas, Henry, and Raph Longford, and Alured parson of Langford.
This latter sir Nicolas married Joane, daughter of — Warren, and had Raph Langford, knight, the husband of Margaret, daughter of — Melton, and father of sir Raph Langford, who had to wife Isabell, daughter of sir Thomas Ferrers of Tamworth, and who had sir Nicolas without issue, and sir Raph Langford, whose son Nicolas Langford, the husband of Margaret, daughter of sir Edmund Trafford, died before him, leaving behind him a son, who was sir Raph Langford, and married to Dorothy, daughter of sir Anthony Fitz-Herbert, the chief justice. Margaret, this last Raphs mother, was afterwards married to Thomas Gerard, and sir John Porte. Nicolas Langford, his son, had three wives, Elizabeth daughter of Raph Okeover, Martha of sir Robert Southwell, and Margaret of Thomas Markham of Allerton.
This descent of the family of Langford was esteemed very correct, which made me insert it, howbeit I do not find that Anthony Fitz-Herbert was ever chief justice, and therefore I doubt there may happen some other mistakes.
(fn. 20) By an inquisition taken 15 June, 5 H. 8. after the death of sir Raph Langeford, knight, it appears that he by his deed dated 14 Jan. 2 H. 8. did enseoffe Anthony Fitz-Herbert sergeant at law, by covin and deceit between him the said sir Raph, and Galsr. bishop of Coventry and Lichfeild, to defraud the king of the custody of divers manors in Derby, Nott. and Lincolneshires, of which he otherwise had died seized, viz. in Derbss. the moyety of the manors of Kinwaldmersh and Hathersege (divided between this family and that of Gousil, as in Hoveringham is noted) the manors of Langford, Malmerton, and Bubinton, (which with several others came to this family by the elder daughter and co-heir of Raph, son of Ertald, and were parcel of of the purpart of Oliver, son of Nigellus ancestor of it, who 9 R. 1. (fn. 21) enrolled the division made between him and John Saltcheverel in the exchequer; the moyety of of the manors of Newton Sulney, Norton, North Wynseild, Pillesley, Barleburgh, Whitwell, Cressewell, Normanton, Pinkeston, Blakwell, Wingerworth, Dukmanton, Boythorp, Brampton, Calton, Edynsore, and lands in Hasland, and Assheover, likewise lands in Basford in this county, and Knapthorp, which Nicolas de Langeford, fenior, knight, gave to Raph Langford, gent, and the heirs of his body, remainder to himself the said Nic. and his heirs, after whose death the reversion of the said lands in Knapthorp descended to this sir Raph Langford, as son and heir of the said sir Nicolas the elder, which sir Raph died 1 Febr. then last past, and Raph Langford his grandchild son of his son Nicolas, was found his heir, and four years old.
This manor (at least Bussyes part) came to Sutton, the great merchant of the staple at Lincolne, in the time of H. 7.
Ambrose Sutton, the great waster of that house, sold the reversion of it, with the rest of the joynture of his mother, to William Thorold, esquire, of Marston in Lincolneshire, father of sir Anthony Thorold, and great grandfather of sir William Thorold, that now is of Marston.
Knapthorp was in our times sold by sir John Thorold, sir Anthonies younger son, to sir John Thorney, sir Francis Thorney's father, and is now the inheritance of John Thorney, esquire, son of Francis, son of sir Francis, as I take it.
Knapthorp.
See Page 143.