Pages 18-23
Thoroton's History of Nottinghamshire: Volume 3, Republished With Large Additions By John Throsby. Originally published by J Throsby, Nottingham, 1796.
This free content was digitised by double rekeying. All rights reserved.
BURTON JORZ. BERTUNE.
The conquerours great survey shows that there was in Bertune and Ludham, some land that was Sok to Gulnethorpe of the fee of Roger de Busli, viz. twelve bov. ad geld. The land one car. There four sochm. two vill. had one car. There were four acres of meadow; but besides this there is mention of a manor in Bertune, which was Sweynes before the conquest, who paid for one carucat, and a fourth part to the tax for it. The land was two car. There Goisfrid de Alselin, whose fee it afterwards was, had one sochm. of five acres of land, and five villains, one bordar, one servant, one maid, together having three car. There was a church and a priest, sixteen acres of meadow, pasture wood one qu. long, and one qu. broad. In the confessours time, and then at the taking the said survey, valued at one mark of silver.
The family of Jorz were ancient owners here, which gave the town the distinction of Burton Force, which it yet retains. Galfr. de Georz, 30 H 2. (fn. 1) gave account of xxs. that the deed or charter which he had of William de Georz concerning the land of Littlebury [Lughburgh] should be read in the kings court. Agnes, who had wife of Geoffrey de Georz, 13 Joh. (fn. 2) gave account of 16l. 13s. 2d. for the custody of the lands, &c. Galfr. de Jorz paid two marks for one knights fee in Birton, in the former part of the reign of Henry the third, afterwards Richard de Jorz was found to hold a knights fee of Oliver de Eyncourt, who held it of the king of the old feoffment.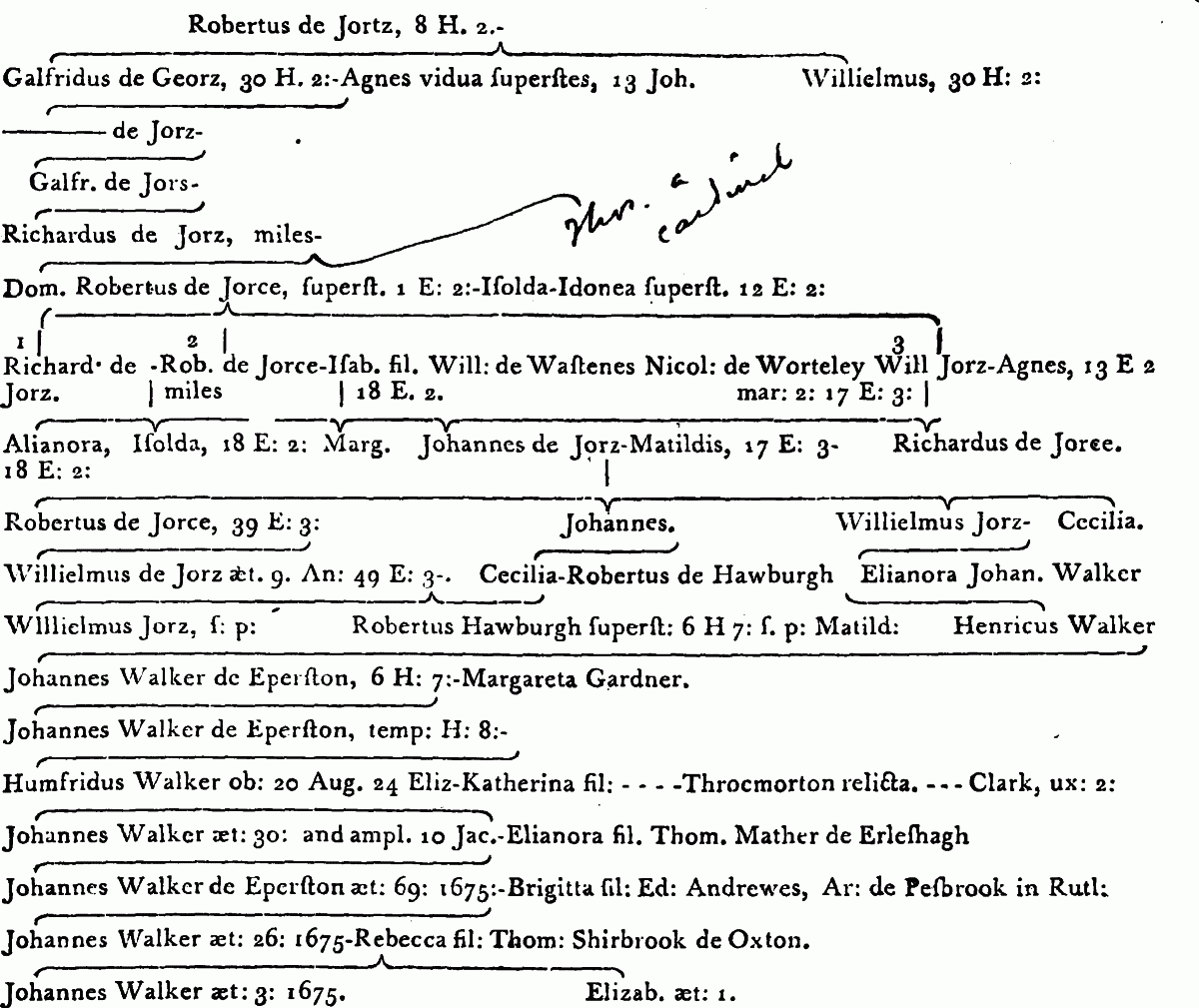 (fn. 3) Robert Jorce of Burton, son of sir Richard Jorce, knight, settled his manor of Burton by Bulcote, and thirty and two shillings rent, with the appurtenances in Hokkesworth, and three mess. and five bovats in Gedeling, and forty and one shillings rent in Ester-Leyk in this county, fourteen mess. and fourteen virgats of land, with the appurtenances in Bakewell in Derbyshire, and one mess. and one carucat of land, and thirty two acres of meadow, and 13l. 3s. 2d. rent, with the appurtenances in Lughteburgh in Leicestershire, on Richard his son, and the heirs males of his body lawfully begotten; remainder to Robert de Jorz, another son and his; remainder to William, another son and his; remainder to the right heirs of the said Robert de Jorz the father; on whose seal, as upon divers others of his family, is, A Bend charged with three Waterbougets: This deed bears date at Burton Force the Munday before the feast of St. Martin in winter, 1 E: 2: the witnesses were John de Herrys, Raph de Crumwell, Raph de Crophill, knights, William, son of Richard de Burton, Robert de Burstall of the same town, Thomas le Palmer of the same, Robert Jorce cousin of the said Robert in Lughburgh, Robert le Ster of the same, &c: Richard Arre of Ebreston, and gave and confirmed this manor of Ebreston to sir Robert de Jorce, and Isolda his wife, and the heirs of their bodies: (fn. 4) Their second son Robert de Jorz, afterwards knight, married (I suppose for his second wife) Isabell the daughter of Monsieur William de Whasteneys; after his death she was wife of Nicolas de Worteley, on whose seal, 17 E: 3: (fn. 5) is a Bend between six Marteletts charged with three Lozenges voyded; and on hers, her picture holding in her right hand, hanging down, the top of the shield of Wastenes, viz: a Lion Rampant: and in her left, that of Forz, viz: On a Bend three Waterbudgetts: by her right shoulder is a Lion Rampant, and by her left a Waterbudgett, her name circumscribed.
Robert Jorz of Birton, and Isabell his wife, by a fine, 18 E: 2: (fn. 6) entailed lands and rents in Bulcote, Ester Leke, and Eperston; and by another the same term in Birton Forz, Stoke Bardolf, and Gedling, which he settled on himself and his heirs males, with remainder over to his daughters, Margaret, Isolda, and Alianora, and the heirs of their bodies; but it seems his son John had a son called Robert de Jorce, or Joce, who left his son William de Jorz his heir, 49 E: 3: (fn. 7) then but nine years old.
(fn. 8) The jury, 42 H: 3: found that William de Birton held ten bovats of the manor of Loudham, (except two, which his ancestor gave in frank-marriage with his sister) of the king, whereof six lay in Loudham, and four in Burton, and for which he paid the king yearly 7s. He had likewise in Birton of Richard de Grey of Codnor seven bovats, and as many of Adam de Everingham, and of them both forty acres in demesne. And twelve bovats of William le Marescall in Radclive for 18s. per annum, and the foreign service for the fourth part of a knights fee, and that Richard his son and heir was then sixteen years old. That Williams father, I suppose, to be Richard, son of William de Birton, who paid 32d. for the tenth part of a knights fee in Birton, (fn. 9) in the former part of Henry the third; and his said son Richards son, to be William, son of Richard de Birton of whom Raph de Crumwell is said, 27 E. 1: (fn. 10) to hold a Wong (culturam) containing fifteen acres in Birton by the service of one penny per annum.
(fn. 11) Raph de Crumwell, 10 E: 1: claimed before J: de Vaux justice itinerant in the county of Nott. against John de Burstall, whom Galfr. le Esquier of Birton, and Margery his wife, called to warrant, and who did warrant to them one mess. and four bovats of land in Birton as his right, and called to warrant Nigellus de Ridware, and Thomas his son, and then relinquished his warrantry and answered gratis, and pleaded that the said Raph in the time of Henry the third, was never seized of the said mess. and land, and put himself on the country to try.
William de Upton parson of the church of Birton Force, got an inquisition, 21 E: 3: (fn. 12) which found that one mess. and two bovats, and five acres of land were the right of the church of Birton Force, and so had been from the very foundation of it, and the predecessours of the said William de Upton held them, and that Mr. Robert de Blundesden, sometime parson of that church, demised them at will to Robert Sareson of Birton Force, and that after the death of Mr. Robert, John, son and heir of the said Robert Sareson, held them his life; and his wife Cecilia after him unjustly occupied them, till John Clyde, the last predecessour of the said William, brought a writ of Utrum against her concerning the said tenements, to be pleaded before the justices of the kings bench; during which time she passed them to Richard de Hegham, and Idonia his wife, her daughter: but they perceiving by the continuance of the process, that their estate in them would not be good, 19 E. 3. restored them effectually to the church without any fraud.
(fn. 13) Richard prior of Thurgarton and the covent, granted and confirmed to William de Belloprato one toft in Birton, with two acres of land which Ailward held sometime before, so that he nor his heirs should dispose of them no way without their consent, and for which he was to pay 4s. yearly. That covent in the year 1328, (fn. 14) received of Robert de Jorz, for a certain place in his manor in which his dovecote was scituate, and for a place of meadow 4s. yearly, and as much of William de Holdernesse for a toft and another place of medow.
(fn. 15) In the second year of queen Mary, Raph Leigh, and Raph Barlow, claimed against Thomas Knyveton, esquire, the manor of Burton-Force, &c. and called to warrant Marc Menell, gent.
William Babthorp, knight, Christopher Twysilton, esquire, John Langton, and Humfrey Shellow, 9 Eliz: (fn. 16) claimed against Richard Stapleton, knight, and Brian Stapleton, esquire, his son and heir, and Elizabeth, wife of the said Brian, the manor of Burton Jorce, with the appurtenances, and fifteen mess. ten cottages, twenty tofts, one dovecote, twenty gardens, five hundred acres of land, one hundred of meadow, one hundred of pasture, forty of wood, and one hundred of furze and heath, with the appurtenances in Burton Jorce, Gedlinge. Stoke Bardolf, Snainton, and Colwicke. This helped to transfer it to the family of Stanhope, with which it continueth:
(fn. 17) Yet in the time of Henry the eighth, John Walker of Eperston, gent: petitioned the king and council for assistance against sir Brian Stapleton of Burton, knight, then too powerful in this county as his ancestors also were) for his recovering the possession of the manor of Burton, whereof William Jorce died feiz d, and then ought to descend and come to the said John Walker, as cousin and next heir unto the said William Jorce, that is to say, son of John, son of Henry, son of Eiynor, daughter of William, son of John, father of Robert, father of the said William Jorce.
(fn. 18) The vicarage of Burton was eight marks when the prior of Shelford was patron. 'Tis now 4l. 19s. 2d. value in the Kings books, and the earl of Chesterfeild patron.
In the north side of the church is a plain stone tomb, whereon lyeth the image of an armed knight, on whose shield is embossed a Bend, and on it three Waterbougetts; and on one shield on the south side of the tomb, is, a Lion Rampant Crowned; and upon another shield the same with that on his arm.
In the east window of the chancel is represented a woman praying, viz: on her knees, with her hands held upwards: her upper coat is Paly of six Or and Gules on a Bend sable, three Waterbougetts Arg.
In the same window is,—Azure a Bend between six Escallops Arg. with a Mullet on the Bend, Frecheville.
In the same also,—Azure a Fesse Arg. betw—
In another south window,—Paly of six Or and Gules on a Bend sable, three Waterbudgetts Arg, Jorz, I suppose.
In the north side of the chancel, on a plain flat alabaster tomb, underbuilt with ordinary stone,—Here lyeth Ser Brian Stapiltun, knyght and barinet, wyche dypartyd the second daye of Aprell, in the fourt yere kyng Edward the syxt. The sayd ser Brian had to his serst wyf dame Elizabethe Stapiltun, doughtar to the lord Hare Skroup of Bolton in Rychemondshyer, and by her he had Rechard hes eldest son. And the sam ser Brian had to his second wys dame Jane Stapiltun, doughtar of Thomas Baset, esquere, of North Lefnam in Rotlandshyar, and by her he had Brian his second son.
At every corner is, Arg. a Lion Rampant sable, Stapleton.
On another tomb like this on the south side of the chancel,—Here lyeth the body of Alis Rous, doughtere of Francis Roos of Laxston in the county of Nottingham, esquier, first wiffe to Brian Stapiltun, esq; younger sonn of sir Brian Stapiltun, knyght after wiffe to Anthony Stapilton of Remson, esq; last wiffe to Thomas Leeke of Hasland in the county of Darby, esq. The said Alis was buryed the 3d. day of January in the yeare of our Lord MVC.D.AVE, perhaps 1595, is intended.
Upon a kind of tablet,—Psalm 116. 15. and Psalm 112. 6.
In perpetuam virtutis memoriam Aliciae nuper charissimæ conjugis Georgii Lacock Generosi, quæ cælo migravit 25 Augusti A. Dom. 1617. & ætatis sua quinquagesimo.
Sancta Deo, Conjux sponso castissima, prolis, Cauta gubernatrix; Dulcis amica suis. Hospita larga, tamen frugalior Hospita: tecto Non fugiens alio; non aliena suo: Pauberibus nutrix agilis: matercula servis: Pacificans lites fæmina, pauca loquens: Consultrix juveni prudens: submissa minori, Inter majores grata: venusta pari: Cuncta ferens æquo: vita modo pace peracta, Pacifice moritur: mortua pace viget.
[Throsby] Burton-Jorz, cum Bulcote.
This lordship, which is enclosed, is owned by the earl of Chesterfield. The village is small.
The church, which is dedicated to St. Helen, has a spire, a nave and side aifles. The tombs noticed, by Thoroton, above, are the chief things to attract. That of "Sir Brian Stapiltun Knyght and Barinet" has his figure cut on the covering stone. As Thoroton only noticed the inscription, I have given the figure in the succeding plate, fig. 5.
Patron, earl of Chesterfield, Incumbent, Thomas Bigsley. Vic. King's book 4l. 19s. 2d. Clear yearly value 25l. 0s. 0d. Archiespisc. pro Syn. 1s. Val. in mans ibid per ann. 7s. 8d. in decem. fæn. lan. agn. porc. pul. &c. Earl of Chesterfield presented in 1694 and 1719. Pri: Shelford propr:
Bulcote land is enclosed, and is in the hands of Banker Smith, of Nottingham, and the earl of Chesterfield. This is a small place. The chapel, which is topped like a pidgeon house, has no attractions. Here is a boarding school of some note for young gentlemen.