Pages 187-190
Thoroton's History of Nottinghamshire: Volume 3, Republished With Large Additions By John Throsby. Originally published by J Throsby, Nottingham, 1796.
This free content was digitised by double rekeying. All rights reserved.
FLEDBOROUGH. FLADBURGE.
This manor was Godeva's the famous countess of earl Leuric of Mercia, and by them given with Newark, (as in that place is shown) in the time of Edward the Confessour to the church of Stow in Lincolneshire.
The book of doomsday shows that Godeva the countess, for her manor in Flodburg, answered the Dane-geld (or publick tax) for one car. and three bovats. The land then being certified to be sufficient for four plows, (or four car.) There after the conquest Nigellus the man or tenant of the bishop of Lincolne (whose fee it then was) (fn. 1) had two car. and an half, and sixteen vill. five sochm. on one bov. of land, having five car. There were five plows (or car.) There was then a priest and a church, and one mill 12d. Pasture wood one leu. long, and half one broad. In the Confessours time it was 8l. when the survey was made in the Conquerours but 5l. value. It had soc in Normentune, and in Estoches, and in doomsday book is accounted in Berndeslaw wapentak.
Nigellus de Fleburg held of the bishop of Lincoln three knights fees. (fn. 2) Nigellus de Flaburg 22 H. 2. (fn. 3) gave account of x marks of the amercements of the forest.
(fn. 4) Nigellus de Lysurs held of the bishop of Lincolne, in Normanton, Fletburgh, Stokum, and Darnethorp, three knights fees of the old seoffment.
(fn. 5) John de Leysures 19 E. 1. impleaded Peter de Warkerley, bayliff of the bishop of Lincolne, and many others, for taking many of his goods at Fledburgh; who pleaded that as bayliff of the said bishop he seized the said manor into the bishops hands as chief lord, after the death of Nigellus de Lysures who was his tenant, for that Alice, the wife of the said Nigellus, was thought to be with child.
John de Lisues, 14 E. 3. (fn. 6) had view of frank-pledge granted in Fledburgh; and 15 E. 3. (fn. 7) free-warren there and in Woodcotes; and 16 E. 3. (fn. 8) 18 Jun. all manner of liberties of a leet Infangethof, and Outsangenthef, &c. (fn. 9) He founded a chantry, 17 E. 3. (fn. 10) in the church of Fledburg, to which he gave one mess. three bov. of land; and afterwards king Edward the third (fn. 11) being then in the parts of Normandy in the twentieth year of his reign, he obtained licence dated 6 Nov. to appropriate the church of Fledburgh, to certain chaplains for that purpose.
(fn. 12) John de Lyseus lord of Fledburgh, 34 E: 3. had to wife Isabella, by whom he had a son called James de Lyseus, who, 38 E. 3. had to wife Maud, as in Brodholme is shown, who it seems had no issue male, because this manor, and other lands then settled, came to the Bassets, there mentioned to be of Normanton. (fn. 13)
(fn. 14) William Basset the elder, 6 R. 2. is stiled lord of Fleburgh, on whose seals are Three Pales, and a Canton Varry. His wife Margaret, 11 H. 4. was a widow. (fn. 15)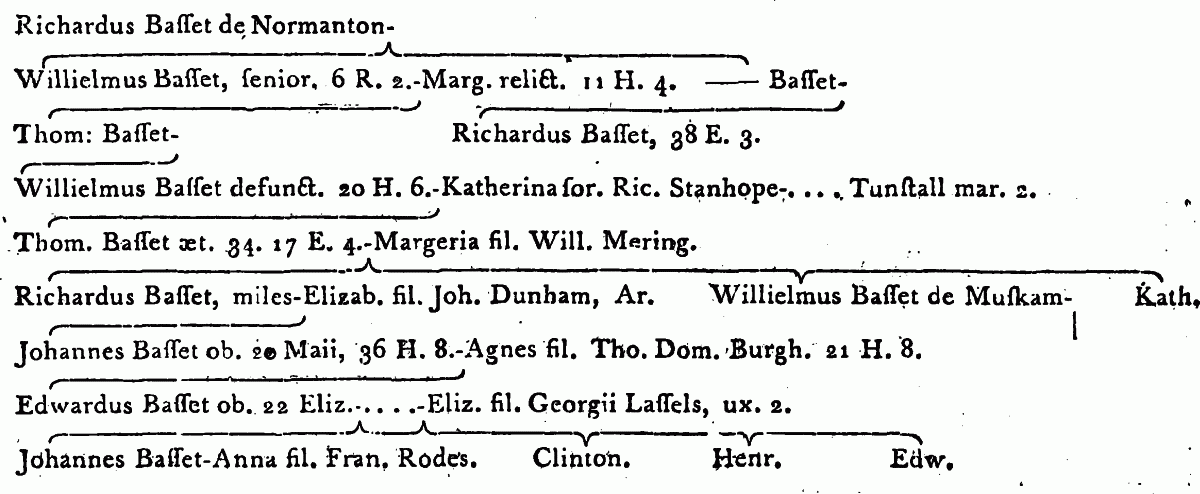 (fn. 16) Richard Stanhope, knight, 10 H. 6. granted to William Basset, esquire, son & heir of Thomas Basset, a certain yearly rent of 12l. to be received out of the manor of Fledburgh, and his lands in Starnethorpe, Normanton, Woodcotès, Est Drayton, Dunham, and Stokham, which lately were the said Tho. Bassuts. Will. Basset, son of Thomas Basset of Fledburgh, 10 H. 6. (fn. 17) released to sir Richard Stanhope, knight, and his heirs, all his right in his manor of Eledburgh, and advowson of that church, and all his lands, tenements, rents, &c. in Fledburgh, Starnethorpe, Normanton, Woodcotes, Est Drayton, Dunham, and Stockhum in this county, Bernangle, Sutton, and Wilmincote in Warwickshire, (fn. 18) — Katherin, the relict of William Basset of Fledburgh, demised Newhall, a member of Sutton in Warwickshire, 10 H. 6. for twenty one years. Katherin Tunstall (the sister of Richard Stanhope) who had interest here, and was dead 17 E. 4. I suppose was that relict of William Basset the younger; and Thomas Basset, who, by the inquisition, is found to be then 34 years old, viz. 17 E. 4. I take to be son of William the younger.
(fn. 19) This Thomas married Margery, the daughter of William Mering, and Elizabeth his wife, daughter of Thomas Nevile of Rolleston, by whom he had sir Richard Basset his eldest son, and William Basset of Muskham, who had two daughters, Katherin, the wife of Guy Fairfax, and after of Ed: Bussy, which Guy had by her Thomas Fairfax, who married the daughter of Ed. Thurland, esquire; the other daughter of the said William Basset was married to Thomas Poutrell, and brought him Frances the wife of John Dethick. Besides these two sons the said Thomas Basset had Edward a clergyman, and several daughters, one married to William Beaumont of Cole Orton, and Katherin to Thomas Sutton of Averham.
(fn. 20) Richard Basset, knight, had to wife Elizabeth, daughter of John Dunham, and by her had John Basset, who married Agnes, daughter of Thomas lord Burgh, and died 20 of May, 36 H. 8. leaving Edward his son and heir above twelve years old. He held the manors of Adling flet in Yorkshire, Saxelby in Lincolnshire, Fledburgh, and Normanton, and lands in Fledburgh, Normanton, Woodcotes, Stokam, Sterthorp, Est Drayton, South Clifton, and North Clifton, and lands, viz. fourteen acres in Ragnell and Darleton, and the manor of Skegby, and Normanton, mess: lands and tenements in Wellcy and Grimston.— Edward died 22 Eliz: and left John, Clinton, Henry, Edward, and daughters. John married Anne, the daughter of Francis Rodes, and after he had sold all the rest, sold Fledborough to the feoffees of the then earl of Shrowsbury in the beginning of king James his reign, since when this goodly manor came to the possession of Robert earl of Kingston, and now remains to the right honourable Henry marquess of Dorchester his son and heir.
(fn. 21) The owners of Fledbrough, Kinshah, Woodcotes, and Normanton, 1612, are said to be John Basset, esquire, William Reason of Askham, gent. Augustin Earle, esquire, Rutland Mollineux of West Markham, George Stowe, Edward Mercer, Hersy Lassells, gent.
(fn. 22) The rectory of Fledburgh was 10l: and Mr: Basset patron: 'Tis now 9l. 7s. 6d. value in the kings books, and the marquess of Dorchester patron.
[Throsby] Fledborough.
Here are only seven or eight houses. The lordship, which is enclosed, is also small. Mr. Pierrepont here is the principal owner of the land. Others have portions.
The church, which is a little ordinary place of worship, is dedicated to St. Gregory.
Patron, I apprehend, Mr. Pierrepont. Incumbent, John Penrose, R. K. B. 9l. 7s. 6d. Yearly tenths, 18s. 9d. Archiepisc. pro Syn. 5s. Archidiac pro prox. 7s. 6d. Val. in mans. cum pertin. per ann: 11s. 8d. in ter. gleb. & prat. 1l. 6s. 8d. in decim: gran: &c: Marquis of Dorchester presented in 1712. Duke of Kingstom 1756. The Arch-bishop by laps 1779, 1783.