Pages 205-212
Thoroton's History of Nottinghamshire: Volume 3, Republished With Large Additions By John Throsby. Originally published by J Throsby, Nottingham, 1796.
This free content was digitised by double rekeying. All rights reserved.
LAXTON. LEXINGTON. And MOREHOUSE.
Tochi before the Norman invasion had a manor in Laxington, which discharged itself to the publick imposition or geld of that time, for three car. The land then being found to be six car. There afterwards Walter the man (or tenant) of Goiffrid de Alselin (whose see king William made it) had one car. 22 vill. seven bord. having five car. five servants, one maid servant, and fourty acres of meadow, pasture wood one leu. long, half a leu. broad. (fn. 1) In the Confessours time the value was 9l. in the Conquerours 6l. It had Sok in Schidrington, Wilgebi, Walesbi, Echering, Almentune, Chenaptorpe, Calneston, Besthorpe, and Carleton.
The fees of this Goisfrid de Alselin were divided early, I suppose in the time of H. 1. or sooner, between Raph de Alselin or Hanselin, and Robert de Calz, (perhaps son of this Walter before-named) which Robert was a witness to the foundation charter of Lenton, made by William Peverell in that kings reign, and had a son 5 Steph. (fn. 2) named Walter, whom I take to be father of Robert de Cauz, who sent his certificate to king H. 2. as other barons did, 12 H. 2. which shows that he had fifteen knights fees for which he was to answer the king. (fn. 3) Raph de Alselin had twenty five, as in Shelford his chief seat is noted.
(fn. 4) This place was the principal mansion and head of the barony of Robert de Calz, who has Anneis his mother did, gave something to the knights hospitallers of Saint Johns of Hierusalem. He left his wife a widow, being fifty years old or more, about 33 H. 2. she was daughter of Richard Basset, and sister of William, and had a daughter wife of Raph Fitz-Stephen, Chamberlain to king H. 2. who 6 R. 1. (fn. 5) gave account of 12l. 10s. for the knights fees of Robert de Calz, in the scutage for redemption of that king.
(fn. 6) Her name was Matildis de Cauz, and she had another husband called Adam, son of (or Fitz) Peter, who it seems 5 R. 1. (fn. 7) had a duel with Simon de Lacells, and recovered twenty-four car. of land in Birkin in Yorkshire, of which place his posterity, & himself too, I suppose, had their name.
(fn. 8) Matildis de Cauz gave the town of Ronstone (in Lincolneshire, in which county a good share of this barony lay) with the advowson of the church to the Knights Templars, and it belonged to the preceptory of Temple Bruer, (i. e. on the heath) to which Robert de Everingham afterwards gave and confirmed that manor. Her husband, Adam Fitz-Peter, and she, gave to God, and Saint John, and the monks of Pontesract, half the mill of Stainburgh, to which deed Thomas Fitz-Peter, and Roger Fitz-Peter, his brothers, and Robert his son, amongst the rest were witnesses. He likewise gave and confirmed to them half a bovat in Fareburne. His son John for the health of his own soul, and of Joane his wife, and for the safety of their bodies, gave and confirmed to the said monks thirteen acres of meadow in Smethall, which his said father gave, and two oaks every year against Christmas in his wood of Byrkin, and one buck in his park, in the feast of St. John before Port Latin, and half the mill of Stainburg, with the suit belonging to the moyety of the mill. Peter, and Roger, and William, his brothers, were witnesses amongst the rest to his deed.
(fn. 9) The land of Matilda de Calz, viz. Lessinton with the appurtenances, was in the custody of Richard de Lessinton, who 7 Joh. gave account of 7l. 17s. 6d. of the rent of assize of Lessinton, of the term of Saint Michael the year before, and of 43l. 0s. 4d. of the rent of assize that year, and of 30l: 18s: 10d. of corn of that manor sold, and of 40s. of Bacuns sold, and of 25 marks of the scutage of 12 fees and an half, and for eight oxen bought, 100s. by the kings writ. Richard de Lessinton, and Robert his son for him, 9 Joh. (fn. 10) accounted for 16l. rent of assize for half a year of Lessington, the land of Matilda de Cauz. Richard de Lessington, 9 Joh. (fn. 11) ought 200 marks for having the kings favour, and seisin of his lands whereof he was disseised by occasion of the custody of the kings forest, 30l. and 15s. being computed to him, which Brian de Insula took of the chattels of the said Richard sold.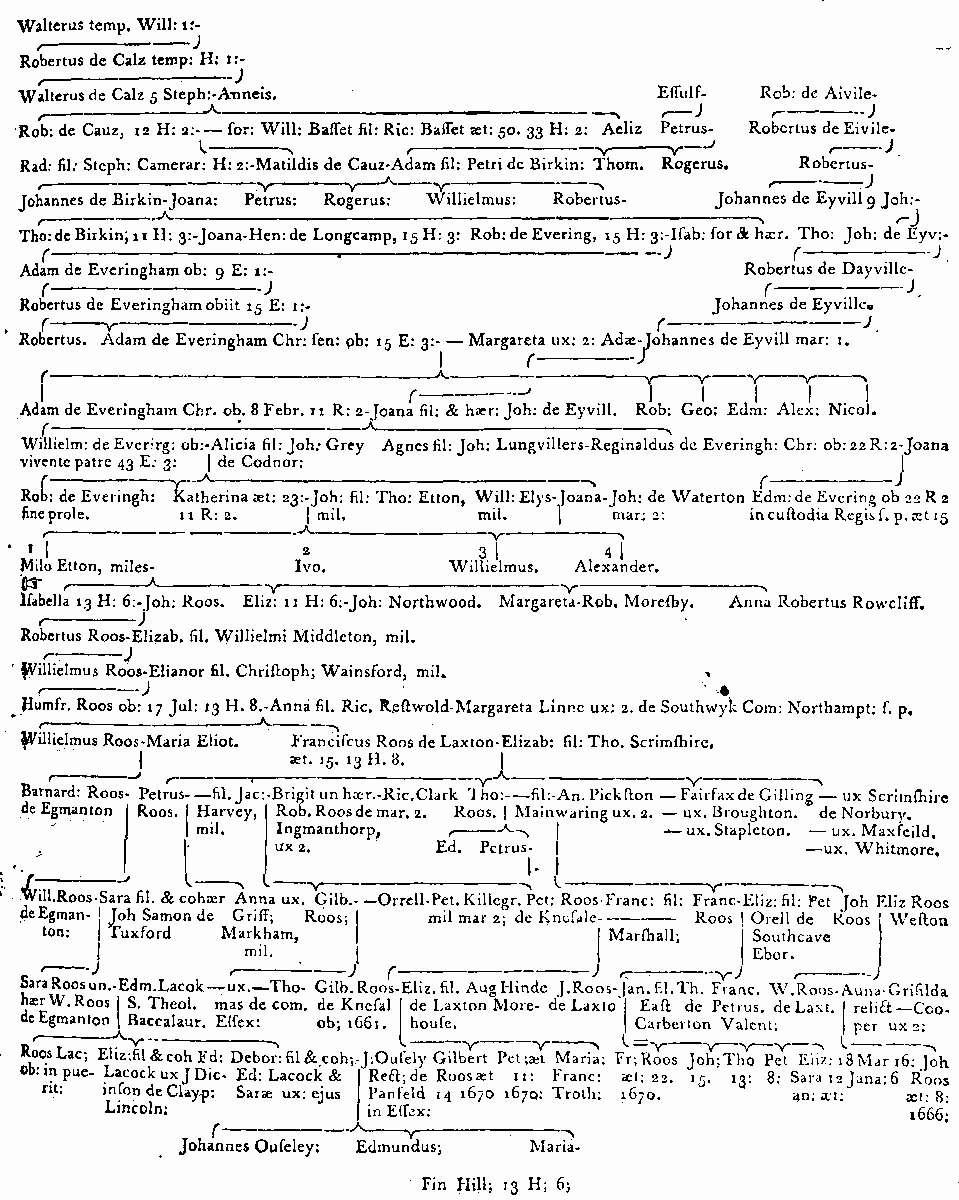 (fn. 12) In 13 Joh. this was called the barony of Lexington, whereof Brian de Insula for the scutage that year gave account; the other was not yet in being, and Robert, afterwards lord Lexington, son of Richard before-named, had his name from his ancestors residence, and holding lands here of this family of Cauz: but the most of his land he purchased in other places, as in this book may easily be noted.
(fn. 13) To this barony of Cauz belonged the custody of the forests in the counties of Nott. and Derb. which Matildis de Cauz had by inheritance, and John Earl of Morton (afterwards king) confirmed to her and her husband Raph Fitz-Stephen, and her heirs, as in the forest book is noted, and in that place may be recited more particularly. It appears that in the beginning of the reign of H. 3 (fn. 14) for a small fine the said Matildis had seisin of her lands her self, and in 4 H. 3. (fn. 15) that Matilda de Cauz ought fourscore marks for having seisin of the custody of the forests of Nott. and Derb. which belonged to her by right of inheritance.
(fn. 16) The sheriff 14 May, 8 H. 3. was commanded to take into the kings hands all the lands which were hers the said Matildis Cauz, who had been the wife of Raph Fitz Stephen, and was then dead.
(fn. 17) John de Birkin 8 H. 3. the heir of Matildis de Cauz, having made fine to the king of three hundred marks for his relief of the lands which were hers, and for having the custody of the forests of Notss. and Derb. which concerned him as his inheritance, did his homage, 25 May, to the king, who certified Robert de Lexington, &c.
(fn. 18) Thomas de Birkin, son and heir of John de Birkine, 11 H. 3. made fine of two hundred marks for having seisin of the lands which were the said Johns, with the bayliwik of the forest of Shirewood, and 12 H. 3. 22 Octob. (fn. 19) gave account of the two hundred marks accordingly,
Robert de Everingham, and Isabell his wife, sister and heir of Thomas de Birkin, 15 H 3 (fn. 20) made the like fine of two hundred marks for the same seisin, and did homage Novemb. 21. The jury, 36 H. 3. (fn. 21) said that Isabell de Everingham, and her ancestors had the custody of the forest of Shirewode; and for that, the forreign service of twelve knights fees and an half was released to her ancestors by the kings ancestors. Her son Adam de Everingham, had the suit with William Burdolf, mentioned in Shelford, for the advowson of that priory.
(fn. 22) The jury, 9 E. 1. said that Adam de Everingham held when he died of the king in capite, the moyety of the barony of Shelford, where he had a free court from 3 weeks to 3 weeks, the custody of Shirewood, this manor, that of North Leverton, and Gedling, and that Robert de Everingham was his son and heir; who about 15 E. 1. (fn. 23) left all these matters to his son Adam; who 4 E. 2: (fn. 24) had an Ad quod Damnum returned for settling the manor of Westburgh in Lincolnshire, on Thomas de Suthwell, &c: By a fine 7 E: 3: (fn. 25) he settled this manor of Laxton on himself for life, and then to Adam de Everingham his son, who, in 15 E. 3. (fn. 26) he left his heir. He had other sons Robert, Edmund, Alexander, and Nicolas. This Adam de Everingham Chr. 33 E. 3. (fn. 27) had an Ad quod Damnum returned concerning his settling 10l. and 9s. rent in Gedling, Nottingham, Colewyke, Stoke Bardolf, Schelford, Newton, and Carleton by Gedling, and eight marks, and 6s. 8d. rent issuing out of the lands and tenements of the said Adam in Gedling, on William his son, and Alice his wife, (daughter of John Grey of Codnor,) William it seems, 43 E. 3. (fn. 28) died before his said father, and so did Robert, son of this William; Adam died 8 Febr. 11 R. 2: (fn. 29) his son Reginald de Everingham Chr. was his heir male, and then aged thirty years; which Reginald by his wife Agnes, the daughter of John Lungvillers, lord of Hoghton upon Idell, had a great estate, but no issue by her; (fn. 30) but by another wife called Joane, he had Edm. de Everingham, who died at 15 years of age, in the kings custody, (fn. 31) without issue, so that Joane, and Katherine, his elder brother William de Everinghams daughters, were his heirs, as they were their grand-fathers, the said Adam, son of Adam, &c.
(fn. 32) Joane was married to sir William Elys, who died at Saint Albans in his journey towards Calis, and had a son by her called Robert; she after married John de Waterton. Catherin was wife of sir John Etton, son of sir Thomas, which sir John had several sons, Miles, Ivo, William, Alexander; but this manor descended to the four daughters & heirs of sir Miles Eton, who died before his father the said sir John, who held this manor of Laxton, with the advowson of the church, and the manors of Egmanton, and North Leverton, by the courtesie of England, after the death of his wife the said Katherin, till 11 H. 6. (fn. 33) that he left it to his grand-children, Elizabeth the wife of John Northwood, Isabell of John Roes, Margaret of Robert Moresby, and Anne of Robert Roucliffe.
(fn. 34) The posterity of this John Roos got all, or most of this manor by purchase or otherwise; his sons name was Robert Roos, and he had to wife Elizabeth, daughter of sir William Midleton, and by her William Roos, who married Eleoner, daughter of sir Christopher Wainsford, who brought him Humsrey Roos, who for his first wife, bad Anne, daughter of Richard Restwold, and his second was Margaret Linne of Southwyke in Northamptonshire; (fn. 35) he died 17 July, 13 H. 8. leaving Francis Roos his son, by his first wife, his heir, which Francis by Elizabeth his wife, daughter of Thomas Scrimsal, of Morbery in the county of York, had Peter Roos, who first married — the daughter of sir James Harvey, (fn. 36) by whom he had a daughter married to sir Griffin Markham, and after to his second wife had Brigit, the only heir of Robert Roos of Ingmanthorp, by whom he had Gilbert and Peter. . This woman after her husbands death, married one Richard Clark, and as the inhabitants say, by her own misfortunes and the wicked unthriftiness of her son the said Gilbert Roos, the last lord of Laxton of this noble race, was reduced to so great poverty, that she gleaned corn amongst other poor people in Laxton field. Peter Roos her husband, had a brother named Thomas, of whom there are ma ny grand-children yet alive, and six sisters married, one to— Fairfax of Gilling, another to — Broughton, another to — Stapleton, (named in Burton Jorz,) another to — Schrimshire of Norbury, another to — Maxfeild, another to— Whitmore. Gilbert Roos married — the daughter of —Orrell, afterwards wife of sir Peter Killegrew, and by her had two daughters, one married to —Thomas of the county of Essex, who had part of North Leverton with her, the other never married.
Peter Roos of Knesale, his brother, had to wife Frances, the daughter of — Marshall, and by her four daughters, and a son, Gilbert Roos, who married Elizabeth, the daughter of Augustin Hinde of Laxton Morehouse, and died 1661, and left issue, Gilbert, Peter, Mary, Frances and Troth.
(fn. 37) There was a Quare impedit recovered, 13 E. 4. by Richard Roos, esquire, against Isabell Roos, widow, Robert Roos, esq; and William Roos, chaplain of the advowson of the church of Laxton.
The earl of Kingston had the manor of Lrxton, which remains with his posterity.
That manor of Lexington which was held by, and gave name to the lord Lexingtons ancestors, descended to his heirs, as in Tuxford, and other places will be shown.
Sir Brian Broughton, knight and baronet, hath I suppose all or most of it, bought of the lord Vaux, as Bildsthorp and Lowdham were, or perhaps of his kinsman Gilbert Roos.
The rectory of Laxton was appropriated to the colledge of Jesus in Rotheram, founded there by Thomas Rotheram, sometime bishop of Lincolne. There was a chantry in the church of Laxton, to which lands in Laxton did belong.
Near this town lies a small hamlet called Laxton Morehouse, where there was a small chapel and lands which belonged to a guild there. Laxton Morehouse is now the inheritance of Augustin Hinde, gent. descended from one of that name, alderman of London, and Elizabeth his wife, after his decease married to sir John Lyon, alderman of London also; she was a Lee, as in Norwell may be noted; she made her will 10 Jan. 1566, which was proved 21 Jan. 1569, by which it appears Henry Lee was her brother, and that by Augustin Hinde she had four sons, Roland, Austine, Edward and John, and two daughters, one married to Edward Gresham, who had Richard, and the other to—Dodsmore.
(fn. 38) The owners of Laxton town 1612, are said to be the lord Vaux, Gilbert Roosse, esquire, Francis Rosse, gent. Augustine Hynde, Thomas Chappell, Thomas Beedam, John Shipton, John Samon, Richard Smith, Robert Grene, Rowland Taylor, Edward Snowe, Thomas Taylor.
(fn. 39) The vicarage of Laxton was 10l. when the colledge of Rotheram had the patronage, 'tis now 11l, value in the kings books, and William Pierpoint, esquire patron.
In Laxton church three old low cross legg'd stone tombs.
Upon an Alabaster grave Stone beyond an old tomb is, A Shield with 7 Mascles voyded, 3. 3. 1. and — 1398, cujus animæ, &c.
On a Blew grave Stone in Brass is cut, Hic jacet Dominus Rogerus Marcaunt, quondam Rector hujus ecclestæ, qui obijt 17. die Decemb. An. Dom. 1438.
On a kind of a pew there is engraved a Shield with five weeping eyes on it, and Robert Trafford, Vic. de Laxton, hoc fieri fecit Anno Domini 1532.
All the lions of Everingham (whereof there are divers both cut and painted) seem to be Chequey Arg. and Az. and not Varrey, as the opinion generally is they ought to be. There is one upon the breast of the mans effegies on an Alabaster Tomb on the south side the Quire, and one imbost on a shield of one cross legg'd in a stone tomb, between two wives, on the north side the quire, but the image of that wife on the south side is cut in wood.
In the South West Window of the Church, Gules a Lion Rampant Arg. with a File of three Labels, it should have been Varry (or Cheq.) for Everingham, but the colours are decayed, as they are in Az. on a Bend. Arg. between 2. Cotises and 6. Lioncels Ramp. Or 3. Mullets Sab. Boun earl of Northampton.
Arg. a crosse Sarcele Or, formerly perhaps Gules. Arg. a Chevron Gules.
Barry of of six Arg. and Az. Grey of Codnor. Sable a bend between 6. crossecrosletts Arg. Longvillers.
Below, on a flat Stone,—3. Waterbougets, Ros. And Barry of 6. Grey.
And on the wood-work of the Roof of the body of the Church, 3 Waterbougets, Ros.
In the East Window of the Choire, Or, a Munch Gules, with a File of 3. Labels Arg. Hastings of Pembrok, which also impales with Gules a Lion Ramp. Cheq. Arg. and Az. or else Varry, Everingham.
Everingham impaled with Or a Fesse Gules, six Flowers de liz. 2. 2. 2. Counterchanged, D'aivile.
In the upper Windows of the Church, 1490, Orate — Johannis — Agnetis. —
On the out-side of the Church on the top near the Battlement cut in the Stone — impaling a fretty, and there also A Bend between 6 crossecroslets, Lungvillers.
On the east end of the North Ile that again, A Chequey with a Bendlett, Bekering.
On the sides of the Chancel East Window, A Lion Ramp. Cheq. for Everingham, and that impaling 2 Flowers de Lis above, two upon a Fesse, and 2 below it, Deivile.
[Throsby] Laxton
Lands are owned, chiefly, by Mr. Savile and Mr. Pierrepoint: It is a large open field lordship. The village contains upwards of 100 dwellings.
The church is one of those, in this part of the county, it should seem, that was neither visited by Dr. Thoroton nor his draughtsmen. In his time, I doubt not, but it was rich in church antiquity; but now, alas! we can only contemplate on the present and the past; and by comparison feel for impious neglect.
This church is dedicated to St. Michael, has a fine spacious nave and side ailes; a large chancel, and a fine tower with 5 bells. The north cemetery, which was doubtless chosen as a resting place for the pious founders of, and benefactors to this place, is the foulest man ever saw. I will attempt a description of it without the smallest exaggeration. The floor and old stones are completely covered with coals, coal-slack, cinders, fire-wood, straw, lime, broken bricks and stone, hassocks & floor-mats torn in pieces, ladders, an old seive, broken scuttles, and spades; brushes without handles, and handles without brushes, mortar boards and mortar, reeds, tiles, foot, broken glass, dog's dung and —.
Under the arch, that leads into this place of filth, stands an old tomb almost 6 feet high, on which lie three figures, seemingly a knight and his two wives; but so covered with dust, that I found it difficult to sketch them. The annexed plate, fig. 2. represents the figures. Opposite, in the chancel, is an alabaster trunk of another figure, on an old mutilated tomb, head and armless. On the south side of the church lies a loose head, probably once belonging to the trunk above named. Near which lies part of a cross legged knight, represented fig. 4. On another old abused tomb lies another trunk of the figure of a man; below which, a figure is represented, fig. 3, same plate. While I viewed with indignation, the insulting devastations around me, the deeds of the modern Goths and Vandals, in France, rushed, like a rapid stream, into my mind: in idea, I saw the atrocious, if not similar, destruction of the arts in the churches of that once fair country. How has it happened that not one fostering hand has been found in Laxton or its neighbourhood, to shelter these monuments of our fore-fathers from the most shameful abuse? Could not their uplifted hands, and their prostrate bodies in the solemn acts of prayer for mercy, command respect nor pity? Is it left for the present age to despise, contemn, or neglect, the memorials of the pious, the charitable, and the good; the founders of our holy sanctuaries, the munisicent patrons of religious establishments, whose zeal for the service of God was ever marked with dutifulness and obedience?
Patron, Mr. Pierrepont. Incumbent, Revd. John Robinson. Clear yearly value in Bacon, 38l. 10s. 6d. King's book, 11l. 0s. 0d. Archiepisc, pro Syn. 6s. Archidiac. pro Prox 7s. 6d. Earl of Kingston presented in 1694. Duke of Kingston 1722, 1748, 1762. Colleg. Rotherham in co: Ebor: olim propr.