Pages 219-226
Thoroton's History of Nottinghamshire: Volume 3, Republished With Large Additions By John Throsby. Originally published by J Throsby, Nottingham, 1796.
This free content was digitised by double rekeying. All rights reserved.
TUXFORD. TUXFARNE.
In Tuxfarne before the Normans dispossessed the Saxons, were two manors which Fluiu and Ulmar had, which were rated to the publick payments of those times at twelve bovats. The land being then found sufficient for ten plows, or ten car. (fn. 1) There afterwards Rogerius de Busli (whose see it was) had four car. and thirtytwo vill. and two bord. having fourteen car. and one mill 10s. 8d. In king Edward the Confessours time the value of this was 10l. in the Conquerors when the survey was taken 8l. it had Soc in Schidrinton and Walesby.
(fn. 2) When Halan, son of Jordan, gave to Galfr. de le Phremunt the land of Wallesby, and of Circheton in fee and inheritance to him and his heirs (as in Kirketon is noted) and the sarts, & [Alnatas] osier, or alder holts, which belonged, to it for ½ a mark of silver yearly, he furthermore ordered that whether he was present or absent the said Galfr. should prosequut his pleas if need were, and maintain his men, (to or) at the Cunty, and the Triding, and the Hundred: The witnesses to this charter were Johel, and Michel, and Galfr. and Henry, the priest of Marcham, and Thoca the (præpositus) reeve of Tuxford, and the rest of that town. This Halan I should rather suppose great grandfather than father of Oliva, daughter of Alan, son of Jordan, named in Kirketon, but that she was old, as in West Markham may be noted; she it seems was married to Roger de Monte Begonis, who, 7 H. 3. (fn. 3) had estovers in his woods of Wirsop, Tukesford, and Legerton, as he was wont; (fn. 4) but she was before, viz. 1179, (26 H. 2.) wife of Robert de St. John, (or St. Martin;) and Roger de Munbegun, 2 Joh. (fn. 5) gave account of five hundred marks, for having her to his wife with her inheritance, of which fine Eustachius de Vesci was pledge for three hundred m. and Raph de Mara for one hundred marks.
This Roger was son of Adam de Munbegun, (fn. 6) and 9 R. 1. (fn. 7) ought king Richard the first five hundred marks for having seisin of his land, whereof he was disseized for the service of earl John, which the king then held in his hand, whether William de Albeni restored to him the said Roger that land of his which the king gave the said William or not. I do not find that this Oliva had any children by either (or any) of her husbands.
(fn. 8) Henry de Munedegen. 18 H. 3. next heir of Roger de Montebegonis paid for relief in Lincolneshire, &c. After his death I guess she sold this manor, Warsop, &c. to Robert de Lexington, who, 20 H. 3. (fn. 9) had a confirmation of it from the king and 21 H. 3. (fn. 10) the said Robert made a charter to John de Lexinton, his brother, of the manor of Tuxford, and hamlet of Warsop, of which 41 H. 3. (fn. 11) he died seized, and of the land in Lessinton held of Adam de Everingham, which descended from their father Richard, son of Robert de Lexinton, named in Kirketon, which Richard had the custody or baylywick of the barony of Lexinton, which belonged to Matilda de Cauz, and brought up his sons so fortunately, that Robert, who was a clergyman, canon of Southwell, became a great judge and baron, making this place the principal seat of his barony, which he left to his said brother John, who was lord-keeper, and the eldest son, and had to wife Margery Merlay, as in Averham is said, but no issue; for Henry de Lessinton, the youngest brother, aged above sixty years, 41 H. 3. dean, and after bishop of Lincolne was heir to his brother the said John lord Lexington (Peter and Stephen their brothers, both clergy-men, being, I suppose, dead before) and the year following, viz. 42 H. 3. (fn. 12) Richard de Marcham, and William de Sutton were found the next heirs of the bishop, who held this manor and the rest, and the wong and wood called Herteshorne in Knesale, of Edmund Lasc for a sparrow-hawk or 2s. yearly, &c.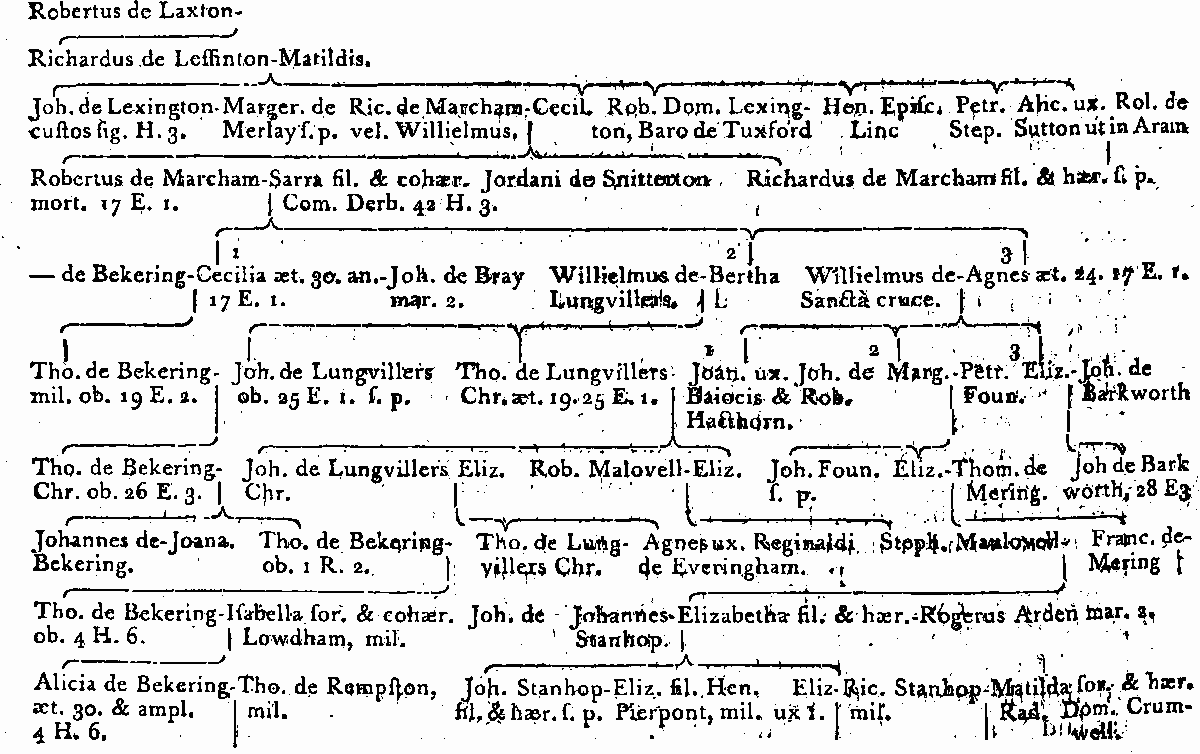 (fn. 13) The partition of Lexingtons lands was made, 43 H. 3. by fine between William Sutton, son of Rolande (of whom the lord Dudley descendeth,) and Richard Marcham, son of William.
(fn. 14) Richard de Marcham held of the king in capite half a knights fee, which Margaret, sometimes wife of John de Lexinton, at the time of his (the said Richards) death had in dower, and half a knights fee in Lexinton, and the culture (or wong) and wood in Knesale, and in Strathaw three cultures of John de Eyvile, and in Marnham, (Marcham) and Allexton. Robert de Marcham his brother and heir was thirty-five years old at the time of the inquisition.
(fn. 15) Robert de Markham about 17 E. 1, left the park, manor, and advowson of the church of Tukesford, which Margery de Merley, widow of John de Lessington had in dower, &c. to his three daughters and heirs, and their issue, viz. Cecilia, wife of John de Bray, then thirty years old his eldest daughter, John, son of William de Longvillers, and of Bertha, sometimes his wife, another daughter of the said Robert, and Agnes, twenty four years old, wife of William de Sancta Cruce.
Robert lord Lexinton made two families of his sister Suttons sons, William the eldest had Warsop, &c. as in that place will be noted; and Robert had Egrom or Averham, as in that place is said.
(fn. 16) Robert, son & heir of William de Sutton, gave to Mr. William de Laxton for sixty marks of silver and 1d. per annum, his park of Tukesford, which the said William de Lessington, dean of Lincolne, gave to the monks of Rufford. And Joan de Sutthon, late wife of Robert de Sutthon, released to the abbat all claim by reason of dower in the park of Tukesford, concerning which she had impleaded him by the kings writ, which is called Unde nichil habet, before Mr. Roger de Seyton and his fellows at Westminster, 2 E. 1. which was not long after her husbands death. Her son was Richard, father of John, who marrying an heir of Sumery, had a son by her called also John de Sutton, whose posterity were of the same name lords Dudley four descents more; and about 8 E. 4. (fn. 17) John Sutton, lord Dudley had a petition concerning Warsop, and 10l. rent in Tuxford, which shows it.
This manor of Tuxford was divided into three parts, by the sorenamed three daughters and heirs of Robert de Marcham, whereof the first Cecilia, besides her husband John de Bray, had another, I suppose named Thomas de Bekering, knight, who begot Thomas de Bekering, knight, who left his son and heir Thomas de Bekering twenty years old 19 E. 2. (fn. 18) which last Thomas, with the rest of the co-heirs, 3 E. 3. (fn. 19) claimed free-warren, &c. in their demesne lands in Laxton, Hertshorne, Morehouse, Estheued, Tuxford, &c. and Jan. 2. 26 E. 3. (fn. 20) left this third part or manor of Tuxford to John his son and heir then but fourteen years of age, which John afterwards was a knight, and had to wife Joane, living in the time of king Richard the second, (fn. 21) but whether he was father or brother of sir Thomas de Bekering, who died in the parts beyond the seas the Thursday after the feast of St. Barnabas, 1. R. 2. leaving Thomas de Bekering his son and heir of this land, I cannot yet certainly determine, but suppose him his brother, which agrees best with the time. Thomas the son had to wife Isabell, the sister and co-heir of sir John de Lowdham, as in that place is said, and died about 4 H. 6. (fn. 22) leaving Alice, the wife of sir Thomas de Rempston their heir, then above thirty years old, who had three daughters and heirs, Elizabeth wife of John Cheiney; Isabell, of Brian Stapleton; and Margaret, of Richard Bingham the younger, as is often already noted. (fn. 23)
The second part or share of this manor which was Bertha's, descended to her son and heir John de Lungvillers, who, about 25 E. 1. (fn. 24) left it to Thomas de Lungvillers his brother, (or as some copies, his son) and heir then nineteen years old. Sir Thomas de Lungvillers, 8 E. 3. (fn. 25) had a return of a writ Ad quod damnum, concerning his giving a place in Tuxford of one hundred feet in length, and fifty-five in breadth, and five marks yearly rent issuing out of that manor, to a certain chaplain to celebrate in that church. John de Lungvillers, 26 E. 3. (fn. 26) was found son and heir of Thomas, and then above twenty-six years of age. John de Lungvillers, 32 E. 3. (fn. 27) was like to have pardon for acquiring of John Faun, one mess. and a void lane adjoyning in Tuxford, which he was to give to three chaplains celebrating divine service in that church. The year before he had licence from the king, dated 8 Feb. 31 E. 3. (fn. 28) that seeing a former grant which he had from that king, to found a colledge in the parsonage-house, of five chaplains, whereof one should be warden, and to give them and their successours the advowson of the church, to pray for the healthy estate of him the said John whilst he should live, and for his soul when he should die, and for the souls of Thomas de Lungvillers his father, and of all the faithful departed daily for ever, took not effect, he might then give the said advowson to the prior and canons of Newstede in Shirewode, to find five chaplains, viz, three in the church of Tuxford, and two in that of Newstede to pray accordingly, who had also leave to receive the said advowson, and appropriate the church to the uses of themselves, and their successours for ever. John de Lungvillers, 35 E. 3. (fn. 29) was found to have held this part of Tuxford, and many other parcels in Laxton, Morehouse, Skegby, Strathagh, Houghton, Allerton, Little Drayton, Carleton, Elkesley, Grimston, Welhagh, Kirketon, Walesby, Stretton, Fenton, and Littleburgh, small parcels, and in Egmanton joyntly with Elizabeth his wife, one mess. one dovecote, one windmill, two car. of land, twenty-two acres of meadow, 12l. ob. rents of assize, &c. he left Thomas his son and heir, who it seems had no issue, so that his sister Agnes, the wife of Reginald de Everingham was his heir, and she having no issue (though her husband had by his second wife Joane a son Edmund, who died without issue male.) This land descended to sir Richard Stanhop of Rampton, as heir of her the said Agnes, 22 R 2. (fn. 30) viz. son of Elizabeth, daughter of Stephen Maulovell, son of Elizabeth, sister of John Lungvillers, father of the said Agnes, as in Rampton will be further declared.
The third share which Agnes de Sancta Cruce had, was likewise divided into three more parcels, she having three daughters married, (fn. 31) and two twins Cecily and Margaret, born sixteen or seventeen years after the last of the former three, which twins I suppose died unmarried. Joan the eldest, was first married to John de Bayeux, and after to Robert de Hakthorne; Margery, the second, to Peter Foun, who had issue John his son and heir, but he had no child, so that Elizabeth his sister, wife of Thomas de Mering, 32 E. 3. (fn. 32) was found heir of her brother the said John Foun. And Elizabeth, the third daughter of the said Agnes, was married to John Barkworth, knight, who, 28 E. 3. (fn. 33) left that share to John Barkeworth his son and heir. Edward de Lovetot, 37 E. 3. (fn. 34) held the lands which were Johns, the son and heir of John de Barkeworth, and of Elizabeth his wife, the third part of the third part of the manor of Tuxford; and Joane the sister and heir of John, son of Robert de Barkworth, held the same by the same service of the third part of the third part of half a knights see of the king in capite. (fn. 35) Simon de Burgh, & Joan his wife, 48 E. 3 (fn. 36) levied a fine of the third part of the manor of Little Markham, and the third part of the third part of the manor of Tuxford to Thomas de Wolton, and Walter Dautre, clarks, and their heirs. Sir Robert de Swyllington chr. entailed the like, or same third part of the manor of Little Markham, and third of the third of Tuxford on Raph Crumwell, knight, for life; remainder to William Crumwell his son, and the heirs males of his body; (fn. 37) remainder to Thomas and John, brothers of the said William successively, and their respective heirs males. William it seems had sir Robert Crumwell, knight, his son and heir, who dying without issue male, as did the said Thomas and John his uncles. Raph lord Crumwell found himself in concerned in the inheriiance, as son of Raph, son of the first Raph, whose heirs had the last remainder in the said intayl, and did his homage, 21 H. 6.
(fn. 38) William Deyncourt, chr. 18 E. 3. had ten marks yearly rent in Tokesford passed to him by fine from John, son of William de Roos of Ingmanthorp, and from Joane his wife. Robert, son of Robert Deyncourt, knight, 2 H. 4. (fn. 39) held ten marks rent issuing out of two parts of the manor of Tukesford. This rent came to be afterwards the lord Crumwells also, as in Lamley may be perceived.
(fn. 40) Johane, who had been wife of William Lassells, about 6 H. 5. died seized of the 3d. part of the 3d. part of the manor of Tuxford; Will. Lassells was her son and heir. It appears 15 E. 4. (fn. 41) that Joane Lassells when the died held of the endowment of John Lassells, her late husband, of the inheritance of Robert Lassells of Soureby, esquire, deceased, twelve mess. in Tuxford, &c. There was a recovery, 19 H. 8. (fn. 42) in which Nicolas Metcalf, clark, the master, and the fellows and scholars of St. John's colledge in Cambridge, claimed against Roger Lassellys, esquire, the third part of the third part of the manor of Tuxford, with the appurtenances in Tuxford, Little Markham, Drayton, and Cleyborowe, and fourteen mess. six tosts, one mill, four hundred acres of land, forty of meadow, one hundred of pasture, six of wood, and 10s. rent in the said places
St. John's colledge in Cambridge had a manor there, by the grant of Richard bishop of Winchester, about 20 H. 8.
(fn. 43) John de Sutton of Horton, about 13 H. 4. had interest in the manor of Little Markham, Tuxford, Milton, and Bevercotes: so had John de Tuxford, 14 H. 4. (fn. 44) in Little Markham manor, &c.
(fn. 45) The jury, 31 H. 6. found that Katherin, wife of John de Tuxford, was sei zed of the sixth part of the manor of Little Markham, with the appurtenances; which manor extends itself in Tuxford, West Markham, Bevercote, and Milneton. John Caxton, and Alice, wife of Beleyard de Barde, were cousins and heirs of the said Katherin, viz. the said John was son of Elizabeth, daughter of the said Katherine; and the said Alice, daughter of Margaret, daughter of the said Katherin.
(fn. 46) By an inquisition taken 9 Novemb. 24 H. 8. it appears that John Caxton of Tukysford lived 19 E. 4. and had a son named Richard Caxton, who married Isabella, the daughter of Thomas Vavasour of Deneby, and left Agnes, the wife of John Sutton, his daughter and heir fourty years old, 23 H. 8. he had lands in Tukysford, Little Markham, Milneton, and Bevercotes. Barbara, after the death of Alice her sister, was sole daughter and heir of — Sutton, and married to Francis Harrington, esquire, who by her had four daughters, heirs to their mother Anne, wife of William Arnall, gent. — of sir William Bodenden, — of Henry Balgee, esq; and — the eldest of Thomas Pell.
That part of Tuxford which descended with Rampton to the family of Stanhope, was by Saunchia, daughter and heir of Richard Stanhope, and John Babington her husband fold about the latter end of the reign of Henry the eighth to John, [or Thomas] White, esquire, whose grandchild sir John White, purchased in most of the rest, and his grandchild John White, esquire, of Cotgrave, is now lord there. The rectory was appropriated to the priory of Newstede, and 37 H. 8. granted to Trinity colledge in Cambridge: The old rent was 21l. 14s. 4d. it is now in lease to the honourable Richard lord Byron.
At this town Mr. George Cam dwelt, who acquired a good estate in lands and leases hereabouts, whose only daughter and heir, Anne, is now wife of Harvey Staunton of Staunton, esquire.
(fn. 47) The freeholders in 1612 are said to be Gilbert Rosse, esquire, John White, esquire, Henry Foster, gent. James Thornehill, William, Thomas, John Watmongs, Dyons Uston, Francis Smith, Thomas Mason of Egmanton, gent. Mrs. Freeman, &c.
(fn. 48) The vicarage of Tuxford was x marks when the prior of Newstede was patron: it is now 4l. 14s. 7d. value in the kings books, and the patronage belongs to Trinity colledge in Cambridge.
In the East Window of the Chancel is, Orate pro anima, Thomæ Gunthorp Prioris de Novo loco in Schirewood, qui cancellam istam ædificavit, Anno Dom. 1495.
In the South Windows were the arms of Newstede Priory, and quarterly France and England, and his own; and on the seats, viz. Gules on a Bend Azure between two Lions heads erased Arg. three Besants A Bordure Gobony Arg. and Az. and under written, Arme Thomæ Gunthorp Prioris de Novo loco in Schirewood; these are something different from those at Stapleford, for there the lions heads are thought to be wolfs heads, and the Bezants, Libards heads. And here was also, Arme Johannis Lungvillers Patroni istius Ecclesiæ, viz: Sab. a Bend between six Crossecroslets Arg. which are upon the shield of an old effegies, on an ancient tomb, towards the North side of the Chancel. And on the outside on the top of the Church, where there is also, A Crosse Moline pierced square, and three Lioncels Rampant 2. 1.
In the South Ile within is,
Quarterly Or and Gules on a Bend Sab. three Escalops Arg.
And Sab. a Crosse Sarcele (or Flory) Or, impaling — broken; and the former also impaling on a Chief Arg. three Mullets pierced Sab. the rest broken.
In an upper window of the body of the Church are four or five impaled in one Shield: The first is, Quarterly Or and Sab. with something in Bend Arg. The next, A Fesse between six Crossecroslets (which take up half.) The next Arg. a Chevron Sab. The next, Cheque Arg. and Gules; and the next some Bend broken away.
In an upper North Window,
Gules a Crosse Formy (or Pate) Arg. quartering Or a Crosse ingrayled Sab. impales Arg. a Chief Gules, with a Bendlet Azure; Crumwell.
Upon a Surcoat of John Stanhop, Azure a Crosse Moline Or, in the next window.
Upon a flat Stone in the North Ile at the East end, Obitus Ricardi Stanhope, fil. & hær. Ricardi Stanhope de Rampton, Militis, qui obiit secundo die mensis Martii, Anno Regni Regis Henrici sexit decimo Cujus animæ, &c.
Upon it is drawn his picture, with the arms of Lungvillers only.
By the East Wall a fair Tomb with two Statues lying on it, but basely broken, and on the top of it Gules a Chevron Varry between three Lioncells Ramp. Or; the Crest an Eagles or Falcons) head and wings Azure, out of a Coronet Or.
The Inscription this.—Hic jacet Johannes White, miles, filius & hæres Thomæ White, Armig, (servi quondam Phillippi & Mariæ Regis & Reginæ Anglie) & Agnetis Cecill, sororis Willielmi Cecill, Baronis de Burghleigh summi Anglie Thesaurarii; qui quidem Jobannes obiit in festum nativitatis Domini Anno. 1625.
Dorothea uxor charissima prædicti Johannis White, filia Johannis Harpur de Swarkeston in Com. Derb. militis, in piam posteritatis memoriam & spem certam futuræ resurrectionis monumentum hoc posuit. Obiit die Ano. It was never filled up.
[Throsby] Tuxford.
My day's journey from Bilsthorp to this place, with respect to roads, was exceedingly unpleasant. It was in the month of October I visited these parts, and the recent rains had made the clays intolerable to travel over. Pleasing as the spiral plantations of hops must appear in the summer months to the traveller, contrasted with the natural scenery of the country, now miry paths and clayey grounds every where present themselves. In addition to these impediments, which prevent you travelling more than two miles an hour, on horseback, you have no friendly assistance, placed to direct a stranger from village to village. Altho' here the inhabitants are far from being destitute of civility, yet we may wonder that they neglect this little office of kindness so useful and pleasing to strangers.
Tuxford lordship owns several proprietors. John White, esq; is a principal. It is open field.
This place has a market on Monday. It has two fairs, the chief is on May-day. Here is a grammar school in repute, well built. No trade here of any consequence. Farming is the chief employment of the inhabitants. In September is a large market, or fair, for hops. The parishes of Tuxford, Upton, Walesby, Markam, Gamstone, Redford, and Askam, in this neighbourhood, grow many hops.
The church has a spire with five bells, a nave, side aisls, and a good chancel. It is dedicated to St. Nicholas. In it is a small tablet to the memory of the Rev. Walter Taylor, B. D. Greek Professor & Fellow of Trinity College, Cambridge. He was buried in 1743, in his 44th. year. Under an arch, on the north side the church, lies the figure of a lady. See fig. 1. plate page 212. Also the body of another figure lies in this place. The tomb of Johannes White is, as Thoroton has it, strangely mutilated. St. Lawrence, roasting, mentioned by Gough in his Camden, still remains. He is represented on a gridiron; two men are employed in the cruel business, one blowing the fire with a pair of bellows, and the other turning the saint as a cook does a beef steak; another seems a spectator or director. The whole is a rude effort of art; I have sketched it, plate page 212, fig. 6. In the north porch is as rude an effort, a priest in the position of praying; beneath is a chalice & wafer, fig. 5.
Patron, Cambridge University. Incumbent, Rev. George Waddington, V. K. B. 4l. 14s. 7d. Clear yearly value in Bacon, 22l. 13s. 11d. Archidiac. pro Syn. 2s. Val. per ann. in mans. & ter, gleb. 1l. 7s. 0d. in decim. lan. agn. anc. &c. Pri. Newsted propr.