Pages 235-238
Thoroton's History of Nottinghamshire: Volume 3, Republished With Large Additions By John Throsby. Originally published by J Throsby, Nottingham, 1796.
This free content was digitised by double rekeying. All rights reserved.
DUNHAM. WIMENTON. SWANSTERNE.
King Edward the Confessour had a manor in Duneham, with the four Beruits, which answered the geld for 5 car: of land & an half. The land being then returned to be sufficient for twelve plows, or twelve car. (fn. 1) There king William had in demesne two car. fifty vill. three bord. had ten car. one mill 3s. one fishing 10s. 8d. one hundred and twenty acres of meadow, pasture wood six qu: long, and four broad. In the said king Edwards time it did yield 30l. and six sextaries of honey; in king William's 20l. with all which there belonged to it, having Soc besides the four Berues, Ragenhill, Wymenton, Derlington, and Swarnesterne in Drayton, Marcham, Greenleige, Ordsall, Grave, Hedume, Uptone, Normentune.
(fn. 2) King Henry the first, gave to Thurstan, arch-bishop of Yorke, the church of Dunham, that he might make it a prebend in the church of Southwell, as in that place is already said.
(fn. 3) Ranulf Fitz-Engelram the sheriff, 2 H. 2. accounted for 60l. lands in Duneham, given to the earl of Flanders.
(fn. 4) Raph Pluchet gave to the monks of Rufford, for the souls as his father, and of his mother, and his brother, and all his ancestors, one tost in Dunham, on the south part of the town, contigious to the Gyldehous, four perches long, and as many broad, and the said monks were not to receive any more land in that town, but by the favour and good will of himself and his heirs: the witnesses were Gilbert de Archis, Suain de Hoiland, Robert de Draiton, William de Draiton, Richard de Laxton, Thomas Clerk of Hedon.
(fn. 5) King Henry the third 4 H. 3. commanded Roland de Sutton, Adam de Muscamp, Henry de Rolleston, William Rufus, and Robert de Lexington, clark, that they should go together to King shagh, and there assign to the men of the Sok of Dunham their pasture to the brook there running, as they ought, and were wont to have, before the wood of King shagh was made a park, and as it was acknowledged at Nott. before H. de Burg, the kings justice, and to prohibit the said men on the king's behalf, that they passed not that brook towards the wood by (reason or) occasion of having pasture, &c.
(fn. 6) The men of Dunham and Marcham, 5 H. 3. had common of pasture between Dunham and Marcham, and the wood of Kingshag, where the park was not.
(fn. 7) The men of Dunham Soc and manor, tenants of ancient demesne, ought to be quit of murder, pontage, and all other fines with the commonalty of the county.
(fn. 8) Raph Fitz-Nicholas 11 H. 3. had to him and his heirs the manor of Dunham, which was Reginalds Dammartin earl of Boloigne. The men of Dunham said, that the earl of Bolon had 50l. land, of the gift of king Henry, who gave it to earl Matthew, and the earl held it on his wifes behalf, and there was in it 10l. land, which B. de Infula had, for the keeping of Kingshag in Derleton. (fn. 9)
(fn. 10) King Henry the third confirmed 42 H. 3. to his beloved brother, and faithful William de Valence, the manor of Dunham, which before he had granted to Raph FitzNicolas, and his heirs, and which Robert, son and heir of the said Raph, after the death of him the said Raph, restored and quit-claimed for himself, and his heirs, to the said king to the use of the said William, his brother, 50l. per annum, used to be paid out of it to the exchequer, according to a former extent of that manor.
(fn. 11) The jury, 17 E. 2. said that Adomar of Valence earl of Pembroke, held when he died, the manor of Dunham, with the Sok: the passage over Trent was then valued at 10l per annum. John de Hastings, and the two daughters of John Comin were found the next heirs of Adomar of Valence, who was lord here in 9 E. 2.
(fn. 12) William de Valence, who was brother of king H. 3. by the mother, married Joane, daughter of Warin de Monte Caniso, and Joane his wife, one of the sisters and heirs of William Marescall earl of Pembroke, which occasioned him that title: by her he had Audomar of Valens earl of Pembrok, who married Mary, the daughter of Guy de Chastillon earl of St. Paul, but he died without issue: his sisters were Isabell, wife of John de Hastings, and Joane of John Comin of Badenagh, who by her had two sons, John, and William, but both died childless, and two daughters, Elizabeth wife of Richard Talbot, and Joane of David Strabolgy, earl of Athol, who had David Strabolgy, earl of Athol, who by his wife Katherine, daughter of sir Henry de Bellomonte, left a son, David also earl of Athol, who by Elizabeth his wife, the relict of John Malwain, had two daughters, his heirs, Philippa wife of John de Halsham, and Elizabeth first wife of John le Scroope, chr. who 15 R. 2. (fn. 13) held this manor in her right, & afterwards wife of Thomas Percy, whom I suppose father of Henry Percy de Atholl, chr. who 4 H. 5. (fn. 14) claimed against Robert Thorley, and others, the manor and Soc of Dunham, and had two daughters and heirs, Margaret, first wife of Henry lord Grey of Codnour, and after of Richard Vere; and Elizabeth, first wife of Thomas Burgh, esquire, and after of sir William Lucy, viz. 13 H. 6. (fn. 15) as in Darleton may be noted. The lord Grey had by her Henry, the last lord Grey of Codnour, who 5 H. 7. (fn. 16) suffered a recovery of this manor, together with Estwait, Touton, Barton and Radcliffe, as in some or all of those places is noted, and died on Easter eve, 10 H. 7. at which time notwithstanding it appeareth by an inquisition taken at Nott. the Thursday after Palme-Sunday, (fn. 17) before William Perpoint, knight, Edward Stanhope, knight, and Raph Agard, in the 24 H. 7. that Edward Burgh, knight, entered and held this manor, after the said lord Greys death, as his cousin and heir: he was son and heir of sir Thomas de Burgh, knight, son of Elizabeth the other daughter of the said Henry Percy D'atholl, and had to wife Anne, the daughter of sir Thomas Cobham, knight, by whom he had Thomas Burgh, knight, created lord Burgh by king H. 8. and made knight of the garter by queen Elizabeth; (fn. 18) which Thomas lord Burgh married Agnes, daughter of sir William Terwhit, knight, who brought him William lord Burgh, whose wife was —the daughter of Edward lord Clinton, and his eldest son, Henry, was slain without issue.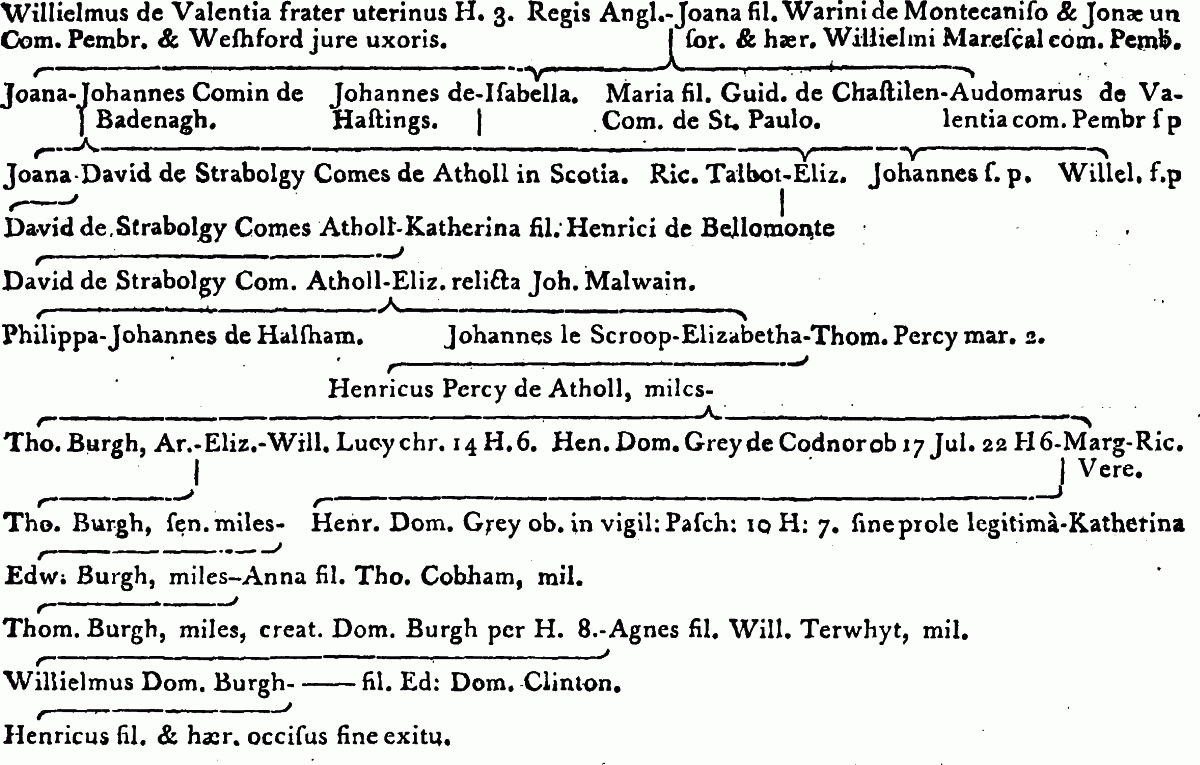 (fn. 19) The owners of Dunham in 1612, are said to be Gilbert earl of Shrowsbury, Gervas Markham, esquire, Hugh Dobson of Ragenell, gent. Thomas Worsley, Robert Jackson, Martin Worsley, Robert Balding, George Owing, Robert Berridge, William Hawksmore, Robert Ellis, John Baldinge.
(fn. 20) The vicarage of Dunham was x marks, and is now 4l. 13s. 4d. value in the kings books, and the prebendary patron.
There is a free chapel in Ragnell, and another in Derleton, now in use.
[Throsby] Dunham
Land is open field. One of the principal owners here is — Crawley, esq;
The village is pleasantly situate on the bank of the Trent, about twenty miles from Southwell, and is of considerable magnitude. Dunham prebend has a mansion house in Southwell.
The church is dedicated to St. Oswald, and is set off with a tower: but it is not large in proportion to the village.
Patron, the Prebendary of Dunham. Incumbent, —. K. B. 4l. 13s. 4d. Syn. & prox. null. Val. per ann. in mans. cum ter. gleb. & prat. 10s. in decim. lan. agn. lin. &c. Clear yearly value in Bacon, 49l. 10s. 0d.
Dunham Ferry is broad, but shallow. The spring tides flow here and rise about four feet, but the common tides never reach this place.