Pages 241-248
Thoroton's History of Nottinghamshire: Volume 3, Republished With Large Additions By John Throsby. Originally published by J Throsby, Nottingham, 1796.
This free content was digitised by double rekeying. All rights reserved.
RAMPTON. RAMETON.
In Rametone, before the Normans came, seven Taynes had seven manors or mansions, which paid the publick tax for two carucats, three bovats, and one third part of a bovat. The land was seven car. and an half. (fn. 1) There after the conquest Roger de Busli with his four men (or tenants) had three car. eleven sochm. eight vill. six bord. having five car. and an half. There was a church, three fishings and an half, 3s. 6d. there was sixty five acres of meadow. In king Edward the Consessours time the value was 54s. in king Williams when the survey was made, four shillings less:— there was Soc, and in Madressey.
(fn. 2) Robert Malluyell, and his wife, and son, confirmed to God and St. Mary, and the monks of Blith, the land which Nigellus de Ramton, father of his wife, and the wife of the said Nigellus, gave to that church, viz. the land which Robert the uncle of Nigell held in Ramton, paying 2s. yearly to the church of Blith on St. Dionysius day.
(fn. 3) The sheriff, 12 H. 2. accounted for Cs. of the relief of Robert Malovell in the honour of Tikhill.
(fn. 4) Adam de Benningseild, and Grundeda de Monasteriis his wife, 6 R. 1. claimed against Robert Malluvell, and Pavie his mother, seven bovats of land in Ramton, with the appurtenances, as those which the said Gundreda recovered in the court of king Henry against Robert Malluvell, father of that Robert, as those which Stephen, the elder brother of that said younger Robert, gave her in dower, and thereof the brought the hand-writing which testified it; and they said, that after Robert had diffeized them in the war of earl John, with whom he was at Kingshagh against the king, he said he was disseised by that earl, and therefore the land was taken into the kings hand by Hugh Bardolf. And the said Robert pleaded that he had made fine with the king, concerning having his peace, and his lands, and brought the kings letters to the sheriff of Nott. for this land which testified it. The lord chancellour said that he had it from the kings own mouth, that he should give sesin of their lands to all those who were disseized by earl John; and seeing it appeared that Adam and Gundreda were so, it was adjudged more authentick what the king commanded by word of mouth than by letters: and they had their sesin restored.
(fn. 5) Robert Malluvel, and Raph de Wudeburc, 6 R. 1. gave account of twenty marks for having the kings good will, being both of the number of such as made fine for being the knights, or men of earl John. The same Robert Malluvell also accounted for twenty marks for having his lands, and the kings peace.
(fn. 6) William Rufus, 3 Joh. gave the king twenty marks and a palfrey, for having the custody of seven bovats of land, with the appurtenances in the town of Ramton, by the kings bayliff, which were the kings by reason of the children of Gundreda de Monasteriis, which land Pavia the grandmother of the said William claimed against the said Gundreda, so that the said children should not be eloigned from their right by that bayliwick till their age.
(fn. 7) There was an assize 5 Joh. to try whether Stephen the father of Robert Mallovell died seized of seven bovats of land in Ramton, with the appurtenances, &c. which land Adam de Beddingfeld held, who came and said that Steph. did die seized, but it was as of the marriage of Gundred des Musters his wife, &c.
(fn. 8) Roger Malluvell, 11 Joh. gave account of a swift running palfrey (or courser) and two leis of greyhounds, for having the kings letters deprecatory to Maud de Muschans, that she should take him for her husband.
(fn. 9) Robert Malluvell in king Johns time, claimed against Roger Mauluvell one bovat of land with the appurtenanes in Ramton as his right; Roger by his atturney said, that Robert gave him that land by his deed (or chartel) and offered to put himself on the grand assize, &c. Robert came and said, that he was not in his own power when he made that chart, nor knew his own sense, for that he was then in the custody of the said Roger his uncle, who took care of him in his infirmity, when all his other friends left him, and therefore begged the confideration of the court, whether that gift should be established, and offered a mark for having an inquisition, whether that chart was made in the time before mentioned, or when he was in his own power.
(fn. 10) There was a fine, 9 Joh. between Hugh le Butiller, and Robert Malluvell, to whom the seven bovats in Ramton were thereby then conveyed.
(fn. 11) Robert Maluvell of Rampton, son of Stephen, son of Pavia, 8 H. 3. claimed lands in Rampton, which the said Pavia his grandmother held in the time of king Henry the second, against Richard (Maluvel) son of the said Pavia.
(fn. 12) Robert Maulovel, 12 H. 3. was attatched to answer Roger Maulovel by what warrant he intruded himself into twenty four acres of land with the appurtenances in Rampton, which ought to remain to the said Roger, by a fine made between the said Roger, and Richard Maulovel his brother. The land was mortgaged for ten marks.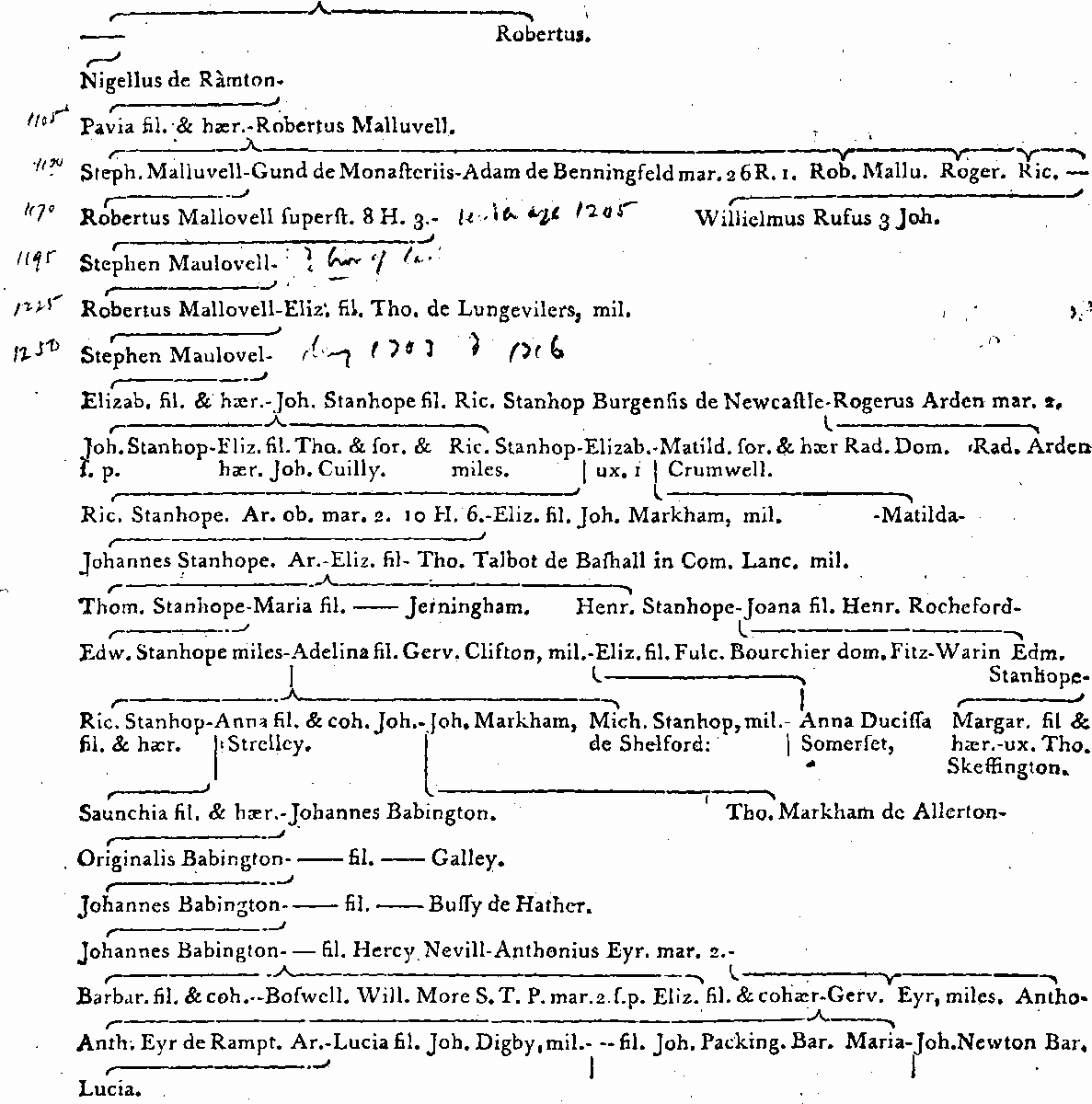 (fn. 13) Stephen Malluvell I suppose son of Robert, because he is certified to hold a knights fee in Rampton of the countess of Ewe of the old feoffment, and paid two marks for it in the time of Henry the third. (fn. 14) This Stephen, or a son of his of the same name, was father of Robert Malluvell, who married Elizabeth, daughter of sir Thomas de Lungvilers, and by her had Stephen Malovel, the father of Elizabeth, who had to her first husband John Stanhope, the son of Richard Stanhope, a burgess of Newcastle; and to her second Roger Arden, by whom she had Raph Arden; but her eldest son and heir was John Stanhope of Rampton, who married the heir of Cuily, as in Ortan is noted, but had no issue, for Richard Stanhope, 22 R. 2. (fn. 15) was found to be of full age, and the heir of Agnes, the wife of Reginald de Everingham chr. who was daughter and heir of John Lungvillers, whose sister Elizabeth was mother of Stephen (Malovel) father of Flizabeth, mother of the said Richard Stannope, who thereby became heir of both families, Mallovell and Lungvillers, as in Tuxford is shown already, to whom also the third part of that manor likewise descended from the heirs female of the families of Marcham and Lexington.
(fn. 16) At the assizes at Nott. 29 E. 3. Galfr. de Cotes parson of the church of Ketelby impleaded Roger de Maloell of Rampton, John Braytoft, Henry Wright of Lanum, and Henry Bere of Torkesey, concerning his free-hold in Rampton, viz. a were. &c. They came not, but William Heron answered for them, that Stephen Malcell was sometime seized of the manor of Rampton, of which that were was part, which he held of Queen Philip, as of the honour of Tikhill, and thereof died seized; after whose death the said queen seized the said manor into her hand, by reason of the minority of Elizabeth, daughter and heir of the said Stephen, and conferred the marriage and custody of her the said Elizabeth, on Roger de Bellocampo, &c The jury found that the said Galfr. was disseized by John Braytoft only, but the judges could not proceed to judgment (by reason of the fore-mentioned wardship) without the kings knowledge.
(fn. 17) The manor of Rampton, with the appurtenances, was by fine, 38 and 39 E. 3. between Will. de Eton, vicar of the church of Rampton, and John, son of Robert de Lanum, plaintiffs, and John de Stannop, and Elizabeth his wife, desorc. settled on the said John and Elizabeth, and th eheirs of their bodies; remainder to the heirs of the body of Elizabeth; remainder to Richard Stannop for life; remainder to the right heirs of Elizabeth.
(fn. 18) Peter Malovell, and Thomas his brother, 39 H. 3. had a writ, &c.
(fn. 19) The jury, 20 E. 1. found that Simon Maulovell of Rampton, and John Furmery were not blameable for eating the acrons with their swine in the woods of Robert de Musters in Tyreswell, in which they claimed common, &c,
(fn. 20) There was a fine levied at York, 16 E. 2. between John Maulovell of Rampton, and Katherine the daughter of William Ablot of Pokelington, plaintiffs, and Raph Manlovell of Rampton, deforc. of one mess. sixty acres of land, thirteen of meadow, with the appurtenances in Rampton, which were thereby settled on the said John and Katherine, and the heirs of their bodies; remainder to the right heirs of Katherine: To this fine Robert Maulovell of Rampton, put to his claim.
(fn. 21) There were covenants of marriage, 3 R. 2. made between sir Edmund Pierpont, knight, and John his brother on the one part, and John Stanhope on the other, for the marriage of John Stanhope his son and heir with Elizabeth, sister of the sand sir Edmund, but whether it took effect or no is uncertain, but that he had no issue is certain, and that he had to wife the heir of Cuily that year, as by the fine noted in Orton, and what is said before out of Mr. Dugdale's Antiquities of Warwickshire appeareth, though his wife might die that vear, and a new match be treated on Sir Richard Stanhope was brother and heir of John, who married Curly, but could not be son, as in that place is supposed, because it is evident he was son and heir of Elizabeth, the daugh ter and heir of Stephen Malouvell in 22 R. 2. as before is noted. This sir Richard's first wife was Elizabeth, but by others said to be Joane, the daughter of Robert, and sister of Raph (Staveley, or) Staley, by whom he had divers children, Richard, Thomas, James, Elizabeth, and Agnes.
There were covenants of marriage, 10 H. 4. between sir Richard Stanhope, and sir Nicolas Strelley, for the marriages of Agnes, daughter of sir Richard, to Robert Strelley, son of sir Nicolas.
The covenants of marriage between sir Richard Stanhope, and sir Raufe Cromwell, for Maud, sister of the said sir Raufe, to the said sir Richard, were dated 12 H. 4. By her he had Henry Stanhope, who died without issue, 12 Aug. 31 H. 6. and was buried at Lamsley; and Matilda, first married to Robert lord Willoughby; secondly to Thomas Nevile; and thirdly, to sir Gervas Clifton: and Joane married to Humfrey Bourchier, as in Lamley is noted.
(fn. 22) Sir Richard Stanhope, 5 H. 6. covenanted with sir John Assheton, and Elizabeth his wife, sometime wife of sir Thomas Talbot of Bashall in Lanc. for the marriage of John Stanhope his (grandson) nephew, to Elizabeth, daughter of the said sir Thomas Talbot.
(fn. 23) Sir Richard Stanap, about 14 H. 6. died seised of this manor of Rampton, half Egmanton, and the third part of Tuxford, the manors of Skegby, and South Cotum, &c, leaving the said John Stanap his heir, viz. son of his son Richard Stanap, esquire, whose death was on the second of March, 10 H. 6. as by his tomb in Tuxford may be seen, whereon is only the coat of Lungvilers, viz. A Bend between six Crosseeroslets, which (not withstanding in a window of that church there is on the surcoat of John Stanhope, Azure a Crosse Moline Or) was most constantly used by this family, whilest they continued lords of this place, for their paternal coat, perhaps sometimes counterchanging the colours, for I have not seen the arms of the present earl of Chesterfeild borne by any but the posterity of sir Michael Stanhope.
(fn. 24) Elizabeth, the daughter of John Markham, was wife of Richard Stanhope, esquire, and when she died, viz. about 16 H. 6. held two parts of Longvilers manor in Tuxford, settled on her by sir Richard Stanhope. John Stanhope, son and heir of that Elizabeth, was then also found cousin and heir of sir Richard Stanhope, viz. son of Richard Stanhope, esquire, son of the said sir Richard.
(fn. 25) John Stanhop, esquire, 14 May, 33 H. 6. paid relief for lands in Rampton, Tuxford, and Egmanton, which, till that year, Matilda, the wife of his grandfather the said sir Richard Stanhope, held. This John's eldest son was Thomas Stanhope, esquire, who by his wife Mary, the daughter of Edward Jerningham of Sommer Laytun in Suffolk, was father of sir Edward Stanhope; and his second son Henry Stanhope, 17 E. 4. married Joane, the daughter of Henry Rochford, esquire, of Stoke in Lincolnshire, by whom he had Edmund Stanhope, whose daughter and heir Margaret, was wife of Thomas, son of sir William Skeffington.
Sir Edward Stanhope had to his first wife Adelina, daughter of sir Gervas Cliston, by whom he had Richard Stanhope, esquire, his eldest son; and sir Michael Stanhope, who seconded by his son sir Thomas, raised a greater family, as in Shelford may be observed. Sir Edwards second wife was Elizabeth, daughter of Fulk Bourchier lord Fitz Warin, by whom he had Anne, the wife of Edward Seymour duke of Somerset, lord Protector in the time of Edward the sixth, by whose means her brother sir Michael Stanhope, (a great courtier before) might receive some assistance for advancing his fortune, though he lost his head, as in Shelford is said. Sir Edward Stanhope's lady was after his death married to sir Richard Page.
Richard Stanhope, esquire, eldest son of sir Edward married Anne, one of the four daughters and co-heirs of John Strelley, esquire, afterwards married to sir John Markham: by her the said Richard had one only daughter and heir Saunchia, wife of John, son of Anthony Babington, which John was father of Original Babington, who had to wife — the daughter of — Galley, and by her had John Babington, of Rampton, who married Elizabeth, daughter of — Bussy of Hather, who brought him John Babington, whose wife was — the daughter of Hercy Nevyll of Grove esquire, afterwards married to Anthony Eyr, whose son sir Gervas Eyr, married Elizabeth, one of her daughters and co-heirs by John Babington; Barbara the other was wife of John Boswell of Edlington near Tikhill in Yorkshire, of whom sir Gervas Eyre purchased the other moyety of this manor; the lady Eyr after sir Gervas was dead married William More, D. D. by whom she had no child: to sir Gervas she bore Anthony Eyr, and Mary, wife of sir John Newton of Hather, baronet; Anthony first married Lucia, daughter of sir John Digby of Maunsfeild Woodhouse; and since he was chosen to serve in parliament as knight for this county, — the daughter of sir John Packington, baronet.
(fn. 26) In 1612, the owners of Rampton town are said to be the heirs of John Babington, esquire, the heirs of George Smith, the heirs of Francis Kitchen, John Hutton, prebendary, Francis Bushby, esquire, Robert Sampson a plowland and an half, John Browne as much, Richard Legat a plowland, William Barneby, Edward Proctor the like, John Legat, Roger Fenton half a plowland, Thomas Cotton as much, William Leggat six acres; Anthony Fenton a cottage, &c.
The vicarage of Rampton was 8l. 'Tis now 10l. value in the kings books, and the prebendary continueth patron.
[Throsby] Rampton
Contains more than 2000 acres of rich strong land, nearly half of which is enclosed, and is chiefly the property of Anthony Hardolph Eyre of Grove, esquire, to whom it descended in regular succession from a period soon after the Conquest. (fn. 27)
The village is pleasantly situated near the Trent. Here was formerly the residence of the family of Eyre; (now of Grove), but about seventy years ago the grand-father of the present owner of Grove, pulled the house down, which was a large old mansion built so long back as the time of Henry 8th. The only thing that remains of this dwelling is a noble gate-way, and some brick walling. The gateway, which at once powerfully bespeaks the age of its erection, and the bold features of the edifice, of which it was a member, is represented facing this page. (fn. 28)
The church, which is dedicated to All Saints, is large, with a handsome losty tower, it contains a nave and two side aisles and a chancel, in the south aisle at the east end, are two monumental stones, almost concealed by the floor of the pew where they lie,—they are to the memory of Sir Richard Stanhope, mentioned by Thoroton, and his wife Joan (as it appears) and his grandsons wife the daughter of Dr. Thomas, Talbot of Bashall. See fig. 1, 2. Not far from them, in the same aisle, is another stone even with the pavement, with this inscription: "John Babington of Rampton, esquire, died the third daye of October, 1563, at London buried—Margaret, wife to Originall Babington, esquire, daughter of Richard Gally of ol—1d, esq; who died 28 of August, 1571."
In the Chancel is a handsome mural monument with the following inscription:
"Here lies interr'd, Gervase Eyre, esq; only son of Anthony Eyre, esq; of this place, and — (should be Elizabeth, but the name is erased) daughter of Sir John Packington, Bart. of Westwood in Worcester—
"While he was young, the free-holders of his county conceiv'd such expectations of him, as to chuse him their representative in Parliament, in which station he continued till the time of his death. His conduct having always been such as entitled him to the favor of all true friends of our church and Constitution, of both which he was an unwearied advoctae, of distinguished judgement in public affairs, and possessed of all the accomplishments which form a true Patriot: In short, in him were found all those virtues, by the exercise of which, his Ancestors had so eminently distinguished themselves.
"One of which, Colonel Eyre, for the Service of his country, and Royal Master, Charles the Martyr, lost his life in the defence of Newark Castle. Another, the Lady Packington, so admired for her Piety and accomplishments above her Sex, as by some to be reputed the Author of the Whole Duty of Man. He died February 16th. A. D. 1703, aged 34."
"Here also lies Catherine his wife, daughter of Sir Henry Cooke, Bart. of Wheatley in Yorkshire. She inherited the Candour and good Nature inherent in her family, which together with her other Virtues, finished in her the Character of a virtuous wife, an Affectionate Mother, a good Neighbour, and a Charitable Benefactor to the Poor.
"She being inconsolable for the Death of her Husband, did not long survive him, but departed this life Nov. 7, 1704, leaving nine Children Surviving.
"This monument was erected pursuant to the last will of Catherine Eyre, second Daughter to the Above-said Gervas and Catherine Eyre, who was possessed of all her mothers Virtues."
The oldest register begins in 1565. Baptisms 5 first years, 41.—Burials, 30.— Baptisms the last 5 years ending in 1794, 39—Burials 32.
Rampton forms a prebend in the church of Southwell, given by Pavia Mulluvil. (fn. 29)
Patron, the Prebendary. Incumbent, Rev. Mr. Smith. K. B. 10l. os. 3d.— Syn. & Prox. null. Val. per ann. in mans. cum. ort. &c. 21 acr. ter gleb. 2 acr. voc. Leys 11acr. et dimid. prat. 3s. &c.