Pages 249-253
Thoroton's History of Nottinghamshire: Volume 3, Republished With Large Additions By John Throsby. Originally published by J Throsby, Nottingham, 1796.
This free content was digitised by double rekeying. All rights reserved.
HEADON. HEDUNE. and UPTON.
Some in Hedune was joyned with Grove of the Soc of Dunham, the kings manor, and there was Soc to Grove in Hedune particularly of the fee of Roger de Busli, which paid the publick imposition for one bovat. And besides that, there was in Hedune of Roger de Buslies fee, a manor, where before the conquest Godric, and other six Thaynes had each man his hall, amongst them were eight bovats, and one third of a bovat for the geld. (fn. 1) The land was five car. and an half. There (after the conquest) William the man of Roger had two car. fourteen sochm. nine vill. six bord. having six teen car. there was twenry six acres of meadow, pasture wood five qu. long, four broad. In king Edward the Confessours time, and then the value was 2l. having Soc in Uptune as much as paid the geld for half a bovat. The land two bov. There were then three sochm. and two bord. with one car. and two acres of meadow. In Uptune also Soc to Dunham there was one bov. of land for the geld. The land —. There four sochm. and two bord. had one car. and an half, and three acres of meadow, pasture wood two qu. long. one broad. Egmanton had Soc in Markham and belonging to that was there in Uptune, as much as answered the geld for two bovats of land and an half. The land two car. There nine sochm. and two bord. had four car. and six acres of meadow. This had Soc in Mercham; and in Hedune there was Soc to Mercham, one bov. for the geld. The land two bov. and two acres of meadow. There one sochm. had two bovats.
William the man or tenant of Roger de Busli held of his fee in Outhorpe, where a family, who had their name from their residence at this place, had some interest, as is there noted. Hugh de Hedon, son of Fule, gave to the monastery of Blith a measure of wheat then called Acrased, and Acraset of Blith (i. e. seed for an acre) to be paid yearly on the feast of St. Katherin the virgin and martyr. (fn. 2) Hugh, son of Hugh de Hedun, confirmed it, and added 12d. yearly rent to be paid at the same time. Simon de Hedun confirmed the gift of Hugh his grandfather of a quarter of wheat yearly at the feast of St. Katherin, and the 12d. yearly rent, which Hugh his father gave. Hugh de Heddun, 14 H. 2. (fn. 3) gave account of 10l. of the relief of his land in the honour of Tikhill; and 6 R. 1. (fn. 4) being one of those knights fined for being with earl John, he then gave 10l. for having feisin of his land, viz. one knights fee in Heddon. He paid four marks, 8 R. 1. (fn. 5) for two knights fees which he held of the honour of Tikhill. Hugh de Heddon, 7 Joh. (fn. 6) gave account of ten marks n the sixth scutage of the honor of Tykehull. Simon de Heddon, 43 H. 3. (fn. 7) was sheriff of this county, and his son and heir Gerard de Hedon after him, 51 H. 3. and 53 H. 3. (fn. 8)
(fn. 9) Roger de Essex, and Simon de Heddon, 54 H. 3. were executors of Brian de Insula. Gerard de Hedon had a charter of free-warren in his manor of Hedon, granted by king Henry the third. (fn. 10)
(fn. 11) The jury, 24 E. 1. found that John de Hedon had this manor and advowson of the church, seven acres of meadow in Rampton, and rents in Upton 8s. &c. and that Simon, son of Simon de Hedon, was his next heir, and fifty years of age. In the Pipe Roll for Yorkshire, 29 E. 1. (fn. 12) Simon is said to be son and heir of John de Hedon, and 14 E. 2. (fn. 13) brother and heir.
(fn. 14) There was a fine levied at Yorke the day after St. John Baptist, 31 E. 1. between Laurence de Chauworth, and Agnes his wife, pl. and Nicolas de Hedon, deforc. concerning the manor of Hedon near Retford in the Cley, which was thereby settled on the said Nicolas for life; remainder to Agnes de Jors, and the heirs of her body; remainder to the right heirs of Nicolas. Another fine was levied at the same place between the same persons in the Octaves of St. John Baptist, 32 E. 1. (fn. 15) where by the said manor and advowson of the church were settled on the said Nicolas for life; remainder to the said Laurence, and Agnes, and the heirs of Agnes.
(fn. 16) There were two fines at Nott. the Munday after St. Martin, 3 E. 3, one between Edmund Wasteneys chr. quer. and Simon Jorce of Wimondwold, deforc. of this manor and advowson, which Laurence de Chaworth then held for life, which after his decease were by that fine settled on the said Edmund and his heirs. The other was between Simon de Jorce of Wymondwould, and Mariot his wife, pl. and Edmund Wasteneys chr. defore. whereby the premises were after the death of the said Laurence settled on the said Symon and Mariot for life, and after their decease on Robert, son of the said Edmund, and the heirs of his body; remainder to William, Thomas, Edmund, brethren of the said Robert successively, and the heirs of their bodies respectively; remainder to the said Edmund Wasteneys, and his heirs for ever.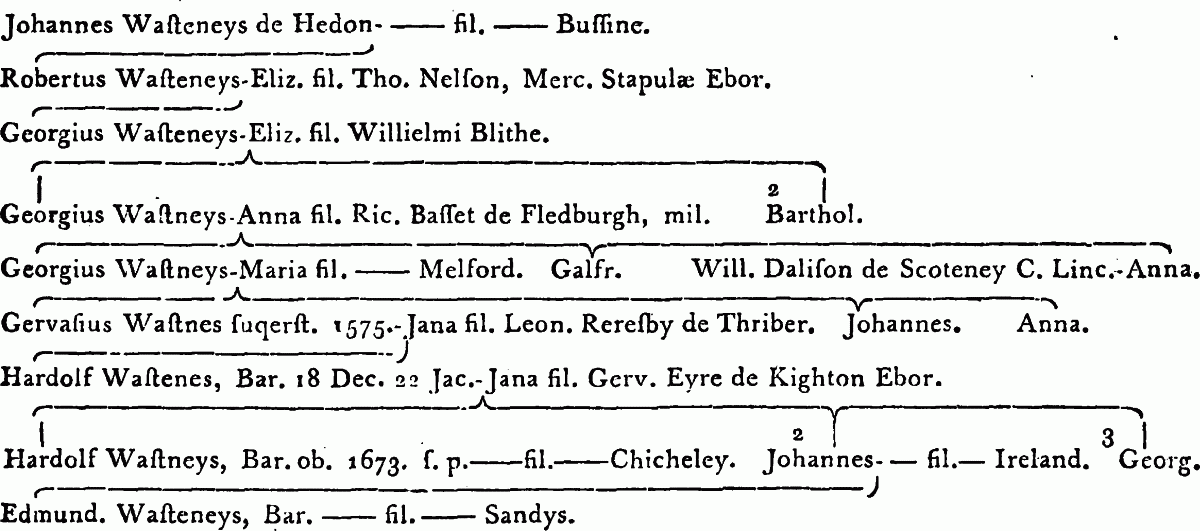 (fn. 17) Robert le Wasteneys, and Flora his wife, by a fine, 24 E. 3. between them and John de Knyveton, parson of Radecliff, &c. settled this manor and advowson to the said Robert and Flora, and the heirs of the body of the said Robert; remainder to Edmund his brother & the heirsof his, remainder to the right heirs of the said Rob.
Who succeeded Robert I have not seen, but it remains the inheritance of sir Edmund Wastenes, baronet, to whom it descended on this manor it seems.
(fn. 18) Upton was held by Raph Tilly, and Sibill his mother. Philippa de Tilly held of the countess of Ewe in Upton and Markham, a knights see of the old feoffment. The jury, 36 H. 3, (fn. 19) found that the lady Philippa de Tilly had in demesne in Upton six bovats of land with meadow belonging thereto, and that she died in the fealt of St. Peter ad Cathedram, 32 H. 3, and had sons and daughters, but they remained in Normandy, so that the land eschaeted to the king, who had given the honour of Tikhill to Edmund his son, who 'tis like gave Tillyes land to Eymer or Aymo de Tromberge, named in Thrumpton. Aymo Thurnebert, 37 H. 3, (fn. 20) had Upton, and six bovats of land, and other six bovats, &c. granted. He was lord of Upton of whose fee the town of Routhorn (in Darbyshire) was held by the foreign service for one knights fee, as was said. (fn. 21) He had four daughters his heirs, whereof three were married, viz. to Thomas de Chalers, Baudwin de Collum, and William de S. Jorge, and the fourth, to one Richard de N. and the same Eymer held of Tikhill four knights fees by foreign service, and suit of court, and ward of the castle, and making four perches of the causey of Tikhill, and the said town of Routhorn was in the possession of one Raph Tilly, and Sibyll his mother, by eschaet, and they enfeoffed one William, son of Walkelin. And afterwards the said town came to the possession of one Robert le Savage, who married Hawisia, sister of the said Raph Tilly. Which Robert le Savage afterwards of it enfeoffed one Robert de Lexington, who gave it to the priory of Newstede in Shirwood.
(fn. 22) The king, 10 E. 1. claimed against Alienor Thurneberd, William de S. George, and Elizabeth Thurnebard one knights fee in Upton. They pleaded that they held it not intire, because one Baldwin de S. George, and Basilia his wife (who it seems was widow of the said Aymo de Thurnberd) held the third part of it in dower.
(fn. 23) The king, 20 E. 1. claimed against Baldwin de Colne, and Alianor his wife, William de S. George, and Margaret his wife, and Thomas de Scalariis, and Elizabeth his wife, eight bovats of land, two parts of a mess. and — acres of meadow in Upton in the Cley, as his right, &c. They said they held them severally and not joyntly.
(fn. 24) Another plea concerning the premises there was, 21 E. 1. wherein the parceners said they were daughters and heirs of one Eymo Turrenberd, who died seized, &c. William de Collum lord of Upton sold it.
(fn. 25) Robert de Wolrington was steward of sir Thomas de Chalers, and sir Baudwyn de Collum, and receiver of their scutage for the army of Scotland, 4 E. 2.
(fn. 26) There was a fine levied in the octaves of the Purification of the blessed Mary, 21 E. 3. between John de Bolyngbroke, quer. by Robert de Bolyngbroke (or Bekyngham) put in his place, &c. and William de Collum chivaler, deforc. of the moyety of the manor of Upton near Hedon in the Clay, with the appurtenances, which the said William acknowledged to be the right of the said John, as of the gift of the said William, excepting one knights see and an half, and a fourth part in the said moyety.— And he granted to the said John, the said fee and half, and fourth part, together with the homages and services of the prior of Newstede in Shirwode, and his successours, of John de Warren earl of Surrey, Galfr. Poutrell, John del Ker, William de Goteham, Henry the chaplain of Thurmeston, William Cresso of Great Marcham, Robert de Eton of Tyreswell, and of their heirs, for all the tenements which they formerly held of the said William de Callum in the said moyety, to have and hold to the said John and his heirs for ever, &c.
(fn. 27) There was a fine, 18 R. 2. between John de Markham, quer. and Robert Goderich, and William de Notton, deforc. of the manor of Upton by Hedon, with the appurtenances, whereby it was conveyed to the said John and his heirs.
This John de Markham had Bothumsell manor the next year, viz. 19 R. 2. and with his posterity both of these continued till about 8 Eliz. that Robert Markham, esquire, conveyed them with Elkesley to the possession of William Swyft, esquire, father I suppose, of sir Robert Swift. I find Robert Swifte paid 3s. 4d. for his lands in Upton in the time of queen Elizabeth, late Robert Markhams, and Thomas Denmans, held by the service of half a knights fee.
(fn. 28) The owners of Headon cum Upton in 1612, are said to be Robert Swift, knight, Hardolph Wastneys, esquire, Thomas Nicholson 20s. William Hawksmore, Henry Swifte, Alexander Bellamy a cottage, William Colt, cott. William Nicholson, cott.
(fn. 29) There was a cottage in Upton by Hedon belonging to the free chapel in Upton, 18 Eliz. granted among other things to John Mershe, esquire, and Francis Greneham, gent. 30 March, and their heirs.
(fn. 30) The rectory of Hedon was 20l. and Mr. Wastnes patron. The vicarage of the same town was ten marks, and the rector patron. The rectory is now 15l. 12s. 6d. value in the kings books, and sir Hardolfe Wasteneys patron, as he is also of the vicarage, which is now 4l. 3s. 4d. in the kings books.
[Throsby] Headon cum Upton & Thorp.
The lordship contains about 3000 acres of land, much of which is open field: it chiefly belongs, with the manor, to A. H. Eyre, esq; of Grove, who possesses it from his mother, the heiress of the Wastneys.
The village of Headon lies about 4 miles from Retford; its magnitude may be known from the register. Earliest register 1566. First 5 years Baptisms, 38—Burials 30.— Last 5 years ending in 1791—Baptisms 54—Burials 29.
The church, which is dedicated to St. Peter, consists of a nave and two side aisles. Here are some monumental stones of the family of Wastneys. The Rev. John Shillitoe, who died lately, is remembred here. (fn. 31) He was a man universally beloved for simplicity of manners and benignity of heart and temper.
The rectory has no cure of souls; but must be given to an ecclesiastick. The vicar has the small tythes, which very much depends on hops.
The patronage belongs to A. H. Eyre, esq. Incumbent, Rev. Charles Eyre.— King's book, 15l. 12s. 6d. Yearly tenths, 1l. 11s. 3d. Archiepisc. pro syn. 7s. 6d Val. in mans. ter. gleb. cum dec: &c. Sir Hardolph Wastney, Bart. presented in 1695, 1707, 1727. Lady Wastneys in 1760.
The mansion house of the Wastneys, which was situated in the centre of a small park, and built by the last Sir Hardolph Wastneys, bart. from a design of sir Thomas Hewit in 1710, was pulled down about a year ago. It was pleasantly seated and well wooded. I think Jonathan Acklom, esq. of Wiseton, has an elevation of this seat.