Pages 254-257
Thoroton's History of Nottinghamshire: Volume 3, Republished With Large Additions By John Throsby. Originally published by J Throsby, Nottingham, 1796.
This free content was digitised by double rekeying. All rights reserved.
GAMSTON. GAMELESTON upon IDLE.
In Gameleston was some of Roger de Buslies fee, which was Soc to Agemanton, of which one garden, and one sochm. belonged to Marcham, and one garden, (ortum to Etton. But the greatest part was of the fee of Rogerius Pictavensis, two manors whereof before the conquest were the free-hold of Gamel and Swain, and answered the taxation for one car. The land being then eight car. (fn. 1) There Roger had in demesne two car. and seven sochm. on two bov. of this land, and three vill. one bord. having three car. and an half. There two mills yeilded 40s. twenty or twenty eight acres of meadow, twenty acres of small wood. This kept the value it had in the time of king Edward the Confessour, viz. 4l. Another manor Chetelberne had before the conquest, which paid for one bov. to the geld. The land one car. That manor Chetelberne had of Roger Pictavensis, and there had one car. two bord. and three acres of pasture wood. In king Edward the Confessours time this was 20s. 8d. in the Conquerours but 10s. value.
The owners of this place had their names it seems from Matersey or Maresey in this county, where they founded a monastery of Gilbertines, to which they gave this church, and were likewise lords of Heton by Lancaster.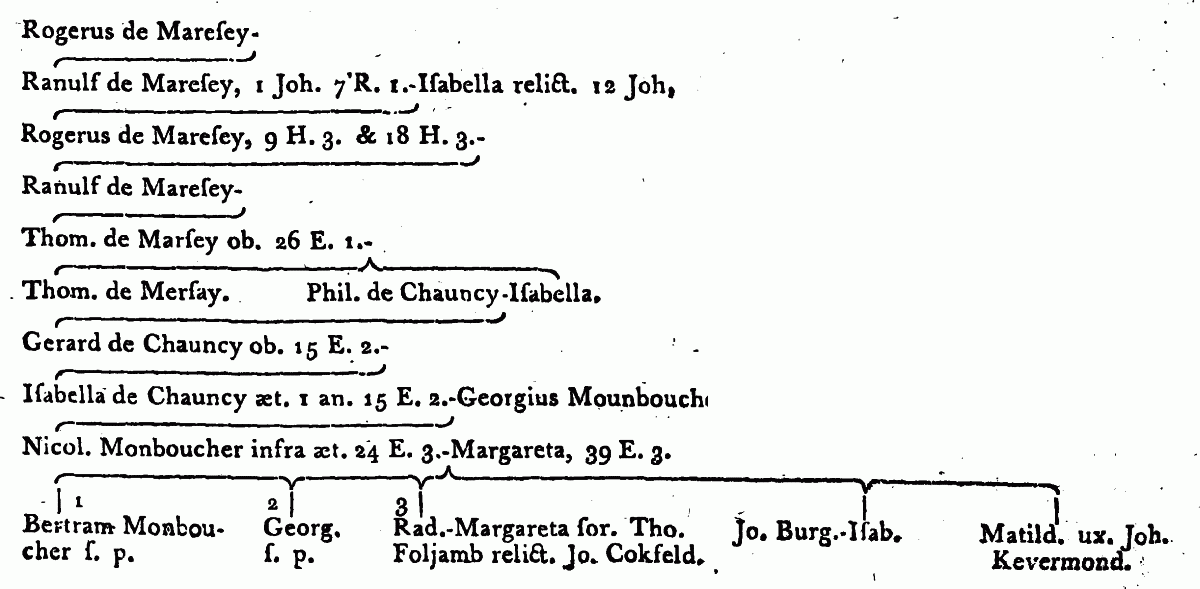 (fn. 2) Hugh Bardulf. 7 R. 1. gave account of Cxviiid. vid. of the issue of Gameleston, which was Ranulf, son of Rogers, for the whole year. Ranulph de Maresi, 1 Joh. (fn. 3) gave account of fifty marks for having his land, which was in the kings hand after the death of his father. Isabell who had been wife of Ran. de Meresey, 12 Joh. (fn. 4) gave account of thirty eight marks, and one palfrey, that she should not be constrained, &c. Eustace de Mortein, 8 Joh. (fn. 5) held two knights fees in Gamleston, with the heir of Ranulf de Marisco, for the custody (or wardship) of whom, he gave 100l. that year. Roger, son of Ranulf (de Maresey) paid four marks in the scutage of Montgomeri, 9 H. 3. (fn. 6) for two knights fees in Gameleston, and in after times Ranulf, son of Roger, paid for two fees in Gamelston. The jury, 26 E. 1. (fn. 7) found that Thomas de Maresey held in the town of Gamelston one mess. nine score acres of arable land, &c. when he died, and divers lands in Hatfeild, Houghton, Kirkton, West Retford, Misen, Meresey, Kirkeby, Walesby, Wilheby, of the honour of Lancaster, and that Thomas de Maresey was his son and heir: he had also a capital mess. and five bovats of land in Everton, held of the arch-bishop of Yorke.
(fn. 8) Isabell was daughter of sir Thomas de Marsey, and wife of sir Philip de Chauncy, who confirmed the gifts of her ancestors in this and other places, to the priory of Marsay or Mattersey in this county, in the Monasticon mistaken and said to be in Lincolneshire.) The jury, 15 E. 2. (fn. 9) found that Gerard de Chauncy held the manor Houghton, and two parts of the manor of Gamelston of the earl of Lancaster, and that he overlived Isabell de Chauncy his mother, whose heir he was of these lands, and that he left Isabell de Chauncy his daughter and heir one year old, the Fryday after the feast of the Annuntiation then last past: he had the manors of Willughton, Swynhope, &c. in Lincolnshire.
(fn. 10) George Monbocher lord of Gamelston, left his son and heir Nicholas under age, who in 24 E. 3. was in the custody of Thomas Cok, knight, by the gift of the earl of Lancaster.
(fn. 11) Nicolas Mounboucher, chr. about 8 R. 2. dyed seized of this manor, and that of Hoghton upon Idle, which with the manor of Bylynggay in Lincolneshire, and many other hereditaments in this county, 39 E. 3. were settled on him, and Margaret his wife, and the heirs of their bodies, remainder to the right heirs of the said Nicolas, on whose seal within the circumscription of his name is A Chevron between 3 Pitchers, with 3 feet. Within a Border charged with roundells. The deed was dated at Hoghton, the Thursday after the feast of St. George the martyr, 39 E. 3. (fn. 12) These manors of which he died seized extended themselves in the towns of Houghton, Gamilston, Flintham, Willughby, Walesby, Elkeslee, Kyrton, Grimston, Welhagh, Almton, Drayton. Barneby, Everton, Mysyn, Clareburgh, West Retford, and Morton in this county, and Maresey and Thorpe, as the book of fees of Henry earl of Lancaster in the dutchy office shows. This sir Nicolas Monbocher had issue Bertram, George, saged fifteen years 8 R. 2. (fn. 13) ) Raph, Isabell, and Matilda. Bertram died before his father without issue, and so did George after his fathers death, and Raph entered as his brother and heir, and married Margaret, the relict of John Folejambe, the sister of Thomas Cokefeild, but had no issue. Isabell had for her husband John Burgh, esquire, and Matildis John Kevermond, who 5 H. 5. levied a fine of these manors, to Thomas Folejambe, the elder, esquire, Robert Thornhagh, William Foljamb, and William Webster chaplain. (fn. 14)
Margaret Cokefeild held for her life, the manors of Houghton upon Idle, and Gamelston of the honour of Lancaster, by the rent of 40s. for ward of the castle of Lancaster; the reversion in 4 E. 4. (fn. 15) belonged to Thomas Thurland, William Gull, William Babington, and their heirs.
(fn. 16) Thomas Thurland, about 13 E. 4. left these manors, and West Drayton, to William Gull, clark, and others: his cousin and heir Thomas Thurland was then twenty one years old.
This manor was sold by—Thurland, the late unthrist of that family, to Thomas Markham, esquire, eldest son of sir John Markham of Cotham, by his latter wife the relict of Richard Stanhope, and one of the sisters and co-heirs of John Strelley of Strelley, esquire; it is now with Houghton the inheritance of the right honourable the earl of Clare, who hath also Thurland House in Nottingham, where lived Thomas Thurland, the great merchant of the staple, and thereby the raiser of that family.
(fn. 17) This church was accounted as part of the chapelry of Blith, but it appears, 16 E. 3. that the prior of Madersay was patron, of whom Richard de Willoughby obtained it, and presented Roger de Willughby, who was parson of Gameleston, at that time.
(fn. 18) The owners of Gamston 1612, are said to be sir John Hollys, knight, sir Robert Swifte, knight, Robert Meunell, esquire, (of Staffordshire) Robert Brett.
(fn. 19) The rectory of Gamylston was twenty marks when the prior of Mathersay was patron: 'Tis now 11l. 16s. 5d. ob. value in the kings books, and the king patron.
In Gamulston Church in a window,
Orate pro bono statu Magistri Thomæ Thurland Ar, & Isabellæ uxoris ejus, & pro anima Elizabetha uxoris ejus.
Upon a fair Tomb in the Chancel,
Hic jacet Thomas Thurland, Ar. Dom. de Gamstone, qui ob. in die S. Gervasii & Protasi
Anno Christi 1497.
Upon which Tomb in divers places was Ermine upon a Chief Gules, 3 T. Arg. and upon that in the middle a Mullett.
In a Window,
Richard Thurland, and Alice his wife.
There Thurland impales Willughby of Wollaton; and Gules a Saltier Ermine, Nevill of Rolleston.
There is Arg. a Chevron between three Pitchers (or Fleshpots) Gules within a Bordure sable Bozanty: that is also upon the shield of a Stone Statue on a Tomb, Monboucher.
In the North Window of the Chancel,
Arg. a Crosse Chequey Or and Gules, Cokfeild, impales Sable a Bend between six Scallops Or, Foljambe On the Surcoat of a Man there—Ermine on a Fesse Azure three Eglets displayed Or. On the Surcoat of a Woman— Vert a Chevron Gules between 3 Garbes Arg.
In the North Window of the Church,
Or three Bendlets Azure with quarterings, impaling Gules on a Fesse Dancette Arg. between six Lioncells Rampant Or three Martlets sable, with quarterings.
Arg. a Mullett sable impaling vert a Chevron Or between three Besants.
Thurlands Chief is indented, and upon it a file of three Labells instead of the three Tans.
[Throsby] Gamelstone.
This is an open field estate, owned chiefly by the duke of Newcastle. The village is considerable, and the manufactory of candlewick here, employs a number of hands. The Baptists in the villages hereabouts are numerous.
The church is well lighted, has a nave and south side aisle, and is dedicated to St. Peter. At the east window, without the church, Sans Varier Franciscus Charlton, S. T. P. Rector hujus Ecclesia obiit viges Quint die Feb. A. D. 1733, ætat. suæ 42.— Two figures in the chancel, one on each side, projecting from the wall, represent a man and woman, mutilated and white washed. (See fig 3 and 4, page 232.) Here was a brass upon a stone, which remembered the Thurland's, but it has been some time since stolen.
Within the rails of the altar, on the floor, a grave stone, on which is represented a priest consecrating the wine. (See fig. 5, same plate) John Henry, rector and prebendary of the cathedral of Peterborough and Litchfield, a native of Switzerland, died in 1743, aged 50 years.
Patron, the King. Incumbent, Miles Mason, R. K. B. 11l. 16s. 5d. ½. Yearly tenths, 1l. 3s. 7d. ½. Archiepisc. pro. Syn. 2s. Archidiac. pro. prox. 6s. 8d. Pens. ann. pri. de Merxy, 1l. 13s. 4d. Val. in mans. ter. gleb. decim. &c.