Pages 25-30
Thoroton's History of Nottinghamshire: Volume 3, Republished With Large Additions By John Throsby. Originally published by J Throsby, Nottingham, 1796.
This free content was digitised by double rekeying. All rights reserved.
LOUDHAM. LUDHAM. GUNTHORP. GUNILDETHORP. KATHORP. WULSTHORP.
In Gulnethorp Morcar had a manor, which before the conquest answered the geld or tax for three car. and three bov. The land being sufficient to maintain six plows, or six car. There Roger de Busli (whose see it afterwards became) had in de mesne four car. and five sochm. on one bov. & an half of this land, and forty villains, seven bordars, having sixteen car. or plows. (fn. 1) There Toll, and the ferry-boat, [navis] yeilded 30s. 8d. two piscaryes, or fishings 25s. and there was one hundred and eighty acres of meadow, pasture wood six qu long, and five qu. broad. In the Confessours time the value was 15l. when the great survey was made in the Conquerours 10l. Taylle 30s. it had soc in Bertune and Ludham. Roger de Busli, and Muriel his wife, in the year 1088, (fn. 2) gave to the monastery of Blyth, which he founded, two parts of the tythes of the hall in Ludeham and Gunnethorp in lands. and in essarts and in all small tythes.
Raph de Bellasago, who in the Red Book of the exchequer is mentioned, 7 H. 2. to have had pardon for five marks debt to the king, (fn. 3) gave to God and the church of Lenton, for the souls of his parents, and his lord king Henry (1.) two bovats of land, and a short wong, and one acre of meadow in the Ker, with Duran his man, who then held that tenor in the territory of Gunthorpe: To this deed were witnesses Remigius prior of Shelford, Richard the canon, Thomas de Bellosago, William de Bellofago, Robert de Burton, William Bret, Gerv. de Ludham, Hugh, son of Simon, and many others. He gave likewise to Lenton the tythe of his mill of Gunthorp, which mill was scituate upon Trent, and 4s. yearly in his passage of Gunthorp.— Raph de Bellasago gave to God and the canons of St. Peter of Thurgarton his bretnren, (fn. 4) with himself wherever he should die, by the consent of Gilbert his brother, the church of Ludham, and mill of Doverbec, with the land lying to it, and all its customs and rights, and all his land of Woodburgh, in pure alms for the health of king Stephen and for the soul of his son, and for his own soul, and the souls of all his own parents and ancestors. Raph de Bellasago gave Snellingmilne on Doverbec to Thurgarton priory, (fn. 5) and Emma de Bellafago confirmed the gift of her uncle the said Raph.
(fn. 6) Gilbert de Norfolck, 2 Joh. gave account of one hundred marks, and one palfrey, for having the land of the inheritance of his wife, as long as he should live, of whom he had sons which were dead. King John, 3 Oct. 7 Joh. (fn. 7) confirmed to Emine de Bellafago the manor of Ludham, with the appurtenances, and her inheritance in Norfolk, viz. Flicham, in Crec, and Rudham, and Cassabile, her dower of the freehold, (fn. 8) which was Gilbert de Norsolchs, late her husbands: but if Emme de Beuso died without issue, the fee of Ludham was in the king.
G. de Norf. by the intreaty and consent of Emme de Frivill his wife, gave to the canons of Welbeck, (fn. 9) quitance of his passage over Trent at Gunthorp, as much as belonged to his part, and of his Caetley at Lowdham wholly.
Emma de Bellafago gave account of DC. marks, 8 Joh. (fn. 10) for having her inheritance, viz. Ludeham, and also in Norsolch, and that she should not be distrained to marry. Notwithstanding her deed to the king, she acknowledged Hubert de Burgo earl of Kent in the king's court to be her heir, who, 1 1 H. 3. (fn. 11) claimed against her, that she should hold covenant with him concerning the manors of Gunetharp, Ludham and Creke.
King Henry the third, Decemb 8. in 31 H. 3. (fn. 12) at Clarendon, granted to Walter Byset, and his heirs, the manor of Ludham, until he the said Walter, or they, should recover their lands in Scotland.
(fn. 13) In 43 H. 3. July 27. the king granted to Simon de Montefort earl of Leicester, and Alianor countess of Leicester, the kings sister, the manor of Gunthorp, with the Sok, and all appurtenances, for one hundred marks of land, part of 400l. per annum, which the said king was bound to assign out of escaets, or other lands, to the said earl and countess.
Henry earl of Lancaster and Leycester, 3 E. 3. (fn. 14) claimed the town and castle of Leycester, and all the lands and knights fees held of that honour, which were sometimes Simon de Monteforts earl of Leycester, and forfeited to the crown, which king Henry the third, Apr. 22. in the fifty-third year of his reign, granted to Edmund his own son and his heirs, with all the priviledges belonging to that honour; from which Edmund, the right descended to Thomas his son and heir, but he dying without issue, the said Henry was his brother and heir, and claimed the towns of Goleham and Gunthorp, with the members, to be of that fee of Leycester, of which this Sok hath ever since been esteemed, though it was formerly of the honour of Tikhill; and king John granted the church of Loudeham, with the chapel of Gunthorp to Walter Arch-bishop of Roan, and the canons there, with Bridgeford, and many other churches, as of the chapelry of Blyth, afterwards called part of the free-chapel of Tikhill, though, 8 E. 2. (fn. 15) the arch-bishop of York claimed to have ordinary jurisdiction and institution in the churches & vicarages of Ludham, East-Markham, West-Markham, Wheteley, Harworth, East-Bridgford, & Walesby, as parochials & not annexed to the kings chapel of Tikhill.
The tenency of this manor was in sir Peter de Montesort, stain also as earl Simon was, at the battel of Evesham, 49 H. 3. a great man in those daies, as Mr. Dugdale in his antiquities of Warwickshire (fn. 16) in divers places shows.
Peter do Montefort (as it appears, 6 E. 1. (fn. 17) redeemed his lands in Gunthorp of Edmund the kings brother, according to the decree of Kenilworth for two hundred and twenty marks. This Peter died 15 E. 1. leaving John de Montefort his son and heir, who was dead 24 E. 1. and whose son and heir John was slain in the battel of Strivelin 7 E. 2. (fn. 18) but he had another son called Peter, who was first in holy orders, but after his brothers death became a knight, (fn. 19) and married Margaret, daughter of the lord Furnivall; and by a fine levied at York, 12 E. 3. (fn. 20) settled the manor of Gunthorp on himself the said Peter de Montefort Chr. and Margaret his wife, and the heirs of Peter on the body of the said Margaret; remainder on John, son of ora de Ollenhale (his concubine or old miss) and the heirs of his body; remainder on Richard, brother of the said John, and his; remainder on Alice, wife of Fulc de Penebrugg, and the heirs of her body; remainder to the right heirs of Peter.
(fn. 21) The jury, 11 R. 2. found that Baldwin Frevill, knight, died seized of this manor, and left Baldwin his son and heir; from these Frevills it descended to the family of Willoughby of Wollaton, according to the genealogy in that place. Sir Francis Willoughby conveyed it to the trustees or feoffes of his lady, afterwards lady Wharton, whose heirs claimed it accordingly; and it was lately sir William Dalstons, the lady Reresbyes, and — Mannings.
(fn. 22) Emme de Beauso, 7 H. 3. required her land in Cathorp to be replevyed to her, which Henry de Ludham, and Letice his wife, claimed against her.
There was a family which took their name from their residence at Loudham, whereof Eustachius de Ludenham, 16 Joh. was sheriff, or his deputy, or under-sheriff, as in Lambecote is noted, and was succeeded by sir Walter de Ludham, knight, whose son sir Walter was father of sir John de Loudham, who, 12 E. 2. (fn. 23) died seized of one mess. and three virgats in Neuton and Shelford joyntly with Alice his wife (who was daughter of sir Robert de Kirketon in Holand, knight, and mother of Joane, the wife of sir Geoffrey de Staunton, knight,) (fn. 24) this land was held of Thomas de Bardolf for 10s. per annum. This sir John de Loudham likewise held his capital mess. in Loudham of the prior of Shelford, by the service of 12d per annum, and in the same town one mess. and five bovats of land and meadow of sir Peter de Edensoure by the service of the twentieth part of a knights fee, and 3s. per annum, and likewise another bovat of him by the service of 12d. per annum, and 2l. of cummin. (fn. 25) He held likewise joyntly with Alice his wife in Loudham and Cathorp seven tofts, and five bovats of land of sir Peter de Montefort by the service of the twentieth part of a knights fee; he held likewise one bovat of the prior of Newstede for 2s. per ann. and one and ½ of the prior of Thurgarton for 2s. 6d. likewise in Ludham, and divers other parcels, besides six mess. and twelve bovats in Bildsthorp held of Henry de Beaumonte, John de Loudham was then found his son and heir.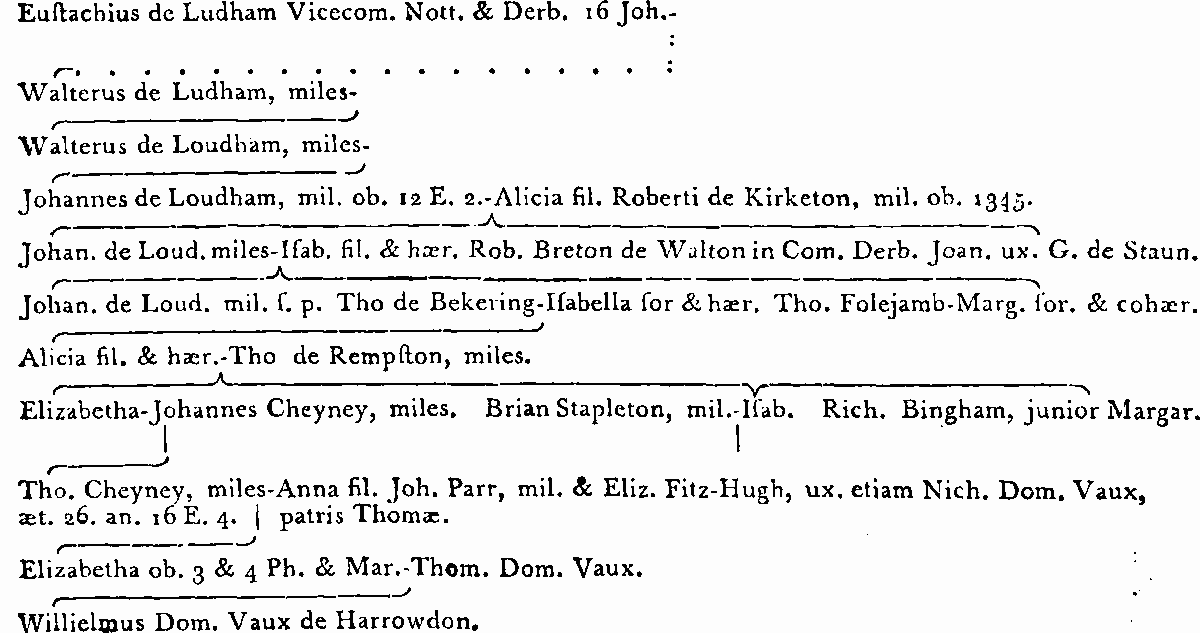 (fn. 26) This sir John de Loudham married Isabell, the daughter and heir of sir Ro bert Breton of Walton in Darbyshire. and died seized about 11 R. 2. (fn. 27) of the manor of Walton, and the manors of Brimington, and Whitington, and Rodyche in that county, leaving John de Loudham his son and heir, who was also a knight, and about 14 R 2. (fn. 28) died seized of the manor of Walton, &c. leaving Isabell and Margaret his sisters and heirs. He had a wife called Margaret, who before had been wife of sir John Zouch, knight. Elizabeth and Margaret the wives of William and John Chaworth, 29 H. 6. (fn. 29) were found her cousins and heirs; they were of the family of Bowytt of Repinghale, as in Wiverton may be observed.
(fn. 30) Isabell, the sister and co-heir of sir John Loudham, was married to Thomas Bekering, and Margaret to Thomas Folejambe. Isabell left a daughter called Alice, the wife of sir Thomas Rempston the younger, who had the moyety of this manor, and that of Billesthorpe, called Loudhams manor, and about 37 H. 6. (fn. 31) left three daughters and heirs, as in Bingham is said: Elizabeth, the wife of John Cheyney, esquire; Isabell, of sir Brian Stapleton; and Margaret of Richard Bingham the younger. This it seems was alotted to Cheyney, and descended to the lord Vaux, (fn. 32) who sold it and Billesthorp too, to Peter Roos, as I suppose. — Roos sold both to Thomas Broughton, esquire, of Staffordshire. This is now the inheritance and residence of Peter Broughton, younger brother of sir Brian Broughton, who is now lord of Bildsthorp, and several other manors in this county.
(fn. 33) Gilbert the clark of Ludham, gave to his son John a toft and croft, which he held of William de Passi for 6d. per annum, and five acres of assart of Emme de Bellefago, by finding a lamp burning before the altar of the blessed Mary at Loudham, every day at the celebration of mass. John, son of Gilbert de Ludham, gave them to Richard de Ludham, and Agatha his wife, reserving 3s. per anuum, which he gave to Thurgarton priory.
(fn. 34) The king, 6 E. 6. Jun. 10. granted to Francis earl of Shrowsbury, all the rectories of East-Markham, Little Markham, Lowdham, Walesby, Wheteley, and Hareworth, with all oblations in Hasseley, Marteyne, Limpole, and Plumtreefeild, late belonging to the monastery of St. Oswald of possel in Yorkshire, and parcell of the prebend of Tikchull, Westminster.
This rectory is now held by the lord marquess of Dorchester.
(fn. 35) The vicarage of Lowdham was 8l. when the abbat of Westminster was patron. 'Tis now 4l. 18s. 4d. value in the kings books, and the lord marquess of Dorchester patron.
In Lowdham Church: South Ile East Window,
Gules Crusuly, with a Fesse Or.
Chequy Or, and Azure a Fesse Gules, Clifford.
Bendy of six pieces Arg. and Gules, with a File of five Labels Azure, Montefort.
Azure three Waterbougets Or, Roos.
Gules a Bend betwixt six Martlets Or, Mounteney: this is twice.
Or three Chevronels Gules, Clare.
England with a File of five Labells, and on each three Flowers de Lis.
England.
Or a plain crosse Gules.
Barry of six Arg. and Azure, Lord Grey of Codnor.
These two last are in the South-West Window.
And Barry Ermine and Gules of six pieces, Kirketon.
Gules Crusuly with a Chevron Or, Kyme.
In the north wall of the Chancell, on an old low stone tomb lyeth the effigies of an armed knight cross-leg'd, with his shield on his arm, whereon is embossed a Bend Crusuly.
The Inscription on the side is, SIR ION D D LOUDHAM IT ICI, &c:
In an high north window in the body of the church, is, Chequey Arg. and Gules a Bend sable, Bekering, impaling Arg. a Chevron sable with a Mullet pierced in the dexter point of the same colour, Rempston; this is transposed, and so is the next which should be Rempston impaling Bekering: but is on the upper part Arg. a Bend Azure Crusuly Or, Lowdham; and on the lower half Bekering, impaling Rempston all the length of the shield, against the other two.
[Throsby] Loudham, Gunthorp, & Kaythorp.
At Gunthorp there was formerly a chapel; but it is now converted into a blacksmith's shop.
Loudham fields, which contain 3000 acres, were enclosed about the year 1768. The lord of the manor is a Shropshire clergyman of the name of Broughton; other freeholders are the bankers Smith & Wright both of Nottingham, & Webb Edge, Esq.
Loudham contains about 70 dwellings, and a cotton mill at some little distance.— The hamlets are of inferior note.
Loudham church stands about two miles from Gunthorp ferry, and one and a half from Kathorp; both convenient distances for the inhabitants to attend divine service. This church has a spire, five bells, a losty and broad nave and side aisles. An old vicar of the name of Bedgmore, D. D. died at the age of 105. A little brass plate, in the chancel, says "Peter Broughton, Esq; aged 61, 1777." A tomb, on the north side, remembers others of this family, one of which is Charles Broughton, youngest son of Peter Broughton, Esq; who died in 1688, aged 21. The mansion which was formerly occupied by this family is now the abode of a shoe-maker. The cross legged figure which Thoroton mentions above for " Sir John de Loudham" is still in its place, as he has not given a representation of it, I have copied it, fig. 2 in the subjoined plate. Another notable old figure, here also, he has not mentioned: it is upon a floor stone, pretty perfect; but no inscription remains. It appears to have been done for an old priest. It is copied in the same plate fig. 3. On one side of his head is a chalice, and on the other a bible. The font here appears to be the age of the church, it is copied in the same plate fig. 6.
Patron, the duke of Kingston in 1773. Incumbent, Dr. Scrope Beardmore.— King's book 4l. 18s. 4d. Clear yearly value 41l. 9s. 6d. Archiepisc. Ebor pro Syn. 7s. 6d. Val. in augment. Sal. per Abb. Westm. in pecun. 1l. 13s. 4d. decim. molend. lan. agn. &c. Marquis of Dorchester presented in 1712. Duke of Kingston in 1730.