Pages 408-414
Thoroton's History of Nottinghamshire: Volume 3, Republished With Large Additions By John Throsby. Originally published by J Throsby, Nottingham, 1796.
This free content was digitised by double rekeying. All rights reserved.
CARLETON in LINDRIC, and WALLINGWELLES.
In Carletune before the Norman conq. six Tayns had each his hall, or manor, and amongst them paid the geld for two car. The land was four car. (fn. 1) This afterwards was Roger de Buslies fee, and Turold (de Cheverchort I suppose) his man or tenant had there one car. and two sochm. and sixteen vill. and three bord. having four car. there was a church and two mills of 21s. and twenty acres of meadow, pasture wood one leu. and an half long, and half one broad. In the time of Edward the confessour the value was 4l. when the conquerours survey was taken 30s.
(fn. 2) Raph de Cheurolcurt by the consent of his heirs, gave and granted, and by his charter confirmed to Almighty God and the virgin St. Mary his glorious mother, a place in his park of Carletun by the wells (or fountains) and stream (or river) of the wells, whose name should be called St. Mary of the Parke, to make and build there an habitation for holy religion, so free that this place should not depend on (or belong to) any other place, in honour and memory of the blessed and glorious virgin Mary, the mother of God, and for all religiously serving God and St. Mary, and living regularly in that place, for the remission of all his sins and safety (or health) of his soul, and of his father and mother, and of all his heirs and parents (or friends) preceding or subsequent, and also of all them who for the love of God and St. Mary should help and maintain the said place. He gave also the river of the wells to the profit of the place, and to make mills, and pasture in the same Park for all their beasts with his, and feeding (or paunage) for ninety swine in the same Park, and a way thro' the middle of the Park at the south part, freely to go out and return to husband their corn, and draw it home. And the whole land which Gunwat held of his fee in lands tilled and sarted, and in meadows and marishes, and the essart of Thori, and the essart of William, son of Lefwin, and the culture of Ruhstoch of his demesne, and the essart of Ernwi in the middle part of the Holm, by the way: And in West Holm five acres in one place, and four in another, and the meadow which was Godric Palmars, and eight acres of his demesne in Hayecroc, and common in the field of Carletun in the Brec, and common of pasture for all their beasts every where, and the whole shrub of Sicam to sart (or stock up) which is in length from the culture of Rustoch into the ditch of Lindric, and in breadth from the Park to the essart of Theobald. All these things he gave freely to them who should serve God and St. Mary in this place, &c. with a great blessing upon his heirs that should love & maintain his alms, & a very great curse upon those that should attempt to disturb, diminish, or straighten it. The witnesses were Herbert the prior of Pontefract, Alexander his nephew, Luke the parson of Carletun, Simon de Cheurolcurt, Jordan and Richard his brothers, Hugh, son of Ernald, and Nicolas his brother, Ernald, son of Claron, Blundel, Godric, Modi, Walter de Lettewelle, and Swarawell the miller.
(fn. 3) Raph de Caprecuria, and Beatrix his sister, gave to God and St. John, and the monks of Pontefract, the town of Barnesley, Jordan and Richard his sons consenting.— This gift was made in the presence of Henry de Lascy who was a witness; and also Maud his mother. Jordan de Capreolocuria confirmed the gift which his aunt Beatrix, and Raph de Capreolocuria his father made in all things. This was done in the chapel of St. Mary Magdalen in Doncaster, before the kings justice Richard de Luci (which shows it was H: 2, and the witnesses were Roger arch-bishop of York, Henry de Lascy, William de Vesci, Robert the clark of the sheriff, Turstan de Sutton, Mr. Robt. Morel, William Vavasor, Jordan Foliot, Richard Bagot, Robert Despenser, John, son of William, the almoner. Jordan de Cheurecurt, 11 H: 2, (fn. 4) ought — of the relief of one knights fee in Karleton.
(fn. 5) This Jordan de Chevercourt it seems married Avicia, the daughter of Ranulph, the sheriff named in Markham, who had several daughters, Letice, Mabel, (whom I guess, was wife of Raph de Saint George) Albreda, Isabell.
(fn. 6) Aubrea, the daughter of Jordan de Chevercourt, sometime wife of Robert de St. Quintin, gave to the abbey of Wellebek the whole land which Roger, son of Robert de Langholt, held of her in the territory of Carleton, for the health of the soul of Jordan de Chevercourt her father, and of Raph her brother's, and of Robert de St. Quintin her husband's. Ranulp de Novomercato, and Raph de St. George, were witnesses.
(fn. 7) Robert, son of Ranulph de Novomercato, resigned to his said father, the service of Thorald, son of Hugh, which he gave him, and confirmed the gift which his father made of the same, to the abby of Wellebek. The said Ranulf, and Letice his wife, gave to that abbey the rent of 5s. 10d. out of lands in Carleton. Letice de Chevercourt the relict of Ranulph de Novomercato, confirmed it in her widowhood. The lady Julian, daughter of the lady Letice de Chevercourt (fn. 8) in her widowhood gave to Roger de Osberton and his heirs, the whole land which she had of the gift of the lady Letice de Chev. in demesnes and in services in the town of Carleton and Swaynthorpe.
Isabell, the daughter of Jordan de Chevercourt, at the request of her husband Robert de Furnals gave to the abbey of Wellebek the land which Henry son of (or Fitz-) Warin held of her in the territory of Karleton.
(fn. 9) Albreda de Chevercourt, the wife of Adam de Sta Maria, gave with her body to be buried at Wellebek the rent of 14d. of the service of Thorald de Carleton, which she kept in her hand when she gave the rent of 12d. of the same service for the safety (or health) of her former husband Rob. de St. Quintin, for whose soul and to change his body from lay sepulture into ecclesiastical, she also gave the service of Thorald de Karleton for the third part of one bov. in Karleton: to this Richard de Furneus was witness.
(fn. 10) The sheriff, 6 R: 1, gave account of 32s. and 4d. of the land of Robert de St. Quintin, and of 11l of his cattel sold, being one of the kings enemies, of the honour of Tikehill. (fn. 11) Robert de St Quintin 7 R. 1, gave account often marks for having his wifes land again. (fn. 12) Robert le Vavasor 10 R. 1, of forty marks for the custody of the land of Robert de Furnell, and for marrying his heir, [viz. his wardship.]— Richard de Furneus was son and heir of Robert de Furn. as in Bothumseil is noted. Robert de Furnell, (fn. 13) and Thomas de Lnc. are certified to have held two parts of a knights fee in Linderik, in the time of H. 3.
(fn. 14) The prioress of Wallondewelles, 31 H: 3, took nothing by the writ against Thomas de Lync. (or Lanc.) and Julian his wife, concerning the plea for obstructing a certain way in Kerleton, so that she could not have her high way with her carts from her house to her granges, because the jury said that she never had a way as belonging to any tenement there, except by permission of the said Thomas and Julian. Hugh de Serleby, Galfr. de Blithe, Henry le Norreis, and Elias, son of Maud, the recognizers came not, and therefore were amerced.
(fn. 15) It was found in 4 E. 1, that the kings ancestors had one manor in Carleton, belonging to the crown, which was wont to yield 10l. per annum, of which king John gave to one Eustachius de Ludham and his heirs 30s. yearly. And king H. 3, gave the residue of the said rent to one Algret the cross-bow-man [Albalestaria] by his charter, and the said Algret gave that rent to the abbat de Rupe, who then held it, and paid the king 6d. yearly.
The prior of Wirkesop had one bovat of land in Carleton, of the fee of Tikhill.
Roch Abby had 81. 10s. rent in Carleton of the kings demesne, and twenty aeres of meadow of the fee of Tikhill. There was a confirmation 37 H. 3, (fn. 16) to the abbat of Roch, of liberties or priviledges in the manor of Carleton in Lindrick, which sometime was the kings demesne.
(fn. 17) Carleton in Lindric was of the sok of Maunsfeld, whereof Henry Corbin had 33s. 4d. and Philip Minecan answered to the exchequer concerning the rest.
(fn. 18) The jury, 28 H. 3, said that Gerard de la Warr who had been the kings [Hobler, Balistarius] cross-bow-man, had of Carleton in Lindrick two bov. and an half in demesne, containing fifty-eight acres, &c. likewise he had in sokage twentytwo bovats ½, ¼ of a bov. which men held of him. This he had during his life for his service of the kings gift.
Walter de Ludham had there five bov. and the fourth part of a bov. and 8s. rent and 6l. of the mill per annum.
(fn. 19) Walter de Furneus 8 E. 1, was summoned to answer Hugh de Grenely in a plea that he should hold the covenant between them concerning the manor of Carleton in Lindrik, with the appurtenances, except fifteen acres of land, twenty and three acres of wood in the same manor, afterwards they agreed, and Hugh gave half a mark for licence of concord, and the said Hugh remised to the said Walter and his heirs all manner of action which could concern him by reason of that agreement, and the said Walter acknowledged that he ought the said Hugh twenty marks to be paid five marks every quarter of the year, which if he did not pay accordingly, the sheriff was to cause it to be done out of his lands and chattels, &c.
(fn. 20) The parson of the church of Carleton in Lyndrike, 20 E: 1, recovered damages of Richard Furneyes lord of that town, for destroying and depasturing his corn there, in a certain place then called the Parsons Breck, with his cattel, when it was ready to be reaped, which was manifestly injurious, so that it could not be susteined by Birlawe [viz. the orders or laws of the township.]
(fn. 21) The jury, 23 E. 1, found it not to the kings loss if he granted licence to the abbat and convent of Koch (or Rupe) to give to sir Richard de Furners ten pounds land and rent, with the appurtenances in Carleton in Lindrike, held of the king in capite, by the service of a pair of gilt spurrs or 6d. per annum.
(fn. 22) There was a fine levied at York in the octaves of St. Martin, 31 E: 1, between Richard de Furneus, and Sibylla his wife, quer. and William de Cressy, and Joane his wife, impedients, of the manor of Carleton in Lyndryk, with the appurtenances; whereof a plea of warantia chartæ was summoned between them in the said court, viz. the said William and Joan recognized the said manor to be the right of Rich. and remised and quit-claimed it from themselves and the heirs of Joane, to the said Richard and Sibyll, and the heirs of Richard. (fn. 23) On the seal of Richard de Furneus, within the circumscription of his name, appendant to a deed dated 1 E: 1, is, On a chief the upper part of a Lion Rampant.
(fn. 24) The jury, 2 E: 2, found that Richard de Furnes when he died held 10l. land and rent in le Kingston of the king in capite, by the service of a pair of gilt spurrs or sixpence yearly. And that the said Richard together with Sibyll his wife, joyntly feoffed by fine, held the manor of Carleton of the castle of Tikhill, and the moyety of the manor of Bothumsell of the earl of Lancaster, and that William was his son and next heir; and that the said Richard died the Wednesday next before the feast of St. Luke the evangelist that year, and then his son William was above twenty-one years of age.
(fn. 25) In 9 E. 2, Carleton answered for a whole villa, and the lords were certified to by William de Fourneaux, and Sibylla de Fourneaux. (fn. 26) Sibylla, 3 E: 3, claimed for her life Insangthes, Gallowes, and Park, in the manor of Carleton in Lyndryk.
Thomas de Carleton then also claimed the amends of the assize of bread and ale broken of his tenants in Carleton in Lyndryk.
(fn. 27) William de Fountayns of Kingnolm (brother and heir of Richard, son of William, son of Richard, son of Ivo, son of Richard, who lived in king John's time) claimed against William de Furneus 3 E. 3, 10l. rent, with the appurtenances in Carleton in Lyndryk, &c.
(fn. 28) The jury, 23 E: 3, found that William Furneaux held when he died 10l. rent, with the appurtenances in Carleton in Lyndryk, &c. and that Thomas le Latymer then aged twenty-six years, son of Sibyll le Latymer, one of the sisters, was one heir of the said William; and Joane his other sister then living, whom Henry, son of Henry de Ravenswath, had to wife, was his other heir.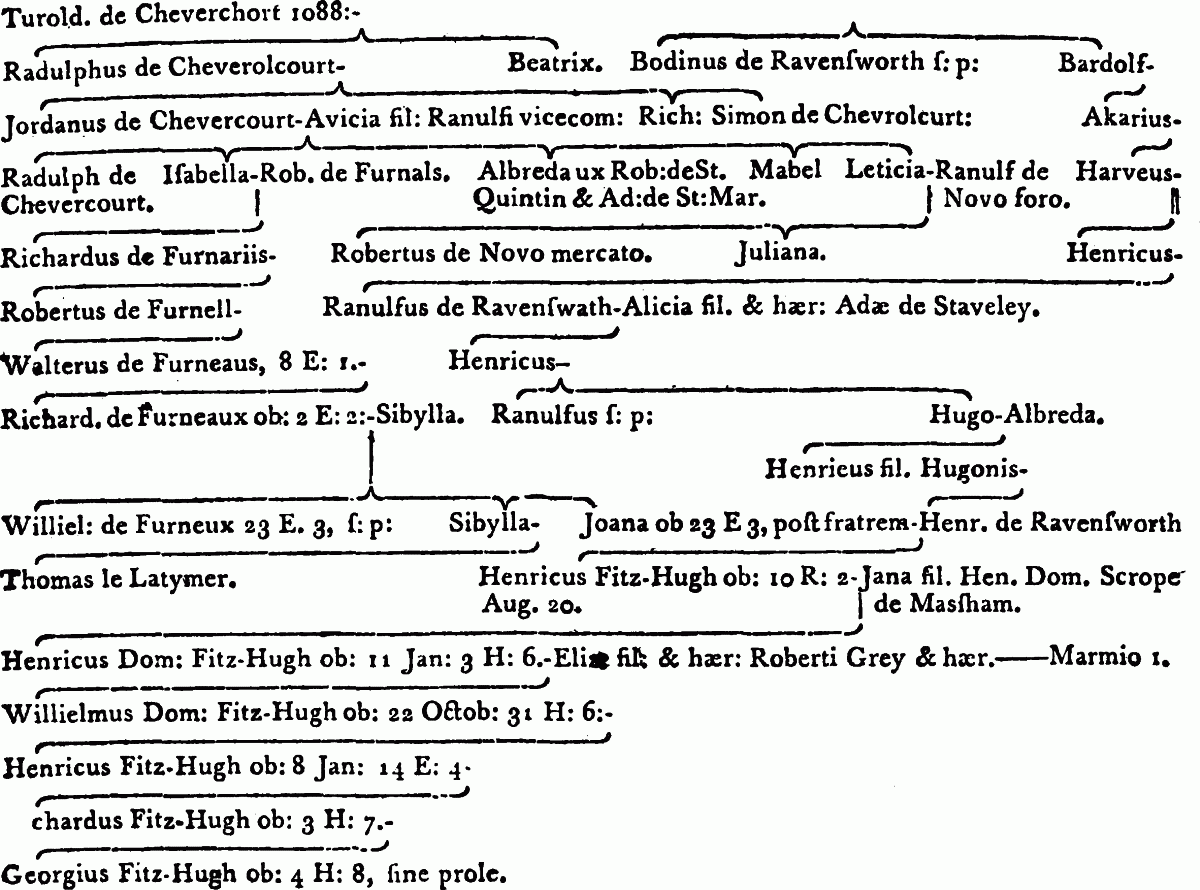 (fn. 29) The jury, 27 E. 3, said that this Joane, sister of the said William de Furneax, over-lived her brother but a month, and had a son named Henry heir of her, and her said husband Henry, son of Henry de Ravenswath, (who was called Henry Fitz-Hugh) his grand-father, (fn. 30) who out-lived his father, being son of Hugh, brother and heir of Ranulf, son of Henry, son of Ranulf, son of Henry, son of Harvey, son of Akaris son of Bardolf, brother and heir of Bodin de Ravensworth. (fn. 31) Akarius, son of Bardolf, founded Jorevaulx, and Harvey his son was a great benefactor to it.
(fn. 32) The jury, 30 E. 3, found that Thomas Latymer held when he died the moyety of the Hamlet of Kingeston in Carleton, and the manor of Carleton, which extended itself into Beyghton, and the moyety of the manor of Bothumsell, and that Henry, son of Henry, de Ravenswath, was his next heir.
(fn. 33) The jury, 10 R. 2, found that Henry Fitz-Hugh died seised of a certain manor in Carleton, called Kingeston, held of the king, & of the manor of Carleton in Lindrik, held of John duke of Lancaster, as of the honour of Tikhill, & of the moyety of the manor of Bothumsell, held also of him of the honour of Lancaster, and that Henry FitzHugh, knight, was his son and heir.
(fn. 34) The lands which were Henry Fitz-Hughes, chr. in the counties of York, Northumberland, Nott. and Cambridge, were to be seised 22 Sept. 10 R. 2, Henry Fitz-Hugh, chr. 3 H. 6, (fn. 35) left his son and heir William Fitz-Hugh, chr. of full age: William Fitz-Hugh, knight, son of Henry, 31 H. 6, (fn. 36) left Henry Fitz-Hugh his heir of full age, 15 Febr. Patron of the abbey of St. Mary of Jorevaux, &c. and Staveley and Brunsall, advowsons in Yorkshire, and many lands and manors there. Henry Fitz-Hugh lord of this manor 12 E. 4, (fn. 37) left his son Richard his heir, fourteen years old.— Richard Fitz-Hugh lord Fitz-Hugh dyed 3 H. 7, (fn. 38) leaving his son and heir George half a year old, who dyed without issue about 4 H. 8.
(fn. 39) Thomas Fenys, knight, lord Dacre, 5 H. 8, suffered a recovery of the moyety of these manors, and called to warrant Alice Fenys, widow: (fn. 40) and Gregory Fenys alias Fenys, lord Dacre, and Anne his wife, 13 Eliz. suffered another of the manors of Bothumsall, Carleton Kingeston, and Carleton Baron, &c.
(fn. 41) Queen Elizabeth 8 Mar. 22 Eliz. granted to John Molyneux, esquire, the lordships or manors of Carleton Kingeston and Carleton baron, and all singular mess. lands &c. in Carleton in Lindrick, Worsop, Ellesley, Normanton, Little Morton, Wallingwells, Austr. Reyton, and Reytan Grange, in the counties of Nott. and York, or other-where in this county, then extended at 27l. 17s. 7d. per annum, which were late the possessions of Thomas lord Dacre, great grand-father of Gregory, the then lord Dacre, or of Thomas lord Dacre, father of the said Gregory.
Sir John Molyneux the grand-child of that John, leased it for eighty years to one —Halsey, and since that Vivian Molyneax, esquire, son and heir of that Sir John, sold the inheritance of it to Sir Gervas Clifton, kt. and baronet, who hath in effect all the rest of the lands in Carleton, save what belongeth to the monastery of Wallingwelles, the scite whereof and much of the lands 19 Feb. 5 E. 6, was demised to John Frankwell, esquire, for twenty one years at the yearly value of 12l. 13s. 3d. and by queen Eliz. 5 Aug. 6 Eliz. (fn. 42) granted to Richard Pype of London, lether-seller, and Francis Bowyer, grocer, and to the heirs of Richard Pype, who afterwards as I suppose was Sir Richard Pype, and father of Humfrey, father of Richard Pype, esquire, whose inheritance and place of residence it was in my time, but his nephew and heir— Pype, hath sold it not very long since to major Sam. Taylor, who for some time had the oversight of the moll at Tangier, for our present soveraign king Charles the second.
(fn. 43) The jury, 10 E. 2, found it not to the kings loss if he granted John de Loudham licence to give to Thomas de la Grene of Carleton, 30s. rent with the appurtenances in Carleton in Lindrick, &c. (fn. 44) It seems Sir John Loudham with this rent of assize granted to this Thomas de Carleton one mess. called white Hall, and 1 carucat of land there held of the manor of Kingston in Carleton, and by the custom of the manor partible amongst all the sons.
Thomas de Carleton had a son Henry de Carleton (which Henry, and Mary his wife, the jury, 13 R. 2, (fn. 45) sound were seised of 23s. rent, and the white Hall, &c.) and that Henry had four sons Thomas, John, Henry, and Walter de Carleton, esqr. who had two sons, Hugh de Carleton fifteen years old, and John de Carleton thirteen, co-heirs and parceners of the said Walters part, whereof 6 Novemb. 7 H 5, they had livery according to the custom of the manor.
(fn. 46) Thomas Carleton, esquire, when he died about 7 H. 5. held the 30s. rent and the white Hall in Carleton in Lindrick, and Walter Carleton was his son and heir.— Ws. [Walter] Carleton, son and heir of Thomas de Carleton of Lyncolne, 14 H.6, passed this parcel to Raph Makarell, esquire, and Margery his wife.

(fn. 47) The owners of Carleton in Lindrick 1612. are thus set down, sir Gervas Clifton, knight, sir John Molyneux, knight, Humphrey Pype, esquire of Wallingwells, John Buck, clark, Robert Glossop, and Sam. Simpson.
(fn. 48) The rectory of Carleton, was 20l. 'tis now 15l. 13s. 4d. value in the kings book, and as it hath been remains in the collation of his grace the lord arch-bishop of York.
[Throsby] Carleton in Lindrick
Is a large lordship. The Clifton family has considerable interest here. Sir Gervas Clifton, a descendant of that Sir Gervas who was by James the second created a baronet in 1611, had a fine seat in this place, where he dwelt. The village is of considerable magnitude. Here there were large manor houses so early as the conquest; and since that time, at various periods, others of consequence have been erected here, and inhabited by people of family and fortune.
Patron of the church, which is dedicated to St. John, Archbishop of York. Incumbent, Francis Herbert Hume, R. King's books, 15l. 13s. 4d. Yearly tenths, 1l. 11s. 4d. Archiepisc. pro Syn. 4s. Archidiac. pro Prox. 6s. 8d. Pens. ann: sol: prior. de Wallenwells, 2l: 13s: 4d. Val: in mans: ter ten: &c.