Pages 92-96
Thoroton's History of Nottinghamshire: Volume 3, Republished With Large Additions By John Throsby. Originally published by J Throsby, Nottingham, 1796.
This free content was digitised by double rekeying. All rights reserved.
NORMANTON.
In Normentune before the conquest Ulf had two bov. and an half ad geldam. (fn. 1) — the land one car. There afterwards Gislebert de Gand (who had Ulfs estate in this county) had four vill. with one car. or plow. The Soc was in Southwell. In the Confessours time the value was 16s. in the Conquerours 8s.
There was a fine levied, 17 E. 3. and afterwards, 18 E. 3. (fn. 2) between Henry de Southwell, clark, querent, and Benedict, son of Richard de Normanton, deforc. of one mess. five tosts, seven bovats of land and an half in Normanton by Southwell, whereby these were settled on the said Henry for life, and after his decease on Isabell, daughter of the said Benedict, and the heirs of her body; remainder to Alice, sister of the said Benedict, and the heirs of hers; remainder to the said Benedict, and his heirs.
There is in Normanton an ancient capital mess. with a good demesne belonging to it, the seat of the Hunts, mentioned in Hokerton, one whereof was a merchant of the staple in Nottingham, in the time of Edward the fourth. Henry Hunt the last heir, son of Edmund, dying without issue, it fell to his aunts in respect of the half blood, who sold it to Mr. James Palmer; and it was afterwards the inheritance of sir Matthew Palmer, knight.
William Cartwright the lawyer, who married Christian, one of the daughters of sir Hugh Cartwright, knight, built an house of brick and stone there, which is the inheritance of William his son.
John Marler rector of Normanton upon Sore hath some interest here; and here a branch of the family of Leek of Halam hath resided.
Halam, Edingley, Greaveslane, Osmundthorp, Farnesfeild, Upton, and Kirtlington, are members or hamlets of the great Sok of Southwell.
Robert Ribald, 9 Joh. (fn. 3) gave to William Ribald, one car. of land in Nottinghamscir, to wit, in Halum, Edinfeild, and in Farnefeild, to be held by the free service of xxs. &c. if the said William died without heirs of the wife he had married, the land was to return to the said Robert and his heirs.
In Halam is an ancient capital mess. and a good demesne, all freehold, the inheritance of Leek of Halam, of which family Adam Leek had a monument in Southwell church; but William Leek lately deceased, viz. 1673, son and heir of Herbert Leek, being left by his father in as much debt as this old seat was worth, and having married — the heir of — Bolles of Osberton, removed thither, and sold his interest here at Halam to Richard Loyd, esquire, who was high sheriff of this county the last year 1673, and hath built a fair house there of brick and stone where he now resides.
Most of these hamlets are either small free-holds, or copy-holds of the manor or else of the chapter of Southwell.
In Halam 1612, the owners were William Leek senior, gent. and William Leek, junior, gent. William Cowper, junior, William Astlyn, Thomas Leek, gent. Thomas Maye; but not long since Mr. William Loscoe had interest here and at Farnesfeild.
John, the son of Tho. Chamberleyn of Polington, by fine, 20 E. 3. and afterwards 21 E. 3. (fn. 4) passed to Thomas de Metheley of Thornehill, and his heirs, the manor of Eddinglee by Southwell, with the appurtenances, except 49s. and 3d. rent, and the rent of a pair of gloves in the same manor, which Simon Jorce of Lughteburgh. and Margaret his wife, held for term of life, together with the reversion after their de cease, and the homages, and all the services of Richard de Willughby, John de Loudham, knights, John de Bella aqua, Thomas de Nevill, knights, and divers others, and their heirs, for lands which they held of the said John in the said manor. (fn. 5)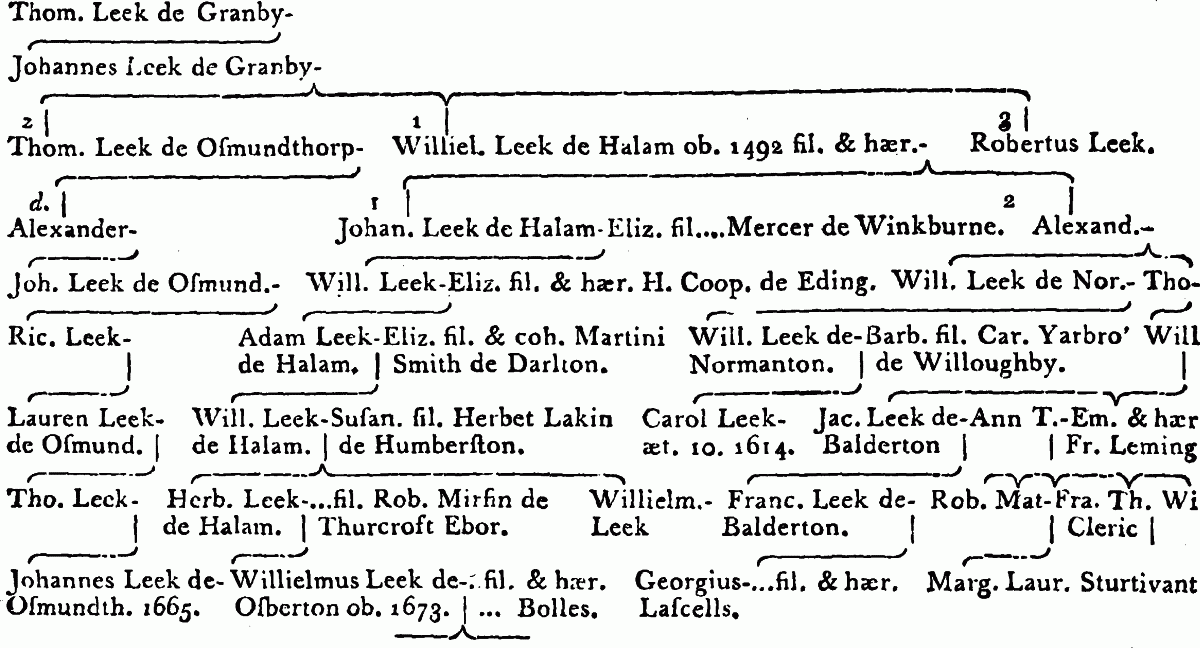 (fn. 6) In Edingley 1612, William Cartwright, gent. was owner of one mess, one cottage, one water-mill, one garden, twenty two acres of meadow, and sixteen acres of pasture. Then in Osmundthorpe was Lawrence Leek, gent. owner. In Greaveslane William Beeston, gent. Stephen Tayler, and Richard Bennet. In Farnesfeild Edward Coppinger of Hexgrave Park, gent. Charles Butterworth, gent. Nicholas Farrington, John Watson, junior, William Leak, John Cooper, Richard Gunthorpe were owners.
The book of doomsday shows that in Farnesfeld, the king had one bovat of land for the geld near Snotingham, Soc to his manor of Grymston, and that Walter de Aincurt had Soc to his manor of Horingham in Farnesfeild two bovats for the geld, whereof one was in the Soc of Sudwell, and the other of the kings Soc, yet belonged to the hundred of Sudwell. There was one car. in demesne. In the time of king Edward the Confessour this was valued at 5s. in the reign of the Conquerour when the survey was taken at 18s.
There was in Osmutthorp soc to Nortwell, which belonged to St. Mary of Sudwell, (fn. 7) as much as was rated to the Dane-geld at four bovats. The land two car. There four sochm. had two car. eight acres of meadow, pasture wood, four qu. long, three broad.
Though there be mention of seven sochmen in Opeton and Colingham in the book of doomsday, which belonged to the manor in Rollestan of the see of Odo bishop of Baion; yet Upton is certainly involved amongst the twelve Berues of Southwell, of which it is an hamlet, wherein I have not found any great possessions of note.
The jury, 12 E. 3: (fn. 8) said that Will. Melton arch-bishop of York when he died, held three parts of two mess. two bov. and six acres of land in Upton by Southwell, of Peter del Wyche, and the heirs of John de Wimbishe, by the service of 10s. 6d. ob. per annum; and that William, son of Henry de Melton, cousin of the said William, the arch-bishop, was his next heir.
There was in Upton a capital mess. and a good demesne of freehold land, which was heretofore the inheritance of the Pakenhams, from whom it came to Oglethorp. It is now John Truemans, who hath built a pretty little house there. The residue consisteth of small freeholds, but most copy-holds of the manor of Southwell.
(fn. 9) The owners 1612, are said to be John Trewman, of Stok Bardolf, Owen Oglethorp, Thomas Pryde, George Pryde.
The rectory is appropriate to the chapter of Southwell, and was lately in lease to Mr. Burnell of Winkeburne; after whose death the chapter augmented the small vicarage 20l. per ann. as I have heard about the year 1667 or 1668.
There are vicarages of the chapters patronage in this Soc, viz. Southwell which was 10l. is now 7l. 13s. 4d. Farnesfeild which was eight marks, is now 4l. Edingle which was ten marks, is now 4l. Upton which was eight marks, is now 4l. 11s. 5d. value in the kings books.
Normanton
Lies about a mile from Southwell, is a hamlet. The manor is now owned by a Mr. Smith of London. Here was a chapel belonging to Southwell. What remains of it serves for a barn.
Edingley.
Under this head Thoroton has just mentioned the village of Edingley, with others, as members of the sock of Southwell. I passed through it, and stepped into the church. It is a small place, decaying hastily. The entrance at the west end is zig-zag. The tower is topped with brick, washed with lime. The only inscription I found, is on the floor thus I L. 1682. Without the church is a tomb for Edmund Crumwell, gent. who died in 1780, in the 44th. year.
The land here is enclosed, about 15 years since; it is in several hands.