Pages 96-101
Thoroton's History of Nottinghamshire: Volume 3, Republished With Large Additions By John Throsby. Originally published by J Throsby, Nottingham, 1796.
This free content was digitised by double rekeying. All rights reserved.
KERTLINGTON.
Doomsday, Cherlington.
I suppose this the ancient meeting place of Southwell Hundred (mentioned in that place) and that it is corrupted into Chadlington Hundred, because of the very long disuse of this place. However the Conquerours survey shows that in Cherlington, (fn. 1) Ulf a Saxon (whom Gislebert de Gand succeeded in the chief part of his estate in this county) had three bov. ½. for the geld. The land two car. But the Soc belonged to Southwell the manor of the arch-bishop. There Gislebert had one car. four vill. having two car. one mill 16s. In the Confessours time the value of this was 40s. in the Conquerours when the survey was taken 30s.
(fn. 2) The red book in the exchequer shows, that William de Bella aqua held a knights see of the arch-bishop of York, and half one of Walter de Ayncurt. One of that name married a daughter of John lord Deincourt, named in Granby and Sutton.
In 22 H. 2. (fn. 3) William de Beleu gave account of twenty marks of the amercements of the forest.
Hugh Bardulf, 10 R. 1. (fn. 4) gave account of an hundred marks, for having the custody of the land and heirs of William de Bella aqua, and to have their marriages; William had a son called William, and he one Thomas de Bella aqua, whose wife was Alice. (fn. 5)
(fn. 6) John de Bella aqua, son and heir of sir Thomas de Bella aqua, granted that he, his heirs, or assigns whosoever should hold his manor of Kirtelington, should be obliged to pay every year to the church of St. Mary, and St. James at Wellebek, and the canons there serving God, six shillings of silver for a toft and bovat of land which he held of them, which were sometimes Raph, the priest's of Dukmanton. Bis deed bore date at Kirtelington, the Thursday next after the ascension, 1297, where were present as witnesses sir Thomas de Furnival, W. de Cressy, W. de Goushull, R. de Furnaus, knights, S. de Bella aqua, his brother or cousin, (german) H. de Fauconberg.
(fn. 7) After sir John was Thomas de Bella aqua, (possibly his brother:) the last of the lords of this manor, of this name, was John de Bella aqua, whom for want of better light, I must suppose, son of Thomas.
(fn. 8) Sir John Annesley, knight, and Robert Annesley parson of the church of Holme, were seized of the manor of of Belton, upon Derne, in Yorkshire, and the 18 E. 3. gave it to John de Bella aqua, and Isabell his wife, and the heirs of their bodies, on whom this manor was also settled by fine 20 E. 3. (fn. 9) and 11 H. 4. (fn. 10) was an execution of it, and several times after. They had a daughter Lucia their heir, married to (John) Burgh, who left Thomas, and he John, (fn. 11) (upon whose seal is a ffesse Dance, and on Katherin his wives, impaled with that, a ffesse dancy between six escalopps 5 R. 2.) whose daughter and heir Margaret, was wife of sir John Zouch, knight, (son of William lord Zouch, of Totnes) and after of sir John Lowdham, knight, by whom she had no issue, but by her first husband left a daughter and heir, Elizabeth married to Nicolas Bowett of Ripinghall, who left two daughters, Elizabeth, wife of sir William Chaworth, and Margaret, of his brother John Chaworth, whom the said Margaret, wife of sir John Lowdham, and formerly of sir John Zouch, about 29 H. 6. (fn. 12) left her heirs, but each of them having a son, Thomas Chaworth, who both of them died without issue, the said Elizabeth wife of sir William Chaworth, had a son by her second husband, John, the son of Robert Dunham, called sir John Dunham, knight, who became inheritor of this lordship after her death, which was 20 Mar. 17 H. 7. he the said sir John Dunham being at the time of the taking the inquisition, (fn. 13) viz. 18 H. 7, about 28 years of age. He died 9 Sept 30 H. 8. and by his first wife Jane, daughter of Thomas Thurland of Gameleston, had a son, who died young, and four daughters who became his heirs: his second wife was Benett, the daughter of sir Godsr. Folejambe. (fn. 14)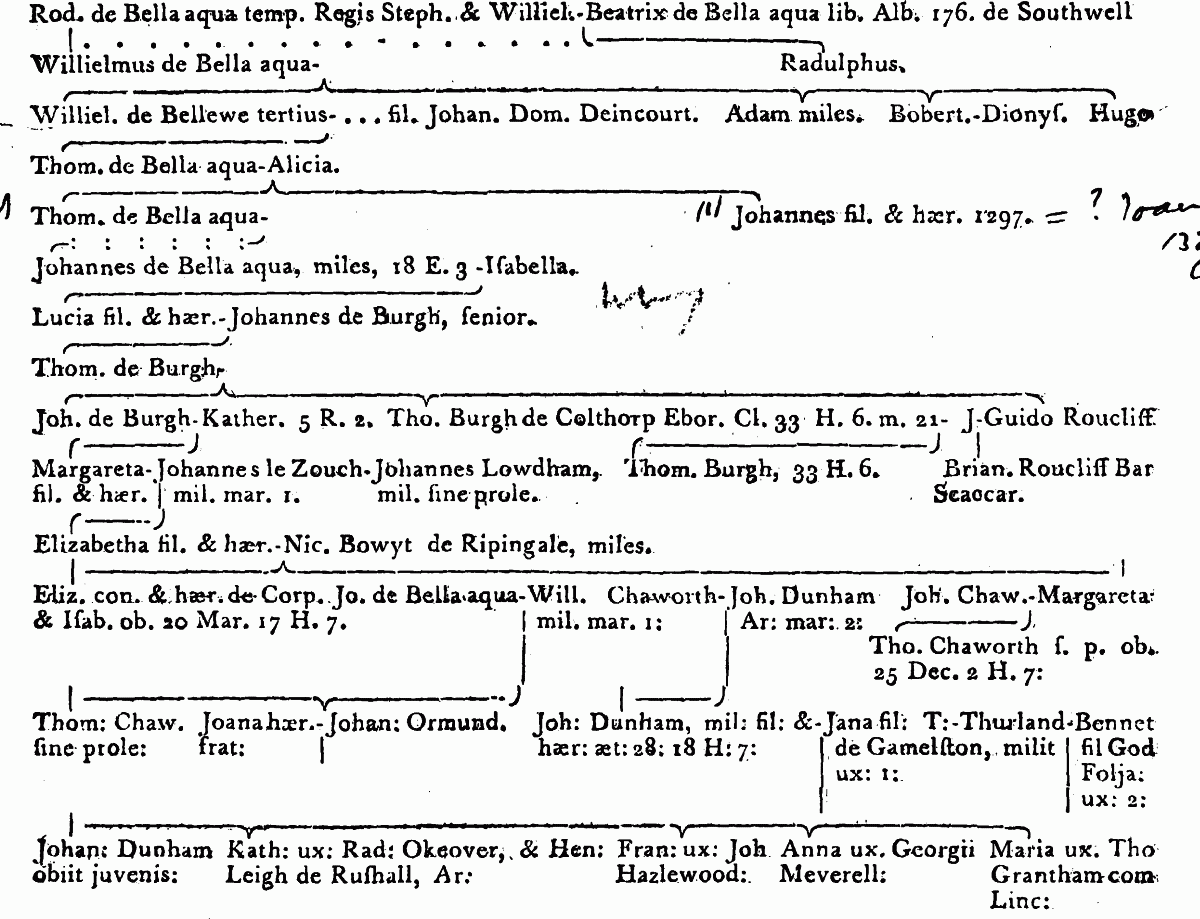 The principal manor here was allotted to Fr. the wife of John Hasilwood esquire, whose grand-child sold it to John More, doctor of physick.
I find that John Dunham, esquire, 3 H. 8. (fn. 15) suffered a recovery of the manors of Kirtlington, and Rughagh, and great quantities of land in Kirtlington, Rughagh, Hockerton, Halam, Edingley, Osmundthorpe, Normanton, Middlethorp, Cawnton, Harlesey, Kyrsall, Darleton, Drayton, Dunham, Ragenhull, and Wymton, and called to warrant John Dunham, knight.
Another small manor here which sir John Dunham bought in, was allotted to Katherine, another of the four daughters of sir John Dunham, first married to Raph Okeover, of Okeover, esquire, and after to Henry Leigh, of Rushall, esquire, and was by Edward her son and heir (afterwards sir Edward Leigh) sold to sir Edward Stanhope, knight, the surveyor, who also purchased the park of Kirtlington, called Belleu Parke, so that this small manor, together with the park, was sold by sir Edward Stanhope, of Grimston, his son, to the right honourable the earl of Kingston, who sold the manor to the said doctor More, but left the park to his son and heir, the right honourable the marquess of Dorchester, and now all Kirtlington, (except the said park) is the inheritance of John More, son and heir of John More, brother of sir Edward More, a Scotch baronet, nephew and heir to the Doctor: which sir Edward having only daughters 4, I think the said John, his brother, succeeded by the settlement of his uncle the said Doctor, and hath made a very fair park, into which he hath taken part of Hockerton lordship, whereof he was also proprietor, which he left well stored with deer, to his said son John, who had married — Constable, sister to the earl of Dunbarr.
(fn. 16) Raph, son of Simon, by the assent of Agnes his wife, quit claimed from him and his heirs, Paulin, son of Roger, son of Cuthing, of Kirtlington, with all his sect, to St. Peter of Thurgarton, and the canons there serving God, for which the said canons gave him fifteen shillings of silver.
There was a manor in this town, held by the family of Pigot. Sir Hugh Pigot had a daughter and heir, it seems, called Isabell, (fn. 17) married to the first sir Robert Sutton, of Averham, with whose posterity it continued long: but he had a wife named Alice, as in that place may be noted.
There was two fines, levied 22 H. 6. (fn. 18) one between Thomas Chaworth, knight, quer. and Thomas Curson, esquire, and Margaret his wife, deforcients; and the other between the said sir Thomas Chaworth, knight, querent. and Richard Sutton, esquire, and Katherin his wife, deforcients; of the rent of a pound of pepper in Hardeby, and of the manor of Kirtelington, called Pigot Hall, with the appurtenan ces, except seven mess. one tost, two hundred acres of land, forty of meadow, ten of pasture, and twenty of wood, with the appurtenances, in the same town of Hardeby, and North-Clifton in the same manor. They granted besides the said rent and manor, to the said sir Thomas Chaworth and his heirs, the homages and services which sir John Pigot, knight, and his heirs, ought them for all the tenements which he held of them in Hardeby.
William Sallowe died seized of lands here, about 12 H. 4. (fn. 19) which seem to have been the inheritance of some younger branch of the family of Bella aqua.
Thomas Flaxley, 11 H. 4. (fn. 20) had some concern in the conveying of these lands, as appears by an inquisition, ad quod damnum. George Sallowe succeeded in them, who is called of Staunton, by Sandiacre, and had one Thomasia to wife, he died 5 H. 5. (fn. 21) leaving his daughter and heir, Agnes, the manor of Allesworth, and this in Kirtelington, Halom, Osmundthorpe, Normanton, Eddingly, and Hockerton.
Agnes Marmion, about 3 E. 4. (fn. 22) left this manor and Allesworth, and the manor of Lamcote, by Radcliff, to Agnes, the wife of Thomas Pilkington, then above twenty-six years of age.
(fn. 23) In Kirtlington, about the year 1612, the owners were Maryon Hasselwood, esquire, sir Edward Stanhope, knight, Richard Eyre, Widow Longman, Laurence Leak, of Osmundthorpe, William Leek, of Normanton, gentleman, George Cartwright, of the same, gentleman, &c.
The vicarage of Kirtlington is 6l. 13s. 4d. in the kings books.
[Throsby] Kirklington
Lordship, is owned by Mrs. Whetham, enclosed. The village is small, the turnpike road passes through it to Mansfield and Newark. This lordship passed from the family of More to Henage, by marriage, who sold it to General Whetham. It was afterward, sometime enjoyed by John Whetham, esq; husband to the present owner.
In the Nottingham Journal for 1772, I saw an account of a little man, nick named Robin Hood, who it said hung himself on a tree in consequence of a quarrel with his loving wife; but was found and cut down before he was dead, which so irritated his wife, that she rebuked the humane people, who performed the good office, for their over officiousness.
The church is dedicated to St. Swithin, and consists of a nave and large chancel.— In the latter is a little monument for lady Catherine More, wife of John More knt. She died in 1702. Below is a floor stone for her husband. Here are several stones for this family, who were sometime owners of the land here. In the chancel also is anold stone with a cross, on one side of which is a book, and on the other a chalice.
In the bellfry is a table of benefactions, I apprehended by its being placed here, the gifts were towards the building of the tower, which has, in it, three bells.
Kings Majestie,
100l.
Henry lord marquis of Dorchester,
20l.
John More, esq;
20l.
The Residentiaries of Southwel,
5l.
The font of this church, which is capacious, is like that Vol. I. page 281.
In the church window is a fine head on glass. See the annexed plate
Patron, Chapter of Southwell. Incumbent, — — K. B. 6l. 13s. 4d.— Clear yearly value in Bacon, 20l. Syn and prox null.
Kirklington hall,
The seat of Mrs. Whetham, is seated near the village. At this dwelling the sight is bounded by fine eminences, which succeed each other in pleasing order, bearded by woods of magnitude. In the lawn, before the house, is an excellent sheet of crescent formed water, well stored with fish; a little island and a pleasure boat, are embellishments thereon. At the distant view, facing this residence, is a summer house, whence you have extensive prospects. Pretty however as the whole appears, from this habitation you have no very extensive views. Another sheet of water, beyond that mentioned above, was intended, I am informed, to have been seen from the lower windows of the house, but it is not visible.
The family bury at Ockerton, a place also in the possession of the owner of this mansion. She has no issue by her late husband, John Whetham, esq. This lady was a daughter of Colonel Chedwick, and is sister to Lady Middleton.
There is an ancient encampment near this village, in Hexgrave Park, but whether Norman or Saxon is not known.
Farnesfield,
A sock of Southwell, which Thoroton has placed under no particular head. Here the land was enclosed about 14 years since. It is in several hands. The church has one aisle with a square tower. Near the altar William Weston, esq; is remembered, who died in 1755, aged 60 years.
Halam
Is another mentioned by Thoroton, in several places, but under no particular head. This is a small village; divided property; but the principal owner is Shirebrook Lowe, esquire.
The church has one aisle with a tower. Here is a vault for the family of Burton, who were land owners. Henry Lascoe, esq; died in 1689. In the church windows are some rude paintings on glass, sketched in the subjoined plate, which I took on my second visit to this village. In the church yard: Mary Walker died in 1775, aged 92; and Jane Dring in 1781 of the same age.
Upton,
Near Southwell, likewise not particularly noticed by Thoroton. The lordship is a great part copy-hold, held of the Bishop in the sock of Southwell and Scroby. Here are but 4 or 5 free-holders.
The church is dedicated to St. Peter, and is set off with a decent tower, pinnacled, a nave and side aisle, and four bells, Patron, Chapter of Southwell. Incumbent, — —, Val. king's book 4l. 11s. 5d. ½. Clear yearly value 34l. 14s. od. in Bacon. Syn. and Prox null. Val. per ann. in mans. cum. ter. gleb. & prat. 1s. 10d. De Capit. Southwell in augment. 1l. 6s. 8d. in dec. lin. &c.
The village lately contained just as many inhabitants as the year contains days.
Here are two old stones for the Oglethorp's, one of which remembers Mr. Martin Oglethorp, citizen of London, and second son of Wm. Oglethorp of this village, gent. and dau. of Eleanor his wife who was dau. of William Oglethorp of Oglethorp in co. of York, esq; he died in 1673, aged 59. Here is a brass, (See Averham fig. 2:) By scription I apprehend there were two originally. "Hic jacet Iohes—et Agnes Uxr. ej. qui quide Iohes obiit Die Mensu—A Dom. MCCCCLX. At que quidem Agnes obiit—die men: A. Dom. MCCCCLX quor anabs—
A benefactor willed land here, in perpetuity, in this extraordinary manner, which now lets for 18l. a year, and is worth some pounds more. The annual income was to repair the church if necessary, if not wanted, next to poor soldiers travelling through the village, (this is now dispensed with) next at the discretion of certain of the inhabitants. But what is left from the repairs of the church, which is but an annual trisle, is set apart to find militia-men and ease the poor's rates.