Pages xi-xx
A Collection of the State Papers of John Thurloe, Volume 1, 1638-1653. Originally published by Fletcher Gyles, London, 1742.
This free content was digitised by double rekeying. All rights reserved.
THE LIFE OF JOHN THURLOE Esq. SECRETARY OF STATE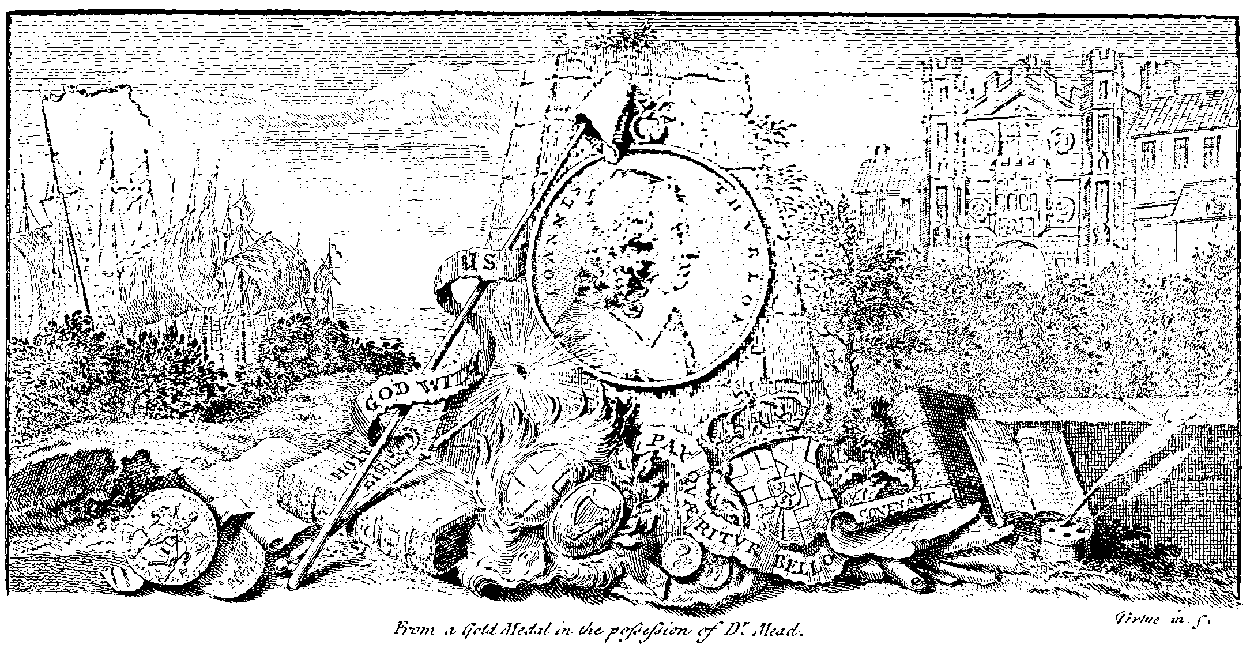 THE LIFE OF JOHN THURLOE Esq. SECRETARY OF STATE,
First to the COUNCIL OF STATE, and afterwards to the two Protectors, OLIVER and RICHARD CROMWELL.
John Thurloe Esq. son of the reverend Mr. Thomas Thurloe, rector of Abbots–Roding in Essex (fn. 1), was born there in the year 1616, and baptiz'd June 12th (fn. 2). He was educated to the study of the law, and afterwards recommended to the patronage of Oliver St. John Esq. a person of great eminence in that profession, and successively sollicitor–general to king Charles I. and lord chief justice of the common–pleas; by whose interest Mr. Thurloe, in the latter end of January 1644/5, was appointed one of the secretaries to the parliament–commissioners at the treaty of Uxbridge (fn. 3). In 1647 he was admitted of Lincoln's–Inn (fn. 4). In March 1647/8 he was made receiver or clerk of the cursitors sines, worth at least 350 l. per ann . under the earl of Kent, lord Grey of Werke, sir Thomas Widdrington, and Bulstrode Whitelocke Esq. commissioners of the great seal (fn. 5). With regard to the death of king Charles I. he declares him self in his letter to sir Harbottle Grimston (fn. 6), that he "was altogether a stranger to that fact, and to all the counsels about it, having not had the least communication with any person whatsoever therein." February 11th 1650 he was chosen one of the officers of the treasury of the company of undertakers for draining Bedford–level in the isle of Ely (fn. 7). In March following he attended the lord chief justice St. John and Walter Strickland Esq. ambassadors to the states of the United Provinces, as their secretary, with whom he returned to England in June 1651. About the beginning of April 1652 he was appointed secretary to the council of state (fn. 8); and in June and September following there were delivered to him a very considerable parcel of state–papers, as appears from the following account of them (fn. 9), among the late bishop Tanner's MSS. in the Bodleian library at Oxford, No 114. p. 114.
"Delivered out of the library of papers of state to Mr. Thurloe by Mr. Randall the 17th June 1652, and at other times, as followeth.
"One great book of treaties with divers nations; one book of negotiations with the king of Denmark and Poland. [Returned.]
"A treaty with the king of Denmark with a seal of silver, and gilt. [Returned.]
"One treaty between his late sacred majesty and the king of Denmark by the duke of Buckingham and the earl of Holland, 1625.
"One treaty between king Henry VII. and the king of Denmark. [Returned.]
"A copy of the contract between the king of Sweden and the king of Denmark.
"Propositions of the king of Denmark's embassadors.
"A treaty with Spain 1630.
"Instructions for sir Henry Vane, embassador to the kind of Denmark and Sweden, with his commission to the king of Sweden, and other negotiations.
"Sir Robert Anstruther's negotiations with the king of Denmark.
"Thirty packets of sir Henry Vane's, sir Robert Anstruther's, and Mr. Owerly's negotiations in Germany.
"One great book of letters from divers princes; with sir James Spence's negotiation with the king of Sweden.
"The duke of Buckingham's instructions to the king of Sweden's embassador.
"Two packets of the king of Sweden's letters.
"Two treaties between king James and the states, 1608.
"One treaty between king James and the states, 1624.
"One treaty with the states at Southampton, 1625.
"All the papers, that he had from serjeant Bradshaw, when he was president, delivered out of the library of serjeant Bradshaw, and by him to Mr. Thurloe, being very many.
"All sir Oliver Fleming's negotiations in Swisserland.
"Ten books of letters to and from divers princes.
"Delivered to Mr. Scobell.
"One treaty with Spain, and twelve papers of instructions for the same place.
"Upon Mr. Thurloe's letter of the 23d of October 1652 to Mr. Randall, there were delivered to Mr. Thurloe by Mr. Randall, on the 25th day following, these books and papers:
"Two great books of sir Charles Cornwallis from Spain, 1603 to 1609.
"Four great books of Mr. Trumball's.
"One book of Spain with the lord Cobham's instructions, 1558 till 1590.
"One book of sir John Digby's letters, from 1612 till 1613.
"One book of Mr. Cottington's and sir John Digby's, from 1609 till 1612.
"Two books of sir Thomas Edmunds, 1617 till 1619.
"One book of sir Lewis Lewknor, 1605 till 1606.
"Letters from sir Charles Cornwallis, 1605.
"Twelve great packets of sir Balthazar Gerbier's letters from 1636, 1637, 1638, 1639.
"In all twelve books, and twelve packets of sir B. Gerbier's.
"This is a true copy examin'd by me
Tho. Raymond.
Upon Oliver Cromwell's assuming the protectorship in December 1653; Mr. Thurloe became secretary of state under him. Febr. 10th 165¾, he was made one of the masters of the upper bench of the society of Lincoln's–inn by the following order:
"Lincolns–Inn.
Ad concilium ibid. tent. 10 dic Februarii anno Domini 1653.
"It is ordered, that John Thurloe Esq. one of the utter barresters of this society, and now secretary of state to his highness the lord protector, be called, and is hereby admitted to be one of the masters of the bench of this society, and to enjoy such privileges therein, as others the masters of the bench do or shall enjoy.
Ev. Seys, C. N. D. pro hac vice.
Aug. 21. 1655. he had the care and charge of the postage, both foreign and inland, committed to him by the protector (fn. 10). In Sept. 1656. he was chosen member of parliament for the isle of Ely (fn. 11). In the beginning of January 165 6/7; was discover'd the plot of Miles Syndercomb against the protector's life; of which bishop Burnet relates the following story concerning secretary Thurloe from the mouth of mons. Stouppe, a Grison by birth, minister of the French church in the Savoy, and afterwards a brigadier–general in the king of France's service (fn. 12). Stouppe had desired all, who were under the prince of Condé, to let him know some news in return of what he writ to them. Upon this he had a letter from one of them, giving an account of an Irishman newly gone over, who had said he would kill Cromwell, and that he was to lodge in King–street Westminster. With this Stouppe went to Whitehall. Cromwell being then at council, he sent him a note, letting him know, that he had a business of great consequence to lay before him. Cromwell was then upon a matter, that did so intirely posses him, that he, fancying it was only some piece of foreign intelligence, sent Thurloe to know what it might be. Stouppe was troubled at this, but could not refuse to shew him his letter. Thurloe made no great matter of it; he said, they had many such advertisements sent them, which signified nothing but to make the world think the protector was in danger of his life; and the looking too much after these things had an appearance of fear, which did ill become so great a man. Stouppe told him, King–street might be soon searched. Thurloe answered, If we find no such person, how shall we be laughed at? Yet he order'd him to write again to Brussels, and promise any reward, if a more particular discovery could be made. Stouppe was much cast down, when he saw, that a piece of intelligence, which he hop'd might have made his fortune, was so little considered. He wrote to Brussels, but he had no more from thence, but a confirmation of what had been writ formerly to him; and Thurloe did not think fit to make any search, or any further inquiry into it; nor did he so much as acquaint Cromwell with it. Stouppe being uneasy at this, told lord Lisle of it; and it happen'd, that, a few weeks after, Syndercomb's design of assassinating Cromwell near Brentford, as he was going to Hampton–court, was discovered. When he was examined, it appear'd, that he was the person set out in the letters from Brussels. So Lisle said to Cromwell, this is the very man, of whom Stouppe had the notice given him. Cromwell seemed amaz'd at this, and sent for Stouppe, and in great wrath reproach'd him for his ingratitude in concealing a matter of such consequence to him. Stouppe upon this shewed him the letters he had received, and put him in mind of the note he had sent in to him, which was immediately after he had the first letter, and that he had sent out Thurloe to him. At that Cromwell seem'd yet more amaz'd, and sent for Thurloe, to whose face Stouppe affirm'd the matter; nor did he deny any part of it, but only said, that he had many such advertisements sent him, in which till this time he had never found any truth. Cromwell replied sternly, that he ought to have acquainted him with it, and lest him to judge of the importance of it. Thurloe desir'd to speak in private with Cromwell. So Stouppe was dismiss'd, and went away, not doubting but Thurloe would be disgrac'd. But, as he understood from Lisle afterward, Thurloe shewed Cromwell such instances of his care, both for his honour and quiet, that he pacified him intirely. And indeed he was so much in all Cromwell's secrets, that it was not safe to disgrace him without destroying him; and that, it seems, Cromwell could not resolve on. Thurloe having master'd this point, that he might farther justify his not being so attentive as he ought to have been, did so much search into Stouppe's whole deportment, that he possess'd Cromwell with such an ill opinion of him, that after that he never treated him with any confidence. So he found how dangerous it was even to preserve a prince (so he call'd him) when a minister was wounded in the doing of it; and that the minister would be too hard for the prince, even tho' his own safety was concern'd in it.
It was likewise about the beginning of the same year 165 6/7, that he is said, in conjunction with the protector and sir Richard Willis, who had been brib'd to betray the king's party, to have form'd a design for ruining at one blow, and in a manner extirpating the royal family. This story was first published by Mr. Echard (fn. 13), and is reported by him to have come from the mouth of Mr. Samuel Morland, under–secretary to Mr. Thurloe, and from sir John Talbot, and to have been confirm'd to that historian by a third person of undoubted worth and honour. The story is as follows: While the king and his two brothers, the dukes of York and Gloucester, were at Bruges in Flanders, it was concerted between the protector, secretary Thurloe, and sir R. Willis, to send over proper messengers thither, with plausible letters, "to invite the king to come over in a single ship, with only his two brothers, and a very few more, to a certain port in Sussex, upon an appointed six'd day, where they were promis'd to be received and supported by five hundred foot at their first landing, and two thousand horse within one day after." It was likewise determined by this cabinetcouncil, that sir Richard himself should contrive and manage these letters of invitation, in which the matter was to be urg'd to his majesty as the most hopeful, if not certain project for his restoration; tho' at the same time the real design and resolution was, to shoot all the three brothers dead at their first landing. The whole matter being thus form'd by this triumvirate in Mr. Thurloe's own office, was unexpectedly overheard by Mr. Morland abovemention'd, who all the while counterfeited himself to be fast asleep upon a desk not far off in that office. This gentleman had formerly married a French–woman, who having been herself induced by the particular interest and acquaintance of the earl of Arundel, had by degrees inclin'd her husband to come secretly in with the king's party. And now being fully confirmed and rivetted by the horror of this contrivance, he resolved at any hazard to defeat it. In order to which he immediately repair'd to the Tower to one major Henshaw, a loyal person, who had been imprisoned there by the protector, more for his being a known friend to the king, than for any particular practices against the present government. Mr. Morland being in a public station, and altogether unsuspected to the keepers of the Tower, and likewise pretending to perform some secret service for his master Cromwell, found an easy opportunity to procure Mr. Henshaw, in company with the warder himself, to go over and give the king such an account of the matter, as might secure him from future danger; and to defray their expences, he gave to each of them an hundred broad pieces of gold. All this was manag'd with the utmost privacy by Henshaw, without the least suspicion of the warder, and at such a juncture of time, that the king and his brothers had a very narrow escape. The king being sufficiently inform'd and caution'd, order'd a particular answer to be sent to the leters of invitation, intimating, that "he could not be ready so soon as the appointed day;" which gave the three projectors some apprehension and suspicion of the discovery. But not being satisfied with this answer, Willis was appointed to contrive other letters to the king, urging his majesty " to use expedition, and not to lose so fair an opportunity for his happy restoration." But now the king's answer was, "that he was not very well," or something, that appear'd so srivolous, that they all justly concluded their whole project to be discover'd and lost. This unexpected defeat gave them infinite uneasiness, not only for the greatness of the present disappointment, but also for the insidelity of some one of their cabinet–council, which they had all reason to believe consisted but of three persons. Willis having been formerly so eminent a cavalier was most strongly suspected by the other two, which made it the more difficult for him to clear himself. And now being very restless, and justly considering and believing, that Mr. Morland might, or rather must be the discoverer, he presently took private lodgings, and sent a secret message to Mr. Morland, to come and meet him con cerning a matter of importance. Mr. Morland thought it by no means proper, or perhaps safe, to decline the meeting; but imagining something extraordinary in the affair, he carefully took pocket–pistols along with him, and went to the appointed place. There he was met by another person, instead of sir Richard, who privately carried him to another house, from whence he was conducted by a second unknown messenger, with the like privacy, to a third house. Here, with the utmost caution, he was carried up three or four pair of stairs, and then down as many into another house, and at last into a dark deep cellar, where by the light of a candle he saw sir Richard by himself, with a bible upon a table by him. Sir Richard told him plainly, "that he had sent for him upon the account of the discovery of a secret of the highest importance, which could not possibly be known to more than three persons besides himself." Then naming the particulars, he laid his hand upon the bible, and with a formal oath and execration purged himself from being the discoverer of that secret, and told him, "that he expected, that he should make the same solemn purgation." Mr. Morland laying his hands upon one of his pistols, with a singular presence of mind and an air of innocence, told him, "he was ready to do the same, upon this single condition, that he would give him the least instance or shew of reason, why he could suspect him guilty of so vile a treachery." All this he did with such an unaffected and undaunted courage, as really damped and defeated the deep management and subtilty of the other, and so escaped an imminent danger. Mr. Morland afterwards declared, that, "if matters had then come to extremity, he would certainly have shot sir Richard dead upon the spot, rather than have hazarded the probable consequences of that meeting." For this and other services, this gentleman was afterwards rewarded with knighthood, a pension, &c. and complimented with further promises from the king and court. However this remarkable story is wholly inconsistent with the following letter from Mr. Morland to sir Richard Willis, published by Mr. Echard (fn. 14).
Sir,
"Whereas I have heard, how much you have suffered by a libel bearing date the 3d of June 1659, charging you with a private correspondence with Mr. secretary Thurloe and his creatures, and that I particularly was since in Flanders in person, to inform the king of the particulars, by shewing him letters of yours and receipts for money; I think myself obliged, though a stranger to you, to be so far assisting to your vindication as to declare and profess, that I was never in any part of Flanders in all my life, nor with the king beyond sea upon that or any other account; nor did ever shew him (as is aforesaid) any such letters or bills of receipt for any monies whatsoever. And so far was I from being in any capacity of informing against you as aforesaid, that I do profess, I knew not so much as your name; neither was I ever present at any private conference between you and Mr. secretary Thurloe: which upon all occasions shall be constantly testified by,"

Sir, your most humble servant, S. Morland.
Thursday, the 1st of March, 16 59/60.
The judicious reader will compare this letter with the account of the earl of Clarendon, in his history of the rebellion. (fn. 15)
April 9th 1657, secretary Thurloe detected the plot of major general Harrison and many others of the fifth–monarchy men, for an intended insurrection (fn. 16); and two days after a report was made by him in the parliament, that he was by the protector's command to give the house some account of that design, which he accordingly did, and produced a printed book called A Standard, and likewise the painted standard, which was taken, it being a red lyon couchant, with the motto, Who shall rouse him up ? And it being moved, that Mr. secretary, thro' whose care and vigilance this design had been discovered, and who had done many other great services to the public, might have the public and hearty thanks of the house for the same, it was upon the question resolved; and accordingly Mr. speaker did give to Mr. secretary, standing in his place, the thanks of the house for his great care and pains in discovering this design, and for the great services done by him to the commonwealth and to the parliament, both in this and many other particulars. (fn. 17)
July 13th the same year, he was sworn one of the privy council to the protector, according to The humble petition and advice (fn. 18), and Nov. 2d following, he was elected one of the governors of the Charter–house in the room of Dr. Laurence Wright deceased (fn. 19). February 4 1657/8, he was made chancellor of the university of Glasgow (fn. 20). In June 1658, he agreed with Whitelocke in advising the protector, to let the persons, who had been detected in a plot, be proceeded against in the ordinary course of trials at the common law, and not by an high court of justice (fn. 21).
In Septem. 1658, he signed the proclamation of Richard Cromwell to be protector, as one of the privy council (fn. 22). December 31 the same year, he was chosen member for the university of Cambridge by an hundred and twenty sussrages, a greater number than was ever known upon the like occasion (fn. 23). He was returned likewise member for the town and borough of Wisbech, and for the borough of Huntingdon; but on Wednesday Feb. 23 165 8/9, he declared in the house of commons, that he made his election for the university of Cambridge (fn. 24). April 21 following, the protector Richard advised with him, lord Broghill, the lord keeper Fiennes, sir Charles Wolseley, Whitelocke, and some others about dissolving the parliament, most of whom were for it, acccording to Whitelocke (fn. 25), who declares himself to have been of the contrary opinion, in which he agreed with secretary Thurloe, as we are assured by Dr. Edm. Calamy, (fn. 26) whose words are as follow: "I was told by a friend, that when he signified in a way of discourse to Mr. Howe, that he had heard Richard reflected on as a weak man, he with some warmth made this return; How could he be a weak man, when upon the remonstrance, that was brought from the army by his brother Fleetwood, he stood it out all night against his whole council, and continued the debate till four a clock in the morning, having none but Thurloe to abet him, maintaining that the dissolving that parliament would be both his ruin and theirs ? Mr. Howe said, that Fleetwood undertook with great solemnity, that, if Richard would but comply with the proposal, that was made him, the army should not do him the least damage. And he added, that when Fleetwood was afterwards put in mind of this, all the answer he returned was, that he thought he had had more interest in the army than he found he had."
After Richard's quitting the protectorship, Mr. Thurloe continued in his office of secretary till Jan.14 16 59/60, when it was conferred upon Thomas Scott, esq (fn. 27); but on the 27th of Feb. following, upon a report from the council of state, the parliament resolved, that Mr. Thurloe should be one of the secretaries of state, and John Thomson, esq; the other (fn. 28). In April 1660, he made an offer of his service for the restoration of king Charles II. as appears from the following passage of a letter of sir Edward Hyde to sir John Grenville, dated at Breda the 23d of that month (fn. 29). "We have, since I saw you, received very franck overtures from secretary Thurloe, with many great prosessions of resolving to serve the king; and not only in his own endeavours, but by the services of his friends, who are easily enough guesed at. This comes through the hands of a person, who will not deceive us, nor is easily to be deceived himself, except by such bold dissimulation of the other, which cannot at first be discovered. Yet it is enough suspected by the king: there is somewhat of curiosity accompanies Thurloe's prosessions; for he is very inquisitive to know, whether the king hath any confidence in the gentleman (fn. 30), or hath approached him the right way; which he desires to know only that he may finish what is lest undone, or be able the better to advise his majesty what he is to do therein. The king returned such answers as are fit, and desires to see some effects of his good affection, and then he will find his service more acceptable. Both these particulars the king thinks fit the gentleman should know, that his majesty may receive his advice, and to know what his opinion is of Thurloe, and whether he be able, if he were willing, to contribute much to his majesty's service. But this being of such a nature, as, being communicated, may be turned to the prejudice of persons, to whom his majesty wisheth no hurt, and may draw reproach upon himself and his councils; the king would not have you impart either of them to any person whatsoever, except the gentleman himself or Mr. Morrice (fn. 31), because possibly you may not so conveniently at present be admitted to the gentleman, and then no inconvenience can arise from it."
In May 1660, the following votes passed the house of commons in relation to Mr. Thurloe (fn. 32) :
15 May, 1660.
"Resolved,
That secretary Thurloe being accused of high treason, be secured; and that the serjeant at arms attending this house do forthwith put this order in execution.
"The question being put, that the door being locked, it passed in the negative.
"Resolved,
That the first four, and the three last of those, whose names are taken to be the committee for to take the examination of Mr. secretary Thurloe, viz.
"That, Col. King,
Lord president Annesley,
Mr. Prynn,
Mr. Earnley,
Col. Bowyer,
Mr. Trevor,
Mr. Weston,
or any three of them, be a committee to take the examination of Mr. secretary Thurloe to the accusation given against him, with power to send for persons, papers, and witnesses, and are to meet to–morrow at three o'clock in the afternoon, in the inner court of wards.
29 June.
"Resolved,
That Mr. John Thurloe have free liberty to attend the secretary of state at such times, as they shall appoint, and for so long a time as they shall own his attendance, for the service of the state, without any trouble or molestation, during such his attendance, and in his going and returning to and from the secretary of state, any former order of this house notwithstanding."
After he was set at liberty, he retired to Great Milton in Oxfordshire, where he generally resided, except in term–time, when he came up to his chambers in Lincoln's–Inn. He was often sollicited by king Charles II. to engage again in the administration of publick, or at least foreign affairs; to which he seemed greatly averse, being doubtful, whether, as he should be complicated with many other persons of different characters, he should be able to serve his majesty with equal success, as he had done his former master Cromwell, whose constant rule, as Mr. Thurloe observed to the king, was to seek out men for places, and not places for men.
He died suddenly at his chambers in Lincoln's–Inn, Feb. 21, 1667/8 and lies interred under the chapel there, with this inscription:
" Here lyeth the body of John Thurleo, Esq; Secretary of State to the Protector Oliver Cromwell, and a member of this honourable Society. He died Feb. 21, 1667.
Here lyeth the body of Francis Brace, Esq; a member of this society. He was son of Francis Brace, esq; of the town of Bedford, by Anne, one of the daughters and co–heirs of the late John Thurleo. He died on the 6th day of April 1721, in the 34th year of his age."
Mr. Thurloe was possessed of the manors of Whittlesey St. Mary's, and Whittlesey St. Andrew's, and that of the rectory of Whittlesey St. Mary's, in the Isle of Ely and county of Cambridge; and he rebuilt Wisbich–castle, which he furnished just before the restoration, when that and the estate belonging to it, purchased by him, returned to the bishop of Ely. He had likewise an estate of about 400 l. per ann. at Astwood in Bucks.
He was twice married; first to a lady of the family of Peyton, who lived with him but three or four years, and had two sons by him, who died before her. His second wife was Anne (fn. 33), third daughter of sir John Lytcott of East Moulsey in Surrey, by Mary, daughter of Nicholas Overbury of Borton on the Hill in Gloucestershire esq. and sister of the famous Sir Thomas Overbury. By this lady Mr. Thurloe had four sons and two daughters. The sons were,
I. John, who was admitted of Lincoln's–Inn in 1665, and died at Amesbury in Wiltshire, where he lies interred.
II. Oliver, who was married, but died without issue.
III. Thomas, born in March 1650/1, who was made governor of James Island in the river Gambia, about January 1676/7, where he died.
IV. Nicholas, who was educated to the sea, and was living in 1678.
The daughters were Mary and Anne.
I. Mary, the eldest, was married to Thomas Ligoe of Burcott in Bucks, by whom she had Thomas Ligoe, esq. married to a sister of John Hamilton, esq. and Eleanor married to the said Mr. Hamilton.
II. Anne, married to Francis Brace of Bedford, esq; by whom she had John Thurloe Brace, esq. member of parliament for Bedford; and Francis Brace, esq. John Thurloe Brace, esq. married a lady of the name of Harris, by whom he had one son, Harris Thurloe Brace, and a daughter, Anna Maria, married to Godfrey Copley of Yorkshire, esq.
The number of Sheets in this Work are,
Vol. I.
206
       II.
193
       III.
194
       IV.
201½
       V.
203½
       VI.
222½
       VII.
232
1452½
Large Paper
Small Paper
Propos'd make 900 Sheets at
8 8 0
5 5 0
But exceeds by 552½ which at 2d. ¼ per Sheet amounts to
5 3 7¼
at 1 d.½
3 9 0¾
                        1452½             Total
£. 13 11 7¼
£. 8 14 0¾
The first payment was
5 5 0
3 3 0
The second payment
£. 8 6 7¼
£. 5 11 0¾.