Pages 148-153
An Essay Towards A Topographical History of the County of Norfolk: Volume 1. Originally published by W Miller, London, 1805.
This free content was digitised by double rekeying. All rights reserved.
THELTON,
Thelveton, or, as in the Conqueror's time, Telvetun, had two manors, besides a part that belonged to the honour of Eye. (fn. 1)
The manor that belonged to Ely was granted from that church, among others, to Henry de Rhia, who, in the Black Book of the Exchequer, is returned to hold three knights fees of the church of Ely, and was afterwards, by the Marshals, who succeeded in that honour, given to the Scaleses, who, in 1282, held both the manors; for in the inquisition then taken at the death of John le Marschall, Jaffery de Scalarijs (Scalers or Scales) is presented to hold the manor of Thelveton at one fee, together with the other manor there, of the Bishop of Ely's fee, by one fee more, which manor also belonged to the tenure of the said John le Marschall, as belonging to his barony of Rhye, both which the said Jaffery died seized of the year following, as held of Aliva le Marschall, as of her manor of Hockering, Thomas son of Jaffery de Scalarijs, junior, his grandson, being his heir, who had livery hereof this year, together with Whaddon manor in Cambridgeshire.
This Thomas was born at Bologne, when the Queen, mother to the King, was there, in time of war, as the record shews us. (fn. 2) He had free-warren in these manors allowed him in Eyre, the first of which was in this family soon after the Conquest. (fn. 3) Hardevinus de Scalers, the first of note of the family, was one of the valiant Normans that assisted the Conqueror in his great expedition, who gave him many manors, and made him a baron by tenure. The advowson of the rectory was given to the convent of St. Mary Overy in Southwark, very early, by some one of this family; all the rectors, that are to be met with in the Institution Books, being presented by the priors there, till the Dissolution, and from that time by the Crown, where the patronage now remains. The priors had a portion of 5s. paid out of the rectory, which was taxed at 6d. (fn. 4) In 1304,
Thomas de Scalarijs held it of William le Marschall, and had the King's license to alien 40s. per annum rent out of it. In 1342,
Thomas, his son, succeeded to Waddon and Thelton, which he held of Sir Robert de Morley at one fee, and he of the Bishop of Ely, and he of the King.
John, son of Thomas, and grandson of this Thomas, was heir. He married Amy, one of the daughters of Sir John de Whelnetham Magna, Knt. which John left three daughters, Margery, married to John de Sutton of Wivenho, Knt. and Mary to Michael de Bures, between which three his inheritance, sc. the manor and advowson of Great Welnetham, and the manor of Alpheton, &c. was divided in 1371. In 1387,
John de Chalers, lord here, had Thomas a son, then aged 13, whose son
John held it in 1401, of Robert de Morley, he of the See of Ely, and that of the King, being then the King's ward, in custody of John de Hevenyngham, Knt. which Sir John held a quarter of a fee of Julian, sister of John de Thelveton, as of the manor of Thelveton, and was a part of it, which was held of the Abbot of St. Edmund, and laid in Gissing, and was alienated by Thomas de Scalarijs as above, to one of the family sirnamed de Thelveton. This John de Scalers (or Scales) died in 1466, leaving Thelton, and Whaddon to
Maud his wife, who died in 1470, and left three daughters coheiresses; Alice, married to John Moore; Anne, to John Harcourt; and Margaret, unmarried; but to which this was alloted I find not, neither can I tell who owned it till 1538, 10th March, and then it belonged to
Beatrix Harman, sole daughter and heiress to Henry Moine, Esq. who was lord of Thelveton, by whom it was settled on John Watts, clerk, to the use of the said Beatrix; and this year the said John Watts infeoffed Beatrix in it for her life, remainder to George Bougham, Esq. next kinsman and heir to the said Beatrix, and immediately after she released her estate for life to the said George and his heirs; this George the same year settled it on
William Rogers, and Catherine his wife, and their heirs; in 1540 George Bougham, William Rogers, and Catherine his wife, infeoffed it in Thomas Codde, and William Loues, (or Love,) and their heirs; and in the same year George Bougham released to all those feoffees, all his right in it; and then Love and Codde infeoffed Wil liam Rogers and Catherine his wife in it, to hold to them and their heirs: Catherine surviving her husband in 1554, 24th April, sold the manor to
John Stubbe, Gent. who gave it to Elizabeth his wife, for life, and then to John Stubbe his eldest son, who gave it to Anne his wife, to be sold, of whom
Thomas Havers of Winfarthing, Gent. in 1592, purchased it, and died 1605, and left it to Elizabeth his wife, for life, then to his eldest son, from which time it hath passed in a lineal descent in this family.
The Haverses had their rise under the Norfolk family, which they have served for many generations; John Havers was Gentleman of the Horse to John Duke of Norfolk, and attended him in the battle at Bosworth Field, where that duke was slain; John Havers of Winfarthing, in Norfolk, was Steward to the family, as was Thomas Havers, his son, who purchased the manor, and built the present mansion-house, which is a good brick building and very uniform; John, his second son, was Bailiff to the Earl of Arundell in 1610; Edward, his third son, was Steward of his courts; and Thomas, his fourth son, was farmer of the parks; William Havers continued the same office at his father's death, and Thomas Havers, the present lord, [1736,] now hath it.
Their arms are of ancient date, but were confirmed with the addition of a crest, by Robert Cooke, Clarencieux, in these words:
"Goulde, on a fess sables, three chess rooks of the field.
"Crest, on a wreath gold and sables, a griffin seiant erm. with a crown for a collar, chained and mantled gul. doubled arg."
As appears from the said confirmation, under seal of the office, now remaining in the family.
The Customs of the Manor are these: the copyhold descends to the youngest son; the fine is at the lord's will; the tenants cannot waste their copyhold-houses, nor fell timber without license; it gives no dower.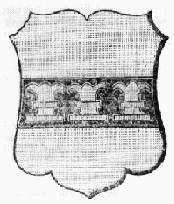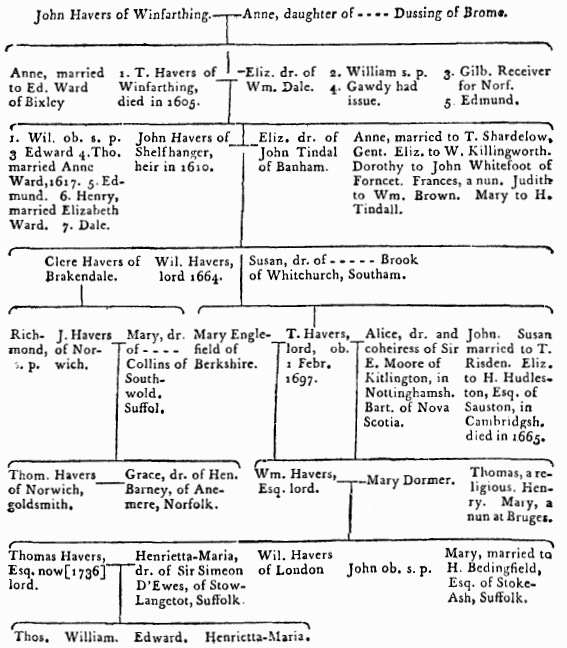 This rectory is in the archdeaconry of Norfolk, and deanery of Redenhall; and being discharged of first fruits and tenths, is capable of augmentation. It hath a rectory-house, which, with 3 acres of land belonging to it, was given to the church in 1375, when the rector obtained a license in mortmain, to confirm it.
King's Books.
Clear Value.
Synodals.
Procurations.
9
0
0
46
0
0
0
2
0
0
6
8
Norw. Taxat.
Acres Glebe.
15 Marks.
7
0
0
At the time of the Lincoln taxation, the rector had 22 acres of glebe, the rectory was valued at 17 marks, besides the Prior of Southwark's portion of v.s. out of it, and paid xiiij.d. Peter-pence, and in the Norwich taxation, the portions of the canons of Southwark were taxed at vij. marks.
The Church is a small building, consisting of a nave, chancel, and south porch, all tiled, and a square steeple, and two bells only, one being formerly sold to repair the church, which is dedicated to St. Andrew the Apostle, as appears from the will of John Peron (fn. 5) of this town, who, in 1466, ordered to be buried in St. Andrew's churchyard here, and gave 6s. to mend the steeple, and 12d. to the high altar.
On the font are four shields; on the first, the emblem of the trinity; on the second, three cups, on each a wafer, as an emblem of the sacrament; on the third, a plain cross; on the fourth, a cross floree, the arms (I suppose) of the donor.
On two flat stones by the altar, the first hath Havers's arms:
Hic jacet Corpus THOMÆ HAVERS, qui obijt Febr. 1mo A° Dom. 1697. Ætat. suæ 66. Requiescat in Pace.
Here lyeth Anne eldest Dawghter of Thomas Bramton of Norton Esq; first married to Edward Kene & had Issue, Edward, Henry, Roger, Edmund, Bridget, after with Thomas Nash & had Issue Anne, dyed the 16 of December 1625.
On a small mural monument on the south side of the chancel:
Here lyeth the Body of Mary Englefyld, Wife to Thomas Havers, Esq; obijt 21 Octob. Anno Dom. 1682, Requiescat in Pace, Elizabeth Englefyld her Sister, dedit.
Rectors.
1308, 6 non. Marc. Will. de Langeford, accolite. Prior of Overy.
1311, kal. May, Francis de Causton, accolite. Ditto.
1322, 8 id. July, Roger de Soterle, priest. Ditto.
1327, 12 kal. Apr. John, son of Walter Jowet of Wynneferthyng. Ditto.
1332, non. kal. Rich. de Ely, priest, on Jowet's resignation, Ditto.
1351, 20 March, John, son of Tho. Durand, priest, on Ely's resignation. Prior of Overy.
1409, 4 July, Walter Arnald of Palegrave, priest, on Durand's resignation. Ditto.
1425, 28 March, John Halston of Salisbury diocese, priest. Ditto.
1442, 6 December, Tho. Drawesword, priest; by lapse. Ditto.
1466, John Hauteyn, at Drawesword's death. Ditto.
1483, 13 October, John Penman, (or Parman,) priest; collated by the Bishop, because the person presented by the Prior was found unfit to be admitted to it.
1528, John Watts, on Penman's death. Prior of Overy.
1583, 11 Novem. Daniel Bowen (or Bowles.) The Crown.
1591, 2 April, Roger Bugge, alias Brigge. Ditto.
1612, William Bagley, A. B. Ditto.
1631, Edward Cartwright, A. M. united to Billingford. Ditto.
1679, 5 March, Tho. Wales, A. B. on Cartwright's death, united to Frenze. Ditto.
1702, 21 Sept. Henry Swetnam, on Wales's death. Ditto.
1711, 18 Oct. Edward Bosworth, on Swetnam's cession. Ditto.
John Randall, the father. Ditto.
1728, John Randall, the son. Ditto.
1729, the Rev. Mr. Thomas Turner, A. M. the present rector. [1736.]
This village in the Conqueror's time was two miles long, and one mile broad, and paid vii.d. Danegeld; in 1603 there were 74 communicants; now there are 20 houses, and about 100 inhabitants. [1736.] It paid to the tenths 2l. was valued at the association tax, at 612l. the present valuation being 475l.
The Leet belongs to the hundred, the leet fee being 1s.
The Commons are, Atte Green, which joins to Diccleburg, and contains about 15 acres; Hill Green, about 80 acres; Bottom Common, about 10 acres; West Common, about 50 acres; and Little Green; and they intercommon on Scole Green.