Pages 297-312
An Essay Towards A Topographical History of the County of Norfolk: Volume 1. Originally published by W Miller, London, 1805.
This free content was digitised by double rekeying. All rights reserved.
WEST-HERLING,
Which is so called to distinguish it from the other Herlings; here were several manors, of all which in their order. At the survey (fn. 1) the manor was a berewic belonging to Kennighall manor, with which it was held by the Confessor and Conqueror, and was granted as a member of it to the Albanys, who, in King Henry the First's time, infeoffed it in the Angervilles, a family sirnamed from a place in Normandy, (fn. 2) where they were lords; it was to be held at half a fee of the manor of Kenninghall, as of the castle of Bokenham. In King Henry the Second's time,
Sir Benedict de Angerville was lord, who died without male issue, leaving his three daughters his heirs, the first married to
William de Snitterton, otherwise called William Bokenham of Snitterton, as his family always continued to be called, viz. sometimes de Snitterton, and sometimes de Bokenham de Snitterton; the second to
Nicholas de Bello-Foco, Bello-Fago, or Beaufo; the third to
Sir Andrew de Sharnbourn, she died without issue in King John's time, and her part reverted to her sisters and their heirs;
So that now it divided into two manors, each held at a quarter of a fee of the said Earl's, the one called Bokenham's, and the other Beaufo's.
Bokensham's Manor
Being thus come to Sir William de Bokenham de Snitterton, at his death he left it to Hugh, and he to Ralph Bokenham, alias Snitterton, his son, and he to Hugh Bokenham of Snitterton, his son, who was lord in 1286; he left Hugh his son and heir, who died in 1290, Margaret his mother then living, had a third part of the manor, and the mansion-house, in dower: Hugh son of the last Hugh succeeded, and in 1332, settled this and others on Sir Edmund de Baconisthorp, Knt. Sir John Bokenham, parson of Snitterton, his brother, and Sir Nicholas, son of Sir Gregory de Castello, during the life of Alice his wife, for the maintenance of his children; he died in 1339, and was buried at Snitterton.
In 1345, the lady of Snitterton, (sc. this Alice,) held her manor in West-Herling, at a quarter of a fee, of the Earl of Arundell, and he of the King, which Hugh of Snetterton, held, the relief of which was x.s.
1365, Hugh de Bokenham, (her son,) was lord, and Nicholas Youngman and Alan Simonds, his farmers of the manor, kept their first court this year.
In 1369, Hugh died, and Julian de Bokenham kept her first court.
In 1379, John Bokenham, senior, and John de Bokenham, junior, were lords in which year they conveyed the manor to Hugh Bokenham. their brother, which they had of the grant of John de Thelvetham, Julian de Bokenham, (his daughter,) Roger Dawnay, parson of Snitterton All-Saints, and Andrew Green of Stanford.
In 1401, Hugh Bokenham of Livermere, son and heir of Hugh de Bokenham of Snitterton, released to Robert Berdewelle, Esq. all his right in Bokenham's manor in West-Herling, which was sold to Sir William Berdewell, Knt. by Hugh Bokenham his father, and thus this manor was joined to Berdewell's, though the Bokenhams still had diverse lands here; for in 1479, Edmund Bokenham, Squyr, by will proved the 29th of March, ordered 2s. 8d. to be distributed among his poor servants, of Snitterton, Shropham, Hargham, and Harlyng.
The fishery belonged solely to the lord, exclusive of all the tenants.
Beaufo's Manor
Came to Nicholas de Bellofago, or Beaufo, in right of his wife, as aforesaid, Nicholas his son was lord in 1219, Hugh his son in 1256, and Nicholas his son till 1326, when he settled the manor and advowson on himself for life, remainder to Thomas Berdewell, and Amy his wife, daughter of the said Nicholas, and their heirs; from which time it was joined to Berdewells manor, as was the advowson, the whole of which, at first, belonged to Angervile's manor, and with that divided one moiety to Bokenham's, and the other to Beaufo's, till Ralph son of Hugh de Bokenham sold his moiety, with an acre and half of land, to Hugh son of Nicholas de Beaufo, and then this manor had the whole advowson.
Furneaux's Manor, after called Berdewell's,
Passed with Middle-Herling, (fn. 3) of which it was a part in the Conqueror's time, and so continued till Sir John Furneaux, Knt. gave it in marriage with Sara his daughter, to John de Berdewelle, to be held of the Earl of Brittain, as of Richmond honour, at half a fee, and this was the first possession that the Berdewells ever had in any of the Herlings; Sara was lady of it in 1280, soon after which it was called,
Berdwell's, or East-Thorp Manor,
By reason of its lying east of the church (as Hackford Hall manor was sometimes called West-Thorp, or Herling-Thorp, which name it still retains, on account of its lying west of the church) and to distinguish it from Furneaux or Middle-Herling manor, to which it joined.
And from this time all these manors went in the Berdewell family, as the pedigree will demonstrate.
The fines are certain at 4s. an acre, whether land, meadow, or pasture, and no regard to houses or home-stalls, they being included in the content; (fn. 4) it gives no dower; the lands descend according to the common law; for those lands that are heriotable, the heriot is the best beast; but if they have no beast, there is no heriot due: they cannot waste their copyhold, nor fell timber, (unless to repair their copyhold,) without license. Childewyt is due to the lord, which is 2s. 8d. of every woman, bond tenant, that hath a bastard. Chevage (fn. 5) also is paid to the lord, it being a fine for every bond tenant, for liberty to live out of the lordship, and women pay it as well as men, viz. 1d. a year each head. Bosage is also paid here, which is 1d. a head yearly for all cows and great cattle that feed on the commons; every 10 sheep of the cullet, that laid in the lord's fold, paid 1d. a year. West-Fen common at Thorp-End belonged solely to the manor; all the tenants were obliged to grind at the lord's mill, and the fishery of all the manors belonged solely to the lord.
Faldage is a custom of this manor, that every five sheep that go with the lord's, whether they be of the cullet or no, if the owners will not let them lie in the lord's fold, but will fold them on their own grounds, they must pay 1d. a year, each five; the bond tenants could not sell any male young cattle of their own breeding without the lord's license.
Hackford Hall Manor, afterward Seckford, or Westhorp, and now
Herling-Thorp.
This manor was in two parts, in the Confessor's and Conqueror's time, the first was in Bury abbey, from its first foundation: the second in one Anti's hands, in the Confessor's days, and Robert de Verli's in the Conqueror's, (fn. 6) from whom it came to the Earl Warren, and went with the possessions of the younger branch of that family, to the Bardolphs, (fn. 7) by them infeoffed in Sir Adam de Methwolde, of whom Sir William de Hakeford had it.
The Abbey's part, in the Conqueror's time, was in Ricuard, (fn. 8) by feoffment of Abbot Baldwin, who held it of the abbey, at one fee; and from that time it passed as Hasting's manor in Gissing, (fn. 9) till Hugh, son of William de Hastyngs, Steward to King Henry I. infeoffed Sir William de Hakeford, Knt. who held it also at one fee, paying 18d. every twenty weeks, to the Abbot, to the ward of Norwich castle, which tenure continued till after 1630; for then Framlingham Gawdy, Esq. paid it to the Crown, in right of the dissolved monastery of Bury; it paid then 2s. a year for suit to the hundred court, and 9d. every twenty weeks, to the lord of the hundred, for castleward, for Bardolph's part.
The Customs are the same now, [1736,] as the other manors, but were different formerly; for in 1364, the copyhold descended to the youngest son, and it gave a moiety dower. It was then fine certain, at 4s. an acre. (fn. 10) The bosage, faldage, and chevage, were the same as in the other manors, (fn. 11) but the childwyte was not certain, but at the lord's will. They could sell all manner of beasts that they bred; and this custom prevailed here, that every copyholder that married paid the lord a bolster, sheet, and pillow, or fined for them, except the tenants called molmen, which were not subject to this custom.
In 1346, there was a free tenement and 42 acres of land in Illington, held of this manor by Peter de Esthalle, and also an annual rent of 1d. a year, paid to St. John of Jerusalem's hospital at Karbrook, for the souls of the lord's ancestors; and the brethren of St. John's college at Rushworth had annually a fat lamb delivered them. The parish of Middle-Herling held one acre and an half of this manor, and paid 6d. freerent. The ewes of the flock were milked daily, by people hired by the lord for that purpose. It extended into all the Herlings, Quidenham, Rushworth, Shadewell, and Illington.
Sir William de Hakeford, or Akeford, Knt. bare for his coat armour, chequy or and vert; he held both the parts of the manor as aforesaid, and left the whole to Sir Thomas de Hakeford, his son, whose widow Mariona was lady in 1273; at her death it came to Sir Nicholas de Hakeford, and Margery his wife, to whom Peter de Hakeford his brother released his right; they held it but little while, for in 1278, Sir William de Hakeford, a man that did much service in the Scotch wars, settled the manor, jointly with Margery his wife, together with that part of it in Bridgham, and the manor and advowson of Couteshale, on Ralph de Hackford, parson of Couteshale, in trust for his two daughters, his heiresses; after this he purchased many lands in Herling, of Adam de Raveningham, and settled them, for their use, on William Gostelyn, his trustee, who farmed the manor, and kept courts in his own name, as farmer of it.
Sir John de Seckford of Suffolk, Knt. became lord in 1331, in right of Joan his wife, the eldest daughter of Sir William de Hakeford; Henry de Elmham, and Elizabeth his wife, who was Sir William's other daughter, having released all their right in it, to Sir John and his lady, who released to them all their right in that part of the demeans that laid in Bridgham, and in the whole manor of Hacford Hall in Fringe: he bare for his arms, ermine, an escalop in fess gules, which hath been since changed, this family having born for some ages, ermine on a fess gul. three escalops or; and for their crest, a talbot passant ermine. He is sometimes called de Schirford, Segeford, Segford, and Secford. In the year 1359, Sir John, son of this Sir John, lived at Great Bealings in Suffolk, and upon his marriage, settled it on William de Rothyng, rector here, and James de Rothing, to the use of Alice his wife, who kept court in 1372, after his death. In 1401, Sir George de Secford, Knt. was lord, and settled it on Margaret his wife, who was daughter and heir of Sir Thomas Jenney of Suffolk, Knt. After his death, she settled it on Sir Simon Felbrige, Knt. and other trustees, upon her second marriage with Augustine Stratton. At her death it went to George Secford, Esq. who settled it upon Ralf Full of Love, rector of this town, in trust for Alice his wife, who, in 1450, at his death, became lady; she was daughter of Tho. Rokes (of Ridlesworth, as I take it,) and married again to Sir Henry Wingfield, Knt. who joined with her in 1476, and released the manor to Tho. Seckford, Esq. lord of Seckford in Suffolk, who immediately settled it on Robert Warner, Will. Brampton, Edmund Parry, and others, in trust for Margaret, daughter of John Purrey, of Aylesham in Norfolk, his first wife, who died before him, and he married a second wife, named Elizabeth, soon after which he died, in 1507, leaving Thomas Sekford of Great Bealings in Suffolk, Esq. his heir, who married Margaret, daughter of Sir John Wingfield of Letheringham, Knt. He and his father surviving feoffees sold it to
George Nunne of Tostock in Suffolk, clothier, and William Futter, his trustee, and the heirs of George. In 1564, the said George, and John his son and heir, sold it to
Bassingbourne Gawdy of Mendham in Suffolk, Esq. and Anne his wife, and their heirs, and for want of heirs, to Edward Bardwell and his heirs for ever; and this year they held their first court; and from this time it was joined to the other manors, and so continues.
The manor-house hath been down many ages, for in 1398 the lord lived at Seckford, and had a pond, or pool, in the late site of the manor, called Seckford Hall-Yard Close, in West-Herling.
In 1504, after a suit between the lord and Robert Bernyngham, Prior of the monks of St. Mary at Thetford, the lord agreed for the future to pay 2s. a year to that monastery, out of lands called Gildensleves, which were joined to the manor by purchase, and did always heretofore pay 2s. 6d. a year, and upon this agreement he paid 2s. to Sir William Ixworth, then monk of that house, to put him in possession.
The family of the Berdewelles took their name from the town of Berdwelle in Suffolk, where they lived in the Conqueror's time, when Baldwin Abbot of Bury infeoffed Ralf de Berdewelle of that manor; (fn. 12) they always bare for their arms, arg. a goat saliant gul. armed or. and for their rebus or device, a bear with a well on his back, and these two letters, de. which cannot but make Bear-de-well, or Berdwelle; and for a crest, on a wreath or and sab. a goat's head erased gul. attired or, mantled sab. doubled arg.
In 1196, William, son of Ralf de Berdewelle, held Berdewelle at two fees, as he acknowledged in a fine then levied between him and Abbot Sampson, (fn. 13) John de Berdewelle, his son, had four sons, all which had issue; John de Berdewell, the eldest, was lord of Gasthorp in 1274. (fn. 14) He had two wives, and issue by both, the eldest son by the first wife was Thomas, who was dead before 1338, and left Richard, Robert, and Thomas, who were lords of Gasthorp; Thomas had the whole by release from his brothers; he married Amy, daughter of Sir Nicholas de Beaufo, with whom he had Beaufoe's manor in this town, Alice, her sister, and John Rivet of Freton, her husband, releasing their right in it, in 1330. In 1348, John Berdewelle, their son, was lord, who had William Berdewelle, his son, by Isabell, daughter of Thomas Barro, Knt. and had free-warren allowed him in Berdwelle and Thorp in Suffolk; William, his son, married Elizabeth, daughter of Tho. Hethe, lord of Hengrave, Denham by Barrow, and SaxhamParva in Suffolk; he died seized of Berdewelle, Gatesthorp, Beaufoe's, &c. leaving Margaret, his only daughter, who married John Harleston, by whom she had Margaret, married to Tho. Darcy of Danby in Essex, and Alice, to Sir Richard Fitz-Lewes, Knt. But the manors aforesaid, for want of male issue, reverted to Sir William Berdewell, the great warriour, who was the male heir of the family by the second wife, viz. Sara, (fn. 15) daughter of Sir John Furneaux of Midle-Herling, with whom he had Furneaux manor in West-Herling; they left Sir William Berdewell, Knt. their son and heir, whose son,
Sir William Berdewell, Knt. the great warriour, was born 1367, for in the 9th of Henry IV. (anno 1407,) he was 40 years old, being then one of the knights summoned as witnesses for Sir Edward Hastyngs of Elsing, in the cause between him and Sir Reginald Grey Lord Ruthyn, concerning the arms of Hastyngs, (fn. 16) in which he swore, that he was a soldier with Sir Hugh Hastyngs, the defendant, in the voyage made by Sir John Arundell on the sea, and saw Sir Hugh bear the arms of or, a maunch gul. with a label of three points arg.; in the voyage of Sir Malves del Ile, in the voyage of King Richard II. into Scotland; in Bretaigne, in the deceased Duke of Lancaster's voyage into Spain; and that he always understood that the label was born by the next heir according to the usage of England, as the Prince of Wales bears it, and was the conusance of the next heir. In 1382, he was retained by Sir John Clifton of Bokenham castle, to serve him with 7 men at arms, and 6 archers on horseback, in the voyage of Croyserye, and of the King, for one year, for 100 marks for himself, with bouche de court, (fn. 17) and for his 7 men at arms and 6 archers, 392 marks, to be paid half down, and the rest quarterly, as the Bishop of Norwich should pay Sir John Clifton. (fn. 18) In 1387, he covenanted with the Lord Camoys to serve under him in the expedition at sea under the command of the Lord Arundell, then Admiral of England, for four months, with 2 esquires sufficiently armed, and 3 archers, and each of his men of arms to have one servant to carry their bayonets, Sir William to find them wages, who was to have 18 marks for his own service, and 20 marks for his archers, and bouche de court for all his retinue, all of them to be ready at Southampton the 4th of May following; and if any great chieftain was taken in the war by Sir William, or his retinue, the Lord Camois was to have him, giving sufficiently to him and his men that should take him. In the year 1400, Michael De-lu-poole Earl of Suffolk granted him an annuity of 20l. during his life, out of his castle, manor, and honour of Eye in Suffolk, in recompense for the good and agreeable service that Sir William had done him in times past, and shall do him in time to come, both in war and peace; and upon this Sir William obliged himself to serve the Earl with one esquire, two servants, and five horses, all which were to have bouche de court at the Earl's expense; and if he travels in England at the Earl's command, he was to be allowed reasonable expenses; and in time of war, he was to find as many men at arms, and archers on horseback, as he could, all which the Earl was to pay, as the King paid him; and he was to have two parts of their ransome, and the Earl the other third part, but no prisoner was to be delivered up, without the Earl's license. In this year he did homage to Thomas Earl of Arundell and Surrey, for his lands in Herling, held of CastleAcre manor. He married Margaret, daughter and heiress of Theobald (or John) de Pakenham, Esq. and Agnes his wife, daughter of Tho. Saxham, who in her will ordered to be buried at Berdewell by her husband. He settled Berdwell's manor on Ralph and Robert de Bernyngham for their lives, remainder to Robert Berdewell, his son, remainder to William, son of Robert, and his heirs. On the 1st of Octob. 1434, he made his will, which is dated at Bury, where he died soon after; for on the 29th of the same month it was proved before brother John Cranewys, sacrist of that monastery, (fn. 19) (he being, by virtue of that office, in the place of archdeacon of the exempt jurisdiction of that house,) in which he ordered to be buried in Berdewell chancel, to the reparation of which church he gave 40s. and 20s. to repair the roads, and 20l. to his daughter Isabell, and to Robert, his son and heir, his basilard, and all his gilt armour, his best girdle, with his loose gown, furred with beaver. He died possessed of the manors of Berdewell's, Bokenham's, and Beaufo's in West-Herling; Garlek Hall in Gatesthorp; Belagh, Norton, Wyken, Berdewelle; Wyke's in Berdewell, and Thorp in Suffolk, and was buried at Berdewell, where he chiefly resided; in a north window of which church a curious effigies of him still remains very perfect, of which this is an exact resemblance: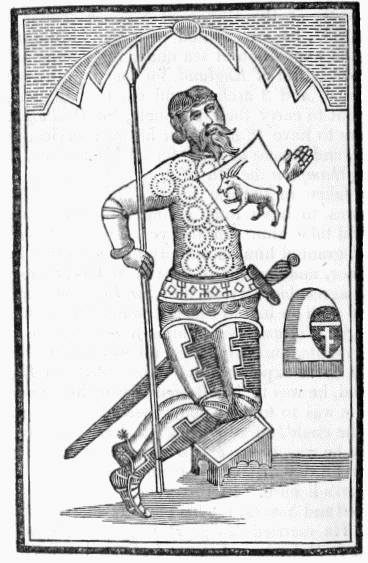 He had issue, John, his eldest son, who married Elizabeth, daughter and coheir of Sir John (or Thomas) Clopton, by whom he had William and Rose, both which, as well as their father, died before their grandfather.
Upon which his second son, Robert (fn. 20) Berdewell of Belagh, Esq. (who built the old hall at Herling, and first settled there) became his heir, who, in 1439, did homage to the Earl of Arundell for WestHerling, and in 1446, to Ralf Lord Cromwell and Tateshale for Gatesthorp: he had two wives, the first was Elizabeth, (fn. 21) his second was Margery, daughter of Sir Thomas Jenny, who outlived him some years, she being alive and his widow in 1462. He is buried with his first wife, on the north side of the altar in this chancel; his stone is now much broken and defaced, it hath Berdewell's coat impaling three nags heads cooped, the three other coats being lost, as is part of the circumscription, which I transcribed before it was defaced, viz.
Drate pro Anima Roberti Berdemelle, Armigeri, qui obiit rrio Die Januarii Ao Dni: mo CCCColho et pro Anima Elizabet. uroris. eius quorum Animabus propicieture Deus.
William Berdewell, senior, of West-Herling, Esq. his son and heir, had two wives, by whom he had thirty sons and daughters; Eleanor, his first wife, was daughter and heiress of John Crabbe, with whom he had the manors of Midle-Herling and Kimberle; Elizabeth, his second wife, was a Mortimer. In 1441, the Duke of Norfolk, by deed dated at his castle of Framlingham, granted to his beloved servant, William Berdewell, senior, Esq. an annuity of 10 marks, for the good services that he had done him: I have seen his will of his his own handwriting, from which I took the following extract:
Jesu mercye. Mary helpe.
"In Dei Nomine Amen. I Welyam Berdewell the Holder, Sana mente & bona Memoriæ, qwan I pas hawt of this misery werd, I beqwethe my sowle to the Trenite, Fadir, Sone, and Holye Goyst, Three Personis, and One God, my Bodye to be beryed in the Chansel of Westharlyng, on the south side, before Seynt Jon, betweene bothe my wyvys. And I besette to the Hey Awtyr, x.s. & to the Churche odyr x.s. also to the Lytys on the Candlestekys afore the Hey Awtyr odyr x.s. & to the feywe Joys afore our Lady, odyr x.s. And also I besette a Veystmente to the Hey Awter, and to the place of the Frerys at Thetforth x.s. and to the Chapell of our Ladi in Thetforthe odyr x.s. also x.s. to Medylharlyng, & a Nobyl to the Freris of Babwell. Odyr x.s. to the Kwyte Freris of Norwiche; and also for to be preyd for in the Townys abowte me, and nowght to labour, I besette to Hest Harlynge Chirche a Nobyl, and forte Denar: and to Gatysthorp a Nobyl, viij. Sheep to Trenety Geld, [at West-Herling] to the Channowyns [at Thetford] x.s. and to the Nunys ther, odyr x.s. to prey to God for me, and to the Hey Awter of Seint Marye Chirche of Thetforthe x.s. and x.s. to our Ladi [at West-Herling] and a Nobyl to the Chirche. [He gave a good Legacy to his] Son Peter (fn. 22) to prey for [him] and for [his] Weyfwys, with Fadyr & Modir, and al odyr Frendys, qwiche past the Werd, &c."
According to his desire, he was buried on the south side of the altar: his effigies, bareheaded, with a grayhound at his feet, and his sword and spurs on, still remains, and two escutcheons, one of Berdewelle quartering Mortimer, and the other of Berdewelle and Pakenham, and this inscription,
Drate pro Animabus IDillielmi Berdemlmell, Armigeri, Alienoreet Elizabethe urorum eius, et Eriginata filiorum et filiarum suarum. quorum Animabus propicictur Drus, Amen.
William Berdewell, junior, Esq. his son and heir, succeeded, who was of age in 1455, at his grandfather's death, who gave him Tostock Hall manor, and to Edmund his brother, his manor in Norton by Wulpit, which was formerly Agnes de Norton's; he married Elizabeth, daughter and coheir of Edmund de Wychyngham of Fishley, in 1459, and after her death, to Elizabeth, widow of John Cheke, in 1490, who died in 1505, and by will ordered her body to be buried in Debenham church, by John Cheke, her first husband, by whom she left issue, John, Robert, William, and Edmund, but none by her second husband, who was buried in the midst of the nave of this church, by Elizabeth his first wife: his effigies remains on his stone, which is bareheaded, and in armour, his wife's being in a bonnet. The arms of Berdewelle and Wichingham are first single and then impaled.
On a scroll from his mouth are these words,
Jesu fili Dei, miscrcrc mci.
And on another from her's, this,
Sancta Dei Genetrir, Ora pro me.
And this inscription under them,
Drate pro Animabus IDilli: Berdewell, Armigeri, et Elizabethe uroris eius, Gnius Filiarum Edmundi IDycbnngbam, ct pro quibus tencntur, quorum Animabus propicietur Dcus.
He was succeeded by by his son, William Berdewelle of Herling, Esq. who married Margaret, daughter of John Framlingham of Crow's Hall in Debenham; they both died in one week, A° 1508, seized of Drayton Hall manor in Scarning, and Dillington, Kelling, Salthouse, Gasthorp, West and Midle-Herling manors and advowsons, and were buried together in the nave of this church, his effigies bareheaded, with that of his wife by him, with their escutcheons, still remain, and this inscription,
Orate Pro Animabus Milli: Berdewell, Armigeri, istius Errlesie Patroni, et Margarete uroris eius, qui obierunt in una Ebdomada, mense Januarll, 1508.
He left issue, five sons and four daughters; Robert, his eldest son and heir, Edward Berdewell of Mendham, who was living in 1559, whose son, James Berdewell, lived at Sandcroft, afterwards at Long Stratton; in 1589, as heir male of the family, he released Limborn manor to Bas. Gawdy, Esq.; John, the third son, married Mary, daughter of John Cook, William was the fourth son, and Edmund the fifth: Eleanor, his eldest daughter, died young, Eleanor, the second daughter, married Tho. Pigeon of East Beckham, and Alice, or Elizabeth, married a Howard.
Robert Berdewell of West-Herling, Esq. died in the King's service beyond sea; his will was proved in 1512, in which he ordered to be buried at his father's head, in West-Herling church, if he died in England; (fn. 23) he ordered a priest to sing for him seven years in the chapel of our Lady on the south side of Herling church; he left Anne, daughter of Tho. Bacon of Hesset, his widow, who, in 1513, married Will. Rookwood, and after his death, to Rob. Keene of Thrandeston, whose widow she was in 1558, when she held Gasthorp and Tostock manors. They had only one daughter, viz.
Elizabeth Berdewell, who was but one year old at her father's death, and her wardship fell to Sir Edward Howard, Knt. of whom Scarning, &c. was held, in right of Lady Morley, Sir Edward's wife, who, in 1512, sold it, immediately after her father's death, to Will. Wooton, his executor, and he sold it, with her marriage, to Sir Robert Southwell, Knt. who married her to
John Wooton of North Tuddenham in Norfolk, who confirmed the exchange lately made of Salthouse and Kellyng manors, which were lately the Wychynghams and Berdewelles, for Drayton Hall in Scarning; he was son of John Wooton of Tuddenham, and Elizabeth his wife, sister of Sir Thomas, and daughter of Sir Robert L' Estrange; he kept his first court here in 1528, and in 1536 his wife died; after which he married a daughter of Nevill Lord Abergavenny, widow of Lord D'Acres.
By Elizabeth, his first wife, he left one only daughter, Anne, whose wardship John Millicent, Esq. sold in 1545, to Sir Anthony Rouse, it belonging to him as lord of Bergham manor, of which the manor of Midle-Herling is held, as parcel of the honour of Richmond; she had three husbands, first Sir Thomas Woodhouse of Waxham, (William Woodhouse having purchased her guardianship of Sir Anthony Rouse in 1547,) by whom she had no issue, nor by Henry Reppes of Mendham, Esq. her second husband, who kept his first court in 1551, and was dead before 1556, for in that year Bassingbourne Gawdy, second son of Thomas Gawdy, serjeant at law, her third husband, kept his first court, and held Midle-Herling of Robert Berney, (fn. 24) as of his manor of Bergham, by the service of half a fee, and 5s. per annum; he was afterwards knighted. In 1564, he purchased Secford manor; and thus all the manors in West-Herling, Midle-Herling, and Gatesthorp, came to the Gawdie's. She was buried at Herling, July the 9th 1594.
Gawdie's arms are, vert, a tortoise passant ar.; crest, on a wreath ar. and gul. a chapeau turned up erm. on which two daggers in pale ar. hilted or, mantled gul. doubled ar.
Sir Bassingbourne Gawdie, Knt. died seized, Jan. 25, 1569, of all the manors, together with Limbourne in Homeresfield, Roudham, Drayton Hall, &c. leaving two sons, Bassingbourn and Sir Phillip, who married Brigit Strongman, by whom he had Francis, his son and heir, who died without issue, and five daughters, the last of which was born in 1614.
Bassingbourne Gawdie, Esq. his son and heir, was 29 years old at his father's death, when Thomas Gawdie of Gawdie Hall, his uncle, was trustee for Secford's manor. This Bassingbourn held West-Herling of the Earl of Arundell, Midle-Herling of the Queen, as of her honour of Richmond, at half a fee, Secford's of the dissolved abbey of Bury, at 3s. yearly rent, Drayton Hall, of the Lady Morley, and Gasthorp, of Phillip Knevit, Esq. He was thrice sheriff of Norfolk, viz. in 1573, when he was an esquire only, in 1593, when he was a knight, and in 1601. He had two wives; the first was Anne, daughter of Sir Charles Framlingham of Debenham, by Dorothy his wife, daughter of Sir Clement Heigham, Knt.; she was an heiress, and brought the whole estate of the Framlinghams, viz. the manors of Crowshall, Scotneys, Harborow, and Debenham, with the advowsons, Mandevile's manor in Sternefield, Abbot's Hall, and Ashfield manor and advowson. Sir Charles her father outlived her, and died July 23, 1594, leaving Framlingham Gawdie, Esq. his grandson, his sole heir. His second wife was Dorothy, daughter of Sir Nicholas Bacon of Redgrave, who held Gasthorp manor for life; and after his decease, she married to Felton, and died at Fakenham, Feb. 1, 1653, and was buried here by her first husband, who died the 23d of May, 1606, leaving issue by both his wives: by the last he had two sons and two daughters, Bassingbourn and Bacon Gawdie, who was buried here in 1650, and Dorothy and Frances, both buried here, the first in 1659, the last in 1626, leaving no issue; by the first he had two sons, Framlingham, and Charles, who was born in 1591, and was afterwards knighted, and had Crowshall, Scotneys, &c. given to him and his heirs.
Framlingham Gawdie, Esq. was born Augt. 8, 1589, Sir Robt, Knowles, Knt. was his guardian, and as such kept court in 1606. In 1627, he was sheriff of Norfolk, and afterwards one of the DeputyLieutenants of that county, by commission from Henry Earl of Northampton, then Lord-Lieutenant: he married Lettice, daughter and coheir or Sir Robt. Knowles, Knt. who was buried here Dec. 3, 1630, by Sir Robt. her father, who was buried Jan. 20, 1618. He was buried, Feb. 25, 1654, by his father-in-law, leaving six sons and two daughters, viz, William Framlingham, born in 1613, Bassingbourn in 1614, Tho. in 1617, who died single, Charles in 1618, and Robt. in 1620, Lettice died Feb. 8, 1622, and Anne, June 29, 1622. (fn. 25)
William Gawdy, Esq. the eldest son, was created baronet, July 13, 1663; he married Elizabeth Duffield, who was buried June 10, 1653, by whom he had four sons and one daughter, Bassingbourn, the eldest, died unmarried at London, of the small-pox, and was buried in the Temple, in 1660, Anne his sister was buried with him, and William his brother, they dying of the same disease, Framlingham Gawdy who lived at Bury, and
Sir John Gawdy, Bart. who was his second son and heir, he was born Oct. 4, 1639, being deaf and dumb, notwithstanding which, he was an admirable painter, and a most ingenious man; he married Anne, daughter of Sir Robt. de Grey of Martin, Knt. and Elizabeth his wife, by whom, at his death in 1699, he left one son and one daughter.
Sir Basingbourn Gawdy, Bart. his son and heir, died unmarried, on Thursday, Oct. 10, 1723, of a bruise in his privities, which he received by his horse's stumbling as he was hunting; he was wrapt in searcloth, and buried in a leaden coffin, in our Lady's chapel in this church, which is lately taken down, (a faculty being obtained for that purpose,) and his grave raised with bricks over it, is now to be seen in the churchyard, on the south side, where the chapel stood. (fn. 26) He left his three nieces his heirs, they being daughters of his sister Anne, by Oliver Le Neve of Great Wichingham, Esq. their son Oliver dying without issue in 1686, viz. Issabella, then single, Anne, married to John Rogers of Stanford, licentiate in physick, and Henrietta, to Edward Le Neve, Gent. only son of Edward Le Neve, citizen and merchant-tailor of London: who all joined, and conveyed the whole estate to
Joshua Draper, Esq. who sold it to
Richard Gipps, Esq. now lord and patron, who hath purchased all this and Midle-Herling, and built a neat seat, which was begun by Mr. Draper, who pulled down the old hall, called Berdewell Hall, the site of which joined to the south-east corner of the churchyard, and began this new building, in the place where the old one stood. (fn. 27)
The Leets of the two towns belong to the Duke of Norfolk's hundred of Giltcross, to which hundred court each town paid 6d. leet fee, and 7d. apiece for blanche-farm, 6s. for three suit fines, and 7d. apiece for castle-ward.
In 1603, there were 132 communicants in this parish, and now [1736] there are about 6 or 7 houses, and 60 inhabitants; it paid 58s. to the tenths, and is now assessed with Midle-Herling at 427l.
Berdewell Hall was a fine old embattled stone building, moted round; it was demolished in 1725; there was a family chapel in it anciently, and the following arms were in the parlour and other windows, when it was pulled down, viz.
Berdewelle impaling Walcote, Mortimer of Attleburgh.
Furneaux, sab. a pale lozengee ar.
Wichingham, erm. on a chief sab. three croslets patee ar.
Framlingham, ar. a fess gul. between three Cornish crows proper.
Wotton, ar. a saltire ingrailed sab. on which an annulet az.
Jenney; Pakenham.
Glanvile, ar. a chief indented az.
Southwell, ar. three cinquefoils gul. on each five annulets or.
L'Estrange, with a battoon or.
Ar. three nags heads cooped sab. bridled or.
Ar. on a fess ingrailed between three inescutcheons gul. as many mullets or, pierced ar.
Pally wavy. Az. on a cross ar. five escalops gul.
Gawdy impaling Bassingbourn, gironne of twelve or and az.
Bodrigan, az. three bendlets gul.
Purp. a lion rampant, crowned or.
Ar. a saltire sab. between twelve red cherries, stalked proper.
Knowles, az. crusuly, a cross moline voided or, quartered with, sab. a chevron ar. between three human heads cooped at the neck, twined with as many snakes proper.
Knightly, quarterly or and erm. in the first and fourth quarters, three pallets gul.
Conisby, gul. three coneys currant ar. quarterly first per bend, indented ar. and sab. second az. a de-lis or, third as second, fourth as first.
Bassingbourne Gawdy, 1593, impales Framlingham and his quarterings, viz.
Lee, sab. a chevron er. between three crescents ar.
Borne, sab. a chevron gul. between three unicorns heads erased az.
Tiptoft, ar. a saltire ingrailed gul.
Charlton, or, a lion rampant gul.
Holland.
Inglethorp, gul. a cross ingrailed ar.
Bradston, ar. on a canton az. a rose or.
De-la-Pole, with an annulet.
Framlingham's crest is, a raven volant proper.
Framlingham impales Nevile and his quarterings, viz.
Nevile, gul. a saltire ar. a label of three gobone ar. and az.
Montacute, ar. a fess fusile gul.
Monthermer, or, an eagle displayed vert.
Holland Earl of Kent, England in a bordure ar.
Wake, or, two bars gul. in chief three torteaux.
Estottevill, barry of ten ar. and gul. a lion rampant sab.
Burgh, ar. a fess lozenge sab.
Jeffery, or. a chevron sab. between three goldfinches proper.
Scotham, az. three pheons ar.
Nevile's crest is a wolf passant ar. collared or, on his shoulder an annulet for difference.
On a very old musket barrel that hung in the hall was this,
furvis je svis, mais sans fev, je ne puis.
which was thus translated,
Full I am, 'tis true, of ire, But can do nothing without fire.
In 1382, a piece of land in Thorp-street was held by the rent of 2d. a year, to be paid to West-Herling church, and Rob. Gildensleve held 1 acre by the rent of 1d. a year, to find a light in that church. John Ingman held a cottage, formerly Elizabeth Smith's, for which he was to find yearly a wax candle of a quarter of a pound weight, to burn there, and William Turnour was to find another vearly, of 1d. value. In 1550, Sir Tho. Woodhouse of Waxham, Knt. confirmed to Robert Barret 2 acres of meadow, which he had among other lands, of the grant of King Edward VI. in the second year of his reign, it being given for an anniversary to be kept here.
The Church is dedicated to all the Saints, having its nave and chancel tiled, a square tower, with a tall freestone spire on it; there were but three bells, till Joshua Draper, Esq. when he resided here, had them new runned, and added two new ones. On the third bell was this,
Uirgo Coronata duc nos ad Regna beata.
The following inscriptions (besides those already spoken of) may be seen here. On a brass plated stone in the chancel, the effigies of a priest, and under him this,
Orate pro Anima Johannis Michull, quondam Rectoris, istius Errlesie, cuius Anime Propicietur Deus.
On another stone,
Orate Pro Anima Radulfi Full of Lobe, quondam Rectoris istius Errlesie, qui obiit rbio die Septembris Ao Dni. Mo CCCCo lrrir.
This man gave 10l. to build a new font in Hingham church, and to the lights of Corpus Christi, St. Andrew his patron, and St. Mary's light in her chapel in Hingham church, 2lb. of wax, and 40d. to the high altar. To West-Herling a missal of 8 or 9 marks, and two vestments of 5l. value, Will. Berdewell, junior, and Hen. Spylman, Gent. executors, the Lady Anne Wyngfield supervisor. (fn. 28) [This out of his testament.] By his will he gives a legacy to the Tabernacle of St. Mary at Hocham, to pray for Alice his mother; he orders an annual mass to be celebrated in Hingham church, for the souls of Tho. Owdolf, of John Ashwell, organ-maker, John Fagede, and Hen. Owdolf, all of Norwich, deceased; 20s. to St. Thomas of Acris's hospital in London; 20s. to St. Thomas the Martyr at Rome. He gave a close called Noziyerd to the rectors of Hingham for 24 years, 20d. out of it to keep his anniversary, and then to be sold to the use of the church; 40s. to William Berdewelle, his patron; 40s. to each executor for their labour; and 4 nobles of old gold to the Lady Anne Wyngfield, to be supervisor Proved the last of Sept. 1479.
These arms were lately in the windows, though now several of them are lost, the monuments here having suffered much, when the old hall was pulled down, by the workmen's working in the church.
Herling, Tuddenham, Berdewell, Pakenham, Furneaux, and Denney.
And there were several effigies of the Berdewells in red habits, (that being the colour of the field of their arms.) In the belfry window were Berdewell's and Seckford's arms.
The commandments hang against the north wall, under them is this,
Bod bless our King, and send him long to reigne, In Deace and Bcalth, the Bospel to maintaine.
On the south side of the curch was a chapel dedicated to St. Mary the Virgin, called Berdewell's chapel, not, as I imagine, because that family was buried in it, (for I meet with none,) but because it belonged to Beaufo's manor, which came early to the Berdewells. This in all probability was founded by Nicholas de Beaufo; but whoever was its founder, he was interred, or rather immured, in its south wall, for it falling to decay very lately, a faculty was obtained to take it down, and in so doing, the body of the founder appeared to be laid in a stone coffin, enclosed in the south wall, which (by the present patron's order) was preserved as it was found, and being covered with bricks, now lies undisturbed, in the nature of an altar tomb. I am told there was a small silver thing like a candlestick in the coffin, but rather think it to have been a crucifix.
In this chapel there was but one stone inscribed, and that being taken up, is now placed as an altar tomb, in the churchyard.
Here lieth the Body of Anne Le-Neve, Daughter of Oliver Le-Neve of Witchingham Esq; and Anne, sole Daughter of Sir John Gawdy of West Herling in this County Bart, who died 29 Nov. 1689. (fn. 29)
Most of the Gawdys were buried in this chapel. The founder's tomb appeared on the outside of the south wall; it had an arch turned over it, and the gravestone or lid of the coffin was about two feet from the ground.
In the window over the tomb was Gawdy quartering Bassingbourne, impaling Wotton, Bardwell, Walcote, Pakenham, Furneaux, and Witchingham.
On a black marble in the chancel,
Cressener, ar. on a bend sab. three croslets fitchee or, impaling a lion rampant.
In Memory of HENRY CRESSENER, once Rector of this Parish, and of ELIZABETH his beloved Wife, of a peacefull and vertuous Disposition, is this Monument placed, HENRY, and JOHN his Father, and NICHOLAS his Grandfather, were successively Rectors of this Parish for the Space of 130 Years, none of them ever contending in Law-Suits under unjust Extortions of their just Demands.
HENRY, as a true Son of the Church, was of a modest Demeanour, a facetious Conversation, a peaceable Disposition, an unlimited Benevolence, a Support to the Needy, a Healer of Breaches, a Comforter of the Afflicted, a help to the Distressed.
HENRY and ELIZABETH, lived in conjugal Love 48 Years, and on the 8th of November 1719, She finished this Life, in the 87th year of her age, and he on the 19th of October, 1730, in the 79th Year of his Age, Both under this Stone Interred.
They, for a Time, enjoyed the Blessing of two hopefull Sons, JOHN, his eldest, was for his Great Learning, Sobriety, & Goodness, chosen Fellow of Queen's Coll: in Cambridge, HENRY, the youngest, of Clare-hall, whose early death debarr'd his succeeding Preferments.
ELIZABETH CRESSENER, being the only surviving Issue, was the mournful Directrix of this Memorial, of her indulgent Parents.
There were two Gilds in this church, one dedicated to the Trinity, and the other to St. John Baptist.
The Town Land is about 5l. a year, which was given by Mrs. Margaret Gawdy, to clothe poor widows, if there be any; if not, any poor people; it lies in Kenninghall and Banham, and the rent is received by the rector and church-wardens, who apply it accordingly.
This rectory is thus valued with that of Midle-Herling, which is consolidated to it.
King's Books.
Yearly Tenths.
Synodals.
Archd. Procur.
Acres Glebe.
Norw. Taxat.
9 18 4
0 19 10
0 2 0
0 6 8
80 0 0
8 marks.
It is in Rockland deanery, and Norfolk archdeaconry, hath a rectory-house, and outhouses, and above 80 acres of glebe, (fn. 30) together with a cullet of 100 sheep going in the lord's fold, free of all charge. The Prior of Bokenham's temporals were taxed at 1s. 1d. and the Prior of Thetford's at 2s. 6d.
Rectors.
1331, Tho. de Saxham, rector, on whose resignation in 1337, 13 kal. Aug. Walter de Salopia, priest, succeeded, who changed Troston for this. Tho. de Berdewelle, patron.
1349, 8 July, Will. Wrothyng de Brettenham, shaveling. Ditto.
1366, 27 July, Rob. de Swafham Bolbek, priest. John de Herlyng, (feoffee,) he was after rector of St. Mary's in Long-Stratton.
1381, 27 Aug. Tho. Neve, priest. Ditto.
1391, Rob. Grantesden, priest. John de Tuddenham, for this turn.
1410, 19 Octob. Sir Rob. Asty of Weston, priest. Robert, son of Will. de Berdwell, Knt.
1433, 3 July, Master John de Gyllyng, priest, on Asty's resignation. Ditto.
1440, 6 July, John Mychell, priest. Robert Berdewell, Esq. in right of his manor called Berdwell's. In 1457, he had MidleHerling consolidated to this. He is buried here.
Ralf Full of Love, rector, who died in 1479, is buried here; he was succeeded by
Peter Bardwell, on whose death in
1505, 8 Octob. Rob. Candeler succeeded; on his death in
1525, 17 Dec. Henry Thexton, was instituted. John Wotton, and Elizabeth his wife.
1538, 26 April, Sir John Thompson, chaplain. John Wotton, Esq.
1543, 10 April, Sir Tho. Thompson, chaplain to Thomas Duke of Norfolk.
At this time John Richard, rector of Fornecet, and Rob. Wright, rector of Hopton, were commissioners in order to take down MidleHerling church.
1557, 26 June, Edmund Kyne, S. T. B. on Thompson's death. Anne Wodehouse, alias Reppes.
John Kyng, rector; on his death in
1559, 30 July, Edward Jacksonne, priest, was instituted. Bassingbourne Gawdy, Gent. and Anne his wife.
1568, 8 Feb. Will Franklinge, on Jackson's resignation. Ditto.
1573, 8 Octob. Will. Nashe, on Franklinge's death. Ditto.
1587, 30 March, Will. Harvye, chaplain, on Nashe's death. Bas. Gawdy, senior, Esq.
1591, 15 Sept. Will. Harvie. Bas. Gawdye, Esq.
1596, 21 April, Nich. Cressener, A. M. on Harvie's resignation. Sir Bas. Gawdy, Knt.
John Cressener died rector.
1670, 31 May, Henry Cressener, A. M. John Gawdy, Esq.
1720, 24 June, the Rev. Mr. John Whaley, the present [1736] rector, was instituted on Cressener's death. Bas. Gawdy, Bart.; he holds it with Ridlesworth and Gasthorp.