Pages 395-405
An Essay Towards A Topographical History of the County of Norfolk: Volume 1. Originally published by W Miller, London, 1805.
This free content was digitised by double rekeying. All rights reserved.
NEW-BUKENHAM.
This town had its rise out of Old-Bukenham, as is before observed, when Will. de Albany founded the castle, and procured the land of the Bishop of Norwich (fn. 1) to build it on, and to make his burgh, which then took the name of New-Bukenham, to distinguish it from OldBukenham, which then had that addition for the same reason. He or his successours (fn. 2) very early got it to be a burgh, with the following privileges, which were allowed in 1285, viz. view of frankpledge, assize of bread and ale, a gallows, and a market every Saturday, with the market-court, (fn. 3) or burgage, then worth 5s. per annum, and kept before the capital steward every Saturday, who was judge of all weights and measures, and every thing belonging to the market, and of all debts contracted or acknowledged in the market or precinct of the burgh, and of all such debts under that sum, in which any resident in the burgh was concerned, and had power to fine and levy, as amply as the sheriff in the hundred court; and also a fair in the said burgh every St. Martin's day, with a court thereto belonging, called the Warpound court, (fn. 4) the rents being due and payable that morning; and also liberty of free-warren in the demeans and manors of Bukenham castle, in the Bukenhams, Besthorp, and Attleburgh, (fn. 5) and also a prison for all offenders in the burgh, in the toll-house there. (fn. 6) The whole of this town belonged to the castle, and passed as that did, till Shropham hundred was sold from it, and after forfeited to the Crown, and the Warpound court with it, and then that was in the Lovell's, and the Mercate court or burgage in the Knevet's. In 1572, Tho. Lovell, Esq. had one manor, and Tho. Knevet, Esq the other; the Warpound court went with the hundred, and still remains with it; the market court, or burgage, was sold by the Knevets. It after belonged to Eldred, and Verdon, and after that was settled on feoffees, for the use of the curate, and by virtue thereof the high bailiff receives the profits.
Here were many lands, rents, and tenements, which belonged to the priory, all which were seized by the Crown, and granted to divers persons, as the Lovells, Knevets, &c. In 1609, John Eldred, Esq. and John Verdon, Gent. had a grant of the outsoken (fn. 7) manor of the priory, now called
The Priory Manor,
(the Knevets reserving to themselves the insoken of that manor, or all that part of it, which is now called the Priory manor, and goes with the great manor, and lies in Old-Bukenham, which is the reason that there are two manors called the Priory at this time,) together with the market court, or burgage, all which the Knevets were licensed to sell.
The temporal possessions of the Prior in New-Bukenham, in 1428, were taxed at 34s. and 3d. In 1603, there were 220 communicants, and now [1737] there are about 400 inhabitants. It paid clear to every tenth 4l. 3s. and is now assessed at 558l. 13s. 4d. to the land tax: it is a compact burgh, of small bounds, having a Saturday market, (which of late years is much decayed,) and an annual fair on St. Martin's day, according to the grants before mentioned; at first it had but few inhabitants to what it hath at present, as is evident from the chapel of St. Mary, which was then their only place for service, and no large one, but as it increased Sir Robert de Tateshale, lord of the castle, who died in 1248, founded
A Church dedicated to St. Martin, on the north side of the burgh, where it now stands, and gave it to the priory, the sacrist of which was, to the Dissolution, the parish priest; he had a certain salary allowed him by the inhabitants, (fn. 8) for which the prior was taxed at 20s. and other houses or lands given to him as sacrist, or serving chaplain, for which he was taxed at 13s.; and after this was founded, the chapel of St. Mary continued to be served as formerly, by a custos and brethren, at the prior's appointment, who dwelt in their apartment at its west end. The present church was built at divers times, the nave and chancel being the only (if any) remaining parts of the first building; the north isle was built about 1479, by the contribution of several great men, some of whose arms still remain in the windows, and of such other persons as pleased to be benefactors; for in that year John Coke ordered to be buried in the new isle of St. Martin's church in New-Bukenham, and gave 5 marks towards leading it; (fn. 9) he was a good benefactor to the gilds of St. Mary and St. Martin, which were kept in the church. (fn. 10) The south isle, porch, and tower, were begun soon after, by that Sir John Knevet who married Clifton's heiress, and finished by his grandson, Sir William Knevet,as the arms in the windows and on the tower plainly demonstrate. This church is a donative, the minister being chosen by the majority of the votes of all the residents in the parish, that pay to the minister's rate, and after such choice so made, and entered by the church-wardens in the Town-book, he is to have a nomination under their hands to the Bishop, in order for a license, which being obtained, unless that be recalled, it is a cure for life.
In 1603, Mr. Francis Bradley was curate, whose answer was, that he served it as an impropriate cure, without any stipend from the impropriator; that it was in Rockland deanery, and Norfolk archdeaconry, and that the set stipend from the inhabitants was 15l. per annum, besides all gifts; that Mr. Knevet was proprietor, who afterwards sold it to be settled on the parishioners. There is a convenient house, garden, and outhouses, for the minister's dwelling, (fn. 11) who hath an estate in Suffolk, and part of the George inn in New-Bukenham, the Priory manor, and the rale of 3d. in the pound, &c. settled for his maintenance. Mr. Coleman was predecessor to Mr. Robert Stone, the present [1737] minister, who hath Old-Bukenham, and is rector of Brandon-Parva and Hackford in this diocese. (fn. 12)
The nave is leaded, having a neat square tower, with a clock and five bells in it, joined to its west end, on which the following arms are carved in freestone over the west door, viz.
Will. de Bohun Earl of Northampton.
Humfry de Bohun, his son and heir.
Stafford.
Holland, viz. France and England quartered, in a bordure.
Lynnes.
Knevet and Caily quartered.
Knevet quartered with, pally, a bordure charged with roundells.
Albany.
Knevet and Clifton quartered.
Knevet and Heveningham quartered.
Knevet and Clifton, with a canton.
In the nave there are stones for,
John Pitcher, Gent. and Elizabeth his Wife, he died Oct. 30,1720, aged 74, and she June 1705.
Thomas Richards, died 24 July, 1705.
Mary, Wife of Mr. Robert Harris of Lynn Regis, Daughter of Mr. Tho. Richards, she left a Son and two Daughters, and died Febr. 9, 1700, aged 23 Years.
Claudius Grey, Gent. buried Febr. 18,1700, T. Colman 1718.
At the west end of the nave there are stones for,
Mr. Tho. Fulcher, Apothecary, who died June 10,1707, Æt. 58.
John Blake, Nov. 1723, Æt. 13, Tho. Blake, Nov. 28, 1728, Æt. 12, both sons of Thomas and Mary Blake.
On the font, Knevet's arms: it was erected,
February 1, 1619, Ehomas Colman, Christopher Sudbury, Church, Wardens.
The north isle is leaded, and hath a chantry parted from the rest, with handsome carved screens at its east end, in which there is a stone for
Mary, Wife of Mr. John Crow, who died March 30,1729, aged 39, and Mary Barrs her Mother, who died Apr. 3, 1729, aged 60, Hannah Crow died May 7, 1729.
This chapel belonged to St. Mary's gild, and was made when the isle was built, as the arms of Cromwell, Tateshale, Mortimer, &c. plainly shew us, they being in the windows of the isle as benefactors, together with,
De-la-Pole quartering arg. a chief gul. over all a lion rampant or, Howard and Brotherton quartered.
Vere and Howard quartered.
Clifton and Caily quartered.
And on the screens are these two letters, J. P. and a rebus or device of a pilgrim's staff, having a hat hung on its top, and a pilgrim's bag lying by it, which, I suppose, intimates the man's name to be James Palmer, a palmer or pilgrim signifying the same, and James rather than John, because so many palmers, or pilgrims, daily visited St. James at Compostella, who was the patron of the adjacent priory.
There are also shields of various arms, viz.
Or, semide-lises sab. for Mortimer.
A fess between three roundels, for Courtney.
The arms of the priory.
Tateshale. And erm. a fess gul. besides these,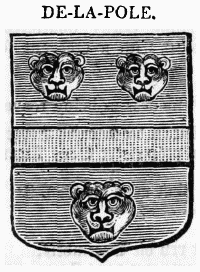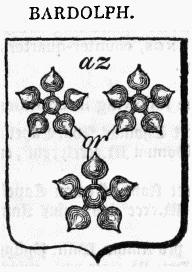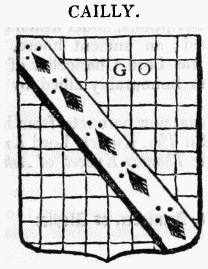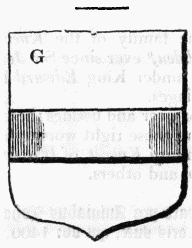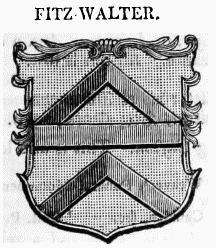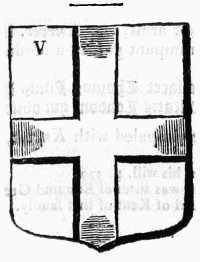 The chancel is tiled; on the north side is an inarched monument, in which is an altar tomb; the arms, inscription, and effigies of a woman, with a label from her mouth, are all lost. This is the tomb of Sir Thomas Knevet of Bukenham castle, (fn. 13) and Katharine his wife, daughter to the Earl of Derby.
On a flat stone is this, on a brass plate,
Hic iacet Alicia, (fn. 14) quondam Uror Willi: Knyhet, Armigeri, que crat, Filia Johannis Grey, filius Domini Reginaldi Brey, Domoni de Rythyn, que obiit quarto die Mcnsis Aprilis A Dni MCCCClrriiiio
The arms are,
Knevet quartering Clifton, impaling Grey quartered with Hastyngs, counter-quartering Valence, with a crescent for difference.
The following inscriptions are lost, (fn. 15) the brasses being reaved,
Hic iacet Ehomas Jvy, Eapellanus qui obiit rir die Mensis Septembris. Anno Domini M.CCCClrrriiio, cuius Anime propicictur Deus Amen.
Hic iacet Robt. Seman Eapellanus, qui obiit nono die Jun. Ao Dom: M.CCCCo Irvo cuius Anime
Orate pro Anima Willi: Pyllys, qui obiit rrv dic Decembris, Anno Dni: M.CCCCC.rrri. cuius Anime propicietur deus Amen.
There are many old stones without inscriptions, under which divers of the family of the Knevets lie buried; an ancient house, saith Cambden, (fn. 16) ever since Sir John Knevet was Lord Chancellor of England, under King Edward III. and also honourably allied by great marriages.
For over and besides these of Bukenham, now baronets, from hence sprung those right worshipful knights, Sir Tho. Knevet, Lord Knevet, Sir Henry Knevet of Wiltshire, and Sir Thomas Knevet of Ashwellthorp, and others. 1400.
Orate pro Animabus Johannis Knebet, Armigeri, et Alesiæ Uroris suæ qui ob: 1400. (fn. 17)
His effigies in armour in a coat of his arms, viz. Knevet quartering Clifton, his wife by him in a gown, and an escutcheon between them of their arms, viz. Knevet, impaling Lyn, or Lynnes. Arg. a demilion rampant gul. in a bordure sab. bezanté. All this is lost.
Wic iacet Ehomas Filius Henrici Collet, civis et Alvermanni Civitatis Landon, qui obiit vie Nativitatis Sce: Maræ 1479.
Collet impaled with Knevet, quartering Clifton. This is also lost.
On an altar-tomb on the north side of the chancel, Gulielmus Barber hujus Parochiæ Gen: Obijt 24° die Januarij, Anno Xti. 1693. Ætatis 84.
Ille Senex omni ut clero succurreret Ævo, Pauperibusque pius, Munera larga dedit: (fn. 18) Ditibus Exemplo, semper sua sint Benefacta, Laudent Participes proque Datore, Deum.
On a marble by the altar, the arms and crest of Tindall, alias Kendall, (fn. 19) impaling a chevron between three castles or towers.
P. M. S. Maria, Henrici Scarborough, de Walsham Boreali, in Com: Norff: Generosi, Mauritij Kendal de Eadem Armigeri, Eliz: et Mariæ Kendal sobolum, Filia, Uxor, Mater, observantissima, dilectissima, pientissima, nec minus Deo quam Amicis fidelis, Corpus in terrâ hic repositum, Virtutes in Prole bonis Auspicijs elucent, Spiritus in Cœlo Triumphat.
Anno Ætat. Dom. 1693.
Another black marble more south, lies over John Kendal, Esq; [Father of Maurice] who died the 14th of Dec. 1672, aged 59.
Kendall's arms single.
On a stone on the south side of the chancel. Kendal's arms.
In Memoriam piam Matris suae charissimæ Elizabethæ, Johannis Kendal Armigeri, conjugis dilectissimæ, Quæ vix ne vix fuit altera, Dei Reverentior, Mariti observantior, Liberorum Denique (at summo cum Religionis tum Morum studio) Indulgentior, hoc Marmor Pietatis Ergo, apposuit Mauritius Filius; obijt die 25 Febr. A° Dni: 1695, Ætatis vero 80.
Another stone hath Kendall impaling Ashfield, a fess between three de-lises.
Fælicem expectans Resurrectionem hic jacet, Mauritius Kendall de Northwalsham, in Agro Norfolciensi Armiger, Vir Paterque indulgens, Amicus Juratissimus, Ingenuis congruus, nefarijs infensus, Ecclesiæ & Monarchiæ Vindex acerrimus, seditiosis Perduellis, Legum in omnibus observantissimus, Jurisperitus ipse Eloquentissimus; obdormivit Anno salutis mdccxii. Ætatis LII.
A large black marble near the screens hath this inscription, most of it covered by building a pew over it,
Here lyeth interred the Body of Dame Rebekah the Daughter of Edward Warne, of New-Buckingham, Gent. her first Husband was Samuel Benson of Norwich, Gent. her 2d was Thomas Davy of Norwich, her third was Sir Francis Bickley of Attleborrow, Baronet, her last Husband was Nicholas Pointer of Norwich, Gent. she dyed the 18th of August 1694, aged 54.
This stone was laid by William Bernham of Norwich, merchant, her executor.
The south porch and isle are leaded, in the middle of which lies a black marble for,
John, only Son of John Barber, and Elizabeth his Wife, who died May 20th 1711, aged 44. leaving Elizabeth his Relict (Younger Daughter of Henry Meen, and Cicely his Wife) to be the greater Comfort of Elizabeth, John, and Susannah his Children, who survived him.
A stone for, Hanah Pain who died March 14, 1728. Æt. 73.
The windows were beautifully adorned with the following arms, inscriptions, and effigies, (fn. 20) several of which are broken, though there are some remaining whole.
In the east window of the chapel, at the upper end of the isle, were the effigies of its founder, and his three wives, viz.
Alice Grey, who is buried in the chancel; she hath the arms of Grey of Ruthyn, with a crescent or for difference, quartering Grey, Counter-quartering Valence, on her mantle. The whole window is powdered with ragged staves sab.
The second is mantled with the arms of Buckingham, Stafford, &c. being made for Joan, daughter of Humfry Stafford Duke of Buckingham.
The third is for Joan, daughter of Thomas Courtney, relict of Sir Roger Clifford; on her mantle are the arms of Courteney Clifford, &c. all which, with Sir William Knevet, their husband, are buried in the chancel; over their heads was this,
Orate pro Animabus Willi: Knebet, Militis, Alicie filiæ Johannis Grey, et Domine Johanne filie Humfrivi Duris Bucks, et Damine Johanne Sqrocis, et unius herevum Domini Cho: Courtney, nuper Comitis Devon: Urorum victi Willi.
The following arms are in the windows,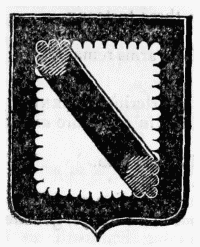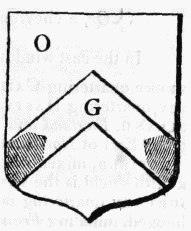 Jenney, erm. a bend gul. cotised or, an annulet for difference, impaled with Wedley, or Wederup.
Knevet, Caily, and Clifton quartered.
Grey, barry of six, arg. and az. in chief three torteaux, a crescent or for difference.
Hastyngs quartering Valence.
Humphry Earl of Stafford.
Bohun Earl of Northampton.
The same, with this difference only, that there are three mullets on the bend.
Courtney, or, three torteaux.
Beauford Earl of Somerset, and Bohun Earl of Northampton, impaled.
Clifton. Albany. Fitz-Alan.
Tateshale, chequy or and gul. a chief erm.
Caily and Tateshale quartered.
Vert, a chevron between three conies arg.
Parted per chevron gul. and lozenge arg. and az. a dove volant in chief, of the second.
Or, on a cross gul. five escalops arg.
Or, a chevron gul. between three torteaux.
Wederup, vert, an annulet arg. a chevron, erm. between three caps of the second.
The escalops on the cross, as before.
Quartered Lozenge, az. and arg. on a chief gul. two lions recombatant arg.
Or, a chevron gul. between three torteaux.
In the east window of the isle these arms remain,
Knevet quartering Caily.
Grey quartering Hastyngs, counter-quartering Valence.
Holland, England and France quartered, in a bordure arg. quartering the Earl of Northampton.
Wyngfield, mixed with Bohun and Stafford.
The fifth shield is the same as the first.
Courtney quartering per bend, az. and or, a lion rampant counter-changed, impaling France and England in a bordure, gobone arg. and az.
Clifton quartering Albany.
Caily quartering Tateshale.
On an altar tomb, on the north side of the church, in the yard,
Wade's arms and crest, a lion passant chained.
Arg. 3 bucks heads erased az.
THOMAS WADE died Oct. 17, 1708, and Robert Wade his Brother 7 Jan. 1708.
JOHN WADE, Gent. their Uncle died 23 July, 1721, aged 73 Years.
An altar tomb on the south side of the church for MARY, Wife of Richard Crowe, Gent, who died 25 Aug. 1689, aged 29 Years.
RICHARD CROWE, Gent. died 12 Nov. 1717, aged 57 Years.
From the Register it appears, that in 1543, Henry Spilman and Anne Thursday were married Febr. 7. 1561, Francis Travers, Gent. and Eliz. Clere, Nov. 4. 1565, Thomas, son and heir of Sir Tho. Knevet, baptized 21 Jan. 1568, John Knevet, Gent. baptized June 2. Joan Knevet buried the same day. 1568, Katherine, wife of Sir Tho. Knevet, buried June 22. 1569, Sir Tho. Knevet died Sept. 22. 1577, 19 Sept. Richard Stocks and Anne Woodhouse, Gentlewoman, were married according to the law in that case for ministers provided. 1583, Francis, the brewer at the Castle, buried 5 July. 1586, 14 Mar. Thomas, son of Tho. Knevet, Esq. buried. 1587, 25 March, John, son of Tho. Knevet, Esq. buried. 1594, Mary his daughter baptized 9 July, Elizabeth his daughter buried 18 May, 1594. 1595, Sir Tho. Knevet, Knt. buried 26 July. 1599, Robert, son of Tho. Knevet, Esq. buried 24 Dec. 1600, Theophilus, son of John Kendall, buried the 13 Dec. William his son, baptized 1 Nov. 1602, Anne his daughter 1605. 1608, June 5, Thomas Havers, and Katherine Kendal married. 1609, 24 Apr. Philip, son of Sir Phil. Knyvet, baptized. 1610, 28 June, Will. Knevet his son, baptized. 1610, 28 June, Katherine, the Lady Knevet, was buried. 1611, 15 Sept. Dorothy, daughter of Sir Philip Knevet, baptized. 1612, 30 Aug. Eliz. daughter of John Kendall, junior, baptized. 1613, 11 Aug. Mr. Clement Hurne and Mrs. Mary Knevet married. 1614, 2 June, Katherine, daughter of Sir Philip Knevet, baptized. 13 June, John, son of John Kendall, junior, baptized. 1615, Jan. 23, Robert, son of Sir Phil. Knevet, Bart. baptized. 1615, Will. son of Sir Philip, buried. 1616, John his son baptized. 1623, 14 June, William, son of John Kendall, junior, baptized. 1635, John Kendall buried 17 July.