Pages 501-541
An Essay Towards A Topographical History of the County of Norfolk: Volume 1. Originally published by W Miller, London, 1805.
This free content was digitised by double rekeying. All rights reserved.
ATLEBURGH.
This place without doubt hath been very famous in early times, as all authors, that speak of it, unanimously agree. If we may believe John Brame, a monk of Thetford, whose history is extant in Bennet College Library at Cambridge, (fn. 1) it was some time not only a city, but the metropolis of all Norfolk, founded by Atlinge, then King of that province, in order to oppose Rond, King of Theodford, and by him fortified with a ditch, wall, four gates, and four towers; and from this Atlinge he would have it called Atlinge's Burgh, or Atleburgh; but as to that part, of its towers and gates, I cannot be persuaded to credit it, there being no appearance or remains of any such walls, gates, or towers, as he speaks of, in this town, some parts of which, in all likelihood, would have remained, as well as those of other buildings, far older than these, it being unlikely that in the Danish incursions they could have time or materials to rear them up. Mr. Le Neve imagines that it was called Ethelingburgh, because it might belong in the time of the Saxons to some eminent nobleman of that name, who was nearly related to the Saxon kings, and had his residence here, being induced to think thus, because this part belonged to the Crown till the Conqueror's time. But neither of these etymologies seem right, and therefore, if I may have liberty of conjecture, I think the present name shews its signification, which, it will be proper to observe, hath suffered but little change from the time of the Confessor to this day, Atleburc, Burg, or Burgh, is the same, and it being certain that the termination burgh, or borough (as we now pronounce it) always signifies a castle, fort, or such like, as the learned Spelman in his Icenia justly observes, (fn. 2) we may conclude that it was called At-le-Burgh, or the town at the burgh, or burgh-town, from its being situated by an ancient burgh or fortification, and from its being larger, and of more repute at that time, than its neighbours. That this burgh was a fortification of hills only, is plain, because there are no other remains, and therefore most likely was made at the time when the Danes ravaged this part of the country, and so far the old monk may be right; that when they got possession of Thetford, it is not unlikely the inhabitants of the country might assemble and fortify themselves here in opposition to their enemies, who had done the same there; and indeed I take it, that this burgh was the head of the hundred, till the neighbouring castle of Bukenham was built, after the removal of the chief of the inhabitants from it, to the present situation of the town, which is far better than its old one at the Burgh. And as a further confirmation, the Burgh is not only now called Burgh, or Burrough Street, but in Domesday, that is called Attelburc, and the present town is called the Other Atleburc, and that the first castle at Bukenham had its rise upon the dereliction of this burgh is likely, because the whole of this Atleburgh, at first, was not a manor held of the castle, but an actual part of the Castle manor, called the part at the Plashes, afterwards Plassets, and had two parts, or the whole of the advowson, belonging to Plasset's part, appendant to it, that is, one half to the part of Plasset's manor, which contained great part of Besthorp, and the other part as belonging to this, the other part, or third part, belonging to the manor of the other Atleburgh, where the church was built. It seems the removal at first might be occasioned by the lowness and moistness of the situation, and if so, the aforesaid monk, in his translation, might only mistake the name of the place, for a person, viz. At-Ving-Burgh, or the burgh at the [ing] or watery place, (or At Le Plats or Plashes, as it was called by the Normans,) for Atling's Burgh, or the Burgh of Atling; for he tells us, his history is only copied from two ancient books of the same sort, one of which was in old French, and the other in English, both of which he compared, and made his Latin translation by; and indeed to do him justice, though I am sensible the accounts of things in it do seem at first entire fables, yet upon examination several of them, if not all, are in some measure true, and the histories of the many battles in this part of the country, and especially in Giltcross, Grimshoe, this, and the adjacent hundreds, might be the excursions of the Danes, from their great rendezvous at Thetford, recorded by some body near hand at that time, and so preserved in the neighbourhood, and afterwards given to that monastery; and indeed the many tumuli in these hundreds shew us, that there were such excursions; and it is plain, that this history could not be of such light esteem, as we think it, because then, the Normans, after the Conquest, would not have thought it worth their while to have translated it into their language; and though we meet with the names of many kings, as they are called, which were never heard of but in this book, I look upon it that there might be such persons, who were heads and leaders of those bands, and as such called kings of those places, where these burghs or chief rendezvouses were, and that, because their names are pure Saxon or Danish; and what induces me to think that the monk was not the inventor of these accounts, (as some would intimate,) is, because in the same book, where he descends so low, as to treat of the affairs of his own monastery, just before, and in his own time, he is a faithful historian, and is so far from giving us any fables of his own invention, that he tells us, whenever he adds any thing of the legend sort, where he had what he recites, so that I must own I am apt to think he had two copies of the history, as he asserts, and that there is more of reality in it, than at first sight we may imagine; for I find, agreeable to the assertion of its being an ancient city, that "in the year 841, Edmund, son of Alkmund, King of Saxony, was born at Noremburg in Saxony of Queen Siwara, and soon after it happened that Off a, King of the EastAngles, who had no heir, passed through Saxony in his journey to the Holy Land, where he went in pilgrimage, to beseech God to give him an heir, and calling upon his cousin Alkmund, he adopted Edmund his son, his heir, and then hastened to Jerusalem, where having performed his vows, he returned, but in his return, at a place called St. George's Arm, he was taken violently ill, upon which, he immediately sent for his council, appointed Edmund his successour, and sent him his ring, which he received from the Bishop, when he was made King of the East-Angles; after he was dead, the Angles went to the King of Saxony, and demanded Edmund his son, and received him, as Offa's successour, and hastening home, they landed at Hunstanton, from whence they carried him to the ancient city called Atleburgh, where he lived a whole year, yielding himself up chiefly to devotion, here he perfected what he had begun in Saxony, namely, to repeat all the Psalms without a book, and at the year's end, he went to Suffolk, &c." (fn. 3) From whence it appears, that it was certainly then a place of great repute, and might be afterwards refortified, upon the Danes coming to these parts; it is plain, that the hills of the fortification or burgh were very remarkable in Henry the Second's time, for then the family that dwelt within them took their sirname from them; William de Fossato de Atleburc (fn. 4) lived at that time, and in 1285, William, son of William de Fossato lived there, who with his descendants, are called in old English, "atte the Dyke," (now Dikes, or Dix,) and all these things, being duly weighed and compared, I could not omit them, knowing how much the account of Atleburgh hath invalidated the rest of his history. And thus, having given you my thoughts of the original of this place, I shall proceed to treat of the several manors, &c. which have been, or now are, in this town.
Plasset, or Plassing Hall Manor,
Belonged to Toradre, a Dane, in the Confessor's time, (fn. 5) and another part to Turkill, one of that nation also; which shews us that the Danes had got possession of this place, and that its decay was owing to their seizing it. After Toradre's expulsion, or death, it belonged to the castle, and continued in the Crown till the Conqueror gave it to Roger Fitz-Renard, at whose death it was rejoined to the castle, to which it had belonged, almost ever since its foundation, which in all appearance was owing to the Danes forcing them hence; upon which, the castle was first erected, in order to oppose them, and accordingly, when they were forced to quit possession, the whole was seized, and added to the castle, with which it was given to William de Albany, (fn. 6) and descended with the coheiress of that family (fn. 7) to Sir Robert de Tateshale, and from him to the Bernaks, as Plassets (fn. 8) in Besthorp did, which was a part of this manor, to which one third part of the advowson belonged, and another third part to this, so that there were two third parts belonging to Plassets, this and Besthorp being reputed as one manor; for in 1312, King Edward II. (fn. 9) summoned Sir William de Bernak, to shew cause why he hindered him presenting to two parts of the church of Atleburgh, which was void, and to which he ought to present, because the advowson was parcel of the inheritance of Hugh de Albany Earl of Arundel, at whose death the King seized his estate and advowsons, because he held of him in chief, and died without issue, (fn. 10) and his inheritance was divided among his four sisters, all which, (except Cecily,) had their several parts, in manors, lands, and advowsons, assigned to them, as the custom was; but as neither the said Cecily, nor her heirs, had requested the King to grant out of his hands her part of the advowsons, therefore the advowson of two parts of this church, which was not assigned to any of the other parceners, remained in the King's hands, as belonging to the part of Robert de Montealt, heir of the said Cecily: to which William answered, and proved that the advowson belonged, to the manor of Plasset's, which was assigned to Robert de Tateshale, who infeoffed him in the said manor; and that if it had not been so, it could not belong to the King, because Plasset's manor is not held of the King in chief; upon which Sir William recovered the advowson, and presented accordingly. In 1285, Sir Robert de Tateshale had view of frankpledge, assize of bread and ale, free-warren, gallows, and a Thursday market in Atleburgh, as belonging to Plassinghall in Atleburgh and Besthorp, all which were conveyed by him to Sir William Bernak, and his heirs, who died seized in 1338, and Alice his wife survived him; she infeoffed Hugh Bernak, clerk, in this and other manors; (as you may see at p. 374.) Hugh died in 1340, and it went to John Bernak, and from him, (as you may see at p. 496) till 1438, and then Ralf Lord Cromwell, who had two turns in the advowson, (Sir John Clifton, Knt. having the third, in right of Margaret his mother,) granted his advowson to Sir John de Radcliff, Knt. and Thomas his son, and his heirs, together with the manor of Plasset's in Atleburgh, (which was now separated from Plasset's in Besthorp,) and so it became joined to Mortimer's manor, with which it now remains, the third turn in the advowson of the two parts being joined before 1516.
Baconthorp, Crowshall, or Copsy Manor,
Belonged to Alfred, an Englishman, at the Conquest, who held it of Bukenham castle, (fn. 11) to which it was after joined, by King Henry the First's giving it to William de Albany, who added it to Plasset's manor, with which it continued, till the said William infeoffed Alured de Atleburc in it, who was to hold this and other estates of his gift, by the service of two knights fee; in 1251, Jeffery Crawe owned it, from whose family it took its name; and in 1323, it was settled on John Oldman for life, by Richard de Bernham, and Richard de Tudenham, with remainder to Walter, son of Margaret of Atleburgh; (fn. 12) in 1337, Edmund de Baconsthorp, (fn. 13) and Margaret his wife, settled this and Welbourne manor and advowson on themselves for life, and their heirs in tail; and in 1347, this, and Caster by Norwich, was settled on Thomas Moyne, and Margaret his wife, and their heirs; and in 1362, Sir Thomas Moyne, Knt. died seized of the manor of Casire, the manor and advowson of Merkeshale, the manor of Crowshall in Atleburgh, and of Little-Taynton, in Gloucestershire, leaving them to Edmund, his son and heir; in 1393. the manor of Crowshall called Copsy was settled by Ralf Gedding, on Cecily his wife, Richard Caus, Richard de Gegh, and Benedict of Hocham, who in the fine is called Benedict Cosyn of Hocham, being trustees; in 1397, William March, Knt. had it, and in 1400, Thomas and John March, sons of Sir Will. March, Knt. held Crowshall, and a tenement called Kingeshale in Atleburgh; in 1457, Sir John Clifton, Knt. held the manor of Baconsthorp, Copsy, or Crowshall, and had license to assign it in mortmain, if he pleased, but it seems he did not, for it fell soon after into Mortimer's manor; it took its name of Baconsthorp from its ancient lord, and is now by corruption called Bansthorp, which is a hamlet with a leet belonging to it, where the lord of the hundred who keeps it swears a constable yearly, whose power extends to this hamlet only.
Chaunticler's, commonly called Chanceler's,
In Atleburgh, was part of Mortimer's manor, granted by William de Mortimer to William de Ponyaunt, who held it of him in 1296, at a quarter of a fee, and it extended into Elyngham and Besthorp; in 1359, Thomas Chaunticler of Atleburgh, and Katherine his wife, owned it; this Thomas built the north chapel or transept of the church, for in his will dated 1379, in which year he died, he ordered his body to be buried in his own chapel, (fn. 14) which he had built, adjoining to the north side of the church of Atleburgh, leaving Katherine his widow, Thomas de Brampton, and Alice his wife, (his daughter and heiress, I suppose,) executors, to whom this manor went after Katherine's death; for in 1481, Thomas de Brampton, Esq. died, and was buried in this chapel between his two wives, Alice and Joan, the last of which died the year before him, leaving Robert Brampton of Atleburgh, Gent. his son and heir, who died in Oct. 1500, his will being proved Dec. the 2d in that year, (fn. 15) leaving his manors of Waxham and Flegghall in Winterton, to Anne his wife, whom he joined in executorship with Henry Warner, Gent. of Besthorp; William Brampton, his brother, seems to be trusted with the care of his sons and daughters; in 1547, William Brampton, Esq. son, I suppose, of the said Robert, was lord; and in 1561, William Brampton, Esq. and Elizabeth his wife, owned the manor of Chanceler's, in Atleburgh and Besthorp, to the last of which it was soon after joined, and, I suppose, hath continued so ever since.
In 1619, Robert Earl of Sussex was lord of the manors of Bridgham's and Corie's in Atleburgh, which in 1547, belonged to Peter Moulde and Thomas Pooley, and were now united to Mortimer's; and this is all I meet with, in relation to those manors.
Atleburgh Mortimer's
Contained the third part of Atleburgh, or all the Other Atleburc, or the whole of that part where the present church and town stands; and accordingly a third part of the advowson always belonged to it, and continues to this day a separate institution. In the time of the Confessor, Turkill the Dane had possession of this Atleburc, (fn. 16) which was valued at 40s. but was risen to 3l. in the Conqueror's time, who gave it as a manor of that value, to Roger Fitz-Renard; the whole of both the Atleburghs, or of the present town, which includes both, was then about 4 miles long and 2 miles broad, and paid to the Danegeld, 34d. ob.; it came to the Mortimer's very early, if not in the time of the Conqueror, with whom that family came into England; there are two towns in France of this name, one in Normandy, the other in Poictu, both written Mortimer, but neither of them being by the sea side, Monsieur de Valois imagines them to be called Mortimars, and so should be rendered in Latin, De Mortuo Marisco, and not De Mortuo Mari; and indeed it might be anciently written, by abbreviation, (which was usual in those times,) De Mortuo Mar. which answers either to Mari or Marisco, though I think it is much the same, for I suppose that mare signifies not only the sea, but any large stagnation of waters, and that hence is derived our English word mere, meer, or mare for a large water, and thus the Mare Mortuum, which is a lake in Judea, so called because it never moves, might give name to these places, which though they were not situated by the sea, yet stood near some such stagnated waters or fens. Mr. Dugdale (fn. 17) thinks that Robert de Mortimer who lived in King John's time, was the first of the family that was concerned in Norfolk, and the Atlas (fo. 340) tells us that they are descended of the Lords Mortimer of Wigmore, both which are mistakes, for the arms of this family and those of Wigmore being always quite different, is a plain argument to me, that they are of a different extract, and might assume their names from different places; that this family was of French rise is evident from the very arms, viz. Or, semi de fleures-de-lis, sab. the very arms of France at that time, only the colours varied; and as to the other point, the first of the family that I meet with here was Sir William de Mortuomari, or Mortimer, of Atleburc, Knt. whose effigies, riding full speed on horse back, with his sword drawn in one hand, and his shield of arms, as before, in his other, is appendant, to an original deed of his in the Cotton Library, without date, by which he granted to John de Bernham, chaplain, son of Henry de Estegate, a messuage in Estgate in Bernham, which is now called Bernham Broom.
The next that I find here was Sir Robert Mortimer, Knt. who lived in the time of King Henry II. In Somner's Antiquities of Canterbury we read, that in 1181, in a procession at Christ's church in Canterbury, Sir Robert Mortimer, who was under excommunication for his contumacy, because he would not obey the law, being questioned for a wrong done to the church of Canterbury, in taking from the manor of Deepham in this county a certain parcel of land belonging to the monks, intruded himself into the company, Prior Alan espying him there, informed the Archbishop (who was then present) of it, and that a second time, because the Archbishop would have connived at it; but when the whole company was come into the church, Sir Robert with them, and mass begun, the Prior requires the convent to cease, who obeyed, and so the excommunicate, to his shame, was by a strong hand thrown out of the church, and then they proceeded in their devotions. (fn. 18)
He was succeeded by William, his son and heir, and he by
Sir Robert, his son and heir, who, in the year 1194, was forced to find sureties to King Richard the First, because he had presumed to hold a tournament (fn. 19) without royal license; but upon Roger Bigod Earl of Norfolk, Jeffry de Sai, and William Earl Warren, becoming sureties for him, the King ordered the sheriff to give him seizin of his lands again. In 1195, a fine was levied to the said Sir Robert Mortimer of Atleburgh and John Le Strange of five knights fees, in Hunestantun, (or Hunstanton,) Totington, Ringestede and Snitertun, all which Robert acknowledged to belong to John and his heirs, who gave to Sir Robert all his land which he had in Totingtun, with the appurtenances to be held of him, by homage and the service of a whole knight's fee, except a twentieth part, excepting also out of the appurtenances, the church of Totington, which the said John gave in pure alms to the church of St. Mary at Caumpes in Suffolk, with the consent of the said Robert, who was to warrant to the said John and his heirs four knights fees in Hunstanton, Ringstede, and Snitterton. This Sir Robert, and William his son, were both against King John in his baron's wars, (fn. 20) in the year 1205; (fn. 21) and in 1215, Sir Robert being then also in arms with the rebellious barons, forfeited his lands in Lincolnshire. (fn. 22)
In 1218, (fn. 23) Sir William de Mortimer held one knight's fee here, and in Bernham, (Broom,) Little Elingham, and Tofts, and half a fee in Stanford and Bukenham, (Parva,) and another half fee in Scoulton, of the Earl Warren; in 1250, he had a charter for free-warren in his manors of Atleburgh, Bernham, and Scoulton, in Norfolk, and Kingston and Foxton, in Cambridgeshire; he was succeeded by Sir Robert de Mortimer, his son and heir, who lived in the year 1263, when the barons rose against King Henry III. (fn. 24) among whom Sir Henry Hastyngs, who was very active against the King, came and besieged the castle of Bukenham, because Sir Robert de Tateshale, the second of that name, who was owner of it, held it, and declared openly for the King, and great part of the neighbouring country sent men and arms, and what assistance they could to him, in order to enable him to endure the siege; but among others, our Sir Robert de Mortimer (fn. 25) sent a servant of his called Leonine, to the castle during the siege, with some private information to the besieged, (as it should seem,) for the siege being raised upon it, Sir Henry went to Sir Robert's manors in this county, and burnt the houses, and wasted the stocks found upon them; whether Sir Robert himself was killed I do not know, but he died this very year, for in the year following
William de Mortimer, his son and heir, was in the custody of the Earl Warren, who now was of the King's side, (fn. 26) so that he and his goods were safe, and protected by the castle. Sir William being always attached, as well as his father, to the King's side, was summoned by the King to attend his service among his judges and council. In 1282, he obtained a charter for a market at Stanford in this county, upon Tuesday in every week, and a fair on Whitson-Eve, Whit-Sunday, and the morrow following; in 1285, he demanded against the Prior of Shouldham the advowson of Stanford church, (fn. 27) and set forth his pedigree, from Robert de Mortimer, who was seized of that advowson in Henry the Second's time, and presented Richard de Grenewesvill thereto, viz. Robert aforesaid had issue, William, his son and heir, who had Robert, his son and heir, who had William, his son and heir, who had issue Robert, who had issue this Sir William the demandant; by which record the truth of the pedigree is plainly proved, when it would have been difficult otherwise, there being so many collateral branches of this noble family, that had estates here, and in diverse parts of this county. In 1285, he had the King's letters of protection during his absence beyond sea, about the King's business, and in the same year had liberty of free-warren, assize of bread and ale, view of frankpledge, and weyf, allowed him in this manor. In 1293, King Edward going then into Gascoign, he had command to fit himself with horse and arms, (as the chief men in England then did,) and to attend the King at Portsmouth, on Sept. 1. to assist him against the French, (fn. 28) and in 1296, was summoned to parliament, among the Barons of the realm, in which year, being again in France with the Earl of Lincoln, to relieve Bellagard, at that time besieged by the Earl of Arras, he was taken prisoner, and carried to Paris, where he died, as it seems, being then called William d Morti mer of Kingstone. The book of Woodbridge saith, that this Sir William, lord of the manor here, founded a chapel of the Holy Cross, and that he died Tuesday, November the 12th, 1297, and is buried in his own chapel; all which is true, though Mr. Weaver seems to misunderstand it; (fn. 29) for the college here, which was afterwards founded by Sir Robert Mortimer, his grandson, being dedicated to the Holy Cross, made him doubt which was the real founder, when the truth is, they were different foundations; the chapel of the Holy Cross founded by Sir William for his own interment is now standing, and is called Mortimer's chapel, it being the south transept or chapel, opposite to Chanticlere's, which is on the north side, and by reason of the officiating priests that daily served in these chapels, before the foundation of the college, this church was in the collegiate form, and had service performed in it, according to the collegiate manner. By his will, dated in 1295, it appears, that Robert de Bauns rector of Scoulton, Jeffry Fitz-Walter, parson of the third part of Atleburgh, and Richard de Helmingham, parson of Bykereston, or Bixton, were his executors. He held the manors of Bernham, Scoulton, and Atleburgh of the Earl Warren at 6 fees, and had a capital manor-house and 243 acres of land adjoining, a wood of 469 acres, a windmill, and 43l. yearly rents, besides another messuage and lands held of Sir Robert de Tateshale, by the payment of two sparhawks a year. He died seized of Kingstone in Cambridgeshire, Herleveston in Lincolnshire, Atleburgh, Scoulton, and Bernham in Norfolk, (fn. 30) leaving
Constantine, his son and heir, then 16 years old, whom the King seized as his ward; but in 1298, John Earl Warren sued the King for his wardship, which belonged to him, in right of the manor of Atleburgh, which was held of him, and was unjustly seized by the escheator, while the Earl was in the King's service in Scotland, who as unjustly assigned to [Alice] the relict of the said William, much more than her just dower, upon which the Earl had his ward, and took from Alice those lands which she enjoyed above her dower; and the same year the said Constantine [by the Earl his guardian] sued Joan, late wife of Gilbert Peche, for committing waste in his manor of Kingstone, while she had the custody of it; in 1305, he obtained a charter for a market and fair to be kept at Kingston; in 1307, he was one of the great men in the retinue of John de Warren Earl of Surrey, who was then with the King in France, at his interview and marriage with Isabel, daughter of Philip King of France; in 1309, he held his manors and lands in Atleburgh, Elingham, and Bernham-Parva, of the Earl Warren, at one fee; and in 1310, had a charter for a yearly fair at his manor of Atleburgh, and was in the Scotch expedition; and again in 1313 and 1314, in which years he had license to found a chantry at his manor of Kingston, and to make a castle of his house at Scoulton in Norfolk; in 1315, he settled Atleburgh on himself and Sibil his wife, for life, Henry de Spectishall, parson of Kingston, and John de Bernham, parson of Bykereston being trustees; in 1329, upon the death of Thomas de Cailly, the custody of Bukenham castle was committed to him; he had two wives, Katherine and Sibil, who died the 9th of Sept. and he the 12th of Nov. following, in the year 1334, and were buried in Mortimer's chapel, leaving
Sir Constantine Mortimer, Knt. his son and heir, who was of full age; for the year following, viz. 1335, he was Steward of the Household to Elianor Countess of Gueldres, [the King's sister,] and had au allowance of 22l. for the charges of his men and horses in that service; and in 1337, (fn. 31) he had a charter for free-warren, in all his lordships and lands in Atleburgh, Besthorp, Scoulton, ElinghamParva, Rocklond Tofte, Catestun, Tomeston, Totington, Stanford, Bukenham-Parva, Bekerston, and Corston in Norfolk, Kingston and Foxton in Cambridgeshire, and Herleveston in Lincolnshire. In 1341, he was summoned to parliament among the barons, but never after, and was the same year in that expedition made by the King into France, one of the retinue to Ralph Lord Stafford, and so he was also in the expedition in the year 1344; in 1343, he released to Joan de Willugby Lady of Eresby, his right in the sixth part of the manors of Eggefeld, Walcote and Chatgrave, by deed dated at Norwich, to which the seal of his arms is appendant, with this circumscription,
SIGILLUM LONSZANZINI DE MORZI-MER.
In 1349, he had the King's license to travel to Rome, with one valet, 2 horses, and 2 servants; in 1351, an invasion being then threatened by the French, he was joined in commission with John D'Engaine, for arraying of all men that had able bodies, and sufficient estates, in Cambridge and Huntingdonshires, for the defence of the realm; he died in 1354, and leaving no issue by Agnes his wife,
Sir Rob. de Mortimer, his brother, (fn. 32) became sole heir, both to him, and Sir Constantine his father; he was lord of Great Elingham, (see p. 483,) and had two wives; Margery Fastolf, his first wife, died in 1341, but Margery, his second wife, outlived him, and was alive in 1388. This Sir Robert founded the college or chantry of the Holy Cross in Atleburgh, and was buried here in 1387; he had two sons, Constantine Mortimer, Esq. his youngest son, was possessed of the manors of Great Elingham, Bernham, Bekerston, and Corston in Norfolk, and had free-warren allowed him to them all in 1405; but
Sir Tho. Mortimer, his eldest sou, died before him, beyond sea, leaving issue by Mary his wife, who died May 2, 1406; she was daughter of Nicholas Park, Esq. own mother to the great Sir John Fastolf of Caster by Yarmouth, in Norfolk; (fn. 33) for in his will dated Nov. 3d, 1459, he desired his substance to be disposed of in the best manner, for the pleasure of god and his soul's health, "and also for the releef, socour and helpe of the soules that I am most oblyged to prey and do preye fore, and for the soules of John Fastolf my fadir, dam Mary (the doghtir of Nicholas Park, squyer) my modir," &c. and it appears that she was buried in the chapel or quire belonging to the chantry of the Holy Cross, by Sir Thomas Mortimer, her last husband; for in the same will I meet with these clauses; "Item, I wolle & ordeyne that be the avys (fn. 34) of myn executors beforn named, that provision & ordenaunce be mad, that the obyte and anniversarye may be yerly kept in perpetuite with placebo & dirige & messe, be note for the sowle of dam Mary my modir & her aunceterys (fn. 35) in the chirche of Attilburgh, and than on of the monkes or prestys in the college be me ordenid, in the mancyon of Castre forseid, (fn. 36) shal syng specyally in perpetuite for the soule of my modir & of alle here aunceteres & good doers; Item, I wole that in sembelable-wise, (fn. 37) that a marbul ston of a convenient mesure be ordeynid & layd [over] dam Mary my modir, in the chapell of the chauntry foundid in the parissch chirche of Atilburgh, with an ymage of laton, (fn. 38) accordyng to her degre, with a scripture there abowten, of the day & yeer of here obyte, with iiii skochonys, (fn. 39) wherof here iij husbondes, Mortymer, Fastolf, & Farwelle, & the ferthe of hir aunceterys armys," by which it appears that she had three husbands; first Farwelle, then Fastolf, and lastly Mortimer, and had issue by the two last, if not by the first; by Sir Thomas she had three daughters, coheirs to Sir Robert, their grandfather, viz.
Elizabeth Mortimer, the eldest, who married, in her grandfather's life-time, to Sir Ralph Bigot of Stockton, and had her portion assigned her on her marriage, viz. part of this manor, which was now made a separate manor, Berryhall manor in Elingham, (fn. 40) Ladies manor in Rockland, (fn. 41) &c. for which reason, she had nothing more at her grandfather's death; she had three husbands; first Sir Ralph Bigot, Knt. (fn. 42) who died in 1406; secondly Henry Pakenham, and lastly Tho. Manning, to whom she gave all her estate; (fn. 43) he afterwards remarried to a daughter of Sir Thomas Jenny.
Cecily, the next daughter, first married to Sir John de Herling, Knt. (fn. 44) and afterwards to John Ratcliff of Atleburgh, Esq. and
Margery, the third daughter, married Sir John Fitz-Ralf of GreatElingham, Knt.
And between these two, Sir Robert Mortimer, their grandfather, divided his estate; for he ordered the parson of Scoulton, Henry de Pakenham, senior, and his other feoffees, that they should pay 350 marks, to Sir John Herling, Knt. as the marriage portion of Cecily, his grand-daughter, whom he had married, and 300 marks to Sir John Fitz-Ralf, Knt. as the portion of Margery, his grand-daughter; (fn. 45) and by his will he further desired, that all his manors, lands, and advowsons, should be conveyed by his trustees to his two sons-in-law aforesaid, on condition that each of them should pay 1000 marks to his leoffees, for them to finish Atleburgh college with, and endow it according to his desire; and accordingly, after his death, Sir John Herling and Sir John Fitz-Ralph, giving the feoffees security for the money, had the inheritance divided between them in 1402, and settled by fine; Sir John de Herling, Knt. and Cecily his wife, had the manors of Stanford and Atleburgh, 4l. rent in Hocham, the advowson of Great Elingham, (fn. 46) the moiety of the advowson (fn. 47) of the chantry at the altar of the Holy Cross in the church of Atleburgh, the manors of Newenham and Foxton in Cambridgeshire, all which were settled on Cecily and her heirs: the manors of Scoulton, Totington, and Great Elingham, with the advowson of the third part of Atleburgh, and the moiety of the advowson, of the chantry at the altar of the Holy Cross, in the church of Atleburgh, with 52 messuages, 380 acres of land, 4 of meadow, and 76s. rent, in Scoulton, Tomest on, Caston, RokelandTofts, and Little Elingham, the manors of Kingston in Cambridgeshire, and Mildenhale in Suffolk, were settled on Sir John Fitz-Ralf for life, and Margery his wife, and her heirs; and thus the estate of the noble family of the Mortimers was divided; (fn. 48) and
In 1403, the Lady Cecily de Herling was found to hold this manor at one fee of the Earl Warren. In 1411, she was married to
John Ratcliff, Esq. her second husband, and at her death left it to him and his heirs. This John was son of James Ratcliff, Esq. and was the first that advanced that family to the dignity and honour that it afterwards possessed, being a brave champion in war, even from his youth, for which he was so much in the favour of that victorious prince, King Henry V. (fn. 49) that in the first year of his reign he granted an annuity of 40 marks a year to him and Cecily his wife, and the longest liver of them, to be received by half yearly payments, at Easter and Michaelmas, out of the manor of Tunstede in Norfolk, which belonged to the King's honour or dutchy of Lancaster, upon special trust and condition that the said John should not be retained, or serve any one in war, but himself only, during his life; and as a further mark of favour, another grant passed the same day, to him only, during his life, of another annuity of 25 marks a year, issuing out of all the lands and demeans of that dutchy in Norfolk, to enable him the better to perform his service, both which annuities were constantly paid him by the receiver of the dutchy; and from this time he constantly attended the King in all his wars. He was a squire only at the battle of Shrewsbury, and was knighted by King Henry V. upon his landing at (Quies de Caux) commonly called Kidcaux, (fn. 50) where the Seine quietly runs into the sea; and the next day went with his master to the town of Harflue, which stands on that river, and besieged it on all sides, and was at its surrender; after which the King ordained the Duke of Exeter, his uncle, Captain and Governour of that town, who established Sir John Fastolf, his lieutenant, there, with 1500 men, (or as some say) 2036 knights, of which the Baron of Carew, and Sir Hugh Lutterell, were his two counsellors. In 1415, he was in the battle of Agincourt, in that part which was commanded by the Duke of Exeter, where he behaved so gallantly, that he was soon after made the King's Receiver in his city and dominion of Vernevil in Normandy; and when the King returned into England, he went with the Duke, and staid with him and Sir John Fastolf at Harflue, from whence they soon after made a great inroad with 3000 Englishmen into Normandy, almost to the city of Roan, and got abundance of riches and prisoners; but as they returned, the new made Constable of France, hoping to win honour in his first enterprise, having with him about 5000 horsemen, encountered them, and a sore conflict ensued, in which the Duke lost 300 of his footmen, and was forced to retire into an orchard, which was strongly fenced with thorns, so that the Englishmen kept them off, and stayed there all night, and went towards Harflue in the morning, which the French being advertised of, followed and overtook them on the sands near Chiefe de Caux (or Quies de Cauz) and there attacked them, but in the end were quite discomfited, and many of them slain by the English, who came safe to Harflue, to the Constable's disgrace; this was called by some the battle of Kidcaux, and by others, the battle of Vallemont. Soon after this, the Constable (to retrieve his lost honour) besieges them in Harflue, but by the valiant behaviour of the Duke, Sir John Fastolf, our Sir John Ratcliff, and others, the town was manfully defended, till the King's navy, under the command of the Duke of Bedford, came to their assistance, and meeting with the French navy at the mouth of the Seine, engaged and vanquished it, sunk 500 ships, went up the river and refreshed the town with victuals and money; the Constable hearing the navy was vanquished, raised his siege and returned to Paris, with less glory than he expected. In the year 1417, he was at the taking of the castle of Tonque, the city of Caen, the castle of Coursie, the city of Sees, the town of Faleis, and at the great siege of the city of Roan, (fn. 51) being then in the King's troop, which joined with my Lord of Gloucester's, laid before St. Hillary's gate, the rest of the generals encompassing the whole town, which had then (according to historians) 21,000 souls in it, and such resolute commanders and governours among them, as swore to each other never to yield the city, as long as they could hold sword in hand, upon which ensued one of the greatest sieges that the history of that age furnishes us with, which is largely recited in Holinshed's history, (fn. 52) together with the miserable famine in the city during the latter part of the siege, "If (says he) I should rehearse
how deerlie dogs, rats, mise, and rats, were sold within the town, and how greedilie they were by the poore people eaten and devoured, tr. the reader might lament their ertreme miseries,"
which passage I cannot but observe, to shew among other examples, the great fidelity of this historian, for in the old roll before-mentioned, is this passage, "Furthyrmor, as towchyng to the derth of vytayles withyn thys forseyd cytee, one buschell of whete was worth v. scutys, one lofe, j. frank, one dog, j. frank, one kat, ij.s. sterl. j. rat, vjd. sterl. and as towchyng all other vitailes, it was spendit er that we com in to the cytee." It is plain that Sir John Ratcliff and Sir John Fastolf had done eminent services in this siege, for immediately after the latter was made Governour, or Captain of Conde Noreau and the former of the castle of Fronsak in Aquitain, and had 1000 marks per annum, allowed him for the guard thereof. (fn. 53) He was elected Knight of the Garter, by his royal master, in 1420, and died before St. George's feast in that year, (for then, his sword, helmet, &c. were offered,) and was interred in the choir of this church, (fn. 54) leaving
Sir John Ratcliff, Knt. his son and heir, who inherited his father's courage as well as estate, being well known to the King, and having constantly attended the wars with his father, was upon his death made Governour of Fronsak castle, and of the castle of Burdeaux in Gascoign, in which posts he behaved himself so well, that King Henry VI. in the first year of his reign, retained him to serve him as seneschal or steward of the dutchy of Acquitain, and assigned him 4 marks a day for his own salary, and 20 marks a piece per annum for his 200 archers. In 1425, he was nominated one of the knights companions of the Order of the Garter at St. George's feast at Windsor, in the 4th year of the King's reign, by John Duke of Bedford, Regent of France, the Lieutenant, and the Companions, Sir John Fastolf (whom the Lieutenant had first nominated) and he, having equal votes, Sir John Ratcliff was now chosen, as named by the Regent, Sir John Fastolf being elected at St. George's feast the next year; soon after this, he was again retained to serve the King in the French wars, with 100 men at arms, (of which number he himself was to be one,) four other knights, the rest squires, besides his 200 archers. In 1432, upon humble remonstrance, that there was due to him in arrear, for those and other services, no less than 7029l. he had divers lands, rents, &c. in Wales assigned him for payment of it; in the 13th of Henry VI. he was sent to Arras, to treat with the Dolphin of France, and the year following was Lieutenant of Calais, when the Duke of Burgundy laid siege to that garrison for three weeks; but he lived not long after, for having exercised himself in arms 28 years, he died in the 16th year of this King's reign, and was buried by his ancestors in the choir of this church, leaving Thomas Ratcliff and Robert Lathum his executors, who, in the 19th of the King's reign, had a grant of all the revenues of Bridgewater, and other ports, to discharge a debt of 7015l. due from the King, for Sir John's services, as Seneschal of Acquitain, and Constable of the castle of Fronsak; some say he died in the 19th of Henry VI. but whether in the 16th or 19th, all agree that he died seized of Atleburgh-Mortimer's, Newnham, and Foxton in Cambridgeshire, &c. In 1452, Katherine his widow was buried here; she was daughter and coheir of Sir Edward Burnell, Knt. and wife of Sir John Ferrers, Knt. and after of Sir John Ratcliff; she left Billingford manor and advowson, held of the King as of the honour of Hatfield-Peverell, by the rent of 6s. 6d. per annum, and not in capite, to
John Ratcliff, Esq. their son and heir, who, according to Mr. Le Neve, married Elizabeth, daughter and heiress of Walter Lord Fitz-Walter; in 1440, he obtained a pardon of intrusion, for entering his lands without license; in 1444, Elizabeth, daughter and heir of Walter Lord Fitz-Walter, then married to John Ratcliff, Esq. proved her age; he was killed at Ferrybridge, (as you may see at p. 10,) in 1416, being then Lord Fitz-Walter, and left
John Ratcliff, Esq. his son and heir, nine years old, whose wardship the King granted to Elizabeth his mother, (fn. 55) who then dwelt at Atleburgh; and the same year an inquisition was taken after his death, upon the oaths of Robert Morley and Thomas Brampton, Esqrs. who affirmed that John Ratcliff, the father of this John, at his death, held Southmere, Atleburgh, Dockyng, Hemenhale, Thyrning, and Ryston manors, and that he died March 28, 1416, having been 24 years married to Elizabeth Fitz-Walter, whose son
John, in 1485, the 1st of King Henry VII. was summoned to parliament as Lord Fitz-Walter, and was joined in commission with Sir Reginald Bray, Knt. for exercising the office of chief justice of all the forests beyond Trent, being at that time Steward of the King's household, and had this year a special livery of all his lands; in 1486, he was associated with Jasper Duke of Bedford, and others, to exercise the office of High Steward of England, at the Queen's coronation; but in 1493, he, Sir Thomas Thawyts, Sir Robert Ratcliff, (fn. 56) and Sir Simon Mundeford, were attainted of treason, for which the two last were beheaded, and the Lord Fitz-walter being pardoned as to life, was sent to Calais, there to be kept in hold, (fn. 57) but endeavouring to escape from thence, he was beheaded, and so forfeited his estate to the Crown; (fn. 58) but yet
Robert, his son and heir, found much favour; for in 1505, Nov. 3, he was restored to his honour, by letters patent of that date, and soon after there were five several fines levied, by which the estate was conveyed to Richard Bishop of Winchester, Sir Tho. Lovell, James Hobart, Knt. and other trustees, who settled the whole on the said Robert, and his heirs, except the manors of Southmere, Dockyng, Billingford, East Ryston, &c. in Norfolk, which were settled on Margaret his mother, for life, remainder to him and his heirs; he was made Knight of the Bath, at the coronation of King Henry VIII. having obtained an act of parliament to revoke his father's attainder, after which he became one of the most remarkable men of that age; in 1512, he attended the King in his expedition to Therovene and Tournay; in 1522, he led the van of the King's army sent into France, under the command of the Earl of Surrey, in which and other employments he merited so well, that he was made Viscount Fitz-Walter, and afterwards Earl of Sussex; (as you may see at p. 11.) He was one of the peers that presented the articles to the King, against Cardinal Wolsey, one of those nobles that represented in their declaration, sent to Pope Clement VII. that unless he complied and permitted the King to be divorced from Queen Catherine, his supremacy would not be long acknowledged in England. This Earl obtained a special patent to himself and his heirs, to exercise the office of Sewer, at dinner time, at the coronation of all the future Kings and Queens of this realm, with the fee of 20l. per annum for that service, payable out of the Exchequer, and was afterwards made Lord High Chamberlain of England for life. In 1541, he obtained a grant of the site of the abbey of Clive in Somersetshire, with the revenues belonging to it, and also of the college or chantry of Atleburgh in Norfolk, with all its revenues, and the year following he died at Chelsey, and was buried in St. Lawrence Poultney church in London, but was some years after removed and buried at Boreham, by his son and grandson. He was succeeded by
Henry Ratcliff Earl of Sussex, Viscount Fitz-Walter, Lord Egremond and Burnell, his son and heir by his first wife, (fn. 59) who was made Knight of the Bath at the coronation of Queen Anne Bullen; and the first of Edward VI. had the command of 1600 demi-launces, in the expedition then made into Scotland, in which service being unhorsed, he narrowly escaped with his life; he was in so much favour at that time, that in the act for dissolving the chantries, colleges, free chapels, &c. which was passed this year, he had this clause inserted therein,
"Provided alwaies, and be it enacted by the Authoritie aforesaid, that this Act, ne anie thing therein contained, shall ertend to the College or Chanterie of Attilbourgh, in the Countie of Nor- folk, which the said late King Henrie the Eight, gave to Robert, late Erle of Susser, t to his Heires, but that Henrie, now Erle of Sus- ser, Sonne and Heire to the said late Erle, his Heirs and Assignes, shall and maie by Authoritie of this Act, have and injoy the said College and Chanterie, and all Manors, Lands, Tenements, Advow- sons, Tithes, Pensions, Portions, and other Heriditaments thereto belonging or appertaining, any thing in this Act to the Contrarie in anie wise notwithstanding." (fn. 60)
Upon the death of Edward VI. he was the first that appeared on the behalf of Queen Mary, for which reason she immediately made him warden and chief justice of all the forests south of Trent; he was also Knight of the most noble Order of the Garter. By his testament, dated July 27, A° 1555, (fn. 61) he bequeathed his body to be buried in the parish church of Atleburgh, appointing a tomb to be there erected over his grave; notwithstanding which, I believe he was not buried here, for dying at Sir Henry Sidney's house in Chanon-Row, Westminster, in 1556, he was buried by his father and mother, in the north isle of the church of St. Lawrence Poultney in London, and with them removed and buried by Thomas his son, at Boreham in Essex, the said Thomas desiring in his will, that it might be so.
Thomas Earl of Sussex, his son and heir, by the Lady Howard, inherited; he was sent (during his father's lifetime) into Germany by Queen Mary, to the Emperor Charles V. to treat of a marriage between that Queen and Prince Philip, the Emperor's eldest son; and afterwards into Spain, to Philip himself, for ratifying thereof; and the next year, was by them made Lord Deputy of Ireland, and at his father's death, Chief Justice of all the forests south of Trent, afterwards Knight of the Garter, and Captain of the Band of Gentlemen Pensioners; and on that Queen's death, was made Deputy of Ireland by Queen Elizabeth; after that, was sent to Vienna to the Emperor Maximilian, with the Order of the Garter, and after that, to the said Emperor, to treat of a marriage between Queen Elizabeth and Charles Duke of Austria; after that, employed against the Scots, which service he performed with much bravery and success; and at his return was sworn one of the privy-council: he died in 1583, (fn. 62) and ordered his executors to build a chapel of brick, on the south side of Boreham chancel, in Essex, and to erect a tomb of white alabaster, and other stones, and to remove the bodies of his grandfather, grandmother, father, and mother, and lay them by his own corpse: he gave to the Lady Frances, his widow, all his jewels, habiliments, chains, buttons, ornaments, with, or without precious stones, except the five stones, two great table diamonds, one great table rubie, one great pointed diamond, and a great bullose, which were given him on a sword, by Philip King of Spain, all which Sir Henry Ratcliff, Knt. his brother and heir, was to have for life, and afterwards were to go from heir to heir, as the heir comes. He gave 4000 oz. gilt plate, and 2000 oz. white plate, to his widow, and all the coaches, horses, and furniture which she and her women used to ride in, besides their riding-horses, and six geldings. It appears that he used to live sometimes at his mansion-house of Bermondesey in Southwark, sometimes at his noble seat of Newhall, in Boreham parish in Essex, and sometimes at Wodeham-Walter; he divided his linen into three parts, one to his lady, another to his heir, a third to his executors, and ordered them that, according to his feoffment, his lady should enjoy the manors of Newhall and Oldhall in Boreham, and many more manors in Essex, with Atleburgh, Hempnal, and Diss in Norfolk, during her life; and afterwards by a codicil dated 21st May following, he confirmed several bargains made during his sickness, of divers underwoods, wood, timber trees, &c sold in his manor of Atleburgh in Norfolk, and commanded they should keep house at Bermondesey twenty days after his burial, about which they should not expend above 1500l.; but yet I find that they exceeded that sum, as the following acount informs me.
"A brief declaration of the charges, as well of opening and embalming the body of Thomas Earl of Sussex, and the whole funeral charges of the said late Earl, as of expenses of house keeping at Bermundsey, the 9th of June 1583, in which day the said Earl died, and ending the 29th of July following, in which day the said house-keeping was dissolved.
Inventory of the plate 19024 ounces.
And by this account it further appears, in relation to his Norfolk estates, that Sir Henry Woodhouse farmed his manors of Burnells and Thirning, that Sir Robert Jermyn farmed the rectory of Sturston, and that Peter Elwyn was his chief steward and bailiff, of the manors of Thirning, Sidistrond, Atleburgh, and Wood-Sales in Atleburgh, Thirning, and Hempnal. The tomb set up in Boreham church cost 292l. 12s. 8d.; after his death
Frances, his widow, had this manor for life; she was a very religious, liberal, and charitable lady; by her will, dated in 1588, she ordered her executors to purchase a perpetual annuity of 20l. and settle it on a learned and godly preacher, to read two divinity lectures every week in the collegiate church at Westminster, where she was buried, in St. Paul's chapel, April 15, 1589, as her inscription shews us; she it was that established the last college that was ever founded in the university of Cambridge, for she ordered her executors to bestow the sum of 5000l. over and besides all her goods unbequeathed, for the erecting of a new college in that university, to be called the Lady Frances-Sidney Sussex College, and purchasing lands to be annexed to it, to maintain a master, ten fellows, and twenty scholars, which foundation is now called Sidney College. It seems as if she had in her lifetime purchased the site of it, and fitted up some part, for in the account of the charge of the performance of her will, delivered in July 1589, is this, "Item, the college to be erected or en"larged at Cambridge, v. m. l." in which account it appears, that her funeral cost 1368l. her tomb 200l. her benevolence to the poor, to preachers, and prisoners, 100l. her perpetual lecture 200l. the surgeon for searing her corpse 20l. and her executors were chargeable with 10,996l. 14s. 9d. to perform all her legacies, of which they received in ready money by her, 3997l. by 4614 oz. of plate, 1220l. by 4868 oz. of white or ungilt plate, 1164l. by jewels 2652l. &c. At her death the manor went to
Henry Earl of Sussex, brother of Thomas Earl of Sussex, late husband of the said Frances, who was Knight of the Garter, and Captain or Governour of the town and isle of Portsmouth; he died in 1593, and was buried by the Lady Honora his wife, and his other ancestours at Boreham aforesaid, leaving
Robert, Earl of Sussex, his son and heir, who, in the 37th of Elizabeth, was sent into Scotland by the Queen, to stand in her stead as a godfather at the christening of Prince Henry; in the 39th of that Queen he was in the voyage with Robert Earl of Sussex to Cadiz; and in 1621, was installed Knight of the Garter, and often resided here; he had two sons and two daughters, which all died in his lifetime, without issue; Henry Ratcliff Lord Fitz-Walter, his eldest son, married Jane, daughter of Sir Michael Stanhope, Knt. but died a young man. In the register of this parish I find these odd verses (composed by John Forbie, then rector) upon his death, and upon the resemblance of the star which he gave for his conusance, viz.
Where is the Starr, the hope of Sussex name? Henry Fitz-Walter's, that bright shining beame? What men't you Fates, so sone his life t'assault? Was there in him, such noted heinous fault? Death is the debt, that every one must pay, To blame you are, that tooke him now away, He was the hope to raise up noble blood, Which long had been, and might yet long have stood, In him is cut off all that noble fame, Which hundred years hath houlden in that name, This is our joy, that joys he doth possesse, And is a Starr now fix'd in heav'nly blesse.
And these following, by Edward Barthlett, Gent.
In heaven new fixt, I lately saw a Starr That shin'd in earth, but now excelleth farr, All heavenly Starres, save them without compare That in the heavens, amongst them, placed are. This Starr in earth, did with such beauty shine, Which was the cause that it so soon did clime Up to the heavens to God, who for it sent, To increase and beautify the firmament. Death brought the news, with him, who can prevaile? And vaine are tears, for whose great loss we waile; His death our losse it is, our losse his gaine, In winning heaven, through loosing mortal paine, But by his death, dyes noble Sussex race, Which none can helpe, but God by his good grace.
And in the said register it is thus entered; Robert Ratcliff our Lord, the Honourable Earl of Sussex, Knight of the Garter, died at London in Sept. and his lady, the Countess, died not long before, in the year 1629; he left
Sir Alexander Ratcliff, Knight of the noble Order of the Bath, his adopted heir unto this manor, who was descended from Sir Alexander Ratcliff of Ordsall, Knt. grandson to Robert Ratcliff, the first Earl of Sussex of that name, which Alexander died in 1548, leaving by Alice, daughter of Sir John Booth, one son, viz. Sir William Ratcliff of Ordsall, Knt. who married Margaret, daughter of Sir Edmund Trafford, by whom he had Sir John Ratcliff of Ordsall, Knt. who was killed in the engagement against the French at the isle of Rhee, Oct. 29, 1627, leaving by Anne, daughter of Thomas Ashow, our Sir Alexander Ratcliff, who was made Knight of the Bath at the coronation of King Charles I. and married Jane, the natural daughter of Robert Earl of Sussex; she outlived him, and after married Dr. Lewis; he left it at his death to
John Ratcliff, Esq. his eldest son, who sold it to
Sir Francis Bickley about 1657, who was buried in a vault of his own making, in Mortimer's chapel in the year 1670, leaving
Sir Francis Bickley, Baronet, his son and heir, whose son,
Sir Francis, had three wives; (fn. 63) by Debora, daughter of Sir Cornelius Vermuyden, Knt. he had Sir Francis Bickley, Bart. now living, who sold the estate to
Sir James Ash's mother, who left it in trust to Mrs. Mary Windham, for the use of Sir James Ash's male issue, but that failing, it came to
Joseph Windham Ash, Esq. who is now [1737] lord and sole patron. The advowson of the third part being purchased by Mrs. Windham, of Sir Algernoon Potts.
The style of the court is, Atleburgh Hall with its members. The fines are at the lord's will, and the eldest son is heir.
The Warepound, or Frowick court, is the superiour court, all the other manors being held of it; (fn. 64) it is always kept on Whitsunday, very early in the morning, by a tree which was on a hill in the street, (but is now cut down,) and is commonly called the Scolding Court, it being obliged to be over and done with before sunrise, according to custom, or else the whole rents of the court are forfeited for that year. In the 38th of Queen Elizabeth, Robert Earl of Sussex paid 16d. for the manors in this town, held of this court, and 2d. for the college lands, which are held of it also, as are several of the capital messuages, by the rents of pence and halfpence only, the whole being freehold, and the rents amounting in all to 2s. 2d. ob. This always belonged to the hundred of Shropham, as it now does, together with the leets of the whole town, its hamlets, and whatever belong to the manors of this town lying in Besthorp, for all which the annual leet fees, joined together, are 6s. 4d. ob. a year. The lord of the hundred hath also a hundred court belonging to this town, to be kept every three weeks, with full power to end and determine all suits, and pleas of debt not exceeding 40s. in which any resident in this town is concerned, and power to levy, in as ample a manner as the county court: to him belongs also the market, which is held on Thursday, and was formerly remarkable for the number of fat bullocks and sheep which used to be exposed and sold here every other market day, but now this is wholly lost, and the market itself is very near it; there are three fairs kept every year, the first on Maundy Thursday, but by what authority, or to whom it belongs, I know not; the second on Ascension-Day; this belongs to Mortimer's manor, being granted in 1310 to Sir Constantine Mortimer; the third belongs to the lord of the hundred, with which it was given to the Albanys, and is kept, according to its institution, on the 15th day of August, it being the day of the dedication of the church, and of the holding their great gild, both which were dedicated to the honour of the Assumption of the Blessed Virgin Mary, which is commemorated on that day. In 1656, Robert Wilton of Wilby, Esq. (lord of the hundred) let unto Francis Bickley, (lord of the manor,) for 21 years, at the rent of 10s. a year, a weekley, free and open markett in the towne of Attleburgh, on Thorsday in every weeke, and alsoe one faire yearly & every yeare to be holden there, upon the 15th day of Aug: and also free liberty of picage and stallage, in and upon the wast grounds, in the street called the Town-street, in Attleburgh, from the signe of the Angell, to the signe of the Starre, on the one side of the street, and from the signe of the Griffin, to the turning of the wall of the churchyard, over-against the signe of the Starre, on the other side of the street, and for the setting up of penns and stalls, & for the buyeing, selling, and vending of all manner of provision for food, and for sale of any other commodities whatsoever, &c. and also all benefitts, profitts, &c. coming or acrueing by the said markets and faires, and of the stalls, penns, standings, and places there; and also free liberty of using the pound, erected upon the wast ground in Atleburgh aforesaid" The lord of the hundred hath all felons goods forfeited, assize of bread and ale, a tumbrell, or ducking-stool, (which is but lately decayed,) weyf and strey, free-warren, liberty of the game, fugitives goods, and all forfeitures, besides other privileges, all which were confirmed in Queen Elizabeth's time, when the hundred was in her own hands, as appears by an inquisition taken before Henry Blake, Gent. the Queen's steward of her liberty and hundred of Shropham, in a general hundred court held at Ketelbrigge, upon the oaths of Richard Cook, and many others, who swore that the Queen in right of her liberty and hundred of Shropham, and also her farmers and bailiffs of the same, have, and immemorially have had, the superiour jurisdiction over all the commons, wastes, heaths, and marshes, together with the liberty of driving them, and taking all strays found thereon, in the towns of Atleburgh, Besthorp, Harpham, Wilby, Snitterton, Illington, Larling, Shropham-Parva, Breckles, Rockland, Ellingham-Magna, Rowdham, Brettenham, Kilverston, &c. and also all outlaws, fugitives, and felons goods, and other forfeitures; and also a court-leet in each town, with full power to compel all residents to suit and service to it, once in a year, and to present and punish all offences punishable in a leet, as well touching the said commons, wastes, heaths, and marshes, as other things, and to punish all false commoners and surchargers of the commons; all which liberties relating to these towns were returned by the Queen's mandate, upon, inquisition as aforesaid, because the lords of these manors began within 20 years last past, to claim and usurp within their several manors, the liberty of gaming, and punishing false commoners, and surchargers, and other liberties, upon which the Queen brought actions against the Earl of Sussex, then lord of Mortimer's in Atleburgh, Tho. Green, gent. lord of Harpham, Ralph Chaumberleyn, Knt. lord of Moynes, and Kirkhall in Rockland, the heirs of Anthony Gurnay, Esq. lord of Elingham, the lord of Snitterton, Robert Allington, lord of Larling-Ford, the lord of Bretenham, &c. but they acknowledged her liberties, and obtained their discharge.
The Great Rectory Manor
Belongs to the rector of the greater part, or the two parts of Atleburgh, and the rector thereof now is, and his predecessors always were lords of it; the present rectory-house, which joins to the south side of the churchyard, is the site of it, and it hath 10 acres of glebe land, the only remaining part of its ancient demeans, the rest being now held by copy of court-roll.
The Customs are, that the eldest son is heir, the houses are at the lord's will, but the land is a set fine of 2s. an acre.
The Little Rectory Manor
Belongs to the rector of the lesser or third part of Atleburgh, and the present rector now is, and his predecessors always were, lords of it; the site of it is now down; the close in which it stood contains three acres, and is all that remains of its ancient demeans. The Customs are the same as the great rectory manor.
And now having given my readers an account of the several manors, I shall proceed to
The Church, which is dedicated in honour of the Assumption of the Blessed Virgin, though there is no part of that church which was first built here now standing, but the tower only, and that not so high as it was originally; the antique Gothick arches, which are to be seen in the bell-chamber shew us its antiquity, and that the bells were never designed to be hung there; it seems to me, that it was first reduced to the collegiate form, when the chapels were founded, and the old chancel of the parish church taken down, and its nave converted into a quire, Mortimer's chapel on the south side, and Chanticlere's on the north, making two handsome transepts; and at the foundation of the college, it is apparent, that the present parish church, viz. the nave, two isles and north porch, was begun to be built, and was not finished till some time after. Who was the founder of the first church we know not, but the first alteration that was made in it was by Sir William de Mortimer, who founded the south chapel for his own interment, and it is highly probable, made the nave of the old church into a quire, and new topped the steeple; because after his foundation, service was performed after the collegiate manner; this was finished before 1297, in which year he died. The north chapel was founded afterwards by Thomas Chaunticler, who was buried in it in 1379; and when the college was founded, the parish were entirely excluded from the old parish church, and that was appropriated for a quire, for the use of the college only, and in recompense thereof the founders of the college, their friends, and other pious benefactors, built the nave and two iles, for the use of the parish only, and so the quire, because it belonged to the college only, was given with it by King Henry VIII. to Robert Earl of Sussex, who was then lord, who being of a covetous disposition, was so far from sparing the building, that (as the Parish Register informs me) he not only pulled down, and spoiled the chancel, but also pulled up many fair marble grave-stones of his ancestors, with monuments of brass upon them, and other fair good pavement, and carried them and laid them for floors in his hall, kitchen, and larder-house, where they were lying, when the account was inserted in the Register; and besides this he got fourteen crosses, and as much town plate as was then worth above 100l. from the church, and by this means the chancel was reduced to ruins, as we now see it.
The rectories of this church are in Norfolk archdeaconry and Rockland deanery; the two parts, or the greater part, is valued in the King's Books at 19l. 8s. 9d, and pays first fruits; and 1l. 18s 10d. ob. yearly tenths. The lesser part, or the third part, was valued at 8l. 2s. 6d. but being sworn of the clear yearly value of 42l. 5s. only, it is discharged of first fruits and tenths.
The greater part or the two parts annexed, otherwise called Hamon's Portion, from Hamon de Warren, who was rector of it at its taxation, when Norwich Domesday Book was compiled, had Sir Robert de Tateshale for its patron; the rector had a house and 27 acres of glebe, and William de Mortimer was patron of the third part, and its rector had a house also, and 27 acres glebe; the greater paid 18d. synodals, and the lesser 1s. besides their procurations to the archdeacon. In 1603, there were 440 communicants, and now [1737] there are about 600 inhabitants; it paid 7l. to the old tenths, and is now assessed at 1999l. 3s. 4d. to the land tax. The gild of the Assumption, and that of the Holy Cross, were the only gilds here.
Rectors Of The Greater Part.
In King Richard the First's time. Walter Persun, clerk. Maud, daughter of Adam.
In King John's time. Lawrence de Sco. Albano or (of St. Alban's). Isolda De Arderne.
In King Henry the Third's time the four following persons were rectors, viz.
Godfrey Giffard. Hugh de Albany.
Peter Giffard, clerk. Hugh de Albany,
Master William de Shirewood. Isabel, widow of Hugh de Albany, in right of Plasset's manor, which she holds in dower.
Haman de Warren, on Shirewood's death. The same Isabell, who holds it in dower, remainder to Sir Robert de Tateshale.
1314, 13 kal. Aug. The Bishop, by lapse, collated William, son of Simon de Hedersete, accolite, to the two parts of Atleburgh, and dispensed with his want of age. (This was during the contest between the King and Sir William Bernak.)
1323, 13 kal. May, Gregory de Hedersete, clerk. Sir Will. Bernak, Knt.
1324, 16 kal. Dec. Will. de Hedersete, sub-deacon, was instituted at the resignation of Gregory de Hedersete, who was instituted again, as proxy for William, who being but 22 years old, was dispensed with by the Bishop, who had license from the Pope to dispense with the age of any four clerks that he pleased, (of which this was the last,) so that they were 22 turned; the words in the dispensation to this William are these, "Attendentes tue probitatis merita ac alia virtu tum dona, quibus pollere dinosceris, in tantum quod fructum in ecclesiâ Dei afferre poteris in futurum," &c. Sir Will. Bernak, Knt.
1358, 25 February, Richard de Burton, priest. Sir Adam Clifton, Knt. for this turn.
1369, 29 May, John Stampet, at the resignation of Richard Gerland of Burton. The King, as guardian of the heirs of Sir Constantine Clifton, Knt. deceased.
1404, 24 July, Sir Peter Leverych of Gerboldesham, priest. Margaret Clifton, for this turn.
1438, 10 April, Ralph Lord Crumwell, Knt. was patron of two turns of the two united parts, and Sir John Clifton, Knt. in right of Margaret his mother, (who presented Leverych,) had the third turn, and now the Lord Crumwell granted his advowson in the two turns, to John de Ratclyff, Knt. and Thomas his son, and his heirs for ever.
1441, 12 Decem. Master William Russell, B. D. was instituted into the two parts of the church of Atleburgh, commonly called Hamon's portion, at Leverych's death. Tho. de Ratclyf of Landwade in Cambridgeshire, son of John Ratclif, Knt. deceased.
1456, 2 August, Master Tho. Fairclowe, S.T.P. on Russel's death. Lady Alice Ogard.
1470, 30 April, John Hyhoo, on Fairclow's death Sir William Hastyng, Knt. Lord Hastyng, Sir John Saye, Knt. and John Grene.
Edward Bothe.
1516, 24 October, George Polley, or Pooley, on Boothe's death. Lady Margaret Fitz-Walter.
1540, 15 December, Master John Williamson, clerk, on Pooley's death. Robert Earl of Sussex. In 1554, it was united to the third part, so that he was rector of both. He had been master of the college.
1565, 28 April, William King, M. A. Thomas Earl of Sussex.
Henry Baide, or Barde, S.T.P. He had the other part.
1581, 8 March, John Rawlins, on Baide's resignation. The Earl of Sussex, united the same day to the lesser part.
1614, 30 Nov. John Forbie, S.T.B. Richard Hunt, S.T.B. he had the third part.
1638, 29 Decem. Henry Nerford, S. T. B. Tho. Pettus, Esq. he had the third part.
1683, 31 Jan. Richard Bickley, A. M. Francis Bickley, Bart. united to the third part.
1708, 22 Decem. The Rev. Mr. Humfrey Bickley, the present [1737] rector, on Rich. Bickley's death. Sir Francis Bickley, Bart.
Rectors of the lesser, or third part, commonly called Westker.
1295, Jeffery, son of Walter de Hengham.
1306, prid. kal. June. John Le-Courzun of Carleton. Sir John de Thorp and Alice his wife.
1320, 5 non. May, Oliver de Mounpynson, priest, on Curzoun's resignation, who changed this for Taterset St. Andrew. Ditto.
1349, 27 July, Robert Taylour of Atleburgh, priest. Sir Const. Mortimer, Knt.
1374, 3 Jun. Simon Howissone of Skulton, priest, to the rectory of the third part of Atleburgh, commonly called Westker. Sir Robert de Mortimer.
1381, 30 Decem. John Warbald of Scoulton, priest. Ditto.
1393, 5 Feb. John Goodrich of Atleburgh, priest. Margaret, relict of Sir Robert Mortimer, Knt.
1424, 19 May, Thomas Cove, on Goderich's resignation. John Fitz-Rauff, Esq.
1446, 30 Nov. Henry Sythyng, on Cove's death, to Westker. William Warnar, Esq.
1451, 14 Jan. Thomas Algar, on Sythyng's resignation. Ditto.
1452, 30 Oct. Walter Pamyn. John Conyers, Esq.
1476, 17 March, John Radcliff, on Pamyn's death. Ditto.
1524, 30 June, Richard Claydon, on Radclyff's death. Lapse, he was brother to John Claydon, master of the college.
Alan Whitlarke. Mr. Robert Fen, and John Sotherton, for this turn, by grant of Anthony Gurnay, Esq.
1536, 26 Nov. Stephen Prewet, [or Prowet,] on Whitlarke's death. Ditto.
1544, 19 March, Master John Williamson, on Prewet's resignation, James Underwode, for this turn, by grant of Anthony Gurnay. Esq. true patron. He had the other parts.
Gilbert Berkeley, S. T. P. Bishop of Bath and Wells; whether he had the other parts I cannot find, nor yet his institution to this. He was born in Norfolk, (fn. 65) consecrated at Lambeth, 24 March, 1559, (fn. 66) had the temporalities restored July 10, 1560, died Nov. 2, 1581, and is buried at Wells; I suppose he held this till 65 in commendam.
1565, 22 Aug. William King, A.M. rector of the rectory of the two parts, was instituted into the third part at the presentation of Christopher Heydon, Knt. in right of Anthony Gurnay, Esq. the vacancy happening by the last incumbent's promotion to the bishoprick of Bath and Wells.
Henry Baide, [or Barde,] S. T. P.
1581, 8 March, John Rawlyns, on Baide's resignation. Henry Gurnay, Esq. united to the other part.
1614, 21 Dec. Henry Womack, A. M. Ditto. United to GreatElingham, where he died in 1628; he was ordained 5 Dec. 1589, and John Forbie, rector of the two parts succeeded, who died in 1638.
1639, 27 June, Henry Nerford, rector of the greater part, on Forby's death. Edw. Gurnay, Esq.
1683, 31 Jan. Richard Bickley, A.M. on Nerford's death. Francis Bickley, Bart. united at the same time to the greater part.
1709, 29 April, Tho. Bond, on Bickley's death. Roger Potts, Bart. perpetual patron. United to Elingham-Parva.
The Rev. Mr. Evan Bowen, the present [1737] rector, was presented by Mrs. Windham, after the advowson was purchased of the Pottses, and now holds it united to Taseburgh.
After the division of the Mortimers estate, this advowson was allotted to John Fitz-Ralf, as part of the inheritance of Margery Mortimer, his wife; and from that time it passed with the manor of Elingham Hall, as you may see at p. 483, from Fitz-Ralph to Conyers, from them to the Warnars, and so to the Gurnay's and Davys, and after to the Potses, who sold it to Mrs. Windham, who holds it with the other manors and advowson.
The tower, which stands in the midst of the church, according to the collegiate form, is square, and hath in it a clock and six bells, the first, second, and fifth, have no inscriptions, on the third is this,
It ioyeth me much, to goe to Gods Church. 1617.
On the fourth,
Do not there slack the, to Repent the. 1617.
On the sixth,
I wish to die, to live Heavenly. 1617.
Gobert Earle of Susser, Henry Lord Fitz-Walter, Philip Knebet Baronet. Anthony Drury, Knt. John Forbie, Rector.
These were all contributors; the second parcel lived in Bansthorp hamlet, and the last in Westcar-street. The nave, two isles, north porch, south and north chapels, are now standing, and are all covered with lead, the chancel, or quire, and a south isle which joined to it, are in ruins.
Persons of note buried in the quire were, Sir Robert de Mortimer, Knt. the founder of the college, who was buried in the middle, before the high altar, in the year 1387, close by the grave of Margery Fastolf, his first wife. Sir Thomas Mortimer, Knt. and dame Mary his wife, (of whom see p. 510, 511,) obijt May 2, 1406. Sir John Ratcliff, Knt. elect of the Garter, in 1420. Sir John Ratcliff, Knight of the Garter, his son and heir. Katherine his widow was buried by him in 1452. Roger Ratcliff, brother of the last Sir John, and Philippa his wife, some time after him, for whom was this inscription on a brass plate,
Hic iacet Gogerus Ratcliff, Armiger, et Phillipa Uror eius, qui quidem Rogerus obiit riiio die Derembris Anno Dni. mo cccco lrviio quorum Ani- mabus propicietur Deus.
John Hyhoo rector, in 1478. John Forby rector in 1638.
Mortimer's chapel, which is on the south side, belongs to Mortimer's manor, and was founded by Sir William de Mortimer of Kingston, Knt. (as you may see at p. 509,) and by him dedicated to the honour of the Holy Cross, and afterwards rededicated to St. Mary, as several wills shew me; he died Nov. 12, 1297, and was buried in the middle of it, before the altar there, at which he founded a daily mass, for his own and ancestours souls, and settled a competent salary on the officiating priest. In this chapel are buried,
Sir Constantine Mortimer, Knt. in 1334, by Catherine his first, and Sibil his last wife, who died in the same year. Sir Constantine Mortimer in 1354, and Agnes his wife; and Henry Inglose, Esq. for whom there was this inscription under his arms,
Orate pro anima Henrici Inglose Armigeri, qui obiit rvio dic Septembris Anno Domini mo cccco rviio cuius anime propitietur Deus.
Chanticler's or Chanceler's chapel, which is on the north side, belongs to Chanceler's manor, and was founded by Thomas Chaunticler, who was buried before the altar in it, in 1379, and had a priest daily singing at that altar, for his own wife's, and their friends souls.
Burials in this chapel are, Katherine, wife of the said Tho. Chaunticler, Alice, their daughter and heiress, with Thomas de Brampton, her husband, and Joan, his second wife: there was a stone, having his picture in costly armour, with this inscription,
Hic iacet Thomas Brampton Armiger, qui obiit moccccolxxxio et Johanna Uxor eius: ---: -- moccccolxxxo
William Brampton of Atleburgh in 1503. Edmund Berney of Atleburgh in 1495. Elizabeth wife of Tho. Garret, Esq. Alice Warner, and Robert Whetnal, alias Warner, for whom there was a brass thus inscribed,
Orate pro Aninima Roberti Warner Generosi, qui obiit rro die mensis Novembris Ao Dni: mocccc lrrro cuius anime propitietur Deus.
And also these,
Hic iacet Margareta Warner Uror Roberti Warner Generosi, que obiit riio
die mensis Decembris Ao Dni: mocccccovocuius anime propitietur Deus.
Orate pro Anima Henrici Warner Armigeri, nuper defuncti, qui obiit rriiio Aprilis mocccccorir cuius anime propitietur Deus.
Robertus Warner Armiger, obiit 7mo Oct: Anno Dni: 1575°.
On this stone are Warner's arms, quartered with Whetnall; (see p. 497;) the crest is a plume of feathers.
There was another grave-stone robbed of all its brasses, but one coat, viz. on a chevron three annulets.
The present nave and isles were begun by Sir Robert Mortimer, founder of the college, about 1378, and continued by his granddaughters, and their husbands, and a great number of other benefactors, as their arms and effigies in the windows shew us, it being not perfectly finished till after 1405. The chief of the contributors were, Sir Robert Mortimer aforesaid, John Arderne, who was buried in the church in 1479; Tho. Brampton, Esq. and several of that family, many of the different branches of the Mortimer family; the Bishop of Norwich; William at the Broc, chaplain, and divers more, particularly the Lady Cecily Herling, Sir John Fitz-Ralph, and others.
The following arms were in the windows, several of which now remain, the rest being lost, viz.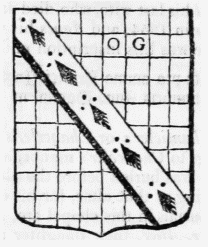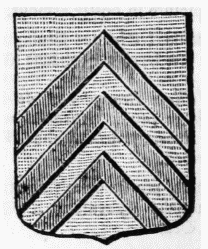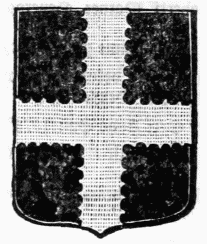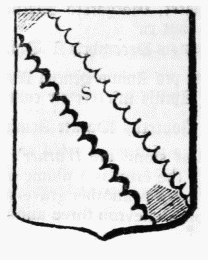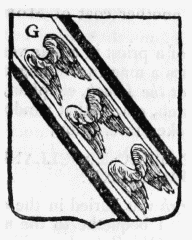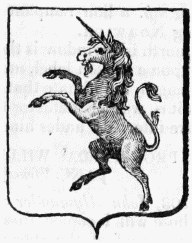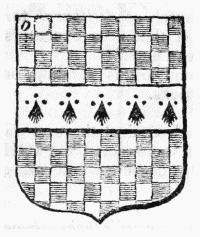 And these, viz.
Hetherset, az. a lion rampant or.
Kerdeston, arg. a saltire ingrailed gul.
Denton. Brampton.
Moulton, three barrulets in a bordure gul.
Bacon of Baconsthorp, az. three boars passant or.
Norwich. Boutetort.
The Bishoprick of Norwich.
Brewse, gul, a cross moline arg.
Mortimer, or, semi de fleur-de-lis, sab. The same with a bordure gul. The same with a bordure ingrailed gul. The same with a bendlet gobonne, arg. and gul. The same with a label gul.
Mortimer of Ricard's castle, barry of six, or and vert, fleury-delis counter-changed. The same with barry of four only.
Az. a cross voided or.
Az. a chevron between three boars heads or, impales Brewse.
Earl of Sussex quartering Bohun Earl of Northampton.
Az. a bar gobonne gul. and vert, between three owls arg. armed or.
Arg. a lion rampant sab. armed or, on his shoulder a martlet or.
Gul. a fess and three plates in chief arg.
Or, a saltire ingrailed sab.
Over the porch door are the arms of
Ratcliff quartering Mortimer, and
Ratcliff impaling, chequy a chief fleury-de-lis, cut in stone.
In one of the windows was an effigies of one of the Norwich family, kneeling in his coat armour, with his wife, and under them his arms, impaling sab. a lion rampant erm. and another coat of Mortimer impaling Norwich.
In a north isle window is the effigies of a priest in a blue vestment, kneeling on a broken label, under him lies a man in winding-clothes, at full length, to intimate that William at the Brook, chaplain, whose effigies it is, was a benefactor to the church, glazed that window, and was there interred; under him is this broken inscription,
[Orate] PRO: ANIMA: WILLI: Az: Ye: BORC: CAPELLANI: QUI: pANC: [fenes] zRAM: CONSzRUXIz.
In 1508, John Alysaunder of Attilburgh was buried in the church, from whose will I copied these Items: "I bequethe to the makyng of a new roof of the abbey church in Old-Bokenham, iiii. mark. Also I wyll that vi. acres of land of myne, called Lamppisgate, with the profights thereof cumynge yerly, I will that obyte be kepte every yer yerly, in the church of Attilburgh for me and my friends for evermore, and I wyll that myn executors make this sure with the best councell they can gett." (fn. 67)
The organ or old rood loft is standing, on which are painted the arms of all the bishopricks.
In Mortimer's chapel, against the east wall, is a mural monument much defaced, which was erected for JOHN RAWLYNS, rector of all the parts, of this church, whose arms, with those of his wife, are on it, viz.
Rawlyns, arg. three leopard's faces sab. impaling three grayhounds current regardant sab.
Fui Johannes Gawlyns, Northamptoniensis, Uilla ibidem Pastoniæ oriundus, Spaldaniæ in Com: Lyncoln: Educatus, Moultoniæ prope ibidem edortus, Coll: Divi Johis: in Cantab, Alumnus, Nuius Errlesiæ utriusque Gectoriæ per 33 Annos Rector, doctus, pius, pacatus, hic sepultus Maii 11 Ano Dni: 1614, Etat: 67. Coelum mihi iam Domicilium. Unicam Urorem habuit, nomine Mariam, charam, prudentem, frugi, fidelem, hic Jurta cum sepultam, reliquit Filios 4. Filias 2. bene eduratos. Si quæris Lector, Lapidi quæ Causa loquendi, Ingenii Ingentes hic tumulantur Opes, Rawlyngi Laudes vivi, viva ora Laudabant, Nec Uitam functi, sara tacere queunt. Armoris ergo inscripsit, Joh: [annes] For: [bie] Rector succedens. 1620.
On the screens,
Martyn et pro Isabella Urore eius
On an oval mural monument, over the vault, of black and white marble; crest on a torce arg. and sab. a grayhound's head proper, collared arg.
Bickley, arg. a chevron imbattled between three griffins heads erased sab. each charged with a plate.
FRANCISCUS BICKLEY Baronettus, pene Nonagenarius, unici Filij, et trium Filiarum Superstitum, Triginta Nepotum, Neptum, et Pronepotum, Pater, Avus Proavus: Cum Mortem Appropinquantem prospiceret, Cryptam hanc Sepulchralem, vivus effodi fecit, in quâ Filius ejus Superstes, FRANCISCUS BICKLEY Baronettus (prout Pater statuerat) Exuvias ejus in Spem Resurrectionis deposuit, et Pietatis ergo hoc Monumentum extruxit, obijt undecimo Die Augusti, Anno Domini 1670. (fn. 68)
There are two flat stones in this chapel, with these inscriptions,
1. Church, erm. a bend voided, impaling Bickley.
AMYA Uxor THOMÆ CHURCH, Filia Francisci Bickley Baronetti, nata Annis 24. obijt Julij Secundo 1688.
Omnibus, amica, amata, desiderata.
Quis Desiderio sit Pudor aut Modus tam Charæ?— Sub hoc Marmore, in Spem beatæ Resurrectionis, reconduntur [ta Leipsana] Deboræ Bickley Filiæ Cornelij Vermuyden Militis, Uxoris Francisci Bickley Junioris, Francisci Bickley Baronetti, ex Francisco Filio primogenito, Nepotis, Quæ cum tribus Liberis, Mariti Domum adauxerat, Dolore Puerperij correpta, Animam piam placidé Deo reddidit, Martij 6to. 1669.
In Chanceler's chapel, are two mural monuments, with the following arms and inscriptions,
Bickley impaling Bickley.
Maria Bickley, Francisci Bickley Baronetti Filia, Richardi Bickley hujus Ecclesiæ Rectoris Uxor, Pietatis, Obsequij, Amoris, Humanitatis, et Charitatis, erga Deum, Parentes, Maritum, Vicinos, Pauperes, Insigne Exemplar, diuterni tandem Morbi Dolore fracta, nec minus Christianæ Patientiæ, quam Formæ et Ingenij Decus obijt, 24° Martij A° D. 1707. In Sacrum cujus Memoriam, Hoc, quicquid est Monumenti, lugens posuit Maritus.
Bickley quartering sab. a chevron between three roses arg. seeded or.
RICHARDI BICKLEY, Qui ex Agro Warwicensi, ortus, Etonæ Velatarum, in eodem Agro, Literis bonis et Religioni Puræ, prima Rudimenta posuit, easdem, Cantabrigiæ in Collegio Sanctæ Magdalenæ, auxit fœliciter, et confirmavit; inde ad publicam Ecclesiæ Utilitatem emissus, hanc demum Parochiam Provinciam sortitus, vigili Cura, indefessa Diligentia, [enchimonos, chai chata Tazin], per Annos viginti quinque, multa cum Laude administravit, obijt Nov. 25. A. D. 1708. Ætat. 71. Memoriæ Sacrum, posuit, Testamento Debitum, Testamenti Procurator, ex Sorore Nepos, DUDIENVS (fn. 69) RYDER.
On another mural monument.
Nerford, gul. a lion rampant arg.
Beneath this wall, Henry Nerford, Batchelor of Divinity, Rector of this Church, where he was Minister XLV Years, a Man learned and Pious, a most obedient Son and Servant, of the Church of England, his Mother, and a most Faithfull Subject of the King, the Father of his Country, in Expectation of a blessed Resurrection lie and the rest; to whose religious Memorie Margaret Nerford, the Relict of his Nephew James Nerford, frankely erected this Monument of Respect and Gratitude, 1684. (fn. 70)
An under the monument lies a stone over him, with his arms and this inscription, of the same purport as the former,
Henricus Nerford Theologiæ Baccalaureus, hujus Ecclesiæ Rector, cui præfuit Annos XLV, vir doctus, et pius, Ecclesiæ Anglieanæ Mater, ejusdemque et Patriæ Patris Filius et Servus obsequentissimus, Resurrectionis beatificæ Candidatus, hic Requiescit, ob. Jun. 4to An: 1684. Æt. suæ LXXXV.
I find only two stones with inscriptions in the nave; one is for Anne wife of John Burton, 14 Oct. 1650. Hodie Mihi, Cras tibi.
The other hath a crest, an arm cooped at the shoulder, holding a battle-ax. And these arms, on a chevron between three lions erased, three serpents.
Here lyeth interred the Body of Capt. JOHN GIBBS, of the County of Norfolk, Gent, died the 22d of October 1695, in the 48 Yeare of his Age, he married Elizabeth Pride, the Daughter of Tho. Pride, Esq. and Eliz. Monk, the Daughter of Sir Tho. Monk, by whom he had two Sons, John, and Christopher, and three Daughters, Mary, Eliz. and Anne, John, Mary, and Anne, now living.
This narrow Space confines his dear Remaines Whose glorious better Part, Survives and reigns, Immortal Virtues now embalm his Name, And fix him, high, in the great List of Fame, The gen'rous Friendship that adorn'd his Mind, Was boundless, as the Needs of humane Kind, But where Relation did the Band indeare, The Rays contracted, did more warm appear, So good a Husband, Father, Brother, Son, As few have equal'd, none has e'er outdone; Such Charity thro' his whole Life was shown, As made the Wants of other, seem his own, His Soul so truly Brave, he knew no fear, Ev'n Death it's self, made no Impression there, Tis true he yielded, but Death lost the Prize, For he but stoop't, that he might higher rise.
P. M. S. (fn. 71) posuit, Vidua Marens.
Mr. Le Neve calls him the famous Capt. Gibbs; he was a great gamester and horse-racer, in King Charles the Second's time. "He laid a wager of 500l. that he drove his light chaise, and four horses, up and down the deepest place of the Devil's-Ditch, on NewmarketHeath, which he performed, by making a very light chaise, with a jointed perch, and without any pole, to the surprise of all the spectators."
There is a stone under the steeple much obliterated, but supplied from the Register, viz.
"1632, Edward Henderson, Bailie longe to the Lords here, a Man of Peace, Love, and Truth always in Word and Deed, buried Feb. 13, Ætat. 69.
"Vivus sine Dolo, Mortuus sine Morbo, Æternus in Cœlo."
On his grave-stone in the bell-room of the church,
Let every Bell, his Praise thus tell.
On an old wainscot which stood in the church, Ratcliff quarters Fitz-Walter, and Ratcliff impales Herling.
There is an altar-tomb in the churchyard for William Cokkell, Oct. 22, 1729, Æt. 60.
Death from this World hath set me free, From all my Pain, and Misery.
Ralph his son died Nov. 30, 1729.
This life is like a fading Flower, Alive and dead, all in an Hour.
The following accounts are taken from the old Register of this parish, which is a very particular one, it begins in 1552; they are not digested into a series of time, but are just as they follow one another in the original.
1559, The town of Attleburgh, viz. Market-street and Town-street, burned.
1605, Edward Barthelet, Esq. buried 27 Nov. a worthy gentleman, and justice of the peace, councellor at lawe, dwelt at the Hall, and kept a good house there.
1612, Master Glaspole, alias Hamlet, was buried 26 Oct. he was the Earle of Sussex's bailie, and dwelt in the Parke-Hall, and was the Earle's forester there, he kept a worthie house, as if the park had been his own.
1614, 11 May, John Rawlyns, rector, as well of the rectory of the two parts, as of the rectory of the third part, a learned, godly, and peaceable man was buried; "Terras multas emit, quas filius et hæres cito vendidit, si quicquam in ecclesiæ vel pauperum usus reliquisset, hoc sine dubio permansisset: uxor autem ejus postea diu vixit sua pura viduitate, usque octogessimum ætatis annum, et ultra, toto autem vitæ tempore, et filijs alijs suis benignissima, et annos perpaucos ante mortem, suo visu perempto, cœcitate permansit, manus autem suas in pauperes semper extensas habuit, ingenio etiam et memoria acutissima, sicut longevam ætatem suam in fœlicitate, et charitate, tandem diem clausit, ob. 23 Jul. 1639, Ætat 91°."
1615, The parsonage was repaired by John Forbie, to above 200 marks charge, who set up the Bishoprick's arms in the church, and those of the colleges.
1615, 10 June, Wyndham was burned, being set on fire by rogues coming on that purpose to the town, and were there (the man and woman) executed.
1617, This year, on May 5, the first, second, third, and fifth bells were finished by Wm. Brend, bell-founder in Norwich, and so out of four, there were now five bells, cost 160l.
1630, Maria filia venerabilis dignissimique viri, Alexandri Ratclyff Militis, et Janæ dignissimæ ejus dominæ et Uxoris, bapt. 22 Feb. in capella apud aulam Atleburgensem, per me J. Forbie; deditque mihi de suo beneplacito inexpectatam mercedem et premium.
1618, Edward Barthelet, Gent. and Mary Mundford, Gentw. were married by J. Forbie, at Hoe by East Dearham, 18 Nov. their marriage feast after kept at Atleburgh hall.
1623, A perfect terrier was made and delivered into the Bishop's registry, of all the lands, and of all the free and copyhold, belonging to the rectory manors, with the rents, and number of court-rolls, and other remembrances of the church and college, some time belonging to the church, and also what was belonging to the rectory of the third part.
In this year a school was erected in the south isle chapel, the timber for the seats of it, was given by the Earl of Sussex, and Sir Will. Knevet, and that for the top of the font now made.
Mr. Edmund Topclife, parson of Morlie, gave the standing lecturne there, for the dictionaries. One Mr. Hathe of Trinity College, Cant. was the first schoolmaster, one Mr. Parlet the next; the town voluntarily allowed 4l. per annum, out of their town lands.
1628, Against Easter, a communion cup was made.
1628, July 15, was a Gild new erected by four young bachelors of the town, and kept at the college-house, of above twenty meases of persons, and the poor then well relieved.
1626, It was continued by four widowers of the town, and held where the old gild-house was, at the west end of the parsonage-close, at Mr. Duffield's, the poor well relieved.
1630, It was holden on Midsummer day, and one Mr. James of Eccles, then the high-constable, and one Mr. Robert Allen of GreatElingham, were two of the four heymasters, who for their own good credit, and our town's gild, procured guests, that there were thought to be 2000 people then there, they could not half sit and dine there, but were constrained to go into the town, and there could not be of that sudden, meat enough provided for them; it was said that they left no bread in town by two o'clock, only beare was plentiful: there was no outrage or disorder of the companye. We began all these good meetings with solemn prayers in our church, and a sermon, &c.
Rector Ecclæsle Author Guildæ.
The town of Barnham-Broome hath thus holden a gild with them, with much good company and merry meeting, and their sermon was ever rewarded, and moreover in this year Mr. Legat, the minister who preached there, had a gold ring given him by the heymaster, worth above 20s. The motto was, Legatus Christi, Patronus Festi.
1631, The church was well repaired, and decently batteled. In 1632, the wooden top of the cross in the church-yard, was made by John Forbie, clerk, by the appointment of the Bishop of Norwich, on the top of the side towards the church, Crux Christi, Salus Mundi. On the standing part, Christus pro Nobis passus. On the transverse, a wounded heart, and hands wounded with the nails, Ecce! Quanta pro Te pertulit. On the back side, towards the east, In Christo Spero. On the standing part, Si compatimur, conregnabimus. Then on the transverse, Reliquit nobis Exemplum. The globe was set up to signify the heavens, coloured with blue, with stars and clouds. On the equator circle, Aspiremus permansura Æterna. The lower part coloured green, to signify the earth, with trees and flowers on it, Quid tumultuamur? Peritura possidemus.
1633, The new organs were brought into the church from Squire Buxton's of Tybbenham Cannons, which cost 10l. there, and 10l. more to take them down and set them up here, purchased by the parishioners' voluntary gifts; and 9l. a year was voluntarily subscribed, for Mr. Lesingham the organist, of which Sir Alexander Ratcliff, lord and patron, allowed 40s. a year, and the rector 40s. &c.
1636, The communion table was placed, &c. as it now stands.
1642, Tho. Downes, senior, gravi morbo lœsi cerebri diu afflictus, postquam Dei Opt. Max. beneficio integrum convaluit, pulvinar panni viridis, fimbria holocerica et fibulis ad angulos appensis decoratum, in grati pijque animi indicium Deo et Ecclesiæ dono dedit.
1617, Divers mortuaries paid, (as they now are, according to the statute.)
1619, Mr. John Littleproud, a young man, lately in priests orders, for the help of his living, being but a grammar scholar, was buried Nov. 1.
1623, April 14, Joan, wife of John Allen, was buried, and had so great a number of people, that the church could not contain them, very many treated at the Griffin, &c.
1623, One Porter a butcher, and an honest man of Windham, being at church on Whitsunday, June 1, as he was kneeling at prayers died suddenly,
"Quis jam non fœlicem et beatum obitum fecisse eum dicat?"
Mr. John Chamberlane, a very loving and honest gent. of good estate here, and elsewhere, and otherwise rich, dwelt sometime here, removed to Bridgham, thence to Barue in Suff. died on Whitsunday, and was buried at Bridgham, June 6, he seemed a little corrupted and addicted to the world, and his gain, through an executorship he had with one Mr. Wright of Larling, who might move and draw him more in that manner, than otherwise it is like he would have been: he was in his owne nature a very honest man.
Auri sacra fames, quem non insatiabilem reddas? Misere mortuus est Midas. Noli imitari.
1624, 13 April, Tho. Thaine of Burgh-street, near 100 old, buried.
1625, King James, our gracious, peaceable, and the most learned prince in all Europe, died at Theobald's, March 27, having then reigned in England 22 years and three days, it was then Sundaye, and about 11 o'clock in the forenoon, a blessed time, when every church was to be at their prayers, and at such time as his Majesty was ever used to have a sermon in his presence at court, he had a sermon in court every Sunday and Tuesday, and so caused many an excellent preacher; the preacher was always appointed by his course, out of Cambridge, while he was at Newmarket or Roiston, or near Cambridge: his Majesties speeches were always admirable, it might be truly said of him as in the Gospell, never man spake as this man speaketh; he was the England's Solomon, and so was his funeral sermon intituled.
1625, Aug. 11. Then was buried Mary wife of Gilbert Greene, hoastess of the Cock, who knew how to gaine more by her trade than any other, and a woman free and kind for any in sickness, or woman in her travell and child-bed, and for answering for any one's child, and readie to give to any one's marriage.
Mr. John Wever died here, carried and buried in St. Gregorie's church, Norwich, which he had much adorned.
Phillip Coullier, yeoman, dwelt at Windham, died Dec. 24, 1625, worth 100l. per annum, he cloathed every Christmass (long before his death) twenty poor children, from head to foot, he rebuilt all the houses for the use of the poor, that were burnt in the fire of Windham, and left a gift for ever to cloath and feast, so many poor children every Christmas. God grant it be kept and done; ii. Cor. 9. 15. Now thanks therefore be unto God, for his unspeakable gift; so I preached here of that. John Forby.
1627, John Allen a very good townsman, buried 22 Aug. This wished to be on his gravestone:
Hic in Ecclesia consepultus est Johannes Allen, uná cum Patre & Matre Suisque duabus Uxoribus, prudens, fidelis, pius, pacatus, et Oppidanus benignissimus, Omnibus in vita amabilis, in Morte desiderabilis, Corpore hic tumulatus, Anima Coronatus, ad gloriam resurrecturus, Æt. 63, Aug. 22, A. D. 1627.
Hic in Ecclesia Domino obdormit Will. Beale, Gravitate Senex, Senectute prudens, Oppidanus providus, Vita pius et pacatus, parum rigidus & morosus, sed Pauperibus benignus, cœlestem Gloriam auspicaturus, Æt. 80, Jan. 11, 1626.
Upon old John Dowe, an unprofitable townsman, of great estate in land, and yet not worth a mortuary at his death in goods.
John Dowe an antient townsman, was buried in divers Years past before, And lyeth buried within the Church South Door.
De quo hoc verum Epitaphium haberi posset.
Here lyeth the DOWE who ne'er in Life did good, Nor would have done, tho' longer he had stood, A Wife he had, both Beautifull & Wise But he ne'er would, such goodness exercise, Death was his Friend, to bring him to his Grave, For he in Life, Commendam none could have.
Mr. John Hare, Richmond Herald, saith in a letter of his, that this John Dowe married Anne, daughter of Thomas Cockett, sister to his great-grandfather Froxmere Cockett, of Bromesthorp; she outlived him, and was very charitable to the poor, and a benefactress to the church of Atilburgh, where she was buried in 1626, and her husband in 1620.
The epitaph which I sent to Mr. Tho. Weaver, for Mr. John Weaver's gravestone in St. Gregory's church Norwich,
Hic consepultus jacet Johannes Weavers, Norwicensis, Commerciorum hujus Civitatis Comportator Londinum versus, fidelissimus, eisdemq; Laboribus ditatus, Amicis amicissimus, Servis suis benignissimus, miserrimis Misericors, hujus Ecclesiæ Sti. Gregorij, cum amicissimo tum suo Johanne Freeman, per tres annos Gardianus existens, hanc ipsam Ecclesiam mirifice ornarat, duos etiam hic constituit haberi annuos Sermones in Dei Gloriam, Suique memoriam, Diebus nempe, Sti. Johannis Evangelistæ, & Johannis Baptistæ, eisdemque, quibusdam terris dotavit, obijt Atleburgh. pie & pacifice, Nov. 18, 1625. Inter Cœlorum Cœlites modo regnat.
1634, Aug. 7, Mr. Robert James of Eccles, High-Constable of Shropham hundred, died, of whom there is a great character; he kept a good house, and always entertained the gentlemen that came to the training in Eccles-Field: he died rich, and was buried in Eccles church.
Seneca. Obijt viridis, et officia boni Civis, boni Amici, boni Viri, exercitatus est, &c.
Johannes Forbye Clericus, Sacro Sanctæ Theologiæ Bacc. cum duarum, tum tertiæ Partis Ecclesiæ Atleburgensis Rector, per 24 (vel circiter) annos extitisset, Diem obijt novissimum in Sancto Festo Innocentium, et consepultis jacet (prout antea statuisset) juxta Filiolas ejus duas, in veteris [Kanchelle] Loco, quas ipsemet Superstes ibidem inhumaverat; sepultus erat 29 die Dec. hoc ipso Ao. Di. 1638. Anno Ætatis suæ Septuagessimæ prope octavæ.
1646, Gregorius Feltwell, Turmæ Equestris Cap. Pell Miles. Sep. Oct. 9.
Verses made by Edward Barthelet, on his Mother's Death.
My Mother now, doth in my Mother leye, Death coucht her there, long longing for to dye, Her Faith was firme, so fearles was her Death, The Heavens are Witness, which drew upp her Breath, For while she lived, she lived a zealous Life, And died, Turtell like Widow, matchless Wife.
1653, Sarah daughter of John Ratcliff, Esq. and Sarah his wife baptized.
1654, John their son baptized 15 July.
The religious concerned in this town were, the Prior of Bukenham, (fn. 72) to whose house Robert de Tateshale, the third of that name, gave a fold-course for 200 sheep. In 1377, William Ketringham and others conveyed lands here to the Priory, and there were many lands held of the Priory manor which laid in this town, both free and copyhold, which in the whole amounted to 2l. 8s. 3d. yearly rents, of which the master of the college paid a free rent for land given to his house of 16d. and there was the value of 4s. 10d. a year tithes, which belonged to the Priory manor, for all which the Prior was taxed at 46s.
The Prior of Wymondham was taxed for his temporals here 15s. 4d. they were divers small pieces of land given to the monastery by the Albanys and Tateshales. The Prior of St. Faith's was taxed 15d. for his temporals here.
The Terrier informs me that Mr. Nerford, late rector, founded a free school, and endowed it with 6l. per annum in lands, and also gave six two-penny loaves to the poor every Sunday, and tied the Rev. Mr. Beales's estate for it, that there are 30 pieces of town lands besides College Close, all which are settled to repair the church, and find its ornaments, for ever; and in the year 1651, I learn from the church-wardens account, it was then in the town's possession, though they were forced to employ some of its produce to contrary uses, viz. "to Richard Lawes for defacing the King's arms 6s." and it cost the town a good deal to repair the seats heads which were defaced at that time.
The College of the Holy Cross, otherwise called Atleburgh Chantry,
Was founded by Sir Robert de Mortimer, who was buried in 1387; he ordered Henry de Pakenham, senior, Simon, parson of Scoulton, and his other feoffees, to found and endow it, (fn. 73) to the value of 2000 marks, which they received according to the will of Sir John de Herling, Knt. and Sir John Fitz-Ralf, Knt. who had married the granddaughters and heiresses of the said Robert; and accordingly King Henry IV. in the 7th year of his reign, [1405,] for 100 marks paid by the feoffees, granted them (fn. 74) license to build a chantry of the Holy Cross in Atleburgh, for five chaplains, one of which was to be master, who should daily officiate in the church of Atleburgh, for the souls of Sir Robert Mortimer, Knt. and Dame Margery his wife, &c. and to amortise to the said chantry a messuage and 70 acres of land, 4 acres of meadow, and 2 of pasture, in Atleburgh, and the advowson of Great Elingham, provided there be a vicar sufficiently endowed, and a yearly sum of money given to the poor there; upon which, the surviving feoffee, by his deed, established it in the following manner, as I find it entered in the parish register, fol. 74.
Simon, rector of Scoulton, greeting. Know ye that Robert de Mortimer, Knt. son of Sir Constantine de Mortimer, Knt. granted and confirmed his manors of Scoulton, Totington, and Stanford in Norfolk, and Burghton, and Foxtone in Cambridgeshire, to Hugh De-la-Souche, Tho. Shardelowe, George Felbrige, Knts. Tho. Caus, Tho. Chaunteler, Will. at Wend, clerk, Henry de Pakenham, John Wotts, and me, the aforesaid Simon, and our heirs, on the following conditions, viz. that we should hold them to the use of him, the said Robert, son of Constantine de Mortimer, Knt. and Dame Margery his then wife, for term of their lives, and after their death, to me and the aforesaid feoffees, and the longest livers of them, till the sum of 2000 marks be raised out of the profits of the said manors, which said sum, after all reasonable expenses deducted, should go to found a chapel in honour of the Holy Cross, in the church of Atleburgh, and a chantry of three priests to sing in the said chapel for ever, for the souls of the said Robert and Margery, for which a license in mortmain should be obtained, by virtue of which, there should be as many lands, advowsons, tenements, or manors purchased, as would be sufficient for the said priests, one of which was to be master of the chantry; all the feoffees being dead but Simon, (who had obtained a license in mortmain,) he the said Simon, according to the last will and testament of Sir Robert Mortimer, Knt. founded the chantry for five priests, of which one is to be custos or master, who are all bound by the said Simon, to pray for the souls of Sir Robert de Mortimer, Knt. and Dame Margery his wife, and all their ancestors, and to conform to the following rules, statutes, and ordinances, as they are appointed by the said Simon, for ever to endure, viz.
The four fellows are to obey all lawful commands of their custos or master.
The custos and chaplains to be perpetual, that is, not removed, unless for such causes as would deprive a rector.
All of them are obliged to reside in their college, or mansion-house, and live together in commons, as in other colleges, and if any be so old that they cannot serve, or be hindered by continual sickness, yet they shall continue in their place, and be maintained by the college during their life.
The master to have 60s. a year stipend, and every brother 40s.
With this proviso, that Simon Shirreve, now brother in the said chantry, shall have 46s. 8d. a year, for life; the stipends to be paid, half on St. John Baptist's day, and half on Christmas day.
The master and brethren to have every year a new cloth suit, or 10s. each.
The custos to be chosen by the fellows, and the major part of them may choose any one, whether he be of the college or no; and if they elect two, the Bishop shall nominate which he will; and after choice is made, the college shall deliver him letters testimonial under their common seal, which the first master elected shall carry to John FitzRauff, son of Sir John Fitz-Rauff, Knt. son and heir of Margery Fitz-Rauff, late wife of the said John Fitz-Rauff, Knt. and their heirs, (if they be at Scoulton, and not else,) who thereupon shall admit him master, and whoever shall be elected the second master, shall go in like manner to the Lady Cecily Harlyng, and her heirs, (if they be at Atleburgh or East-Herling, and not else,) so that each shall have turn in admitting the master, on condition that the said Cecily will give all her part of Capele-Meadows in Atleburgh, to the college, otherwise she shall have no turn, but Fitz-Rauff shall have the whole; and after such admission, each master shall go to the Bishop of the diocese, or his deputy, to be instituted, and if FitzRauff or Harlyng, or their heirs, refuse to admit any master so chosen, the Bishop may do it upon sight of the testimonial.
The master and fellows to find two wax tapers of 2 lb. each, to be lighted yearly on the anniversaries of the said Robert and Margery, during the time of Placebo, Dirige, and Mass of Requiem, to be said at the tombs of the said Robert and Margery, and shall then give to five poor people 13d. apiece, for the souls of the said Robert and Margery.
The custos to have the sole management of all the revenues of the college, both spirituals and temporals, giving an account to the fellows every Michaelmas day, of all the receipts and expenses of the whole year.
And upon this, the college was built for their mansion-house; it stood on the west side of the street, something lower than the NW. corner of the churchyard; there are no ruins, a new house being built on its site, which is still called the College; at the Dissolution it was given to Robert Earl of Sussex, in 1541, and so became joined to the manor; the advowson of it was in moieties, one belonged to the FitzRauffs, and the other to Cecily Herlyng, her husbands, and her heirs; (see p. 319.) King Henry VIII. granted license to John Cleydon, master of the Holy Cross chantry, and the fellows there, to appropriate the greater part of the church of Atleburgh to their college, and also to purchase lands, tenements, or manors, of the value of 20l. per annum, and settle them in mortmain; and the Lord Fitz-Walter had license to settle the said advowson on the college; but it was never done, the Dissolution following not many years after. "In 1506, Tho. Spencer, felowe of the colage of the Holy Cross in Attilburgh, was buryed in the churchyard, afore the chapel door of the said colage." (fn. 75) It was endowed with 21l. 16s. 3d. per annum, at its dissolution, according to Mr. Dugdale; but among Mr. Le Neve's Collections, I find it valued at 50l. 6s. 4d. ob. 1q. and that the Lady Cressi was a benefactress to it. (fn. 76)
The Wardens or Masters of the College.
1417, 27 Sept. John Rykedon, priest, vicar of Elingham-Magna in 1415, was instituted master or custos of the chantry of the Exaltation of the Holy Cross, newly founded in the church of Atleburgh, being elected by Sir Simon Schirreve, fellow, and sometime vicar of Elingham-Magna, Sir Elyas Simonds, and Sir Stephen Bacon, brethren and fellows of the said chantry, and by them presented to the Bishop, according to the rules of the foundation of that chantry. There went out no mandate for installation, but it was a common perfection or institution; the said John paid xi. marks to the Bishop, for the first fruits of the church of Great Elingham, which was appropriated to them, as all the succeeding masters were obliged to do, at their institutions.
1421, 10 March, Tho. Cove, bachelor in the decrees. Will. Mouncy, and John Gildensleve, fellows.
1441, id. Nov. The Bishop collated John Spyrling, chaplain, to the mastership of the chantry, by lapse.
1442, 17 June, Richard Fishere, chaplain, on Spyrling's resignation, by lapse.
Robert Popy, on Fishere's resignation.
1468, 20 Oct. John Cralle, or Crackly, licenciate in the decrees, on Popy's resignation.
Thomas Draper.
1477, Tho. Draper changed his mastership with John Powlyn, for the rectory of Buxhall in Suffolk.
1485, 18 Aug. Powlyn resigned, and the Bishop collated John Williamson, A. M.
1486, 21 July, Williamson resigned, and Peter Foston, bachelor in the decrees, was collated.
1519, 6 April, John Claydon, on Foston's death. Lapse. He was the last master, and subscribed to the supremacy anno 1534, with William Brown and Robert Whyttel, chaplains here. He died in Febr. 1540.
In the year 1709, an act passed for continuing an act made in the 7th and 8th years of the reign of his late Majesty King William, entituled An Act for the Repairing the Highways between Wymondham and Atleborough in the County of Norfolk, and for including therein, the Road leading from Wymondham to Hetherset, over the Common belonging to the said Town, by virtue of which, the tollgate on this road was erected; it was an exceeding bad road before the first Act. There is a square stone pillar standing by the road side, thus inscribed,
"This pillar was erected by the order of the Sessions of the Peace for Norfolk, as a grateful remembrance of the charity of Sir Edwin Rich, Knt. who freely gave the sum of 200l. towards the rèpair of the highway between Wymondham and Atleburgh, A. D. 1675."
And this is all that occurs to me concerning this town, unless the fee farm rents which were paid to Mr. Parker, viz. for AtleburghMoor 13s. 4d. per annum, for Diteing-Hills 13s. 4d., for Horse-DrinkMeadow 2s. 6d., for Trim mill 1s., but the mill being gone, the payment ceased.