Pages 105-108
An Essay Towards A Topographical History of the County of Norfolk: Volume 10. Originally published by W Miller, London, 1809.
This free content was digitised by double rekeying. All rights reserved.
BROKE.
The lordship of this town was in the abbey of St. Edmund of Bury, at the survey, and Frodo held it of the said convent, with a carucate of land. Toli was lord of it, and sheriff; he gave it to St. Edmund, (that is the abbey,) in the time of King Edward the Confessor and afterwards held, or farmed it by the service of finding that convent provision for 2 days: there was one carucate of land in demean, 4 acres or meadow, one runcus, and 4 socmen, with half a carucate and 5 acres, valued at 20s. and the soc was in the abbey. (fn. 1)
This account, which is authentic, is partly contradicted by a register of Bury abbey, which says that William the Conqueror gave it to St. Edmund, when he first supplicated his favour and protection, falling prostrate before him, and placing a small knife wrapped up, on the altar of St. Edmund, in the presence of many of his chief nobility, and also the grant signed with his seal, which the register observes, was at that time preserved in the said convent. (fn. 2)
"He grants it with all its appertenances, sac soc, and all other customary dues, as Grith, (Girth,) the powerful Earl, held it in the time of good King Edward, and as he, now King of England, possessed it."
Before this grant or confirmation of the Conqueror, Grith, or Guert, was said to have held it, who was 5th son of Earl Godwin, and brother of King Harold, slain with him at the battle of Hastings.
In the Register of the Sacrist, the manor, we find, was appropriated to the use of the chamberlain of this abbey, as the rectory was appropriated also.
The abbot, in the 13th of King John, had a discharge of scutage for 52 knights fees in Norfolk and Suffolk, on the Scotch war; (fn. 3) and in the 52d of Henry III. he pleaded an exemption, and would not suffer the King's bailiff to enter this lordship.
In the 10th of Edward I. he had a grant of a weekly mercate and a fair.
In the Iter of the judges of Norwich, a fine was levied the day after St. Michael, between William son of Richard de Dunston, Tho. son of John de Nareford, William, son of Richard de Gunthorp, &c. petents, and John, abbot of Bury, tenent, whereby they release to the abbot all their right in this manor and advowson.
In the 14th of Edward I. and in the following year, the abbot claimed view of frank pledge, assise, free warren, and other privileges belonging that abbey.
Their temporalities were valued in 1428, at 35l. 14s. 5d. ob.
It continued in this monastery, held by one fee, till the general Dissolution, when it came to the Crown; and on May 27, in the 3d and 4th of Philip and Mary, was granted to Francis Yaxley, and Richard his brother; and soon after, in the said year, Thomas Yaxley alienated it to Jeffrey Warde, Gent. who died seized of it in the first of Elizabeth; and Thomas was found to be his son and heir, who had a grant in 1576, from Robert Cook, clarencieux, of these arms, argent, on a cross, gules, a wolf's head, erased, of the first betweent four martlets, gules; crest, on a mount, vert, an eagle displayed, ermin.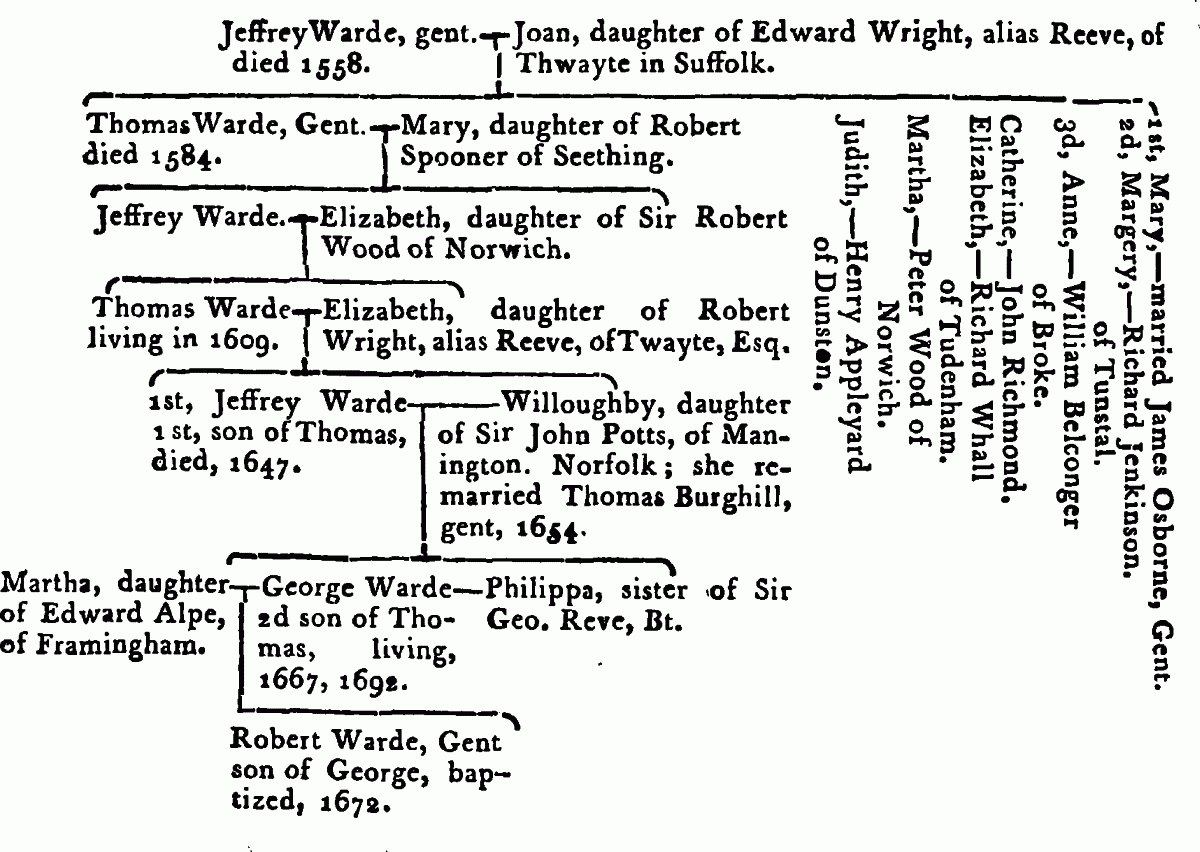 Thomas Seaman, senior, Gent. was lord in 1723, and Thomas Seaman lord in 1740, and patron.
The tenths were 3l. 17s. 6d. Deducted 7s. 6d.
The Church is dedicated to St. Peter, and the rectory was appropriated to the chamberlain of St. Edmund's Bury, a vicarage being settled, valued at 5 marks, the rectory at 50 marks.
To the rectory belonged a carucate of land; the vicar had a manse and 10 acres of land; but in the reign of Edward I. there was no land. Peter-pence 2s. carvage 18d.
John Grey Bishop of Norwich appropriated the rectory to the chamberlain, after the decease of Hubert de Brock, rector, saving an honourable support for the vicar, to be assigned by the Bishops of Norwich.
Vicars.
In 1341, William de Bodham, instituted vicar, presented by the abbot, &c. of Bury.
1349, Jeffrey de Chilton. Ditto.
1371, John Yde. Ditto.
At the Dissolution, the rectory, &c. came to the Crown, and Queen Elizabeth, on July 25, in her 6th year, granted to Thomas Watwood, and Matthew Bysemere, the great tithes, or the rectory.
John Atborne died vicar in 1581.
1581, John Philips; in 1603, he returned 130 communicants, and that the King was patron; on his death, in
1627, Thomas St. Clere succeeded.
Jos. Clerk occurs vicar in 1661.
Thomas Ewells, vicar in 1666, and died in 1668.
1728, Francis Johnson, by the King.
1760, John Bates. Ditto.
On a mural monument against the north wall of the chancel,
Ad hujus muri pedem jacet Johs. Burghill, filius Johs. Burghill, e domo Thinghill, Pa. in paroch. de Withington in comit. Hereford. Armig. obit. 1659.
On a gravestone in the chancel,
Here lyeth the body of August. Wood, gent. who departed, &c. November 6, aged 68, who married Ann daughter of Anne Green, gent. and was buried in 1671.
Jeffrey Ward, gent. was buried here in 1558.—Thomas Ward' gent. 1584.—Robert Wood, Esq; in 1654.—Thomas Burghill, gent 1659—Robert Sugden, gent. 1666.
This town gives name to a large deanery.
Deacons.
Gyles occurs dean in 1256.
1318, Robert de Biskele, deacon, collated by the Bishop.
1332, Thomas Buckskyn. Ditto.
1337, Mr. Ant. de Goldesburgh. Ditto.
1338, Mr. Thomas de Hilltofts, Acol. Ditto
1338, John de Walton.
1339, Thomas de Norwich.
1341, John Everard.
1347, Mr. Matt. de Rollesby.
1347, William Bateman.
Richard Ravenser, dean.
1359, Ralph de Deaventre.
1359, William West.
Tho. de Barton, dean.
1375, William Hughlot.
1391, Robert Skyrne.
1406, Richard Hore.
1409, Roger Dallyng.
1436, Mr. Simon Thornham, LL.B.