Pages 370-381
An Essay Towards A Topographical History of the County of Norfolk: Volume 10. Originally published by W Miller, London, 1809.
This free content was digitised by double rekeying. All rights reserved.
SNETTESHAM LORDSHIP,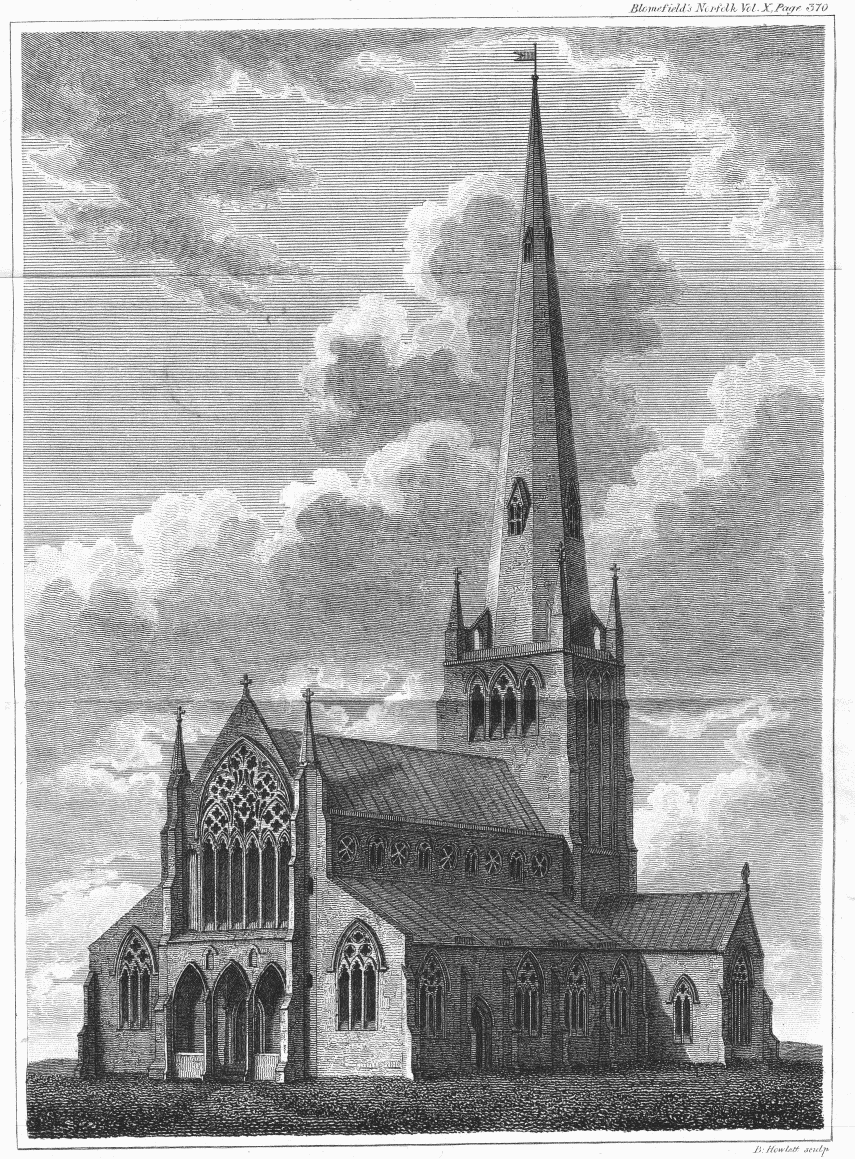 So called (says a modern author) at this time, but corruptly, for Netesham, (fn. 1) its ancient name, being famous for the herds of cows, whereas, in the most ancient record, the book of Domesday, we find it wrote as above, Snettesham taking its name from an adjoining rivulet called (as I conceive) Snet, so that it is a Ham, on the water of Snet: thus we find Snetterton or Snetretuna, as the Saxons called it, that is a town on the river (or rey) of Snet, in Shropham hundred, Snitterton in Lincolnshire, Sniter in Northumberland, and Snyte a river in Leicestershire, and other places.
Sir Henry Spelman, and other authors, from a MS. belonging to the Sharnborn family, make one Edwin, a Dane, to be lord of this town, &c. at the conquest, and that being deprived of it by William de Albini, the Conqueror's butler, and William Earl Warren, he contested their right, and applying for justice and relief to the Conqueror, was in some degree reinstated.
The weakness and falsity of this idle tradition may be seen at large in my account of the town of Sharnborn, and also from the history of this town.
Snettesham appears to have been one of the longest and most considerable lordships in this county.
In the reign of King Edward the Confessor, it was held by Stigand Archbishop of Canterbury, as a lay fee, and his own proper inheritance.
I take him to have been the same Stigand who was chaplain to King Canute, (fn. 2) who in 1020, having built the church of Ashdon in Essex, (after his great victory there,) preferred Stigand to it, afterwards chaplain to Queen Emma, to King Harold, and to the Confessor, with whom he was in so great favour and esteem, that he had either purchased, or had granted to him an amazing number of great lordships in this county, and elsewhere.
To this there belonged 8 carucates of land, 20 villains, 12 borderers, 6 servi, and 30 acres of meadow, 4 carucates in demean, &c. 6 carucates amongst the tenants, 5 mills, a saltwork, and a fishery, pannage for 100 swine, &c. 440 sheep, and 6 socmen held 2 carucates of land, with 10 villains, 6 borderers, one servus, 10 acres of meadow, the moiety of a mill, and a fishery.
Several towns belonged to this lordship, as beruites, held of the same lord, viz. Flitcham, Newton, Rising, &c. as these and other towns, as Reydon, Harpley, &c. lordships of Stigand's, were in the hundred of Freebridge.
It is probable that this town is placed also under the same hundred; (fn. 3) valued in Stigand's time at 50l. in Odo's at 65l. per ann.
In the whole 2 leucas and an half long, and half a leuca broad, and paid 4s. to a 20s. gelt. (fn. 4)
Stigand being in arms against the Conqueror, was deprived not only of the see of Canterbury, but of all his lay fees and inheritance, and this manor was conferred on Odo Bishop of Bayeux in Normandy, half brother to the Conqueror, who created him Earl of Kent, and was in possession of it in 1085, when the survey was compiled, but being in the interest of Robert Duke of Normandy, the Conqueror's eldest son, who laid claim to the crown of England on his father's death, and rebelling against King William II. he was deprived of all his estates in England, and this lordship was granted by that King, to William de Albini, the pincerna Regis, the King's butler, ancestor of the Earls of Sussex.
By this it is clear, (fn. 5) that Edwin the Dane had no interest in this lordship, either in the time of Edward the Confessor, or in King William the First's reign, and consequently that the history relating to him and William de Albini, (who was not lord till after the forfeiture of Odo, in the reign of William II.) is a direct fable, or idle tradition.
Odo was brother, by the mother's side, to King William I.; the Norman writers give him an eminent character: he and Geffrey Bishop of Constance in Normandy, were at the decisive battle of Hastings, attended with many monks, and secular clerks, and after the battle he had the castle of Dover committed to his charge, with the county of Kent.
Odo was joined with William Fitz-Osborn, a principal commander in the Conqueror's army, (afterwards Earl of Hereford,) in the superintendency of all the military forces in England, as well in field as in garrison, and chief justice of the realm.
After this, on some disgust, was carried by the Conqueror into Normandy, and imprisoned in the castle of Roan, and set at liberty by King William II.; here failing in his allegiance, and inciting others to set up Robert Duke of Normandy in the throne of England, he was obliged to abjure the realm, and deprived of all his honours and fortunes.
In Norfolk he had these following lordships:
Torp, (Geyton-Thorp) Grimston, and Harpley, in Freebridge hundred, with Snetesham, Flitcham, Newton, Rising, and Reidon;—in Docking hundred, Docking, Stanho, Tofts;—in North Greenhow hundred, Warham;—in Heinstede hundred, Framingham, Alverton, Holveston, Kerkeby, Scotesham, Poringland, and Braberton;—in Einford hundred, Weston;—in South Erpingham hundred, Wickmer;—in Humbleyard hundred, Krigelford, Florendum.
In Kent he had 184 lordships, in Essex 39, in Oxfordshire 32, in Hertfordshire 23, in Bucks 30, in Worcestershire 2, in Bedfordshire 8, Northamptonshire 12, Nottinghamshire 5, Warwickshire 6, and in Lincolnshire 76.
William de Albini, to whom King William II. granted this lordship, was father of Will. d'Albini, created Earl of Sussex and Arundel by King Henry I. of whom, and their descendants, I refer the reader to the town of Rising.
On the death of Hugh, the last Earl of Sussex and Arundel, of this family, in 1243, without issue, his inheritance was divided between his 4 sisters and coheirs, but this lordship was assigned for life to the Lady Isabel his late wife, daughter of William Earl Warren and Surry, as part of her dower; and by the escheat rolls, in the 14th of Edward I. she was found to die seized of a capital messuage, a windmill, 120 acres of land, a fishery, called Broadflete, with much pasture land by the sea, valued then at 36l. 3s. 6d. per ann.; on her decease it came to Roger de Montealto, or Lord Montalt, by the marriage of Cecily, 2d sister and coheir of Hugh d'Albini, late Earl of Sussex, with his grandfather, Roger.
In the 9th of Edward I. on a suit commenced by the taking of a great whale with boats, &c. this lordship was found to have wreck at sea.
In the 16th of the said reign, Henry de Bray, escheator, on this side of Trent, gave an account of 13l. 18s. and 9d. rent of assise, of this manor, before he delivered it to Roger de Monte-Alto, then under age, and in custody.
Robert Lord Montalt, lord of this town, and Rising, with Emma his lady, having no issue, and being the last heir male of this family, settled this, and many other manors, on Isabella, queen dowager of England, &c. as may be seen in Rising, in which castle the said Robert had his residence, and so it came into the Crown, and on the accession of King Henry IV. was part of the dutchy of Lancaster.
King Edward III. in his 46th year, granted it to his son, John of Gaunt Duke of Lancaster, in exchange for the earldom of Richmond.
In the 3d of Henry V. it was settled in trust, July 22, on Henry Archbishop of Canterbury, the Bishop of Winchester, &c. and was farmed by them of the Crown.
King Henry VIII. in his 2d year, demised to Edmund Bedingfeld of Oxburgh, the site of this manor, with all the houses, sheepcotes, and profits of the conies, within the King's wapentake, with many other things, for 7 years, belonging to the duchy of Lancaster.
Wymond Carye, Esq. farmed it of Queen Elizabeth, and after of King James I. and was knighted May 30, 1604, at Whitehall: he married Catherine, daughter of Sir John Jernegan of Somerley town in Suffolk, relict of Henry Crane, of Chilton in Suffolk, Esq. who, by the name of Dame Catherine Carey, of Fleet-Hall, in Stonham Parva, Suffolk, made her will, February 13, 1613, and gave legacies to her mother, Catherine Bellamy; to her son, Sir Robert Crane, and his wife; to Sir Philip Knevet, Bart. her nephew, and his wife; to her sister, the Lady Hobart; to her nephew, Francis Jernegan; and the rest of her estate to Sir Thomas Herne, Knt. of Heverland, her executor: she survived Sir Wymond, by whom she had no issue.
On February 18, King James I. in his 9th year, granted to Sir Henry Cary, in consideration of 1500l. the manor of Snetesham, parcel of the duchy of Lancaster, with all its rights, members, &c. to be held in soccage of the manor of East-Greenwich, in Kent, by fealty, with all lands overflown, and recovered from the sea, abutting on the said manor.
Nicholas Styleman, Esq. died seized of it in 1746, and his son and heir, Nicholas Styleman, Esq. is the present lord.
Here were several other manors in this town belonging to this fee of the Albinys, and held of them.
Rusteyn's-Manor.
This family was very early enfeoffed of this; Nigel Rusteyn gave lands to Wimondham priory, soon after its foundation, as did Robert de Rusteyn, as may be seen in Congham;—Roger de Rusteyn gave a mill in Snetesham, about Henry the Second's time.
There was an agreement by deed, sans date, between this Roger (as I take it) and the prior of Wimondham, that he should have for life a chaplain to celebrate in the chapel of his house, in this town, who was to swear to be true, and to pay all oblations to the mother-church of Snetesham, and on certain great holidays, to repair thereto; and this was confirmed to Sir William Rusteyn, who is said to have accompanied his lord, William Earl of Sussex, &c. into the Holy Land, in Richard the First's time.
William Rusteyn and Peter Bozun, were collectors in the 18th of Henry III. of the aid then granted to the King, on the marriage of his sister, and held one fee of the dower of Isabel, relict of Hugh Earl of Sussex, 1243; and William was escheator for Norfolk, in the 37th of that reign.
One of the said name was lord in the 3d of Edward I. had the assise of bread and beer of his tenants, and found to take money for the assise broken, when he should have punished the delinquents by the pillory; and in the 8th of that King, conveyed lands here, &c. to Alice his daughter and coheir, in marriage, with Ralph de Kirketon. The Rusteyns held lands also of the Earl Warren.
In the 13th of Henry IV. Walter Goddard, William Whitmete, chaplain, John Heyneye, and Alice his wife, and John Frith, grant by fine, to John de Birston, or Briston, and Margaret his wife, the manor of Rusteyn's, with lands in North Lenn, &c. settled on John and Margaret, and Alice, for life; remainder to John and Margaret.
In the 8th of Edward IV. John Briston, and Joan his wife, settled it in trust on Richard Cappe, &c.
After this, I find it conveyed to Sir Robert Drury, &c. by Richard Baynard, and Anne his wife, daughter and coheir of Sir Robert Ratcliff, and Catherine his wife, in the 18th of Henry VIII. and by her sister Elizabeth, wife of Roger Woodhouse, Esq.
Thomas Bryggs, Esq. 2d son of Edward Bryggs of Salle, had it settled on him and Elizabeth his wife, in 1509, by Richard Crophill, her father, on her marriage.
Down's Manor.
John Briston, Esq. and Joan his wife, held it in the 8th of Edward IV. Ralph Briston, of Briston, died seized of it in the reign of Henry VII. held in soccage of the King, and — was found his heir; and license was granted in the 3d and 4th of Philip and Mary, to John Drury, to alien it to Roger Woodhouse and his heirs.
This is now united to the capital manor, and held by Stileman.
Hacon's Manor.
In the reign of Henry III. Richard Hacon held half a fee of the Earl of Sussex, and Sir Hubert Hacun had by deed, sans date, a grant of a chapel in his house, from the prior of Wymondham, (who had the appropriated rectory) on the same conditions as Rusteyn had, and Hubert Hakun had the assise of his tenants, in the 3d of Edward I. (fn. 6)
The prior of Wimondham, in the 3d of Henry IV. was found to hold half a fee which Richard Hacon formerly held; and in the 8th year of King James I. John Eldred and Jonas Verdon, Gent. had a grant from the Crown, dated November 12, for good considerations of the manor of Hawkens (as it is then corruptly called) with the site thereof, and appertenances valued at 19l. 12s. 8d. per ann. In 1562, Edmund Cobb, Esq. of this town, by his last will, appears to have a lease of this manor, with the parsonage.
This is united also, and held by Stileman.
Sir John de Norwich was lord of it ao. 6, and ao. 10 Edward III. granted it to the priory, probably as a feoffee.
Sharnborn's Manor.
The Sharnborns were undoubtedly early enfeoffed of this lordship under the Albinis; Sir Andrew de Sharnborne in the time of King John, is said to have given it to his younger brother, on his marriage with Cecilia, daughter of Silvester de Rysing.
William de Sharnborn, son of Jeffrey, was lord in the 3d of Edward I. and held the assise of his tenants.
In the 4th of Henry VIII. Henry Sharnborn conveyed in trust to John Amfleys, &c. a messuage, watermill, 340 acres of land in this town, &c. Thomas Sharnborn, Esq. died seized of it in 1559, called then Dame Cecilia's manor, and Francis Sharnborn was the last of the family that enjoyed it, from whom (as I take it) it came to Sir August. Sotherton, by the marriage of his daughter and heir, Margery, and so to Francis Ashe, Esq. &c. as above.
Of the family of Sharnborn, see in Sharnborn town; this is also united, and had by Stileman.
Verli's Manor.
In the 8th of Richard I. a fine was levied between Alice, daughter of Maximus, and Ralph de Verli, of lands, late Cecilia de Holm's, mother of Ralph, in this town and Holm, being half a knight's fee, granted to Ralph. This Ralph gave lands here to Wimondam priory, as did Roger de Verli, lands in Pickenham, by deed, sans date.
Richard de Gerneston, held in the reign of Henry III. the 6th part of a fee, here, of Cecilia de Verli, which in the 20th of Edward III. was found to be held by the heirs of Richard de Gerneston, and Alice his wife.
Hugh de Verli held in 1243, 2 knights fees, part of the dower of the Lady Isabel, relict of Hugh Earl of Sussex, &c.
Robert Pekenham of Shropham, Esq. died possessed of it in the 4th of Edward IV. held of the duchy of Lancaster, by the fourth part of a fee, and Henry was his son and heir.
In the 38th of Henry VIII. Mary Glemham, late wife of Edward Glemham, held it in capite; lately held by the Lady Anne de Cleve, the divorced wife of Henry VIII. This is also united to the capital manor.
Ingaldesthorp Manor.
This family was early enfeoffed of this by the Earl of Sussex, the capital lord. Robert de Ingaldesthorp, called also Robert de Snettesham, was lord of this manor in the reign of King Stephen.
Of this family a particular account may be seen in Reinham. Thomas de Ingaldesthorp, held in the 27th of Henry III. the fourth part of a fee of the Lady Isabel, dowager of Hugh Earl of Sussex; and John de Ingaldesthorp had the assise of bread and beer of his tenants, in the 3d of Edward I. and in the 33d of that King, Thomas de Ingaldesthorp had a charter of free warren here. Beatrix de Ingaldesthorp and her tenants, held in the 20th of Edward III. here, &c. the 4th part of a fee.
Sir Edmund de Ingaldesthorp was the last heir male of this family, who left at his death, 1456, Isabel, his only daughter and heir, who brought it by marriage to John Nevill Marquis Montacute, whose son, George, dying without issue, his estate was divided amongst his 5 sisters and coheirs; and this came to Isabella, who married Sir William Huddleston of Jauston in Cambridgeshire; and in the 23d of Henry VIII. was possessed by Sir John Huddleston, whose son, John, sold it (as I conceive) in 1543, to Sir Roger Townsend, Knt. and was conveyed by Roger Townsend, Esq. about the 10th of Queen Elizabeth, to Martin Cobb, Esq. whose descendant, Mr. Edward Cobb, collector of the customs at Wisbeach, was lord in 1750, and his widow now holds it.
Windham Priory Manor.
William de Albini, the King's butler, founder of this priory, gave this lordship, together with the church, endowed with 69 acres of land thereto, in the reign of Henry I.
Sir Robert Tharum, Knt. and Eustace de Bavent, gave lands here, &c. for which the monks were obliged to find a chaplain in this church, at the altar of St. James, to pray for them.
In the 3d of Edward I. the prior held one fee of the Earl of Arundel; and in the 15th he claimed free warren.
In 1428, his temporalities in land, rent, a mill, &c. were valued at 7l. 3s. 1d. q. per ann.
On the Dissolution, it came to the Crown, and so was united to the capital manor, and let by Queen Elizabeth, to Wymond Cary aforesaid, and is now possessed by the Stylemans.
Earl Warren's Manor.
The Earl Warren had also on the Conquest, a lordship here, granted him, held by 7 socmen of Stigand in King Edward's reign, with 2 carucates of land, and 11 socmen of Stigand held 20 acres, 4 villains, 15 borderers, with 4 carucates and 8 acres of meadow belonged to it; also one mill, and the moiety of another, a fishery, and 2 parts of a salt-pit, valued then at 30s. and at the survey at 50s. per ann. (fn. 7) This is said to have been by an exchange.
By this it appears that Stigand was lord of the whole town in King Edward's time, and that Edwin the Dane's being possessed of any part of this town, is a fiction.
The greatest part of this fee was held by the Ingaldesthorp family, though several of the other lords abovementioned had also some parts of it; John de Thorp had part in Henry the Third's time, which Henry de Titchwell held by the 4th part of a fee in Edward the Third's reign; afterwards William Oldney had an interest herein, in the 3d of Henry IV. as had John de Ingaldesthorp, and the heirs of William Sharnborn.
Afterwards this fee was also united to the capital manor, and held of the dutchy of Lancaster.
The temporalities of Westacre priory were 12d.; Castleacre 46s. per ann. In 1428, Alan, son of Richard de Snetesham, gave that priory 5 perches of land here.
The tenths were 19l. Deduct 6l.
The Church is dedicated to St. Mary, and stands on a hill, at a little distance eastward from the body of the town; it is a stately large building of flint, and freestone, built after a conventual manner, with a tower in the middle, between the nave and the chancel, is now dilapidated; and on this tower is a curious octangular spire of freestone, seen at a great distance, and a sea mark, in which tower hang 5 bells, and ornamented with 4 stone pinnacles.
Here was also a north and south transept, but the first of these is in ruins. It has also a north and south isle, with a large nave or body, all covered with lead; at the west end is the grand entrance, where is a vestibulum, with a bench of stone that runs the breadth of the nave, but narrow, and covered with a neat arch, or canopy of freestone.
At the east end of the north isle is a stately monument for Sir Wymond Cary, with his effigies of alabaster, and in armour, lying on an altar tomb of marble, his head resting on a pillow, hands joined, and erect; over him is raised a beautiful arch of marble, &c. supported by porphyry pillars of the Corinthian order, and on the summit, the arms of Cary:
Argent, on a bend, sable, three roses of the first quartering about 20 coats, the crest a swan, but so defaced by time, and so high, as not to be well accounted for:
Here lyeth in hope and expectation of that joyful day of the resurrection, when the Saviour of the whole World shall appear in power and judgment, to awake all those who have slept in him, to be pertakers of the everlasting blessedness of his eternal kingdom, Sir Wymond Carye of Snettesham in the county of Norfolk Kt. sometime of Thremhale Priory in Essex, first branch of that family of the Carys which is descended from Edmund Beanford, duke of Somerset, and so from John of Gaunt duke of Lancaster, erected by his only brother, Sir Edward Carye of Aldenham in Hertfordshire, master and treasurer of his majesties jewels and plate, and of Sir Henry Carye of C — in Bucks, son and heir of the said Sir Edward Carye joynt executor of the last will of Sir Wym. Carye, who lived about 75 years, & in peace and happiness and in the comfortable testimony of a good conscience and stedfast faith in Christ, died April 3, 1612.
This knight presented to the vicarage in 1609, and had a grant of the rectory and patronage from the Crown, or held it by lease. (fn. 8)
On the pavement of the middle isle, lie several gravestones. One with the arms of Child:
Gules, a fess embattled, ermine, between three doves, argent, impaling per chevron, gules and sable, three swans respectant, in chief, argent, peded and beaked, azure; and in base a herring cobb najant, or, Cobb:
In memory of John Child Gent. who died Octr. 26, 1748, aged 49.
One
In memory of Robert Cobb, Gent. who died May 15, 1745, aged 67.
On a very large gravestone, ornamented with brasses, are the portraitures of a man, his wife, and 7 children, in brass, for John Cremer, who died February 17, 1610, aged 71, and Anne his wife.
Si quis præteriens rogitabit forte viator Memoriæ cujus hic lapis est positus, Cremerus veræ cultor pietatis, alumnus Virtutis, vindex, conditur hoc tumulo.
On a brass scroll from him,
Christus mihi et in vitâ et in morte lucrum.
The brass escotheons, &c. are much defaced.
A stone for Richard Ward, with the arms, azure, a cross, moline, or.
Thomas Gurlyn, Gent. interred January 17, 1670, aged 63; Frances his relict, July 16, 1688, aged 74.
Another with a Latin epitaph, for Thomas Gurlyn of Lynn, Gent. three times mayor, and burgess in parliament, for that town, who died August 3, 1644, œtat. 60.
At the east end of the south isle, on a gravestone,
Hic sita est Anna vidua Edmi. Cobbe Armigi, 4 filios et 6 filias enixa est, Stemmate, progenita claro, &c. patrem habuit Tho. Boteler Armig. de Wood Hall Hertford, pie obdormivit Junij 18, 1675, œtat. 53.
In the south transept are several marble gravestones, in memory of the Stilemans.
Nicholas Styleman Esq; justice of the peace and captain of the militia, here interred June 11, 1683, by the body of Margaret sole daughter and heiress of Edward Ward of Norwich alderman, who died October 20, 1680, they left 3 sons and 3 daughters.
Robert, their son, placed this monument; the arms of Styleman are on it; sable, an unicorn passant, or, on a chief of the second, three pallets of the first.
Robert Styleman, Gent. died June 19, 1720, œtat. 72.
Ann Jermy eldest daughter of Nicholas Styleman Esq; relict of Rob. Jermy of Glanford in Norfolk Gent. died Decer. 8, œtat. 61.
William Styleman died May 11, 1707, æt. 42.
Nicholas Styleman of Guyton in Norfolk Gent. died Octr. 13, 1706, aged 72, A.M. of Trin. Coll. Camb.
Sarah, relict of Robt. White of Boxford in Suffolk, Gent. died Octr. 4, 1728, œt. 73.
One with the arms of Styleman impaling L'Estrange of Hunstanton.
Nich. Styleman Armiger ecclesiœ Anglicanœ amansissimus, vicariam hujus ecclesiæ minus dotatam, ducentis libris munifice dotavit, quibus donatis, ducentas alias, piâ et sempiterna benignitate, Annœ Felicisimœ memoriæ reginæ relictas paravit. Anno climacterico jam perfuncto Domus Cælestes commigravit Jan. 6, Ao. Dmi. 1746.
Also Styleman impaling sable; an ox passant, argent.
Dorothy only daughter of Robert Wood clerk, relict of Robert Styleman of Snetesham Gent. died March 14, 1731, aged 73.
Here were also buried, September, 1556, Mr. Nicholas Sanders, a priest.
February 22, 1590, Jeffrey Cobbe, Gent. February 18, 1610, John Cremer, senior. December 25, 1562, Edmund Cobbe, Esq. January 19, 1582, Isabella Cobbe, Gent. April 11, 1597, Anne Cobbe, Gent.
William Ewe of this town, buried here 1505, left 3 acres for ever to the vicar, to keep his anniversary.
Married January 2d, 1557, Mr. Henry Repps, and Elizabeth Sherlo. October 6, Mr. Leonard Spencer, and Mrs. Catherine Lovell. January 18, 1561, Mr. Francis Sturgis and Mrs. Ellen Lovell November 9, 1563, Thomas Lovell, Esq. and Mrs. Alice Huddleston. January 27, 1588, Thomas Cremer and Joan Hargate. November 18, 1600, Jeff. Cremer and Rose Anguish. August 14, 1563, John Plumstede and Dorothy Sharnborne.
In the windows of the north isle, were the arms of Inglethorp, and of the Lord Valoins, argent, three pallets, wavy, gules; also Nevill Lord Montacute, Lord Howard, Lord Bardolf, Lord Stafford, Bishop Spencer of Norwich, Cromwell Lord Tatishall, Lord Fitzwalter, azure, a lion, or leopard rampart, argent; Lord Montalt, Palgrave, Sharnborn, Shelton. On windows of the south isle, argent on three escotcheons, gules, as many lions rampant, or; ermin, a lion rampant gules.
William d'Albini, the pincerna or King's butler, gave in the reign of King Henry I. this rectory to the priory of Windham, and the grant was confirmed by that King; (fn. 9) in the time of Edward I. we find it possessed by that house, with 40 acres of glebe land, then belonging to it, and a manse, and the rectory was valued at 40 marks, the patronage of the vicarage was in the priory till its dissolution, and was valued at 5l. but had neither manse, or land belonging to it; Peterpence 2s. 6d.
In 1251, (fn. 10) there was an agreement between the prior and the vicar, by which the vicar was entitled to receive all the altarage, but the tithe of hay, hemp, flax, and wool in the parish of the monks demeans lands were excepted, and the vicar was to have the tithe of sheaves or corn of their demeans of the old feofment; tithes of wool, of their fold towards the east; and the moiety of the other foldcourses in the marsh, with all the small tithe in the said town; paying to the priory 60s. per ann. at St. Michael and the nativity of St. John Baptist, by equal payments, and the archdeacon of Norfolk covenanted to receive but one mark; in 1274, John, then vicar, acknowledged, that the vicarage was sufficiently endowed, and released all augmentation to the prior by deed then dated.
Here were in the church, the guilds of St. John Baptist, of the Holy Trinity, St. Anne, St. Mary, Jesus, and St. James.
There was a chantry also, and Thomas Cobbe, who was the last chantry priest, had a pension for life of 5l. per ann. and was called the chantry of St. Edmund.
The present valor of the vicarage is 5l. 6s. 8d. and is discharged of tenths, &c.
It is a market town, but the market, which is on Friday, is not much frequented.
Vicars.
1251, Nicholas de Burgo, presented by the prior and convent of Wymondham.
1300, Gilbert de Secheford, presented by the prior and convent of Wymondham, patrons of the vicarage.
1328, William Algar. Ditto.
1331, Jeffrey de Benhale. Ditto.
Nicholas de Stow.
1376, John de Westgate. Ditto.
1393, Richard Reed. Ditto.
1397, Edmund Nenne. Ditto.
1404, Nicholas Walter.
1433, John Geyton. Ditto.
1443, Richard Castleacre. Ditto.
1477, William Grey, Ditto.
1484, - - - - - - - - Kaa. Ditto.
1500, John Driffeld. Ditto.
1517, John Percyvall. Ditto.
1526, John Feltham. Ditto.
1597, Ralph Dod, by the Queen.
1598, Thomas Drake, (fn. 11) by Thomas French, Gent.
1609, William Dickson, by Sir Wymond Cary, Knt.
Tim. Rivet.
1697, William Cay, by Robert Cobbe, Gent.
William Creamer held it by sequestration, 1702, as did Framingham Rice, LL. B. in 1706.
1728, Archibald Kerr, by Nicholas Styleman, Esq.; he bought the advowson of Mr. Cremer, who purchased it of Mr. Cobb.
1760, Armine Styleman, by Nicholas Stylcman, Esq.
William Green, by his will, 1519, desires to be buried in the north ele, before St. James's altar, and gave 10l. to the leading of that ele.
John of Oxford confirmed to the monks of Wymondham this church, with one carucate of land and a foldcourse here.
Roger Rusteyn gave them 40 acres of land, with a windmill in Sharnborn, with all the heath which his lord William, the third Earl Warren, gave him in Suanegeia; and the monks of Wymondham were to find a chaplain to celebrate at the altar of St. James in Snetesham church, who was to take an oath not to defraud the mother church; (fn. 12) also a marsh, and a foldcourse for 200 sheep, called North Eye.
Sir Thomas Ingaldesthorp, son of Sir Thomas, founded a chantry in the chapel of St. Thomas, for his father, mother, and brethren.
Besides the lordships aforesaid, I find Sir William Flete, Knt. and Margaret his wife, to grant and confirm to Alan Dodge of Dersingham, Thomas Palmer, John Doget, their heirs, and assigns, his messuage with the appertenances, a watermill in Snetesham late Thomas Chapes; with all the lands, meadows, pastures, fisheries, wards, marriages, reliefs, escheats, and sheep-folds in this town, Ingaldesthorp, Sharnborn, Frenge, Secheford and Eton, late Thomas Chape's, to be held by them of the lords of the fee, dated at Snetesham on Wednesday after the feast of St. Peter, ad vincula, in the 22d of Richard II.
Soon after this Sir William Hode, and Margaret his wife, (probably the aforesaid lady,) conveyed it by fine to the aforesaid Alan for 100 marks of silver, on the morrow after St. Martin, Ao. 2 of Henry IV.
Here was also the manor of Dame Cecily, daughter of Richard de Snetesham, who gave lands, with many of her family to the priory, and is now held by the Stylemans.