Pages 425-432
An Essay Towards A Topographical History of the County of Norfolk: Volume 10. Originally published by W Miller, London, 1809.
This free content was digitised by double rekeying. All rights reserved.
HAYLESDON
Takes its name from its site on a hill, by a water, or river thus, Halesworth, Alesham, &c.
On the deprivation of Stigand Archbishop of Canterbury, (who held it as a lay fee) the Conqueror granted it to Godwin Halden: (fn. 1) Stigand in King Edward's reign, had 2 carucates of land, 12 villains, 11 borderers, with a carucate in demean; one carucate held by the tenants, paunage for 60 swine, 12 acres of meadow, 2 mills, a fishery, one cow, &c. 10 sheep, &c. 60 goats, and 6 socmen had an acre of land, with a carucate and a half, and 4 acres of meadow, valued at 4l. 12s. 8d. and there was a church but not endowed with any land; it was one leuca and an half, and 20 perches long, and one leuca broad, and 3 furlongs, and paid 8d. ¾ gelt.
This Godwin Halden seems to be of Danish extraction, and one thing is remarkable of him, that he held under Earl Guert, brother of King Harold, the lordship of Nettington in Smethdon hundred, in King Edward's time, and at the Conquest, when he was also rewarded with this lordship, those of Oxnead and Bernham in South Erpingham and Fourhow hundreds; a proof that he was a rebel against King Harold, and assisted the Conqueror.
Soon after the Conquest it was divided into two lordships, one held by the family of De Bernham, the other by that of Hauteyn, of the honour of Clare, coming to those Earls, from the Giffards, Earl of Bucks.
Bernham's Manor.
William de Bernham was lord of this town, Oxnead, Bernham, &c. in the reign of Richard I. and Walter de Bernham held the same in the 20th of Henry III. of the honour of Clare, and William de Bernham had a charter for free-warren in 1264.
Walter de Bernham presented to this church in 1309, and in the 8th of Edward II. Thomas de Docking and Maud his wife, settled this lordship on Walter de Bernham and Maud his wife, and in the 16th of that King, it was settled on the said Walter and Maud for life; remainder to Hugh, son of Walter and Isabel his wife, daughter of Gyles de Wachesham and their heirs, and Hugh was lord in the 6th of Edward III.
Robert de Bernham, in the 8th of Edward III. lord of this manor, confirmed to the prior and convent of Norwich, a right of common in the fields and heaths of this town, for 300 sheep, and great cattle, levant and couchant, viz. of the east part thereof, called Nabbes. (fn. 2)
In the 36th of Edward III. Sir Gyles de Bernham and Robert his brother, released to Walter de Berney, citizen of Norwich, this manor and advowson, with the rents, services, &c. and in the said year, John de Bernham, brother and heir of Sir Gyles, released it to the aforesaid Walter, and to Richard de Haylesdon and John his son, citizens of London, all his right: this Sir Gyles, was, as I take it, eldest son of Walter de Bernham, by Isabel his wife, and at this time Alexander Strange had an interest herein, in right of the said Isabel, then his wife.
Andrew Bomond, clerk, nephew of Hugh de Bernham, released also to Walter de Berney, Richard de Haylesdon, &c. all his right in the 51st of the said King, and Walter de Berney presented to this church in 1365, &c. and in 1388, Sir John Seton presented in right of Joan his wife.
John de Haylesdon, citizen of Norwich, made his will April 14, 1384, and desires to be buried in this church by his father and mother; gives to Robert his brother 40l. Margaret his sister 20l. and proved in the same month.
John Churchman was his executor, and to this John, John de Haylesdon, and Joan his wife, in the 7th of Richard II. had conveyed this manor in trust.
John Gournay and Alice his wife were in possession of it in the 19th of that King, when they passed it with the manor of Drayton, and the advowson of the two chantries in this town, which Sir John Seton and Joan his wife held for life, (probably late widow of John de Halesdon) to John Winter, &c. and in the 4th of the said King Richard II. John Hokere and Margaret his wife, conveyed this lordship, to John Churchman, and Bartholomew Marsh, citizens of London, feoffees of John de Haylesdon.
Richard Selling and Alice conveyed it in the 11th of Henry VI. to Sir John Fastolf, and John Paston, Esq. enjoyed it, and John de la Pole Duke of Suffolk; from which family it came to the Crown, on the execution of Edmund Earl of Suffolk.
King Henry VIII. granted it to Charles Brandon, Duke of Suffolk, and on his death, escheating to the Crown, it was given April 11, in the 4th of Edward VI. to the Bishop of Norwich and his successours, as in Drayton; and the Bishop is lord at this time.
Hauteyn's Manor.
Theobald de Hauteyn had a lordship here in the reign of Henry II. by the marriage of Agnes, daughter of Albert de Gresley, who was also lord of Oxnead.
On the death of Theobald, she married - - - - - - de Amaundevile, and in 1183, she was found to be 40 years of age, (fn. 3) and to hold this manor in dower, having three sons by Theobald; John the eldest was then in the King's custody, a minor, aged 14, and died s.p. leaving Robert and Thomas his brothers: Margery, his widow, in 1214, surrendered her right here for an equivalent at Skeldingthorp in Lincolnshire, to Robert.
Walter de Hauteyn of Haylesdon was also living in the 8th of Henry II. (fn. 4) and had an interest here, holding two fees of the honour of Clare, and John was (as is said) his son and heir, who married Margery, daughter of Julian Hunsfen, son of Elias, who brought to John the lordships of Skeldingthorp, Credington, and Fresham in Lincolnshire, to John, by whom she was father of Robert, who was living in 1214, and being a knight in the 24th of Henry III. granted by fine to William Lincoln, lands and a meadow, called Flatholm, with common of pasture for 8 sheep, 6 beasts, in the woods, except in the park of the said Robert; in the 28th of that King, he settled this lordship on Hamond his son, and Margaret his wife, daughter of William Briton, and died before the 31st of the said reign.
Alice being then his widow, he had a daughter Eva, to whom he gave 100l. per ann. in lands here, pasture at Kaynard, (fn. 5) a foldcourse for 300 sheep, and several rents, (which was probably the rise of Fairchild's manor in this town) on her marriage to Ralph de Tyville.
Hamo succeeded his father, was custos of the county of Norfolk, and accounted for the profits thereof, in the 44th of Henry III. and in his 53d year had the King's writ, dated December 3, that whereas he had forfeited his lands, which were given to Patrick de Chaworth, for siding with the barons, he was empowered to summon Patrick before the sheriff, to show cause why they should not be restored him.
Sir Bartholomew de Hauteyn had also an interest here, about the same time, and the King had granted his lands on the same account to Ernisius de Stutevile.
Sir Hamo de Hauteyn and Robert de Ludham were appointed justices to look after the Jews' affairs, and there was a mandate to the barons of the Exchequer, to deliver to them the keys of the chest of the Jews, with the rolls, &c. belonging to that office.
In the 3d of that King, he claimed the assise, free-warren, a gallows, &c. in the 11th of the said King, he was summoned to meet the King in parliament at Salop, and in the 13th was suspended from his office, as judge of the Jews, for certain misdemeanors.
William, son and heir, succeeded his father Hamod, and was lord in 1301, and married Agnes, daughter of William de Brampton, and in 1312, it was settled by fine on him, and his 2d wife, Alice, daughter of William de Walcote, and dying in the year 1326, Sir John Hauteyn was his son and heir, by Agnes his wife; but it does not appear that he inherited this lordship, his father is said to have incurred the displeasure of King Edward I. and to have paid a fine of 569l. 6s. 8d. for certain transgressions, in not attending him in some expedition as is said; and in the 19th of Edward II. not long before his death, had conveyed by fine this lordship to Walter de Bernham and Maud his wife, widow of his father Hamo, and so was united soon after to the manor of Bernham.
This Sir John, was probably the same person, who was receiver of the King's customs of wool, and citizen of London, in the 16th of the said King; Sir John sealed with argent, a bend sable, and some of the Hauteyns sealed with bendy of eight, argent and sable.
From the Bernhams it came to Walter de Berney, Richard de Haylesdon, so to Gourney, Fastolf, &c. and so to the see of Norwich, as abovementioned.
Here was also a lordship called Fairchild's, which arose (as I take it) from the grant of Sir Robert de Hauteyn of 100s. per ann. in lands; also pastures, a foldcourse, with several rents to Eve, his daughter, on her marriage, to Ralph de Tyville, about the 28th of Henry III and was enjoyed by John de Tyville, his son.
In the reign of Henry VI. Sir John Fastolf was lord of it, and Sir John Paston died possessed of it, in the 6th of Edward IV. as Sir John Wiltshire did in the reign of Henry VI. before it came to Fastolf; by his will dated at Haylesdon, (fn. 6) November 17, 1424, and proved May 25, 1428, he gives to his tenants here 40s. requires to be buried in the priory of Lewes in Sussex, by his late wife, Blanch; names John his son, and Alice his wife executors.
In the 20th of Henry VIII. Sir John Cressener and Elena his wife convey it to Nicholas Sotherton and Agnes his wife, and John Sotherton, with 80 acres of land, 20 of pasture, 10 of meadow, and a messuage called Fairchild's, and Samuel Sotherton, Gent. was found to die possessed of it, April 18, in the 5th of Charles I. held of the Bishop, in soccage, of his manor of Haylesdon, and of 22 acres of land, late the prioress of Carrows, held of the King in capite, by the hundredth part of a fee, and Ann was his daughter and heir, (by Mary his wife,) aged 30, and then the wife of Roger Dunster of London, merchant.
The Sothertons are an ancient family: Nicholas Sotherton, Esq. was sheriff of Norwich in 1530, and mayor in 1539.
Leonard Sotherton, was a citizen of Norwich, of eminent loyalty in Ket's rebellion, in the reign of Edward VI.
John Sotherton, Esq. sheriff of Norwich in 1565, had by Mary his wife, daughter of Augustine Steward, mayor of the aforesaid city, in 1534, four sons; John, Nowell, (fn. 7) who was baron of the Exchequer, Nicholas and Thomas.
Thomas Sotherion, probably brother of John Sotherton, Esq. married Elizabeth, another of the daughters of Augustine Steward, and was mayor in 1565, and burgess in parliament in the 39th of Elizabeth, whose descendants are as follows. (fn. 8)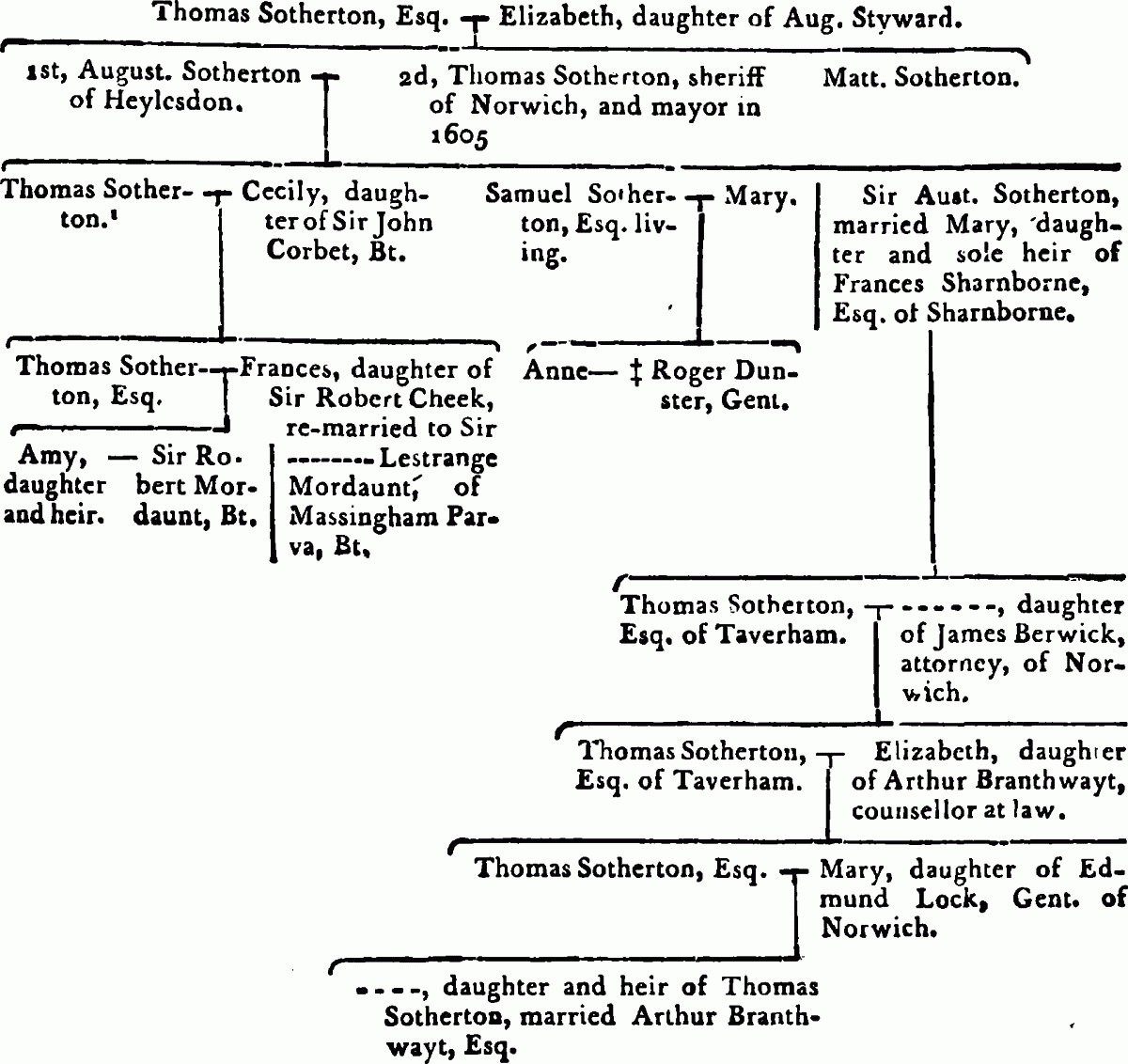 Sotherton bears, argent, a fess, and in chief, two crescents, or, gules.
Roger Dunster had, by Anne his wife, a daughter and heir, Anne, who by marriage brought it to John Berrington, Esq. who was lord in 1664, son of Humphrey Berrington, of London, merchant, by Anne his wife, daughter of Edward Meredith of Stanley, in Denbighshire, son of Simon Berrington of Winsley in Herefordshire.
After this it came to Heyward, and to Sir William Goslin, a laceman of Pater-Noster-Row, London, whose lady held it in jointure in 1690.
Robert Hauteyn granted to Reginald, abbot of St. Bennet's at Holm, the mill called New Mill in Haylesdon Liberty, with common of pasture, and the bank to the mill pool, with the island, and liberty to clean the pool, in the 12th of Henry III. and Sir Robert Hauteyn gave 24 acres of land to Langley abbey.
John, son of Ralph de Tyvile, granted to William de Kirkeby, prior, &c. of Norwich, an annual rent, which he used to receive of him, and which they lately held of his grandfather Sir Robert Hauteyn.
The tenths were 1l. 10s.; temporalities of Norwich priory 18s. 6d.; of Langley abbey 27s.; of St. Faith's priory 40s.; and of Carrow priory 8s. per ann.
The Church is a rectory, dedicated to St. Mary; the ancient valor was 24 marks, the Peter-pence 10d.; carvage 6d.; the present valor is 12l. and pays tenths.
In the 8th of Richard I. the prior and convent of Castleacre conveyed by fine to John Hauteyn, the advowson of this church, with the tithes of the mills, and the land, called Butlinghall; and Hauteyn conveyed to the prior, &c. the church of Haringeby, which Robert Hauteyn, brother of John, held for life of the said prior, at the rent of 20s. per ann. Eborard Bishop of Norwich had confirmed to the said priory this church of Haylesdon. (fn. 9)
The church is a small pile, consisting of a body, or nave, and a chancel, and a north isle that runs the length of the body, all covered with lead; and has an octangular tower, and one bell, with a cap, or cupola of wood, covered with lead.
In the chancel before the image of St. Mary, patroness of the church, was a lamp burning night and day, at the charge of the abbot and convent of Langley.
On a gravestone, here,
Hic jacet Mag. Petrus Neylond quo'da', rector. isti. eccl'ie.
Another
For John Awcocke, of Buckenham Ferry, Gent. who died November 14, 1646.
One
For Eliz. Awcock, wife of John, who died Nov. 14, 1652.
In the nave, Here lyeth Alice Helisden, on whose soul Jesu have mercy.
In the north isle, at the east end, a gravestone, with the portraiture of a priest in his robes.
Hic jacet Ricard Thaseburgh, quo' da' rect. isti, eccl'ie qui obt. 13 Februarii, Ao. M. CCCLXXXIX.
A marble gravestone
For Mrs. Thomasine Awcock, who died May 25, 1626.
Another
In memory of Ann Berington, wife of John Berington of Helledon Hall, who died Nov. 28, 1651, aged 29.
On one
Depositum Annœ Bell, filie Thoma Sotherton, Armig. et Ceciliœ uxoris ejus, nupta fuit Gulo. Bell, Clerico, obt. August 20, 1665, œtat. 29.
On another
Ric. Meredith, S. T. P. ob.o. Dec. 1655, futuru es, sicut sum, siste lector, disce mori, suprema quœre.
The east end of this north isle was the chantry of John de Haylesdon and Joan his wife, who both lie buried here under a marble gravestone, with a brass plate.
Hic jacet Joh'es de Haylesdon, et Johanna consors ej; quondam patroni huj; eccl'ie, et fundatores huj; cantarie et dictus Dn. Joh. ob. xix die mensis Aprilis, Ao. D'nj. m. ccclxxxiiii, quor'. a'iab; p. pit. Deus, Amen.
Near to this lies the marble gravestone of his father and mother, with their busts, and their hands erect and joined as praying; she, with her beads, on a plate of brass,
Richard de Haylesdon et Beatrice, sa feme, gisont icy, Dieu d' l'almes eit mercy, Amen.
Qui p' leur almes p' era, X ans et XL jours de pardoun avera.
Over the porch of the south door of the church is an arch of stone, and a chamber over it, and in the churchyard stands an old cross.
Rectors.
In 1309, Peter, son of Walter de Bernham instituted rector, presented by Walter de Bernham.
1311, Robert de Bernham, by Walter, &c.
1314, Thomas de Bocking, by ditto.
1329, Miles de Disce, by Maud de Bernham.
Thomas Fastolf, occurs rector in 1331.
1335, Alan Attegap de Burgh, by Robert de Bernham, clerk.
1355, Oliver de Whytton, by William de Wychingham.
1365, Thomas Blees, by Walter de Berney, citizen of Norwich.
1379, Richard de Taseburgh, by Walter de Berney, and John Haylesdon, citizen of London.
1387, John Botiller, by Thomas Latymer, &c.
1388, John Salford, by Sir John Seton, Knt.
1389, Thomas Parge, by ditto.
1391, John Otere. Ditto.
Peter Neylond, occurs rector in 1422.
1447, John Cosyn, presented as one of the chaplains, by Sir John Falstolf, Knt.
1448, John Semycroft, A.M. presented by Sir John Falstolf.
1448, Thomas Hert, on Richard Carpenter's resignation, by Sir John Falstolf.
George Gardiner, DD. rector in 1579, dean of Norwich, collated by the Bishop.
Edmund Suckling, D.D. occurs rector in 1609, dean of Norwich in 1614, died in 1628.
—, John Taylor, rector.
John Whitefoot, A.M. died rector in 1731.
1732, Edward Capper, by the Bishop.
1754, William Jackson, on Capper's death, by ditto.
John Churchman who was sheriff of London in the 9th of Richard II. and executor to John de Haylesdon, had in the said year a patent for founding the chantry abovementioned, for 2 chaplains, to pray for the souls of John de Haylesdon, and Joan his wife, and Walter de Berney, they had lands and tenements here, and 20 marks per ann. rent out of tenements in the parish of All-Saints, de Grace church, London, &c. and in the 15th of the said King, Churchman aliened lands in Neketon, Cressingham and Ikeburgh to it.
In 1395, Churchman presented the two chaplains, John Fyn, and William More; each priest's portion was valued at 6l. 13s. 10d. which shews their endowments to be considerable.
In 1402, Thomas Hamond was presented a chantry priest, by John Yelverton, Esq.
Sir John Fastolf was patron Ao. 29 Henry VI.
At the Dissolution, William Norton, and Philip Curson were the two priests, and had each of them a pension of 6l. per ann. granted to them. I sometimes find it called the college of priests at Haylesdon.