Pages 464-467
An Essay Towards A Topographical History of the County of Norfolk: Volume 10. Originally published by W Miller, London, 1809.
This free content was digitised by double rekeying. All rights reserved.
STANINGHALL.
At the survey the Conqueror held this lordship, and William de Noiers was his steward, or bailiff, of which a freeman of Archbishop Stigand was deprived, one carucate of land, 4 villains, and 4 borderers, with 2 carucates, 2 mills, &c.; it belonged to Horsted manor, and was valued in Mileham, and Horsted, was one leuca long, and one broad, and paid 15d. gelt. (fn. 1)
Soon after this survey, this lordship was granted (probably by King William II. or King Henry I.) to the abbey of the Holy Trinity of Caen, for nuns, founded by Queen Maud, wife to the Conqueror. In the year 1249, it was in the said abbey.
In the 52d of King Henry III. Lucia, lady abbess, granted by fine, to Roger the prior of Beeston in Norfolk, the advowson of this church, though no mention is made of this abbess, or this lordship in Neustria Pia.
In the 3d of Edward III. the abbess was found to have free-warren, &c. here, and in 1428, their temporalities were valued at 57s. 11d. ob. per ann.
At what time the abbey was deprived of it, does not appear; probably it was at the time when the other alien priories, &c. lost their tenures in the reign of Henry VI.
In the year 1534, Thomas Storme of Staninghall, son of Thomas Storme, sometime of Norwich, wills to be buried in the church of Fretenham, (fn. 2) and gives to Alice his wife, this lordship, with the advowson of the church for life, and after her death to be sold, and in the 31st of Henry VIII. a fine was levied, wherein John Crosse and Alice his wife (the late wife as I take it of Storme) convey it to Robert Nycholson, with messuages and lands in this town, Horsted, Fretenham, &c. after this it was in the family of Waldgrave, and Charles Wald grave, Esq. was lord in the reign of King James the First, as a full account of this family may be found in the peerage of England, I shall begin with the grandfather of this gentleman, and make some few observations relating to it, that I have met with in ancient records.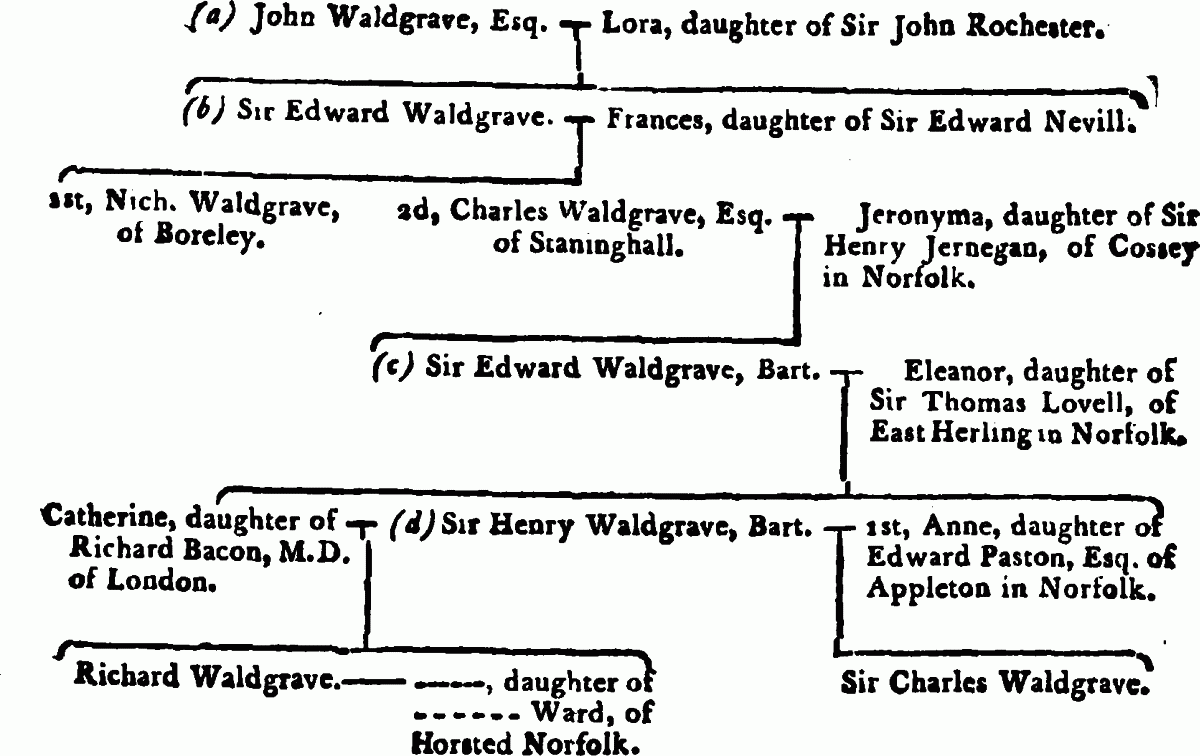 (a) John Waldgrave, Esq. son and heir of Edward Waldgrave, Esq. of the Friers in Sudbury, by Mabel his wife, daughter and heir of John Cheyney, Esq. of Pynto in Devonshire, which Edward was second son of Sir Thomas Waldgrave of Buers in Suffolk, (and there buried in 1500) by Elizabeth his wife, daughter and heir of Sir John Frey, lord chief baron of the Exchequer. John was buried in the church of Allhallows at Sudbury, dying October 6, 1543, and on his grave-stone, were the arms of Waldgrave, per pale, argent and gules, and those of Rochester, or, a fess between three crescents sable.
(b) Sir Edward Waldgrave, was of Borley in Essex, privy counsellor to Queen Mary, chancellor of the dutchy of Lancaster, and master of the great wardrobe; he died in the Tower of London, September - -, 1560; and was there buried.
(c) Sir Edward Waldgrave created Bart. August 1, 1641, of Hever castle in Kent.
(d) Sir Henry is said by some to have sold Staninghall, others say that Richard Waldgrave his son, by his second wife, sold it; from this Sir Henry is descended the Right Honourable Earl Waldgrave, now living.
This family is by historians asserted to have been originally of the county of Norfolk, and to have assumed their name from a town called Waldgrave, in the said county, but this is a great mistake, there being no town of that name therein.
It appears much more probable, that they descended from the Waldgraves of Waldgrave in Northamptonshire.
John de Waldgrave was lord of Waldgrave, and claimed free-warren there in the 3d of Edward III. was knight of that shire in parliament.
Thomas Bedingfeld, Esq. lord of Bedingfeld in Suffolk, ancestor to the Bedingfelds of Oxburgh in Norfolk, married Anne, daughter and heir of John Waldgrave, Esq. of Waldgrave aforesaid, and was there buried October 12, 1543, Anne his widow was buried in the following year at Bedingfeld.
A branch most likely of this family removed into Suffolk.
Sir Richard Waldgrave and Joan his wife were buried in the church of Bures in Suffolk, he died May 2, 1400, she in 1406.
Sir Richard Waldgrave granted in the 7th of Henry IV. to Sir Thomas Rempston, and Sir Roger Leek, &c. the manor and advowson of Polsted, and the manor of Newland hall in Suffolk.
In the 8th of Henry V. Sir Richard Waldgrave granted to Sir William Bardwell, Sir John Hevenyngham, &c. his manors of Smalburgh, and Bures, Gayneshall in Wykham Brook, Newhall Ovesdon in Suffolk, and to Nicholas Blundel, the manor of Edwardston in Suffolk, and that of Withermundeford in Essex, and in the following year, Sir Richard Waldgrave, jun. released to Sir Richard Waldgrave, sen. and Joan, the wife of Sir Richard, sen. all his right in Gaynshall for the life of Joan.
About this time Joan the daughter and heir of Sir Thomas Monchensy brought a great estate into this family by her marriage with Sir Richard Waldgrave, sen. as I take it.
Sir Richard Waldgrave died in 1434, on May 2, and Joan his wife daughter of Sir Thomas Monchensy on the feast of St. Dennis, October 9, 1450, and were buried in the church of Bures.
On April 20, in the 13th of Henry VI. Sir Richard, on the death of his father, performed homage, and in the 16th of that King; Sir Richard Waldgrave and Joan his wife, settled on their trustees, John Dorweard, William Darell, William Clopton, Robert Cavendish, John Harleston, John Venour, Esq. William Keterick, &c. the manors of Waldgrave, and Tweywell in Northamptonshire.
The Waldgraves, as I have above observed, sold this lordship; and Sir Charles Harbord, Knt. was lord in the reign of King Charles II.
John Harbord. Esq. presented in 1700, and Sir William Morden Harbord, Bart. is the present lord.
The Church is a rectory formerly valued at 4 marks, Peter-pence 6d. and carvage 3d. ob. the present valor is 33s. 6d. ob. and is discharged
Rectors.
In 1300, Peter le Courzun, instituted, presented by the prior and convent of Beeston in Norfolk.
1305, Thomas de Qwytewell. Ditto.
1312, John Martyn.
1314, Reginald de Baningham.
1332, James de Bodham.
1349, Nicholas de Ingham.
1387, William Munns,
William Blythe, rector.
1418, William Hawet, alias Spalding.
1420, John Scarlet.
1428, Step. Paly.
1428, Sim. Aleyn.
1435, Robert Petard.
1435, William Calverle.
1444, Phil. Catton, by the Bishop, a lapse.
1457, Thomas Thorp, by the Bishop, a lapse.
1472, Robert Everingham, by the prior, &c. of Beeston.
1522, Edward Raven, by the Bishop, a lapse.
1551, Thomas Mundye, by Sir Edmund Wyndham.
1560, Richard Dixon, A. M. the Bishop, a lapse.
1581, John Skynner, by the King.
1585, William Spelman, by Franc. Woodhouse, Gent.
1597, Richard Lynton, by John Warren. Gent.
1608, Franc. Hampson, by the King.
1618, Richard Wylton.
Thomas Brown occurs rector in 1627, &c.
1638, John Swanne, A.M. by Charles Waldgrave, Esq.
1700, Elias Macham, by John Harbord, Esq.
1710, Alexander Tompson, by the Bishop, a lapse.
1717, Joseph Allanson, by Harbord Harbord, Esq.
1730, William Berney, by Robert Britiff, Esq.
1763, Mr. Carthew, by Sir William Harbord, Bart.
The church was dilapidated in the reign of Queen Elizabeth; it was standing in 1505.
The tenths were 33s.6d. ob.