Pages 107-127
An Essay Towards A Topographical History of the County of Norfolk: Volume 2. Originally published by W Miller, London, 1805.
This free content was digitised by double rekeying. All rights reserved.
Priors
OF THE PRIORY OF THE VIRGIN MARY AND ST. ANDREW.
Malgod, a monk of Cluni, after of Lewes, was made the first prior in 1104; he resigned to
Stephen of Provence, a Burgundian, in 1107, who was first a monk of Cluni, thence sent to Lanzo, the first Abbot of Lewes, who made him sub-prior there, and afterwards prior here, with the approbation of Roger Bigot, the founder. He continued prior till 1118, (fn. 1) if not after, and was esteemed as one of the founders, being an active man, as the former account of him shews us.
Constantine, prior here.
Martin was prior in 1189, and 1197.
Richard was prior in 1226, and 1235.
Stephen was prior in 1240, and 1256. Robert de Sancto Edmundo was burser anno 1240.
William, the prior in 1261, 1270.
Vincent, in 1286, and 1297.
Thomas le Bygod, late monk of Walden, having obtained license of his abbot to leave that house, was confirmed prior here Dec. 31, 1304, in the monastery of Munge or Mountjoy, in Heveringlond, by the Bishop of Norwich, who was then at that house, being elected prior by the sub-prior and monks, according to ancient custom. He was the first that was ever confirmed by the Bishop of Norwich, for which reason we have so small an account of them, for they feared if they were often admitted by their diocesan, that he would in time extend his episcopal jurisdiction to their house.
Brother Peter de Bosco or Bois, was prior here in 1316, and in 1338, farmed his priory at a 100 marks per annum, of the King, it being an alien.
James, who was deposed, on account of his great age, in 1355. In his time Nicholas de Horton, a monk here, rebuilt South-Lophan chancel. (fn. 2)
Jeffery de Rocherio occurs prior on James's deposition; he was prior in 1369, and began the history of his monastery, but died before he perfected it.
John de Fordham, prior in 1372, Bishop of Durham in 1381, and of Ely in 1388.
John Ixworth succeeded Fordham, and died in 1430.
Nicholas, 1431. The priory was void in 1438, and was governed by William de Elveden, the sub-prior.
John Veyssey was prior in 1479.
Robert occurs in 1483, and 1497.
Roger de Berningham, or Roger Baldry of Berningham, prior in 1503, and 1511.
Sir William Irworth, the last prior, was confirmed in 1518: in 1533, he willingly constituted the Abbot of St. Albans his proxy, to sign the instrument for him, that King Henry VIII. might lawfully marry Queen Catherine; and in 1540, he himself as unwillingly signed the instrument of the surrender of his monastery.
The revenues of this house were very large, as the following catalogue of the greatest part of them will make appear.
Roger Bigot, the founder, and Adeliza, or Alice, his wife, gave them the church of St. Mary in Thetford, late the Bishop's see, with all the lands, &c. which Osbert held in the Confessor's time, and gave to that church all the land which Alwi held in Thetford, with the mills, &c. all which the said Roger had of the Conqueror's gift, and also St. Mary's or the abbey church, (fn. 3) which he had begun to build; and all the right that he had in the churches of his demeans, namely, Jochesford or Yorford, in Suffolk, Haella or Hale, Fornesetha or Forncet, Great and Little-Fremingaham or Framlingham-Earl, and Framlingham-Picot, in Norfolk, Keresala or Kelleshall, Saham or Earl-Soham, Stanaham, Stanham or Stonham-Earl, in Suffolk, and Hocham, and both the Bradeleias, with all the lands that belonged to them, (fn. 4) all which Bishop Herbert appropriated to the monastery, after their next vacancies, reserving canonical obedience from the clerks that should serve there; the said Roger also gave them the manor of Snarishill, (fn. 5) with the advowsons, and Gunner of Ridlesworth with his land, and the land which he held of the Abbot of Ely in Rushworth; (fn. 6) —5000 eels paid yearly from Welles, with a fishery there called Roxere or Kawer:—20,000 herrings from the dominion of Cheressala or Keleshall, and 20l. rent in land, to be assigned when he pleased;—the burial of himself, wife, their heirs, and all his barons, in the church of St. Mary, and two parts of the tithes of all his demeans in his own hands; all which were confirmed by the said Herbert, (fn. 7) who gave (fn. 8) all the land in Thetford, which was Bishop Arfast's and his son Richard's, both within the burgh and without, and all Fakerthona or Favertonfield, with soc and sac, thol and theem, and infungenethef, with all the tithes, both of ploughed land and pasture, with the seat of the late bishoprick, a mill, meadow, and hospitals thereto belonging; and also Sileham manor and church in Suffolk, with all that belonged to them, as mills, fisheries, &c. to be held as freely of him, as Herbert his chaplain then held them; all which the said Bishop confirmed to the house, in exchange for the church of St. Michael in Norwich, and all its lands, except those in Flixton, and the manor of Gunton, &c. All this was confirmed by Henry I. and Maud his Queen, whose marks are affixed to the charter.
William Bygod, his son and heir, Steward of the Household to King Henry I. confirmed his father Roger's gifts, and added of his own the following revenues, viz. the churches (fn. 9) of South-Lopham (fn. 10) in Norfolk, Offintona or Oston, in Suffolk, Ovitona or Ovington, Hagenewrda or Hanworth, Suthsteda or Susted, Methona or Metton, and Suthfelda or Suffield, in Norfolk, and all his other churches, with their lands, tithes, and appurtenances: all which they were to have seizin of as soon as possible; and in the mean time, he invested them in two parts of the tithes of Bradley, Offton, Nutheley, Saham, Keleshall, Framingham, Hale, and Hanworth, and 20l. rent, for which he would assign them lands as soon as he could; in consideration of which, the monks were to release to him the manor of Chipenham, which his father had mortgaged to them for 100l.; he gave them also the fourth part of Chikering in Suffolk, Egga's land in Denneham, Asceline's land in Devisham or Darsham in Suffolk, and the advowson of that town, 20s. rent in Minsemere, 10s. rent in Langwade, Edric of Thorp, with all his lands, men, and services, in Thorp and Dunwich; (fn. 11) all Archeline's land, men, and services in Thaseburc or Taseburg, in Norfolk, with Thaseburc church, and all belonging to it, and the land that Ulf the priest held, and Ulmer of Thaseburc, with all his lands there, and two men in Straton or Long-Stratton, in Norfolk; and besides this, he confirmed all the gifts made to the priory, by any of his men, and in particular, two parts of the tithes of his father's men and his own, which were given to it, among which,
William Bigot gave two parts of his demeans in Finchinke or Finchingfield, in Suffolk, and the advowson of that church. Robert Camerarius (or Chambers) gave two parts of his tithes of Sinthinges. Ralf, son of Norman, gave two parts of his tithes of Peshale or Pesenhale, in Suffolk; and Girald de Seuci, two parts of his, in Elingham, in Norfolk. Ethard de Vallibus or Vaux, two parts of his in Kesewic, in Norfolk. Robert de Bosco, two parts of his in Streston or Starston, in Norfolk. Robert de Vallibus or Vaux gave all the churches and tithes of his demeans, viz. Pantheneia or Pentney, Testona or Tharston, in Norfolk, Tintona, Tunston, or Tunstall, Chedestan or Cheston, Wenham, Rhamdona or Ramsholt, Belcham or Bulkham, &c. in Suffolk; with his body to be buried at Thetford. Hugh de Hosdene and Maud his wife gave them Offeton or Oston church, with all the tithes belonging to it, and 30 acres of their demeans, and all their tithes in Weston, with the tithe of their mill there, and 20s. rent in in Daneseia or Denston, and their tithes in Tothenham or Tuddenham, in Carleford hundred. William de Burnovilla or Burnvill, and Alice his wife, gave them their tithes in Ringeshall or Ringshall, and Belham or Bailham, and their tithes at Colneia or Colnese, their tithe of Nethlesteda or Netlested, and lands in Somersham in Suffolk, with part of the church. Ralf Fitz-Walter, and Maud his wife, gave them St. Gile's church at Wadetona or Watton, with its lands, tithes, and all other appurtenances, and in particular the farm, lands, and house which Ernald the priest held of him, and 60 acres of his demeans, with the wood called Eilewardeshage. Herbert de Cravencun gave land worth 8s. per annum in Lethona or Letton, and two parts of his tithes of Gersthona or Griston, in Norfolk. Roger Bulzun gave two parts of his tithes in Ovitona or Ovington, Ivo Verdunensis or Verdun gave two parts of his tithes in Mulethona or Moulton. Ralf Fitz-Hugh gave his land at Creio or Creik, in Norfolk. Edward (Fitz-Hugh) gave two parts of his tithes in Nelles in Suffolk, and Besthorp in Norfolk. William de Curcun, two parts of his tithes in Wodethona, or Wotton, in Norfolk, and Hoxcroft, and his land in Newthona or Newton, which was formerly Aceline's, and his tithes in Terstona or Tharston, in Norfolk. Ranulf gave his tithes in Wica or Wicken, and Bantia or Banham. (fn. 12) Richard de Cadomo or Caam gave them land in Brockedis or Brodish, and shackage in his woods to fat 20 swine, and two parts of his tithes in Northona or Blo-Norton, (fn. 13) and all the right he had in the church of Sileham in Suffolk. Hubert de Montecaniso or Montchensy gave two parts of his tithes in Belcham or Bulkham. Berengarius de Sap, two parts of his in Brainthona or Brantham in Suffolk. Rogerus de Eufreus, two parts of his in Tenthona or Tunston, in Suffolk. Ralf Passelewe, two measures of wheat yearly, and six at his death. Walter de Smalaberga or Smalburgh, was a benefactor. Rainald the steward gave three measures of wheat, and 1000 herrings. Roger de Cailli, 5s. rent, and half his goods at his death. Fulk Savinensis or Savigni gave 10s. Robert de Bram, two measures of wheat. Bernard de Berneham, 3000 herrings. Baldewin Fitz-Wido, three measures of wheat, and three measures of barley. Will. Aplegart, one measure of wheat. Will. de Bosco or Bois, two measures of wheat. Bristrieuse de Longelond, 1000 herrings. Brismere de Torneia, three measures of wheat. Robert de Rokelund, one measure of wheat. Ralf FitzHerlewin gave them divers lands, with a measure of barley, and another of pease.
All which gifts the said William confirmed to the monastery, in the presence of William Maleth, Will. Bigot, Humfry Bigot, Robert de Vallibus, Ralf-Fitz-Walter, Ethard de Wallibus, Richard de Caam, Robert de Bois, Ivo de Verdun, and many other of his men: and soon after, King Henry I. confirmed it.
This William perished in the lamentable shipwreck, with the King's children, as they came from Normandy to England, in the year 1119, leaving
Hugh Bigod, his brother and heir, to succeed him in his estate and office; he was created Earl of the East-Angles, or Norfolk, by King Stephen, and because he confirmed all the gifts and donations of his predecessors, is called by some, the Founder, though he was only patron and benefactor; he was advanced again to the title of Earl of Norfolk by Henry II. and had a grant of the office of steward, to enjoy it in as ample a manner as Roger Bigod his father did in Henry the First's time.
In 1135, Reginald de Peytona, Sewer to Hugh Bigod Earl of Norfolk, and lord of Peyton-hall manor in Boxford, and Ramsholt in Seffolk, which he held of the Earl, was a great benefactor to the abbey. Robert de Valoines gave half a knight's fee. (fn. 14) Robert de Reinis gave them the church of Little-Briseth or Briset, in Suffolk, and 12 acres of his demeans lying between that and Offeton church. Theobald de Scalarijs or Scales confirmed the grant of Robert de Scales his father, of the church of Dullingham in Cambridgeshire, with all its appurtenances, and also Edwy, with his land, and 24 acres of land and a free-fold, which were part of the demeans that the prior and convent bought of his father. Rog. de Monte Begonis, for his own and his parents' souls, offered upon the altar the isle (fn. 15) by CroxtonMere in Lancashire, with the woods, lands, and fisheries belonging to it, and the churches of Sustorp, (fn. 16) and Northorp, and all the churches and chapels of his fee, and the lands called Tarleton and LittleHolme, in Croxton aforesaid, in Lancashire, with the men, and all that belong to them, the wood called Caiuueda, and all the lamb and goat-skins of his manors, with liberty for them to fish in all his fisheries, which liberty, William Prior of this house afterwards released to the Abbot of Cokersand, together with all their right in the Holmes near Tarleton, alias Morton-Mere.
King Henry II. when he was at Thetford, was entertained in this monastery, and at the request of Hugh Bigot, confirmed all the aforesaid gifts, and these following ones: viz. the land which Ralph de Bellofago or Beaufo gave them;—the land in Breteham or Bretenham, which Avice, daughter of Hugh de Burnevill, held;—20s. rent out of Sotesford or Shotford mill, in Suffolk;—10s. rent in Languada or Lanwade, in Cambridgeshire, and the church and tithes at Brom in Suffolk;—the church of Cavedona;—four men in Newton, with their lands, the tithes in Panewrda or Panworth, in Norfolk, (now in Ashill,) with one man, and four sticks of eels, in the same town, of the gift of Hurlewine de Panewurda;—the land and men in Hulme or Holme-Hale, which Erahald de Waketon, by leave of his lady, Gunnora, sold them, together with his own tithes;—the tithes in Florendona or Flordon, in Norfolk, in Moletona or Moulton, and Teston, which were given them by Robert de Bois;—the tithes in Glemham and Stratford, of the gift of Ralf Fitz-Walter and Maud his wife, the tithes of Grestona or Griston, and 8s. a year in land;— the tithes of William Fitz-Offord, of Warner de Totintona or Totington, of Lambert de Scireforda or Sherford, of Ralf de Freduna, of Alwric Karlesune, and one socman, in Bocheneia or Bodney, in Norfolk, with his land, and three men in Elingham, with their lands, of the gift of Herbert de Craneton;—the tithe of Perncho;—the church of St. Peter at Reiduna or Roydon, (fn. 17) with all that belong to it, in which church there are placed monks of Theodford;—the chapel of St. Margaret at Ressemere or Rushmere, in Suffolk;—the church of St. Andrew in Serepham or Shropham, in Norfolk; (fn. 18) —the church of Estun or Easton, and Bruges Marsh;—the church of St. Peter, at Horkeleia or Horkesley, in Essex, of the gift of German, in which there are monks of Thetford; (fn. 19) —the churches of Wiseton or Wiston, Bocstede, and Offeton or Oston, in Suffolk, and 30 acres of land there, of the gift of Robert, son of Godebold;—20s. rent in Danesey, and the tithes of the lands and mill, of Hugh de Hosdene's own gift;— the tithes of Totenham or Tudenham;—the church and tithes of Ringeshel or Ringshall;—the tithes of Colnese, Beleham, and Somersham, with part of the church, of the gift of Maud de Hosdene;—the chapel of Remesthorp, (fn. 20) (fn. 21) with all its lands and tithes;—30 acres in Flordon, and the tithes of Alelm of Tharston, of Gilbert's gift;—the tithes of Ralf de Wica in Wiken and Banham;—the tithes of Albred or Aubry de Banham;—the tithes of Hubert de Montchensy in Saham; —one man in Muthfield, who pays 10s. rent, and Blatsone de Strubelim, and his land, of the gift of the said Hubert;—the tithes of Lambert de Stanham;—the tithes in Newton;—the tithes of Ralf de Dullingham, and of Ralf son of Malfred, of Jeffry de Ditton, and of Sirulf de Wilburgham, and of his lands in Caveleia or Cheveley, and in Saxton or Saxum, and the half of his tithes in Siluresleia or Silverly;—the tithes of Jeffry de Quoio or Quy, and 10s. rent in Freeton, Forton, or Foxton;—the land which Richard Fitz-Osbert, and Alice his wife, and Hugh their son, gave in Dilton, and the tithes of Robert de Berton;—the tithes in Firevilla or Fersfield, of the gift of William de Bois; (fn. 22) —the tithes in Twitras, and the land in Roburna, which William the chaplain held;—the tithes of Gilbert Fitz-Bernard of Waurelona, and 3000 eels paid by Henry de Rye, in Tinswera;—the mill at Deopham, and one man and his land;—500 eels paid by Hucha from Scaleslade or Salterslode;—500 eels paid by Estmund, from Bachel;—500 eels paid by Gotland, from the Lode;—2000 by Burhard de Monte-Morelet;—1000 from Boscel de Ely;—5000 by Roger Bygod, from Welle;—four sticks of eels of Herlewyne, from Denham;—three sticks of eels by Gotland Long;—the land at Rixwrda, of the gift of Muriel de Montchensy, with the consent of her brother Roger;—land in Brom in Suffolk, and the church of Little-Framingeham in Norfolk, of the gift of Gunnora, mother of Henry de Essex;—the wood, and all that belonged to it, in LittleRasing in Lincolnshire, of the gift of William Earl Warren;—the church of Little-Bricet in Suffolk, with all its appurtenances, and 12 acres of demeans, of the gift of William, son of Edmund;—10s. rent in Turston, of the gift of Robert de Vaux;—Dodescroft-Mill, the Little-Mill, the mill which was the Bishop's, the land, meadow, and mill by the castle, and 5s. 4d. rent out of Brendmilne in Thetford. Besides this, the King granted and confirmed that their lands in Thetford should be scot free, and that they should have and enjoy the liberties of sac, soc, tol, them, and infangenethef, and that they should be free from all service to county or hundred courts, courts of manors, or any other pleas whatever, and also from all toll, scot, geld, or Danegeld, husgull, or warpene, and all other royal customs, in the same manner as they were freed by the grant of King Henry his grandfather.
Earl Hugh died in 1177, so that all these donations must be before that time.
In 1175, Thomas of Lincoln, clerk to the French King, gave 60 acres of land, and 3 acres of turf land, in Hales in Norfolk, for his own and parents' souls, on condition he and his mother should enjoy it for life, paying 3d. a year on his father's anniversary, viz. 7 kal. Febr.; and after their deaths, the monks were to hold it in demean, but never sell it, on pain of God's curse: (fn. 23) this donation was made at Matheshale, before Archdeacon Staingrun, and the chapter of his clergy then held there, (fn. 24) and in confirmation of it; he sealed it with his mother's ring, which she had given him for that purpose.
William de Walsham, by deed without date, gave them his tenement in Dunham in Norfolk, in pure alms, to be held by knight's service only.
Roger Bigod succeeded his father Hugh, and was constituted Steward of the Household, and Earl of Norfolk, by King Richard I. in the first year of his reign; he confirmed all the gifts made to the monastery by any of his predecessors, and sealed with this seal his whole life, never bearing a lion rampant for his arms, as some imagine; he died, according to Mr. Weaver, in 1218, but as Mr. Dugdale hath it, in 1220.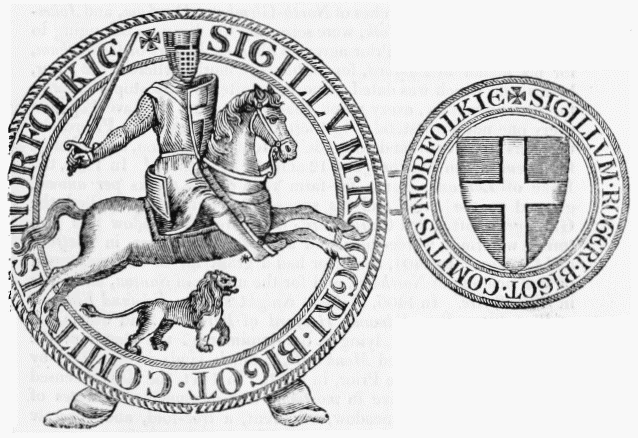 Hugh Bigod, his son and heir, succeeded, who married Maud, the eldest daughter of William Marshall Earl of Pembrook, and Marshal of England; she outlived him, and gave the marshalship to
Roger Bigod, her eldest son, then Earl of Norfolk, who thereupon quitted the ancient coat of his family, viz. or, a cross gul. and afterwards always bore Marshall's arms. After the death of
Roger Bigot, nephew to the aforesaid Roger, and last Earl of Norfolk of that family, this priory assumed, and always bore them, as the arms of their house, to its dissolution.
In 1236, the Abbot of Cluni complained to the King against Earl Roger, because he would not permit him to visit the monastery, which was a daughter of his church of Cluni, and where he claimed to put in the prior; but after a suit, the visitation was adjudged to the Abbot, and the patronage to the Earl.
In 1240, the Prior was lord and patron of Offeton or Oston, in Suffolk, and had lands in Somersham and Almesete, which were farmed by Roger, Prior of their cell at Horkesley, to whom they gave their church of Wissington in Suffolk.
In 1249, the Prior would not suffer the King's bailiffs to serve any processes in his lands, nor to make any distresses. (fn. 25) In 1261, the Prior had in fee-farm, of the Prior and Convent of Bermondeseye in Surrey, their tithes in Ditton in Cambridgeshire, which Robert, son of Humphry, gave to that monastery in 1177, at 10 marks per annum. In 1271, John de Scales confirmed the land and advowson of Dullingham. In 1274, it was returned, that the Prior was to find 10 men with bows and arrows, for 40 days, at his expense, whenever the King went against the Welsh in person, for the field called Favertonfield, and for his warren in Westwick in Thetford. In 1324, the Prior's manors and churches of North-Glemham, Dersham, and Jokesford or Yoxford, in Suffolk, were seized by the King, as belonging to an alien. In 1358, the Prior agreed with John Bryggs of Quidenham, for his manor of Lynford, for eight score marks, whereof the Prior, by his will, which was dated some years after, was to stop 40 marks, for his anniversary, every monk that was a priest to have 12d. and every one not a priest, 6d. In 1359, the Prior gave the Prioress of the nuns 10 acres of land, and 46s. 8d. rent in Rougham, in exchange for Brendmill in Thetford, and 12 acres of land there. (fn. 26) In 1395, the Duke of Lancaster, for a fee-farm rent of 42 marks per annum, granted to the Prior and his successours, a messuage called the Graunge, a toft called Castle-Yard, 940 acres of meadow and pasture, a watermill, 2 free-folds, and a warren for conies, in Thetford and Croxton. In 1401, the Prior had a grant for to be repossessed of the vicarage of Northales, and for the manor of Santon, and lands in West-Toftes. In 1406, William Knight sold to Edmund Eldehall of Wodeditton, Esq. Edmund Heyford of Bernham, and others, all his lands in Newmarket, lying in the dominion of the manor of the Prior of Thetford, called Monk's-Wyk, which lands were settled by the said Edmund on the Prior, in 1412. In 1411, the King licensed Hugh Stoppusley to give in mortmain one messuage, 200 acres of land, and 8 acres of meadow, 26s. rent, a free-fold, and separate fishery in Bretenham, Rushworth, Bridgeham, and Thetford, on condition the convent paid to the dutchy of Lancaster, of which they were held, 50s. every vacancy; and the same year, the King licensed Edmund Blankpayn of Euston to settle the lands, and a free foldcourse in Downham in Suffolk, which were John Howys's, lying in Favertonfield, (which is part in Downham, and part in Thetford,) and William Smith was licensed to settle divers messuages and four acres of land in Yoxford. In 1412, Henry Dod of Dunmow released a messuage in Bridge-Gate street to the Prior. And in 1417, John, son of William Cat of Thetford, released another there. In 1426, the Prior was patron of Gasthorp, and had lands there, which he let at 20s. per annum to Robert Berdewelle, Esq. In 1434, Roger Stoppusley gave all his lands in Croxton and Thetford. In 1440, King Henry VI. was seized of the yearly farm of 13s. 4d. paid by the Prior to the King, instead of the Abbot of Cluni, the Prior being now a denizen.
In 1452, the Convent, by the King's license, purchased the manor of Bodney, with the appurtenances, and 100 acres of land, of Rich. Waller, Esq. Rob. Boorle, Esq. John Bertram, Gent. and Will. Norwych, junior, and a messuage, 220 acres of land, and two fold-courses, in Thetford, Croxton, Bretenham, and Santon, of Sir Tho. Tudenham, Knt. John Heydon, and John Swan; and the same year a license was passed to hold Linford manor and advowson in mortmain. In 1467, Lynford church being void, and the town almost uninhabited, the Bishop appropriated all its profits to the Prior, who was to serve it by one of the monks, and pay a pension of 3s. 4d. per annum to the see.
In 1446, the medieties of the rectory of Brome in Suffolk were consolidated, and the Prior was to have an alternate presentation; upon which the following arms and inscriptions were put up in the east chancel window, where they now [1738] remain: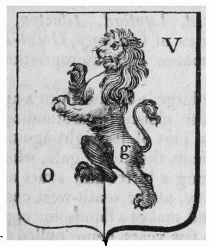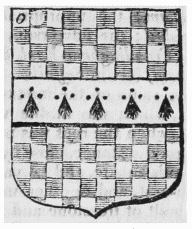 In 1486, Nic. Bourchier Archbishop of Canterbury gave three copes of white damask, embroidered all over with golden angels, and other things, to this priory. In 1499, Will. Fyshere, burgess, gave the monks 13s. 4d. "Praying them of charitye to admit him a brudir of their chapter-house."
In 1535, there was a private act passed to confirm an exchange of lands between the King, the Duke of Norfolk, and the Prior.
In King Henry the Eighth's time, the Prior received 2s. per annum from West-Herling. (fn. 27) and a pension from the rector of Shelfhanger, (fn. 28) and it appears that their tithes in Nettested, were confirmed by Alan the Black Earl of Richmond, many years since, and that Hubert Walter Archbishop of Canterbury first confirmed a pension of 40s. per annum granted by the Prior of Thetford out of the church of Finchingfield in Suffolk, to the abbot and monks of Reading, after the death of the then incumbent, Ralf de Diceto, who was afterwards Dean of St. Paul's. (fn. 29) The Prior was taxed for all his temporals in Suffolk at 62l. 19s. 2d. and for all his spirituals at 82l. 9s. 8d.; and it appears that they were patrons of Beling's-Parva and that the Brome portion was taxed at 16d. Yoxford church and impropriate tithes at two marks, and the vicarage, of which they were patrons, at 6 marks and an half. Darsham impropriation at 20s. and the vicarage, of which they were patrons, at 4l. 10s. 10d. &c. their church and impropriate tithes at Dullingham in Cambridgeshire were taxed at 20l. their vicarage at 5l.; (fn. 30) they had no temporals in Ely diocese, but all their spirituals were taxed at 30 marks. Wood-Ditton church was appropriated to them, and they were patrons of the vicarage. They were taxed for their portion of tithes in Wacton in Norfolk, at half a mark, for their temporals in Lynn, 6s. 8d and those in Tilney 9s.; they had small parcels of land in Garboldesham, and many other towns not mentioned here.
In 1540, when the house was dissolved, and conveyed to the Duke, it appears that the rents reserved amounted to 59l. 15s. 1d. per annum, including the rent of the cell of Wangford in Suffolk, 59l. 5s. 1d. of which was paid to the Crown in King Charles the Second's time.
The manors, impropriations, and advowsons in Norfolk, conveyed to the Duke with the monastery, were, Halwick in Thetford, Norwick, Santon, Lynford, Bodney, Monkswick in Walton, Monkshall in Kilverston, Bretenham, Aslacton, Snareshill, Totington, and Gatesthorp: the rectories impropriate, with the advowsons of the vicarages of the churches of St. Mary and St Nicholas in Thetford, Watton and Hockham; the impropriations of Susted, Lynford, Aslacton, and Snarishill; the advowson, of the rectories of Gasthorp, Great-Porland, Framlingham-Earl, &c. with the manor and impropriation of Syleham, &c. in Suffolk.
The ruins of the monastery are very large, and the Prior's apartment, which was at the west end of the cloister, was standing till 1737, when the roof was pulled off good part of it; right against it, at a good distance, close by the road, stands the abbey gate, which is 12 yards square, and 14 yards high, having a turret and stairs at the south-east, and another made for a privy, at the south-west corner; it is built of freestone and black flint, and makes a handsome appearance. The ruins are much lessened in a few years, being pulled down for the stones sake; it was a large church, the tower according to the conventual form, being between the nave and choir, and the cloister on the south side: there are no arms remaining, save a shield of a lion rampant, which is on a supporter of the arched roof of the choir, on the north side, over the altar, by which I conclude that roof was made by John Lord Mowbray, in the time of Henry VI. Some years since, Mr. Martin opened a trench across the choir, about three yards from the altar, and found a large stone coffin with a skeleton in it; no doubt but it was a Bigod.
On the north side of the choir are the ruins of a noble chapel, not much inferiour to the choir itself, the foundation of which John Brame, a monk of this place, gives us an account of, with the fabulous miracles concerning it. (fn. 31)
While the bishoprick was at Thetford, and the see placed in the parish church of St. Mary, the image of the Holy Virgin was set at the high altar of that church, and when the monks left it, was carried and fixed at the high altar in their new monastery church; but afterwards a finer image being made, it was taken down, and set in an obscure place: at that time, there was a poor workman in the town, who incessantly called upon the Blessed Virgin, for relief from an incurable disease that he laboured under: to him the Virgin appears in the night, telling him, that if he would be cured, he must hasten to the Prior of her monastery, and in her name command him to build her a chapel on the north side of the choir, which he had newly repaired. But upon neglecting the message, she appeared to him thrice, upon which he acquainted the Prior with it, who being much astonished, resolved to obey the command, and build a chapel of wood, but after this the sick man returns, and tells him that she ordered it to be built with stone, and shewed him the very place where she would have it done; not long after, the Prior went out of town, and the man going to talk with him, and not finding him at home, went to a religious old man, who had lived a long time in the monastery, and gave him a token where the foundation stone of the chapel should be placed, by shewing him, and every body else that would see it, for two hours together, the shape of a cross upon it, wonderfully adorned with gold and jewels, which afterwards disappeared; after this, the Prior returning, and not hastening the building, the Virgin appeared in like manner to a woman in the town, ordering her to go to a certain monk of the house, and command him to desire the Prior to build the chapel immediately, which the woman neglecting to do, the Virgin came to her in the night, and much blamed her for contemning her command, and with that touched her arm, and she immediately lost the use of it; the woman when she awoke perceiving it, and much grieving for her negligence, ran to the monk, and with many tears told him her misfortune, who advised her to offer an arm made of wax, to the Holy Virgin, which being done, her own arm was restored.
As soon as the chapel was built, the Prior desiring to increase the people's devotion to the Blessed Virgin, caused the image which stood by a door near the chapel to be taken down, and new painted; and as the painter was clearing it, he found a silver plate well nailed to the top of its head, and shewed it the Prior, who called the monks, and ordered it to be taken off in their presence, and there they found the relicks of many saints, wrapt in lead, with their names upon them, all which were first sent to Stephen of Provence, Prior of this house, by William Prior of Merlesham, at the request of Hugh Bygod, and Sir Ralf, monk of Thetford, and most of them first of all came from the Holy Sepulchre at Jerusalem, there being pieces of the purple robe of our Lord, of the girdle of the Virgin Mary, of the Holy Sepulchre, of the rock Calvary, of the sepulchre of the Blessed Virgin, of our Lord's manger, of the earth found in St. John the Evangelist's sepulchre, of St. George's body; with other relicks of St. Vincent the Martyr, and of St. Leodegar or Leiger, St. Barbara, St. Gregory, St. Leonard, and St. Jerom, with some of St. Agnes's hair, and of the wooden coffin, miraculously kept from decay, in which King Edmund the Martyr, many years after his passion, was found whole, and looked as if he had been alive, with pieces of St. Etheldred's coffin, in which she was found eleven years after her death, whole, and as if she had been asleep; pieces also of St. Lazarus's clothes and sepulchre, besides divers others, whose names were not known, all which were placed in the head of the image, which the aforesaid Sir Ralf, monk here, (fn. 32) who was born and brought up in this town, caused to be made at his own expense, with a tabernacle adorned with small images, painting, gold, and precious stones. And besides this, he with the assistance of Ralf de Caam, clerk, who was a great friend to the monastery, persuaded the lady Maud de Samundeham, a lay sister, and great friend of the house, to purchase the famous picture of the Blessed Virgin, in the refectory; all which things he performed with much labour, and great difficulty, and therefore for these services his anniversary was for ever to be held on the ides of October.
All these relicks were kept in the chapel till its dissolution, by means whereof it was richly adorned, such as visited it by way of devotion usually offering there, it being famous for the many miracles performed by this image, which were noised about in the country, two or three of which the aforesaid monk tells us of, as first, that a woman in Thetford overlaid her child, and finding it dead in the morning, takes it up, and runs to the image with it naked, and at the Virgin's intercession it came to life again. Another is of a woman in Thetford, who became dumb by a disease in her throat, upon which account, many gave her money to enable her to go and make her offering to the image of the Holy Virgin at Wulpit in Suffolk, and pray for her recovery, but the woman made signs that she would go to the image in the new chapel of the monks, which being consented to, she was restored, the woman affirming the Blessed Virgin appeared to her, and pulled her tongue up from her throat, which cured her, wherefore she vowed to keep a candle burning before the image during her life. Another is of one William Heddrich the younger, a carpenter, and Isabel his wife, who lived in Hokham, and in harvest time, according to custom, carried their boy, about three years old, with them into the field, and while the mother was mowing, towards evening, the child laid down and fell asleep, and soon after, a cart ran over the head and killed it, which the father, who followed the cart, perceiving, took him up, and being much vexed for his death, runs to a physician in the town with the child, who assured him he was dead; but upon their vowing to go a pilgrimage, stark naked, to the image of the Blessed Virgin, in her chapel in Thetford, the child came to life again about midnight, and its parents performed their vows, and made large offerings to the Holy Virgin: and by such means as these it was, that this chapel was so remarkable, and kept up its credit among the vulgar till its utter suppression.
Persons of note buried in this church. (fn. 33)
Hugh Bygod Earl of Norfolk, son and heir, after the death of William, his elder brother, to Roger Bigod the founder, was buried in the choir, in the year 1177, as Mr. Dugdale says; Mr. Weaver says he died very aged in 1178, as his inscription on his monument testified, viz.
Orate pro Anima Religiosissimi Uiri Hugonis Bigod, Fundatoris huius Monasterii, Seneschalli Hospitii prepotentissimo Principi, Henrica Conquestoris Filio, Anglie, Regi, et Comitis Norfolcie, qui quibem Hugo obiit Pridie Kalend. Martii, Anno Milesimo Centesimo Septuagesima Octabo, propter. misereccordiam Jesu. requiescat in Pace.
Roger Bigod Earl of Norfolk, his son and heir, died in 1218, or 1220, and was buried by his father.
Hugh Bigod, son of the last Roger, and third Earl of Norfolk, died in 1225, and was buried by his father.
Roger Bigod, son and heir of Hugh Earl of Norfolk, and the first Marshal of England of this family, died about 1269, and was buried in this church, according to his will.
Roger Bigod, the last Earl of the family, who was son of Hugh Bigod, Chief Justice of England, and nephew to Roger Bigod aforesaid, died in 1305, and was buried here, by his first wife, Alice, daughter of Philip Lord Basset, and widow of Hugh le Despenser, Justice of England; she died in April, 1280.
John Lord Mowbray, Duke of Norfolk, Earl-Marshal of England, Earl of Notingham, Lord and Baron of Segrave and Gower, son of John Duke of Norfolk, was buried here, with Eleanor his wife, daughter of William Lord Bourchier, and sister of Henry Bourchier Earl of Essex, he died in 1461.
John Mowbray, his son, was created Earl Warren and Surrey, during his father's life, and at his death inherited all his honours and estate; he died without issue at his castle of Framlingham in Suffolk, in 1475, and was interred here.
Sir John Howard, Knt. who was created Duke of Norfolk by King Richard III. was slain in his aid, at Bosworth field, on Monday, Aug. 22, 1485, and was entombed here.
Sir Thomas Howard, Knight of the Garter, Earl of Surrey, and Duke of Norfolk, son and heir of the aforesaid John, by will dated the last of May, 1520, (fn. 34) ordered his body to be buried in the priory church of Thetford, before the high altar, commanding his executors to set up a tomb, with the images of himself and Agnes his wife thereon, allowing for the charge thereof, 133l. 6s. 8d. all which was performed; he died 21st May, 1524, 16th Henry VIII.: (fn. 35) his brave carriage and martial prowess is described in the following inscription, which was fixed to his monument:
For as moche as it is wryttyn in the Epitaphe about the Tombe here present, of the high and mighty Prince, Thomas, late Duke of Norffolke after his discent from his noble Antecessours, declared in the same in wrytyng, whyche is also set out in armes about the same Tombe. That who will se farther of his lybyng and servyce doon by him to his Pryncis; And of his honorable depertyng out of this worlde, schall resort and loke in thys Table.
Fyrst you schall know the seid Duke was in hys young age, after he had been a sufficient season at the gramer schole, Henchman to Kyng Coward the iiii. and was then callid Thomas Howard, Son and Heire to Sir John Howard Knight, after, Lord Howard, and after that, Duke of Norffolke of right enheritance; and the seid Thomas Howard whan he was at mannes age, was wyth dyvers other Gentleman of England, sent to Charles, Duke of Burgon in the beginning of the Darres betwirt King Lewes of France, and the said Duke Charles, and ther contynued unto the ende of the seid warres, to hys greate pranse and thankes. As well Kyng Edward his own soberayn Lord, as of the said Duke Charles. And after the warres doon betwirt the seid Kynge Lewes, and the seid Duke Charles, Than the seid Thomas Howard returned into England, unto Kynge Edward hys soberayn Lord: And he made him immediately Esquyer for his Booy, And he was aboute him at hys making redy bothe ebenyng and mornyng. And afterward he made hym Knighte ar the maryage of the Duke of Yorke, Kynge Edward his second Son. And so he was with the said Kynge Edward in all his busines, aswell at Lincoln Shire feld, t at the tyme of Banberyfeld, as at all other his Busynes. And also at suche tyme as the same Kynge was taken by the Erle of Darwyke at Darwyke befor hys escape and departing into Flaunders.
And after the Kynges departing into Flaunders, for that the Coostis of England were sett ffor depertinge of any other his servauntis and frendis, the seid Thomas Howard was oryvin of fforce to take Sayntmary of Scynt Foannes in Colchester for the true service he bare unto Kynge Edward; and at the seid Kynges retourne out of Flaunders, the seid Sir Thomas Howarde resorted unto him and went wyth hym to Barnet Feld, and ther was sore hurte.
And after whan Kyng Edward went into France with hys Army Ryall, he sent thether before, dyvers gentilmen, And for that the seid Sir Thomas Howard had good experience aswell in his being with Charles Duke of Burgon, as in dyuers Feldis and busynesses wit the seid Kynge Edward, he had therfor Commaundement to go over with them, For his advyse and counsell tyll the seid Kynge came over, And whan Kynge Edward and Kynge Lewes mette at the Barriars upon the Riber of Soin, and the seid Sir Thomas Howard was wyth Kynge Edward at the Barriars by the Kynge Commaundement and no mo Men sabe only the Chaunceller of England, the Chauncellor of Fraunce, and Sir John Cheney.
Ans after the kingis comyng into Englond, the seid Sir Thomas Homard obteyned licence of the kynge to Iye in Norffolk at an Homsse which he had in the righte of my Lady his Myfe, called Ashewelle" thorpe, and ther he laye and kepte an honorable howsse, in the fabor of the hoole Shire, during the lyffe of the seid kynge Edmard, and at that tyme and long after my Lord his father was alybe.
And after kinge Eomard was ded, and kinge Edward the Fyfte his Son; than K. Richard was kinge. And than the forseid Sir Thomas Homard was his Subgette, And for that the yonge Duches of NOrffolke whiche was bery heirs therunto, was ded withoute yssue; and the Lord Homard, Father to the seid Thomas Noward, was rightfull heire to the same off former discent, was creatt Duke of Norffolk, and he creatt Erle of Surrey: And so they bothe serbed the seid Kinge Richard truly as his Subgettis duringe his lyffe, lieng at home in their own Countries and keping honorable homsses. And they went with him to Bosworthe feld, where the seid kinge Richard was slayne, and also the seid Duke of Norffolk, and thafforseid Erle hurte, and takyn upon the feld, and put in the cower of London, by kinge Henry the bii. And ther continued thre yeeres and an halfe. In whiche time of his beinge in the cower, the same kinge Henry had a feld with the Erle of Lincolne in Notyngham Shire besydes Newarke, and the leeffetenant of the cower came to the seid Erle, and proferred to him the kyes to goo out at his plesure; and he answered him ageine, that he wolde not de[erte thens, un to suche tyme as he that commanuded him thether, shuld commaunde him out ageyn, whiche was kinge Henry the hii. but charged the leffetenant upon his alligeaunce yf the kinge war on libe to bring him ther, as the kinge was, to thentente he mighte do his Brace serbice, and after that for the true and feithfull serbice that the seid kinge Nenry herd of him doon to his other Prince; and also that he same hunself, he dide on 230sworth feld, and for the grete prayse and truth that he herd of him whills he was prisoner, and that he wold nat, thoughe he had libertie, come out of the cower at the Erle of Lincolnes feld, he toke him out to his presence, and to be aboute his own person.
And wythin r. Dekes after his coming out of the Cowre, ther was an Insurrection in the Northe by whom the Erle of northombrelond was sleyne in the feld, and also the eitee of yorke wonne with a samte by force; and for the subduing of those Rebells, the kinge assembled a grete Noste of his subgettis, and toke his journey towards them from the Castell of nertford; and the seid Erle of Surrey made chief captayn of his boward, and apynted under him in the seid howard, the Erle of Shremesburn, the Lord hastyngs, Sir Idill. Stanley, than bring the kinges Chamberlayn, Sir Rice ap Thomas, Sir Thomas Bowser, Sir John Sabage, Ssir John Ryseley, and dibers other, and whan this Jorney was doon the Capteynes of these Rebelles, and many other of them were put to erecution, and for the smguler truste that the kinge had to the seid Erle, and the actibite that he sam in him, he lefte him in the North, and made him his Liebtenaunt generall from Crent Northmard, and wardern of the Est and middle Marshes of Englond, ageninst Scotlond, and Fustice of the Forests from Crent Northward, and ther he continued R. yeres; and kepte the countrey in peace with policy, and many paines taking withoute whiche it wold nat habe been, for that the country had ben so lately ponished, and
nate withoute desert, and thus he dide the hoole tyme of r. yere, sabing in the second yere of his being, ther was an Insurrerion in the west part of the countrey, with whome the seid Erle with the helpe of the kinges true Subgettis fought in the feld, and subdued them at Akworth besides pomfrett; and bedies dibers of them that were slaine in the feld he toke the Captaines and put them to erecucion, and the residue he sued to the kinges bighness for the pardones, whiche he obteined, and wane therby the fabout of the countrey. And in the same yere the king bbent ober the See, and laid Siege to Bolayn, the seid Erle than remaining ther, not bbithstonding that he was appointed to have gonc with the king, and had gon, but for the lightnes of the pepule ther, bbherfor he bbas left behind both for the saue gard of the countrey, and for defending of the Realme for the singuler truste that he had unto him.
And sone after ther bhas Warre weth the Scottis, and for that the seid Erle wold be in a redines to defende them, he bhent to anbhyke, and ther laye to the defence of the Borders: And in his obhn persone made a winter Rood into Cibidale, and ther brent ther houses, and ther Corne to the greatest losse and empouerishement of the Countrie, that bhas boon ther in an hundreth here berfore; And after that, the king of Scotts in his obhne person, and one parkyn bhith him inbaded this Realme of Englond, bhith a great pobber, and laid seege to Northam Castell. And assone as he herde that the seid erle bhas coming tobhards him he departed and fled into scotland with all the speed he might. And in the same sommer after, the said Erle made another Rood into Scotlond, and laid seege to the Castell of heiton, and did race and pull doun the seid Castell, the king of scottis bhith the puissaunce of his Realm loking upon it; (t the erle had nat than past viii or ir thousand men vvith him. And than the king of scottis sent unto the seid erle, Lion his herold for to require Bataile, bbiche vhas granted bi the seid erle, saing unto the seid herold, that forasmorhe as he vvas an officer of armes sent from the king his master to require Bataile, and he Lieutenaunt to the king his master, graunted therunto. And said it was a contracte t a full Bargain quiche coude not be brokin, but to God, t to Seint George, t to the king his master, he wold fulfil his promesse. And if the king his master brake, it should be asmoche to his Dishonor and Reproche as euer hat prince, t quen the harrold had herd this ansere, t same weall the said erle was clerely determined to fight; he said unto him, Sir, the king my master sendeth you word, that for cscheming of effusion of Christen Blood, he will be contented to fight with you hande to hande, for the coune of Berwike, t the fishgarthis on the west marches: yf he wynne you in Bataile, t yf ye wynne him in Bataile you to have a kingis Raunsom. Wherunto the said Erle made answere, that he thanked his Orare that he wolde fitht hande to hande wyth so poore a man as he, hovv be yt he seid, he would nat dysceyne his orace, for he seid though he wanne him in Battaile, he quas neuer the nerer Beruick ner of fishegarthys, for he had no suche Commyssion so to by.
His Commyssion was to do the king of scottis his master all the harme he coude, t so he had don, t wold do, t wold do, tr.
And bad him shewe unto the king his master that whan the jorney was don, he wold fight quith him on horsback or on pote at plesure, at any place he wold indifferently appoint, if the king his waster wold giff him leue, tr.
And whan the ware was doon t ended wi the Seuttis, t the north part of England in good reste t peace, than the kings highnes sent for the seid Erle to be about his parson, and amde him cresourer of Englond, an of his priuye counsayll.
And whan the ware was doon t ended wi the scattis, t the north part of Englond in good reste t peace, than the kings highnes sent for the seid erle to be about his parson, and made him cresourer of Englond, and of his priuye counsayll.
And after that the kyng sent him into Scotland as chief Commyssioner withe Ladie margarett his Doughter, to be maryed to the foresaid king of scottis, whiche kynge att the tyme of the seid earls being ther, entertayned him as thankfully t fabourably as coude be thought. Norwithstondyng anie displeasures doon to him by the seid erle in the wares before. And also the said kinge seid than bn to him, that he loued hym the better for suche seruice as he had doon before to the kyng his father kyng of Englond, thoughe the hurte war doon to him, and his Realme, and he gabe to him then at his departyng gceatt gifts. And at the coming home agayn of the seid Erle for the truste that the kyng our soberayn Lord had to him, his orace made him one of his erecutors.
And after the dethe of kyng henry the vii, henry the eyght made him lykemise of his prebay counsayll, and still continued cresourer of Englond, and made him highe marshall of the same: And for the singler truste that the king had aswell to his truthe, as to his wisdome t artivytte, at his going in to fraunce with his puissaunce, habing with his highnes the moste parte of his nobles of this Realme, lefte the seid erle with a certeyn power in the northe partes, and made him Lyuetenaunte Generall from crent northward, to defende the Realme againste the king of Scottis, whom his highnes had no truste unto for rause of the leeg betwirt fraunce and them in case the seid king would inhade this his Realme, which he dide in deede contrary, to his othe and promise, with the hoole power of the realme of Scotlon: whiche when the seid erle herd of, he made as great haste towards him as he coude with the kinges power of the north partes. And toke hislodging in the campe or playne called woller haugh in the countie of northumbrelond whiche was in the sight of the king of Scottis, and of all his army then lying on floddon-hill, a ground more like a campe or forteres, than any meete ground to gibe Bataile on, contrary to his promes made to Rogecras purseuaunte at armes, before sent unto him from the seid erle with message, that the seid erle with the Lord howard then domirell of Englond his Son, And the nobull men of the north partis, with other the kingis Subgettis of the same north parts, was come thedir to represse and resiste hys Jnhasyons of his soberain Lordis Realme; desiryng the seid king of Scottis to giue him Bataile, which his message the same king of scottis toke uery thankfully t ioyusly, promising him to abide ther on the same grounde, wher he than was; whiche his promes he brake as is aforesaid, and took floddan hills, a ground impregnable, and shot at him his great Ordenaunce, wher as he lay like one minded to kepe it like a forteres, and whan the seid erle dide perceive thatg he had brokin his promis, t takin so stronge a grounde as floddon hills, he than the seid erle remoued all his Bataile unto a plain besidis Barmer wood to thentente to get betwene him and his owne Realme of Scotolond and ther lodged but one nyght, t on the next morning toke his passage over the Water of at Tmifull Forthe, and then he marche the seid king and his Oste in svche manner, as he yet betmene him t his aune reame of Scotland be force whereof the sid King was fain to lew his Campe, and to prepare himself tobataile with the seid Erle, on will besides Bramston in Dorthumbrelond urey near vnto sandyford wher the sied Erle with the good assistauns of the Nobull men, anl the power of theseid north partys fought with the seid king t hen banqueshed, and slewe in plain bataile directly befor his owne Standard Th whiche bataile ware slaine on the scottishe Parte ii. Bysshoppes ri, Erlys, rvii. Barons, CCCC knights, besides other Bentilmen, with rbii M in nombre,whiche Ware nombred asweel by scottishe men as by them that did bury the moste part of them. And of truth dibers Bentilmen t others aswell of thesaid Earlys serbants, as of the north partes, t of Theshir t Lankasshir war ther slane, for hard it is t hall impossible insuch a conflict and bataile to be wannc without losse of men whoys deth man be Toyed among ther Frends to dye in so high a serbys don to ther Prynce. And thus noble acte was don by the belpe of Almighty Bod tothe high honour of the kinges mighnes honour t Prans tothe said Erle t to all other noble men, and others the kinges subgettis that war ther with him at the batale the ir. Daps of Septembir, inthe v. Peer of our souerane Lord King Penry the biii.
And this don the seid Erle went to Barwyke, to establyshe all thinges well and in good Order: And sent for theded Body of the dyng of Scottis to Barwyke, And when the Drdenaunce of the King of Scottis was brouth out oftheFeld, and put in gode suertie and all Other thyngs in gode order. Than the seid Erle toke his Jurney towarl nork, and ther above duryng the kyngs Pleasure, and caryed with him the ded Body of thafforesaid king of Scottis. And ther laye unto suche Time as the kings nighnes ram from beyond the See, after his mynning of Tyrmin and Torney, And than his Nighnes sent for the seid Erle to mete him at Richmond, and so he did, t ther delibered lunto his Mighnes the ded Body of the kyng of Scottis, whiche ded Body was delibered in tothe Charter huse ther, and ther toabide duryng the kings plesur.
And for thescrbice that the seid Erle did, he was honarably restorel unto his right name of Duke of norff, t also had geuen untohim great possessions bythekings Dighnes.
And when the ware betwirt the kyng our souerayn Lord t th French king was ended: than the seid Duke was scnt into Fraunce a chieff Commyssioner with Lady Mary the kyngs Suster, to be mar ryed unto the Frenche kyng Lewes.
And after when the king and the Queen were bothe Out of the Reame, tomete withe Frenche kyng Frauncys at buynes, t the Prynces remayning in the Rcame, being a childe, the seid Duke was left behende as Protecter t Defender to mynister Justice, t to sec good Rule t Bouernaunce in the Reame, in the absence of the kings high nes, and so contynued about the kyng, t of his Prihye Counsale till he was of Age of Eyghtie Deers, t then the kyngs highnes was content that the seid Duke shulde go home ioto his Owne Countred unto the Castell of Framlyngham, wher he contynued and kept an honour able house unto the hour of this Deth. And ther he dyed lyke a good Cristen Prynce I now towytnes. Whose sowle Jesu pardon.
And at hys Departyng But of Framlyngham Castell toward hys Buryall, he cude nat be asked One brote forhis Debte, nor for Resti, tutyun to any Person, t so was had toThis present Abben of Thetford with muche honor; Accompanied with many great Lordes, t Noblemen of bothe Schires of Norff. t Suff.
Leuing Then libing, These his Thildren hereafter maned That is to seie, his Son t merice The Ld. Tho. Duke of Norff. The Ld. Edmund Moward, The Ld. Will. Moward, t The Ld. Tho. Moward, withe Eliz. Wiffe toThe Hisct. Rocheford: The Lady Agnes Countes Of Drenford, The Lady Katherine espobsed To The Meice ofSir Rice App Thomas Of Wales: The Lady Eliz. espoused vnto The Hisct. FitzWaters son t Weir, And the Lady Dorothy then being not married, but left for her right good Substaunce To marry her with.
At the Dissolution, the bones of this Duke were taken up, and carried with his freestone monument to the church of St. Michael at Framlingham in Suffolk, where it now remains, on the south side of the altar. It hath no inscription now, but at each corner there is a lion seiant, supporting a shield, on which are the arms of Howard, with that honourable augmentation which the King gave him for his service at Floddon-Field, viz. to bear on the bend of his own arms an escutcheon of the upper half of a red lion, depicted as the arms of Scotland are, pierced through the mouth with an arrow: the twelve Apostles are neatly carved round the tomb, and on the top lies his own effigies, by that of Agnes, daughter of Sir Philip Tilney, Knt. his second wife, who was buried in Lambeth church in Surrey. Several of the children of the aforesaid Duke were buried here, and particularly
Thomas Howard, his second son by his second wife, who married the Lady Margaret Douglas, (daughter to Margaret Queen of Scots, by her husband the Earl of Angus,) niece to King Henry; he was attainted of treason, upon suspicion of his intent for aspiring to the Crown. He died in the Tower, Nov. 1, 1537, and was buried at Thetford. (fn. 36)
Henry Fitz-Roy, natural son of King Henry VIII. (begotten of the Lady Talbois, daughter of Sir John Blount, Knt.) Duke of Richmond and Somerset, and Earl of Notingham, married Mary, daughter of the last-mentioned Thomas Duke of Norfolk, and died at St. James, July 22, 1536, and was buried in this church; but at the Dissolution his body and monument were removed, with his father-in-law's, to Framlingham aforesaid, where it now remains on the north side of the altar; it is of freestone, garnished round with divers histories of the Bible, and on the top were twelve figures, each supporting a trophy of the passion, but all of them are miserably defaced; his arms in the garter, with a ducal coronet over them, are still perfect.
Besides these great men, no doubt but most of the priors were here interred, and several of them were of great families, as their names demonstrate; and it is no wonder to find that most of the great men in those times were buried in monasteries, and very few in parish churches, for it is to be observed, that the churches belonging to the religious houses were always in much reputation, above ordinary parish churches, but especially in the matter of burial: our ancestors desired generally to be interred in a monastery, rather than in a parish church, m confidence (according to the prevailing persuasion) of some benefit to their souls in the other state, by the prayers of the religious there, who always daily prayed in particular for the souls of such as were buried in their limits. (fn. 37) Nay, so far did they carry it, as is evident by a plain example in the foregoing history, that any man might bequeath his burial to what abbey he pleased, which then should have the apparel of the dead, his horse, and other valuable things for his mortuary, and all this, in hope of some ease to the poor departed soul, from the offices and prayers performed in that place, especially if the corps had some religious garment put upon it, as was then usual; and this is the reason why they strove so much for the burial of great men, because thereby a certain benefit always accrued to their house, which never admitted a dead guest, without a good income paid by their executors.
1416, Roger, son and heir of Hugh Stoppysley, was buried in this church, and gave them lands and tenements in Stoppysley and Milton in Bedfordshire, to find a monk to sing for him, and Dianise his mother, Thomas Stoppysley his brother, and Sibill his wife, and all his friends and benefactors, ordering the prior to sell all those lands, and buy others in Norfolk; which was performed.
In 1420, John West of Thetford was buried in this church; he gave 12d. to the rector of the church of St. Etheldred, to permit him to be buried where he would; which shews as if they could not be buried out of their parish, without their rector's leave; he ordered the prior to feed six score poor people on the day of his burial, and to give each of them 1d.
In 1424, John Phelyp, and Dionise, mother of the aforesaid Roger Stoppysley, were buried here; she gave every monk 20d. a silver goblet to the prior, &c.
In 1476, Roger Swan was buried in this churchyard, and was a benefactor to the house.
In 1511, Robert Love, burgess, who was mayor in 1506, was buried in this church, and gave to the Prior for his labour and sepulture 20l. to every monk being a priest, 20s. and to every novice 10s.; to the repair of Milleford-Bridge, (fn. 38) 10 marks; he gave eight acres in the Field, to repair the gild-hall, and Nuns'-Bridges; viz. to the gild 20d. and to each bridge 20d. "Also yf the town of Thetford, can find means to purchase of the King's grace, to have the town customyd free, within the space of v. yere aftur this present dat, then I assigne to the purchasing of it 20l. (fn. 39) ells I wol that the said 20l. goo to the reparacon of the fraytour in the monastery." He gave land to keep his obit yearly in the monastery, on which day the Prior was to have 12d.; each priest 4d. and each novice 2d. the Prior to have the rest of the profits for ever. (fn. 40)
This house always sealed with the following seal, to its dissolution; and its last impression is now on the deed of surrender in the Augmentation Office.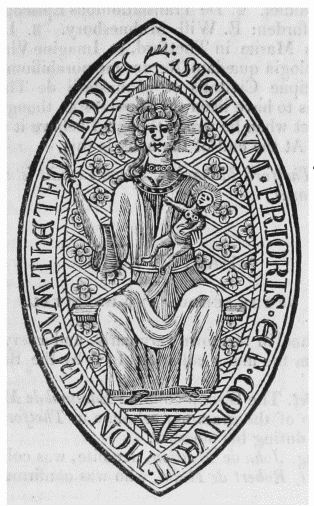 And thus, from the account I have given you of the several religious foundations in this place, I think that Sir Henry Spelman's observation was very just, who tells us, that in its flourishing state, no city in England, no not London itself, had so many monasteries in so small a compass, from whence it might be deservedly called, if not Hierapolis, yet at least Monachopolis.