Pages 290-295
An Essay Towards A Topographical History of the County of Norfolk: Volume 2. Originally published by W Miller, London, 1805.
This free content was digitised by double rekeying. All rights reserved.
GRISTON.
Greston, or Griston, as it is called in Domesday, signifies the Grass-Town, and indeed it is a soil that produces abundance of it.
The Church here was dedicated to St. Margaret, and was appropriated to the Prior and Convent of Bukenham; it was valued it 20 marks, and paid 18d. Peter-pence. There were four gilds in this church; St. Mary's, St. Peter's, St. Margaret's, and St. John's, and there was a light called St. Mary's light. In 1446, there were new bells, and in 1477, the steeple was rebuilt as it now stands, with great part of the church, which was then rededicated to St. Peter and Paul, who had a gild erected also to their honour, to which Will Ferror was a benefactor in 1492, as also to the light of St. Mary, in the churchyard. In 1495, Henry Palmer of Griston gave 5 acres and half a rood in King's Grove furlong, for a yereday, to be kept for him and Alice his wife on Whitsun-Monday, as long as the world stands, and tied all his messuage called Gilberd's for it. He also gave to the church and town of Girston, 10 acres in Girston and Watton-Field, 3 roods at King's-Grove, 3 roods at Little-Kirk, 2 roods at Kykynham, 1 acre at Martin-Gate, 1 acre and an half at Shortwyn's-Croft, by the land of the vicar of Girston South.
Rectors And Vicars.
1213, Master Andrew de Fordham. Rob. de Caston.
1299, Ralf de Eboraco, or York. In 1297, Rob. de Caston presented this Ralf, and the Bishop (though Robert brought the King's writ) would not admit him, but answered, he was of a notorious character, for which reason the Bishop was excused.
1301, 14 kal. Oct. William Barri. Rob. de Caston.
1304, 11 kal. Aug. Richard de Hale. Joan de Caston.
1330, 8 kal. Mar. Edmund de Cokefield. Cicely, relict of Sir John de Cokefield, Knt.
1349, 22 Aug. William Hulle of Keteringham. Sir Rob. Bishop, rector of the mediety of Hetersete.
1349, 8 Oct. William, son of John Walter of New Bukenham, at the nomination of the Bishop of Norwich, and presentation of the Prior, Will. Bateman Bishop of Norwich having this year appropriated the church to the priory, on condition the Bishop should always nominate to the Prior, who should present the vicar at his nomination, and also pay the Bishop a yearly pension of 16s. 8d. In 1550, Bishop Thirlby released to the King the pension due out of this rectory.
1357, 17 Dec. Tho. Attehow de Methewold. The Bishop nominated to the Prior.
1358, 6 May, Tho. Percy Bishop of Norwich assigned the vicar his vicarage-house, which was to be the south part of the rectoryhouse, and the vicarage was endowed with 18 acres of arable land, a foldage, and many days works in autumn, the whole altarage, tithes of wool, hay, flax, milk, wood, whether silve cedue, aut arborum decimabilium, turf, hemp, mortuaries, and all small tithes.
1361, 24 Nov. Rob. Attedam de Wrotham.
1395, 23 March, Roger Lenthale.
1405, 13 Jan. Tho. Neve of Walton, died in 1420.
1420, 18 Jan. Henry Bryce of Wygenhale.
1433, 19 June, William Orlyouns of Thuxton.
1442, 22 June, Thomas Savage.
1449, 12 May, John Estweyth.
1469, 16 Dec. Brother John Plattyng, canon of Bukenham.
1482, 22 July, John Browne.
1521, 11 May, Richard Drake, A. M. on Browne's death.
- - - Draper.
1526, 13 Nov. Richard Mylgate, resigned.
1529, 15 Febr. Denis Owers, deprived.
The above thirteen were nominated by the Bishop, presented by the Prior.
1554, 6 March, Richard Murton. Lapse.
1560, 18 June, John Blacklock. Lapse. United to Caston.
1578, 16 Oct. Thomas Matthews. The Queen.
1585, 13 May, Thomas Bolland, resigned. Ditto.
1587, 27 Aug. Launcelot Griffin. Ditto.
1633, 25 Febr. Samuel Warren of Christ's college, Cambridge; he resigned, and was after rector of Merton, and had Breccles. The Bishop of Ely, by grant from the Queen, in exchange, who is now patron, and the following vicars were presented by the Bishops of that see.
1654, Samuel Leader, minister of God's word at Griston, was admitted vicar there, Febr. 2.
1661, 5 Octob. Robert Masters; buried 1st March, 1687.
1688, 1 Sept. Robert Harsnet; he resigned.
1694, 9 Nov. John Berry; he resigned.
1699, 7 Oct. John Ellis.
1713, 23 Oct. William Tanner, on Ellis's cession, now rector of Redenhall, &c,
1723, 15 Nov. The Rev. Mr. John Borret, the present [1738] vicar, on Tanner's resignation. The King, Ely bishoprick being void.
This vicarage is valued in the King's Books at 7l. 8s. 9d. ob. and being sworn of the clear yearly value of 28l. 9s. 6d. it is discharged of first fruits and tenths.
It paid 2s. synodals, and 6s. 8d. procurations.
The Prior of Castle-Acre's portion was valued at 20s.
This town paid 6l. 0s. 4d. to the old tenths, and is now valued at 367l. 13s. 4d. to the tax.
The spirituals of the Prior of Bukenham were valued at 20 marks.
The church hath a fine tower, adorned with the following emblems of St. Peter and Paul, cut in stonework at the bottom: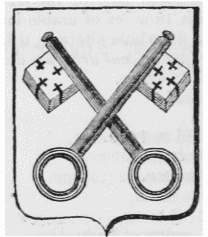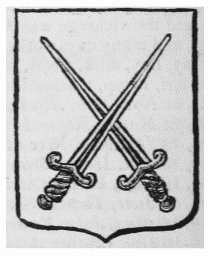 There are four bells; the nave is leaded; there is a north porch tiled, as is the chancel, which is new repaired. In 1679, Doctor Owen Hughes, Commissary to the Bishop, and Official to the Archdeacon of Norwich, directed a commission to be certified of the state of the chancel, and upon its being found in a ruinous condition, he sequestered the impropriate tithes to repair it, and it was repaired accordingly. (fn. 1) This is an instance of the Bishop's or Archdeacon's power to sequester impropriate tithes, if the owners or their farmers refuse or neglect to repair the chancels, which we see too often in a ruinous state.
There is a loose brass in the chest, which came off a stone in the chancel, thus inscribed,
Orate pro Anima Magistri Johannis Manning qui obiit rrviio; die Mensis Aprilis Anno Domini Mo;ccccco;rriio; rujus Anime propicietur Deus Amen.
On an old stone in the nave.
Orate pro Anima Willi. Dalmar, qui obiit rvo die Dobembris, Anno Domini Mo cccco lrrriiiio cuius Anime propicietur Deus Amen.
The family of the Palmers are of great antiquity in this town; in 1295, Peter Le-Paumer had a good estate here.
On another old brass,
Orate pro Ataima Alicit Palmer que obiit if die Decembris Anno Domini Moccccolrrrviiio.
This on a brass that came off a stone by the pulpit,
Orate pro Anima Edmundi Buckenham Generosi.
In 1278, Robert de Bukenham had an estate here.
On the font,
Ao. Dni. 1568, mas this steple Cope newe set up to the greate Coste of landed Men.
On a brass,
O Pater, O Crintas, fili cum flamine Sacro, Uirgineunrque Decus Reparatrir at que Ruine, Cuncta create Nichilo, Manning succurre Johanni, Fac tecum bihat Regno sine Fine beato. Anno Milleno Duingenteno quoque terno, Mensis Septembris obiitque Penultima Luce.
The windows were formerly very fine, but are now imperfect; in a south chancel window was an effigies of one of the Caston family, in his surcoat of arms.
In a north church window was the effigies of Sir Simon Palmer, with this,

Az. a lion rampant gul. in chief three cinquefoils or.
Ormesby, gul. a bend compone or and az. between six croslets arg.
Mortimer, or florette sab. and Caston's arms.
Gul. six ermines.
The altar-stone, with a cross at each corner, lies in the nave, and the other stones that came off the two low altars are placed as stiles in the churchyard, their crosses remaining on them.
In a north window is a priest in a pulpit, preaching to a large congregation, with this in labels,
And this,
Some of his audience have the word from their mouths, some are kneeling, and others prostrate; this is perfect, and is a curious painting.
In another place was the devil with cloven feet and ass's ears, sitting in a throne, as a king, with his crown and robes; a vast press of people crowd to make their address to him; there are kings with their crowns on, pressing forward, the little devils with long ears and tails flying over them, and this broken label,
In 1698, Mr. John Borret died May 25, and was buried May 27; he was an ingenious man, and good antiquary, an exact herald, and laborious collector of historical affairs relating to this county, to whose labour I own myself much indebted for many things which I find in his collections only, the originals being now lost; the Rev. Mr. John Borret, his son, is the present vicar, to whom I am much obliged for supplying me with several materials towards this work.
Borret's arms are, arg. three boars heads erased sab. Crest, a boar's head erased sab.
These arms are born by Mr. Giles Borret of Earsham, only that branch hath born the field or.
Griston Hall Manor.
This town was a berewic to Sporle in the Confessor's and Conqueror's time and the chief part of it, which constituted this manor, belonged to a freewoman in the Confessor's time, who held it as part of Sporle manor; it was seized by the Conqueror and let to farm to Godric, and was after held by a family sirnamed from the town. (fn. 2)
Another part was held by Roger Bigot, of whom Ralf Fitz-Walter held it, and both these parts made up this manor, which was afterwards held of the Fitz-Walters. (fn. 3)
In 1227, Richard de Rupella settled 120 acres and divers rents on Henry de Grestun and his heirs; in 1256, William, son of John Bozun, and Henry, son of Henry de Grestun, paid 6d. a year to the Prior of Alvesbourn, in 1272, Dionisia de Montchensy had some concern in it; in 1274, John de Griston was lord, and had the assize of bread and beer, weyf and trebuchet, and held it of the honour of Clare at half a fee in 1314; in 1315, Robert Fitz-Falter and Richard Copsey were returned as lords here; in 1345, John de Griston held a quarter of a fee of the honour of Clare, which formerly belonged to Roger de Griston; and in 1398, John de Griston was lord, and in 1401, held it of the honour of Clare, which was held by the heirs of the Earl of March; in 1341, it was in the Bishop of Ely's liberty, whose bailiff appointed the constable; it afterwards was in the Cliftons, and passed with Bukenham to the Knevets, and in 1541, Edmund Knevet sold it to Edmund Grey and his heirs; in 1558, John Grey of Methwold, Esq. gave it to Will. Grey, his son, who sold it to Mr. Thomas Dunthorn, who was lord in 1572, and William Dunthorn was his son and heir. It after belonged to Sir Thomas Barney of Parkhall in Redham, and came to Henry Barney, his second son, who died 23d Nov. 1638, possessed of it, and held it of the honour of Clare, with 36 acres held of Saham-Tony manor by fealty, and 34 acres held of Carbrook by fealty, and Henry Barney of Griston was his son and heir. It now [1738] belongs to Leonard Batchelor, Esq. of Norwich.
The leet belongs to the hundred, and is kept with Caston and Thompson leets, and each town hath it kept there every third year.
The Rectory Manor
Always belonged to the rectory, which was never appendant to the other manor, for at the survey, William Earl Warren had the advowson, and 10 acres of land, which Earl Ralf had laid to his manor of Stou, and so it belonged to that manor, and soon after was joined to Caston manor, and the Caston family, as lords of Caston presented. (fn. 4)
In 1330, it belonged to the Cokefields, and continued a rectory till 1349, and at the appropriation, the rectory manor came to the Prior of Bukenham, with the chief of the glebes and the great tithes; and at the Dissolution came to the crown, where they continued till Queen Elizabeth settled them in exchange on Ely bishoprick, to which the manor, great tithes, and advowson of the vicarage now belong. It is held by lease of the see, by Mr. Patrick, fellow of Catherine-Hall in Cambridge, grandson to Dr. Patrick, late Bishop of Ely.
The king's manor of Saham extended into this town, and this is part of Saham outsoken. (fn. 5)