Pages 95-102
An Essay Towards A Topographical History of the County of Norfolk: Volume 2. Originally published by W Miller, London, 1805.
This free content was digitised by double rekeying. All rights reserved.
CHAPTER XX.
OF THE CANONS.
In 1439, the burgh was in King Stephen's hands, (fn. 1) who soon after gave all the demeans on the Suffolk side, viz. four carucates of land, with the advowsons of all the churches, and tithes thereto belonging, both within the burgh and without, with all other liberties and privileges to William de Warren Earl Warren and Surrey, the third of that name, who immediately built a monastery and church upon the premises, and dedicated them to God, the Holy Sepulchre, and Holy Cross, and placing canons of the order of the Holy Sepulchre there, he endowed them with whatever the King had given him in the town, (fn. 2) granting them soc and sac, tol, team, and infangenthef, with his churches and tithes in Theford, and all his men, lands, fold-courses pastures, and other things, both within the burgh and without, with two fairs in a year, one on the day of the Invention of the Holy Cross, and the other on the day of the Exaltation thereof, both which were to be toll free, for all comers and goers whatever, under the penalty of 10l. to be levied upon any that should attempt the contrary. (fn. 3) This order of canons was established in the year 1109, when the Christians recovered the Holy-Land from the Turks and Saracens, and placed them in the church of the Holy Sepulchre, at Jerusalem: they wore the same habit with the other canons regular, without any other distinction than a double cross of red upon the breast of their upper garment; but the order was of short duration, because Jerusalem was soon after lost, at which time there was only this house, and another in the suburbs of Warwick, in all England, of this order. The founder, at the time he built the monastery, was a devotee for the Holy-Land, which caused him to dedicate it to the Holy Sepulchre and Cross, which he was then going to visit as is plain from the conclusion of his foundation deed, in which be earnestly requests his palm-bearing (fn. 4) brethren, burgesses, and true friends, that they would to the utmost of their power defend his canons in all things he had settled on them, in free alms: Ralf and Reginald de Warren, his two brothers, were witnesses to his foundation, for whose welfare, jointly with his own and his mother Isabell's, the canons were daily to pray as long as they lived, and after their decease were bound daily to sing for their souls, and that of William Earl Warren, his deceased father. After this foundation was completed, he prepared for his journey, and went in that great expedition to Jerusalem, with Conrade the Emperor, Lewes King of France, and many other brave English, French, and Normans, against the Pagans, (fn. 5) to which they were principally incited by the venerable Bernard, Abbot of Clerevaulx, but being intercepted by those infidels, he was killed in Jan. 1148, (fn. 6) leaving only one daughter, named Isabell, who first married to William, natural son to King Stephen, and after to Hameline Plantagenet, natural son to Jeffry Earl of Anjou, who with the consent of Isabell, his wife, and of William de Warren, his son and heir, confirmed the monastery and church of the Holy Sepulchre to the canons serving God there, with four carucates of land, and all things else that William de Warren his predecessor had settled on them, together with the tithes of his whole dominion of Theford, (fn. 7) and of all those lands which he had given his men and tenants there, with the same ecclesiastical and other liberties that King Richard had, when he gave it him; together with three fairs, one on the feast of the Holy Sepulchre, and the others as before specified; and further, for the salvation of his and his wife Isabell's soul, and those of King Henry, his brother, and Jeffry Earl of Anjou, his father, and of all the Earls and Countesses of Warren deceased, he gave them an annual rent of 10s. issuing out of his mill, called Brendmilne in Thetford, which they were to receive by the hands of his bailiff of Thetford, on St. Andrew's and Lady day, and also another rent of 20s. per annum, out of his other mills in this town. This Earl died the nones of May, 1202, leaving
William Earl Warren, his son and heir, who confirmed the foundation and also the gift of all the lands and tenements in Faverton-Field, which were given them by Thurstin, son of Algar, and Osbert, son of Stanard, who were tenants, and held them of the Canons in fee, together with common of pasture, and bruary (fn. 8) in the said field, which they had liberty to dig or cut for all necessaries, at their pleasure, all which was confirmed by King Henry III.; and the said William further gave the tithes of his mills, called Pit-Milne and Hindolve's-Milne in Theford.
In 1281, John Earl Warren, the first of that name, granted to the canons the advowson of the church of Gresham in Norfolk, which belonged to his manor there, and was held in capite of the King; but yet the Prior did not present to it for some years after, till it was confirmed by John Earl Warren, his son and heir, in 1329, and from that time they presented the rectors. (fn. 9) In 1331, Edward III. licensed them to appropriate the rectory to their monastery, but they could not get the Bishop's consent, and therefore, in 1339, they applied to Pope Boniface IX. to appropriate it to them, who the same year granted them leave at the next vacancy to take possession of and retain in their hands, all the profits of that church, on condition they served it by one of their canons, or any other secular curate, which should be removeable at their pleasure, and also paid all episcopal dues whatever: this bull is dated at Rome, and hath a seal of lead hanging to it, on one side of which are these words, bonifatius pp. viiii. and on the other side, the faces of St. Paul and St. Peter, as in the figure, which is the same on all bulls I ever saw, the Pope's name only being altered. But notwithstanding this, the Bishop would not agree to the Pope's appropriation, but obliged them to endow a vicarage, and be content with the corn tithes, and parsonage-house and lands, which they were no sooner in possession of, but by deed dated on the Purification of the Blessed Virgin, Ao 1400, Robert then Prior, and the Convent, granted a lease to Richard Man, clerk, and John Caperon, and their heirs, of the parsonage and croft adjoining, which was late Richard Augyrs, lying in Gresham, for 200 years, conditionally that they performed all services due to the priory, if no heir by right of inheritance dis-seized them, and that at the end of the term it should be peaceably given up to the priory.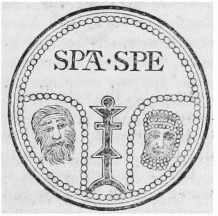 In 1457, July 30, the vicarage was consolidated again to the rectory, a pension of 6s. 8d. a year being reserved to the Prior, to be paid by the rector; and in Sept. following, the Prior and Convent, under their common seal, conveyed the advowson of the rectory, to John Paston, Esq. and his heirs for ever, and so it became joined again to the manor. Some time after there was a copy of the deed required of the Prior, who gave one accordingly, but not under the common seal, but another seal that the house had, for particular causes, by which it appears that they had two seals from their foundation. The common seal exhibits our Saviour's rising from his sepulchre, having his cross in his hand. The other hath our Saviour standing, with his right hand held up, and a cross in his left hand; on his right side is a shield of the founder's arms, and on his left a star and crescent, the usual badge of all such as served in the holy war. (fn. 10)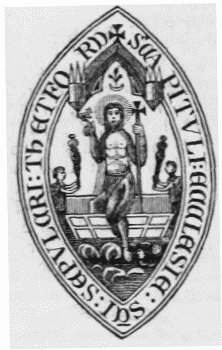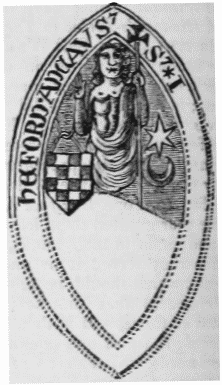 In 1315, the said Earl Warren, (fn. 11) for the good of his soul, and of (fn. 12) Maud de Nerford's, and their children, confirmed all the grants made to the house, by any of his predecessors, as appears from his deed, dated at Methwold, where he often resided.
Other benefactors to this monastery were, Richard de Felbrigge, who gave the homage and service of Alfred Kokerboll, his villein, in East-Herling; (fn. 13) Odo, son of John de Herling, by another deed without date, gave a rood of land in East-Herling. (fn. 14) In 1202, William Estun settled lands in Huningham and Thorp by Huningham, on the house. In 1207, the Prior owed King John 100 marks for the manor of Lodcomb in Berkshire. In 1234, Herbert de Alencon (fn. 15) acknowledged that he held his free tenement in Gayzle, Hegham, and Kavenham in Suffolk, of the Prior, by divers services, in lieu of which he agreed to pay him a rent of 5s. 6d. per annum.
Sir Jeffery de Furneaux, Knt. lord of Middle-Herling, died about 1234, and was buried by Amy his wife, in the church of the canons in Thetford, to which house he gave the ninth sheaf of all his demeans in Bircham and Middle-Herling, with a messuage and 12 acres of land there, (fn. 16) which grant was afterwards confirmed by his son and grandson; these temporals were taxed at 2s. but the spirituals were never taxed, because the Prior always received a composition of 23s. 4d. a year, in lieu thereof. (fn. 17) The tenement was after held of the Prior at 1s. per annum rent.
About 1250, Alice, wife of Sir Michael Furneaux, Knt. a benefactrix, was buried in the canons church. (fn. 18)
In 1252, King Henry III. granted the Prior liberty of free-warren in all his lands, in Norfolk, Suffolk, and Cambridgeshire.
About 1272, King Henry III. gave them land in Thetford to the value of 20s. per annum.
In 1274, Thomas de Burgo (or Burgh) gave the ninth sheaf of all the demean lands of his manors of Somerton in Suffolk, and Burgh in Cambridgeshire, in exchange for the advowson of Somerton, which the Prior conveyed to him. The Prior was taxed for his portion in Burgh at 53s. 4d. and for all his spirituals in Suffolk, at 6l. 13s. 4d. and for all his temporals 79s. 1d.
In 1278, Robert, eldest son of Sir Simon de Furneaux, was buried in this church, as was Cecily his mother, and Sir Simon his father in 1286. And also Sir John de Furneaux, son and heir of the said Robert, about 1318, with Mary, daughter of Nicholas de Twinsted, his wife.
In 1347, the hospital-house of Domus Dei was settled on the canons, the ancient revenues of which had been settled on them before. (fn. 19)
In 1364, the Prior had license to receive in mortmain lands in Bernham, Barningham, and Knatishall in Suffolk; (fn. 20) and in 1392, the Abbot of Bury licensed the Prior of St. Sepulchre at Thetford to purchase the tenement called Pleyfords in Bernham, standing near the rectory-house of St. Martin's parish, with the homages, services, rents, and fold-course for 400 sheep, thereto belonging, with 7 score acres of arable land, worth a half-penny each acre, all which formerly belonged to Master Walter of Elveden, being held of the fee of St. Edmund, and were purchased of the said Walter to the use of the Prior, by Peter, rector of Fakenham-Parva, Adam Foxele, rector of St. Ethelred in Thetford, and John Dauntre, rector of Broome, for which license the Abbot reserved a relief of 2s. 9d. at the installation of every prior, besides the old services.
In 1400, Sir Will. Berdewelle the elder gave them a legacy.
In 1442, Henry VI. granted license, that 240 acres of land, 600 acres of pasture and heath, with the liberty of four fold-courses in Croxton, with a messuage and garden in Thetford, might be settled to found a chantry in the canons church.
In 1464, the Prior sued John Legat, rector of Tudenham by Berton Togryng, (fn. 21) (or Barton-Mills,) for an annual pension of 6l. due to the Prior, which had been detained some years; but the Prior recovered it, by proving that he was always taxed at 12s. to the tenths, for this portion. This, with their portion in Wratfing-Parca, which was taxed at 4d. ob. q. and that at Somerton, were granted to Sir Richard Fulmerston, and after belonged to Sir Edward Clere.
About this time they were taxed at 10s. for their temporal rents in Wigenhall St. German's.
In 1499, Will Fishere, burgess, gave them a legacy.
In 1511, Robert Love of Thetford, burgess, gave the Prior 13s. 4d. "Item I wol and assigne to the honor and wurshipp of St. Saviour at the Chanons an hool vestyment with all the Pertin, the pryce of xx.l."
In 1537, when the house was dissolved, it was returned, according to Mr. Dugdale, to be endowed with 39l. 6s. 8d. per annum but according to Mr. Speed, with 49l. 18s. 1d. both which accounts fell very short of its real value; immediately after the Dissolution, Sir Richard Fulmerston obtained a lease for 21 years, of the site and lands belonging to it, at 15l. 8d. a year, and though the Duke of Norfolk had a grant of it, to him and his heirs, yet in 1540, Sir Richard procured another to him and his heirs for ever, of the site of the canons, and the following revenues which belonged to it, the Duke agreeing thereto, viz. a fold-course two miles round, for 340 sheep, in Bowdesling, the Common-Field, containing 160 acres, a peice of pasture of 6 acres, within the monastery walls, 4 acres of pasture adjoining to the monastery walls, divers rights of commonage, and fishings in the river, Mason Dieu, Fold-course furlong and lands, Great-Norwick or Sotheries sheep's pasture, Dudwell-Valley, and lands which contain seven-score acres, Mayes meadows 10 acres, Blackdon sheep's pasture, Chanons leasures and furlongs, the Canons lands in Halwick sheep's pasture and Erles-Course, 83 acres in Kilverston, the canons lands and furze in Croxton and Lynford, the tenements Colles and Stanfords, the pasture and lands in St. Edmund's-Croft, their lands and pasture in Bowdesling and Favertonfield, otherwise called Westwick, and the Reed-Fen there, with feed as well for their sheep and great beasts, with their followers, as other their cattle there. The tithes of all the possessions, and of all other possessions, of the late Duke of Lancaster, and Earls Warren, and of all other farmers and tenants, and all tithes belonging to the impropriate churches of the canons, as well of fishings, as grist of corn, and other tithes, the canons liberty of common in Downham, and surplusage of lands which the monks took in farm of the canons, with the advowsons and other things, all which descended with Sir Richard's heiress, and were sold by Sir Edward Clere of Bukenham-Ferry, to Robert Causfield and others, in trust for the Earl of Arundel: (fn. 22) and thus they came to the noble family of the Howards, in which they have continued ever since, the honourable Philip Howard of BukenhamHouse being the present [1738] owner.
The advowson of the priory always belonged to the dominion or lordship; it is said by Mr. Weaver, (fn. 23) to be dedicated to St. Mary and St. John, and to be founded by a Bygod, which mistake was occasioned by his confounding it with St. John Baptist's hospital, (fn. 24) though it is sometimes called St. John's, because it stood in that parish, and not far off the church. Mr. Willis tells us, (fn. 25) that the canons church was 90 paces long, and the nave 15 paces wide. There is a barn built on the site of the nave, but the ruins of the quire are heaped together, and make a large hill, from which we can see a great distance about us, and so answer the end they were designed for; this is now called the Canons-Hill, the Whole site being on the Suffolk side, at the west end of the town.
Priors
OF THE AUGUSTINE CANONS OF THE HOLY SEPULCHRE, AND HOLY CROSS.
1202, Richard the prior.
1274, William, prior.
1329, 5 id. May, Brother Richard de Wintringham, canon here, was elected prior by the sub-prior and convent, and confirmed by the Bishop, and installed by the Dean of Theford, according to the usual custom.
1338, 20 Dec. Brother John de Thefford, canon here, installed prior at Wyntringham's cession.
1349, 15 July, Brother Robert Edwyne of Thefford, a canon here, installed prior.
1351, 14 Nov. Brother Adam de Hockwold, priest, a canon of Ixworth convent, was installed prior here on Edwyne's resignation.
1358, 25 Jan. Brother William de Hanneworth, canon here, was installed prior at Hockwold's death.
1378, 9 June, Brother Adam de Worthstede, priest, late a professed canon regular of Penteney convent, was elected prior here, but the election wanting due form, the Bishop voided it, and collated him, upon his swearing canonical obedience, and it being a lapse, his letters of installation were directed to the Archdeacon of Norwich or his official.
1393, 5 Aug. Brother Robert de Stowe, a canon of St. Osith's monastery, was installed prior here.
1422, 27 Nov. Brother John Palcock, canon here, was installed prior at Stowe's death.
1432, 20 Oct. Brother John Grenegres, canon here, was installed prior. At his admission he paid eight marks to the Bishop for the first fruits of the church of Gresham, which was appropriated to the priory.
1454, 5 Sept. Brother Peter Bryan, canon here, was installed prior at Grenegres's resignation.
1471, 9 March, Brother Reginald Ilberd, canon here, installed prior at Bryan's death.
1496, 20 April, Brother John Burnell, a canon of Cokesford, was installed prior on Ilberd's resignation.
1508, 30 Sept. Brother Thomas Vicary was installed prior.
1519, 22 Dec. Brother John Thetford, bachelor of the canon-law, who had studied near 12 years in Cambridge, being a canon of this house, was installed prior by the officers of Richard Nix Bishop of Norwich, and not by the Dean of Thetford, as had been usual: this Prior, with William Bryggs, and five other canons, subscribed to the King's supremacy, 26th Aug. 1534. He was a benefactor to Butley abbey, giving them two chalices, one for the chapel of All-Saints, and another for St Sigismund's chapel, and two relicks, the comb of St. Thomas the Martyr of Canterbury, and a silver box of relicks.
Brother John Clerke was the last Prior, who, when he resigned his monastery, Febr. 16th, 1537, had a pension of 6l. 13s. 4d. settled on him for life. (fn. 26)