Pages 28-37
An Essay Towards A Topographical History of the County of Norfolk: Volume 8. Originally published by W Miller, London, 1808.
This free content was digitised by double rekeying. All rights reserved.
KIRKEBY-KAM.
The principal manor in this town was in the abbey of St. Edmund of Bury, to which it was given by Algiva Queen of England, mother of Edward the Confessor. It is to be observed here, that Emma is by historians generally called this King's mother, who first married Etheldred King of England, by whom she had King Edward, and afterwards married Canute King of England, &c.; the Saxon Chronicle calls her Ælgiva Ymma; (fn. 1) and it is probable that she gave it about the year 1020, when King Canute, her lord, was a great benefactor to that abbey.
The said abbey held it at the grand survey, and Rafrid of the abbot, with 2 carucates of land, a villain and eleven borderers; there were 2 carucates in demean, 5 carucates among the tenants, and 14 acres of meadow, paunage for 6 swine, the moiety of a mill, &c.; a church endowed with 20 acres in free alms, and 2 parts of a church endowed with 14 acres; 4 runci belonged to the lordship, 4 cows, &c. and 100 sheep. There were also 4 freemen with 3 carucates of land, and 4 carucates and an half, and 3 acres of meadow, valued at 40s. but at the survey at 6l. and the 20 acres of the church at 20d.—It was nine furlongs long, and 5 broad, and paid 10½d. gelt. (fn. 2)
Rafrid was succeeded by Godebald de Kirkebia, most likely his son, to whom Anselm, abbot of St. Edmund's Bury, granted this lordship with all its appertenances, and to his heirs, to be held by one fee, sans date; witnesses, Gilbert Blound, Robert de Wridwell, Osward de Thuston, Ralph de Lodnes, Richard de Cadomo, and this grant was confirmed by the letters patent of Henry I.
HENRICUS REX Anglie, &c. Episco. Norwic. Sciatis ME concessisse Godeboldo de Churchebey terram de Chirebeiam cum soca, et saca, &c: Test. A. Lino. Espico. Galfrido Cancell. Auberio de Vere, Robto. filio Walteri, Gilb. de Blund, &c.
It appears that this King's grant was in the singular number Me concessisse, and not Nos.
William, son of Godebold held it temp. King Stephen.
In the 8th of Richard I. a fine was levied between Sampson, abbot of Bury, and Alexander, son of Gobald, before Hubt. Archbishop of Canterbury, William de Sca. Maria church, Mr. Thomas de Husseborn, Simon de Pateshull, Richard Heriet, Oger, son of Oger, the King's justices; whereby Alexander agrees to pay 20s. when the scutage for one fee was so taxed, and to do full wardship to Norwich castle. This Alexander left a daughter and heir, Mary, married first to Gilbert de Norfolk, and after to Walter de Cam; Robert de Norfolk, her son, released to her, and Walter her husband, in the 3d of Henry III. all his right in his land here, by fine. (fn. 3)
After this, the lordship seems to have been divided, and in the 52d of Henry III. Richard de Thwait, and William de Stockton granted by fine their interest in the advowson of this church to Richard de Cadomo, or de Caam, who gave that name (as lord) to this town.
This Richard was descended from Richard de Cadomo, who was living, as is above shown, in the time of King Henry I. and was father of Walter de Cam. King Henry II. in his 30 year, granted to—, son of Thomas Fitz-Bernard, the custody of Mary, the daughter of Walter de Cam, with Wabrigg, (she being 5 years old, and in the custody of the wife of the late Thomas Fitz-Bernard; (fn. 4) ) this Walter had a younger brother, Richard, who was living about the same time, and father of Walter de Cam, who married Mary, daughter and heir of Walter aforesaid; and in the reign of King John, this Walter, and Mary his wife, let to Thomas de Longville, a mill in this town, that she had by inheritance; also a lordship here, as appears from her deed, sans date, whereby she confirmed to persons, lands held of her ancestors, not to be aliened by them, without her consent; and they held it by the 3d part of a fee.
Sir Richard de Cam was their son, and inherited this lordship, who lived in the 52d of Henry III. and married Maud, sister of Adam de Mendham; and died about the year 1286, when he made his last will.
Walter de Cam, his son and heir, succeeded, was lord in 1287, and in the 22d of Edward I. he and Constance his wife were living in the 31st, and did homage to the abbot of Bury. This Walter, in the 15th of Edward II. sold this manor to Roger Gavel, a burgess of Great Yarmouth, and Constance, his wife, (probably Walter's daughter;) in the following year, Rich. the second son of Walter de Cam, released ot Roger and his wife, all his right; and in the 19th reciting that whereas the said Roger and his wife were to pay to him an annuity of 20s. and to provide him a new robe every winter, he had released the same to them.
John, eldest son and heir of Walter, impleaded Roger Gavel, in the 49th of Edward II.; but it appearing that he had also released his right, Roger kept possession. One John de Cam was summoned to parliament in the 28th, 32d, &c. of Edward II. and was of the King's council.
Roger Gavel was son of John Gavel, living at Yarmouth, ao. 10 Edward I. son of Jeffrey Gavel, of the said town, by Alice his wife, daughter of Rich. Fastolf; Roger was also lord of Mettingham in Suffolk, in the 5th of Edward III. and father of Edmund, by Constance his wife. Edmund was lord of Kirby in the 10th of Edward III.; in the 17th of that King, he leased the manor of To-How's marsh in Thurverton, to Anselm de Fordele, and William, his son paying him, 5l. per ann. and finding him and Mary his wife, diet at his table, &c. for 2 years. Witnesses, Barth. de Thorp, John de Jernemouth, Thomas Aleyn, John de Wytton, and Hugh de Kymberly, burgesses of Great Yarmouth. In the next year he was in rebellion against the King, riding about Suffolk with banners displayed, imprisoning, and committing many murders, for which he was indicted befor William de Shareshull, &c. the King's justices, and after had a pardon under the broad seal, dated June 29, in the said year.
Nicholas Gavel was his son and heir, by Mary his wife, and in the wardship of Nicholas de Wichingham, in the 25th of the said King: he married Catherine, daughter and heir of — Myniot, and was ord of Myniot's manor in Kirkested, in her right.
Robert Gavel was their son. Ellen Myniot, widow, mother of Catharine, wife of Nicholas Gavell, released to him, ao. 18 Richard II. all her right in this manor and advowson, which she had of the gift of Nicholas his father; and Catherine his mother was living in the 2d of Henry IV. then the wife of John Godfrey of Chedeston in Suffolk. Robert, by his will. dated February 19, 1439, was buried in the chapel of St. Mary, on the north side of the chancel of this church; Maud, his wife, survived him; her will was proved February 19, 1454.
Thomas succeeded his father Robert, was lord of this manor and of Kirksted; by his will, dated December 17, 1461, he orders his body to be buried at the door of the chapel of St. Mary in this church; appoints Heny, his son, and George, his brother, executors; which was proved January 28, 1462. (fn. 5) Emma his wife was living in 1474.
Henry Gavell, Gent. inherited this lordship: by his will, dated August, 30, 1474; he was buried in the chapel aforesaid; he bequeaths to Anne, his wife, the manor of Kirby and Ellingham, as long as she continues sole, but if not, then an annuity of 10 marks per annum, and to his mother, Emma, 4 marks per annum Bartholomew, Robert, and Ellen his children mentioned, and proved January 12, following.
Bartholomew, son and heir of Henry, was father of Thomas Gavel, the last heir male of this family, and lord in the 12th of Henry VII. by Anne, his wife, daughter of Henry Everard, of Linstead in Suffolk, he left four daughters and coheirs; first, Thomasine, married to Leonard Copledike, Esq. 2d, Dorothy, to Francis Clopton, of Liston in Essex, Esq. 3d, Eleanor, to John Bury, Esq. of Worlingham in Suffolk; and 4th, Elizabeth, to John Cook, Esq.
This Thomas, by his will, dated February 16, 1522, was buried in the church of Kirkeby; (fn. 6) and was proved August 9 following. To Thomasine, his eldest daughter, he gives this lordship, who brought it by marriage to Leonard Copledike, Esq. (fn. 7) 2d son of Sir John Copledike of Frampton in Lincolnshire, and of Horham in Suffolk, by Margaret his wife, daughter of — Heton. On the death of this Leonard, (by whom she had a son and heir, John,) she remarried Edward Calthorp, Esq. in 1525; and in the 22d of Henry VIII. this lordship and advowson with 20 messuages, 400 acres of land, 60 of meadow, 300 of pasture, 12 of wood, and 40s. rent per ann. in this town, Elingham, Stockton, Geldeston, and Hale, were settled on the said Edward and Thomasine, for their lives; remainder to John Copledike, son of the said Thomasine, and his heirs. Thomasine died in 1557.
Edward was son of Edward Calthorp, Esq. of Ludham, and Anne his wife: in the 4th and 4th of Philip and Mary, he demised to John Copledike, Esq. the site of this manor, which he held for life by the courtesy of England, after the decease of Thomasine, his wife: John paying to him 20l. per ann. in the hall of the said house; Edward was also to have meat and drink for himself, and one servant, as often as he shall reside there; and 2 chambers, one for his own the other for his servant's lodging; with convenient fewel; the keeping of 3 geldings or mares, in summer-time at grass, in the winter in the stable, with hay, &c. and Edward to pay to John 10l. per ann.; in 1557, he died, and was buried by his wife in the chancel of this church, his will being dated May 5, and proved November 5; gives to Edmund his son, all his goods; and to Mary, Grace, and Prudence, his daughters, legacies.
John Copledike was lord in the 6 of Elizabeth, and held it in capite of the castle of Norwich; he married, first Ellen, daughter and heir of John Woodhouse, Esq. and his 2d wife was Maud, daughter of John Highfield, Esq. of Calais, who died s. p.; by his first wife he left, a daughter and sole heir, Thomasine, who married Humphrey Copledike, Esq. of Hetherset, 5th son of Sir John Copledike, of Harington in Lincolnshire. By an inquisition taken ao. 36 of Elizabeth, the above said John was found to die possessed of it, held of that Queen, by knight's service.
Humphrey had several children by his wife Thomasine; but he sold this lordship to Thomas Catelyn of Lakenham by Norwich. The pedigree of this family is as follows,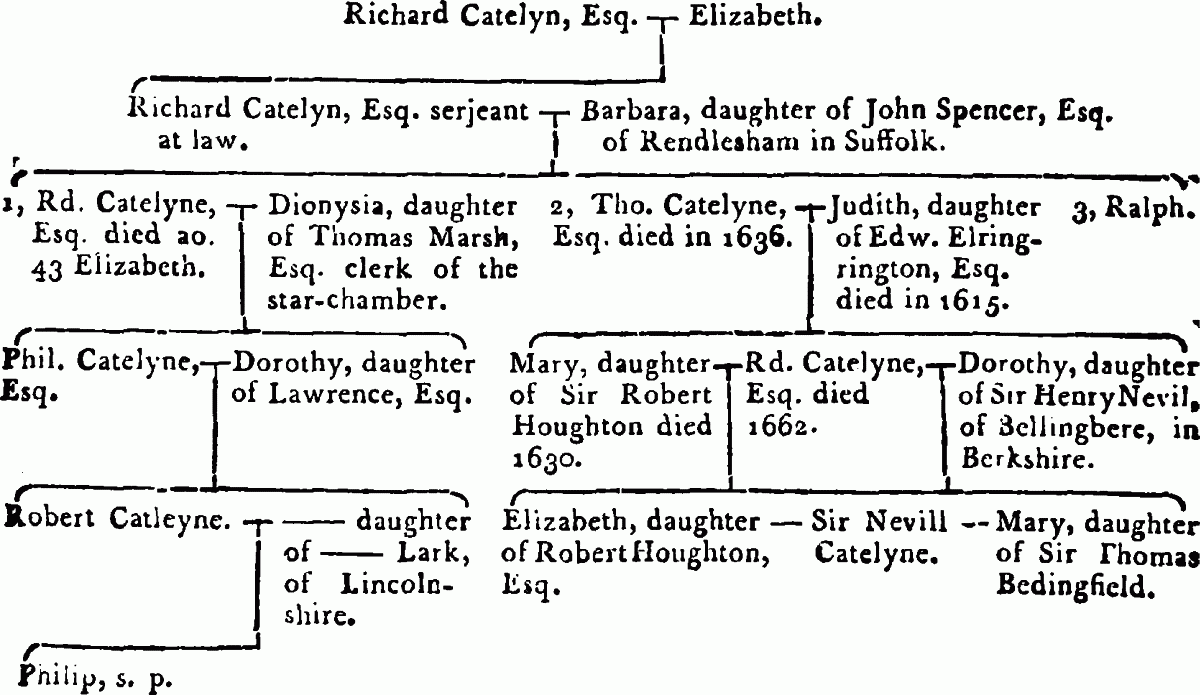 Richard Catelyn, Esq. was sheriff of Norwich, in 1531, and alderman of that city; by his will dated August 28, 1556, he wills his body to be buried by his wife, in St. Peter's church of Norwich, and was buried there on November 3 following; his wife was buried there in August 1555.
In 1553, he had a patent to bear these arms; p. chevron, azure and or, three lions passant, guardant, in pale, counterchanged; on a chief argent, as many snakes nowed, sable, stinged gules.
Richard Catelyn, Esq. was 5th son of Richard, by Elizabeth: in the 4th of Edward VI. he was autumn-reader of Lincoln's Inn, serjeant at law May 19, ao. 1552; steward of the city of Norwich, and King and Queen's serjeant, October 16, 1555; deputy lieutenant and justice of the peace, and one of the commissioners to try the rebels in the reign of Queen Mary; he died before his father, in August, 1556, and was buried in the chancel of Huningham church in Norfolk, and was lord of Huningham Hall, and of Walsoken Popenhow in Norfolk. Barbara, his widow, erected a monument to his memory, which being after decayed, another was erected by Thomas, his 2d son.—He had three daughters; Ann, married to Thomas Derham, Esq. of West Derham; Elizabeth, to Thomas Townsend, Esq. of Testerton, and Lettice, to William Guybon of Fincham. Esq.
Richard Catelyn, Esq. first son of the serjeant, was lord of Wolverston Hall in Suffolk, and died March 11th, ao. 43 Elizabeth; he married Dionysia, daughter of Thomas Marsh, Esq. and was father of Philip, who by Dorothy, daughter of — Lawrence, Esq. of — in Cambridgeshire, and Jane his wife, daughter of Sir John Pagrave, Bart. had Richard his son and heir; Richard had also by Dionysia, a 2d son, Sir Nathaniel Catelyn, Knt. recorder of Dublin in Ireland.
Philip, by Dorothy, was father of Richard, who, by—, daughter of — Larke of Lincolnshire, had Philip his son, who died unmarried.
Thomas Catelyne, Esq. 2d son of the serjeant, married Judith, daughter of Edward Ellington of Theydon Bois in Essex, was lord of Wingfield Hall in Suffolk; in 1604, was lord of Hastings Hall and Whitfoot Hall in Irmingland, and he purchased of Humphrey Copledike, this lordship of Kirkeby.
He died in 1636.
Richard Catelyn, Esq. son of Thomas, married first Mary, daughter of Sir Robert Houghton, one of the judges of the King's Bench; she died s. p.; his 2d wife was Dorothy, daughter of Sir Henry Nevil of Billingbere in Berkshire, by whom she had a son and heir, Sir Nevil, and Richard who died s. p. also Anne, who married Thomas Leman, Gent. of Wenhaston in Suffolk. Dorothy, married to Leonard Gouch, Gent. of Ersham in Norfolk. Barbara, to Henry Mordaunt of Congham, Esq. Elizabeth who died single.
Sir Nevil Catelyne was knighted by King Charles II. at Somersethouse, London, in 1662, lord of this town, and Wingfield castle in Suffolk; he married, first, Dorothy, daughter of Sir Thomas Bedingfield of Darsham in Suffolk; and his 2d wife was Elizabeth, daughter of Robert Houghton of Ranworth, Esq. and had children by both, who died young; his 3d wife was Mary, daughter of Sir William, and sister of Sir Charles Blois, Bart. of Cockfield Hall in Yoxford, Suffolk, and of Grandesburgh: Sir Nevil was buried in this church, on July —, 1702.
She survived Sir Nevil, and married Sir Charles Turner of Warham in Norfolk, and were both living here in 1720; and Sir Charles was lord in 1740, and patron.
Rafrid (as has been observed) held, at the survey, this lordship of the abbot of Bury, by one fee, and so did Godebald de Kirkeby, and Alexander his son; but after, this fee was divided and held by three different families; the family of De Cam held one 3d part; the Bigots Earls of Norfolk had also an interest in another 3d part which came to the Bigots Lords of Stockton. In the 14th of Edward I. Sir John Bigot, lord of Stockton, claimed view of frank-pledge, assise, free warren, as his ancestors had held of the abbot of Bury; this came to the Garneys, Delapoles, &c. as in Stockton.
Another 3d part was in Richard de Thwayt, who, with William de Stockton, granted by fine, in the 52d of Henry III. their interest in the advowson of this church, to Richard de Cam; and Imania, widow of Richard de Thwayt, claimed an interest herein, in the 15th of Edward I.— William, son of Richard de la Grene of Kirkeby, confirmed to Sir Richard de Cam, and Maud his wife, in the sixth of Edward I. for 8 marks, all his lands in this town, Stockton, Hales, &c. with the services, homages, rents, &c. except the capital messuage in Kirkeby. Witness, John de Waleton, master of the hospital of St. Bartholomew, in London; this 3d part was thus united, and so came to Gavel's manor, &c. as above.
Ralph Lord Bainard was lord of a manor in this town. When Domesday book was made, Ulmar, a freeman of King Edward, held it with 30 acres of land; Robert, son of Corbun, laid claim to this land, and had livery; there belonged to it 2 borderers, one servus, 2 carucates, and half a carucate of the tenants, &c. with 3 acres of meadow. There were also 8 freemen belonging to the lord's fold, and under his protection, with 20 acres, and 2 carucates and half an acre of meadow; valued at the survey at 40s. but before at 20s. It came to Bainard by an exchange. (fn. 8)
By the forfeiture of the Lord Bainard, this came to the Lords FitzWalter, and was called Loot's or Lowt's fee, being held by John Loot, of the Lord Fitz-Walter, in the 3d of Henry III. Roger de Hales had an interest herein about the same time, and John de Hales in the 2d year of Edward III. this was soon after united to the abovementioned manors.
About 1266, William de Wendling had a messuage, &c. with several rents, services, here, in Raveningham, &c. which Philip Loot had conveyed to him, and William gave them to the canon of Langley, and were confirmed by Robert Lord Fitz-Walter. Henry Walpole held this Lowt's fee, and owed to the abbot of Langley, in the 12th of Henry VI. 10l. 4s. 2d. arrears of rent for the land and tenements here and in Stockton, formerly George Felbrigg's.
Eustace Earl of Bologne, in France, had also a lordship, of which Osmund, a thane of Archbishop Stigand was deprived; Ralph de Beaufoe had an interest in it after Osmund, but at the survey, Warine held it under Eustace.
In King Edward's time there was one carucate of land, and a borderer, with one carucate and 3 acres of meadow, &c. and 4 freemen under commendation, with 15 acres and hall a carucate, valued at 15s. (fn. 9)
Warine was ancestor of the family of De Meynwarine of Cheshire.
The temporalities of Bury abbey here, in 1428, were valued at 11l. 0s. 6d. of the prioress of Campsey 3s. 5d. ob.
The Church is a rectory dedicated to All-Saints, and the patronage belonged to the abbot of Bury's manor.
In the 14th of Henry III. Walter de Cam and Mary his wife, could not deny on an assise, but that Roger de Tweyt, and Roger de Stockton, were parceners with them in the advowson of this church, of the inheritance which was Alexander's, son of Godebald de Kirkeby, therefore they all presented at this time, which proves that they had it by inheritance. In 1220, there was a composition between the monks of St. Ildevert of Gurnay in France, and Master Walter, dean of Flegg hundred, of the tithe of some sheafs of corn, out of the abbot's manor, held by Sir R. de Cam.
In the 52d of Henry III. Richard de Thwait and William de Stockton granted by fine the advowson to Richard de Cam.
Rectors.
In 1268, Laurence de Monteforti was instituted rector, presented by Richard de Cam.
The rector in the reign of Edward I. had a house and a carucate of land, the valor was 15 marks, Peter-pence 22d. carvage 9d.
1311, Walter de Hekungham by Walter de Cam: this Walter aliened to the rector three acres of land in the 7th of Edward II.
1326, John de Cam, by Roger Gavel.
1328, William de Merche. Ditto.
1330, Roger Gavel, occurs rector.
1351, Robert de Weston, by William de Wychingham, guardian of Nicholas Gavel.
1355, John Foucher, by ditto.
1361, Nicholas Batchelor, by ditto.
1378, William de Redham, by Nicholas Batchelor of Wychingahm, Sir Wythred of Denton, and John Bole of Wodeton, Thomas Storme of Blakeney, and Elen Myniot, (fn. 10) patrons.
1379, Nicholas Jacob, by Thomas Storme, and Elen Myniot, and John Wythred chaplain.
1389, Walter Gerard, by ditto.
1393, Thomas Busk, by Robert Gavel.
1418, John Bassys on, by ditto.
1420, John Vernon Ditto.
1449, Robert Hare, by Thomas Gavel.
1497, Thomas Mortimer, by Thomas Gavel.
1511, Thomas Grene, by ditto.
1540, Robert Hilton, by Edward Calthorpe, Esq. and Thomasine his wife.
1565, Thomas Fell, by John Copledyke, Esq.
1570, German Gardiner, by ditto.
1571, Robert Hill, by ditto.
1579, Richard Davison, by ditto; in 1603, he returned 58 communicants.
1619, Thomas Potts, A. M. by Richard Catelyn, Esq.
1646, John Watson, by Richard Catelyne, Esq. he wrote a book in octavo, called Memoirs of the Stuarts, printed at London in 1689, after his death; he was ejected during the rebellion.
1662, John Hardware, by Richard Catelyne, Esq.
1690, William Randall, by Sir Nevil Catelyne.
1700, Abraham Baker, by ditto.
1733, Samuel Baker, by Sir Charles Turner, Knt.
In the chancel by the communion table are several grave-stones; one,
In memory of Mary, daughter of Sir Robert Houghton, the first wife of Richard Catelyne of Kirby Cane, Esq. by whom she had 2 sons and 2 daughters; Thomas the eldest, a man of great hopes; at 21 was captain of a troop of horse for king Charles I and slain by the rebels at the 2a Newbury fight 1644.—Mary, the eldest daughter, married Edward Ward of Bixley, in Norfolk, Esq. and died without issue; Robert and Judith died young; she died in 1633, in the 45th year of her age.
Another,
In memory of Judith, daughter of Edward Elrington of Theydon Boys, in Essex, Esq. and wife of Thomas Catelyne, Esq. who dyed in 1615.
Thomas Catelyne, Esq. son of Richard Catelyne of Honyngham, serjeant at law to king Philip and queen Mary: by his wife Judith, daughter of Edward Elrington, Esq. &c. he had Richard Catelyne of Kirby Cane, Esq. and Thomas Catelyne of Blofield, Gent.—Barbara, mother of Robert Bendish, Esq. and Judith, mother of Robert Houghton, Gent.; he died in 1636.
Exuviæ viri plene memorabilis, Rici. Catelyn, Armigi. qui vitam exuit A°. Ætatis 79, A°. 1662.
Quod mortale fuit reliquum est Dorotheæ, Rici. Catelyn, Armigi. uxoris ex prænobili Nevillorum familiâ, in com. Berc. oriundæ, obt. 29 Sept. A°. Ætatis 67, et A°. 1672.
Thomas et Nevillus, filij Nevilli Catelyn, Equitis Aurati, et Dorotheæ conjugis redamatæ ex antiquâ familiâ de Bedingfeld, in agro Suffolc. oriundæ, infantes ambo, bimuli, heic præmaturam posuerunt mortalitatem. Thomas in Anno Dni. 1662, Nevillus A°. 1663.
M. S. Elizab. Catelyne, cujus pars melior cum Deo, et semper fuit semperq; est futura, quæ dum mortalibus convixit nobis benignum nuper sydus præluxit. Fratris verè germani Nevilli Catelyne, Equitis Aurati, soror; supra quam dici potest dilecta; cujus res domesticas ad annos non paucos, summâ cum prudentiâ administravit.
Quam primæva in Deum pietas, piè profusa in pauperes charitas. Intaminata in se castitas, probataq; in omnes relationes bonitas, opimæ famæ reddidere saturam. Cunctorum passim bonorum cum luctu denatam, puriore ævo vere dignam. Terræ parumper peregrinam, sempiternam cæli piè credimus incolam. Obt. Feb. 5°. 1681. Ætat. suæ 41.
Amoris nunquam intermorituri tessellam hanc posuit Nevillus Catelyn, Miles.
Radulphus filius natu tertius Richardi Catelyn, Armigi. et Dorotheæ uxoris ejus (ex prænobili Nevillorum familiâ) ætate quinquenni diem clausit Ao. Dni. 1645.
Against the north wall of the chancel was erected a little tomb of free-stone, which had an epitaph, many years past, through time obliterated; it was,
In memory of John Copledike, Esq. who was here buried, April 12, 1593, who left Thomasine, his daughter and co-heir.
On the west end of this tomb were the arms of Gavell, sable, a chevron between three garbs, argent, with an impalement now obscure.
On the body of the tomb, the single shield of Copledike, argent, a chevron between three cross crosslets, gules:—also Copledike, with his quarterings; 1st, Gavell—2d, a saltire, but obscure—3d, lozengy ermin and gules, Rockeley,—4th, or, a chief gules, with a bend over all, azure, Harrington—5th, azure, a saltire, between four cross crosslets, or, Friskeny, impaling Woodhouse of Kimberley:—also Copledike, with his quarterings, impaling, azure, a chevron between three acorns slipt, or, Hayfield. Copledike's crest here is a goat's head, argent, issuing out of a coronet.
Beatam expectans resurrectionem, sub hoc marmore obdormit Gulielmus Randall, A. M. hujus ecclesiæ quondam rector et benefactor Probitate et amicitiâ clarus, et mirè constans, sinceræ et non fucatæ pietatis exemplar. Matildam filiam Johs. Hawys, M. D. duxit, e quá unicam filiam nomine Mariam reliquit. Obt. 13 cal. Apr. Ætat. 49, Ao. salulis 1699.
Johs. Hardwar, rector hujus ecclesiæ, hic jacet in spe resurrectionis, cælebs, obt. 21, die Febr. Ao. ætat. 75, salutis 1689.
Here rests Margaret, wife of Abraham Baker, rector, and three of their children; she was daughter of the Rev. Mr. Pycroft, late rector of Ditchingham, and died March 20, 1717, aged 36.
Here lies the body of Anne, wife of John Chambers of Kirby Cane, Gent. who died Feb. 3, 1681.
Sir Nevill Catelyne is buried in a vault here, which he built several years before his death, which was in July 1702, also Mrs. Elizabeth Catelyne, his daughter, was here interred in 1685, as was Mrs. Philippa Culpeper in 1719.
In 1559, Thomas Hare, Gent. was here buried, and in 1557, Mrs. Thomasine Calthorp.—Edmund, son of Edward Calthorp, Esq. in 1567.—Mrs. Maud Copledike, wife of John Copledike, Esq. in 1589.
In 1286, Sir Richard de Cam was here buried.
The present valor is 10l. and pays first fruits and tenths.
It is generally said that towns beginning with Kirke, signifies that their site is by some church, (fn. 11) but it rather is a compound word, and wrote, as in Domesday, Ker, Che, or Ke; Kerkstead is wrote Ker-chessstead, Ches, or Che, signifies always water, and Ker, is tbe same as Car; thus Carbroke is wrote Cherebroc, and sets forth a clear water, as Kercheby does a dwelling by clear water.
Kirksted.
See in Langhale, Loddon hundred.