Pages 419-425
An Essay Towards A Topographical History of the County of Norfolk: Volume 8. Originally published by W Miller, London, 1808.
This free content was digitised by double rekeying. All rights reserved.
GAYWODE.
This town and lordship belonged to the Bishops of the East-Angles, in the time of the Saxons, and was given by some of their Kings. In the reign of King William I. William (Beaufoe) Bishop of Thetford held it in right of that see; and Almar Bishop of Elmham held it in King Edward the Confessor's time, by the same right: this Almar was brother to Stigand, and succeeded him in this see, on his translation to Winchester, in 1047.
Before the survey the Bishop had 3 carucates of land in demean, there were always two, and one amongst the tenants, and 16 villains; in the time of Bishop Almar there were 28 borderers, but in Beaufoe's 24, always one servus, 40 acres of meadow, paunage for 160 hogs, one mill, and 32 acres of land; in Almar's time 30 salt pits or salt pans, or works, at the survey 21, and 3 socmen who held 29 acres, 4 of meadow, &c. and 190 sheep. (fn. 1) In Almar's time it was valued at 13l. per ann. but at the survey at 18l. 10s. per ann.—The whole wa one leuca long, and half a one broad, paid 12d. to the gelt.—It was called in the Saxon times Gauuide, and takes its name from Guy or Quie, which signifies a river or water, and gives name to many places as in Gayton, &c.
Herbert Bishop of Norwich gave to the priory of that church a carucate of land in this town and Myntling, as will be there further observed; and from the register of that church, it appears that William Turbus, or Turbervile, Bishop in the reign of King Stephen and Henry II. who had been sub-prior of that monastery, was a great friend to those monks, confirming all their former grants, and amongst them, the church of St. Magaret at Lynn, with the soc, men, fair, and all their salt-pits or pans in Geywode, excepting those which belonged to the Bishop, and wherein his own lands were, and belonged to the farm of his manor; (fn. 2) and John de Grey, Bishop, confirmed to them the charters of his predecessors, the church of Myntlyng, and all the tithes of his manor of Gaywode, excepting those belonging to the church of St. Faith of Gaywode, by deed dated the eleventh of the Kalends of April, in the 5th year of his pontificate. This Bishop erected or rebuilt a sumptuous palace here for himself and successours, wherein he much resided; and the priory of Norwich released to him all their right in the profits of the fairs of Lynn and Gaywode, with the Saturday market at Lynn; all their salt pans, lands, rents, and houses, with the lay fees belonging to the priory of Lynn, (which was a cell to the priory of Norwich) for which he gave them in exchange all his right in the manor of Sechesford, (by Snetesham,) with the manor of Great Cressingham, excepting the patronage, and the service of the knights fees, reserving to himself and successors the same authority that they had in the other manors of that monastery
In the 24th year of Henry II. the Bishop of Norwich was found to hold this lordship with Lenne, in capite; and in the 34th of that King, he would not suffer the King's bailiff or coroner to enter into it, having a coroner of his own; and in the following year, had a charter of free warren here, &c.
William de Raleigh, Bishop, made a park here, and a warren. In a composition made between him and Hugh de Albini Earl of Arundel and Sussex, about 1240, he granted to that Earl, (who was lord of the hundred of Freebridge, and of Rising) common of pasture, and to his men, (but without the liberty of taking any wood or fewel,) from the park of Bawsey, to the bridge of Geywode, and the causey betwixt the river of Bawsey, and the wood of the said Earl.
In the 3d of Edward I. the Bishop of Norwich was found to have the return of all writs, a gallows, assise of bread and beer, and other royalties; and in the 9th year of that King, he was presented on account of his water mill here, having drowned the high way, to the damage of the people passing by.
Henry Spencer Bishop of Norwich had license in the 11th of King Richard II. to embattle his palaces of Geywode and North Elmham.
It continued in the see of Norwich, till it was granted by an act of parliament, February 4, in the 27th year of Henry VIII. to the Crown, with other of the Bishop's manors and barony, by way of exchange for the abbey manors and lands belonging to St. Bennet of Holm.
William Rugg, the last abbot there, being nominated Bishop of Norwich, this manor being thus in the Crown, it was conveyed away on January 1, in the 36th of King Henry VIII. under the great seal of England, having the King's mark at the top, and underneath signed by the Duke of Norfolk, Lord Russell, Lord Rich, Richard Southwell and Walter, officers of the court of augmentation, by way of exchange for other lands, to Thomas, Duke of Norfolk, for life without impeachment of waste; remainder to Henry Earl of Surry, his son and heir, and the lady Frances his wife, and theirs heirs, to be held, by the 20th part of a fee, and the rent of 4l. 18s. per ann. payable at St. Michael, into the court of augmentation.
Henry Earl of Surry was afterwards attainted in his father's life time, but on his death in the reign of Queen Mary, an act passed to confirm it to Sir Thomas Howard, Knt. son of Henry, late Earl of Surry, who being restored also to the dukedom, was beheaded in the 15th year of Queen Elizabeth, and it being again in the Crown, that Queen, in her 20th year, by letters patent, dated at Hampton court January 15, granted it, with the advowson and deameans, the manors of East and West Rudham, and the site of the priory of Coxford in Norfolk, (parts also of the late Duke's possessions) to Edward Earl of Oxford, who in her 22d year had license to convey this manor of Gaywood, with the advowson, to John Pepys, Gent. and he soon after sold it to Thomas Thoresby of Haveless-hall, in Mintling, Esq. in which family it continued, till sold by Francis Thursby, Esq. about 1697, to Sir Cyril Wyche, Knt. of Hockwold-hall in Norfolk, whose grandson, Cyril Wyche, Esq. is the present lord.
The family of the Thoresbys took their name from the town of Thoresby in Lincolnshire, in Lindsey division; Jeffrey de Thoresby and Juliana his wife levied a fine in the reign of Edward III. of the manor of Iteynton in that county, and John de Thoresby, son of John, son of the aforesaid Jeffrey and Juliana, died in the 20th of Edward IV.
Of this family, probably, was John de Thoresby, who was mayor of Lynn, in 1425, father (as I take it) of Henry Thoresby, who was alderman of Trinity guild in Lynn, in 1447, and mayor in 1458, &c.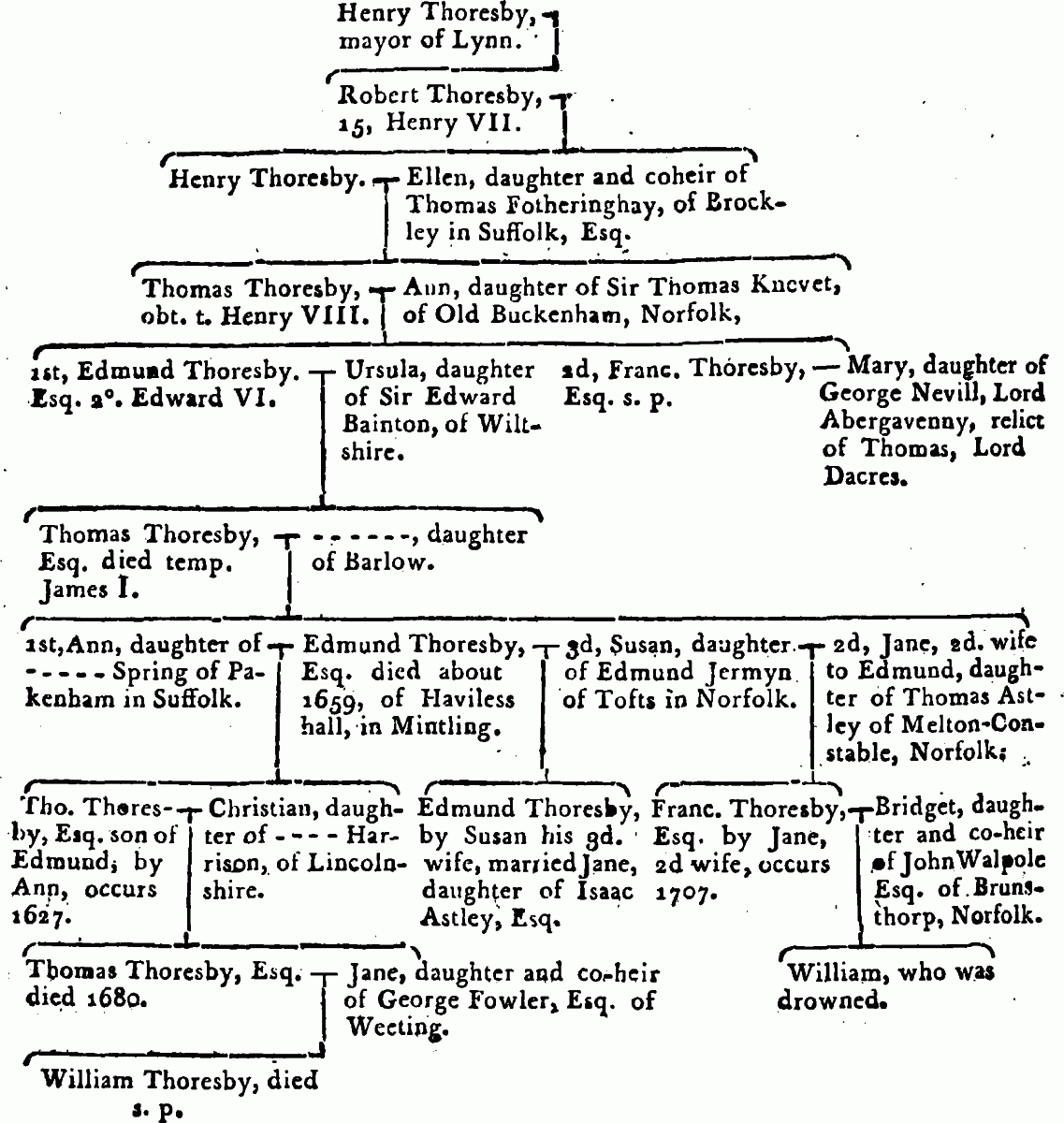 In July 1697, Francis Thoresby, Esq. sold this manor to Sir Cyril Wyche of Hockwold, who was secretary of state in Ireland, in the reign of King William III. son of Sir Peter Wyche of London; Sir Cyril dying in 1707, his son, Jermyn Wyche, Esq. inherited it; who by Mary his wife, daughter and coheir of John Hungerford, Esq. left Cyril Wyche, Esq. his son and heir, the present lord; there is a fee-farm rent payable out of it, to the Crown, of 58l. 13s, 3½d. q. per ann.
Thoresby bore argent, a chevron between three lioncels, sable,- - - - -, Wyche, azure, a pile ermine.
Sir Cyril had a grant in the 10th of William III. for two fairs in the year, in this town, on the 11th and 12th of June, and on the 6th and 7th of October, for cattle, and all merchandise.
The tax formerly (when tenths, &c. were paid) was, together with Mintling, 7l. per ann.
The temporalities of the priory of Norwich were in 1428, taxed at 2l. 13s. 7d. now in the dean and chapter of Norwich.
The temporalities of Castleacre priory at 20s. per ann. and those of (de Monte Gaudij) Mountejoy at 6s. 6d.
The Church is dedicated to St. Faith, the Virgin and Martyr; it consists of a square steeple of brick, in which hang three bells, a nave, with north and south cross isles, covered with thatch.
It was anciently valued with the vicarage belonging to it, at 6 marks, and was not visited by the archdeacon, being a peculiar of the Bishop of Norwich, and in his patronage, and manor; the present value in the King's books is 5l. 13s. 4d. and the patronage has always gone with the lordship.
On a grave-stone with a brass plate in the chancel,
Here lyeth Tho. Hares, a man always peaceable, and religious, ever desirous of doing good, and to his power did it, he died a good old man, full of days and of faith, his soul is returned to God that gave it, and his body thus resteth in hope.
Qui fuit eternæ Christus mihi causa salutis, Exuvijs rursus vestiet ossa meis. Ejusdem reditu mihi vita, salusq; paratur, Intacto tumulo molliter ossa cubent.
Vixit annos 84, obijt Apr. 13, 1617. Tho. Hares, illius filius, et hujus ecclesiæ rector, deflevit.
This rector set up against the north wall of the chancel two tables, one in memory of the Spanish Invasion in 1588, the other of the Popish Gunpowder Treason Plot, in 1605; this last was defaced in the reign of King James II.; under the first was inscribed,
Papa, Deo; Draco, Mendoza; Philippus, Elizæ; Succubuit; Victrix Anglia, Victus Iber. 1588.
On another grave-stone with a brass plate,
The body of Tho. Hares, rector of this church 36 years, wearied and wasted with constant pains in the ministry, resteth here in hopes to be reunited to his soul, that both may be united to Christ, their head in glory. Obt. Mar. 7, A. D. 1634, Ætatis suæ 63.—Anna, conjux charissima, a moris ergo posuit.
On another,
Hoc marmor dicatum est memoriæ Mri. Robti. Carter, hujus ecclesiæ rectoris, qui obijt 29, Septemb. Ao. Salutis 1664. Ætatis suæ 54.— Memoria justi benedicta. Prov. 10, et 7.
Here lie also several grave-stones
In memory of several children of Francis Thoresby, Esq. who died young.
One also thus inscribed,
Hic jacet Tho. Thurlin, S.T.P.S. Joh. coll. Cantabrigiæ præses, hujus ecclesiæ 50 annos rector, vir pietate, doctrinâ, et animi candore inclytus, beneficij memor, injuriæ obliviosus, octogenarius obt. Aug. 11, 1714.—He published a sermon preached at the episcopal visitation in King's Lynn, May 10, 1686.—The necessity of obedience to spiritual governours asserted.
In the east window of the chancel are the arms of Henry Spencer Bishop of Norwich, in the time of Richard II. quarterly, argent and gules, in the 2d and 3d quarter a fret or, over all a bend, gules, in a bordure, sable, mitred of the 3d.
In a south window of the chancel, argent, a fess gules, between three eaglets displayed, sable—Elingham or Elmham; and in a window of the north cross isle are two shields much defaced, one seems to be the cypher or mark of a merchant, the other, argent on a chevron between three - - - - - - - - -, five bezants, and a chief ermine.
Rectors.
1302, John de Walsham, collated by the Bishop, pleno jure.
William, occurs vicar 1309.
1335, William de Lingwode, (exchanged for Hoxne deanery) by the Bishop.
1351, John de Shaftsbury. Ditto.
1353, John de Acre, (exchanged for South Elmham All-Saints.) Ditto.
1368, John de Acre, of Cokesford, (exchanged for Narburgh,) Ditto.
1390, Thomas Paynot, Ditto.
1424, Nicholas Hawys. Ditto.
1424, John Claydon.
Geff. Adam.
1458, John Clot, (exchanged for Snave in Kent,) Ditto.
Henry Winchestre.
1470, Thomas Fuller, by the Bishop.
1506, William Perryn. Ditto.
1530, Roger Holt. Ditto.
1556, William Hatch, by Thomas Steining, Esq. and Frances Countess of Surry, his wife.
Richard Hemslaye.
1558, Richard Webster, by Thomas, &c.
1559, Richard Marks. Ditto.
Robert Hooks.
1577, John Dynsdale, by William Dixe and William Cantrell.
1578, Bartholomew Mason, by Edward Vere Earl of Oxford.
1586, Richard Persivall, by the assignees of Thomas Thoresby, Esq.
1598, Thomas Hares. Ditto.
1635, John Lane, by Edmund Thursby, Esq.
1649, Robert Carter. Ditto.
1664, Thomas Thurlyn, D. D. by Fran. Thorisbie, Esq.
1714, Rowland Simpson, by Mrs. Mary Wyche, widow.
1737, Samuel Stedman, A. M. by Cyril Wyche, Esq. rector of Denver, D. D. Archdeacon of Norfolk.
Bishop Herbert gave a portion of tithe in this church to the monks of Norwich, and the dean and chapter are said to have a pension of 3l. 6s. 8d. out of it in 1612.
William Beaufoe Bishop of Thetford held at the time of the survey in right of his see, the following lordships:—In South Greenhou hundred, Cressingham Magna;—in Frebridge, Gaywode;—in Smethden, Thornham;—in South Greenhou, Tofts;—in Launditch, Elmham, Beteley;—in Brothercross, Colkirk;—in Galgou, Saxlingham;—in Holt. Thornage, Brunton, Hemstede and Beckham a beruite, and Swanton;—in North Greenhow, Hindringham, Warham, Wells, Egmere;—in Walesham, Hemlington;—in Eynesford, Hilderston, Norton, Geystwick, Geist, Helmingham, and Corpusty;—in Tunsted, Suffield; —in Deepwade, Stratton, and other lands.