Pages 45-56
An Essay Towards A Topographical History of the County of Norfolk: Volume 8. Originally published by W Miller, London, 1808.
This free content was digitised by double rekeying. All rights reserved.
RAVENINGHAM.
Ralph Lord Baynard had on the conquest, the grant of a lordship, of which Torn was deprived; and Einbold held it under the Lord Baynard at the survey. In Torn's time it contained 2 carucates of land, 3 villains, 6 borderers, and 2 servi, there was one carucate in demean, &c. half a carucate among the tenants, paunage for 5 swine, with 8 acres of meadow, &c. Fifteen socmen had 56 acres of land, with 3 carucates and an acre of meadow, valued then at 30s. at the survey at 50s. it was one leuca long, and 9 furlongs and an half broad, and paid 12d. gelt. The said lord had also the grant of the lands of a free man, with 30 acres and 3 borderers, with a carucate and 3 acres of meadow; Robert claimed this man, and had livery of him. In the said town there were 4 freemen who held 30 acres, and a carucate of land, valued at 20s. but at the survey at 30s.
A family who took their name from the town, were enfeoffed of it by the Bigots, the capital lords; Robert de Raveningham was lord in the reign of Henry II. Thomas, his son, held a whole fee here and was not a knight, as was found. In the 6th of King John, William de Raveningham (as appears from the Pipe Rolls) was found to owe 20s. to the King, to have 24 knights summoned to convene 12 jurors on account of perjury in an assise of presentation to this church. Roger de Raveningham was living in the 20th of Henry III. and in the 3d of Edward I. Robert de Raveningham, son of Thomas, conveyed by fine to Peter de Beccles, a lordship in this town, which was conveyed by the said Peter, in the 9th of that King, to Nicholas de Castello, or Castell: he was son of Walter de Castello. In the 4th of Edward I. he was clerk in the King's Exchequer, when the King wrote to the treasurer and chamberlain of the Exchequer, to deliver out of the treasury to his beloved clerk, Richard de la Leye, chancellor of the Exchequer, 20l. to John St. Walery and Rog. de Northwood, barons, 20l. each, to Richard de Hereford, clerk, 10l. and to Mr. Nicholas de Castello, clerk, 10l. (fn. 1) In the 6th of that reign he was the King's remembrancer in the Exchequer, and delivered out 14l. and half a mark, for William de Penchester, his allowance for Easter term, as keeper of Dover castle.
He farmed, in the 10th of the said King, the hundreds of Humbleyard, Blofield, Taverham, and Walsham, during the King's pleasure, at 28l. per ann. and in the said year brought lands in this town of Walter de Mortimer and Julian his wife.
T're Radi. Bainardi—Ravenich am, ten. Einbold. qd. tenuit Torn. T. R. E. ii car. t're. sep. iii villi. et vi bor. tc. ii ser. tc. et p. i car. in d'nio. mo. i car. et dim. sep. dim. car. ho'um. silv. v por. viii ac. p'ti. mo. i. r. et iiii por. et xv soc. lvi ac. sep. iii car. et i ac. p'ti. tc. val. xxx sol. mo. l. et ht. i leug. in long. et ix qr. et dim. lat. et xiid. de. g. In Ravincham, i lib ho. xxx ac. et iii bor. tc. et p. i. car. mo. dim. alia car. posset restaurari iii ac. p'ti. hunc etiam calumpniatr. Rob. (fn. 2) et ht. libatore. in eade. iiii libi. ho'es xxx ac. et car tr'e. tc. xx sol. mo. xxx.
Sir Nicholas de Stutevile, in the 16th of that reign, conveyed to him, the manor of Badingham: he seems also to have been in the 14th of that King a baron of the Exchequer; when Roger Bigot Earl of Norfolk performed homage in the Exchequer, to the Bishop of Ely, for lands held of him, before Thomas de Weyland, justice of the Common Pleas, Philip Willoughby, chancellor, John Cobham, William Grandison, and Nicholas de Castello, barons, &c. and was lord of Horningtoft, in Norfolk, in the 18th of Edward I.
Of this family was Robert de Castello, living in the reign of King Richard I. and Henry de Castello and R. de Castello his brother Ao. 43 Henry III. also Bartholomew de Castello, to whom, and Richard de Bamfield, guardians of the Exchequer, that King, in his 52d year, gave orders that they should, out of the profits of the Exchequer, make satisfaction to foreign merchants, paying 380l. marks, for which his jewels were pawned; this Bartholomew is said to have built the refectory for the Gray-friars, at their convent by Newgate, in London, and in the 56th and 57th, was warden of the Mint, and in the 1st of Edward I. presented Bartholomew de Brancestre to make the assay of money.
The pedigree of this family, as collected from old writings, &c. is as follows; but being in some things erroneous, I have from many ancient records corrected it. See in Horningtoft, Launditch hundred.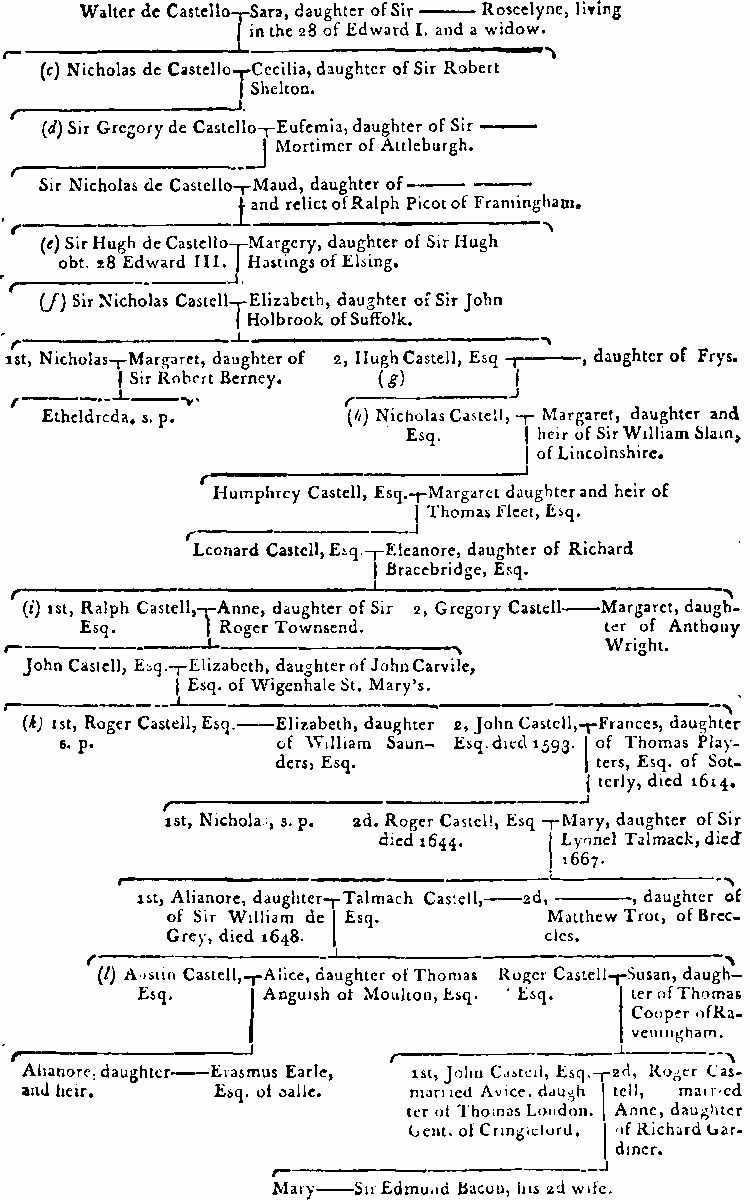 (c) Cecilia de Castell, by deed sans date, tied her manor here to pay to Sir Symon de Hederset 100s. per ann. with a robe of 20s. In the 28th of Edward I. Sir Symon de Hederset, and Cecilia his wife were querents, and Nicholas de Castillo deforciant, of a messuage, 100 acres of land, and 10s. rent in East Greenwich, Comb, and Charleton in Kent, which Sarah, relict of Walter de Castello, held for life, and granted to Sir Symon by fine. John de Castello and Joan his wife in the 30th of Edward I. grant to John Abel and Margaret his wife all the manor of Pomfret's in Stebunhithe (Stepney) in Middlesex, for 30l. sterling, and in the preceding year, Gregory de Castello, as a trustee, settled on Nicholas and Cecilia his wife 21 messuages, 700 acres of land, 14 of meadow, 8 of wood, 94 of marsh, 77 of juncary with 10l. 6s. rent in Raveningham, Hales, Loddon, &c. for their lives.
(d) In the 13th of Edward II. this lordship was settled on Gregory de Castello and Eufemia his wife for life, remainder to Nicholas, son of Gregory, in tail. Sir Nicholas married Maud, daughter of — —, and relict of Ralph Pigot of Framingham Pigot, and held one fee of Robert Lord Fitz-Walter, as is said.
Mary, daughter of John Castell, Esq.; of Raveningham, married Sir Edmund Bacon, Bart. of Gillingham, his 2d wife, and had the impropriate of Raveningham, and Norton: the Dennys conveyed it to the Castells.
Anthony Castells, Esq. married a daughter of Sir Roger Townsend, the judge living in Queen Elizabeth, or Henry the Eighth's time.
(e) Of this Sir Hugh I find no proof.—Nicholas, son of Sir Gregory was living in the 7th of Edward III. and sealed with three castles, in three roundles; and in the 12 of that King, Sir Gregory Castello, the father, and Eufemia, his wife, settled by fine the manor of Bedingham on Nicholas their son ( (fn. 3) ) and Christiana his wife, daughter of Jeffrey de Medleton. This Sir Nicholas and Christiana had Nicholas their son and heir, on whom the manor of Bedingham was also settled; he married Margaret, daughter of Sir Robert Berney of Wichingham, by whom he had Etheldreda, a daughter and heir, who married first Thomas Lucas of Holkham, Esq. and secondly Thomas Payne of East Derham. Sir Nicholas was collector of the aid, in the 20th of Edward III. and held then of Sir John de Norwich, half a fee and Sir John, of Constantine de Mortimer.
(g) Hugh Castell, Esq. 2d son of Sir Nicholas and Christiana his wife, was heir to his elder brother, Nicholas, and died about the 28th of Edward III. he is said to marry - - - - -, daughter of - - - - - Frys - - - - - - -. Hugh de Castello presented to Horningtoft in 1349.
(h) Nicholas Castell, Esq. son of Hugh, was lord in the 3d of Henry IV. and died about the 31st of Henry VI. and Humphrey his son was lord in the 37th of Henry VI. on July 24, 1461, he made his will at Raveningham. Of this family was Nicholas Castell of this town, who by his will in 1490, was buried in the presbytery of the abbey-church of Langlee, by the tomb of Elizabeth his wife, and gives to the repair of the abbey cloister 20l. also a vestment of bawdekyn. (fn. 4) Nicholas de Castell presented to Hetherset in 1370. Leonard Castell, Esq. lord on his father Humphrey's, death, 1461.
(i) Ralph, son and heir of Leonard Castell, Esq. died before his father. John, his son and heir, by his will dated April 10, 1551, and proved January 24, following, was found to hold this lordship of the Earl of Sussex, valued at 30l. per ann. appoints Thomas Kervile, Esq. his executor, and was buried in the church of Raveningham, gives to Roger his son and heir, his lordships of Leverton, Leke, Freston, and Wintherpe, in Lincolnshire. (fn. 5) John left by Elizabeth his wife 3 daughters, Mary, who married Humphrey Beding feld, Esq. Martha, who married Owen Hobart, Esq. of Morley, and Grisel to Roger Townsend of Twyford, Esq.; Roger, son and heir of John, died s. p. about 1578, and was succeeded by his brother John Castell, Esq.
(l) On the death of Augustine Castell, Esq. without issue male, Roger Castell his brother recovered the estate, against Alianore, the daughter and heir: this Roger married Susan, daughter of Thomas Cooper of Raveningham, and was father of John Castell, Esq. who by Avice his wife, daughter of Thomas London of Aldey, also of Roger, his second son, who married Anne, daughter of Richard Gardiner of Cranford in Suffolk.
In 1742, John Castell, Esq. was lord, and bears argent, three castles, triple-towered gules; crest a dragon's head.
The abbot of Langley had a lordship held of the Lord Fitz-Walter, a descendant of the Lord Bainard, lord at the survey, given with lands by several benefactors; Sir Roger de Hales, Jeffrey de Mortimer, John, son of Robert de Mortimer, &c.—William de Vernun of Raveningham gave lands in this town and Norton, with Eve his wife; she was after the wife of Roger de Thaseburgh, and Robert de Vernun her son, confirmed the gift of his mother and Roger de Thaseburgh, s. d.
Their temporalities valued in 1428, at 226s. 3d. and granted at the Dissolution to Thomas Godsalve, Esq.
Dean and Chapter of Norwich's Fee.
William de Beaufoe Bishop of Thetford had a grant from King William I. of 30 acres of land, and half a carucate, valued at the survey at 3s. (fn. 6) held by two bordarers, of which a freeman was deprived who was under the protection of Ailmer Bishop of Elmham, which Bishop Beaufoe held as a lay fee, and gave it at his death to his church or see, and so became part of the revenues of the dean and chapter at this time.
In 1298, there was a composition between the prior and convent of Norwich, for two parts of the great and small tithes of the demean lands of Robert, late son of Thomas Baynard, held by Nicholas de Castello, paying yearly to the almoner 40s. and was farmed by the rector of this church. (fn. 7)
The temporalities of this fee was held by the Lords Bardolf of the see; before them, by the family of De Ages. William, son of Sir William de Ages, had an interest here, as by a deed sans date. John de Ages gave to Jeffrey de Mortimer, rector of this church, a certain homage, and was living in the reign of Henry III. as James de Ages was, who held a quarter of a fee of the Lord Bardolf, and Thomas de Ages had the same in the 20th of Edward III.—At this time there is a lordship that bears this name.
At the grand survey, King William had a considerable lordship, of which Godric was his steward. (fn. 8) Olf was lord in King Edward's time and deprived, and after him Robert Malet had an interest in it; it consisted of 3 carucates of land, one villain and 2 borderers, 2 carucates in demean, with 6 acres of meadow, 13 swine, and 200 sheep.
Eleven freemen belonged to the lord's fold, and held in commendation 64 acres and an half, with 4 carucates and 3 acres of meadow. Three socmen had 4 acres, valued in King Edward's time, at 30s. at the survey it paid 60s. quitrent. Ketelfreda had 7 acres with a marsh valued at 12d.
This lordship remained sometime in the Crown, and then was granted to the Earl Warren on an exchange for other lands: the ancient family of De Mortimer held it under the Earl Warren. Sir William de Mortimer possessed it before the reign of Henry II. lord also of Atleburgh. Sir Robert de Mortimer was living in the time of Henry II. and was succeeded by his son William, who was father of Sir Robert, who in the 5th of King John, was lord; and in a plea about the right of presentation to this church, was found to be the grandson of Sir Robert de Mortimer who presented the last rector to this church.
In the 4th of Edward I. Sir William de Mortimer recovered the ad vowson, against Robert de Raveningham, after this it came to the Roscelines: Sir Peter de Rosceline was lord in the year 1312, and presented then to this church; Sir Thomas, his son and heir; but being in the rebellion (as the Norwich Institution Book declares) in 1325, the King presented then.
Soon after it was conveyed by Sir Thomas Rosceline, by deed, dated at Norwich, on the feast of St. Fabian and St. Sebastian, in the 6th of Edward III. to Dame Katerine, relict of Sir Walter de Norwich, and Sir John, son of the said Walter; and to Remigius (de Hederset) brother of the same Dame Katerine, this lordship, and the homage and service of Sir Gregory de Castello, Knt. (fn. 9) which he owes to him for lands and tenements, which formerly were Roger de Raveningham's in Ravenyngham, Tibenham, Thurton, Lodne and Norton, together with the advowson of the church of Ravenyngham, &c. Witnesses, Sir Roger de Kerdeston, Sir Anselm le Mareschal, Sir Symon de Hederset, Sir Edward de Baconsthorp, Sir John de Caylly, Sir John Fitz-Symon, knights, &c.
Sir Gregory de Castello, and Nicholas his son, did homage to the same Dame Katerine, for half a knight's fee, on Ash Wednesday, ao. 7 Edward III. in the presence of Sir Symon de Hederset and others.
Sir Walter de Norwich was one of the barons of the Exchequer, constituted locum tenens of the treasurer of the Exchequer, in the 5th of Edward II. till the King could provide one, and in the said year, on October 25, admitted one of the privy council. By Chatherine his wife, he had Sir John de Norwich, his eldest son and heir, who in 1350, founded a college here, and settled this lordship, &c. on it, as will be after shewn.
Another considerable lordship was granted on the conquest, to Roger, son of Renard, of which Osbern was deprived, a thane of King Edward, containing 2 carucates and 2 acres and a half of land, 2 villains, 2 servi, one carucate in demean, one among the tenants, 8 acres of meadow, 5 swine, 4 cows, &c. 5 socmen had 13 acres; and there was a church endowed with 60 acres; the whole valued at the survey at 40s. before at 20s. (fn. 10)
The son and heir of Fitz-Renard assumed the name of Hadeston, formerly a town, but now the chief manor in Bunwell, and was held by them of the Earl Warren, as is said; it seems that the Mortimers had rather an interest in it, and were enfeoffed of it by that Earl, and continued in that family till it came to the Roscelines, and Sir Thomas de Rosceline conveyed it to Dame Katerine de Norwich, and her son Sir John, in the 6th of Edward III. and the said Sir John, on his founding a college here, settled it on that college, where it continued till its dissolution.
Roger Bigot, ancestor of the Earls of Norfolk, had a grant of 12 acres of land, held by a freeman, of which Alwin was seized, when the King granted it to Roger, and was valued in his lordship of Haddesco. (fn. 11)
In the 35th of Edward I. John de Dunhedd, and Isabel de Haggele, held in this town, Waketon, Lodne, and Kirkby, &c. 3 fees, &c. of Roger Bigot Earl of Norfolk.
Ralph de Beaufoe had one socman with one acre of land, valued at 2d.; this belonged to his lordship of Aldby, in this hundred. (fn. 12)
Alan, Earl of Richmond, had the grant of 30 acres of land, which a freeman of King Edward was deprived of, with a borderer, valued at 5s. (fn. 13)
Here was also belonging to the King's manor, a freeman, who before the conquest, held his land independent of any lord; this freeman, called Chetel Frieday, had 7 acres and a borderer, a marsh valued at 12d. Ralph, the late Earl of Norfolk, held it when he was outlawed; it belonged to his fee then, and after, but paid no service to him or to the King, at the survey, as he proved; (fn. 14) this was for the maintenance of the lord. Under the title of invasions, we find that Ralph, late Earl of Norfolk, had a freeman who held 3 acres under him, and that Nicholas, the goldsmith of Hugh Earl of Chester, had seized on it, valued at 6d. but at the survey was in the Conqueror's hand, and granted (as I take it) after to the Earl Warren, and so united to his lordship abovementioned. (fn. 15)
William de Noiers took care of 30 acres of land, with a carucate and half an acre of meadow, of which 3 freemen of Archbishop Stigand were deprived; this belonged to the King's manor of Toft, and was valued with it. (fn. 16)
Raveningham-College
Was founded by Sir John de Norwich, eldest son of Sir Walter de Norwich, and Catherine his wife, in 1350, for a master and 8 secular priests, to officiate in the church of Raveningham, and was dedicated to the Virgin Mary; in his foundation deed he expresses himself in these words: Calling frequently to mind that saying of the apostle, that what seed a man shall sow, the same shall he reap, &c. for his own soul's health, and that of Margaret, his wife for the honour of God and his mother, St. Andrew the apostle, and all the saints; he founds it by deed, dated at Thorp, by Norwich, July 25, 1350.
This Sir John was vice-admiral of England, and had by Margaret his wife, Walter, his son and heir, also 2 brothers, Sir Thomas and Sir Roger de Norwich, and a sister, Margaret, who married, first Sir Thomas Cailey, and after, Robert Ufford Earl of Suffolk.
Sir Roger aforesaid, by his testament, dated on Wednesday in Whitsunday-week, and proved June 26, 1371, appoints to be buried in Raveningham church, by the tomb of his brother; his executors to buy a good piece of marble, to be ornamented with brass, his arms in the middle of it, round the verge, his name, and the time of his death; gives to the master of Raveningham College, 6 marks, to find a chaplain to celebrate for his soul, the souls of his father and mother, and brother Thomas, for one year, at the altar, where he lies buried; to Sir John de Norwich, his nephew, one paltock of velvet with his arms; to the Lady Margaret, relict of Sir Walter de Norwich, 2 silver bowls, of 4 pound weight, and 2 silver pots; the residue of his goods to be at the disposal of the said Lady Margaret, and his executors. And further orders, that the apostolical letter which he had for a plenal absolution from all punishment and crimes, be placed just over his head in his sepulchre, on the day of his burial.
Sir Walter, son and heir of Sir John the founder, married Margaret, daughter of Sir Miles Stapleton, of Ingham, and was father of Sir John de Norwich, who by his testament, dated at Mettingham-Castle, in Suffolk, in 1373, and proved the last day of February, in the said year, appoints his body to be buried in Raveningham church, by his father, Sir Walter, there to rest, till it could be removed to the new church of Norton-Coupe-Cors; to the building of which he gives 450l. to his dear mother, Lady Margaret, her heirs and assigns, a messuage called Stone-Hall, in Norwich, late John Boys's; to the said lady a diamond ring; to John Boys, a silver cup; and to the master of his college here, his red vestment. The Lady Margaret was living, as appears by this, in 1373. Sir John was the last heir male of this family.
Alianore, his wife, was daughter of Richard Franceys - - - - - - - - - she was his widow in 1374, was a great heiress, and gave in that year to her trustees, Sir John Avenel, Sir Baldwin St. George, &c. all her paternal estate and lands of inheritance in Wrastlingworth, in Bedfordshire, Wynepol, Orwell, Harlston, Eversden, Malketon, Whaddon, Cranden, and Papworth, in Cambridgeshire.
The college, by the founder Sir John, and his heirs, was nobly endowed with the manors of Lyng, How, Blackworth, Hadeston, Snoring Parva, the advowson and appropriation of this church of Raveningham; lands and tenements in East and West Wretham, and Ilington, Mettingham-Castle, the manors of Ilketeshale, Ship-meadow, Melles, Bromfield, Wenhaston and Redesham; lands in Barsham and Beccles; the reversion of the manor and advowson of Dalinghow, and the fifth part of the lordship of Alderton in Suffolk.
The jury, in a writ of Quod Damnum, in the 5th of Richard II. find it would not be to the King's prejudice if Sir John Plaiz, Sir Richard de Boys, &c. removed this college of 8 chaplains, to Norton, and augmented it with 5 more; and in the 11 of Richard II. the college was removed from this town to the rectory-house at Norton; in the 13th of that King, Holm-Hall in Raveningham was granted to it; and in his 17th year, Sir Miles Stapleton, &c. feoffees, aliened to it 3 messuages, 86 acres of land, 5 of moor, 6 of alder, 12 of reed, and 4s. rent in Norton, Carlton, How, and Peres-Hall in Bunwell, with the lands in Hingham, Knapton, and Brinton, &c. The advowsons of Tybenham, and Carlton, Bunwell, and How.
On the death of Sir John de Norwich, the last heir male of this family, s. p. the Lady Catherine de Brews was found heir to Sir John, and the inheritance, as his cousin; being daughter and heir to Sir Thomas de Norwich, (son of Sir Walter and Catherine his wife,) the brother of the founder Sir John, and widow of Sir—de Brews; to this lady, Sir Roger de Norwich conveyed the lordship of Kimberley, about 1374, who was her uncle. In the 49th of Edward III. she confirmed the grants of her ancestors to this college, and settled her inheritance on her trustees, Sir John de Plaiz, Sir Robert Howard, &c. and being a nun at Dertford, in Kent, in the first of Richard II. and lady of the capital manor of Great Massingham, in Norfolk, license was granted in the 8th of that King, on September 3, to her feoffees, John Daventry, parson of Brome, Walter Berkley, vicar of Kimberley, &c. to amortise it to the priory of Dertford.
On July 5, ao. 6 of Richard II. license was granted to Sir Robert Howard, Sir John Plaiz, Sir Roger Boyes, &c. to remove the master and the 8 chaplains of this college from Norton to the chapel of the castle of Mettingham, in Suffolk, and to increase the same to 13; to endow them with the said castle, the manor of Ilketeshall in Suffolk, &c. where it continued till the Dissolution, being surrendered to King Henry VIII. on April 8, ao. 33, and on the 14 of the said month and year, was granted to Sir Anthony Denney, with the appropriated rectories of this town, Norton, &c. held by his son, Henry Denny, Esq. in the 4th of Elizabeth. (fn. 17)
Masters of The College.
In 1349, Thomas de Boyton admitted, presented by Sir John de Norwich, and rector of Raveningham, as all his successours were.
1355, Alexander de Boxne, elected by his brethren, and presented by Sir John de Norwich.
1361, Adam Wyard, elected and presented by his brethren.
1375, Mr. John de Carleton Rode, elected as above; presented by Sir John de Playz.
1380, Roger Withy. Ditto.
1387, John Burghwode.
Richard Cratfield occurs master in 1389.
1392, John Le Neve, presented by Robert de Wylughby Lord Eresby.
1403, John Wilby, elected ut supra; presented by William Lord Eresby.
Roger Bainbridge occurs master in 1433, and 1442: in his time, on the death of John Duke of Bedford, the master was found to hold of that Duke, a quarter of a fee in Ling and Fincham.
William Fransham occurs in 1452, and 1479.
1480, Robert Wright admitted; presented by Sir Richard Hastyns, Knight
Mr. Richard Branch, occurs 1499.
1507, Mr. Richard Weybred, elected September 25.
Mr. Richard Shelton, occurs in 1530, and 1532; he had such skill in water-works, that in 1528, his advice was used in cutting Yarmouth haven.
1539, Thomas Manning, presented by Charles Duke of Suffolk, in right of his wife Catherine; he was suffragan bishop of Ipswich.
The town seems to derive its name from some water or river, called Raven; thus Ravensworth, and Ravensfield in Yorkshire, Ravensborn a river in Kent.
The tenths of the town were 5l. 8s. 11d. Deducted 13s. 4d.
The Church is dedicated to St. Andrew, and was anciently a rectory, valued at 32 marks.
Rectors.
Jeffrey de Mortimer was rector in the reign of Henry III. had a manse belonging to it with a carucate of land, Peter-pence, 14d. carvage, 7d. ob.
Ralph le Butiler occurs rector in 1290. In the 4th of Edward I. Peter de Beccles conveyed his interest in the advowson to William de Mortimer, by fine.
In 1312, Robert de Langele, presented by Sir Peter Rosceline.
1325, Gilbert de York, by the King, on the rebellion of Sir Thomas de Roscelyne.
1349, Thomas de Boyton, presented by Sir John de Norwich, also master of the college here, as all the succeeding rectors were, till the dissolution of the college. Catherine, relict of Sir Walter de Norwich, and Sir John their son, had license of Mortmain to give the patronage to the city of Norwich, but this not taking effect, they had a new license to annex it to Hickling priory; but Catherine dying, Sir John had a grant, in 17th of Edward III. to give and appropriate it to his college here; Anthony Bishop of Norwich, on this, reserved the first fruits to his see; and on July 24, 1350, Bishop Bateman decreed a pension of 36s. per ann. to be paid to his see. At the Dissolution the appropriated rectory was granted, as is abovementioned, with the patronage of the curacy, to Sir Anthony Denny, and from that family, to Roger Castell, Esq. who held it ao. 8th Elizabeth, in which family it continues, and is served by a stipendiary curate. See in Norton.
Thomas Lewgar, curate, returned in 1603, 92 communicants.
The church has a nave, north and south isle, with a chancel covered with lead, and a round tower with 3 bells.
In the chancel lie many gravestones in memory of the Castels, &c.
Here lyeth John Castle, Esq. aged 44, buried April 16, 1593, and Frances, his wife, daughter of Thomas Plater, of Soterly in Suffolk, Esq. by whom he had 4 sons; Nicholas, Roger, John, Thomas, and 3 daughters; Elizabeth, Dorothy and Beatrice; and was buried February 24, 1614, aged 63; with the arms of Castell impaling Platers.
Roger Castell, Esq. of Raveningham, true owner of the rectories and parsonages of Norton-Subcorse and Raveningham, died May 4, 1582.
Eleanor, late wife of Talmach Castell of Raveningham, Esq. daughter of Sir William de Grey, of Merton in Norfolk, departed, &c. November 9, 1648,; with the arms of Castell and Grey, argent, three barrulets, azure, and in chief as many torteaux.
Roger Castell, Esq. second son of John Castell, Esq. brother and heir of Nicholas Castell, Esq. who left 4 sons; Talmach, Nicholas, John, Roger, and 2 daughters, Frances and Mary, was buried September 3, 1644; and Castell impaling Talmache.
Mary, late wife of Roger Castell, Esq. second daughter of Lionell Tallemach, of Helmingham in Suffolk, baronet, buried June 23, 1667, in the 82 year of her age.
Avice, wife of John Castell, gent. departed, &c. September 1, 1715, aged 54; with the arms of Castell, and London of Aldby.
By the communion table,
Here lyeth Anne, the wife of Roger Castell, junior, and daughter of Richard Gardiner, of Cranford in Suffolk, who died March 2, 1697, aged 21 years.—Avice, wife of John Castell, died September 1, 1715, aged 54.
On the south side of the chancel, by the wall, an altar tomb, and on it a black marble thus inscribed,
Roger Castell, Esq. youngest son of Roger Castell, Esq. and Mary, his wife, daughter of Lionel Tatmach, baronet, departed, &c. January 17, 1708, in the 86 year of his age, and left 2 sons, John and Roger; he was eminent for his loyalty to King Charles the 1st, having served him in all the civil war, raised against him.
On the north side of the nave, between the two upper pillars, a gray marble, with an effigy of brass, &c.
Here lyeth buried under this stone of marbyll Margaret, sometime wife of Humphrey Castyll, Late wyfe unto Ralph Willoughby, Squier for King Richard the third's body. The yere of God M.CCCC. LXXX. and three, On the ix of March departed she, For whose sowle beseche you hartyly to pray And devowtly a pater noster and ave to say.
It was ornamented with brass escutcheons; one was lately remaining; on two bars, gules, three water budgets, argent, Willoughby, impaling, a lion rampant, bruised with a bendlet, probably Bokenham, or Branch.—Near to this,
Oratep. a' ab; Johs. Baspoole, Agnetis et Elene uxor. suar quar. aiab; p' pitietur Deus.
In the north isle,
Tertio die Decemb. 1633, sepulta fuit Dorethea Denny, uxor Gulielmi Denny, Generosi, Ao. Ætat. 34.
Richard Denny, son of Thomas Denny, Gent. died 22, Nov. 1675, Ætat. 48.
William Pearse, Gent. died June 22, 1681, aged 34.
Dinah Denny, daughter of Glover Denny, died July 10, 1681,
In the south isle,
Mary, wife of Robert Brome, Gent. died 1696.—Robert Cooper, Gent: 706.—Priscilla, wife of John Cooper, 1675.—Elizabeth, wife of Robert Cooper, 1706.—William Raveningham, buried in an altar, tomb, in the church-yard, Ao. 1640, by the end of the north isle.
In the 16th of Richard II. it was found that Sir George Fellbrigg, &c. might grant a messuage and 160 acres of land here, to the priory of Hering flete in Suffolk, held of Ralph Bigot, Nicholas Castell, and William Inglby, Knt.—This was granted on January 26. Ao. 28, Henry VIII. to Henry Jerningham