Pages 204-209
An Essay Towards A Topographical History of the County of Norfolk: Volume 9. Originally published by W Miller, London, 1808.
This free content was digitised by double rekeying. All rights reserved.
WIGHTON.
It appears from Domesday Book, that the royalty of this hundred, and the lordship of the town of Wighton were both in the Crown, and were possessed by King Edward the Confessor. The hundred takes its name from the many hills, and tumuli, and the town from its site, on a river; Wis, Wissey, Wi, &c. being a general name for rivers among the Britons, as Wisbeach, &c. called also Guistone, from Guy, or Qui-Water.
This manor extended into several towns, 12 carucates of land belonged to it, held by 26 villains, and 24 borderers, &c. one carucate in demean, with 10 carucates among the tenants, &c. and 19 socmen and 3 borderers, 4 carucates and 45 acres of land: it was valued at 10l. 6 sextaries and an half of honey, with 41s. for customary dues in King Edward's reign, but at the survey at 23l. paid by weight, was one leuca long, and one broad, and paid 7d. gelt. (fn. 1)
King Henry II. as lord and patron, gave this church (by the name of Wichetune (fn. 2) ) to the cathedral church of the Holy Trinity of Norwich, for the health of his own soul, his father Geffrey's, and his mother Maud's, and his grandfather's King Henry I. &c. which John, the Bishop of Norwich, and the prior and convent had granted at his request to Richard de Britt, his clerk, for life, on his paying one mark of silver yearly, to the altar of the said church, and its repair at Easter;—witnesses, Geffrey Bishop of Ely, Geffrey my son, Humph. de Buhun, constable, William, son of Ald. Dapifer.
Soon after this William de Kaion, or Ken, had a grant of this lordship, to be held of the Crown by one fee: this William gave to the said church of Norwich all the right and jurisdiction which he had in the lands belonging to them, as lord of the hundred, and this town, and for this grant William, then prior, gave him 20 marks of silver, and a palfrey of 3 marks value, and to Eustachius his son, one mark; the said William was, in the 4th of King John, a benefactor to the priory of Binham, and in the 8th of Henry III. William, his son, was to pay relief for his father's land here, and at Morden, in Cambridgeshire.
In the 29th of Henry III. Philip de Albiny was lord, on a grant from that King, being forfeited by Ken, who is styled the Norman, and a rebel; and paid then 20s. for one fee here.
Prince Edward possessed them in the 34th of that King, when they were valued at 60l. per ann. but in the 41st of that reign Jeffrey de Lysignan, the King's half brother, had a grant of them, and the hundred was valued at 10l. per ann.
In the 1st of Edward I. it was found that William de Ken had sold considerable parts of the demeans; and in his 15th year, Joan de Bernake, widow of Jeffrey de Lysignan, had an interest herein, the jury then present that this lordship was of the value of 60l. and the hundred of 10l. per ann. that Jeffrey, son and heir of Jeffrey Lysignan, was under age, and in the King's custody, that his father had a grant of them, on an exchange for lands in Ireland, with the King, and that John de Harcourt and Joan his wife, (whom I take to be the mother of the minor) held the same as his guardians.
This Jeffrey, the son, died about the end of the aforesaid reign; it being found in the 1st of Edward II. (fn. 3) that he had enfeoffed Richard de Walsinghham, of 200 acres of land, &c. on his paying 10l. per ann. to him, and his heirs; about this time the hundred court was held at a place called Crundle, (probably nigh Warham,) by the waterside, near to a fortification as it is said.
Drogo de Merlaw, nephew and heir to Jeffrey, gave 100l. relief for these, and the manor of Paunton, in Leicestershire, &c. on whose death, in the 11th of Edward II. they came to his two daughters and coheirs; Joan, the wife of Ralph Earl of Ewe and Guysnes, in France, aged 22, and Margaret, a minor.
Robert Earl of Ewe, and constable of France, taking part with Philip de Valois, King of France, forfeited them, and being taken prisoner in the 19th of Edward III. at Caen, in Normandy, paid 80,000 florins for his ransom.
In the following year, Philippa Queen of England, enjoyed them, as did Sir Robert Knowls in the 45th of that King; and in the next year they were granted to John of Gaunt Duke of Lancaster, with the manor of Fakenham, on June 25, and so became part of the dutchy of Lancaster, and lodged in the Crown.
In the 6th year of King Charles I. they were purchased by the city of London, for 1262l. 14s. 3d. the fee farm rent to the Crown being 45l. 1s. 11d. q. per ann. and the trustees for the city sold it to Humphrey Bedingfeld, Esq. whose grandson, Christopher Bedingfeld, Esq. counsellor at law, died seized in 1750 leaving 3 daughters, and coheirs, and conveyed by them to the late Earl of Leicester.
An ancient family of the Geggs had a considerable estate here.
John Geggs, son of William, was living here in the 10th of Henry VI.
Robert Gyggs left two sons, Christopher and John, which last dying in 1518, left by Agnes his wife, Robert, whose daughter and heir Anne, married John, son of Andrew Russel, his daughter and heir Grace, brought by marriage the family estate to Edmund Bedingfeld, Esq. fifth son of Sir Edmund Bedingfeld, of Oxburgh, Knt. by Grace his wife, daughter of the Lord Marny, whose descendents may be seen in the following pedigree.
Bedingfeld's Pedigree.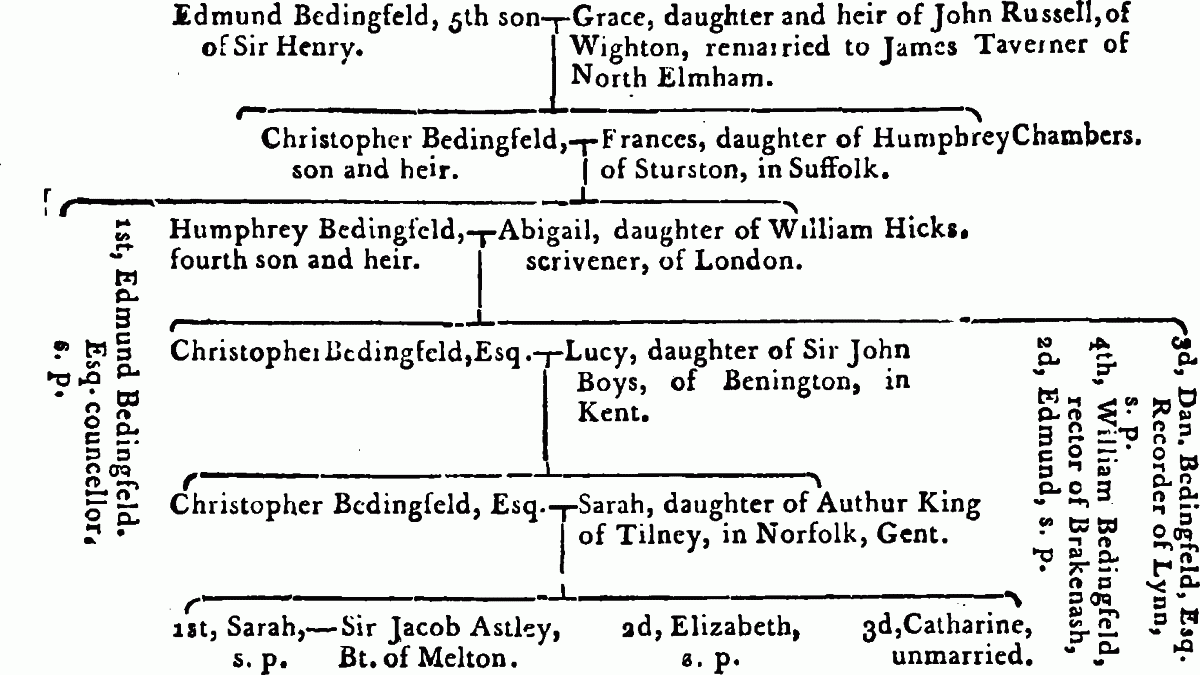 The tenths of this town were 9l. 9s. 4d.—Deducted 20s.—Walsingham priory temporalities 5s. 11d.
On the heath belonging to this parish, towards Holkham, is a fortification with a double ditch, and another towards Walsingham; the first is called Crabb's castle, and several Roman coins have been dug up in the field towards Walsingham.
The Church is dedicated to All-Saints, and is a large regular building, with a north and south isle, covered with lead, and a chancel, with a square tower, and 4 bells; was anciently a rectory in the gift of the Crown, and valued with the vicarage at 40 marks, given by King Henry II. to the priory of the cathedral church of Norwich, (fn. 4) and appropriated by John de Grey Bishop of Norwich, on the 11th of the calends of April, in the 5th year of his pontificate, to the use of the cellarer, and a vicarage was settled, now valued at 11l. 11s. 8d. in the patronage of the dean and chapter of that church.
The registers of Norwich say, it was granted by King Henry II. and that the vicarage was taxed by Bishop Pandolf, and the pension of 100s. per ann. settled by Thomas de Blundeville Bishop, to the injury of the monks.
About the time of Henry II. Sparhavec, and Bartholomew his son, gave the 3d part of the tithes of their lands here, to the monks of Bynham; and in the register of Bynham, fol. 129, is a particular of the lands.
Rainald gave also 2 parts of the tithes of his lands here to the monks of Castleacre. (fn. 5)
The prior of Walsingham also had lands here and tithes.
In the north isle is an altar tomb, of black and white marble, with the arms, quarterly, of Bacon, gules, on a chief, argent, two mullets, sable, in the 1st and 4th; and Quaplode, barry of six, or and azure, over all a bend, gules, in the 2d and 3d, impaling cheque, argent and gules, on a bend engrailed, over all, sable, three lions passant, or.
Elizabetha. D'nj Robt. Bacon de Egmere Baronettj, pia conjux una cum gemino fœtu nuper edito, quem alterutra amplectens ulná secum huc tulit December 21, Ao. 1686, superstite adhuc prole natorum 4 filiarum 2.
Here lyeth interred the body of Edmund Beding feld of Grayes Inn, Esq; who dyed July 12, 1653, in the 66th year of his age.
Here lyeth Edmund Beding feld Esq. fifth son of Sir Edmund Beding feld, of Oxburgh, in the county of Norfolk, Gt. who dyed June 5th, 1565.
Here also lyeth Christopher Beding feld, son and heir of the said Edmund, who dyed the 27th day of December, 1627, œtat. suœ 67; with the arms of Beding feld.
Here lyeth also the body of Lucy, late wife of Christopher Beding feld of Wighton, Esq; who departed this life in the 66th year of her age, on September 8, 1708.
Here lyeth by her husband the body of Francis Bedingfeld, widow, daughter of Humphrey Chambers of Sturston, in Suffolk, Gent. she dyed April 19, 1629; and Bedingfeld impaling Chambers —, on a chevron between three - - - - - - -, as many mullets, in a bordure ingrailed.
On a pillar,
Humfredus Bedingfield, Christophori juxta positi, quarto genitus cum Abigacle ejus conjuge lectissima, corp. depositum, vicino reliquit marmore; prudens, justus, pius, christianâ charitate, vere liberatus, qui avita hereditate vindicata si non aucta, liberis probe institutis, maritus, pater, amicus, hospes, amantissimus, munificentissimus, familiâ, famâ, et vel ipsa senectute fœlix, obijt 19 die mensis Octob. Ao. salutis 1677, vixit annos 81.
On another pillar a mural monument, with the arms of Beding feld impaling Boys, or, a griffin segreant, sable, on a canton of the second, a ducal coronet of the first.
In the grave of Francis Bedingfeld, lyeth the body of Christopher Bedingfeld, Esq; eldest son of Humphrey Beding feld: he married Lucy, the daughter of Sir John Boys, of Bennington, in the county of Kent, Kt. and left issue, Elizabeth, Lucy, Christopher, and Abigail: he departed this life, in the 54th year of his age, May 10, 1686.
Hic jacet Margareta, filia Joh. Gouche, Generosi, et Annœ uxoris, ejus, quœ obt. 15to. die Oct. 1630.
Here lyeth the body of Richard Woodward, of Garboldesham. Gent. who died in this parish, February 5, 1662, in the 71 year of his age.
In the middle isle, on the stone font, are several carvings, or shields, relating to the crucifixion, and insignia of the apostles.
And a gravestone,
In memory of Anne, daughter of Francis Jermy, the beloved wife of Matthew Dey, who dyed Jan. 23, 1652.—Also,
Degravat hoc saxum Katharinœ insensile corpus. Thomœ Knollesij geveroso sanguine natœ.
Georgius hanc Walpole de Wyton, duxit ab Aylsham: born 1554, buried 1626.
In the chancel a gravestone,
In memory of Dorothy Jermy, late the wife of John Jermy of Wighton, Gent. deceased, from the ancient stemme of Sulyard. of FlemingsHalt, in Essex: she dyed October 29, 1651; with the arms of Jermy, argent, a lion rampant, guardant, gules, impaling argent, a chevron, gules, between three phæons sable, Sulyard.
One,
In memory of Mr. Richard Coppin, vicar of this parish, who deceased October 8, 1639.
Hic jacet Eustachius filius Henricj Beding feld, Generosi, et Elizabethœ uxoris ejus, qui obt. decimo die Maij 1632.
In the chancel north window, azure, three coronets, or.
In the south window gules, three covered cups, argent, Argenton.— In another St. Adrew, and his saltier—azure, three leopards faces, or, impaling Pakenham,—and the three Kings heads of Coloign.
Vicars.
In 1281, Peter occurs vicar.
1326, Adam Brithmere, instituted, presented by the prior of Norwich, and convent.
1333, William Pollard.
1333, William de Ely.
1337, Richard de Barsham
1348, Peter de Welles.
1349, John Hempton.
Robert Pope.
1357, Richard de Barsham.
Richard Attestone.
1375, John de Swynstede.
1378, Richard Attehethe.
Ralph Gunton.
1384, Roger Locksmyth.
1398, Peter Bakere.
1399, Thomas Fykes.
1422, John Atte Hyrne.
1433, John Kentyng.
1434, John Cupper.
1463, John Baker.
1494, William Byshop.
1507, Sim Breton.
1551, John Harlow, late canon of Walsingham, by Thomas Godsalve, on a grant from the prior.
Richard Loft.
1575, George Feek, by William Buckton, on a grant from the dean and chapter of Norwich.
1606, Richard Coppin, by Ant. Money, on a like grant.
1639, Henry Spendlove, by the dean and chapter.
1646, Richard Lewthwaith.
1661, James Catton.
1665, John Stears.
1670, Nathaniel Wilson, A. B.
1700, James Pitcarn.
1720, Robert Nisbet, by the dean, &c.
1739, Thomas Scot. Ditto.
1740, Joseph Charles. Ditto.
In this church were the guilds of St. John Baptist, St. James, and the Holy Trinity.
There was in this town a free chapel.
On the 18th of August, in 1322, King Edward II. gave to Adam de Brome, his clerk, certain separate tithes, which Jeff. de Welleford, clerk, deceased, held by the grant of King Edward I. and which now belonged to the King, as guardian to the heir of Drogo de Merlaw, and this was called the chapel of Buttehaut, and had a portion of 100s. out of this rectory.
Adam was a great favourite with Edward II. had the custody of his seal, as chancellor, in the liberty of the bishoprick of Durham, then void: of his many and great preferments see Newcourt's Repertor. vol. i. p. 628.
This seems to have been granted to the archdeacon of Worcester, by King John, on the decease of Robert de Beaufoe, to whom King Henry II. had given it.
In the 6th of Edward III. it was granted by the King, to his clerk, Thomas de Eggefeld, and in his 11th year, to Thomas de Brambre, on the resignation of William de Nyes, the last capellane, on account of the lands of the Earl of Ewe, then in the King's hands.