Pages 104-109
A History of the County of Bedford: Volume 3. Originally published by Victoria County History, London, 1912.
This free content was digitised by double rekeying. All rights reserved.
THURLEIGH
Lalega (xi cent.); La Leye, Lega (xiii, xiv cent.); Relye (xiv–xvi cent.); Thurley, Thurleigh (xvi–xx cent.).
Thurleigh, situated 6 miles north-west of Bedford, has an area of 3,418 acres, of which 1,834¼ are arable land, 1,095¾ permanent grass and 12 woods and plantations. (fn. 1) The parish is almost uniformly level, the height above ordnance datum varying from 250 ft. to 270 ft., and is watered by a small tributary of the Ouse. The soil is clay, the subsoil clay, and the chief crops produced cereals, with a few beans.
The village, which is large and straggling, is situated towards the centre of the parish, with the church lying on the south side of the road. In a field near by is a square pigeon-house.
Blackborne Hall Farm, which marks the site of the ancient manor, and still has traces of a moat and of 17th-century work, lies a mile west of the church. Backnoe End, with a farm of the same name, is in the north of the parish; whilst north-east of Backnoe, College Farm, a modern house with a moat, takes the place of a more ancient building recently burnt down. Thurleigh Hall, formerly the residence of the Harveys, has been replaced during the 19th century by a farm-house known as Whitwick Green Farm, about a mile north-west of the church. There is a windmill at Scald End, which is still in use. Thurleigh has a Baptist chapel, built in 1888.
The parish was inclosed by Act of Parliament in 1805, when an allotment was made in lieu of tithes. (fn. 2)
In this parish there are remains of earthworks of the inclosed homestead type, known as 'The Devil's Jump,' around which certain village traditions still linger. (fn. 3)
MANORS
At the Survey THURLEIGH MANOR, later known as BLACKBORNE HALL, formed part of the 3½ hides which were attached to the land of Walter Fleming, of whose barony of Wahull it is later held. (fn. 4) Two tenants are found holding of Walter in 1086—Raynar having half a hide, of whom no further mention has been found, and Hugh, who held the manor.
There can be little doubt that this Hugh is identical with Walter Fleming's supposed brother, Hugh Fleming, who held Podington and other manors of the king in chief at this date. (fn. 5) Hugh de La Leye (Le Lega), who held ten knights' fees of Walter de Wahull in this county in 1166, is probably his son. (fn. 6) Canons Ashby Priory was founded by his son, Stephen La Leye (probably in the reign of Henry II), (fn. 7) whose son Hugh granted Thurleigh Church to the priory some time towards the close of the 12th century. (fn. 8) Bartholomew La Leye his son had tenants in Thurleigh in 1202. (fn. 9) His daughter Nichola married Roger de Cauz, and in 1219 William son of Simon La Leye acknowledged her right to half a virgate of land here. (fn. 10) William La Leye, a descendant, held this property in 1278–9, (fn. 11) when it was assessed at a carucate; whilst in 1302 Thomas de Wahull held a fee in Thurleigh by reason of the minority of John son of William La Leye, (fn. 12) who attained his majority before 1316. (fn. 13) Together with his wife Dionisia William was concerned in a suit respecting lands in Thurleigh in 1322, (fn. 14) and held one-third of a fee here in 1346. (fn. 15) Between this date and 1428 the manor passed to John Fitz Geffrey, who at the latter date held the fee which had formerly belonged to John La Leye in Thurleigh. (fn. 16) William Fitz Geffrey, probably his son, had a son John who in 1536 died seised of this estate, here called for the first time the manor of Blackborne Hall. He left no issue, so the manor passed to his step-brother Edward, (fn. 17) son of William by his second wife Elizabeth Wauton. (fn. 18) The Fitz Geffreys continued to hold this manor till the middle of the 17th century. By 1575 it had passed to George brother of Edward and eighth son of William Fitz Geffrey. (fn. 19) In 1651 it was held by his son George, (fn. 20) at which date it passed out of the family by mortgage. (fn. 21) Alexander Randall, who appears to represent the mortgagees, and others were conveying the manor in trust in 1685. (fn. 22) The Randalls also made settlement of the manor in 1699 and 1703, (fn. 23) and in 1707 Blackborne Hall was purchased by Sir Nathan Wright. (fn. 24) He died in 1727 and was succeeded by his son Sir Nathan Wright, who in 1733 sold this property to Robert Bell, (fn. 25) the maternal grandfather of William Wade Gery, in whose family the property has remained, the present owner being Mr. W. H. Wade-Grey.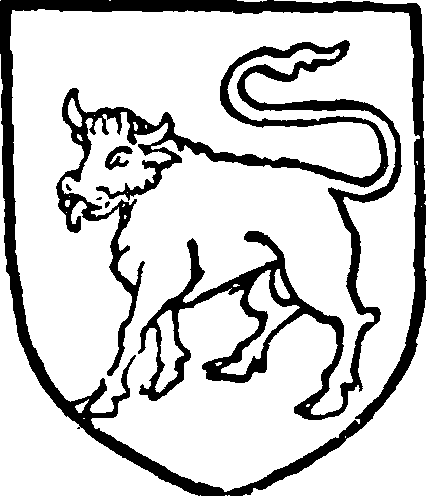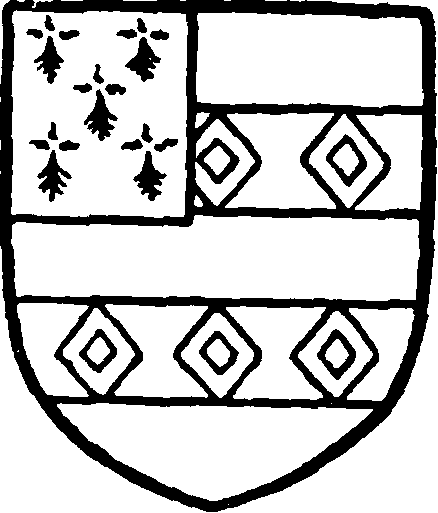 The manor of THURLEIGH, later found in the Greys, though apparently larger in size than Blackborne Hall, (fn. 26) and destined to become the more important property, yet must have originally been an offshoot of it. The overlordship was attached to the barony of Wahull, (fn. 27) and was exercised in 1428 by John de Patishull, (fn. 28) probably as guardian of Thomas de Wahull, at this date a minor. (fn. 29)
It may be surmised that by intermarriage with the La Leyes the Greys acquired their footing in Thurleigh. (fn. 30) First mention of the family in this parish (and, indeed, in the county) has been found in 1234, when Andrew de la Leigh held a free tenement of John de Grey and Agnes his wife. (fn. 31) Late in the 13th century John de Grey held the vill, (fn. 32) which followed the same descent as Harrold and Podington Manors (q.v.), passing ultimately to the Earls of Kent. In 1621 Henry Earl of Kent sold this manor to Sir Oliver Butler. (fn. 33) He died in 1632, and his widow, Lady Anne Butler, held Thurleigh Manor till her death in 1639. (fn. 34) Sir Oliver Butler, grandson of the above, held the manor in 1673, (fn. 35) and in 1699 Sir Philip Butler sold it to Creswell Levinz. (fn. 36) William Levinz sold the manor for £3,900 in 1721 to Sir Jeremy Sambrook, bart. (fn. 37) He died unmarried in 1749, and was succeeded by his uncle, the fifth and last baronet, and this manor passed to Judith Sambrook, sister of the fourth baronet and wife of John Crawley. It has since been retained by that family, the present owner being Mr. Francis Crawley of Stockwood, Luton.
Two interesting extents of Thurleigh Manor in the 13th and 14th centuries still exist. In 1278–9 the manor included 3½ hides, of which 2 carucates (200 acres) were in demesne; there was an ancient park of 12 acres and inclosed wood of the same extent, with a charter of free warren granted by Henry IV. There was also a windmill. The nativi who were tenants were able to buy their freedom of their lord. (fn. 38) The second extent, bearing a later date, 1324, is much more detailed. It refers to the capital messuage, the garden, the dovecote, the mill and a certain custom called 'Fysshepenny.' Two views of frankpledge were held yearly. (fn. 39)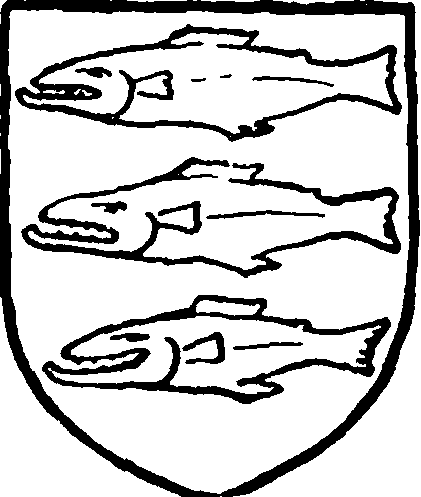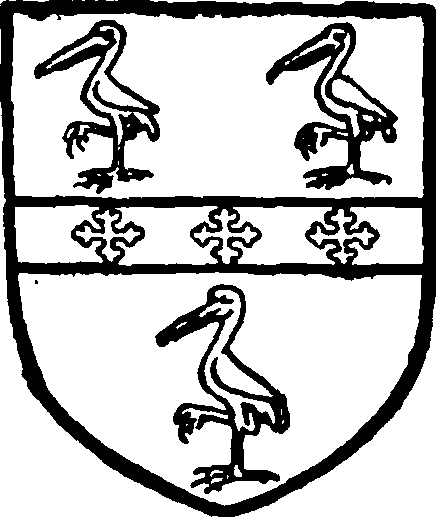 A second Domesday holder in Thurleigh was Miles Crispin, who held 1 virgate here, having its former owner Levric as tenant. (fn. 40) Miles Crispin's land became part of the Wallingford Honour, (fn. 41) of which Reginald de Grey, lord of Thurleigh, held in 1278–9. (fn. 42) No further mention has been found of this virgate, which probably became absorbed in the more important estate.
The MANOR OF BACKENHO is first found mentioned in 1377 and was attached to the barony of Wahull, being held of the Greys. (fn. 43) Sir John Ragon, kt., died seised of it at this date, when it passed to his son Sir Reginald Ragon. He, who was Sheriff of Bedfordshire in 1396 and 1402, died some time previous to 1441, in which year his widow Elizabeth granted the manor to Thomas Aydrop and other trustees representing her son Thomas Ragon. (fn. 44) Some years later, between 1446 and 1452, Katharine widow of Thomas Ragon and wife of Robert Ekelston complained that these trustees refused to grant her seisin of the manor in accordance with the will of Thomas Ragon. (fn. 45) She appears to have secured recognition of her rights, for in 1452–3, together with her husband, she alienated Backenho Manor to John Heton. (fn. 46) Twenty years later William Heton transferred the manor to John Earl of Wiltshire, (fn. 47) who died in 1503, when Backenho passed to Edward Duke of Buckingham, his kinsman and heir. (fn. 48) He was attainted for high treason and executed on Tower Hill 17 May 1521, his lands escheating to the Crown. (fn. 49) Backenho was the subject of a life grant to Nicholas Harvey in 1522, (fn. 50) the reversion of this manor being conferred on Robert Tyrwhitt in 1534. (fn. 51) He did not long retain it, for in 1562 it had passed to William Ryce, who at that date alienated to Richard Tyrrell. (fn. 52) In 1578–9 Edward Tyrrell obtained a licence to alienate the manor to Robert Bacon. (fn. 53) This may have been preparatory to the sale which in 1581 took place between Edward Tyrrell and Sir Edmund Anderson of Eyworth (q.v.). (fn. 54) He retained it for a few years only, alienating it in 1596 to George Smythe, (fn. 55) who died seised of the manor in 1609, his son Thomas being at this time upwards of forty years of age. (fn. 56) In 1618 Thomas Smythe was declared to be a lunatic and unable to control his estates, and his charge devolved on George his son and heir, who had attained his majority. (fn. 57) Thomas Smythe's death took place in 1631. (fn. 58) George Smythe was holding the manor in 1637, (fn. 59) but in 1672 had given place to William Smythe, (fn. 60) whose name occurs in settlements of the manor in 1674, 1682, (fn. 61) and finally in 1693, in which year a genuine alienation took place to John Lawson. (fn. 62) The latter held Backenho in 1738 and 1739. (fn. 63) In 1753 John Lawson, probably a son of the above, and Theodosia his wife were in possession, (fn. 64) and between this date and 1792 it passed to James Stuart and May his wife. (fn. 65) This property was retained by the Stuarts till late into the 19th century. In 1860 Colonel George Stuart died owning Backenho, at this time a farm, which he left to his nephew. (fn. 66)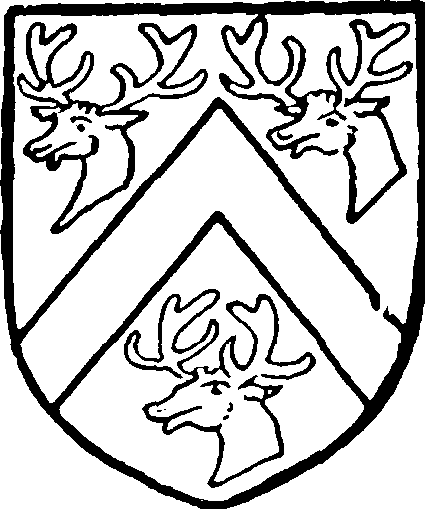 The family of Hervy or Harvey, whose property in this parish was later known as WHITWICK or THURLEIGH MANOR, appear to have been established in this part of Bedfordshire from the 12th century. Henry Harvey was settled here in the reign of Richard I, and was succeeded by a son, also Henry, in the following reign. (fn. 67) Osbert Harvey his son died 1205–6, and his son Adam married Joan daughter and heir of John Fitz Hugh. (fn. 68) Their son John married Joan daughter of John Harman of Thurleigh, who is said to have brought this property to her husband. (fn. 69) It is certain that in 1278–9 Hamon son of Peter held half a virgate of Reginald de Grey (fn. 70) as of his manor of Thurleigh, of which Whitwick is subsequently found held. (fn. 71) John Harvey appears to have come originally from Riseley (q.v.), an adjoining parish, where in 1278 one Hervic de Risley held 1 virgate of land of the Prior of St. John, (fn. 72) and where a branch of his family continued to hold. He died in 1297 and was succeeded by a son William, who married Mary daughter and heir of Richard Foliot. (fn. 73) He died in 1376, (fn. 74) and two years later his son John Harvey received a life exemption from being put on assizes, juries, attaints or inquisitions and from appointment as mayor, sheriff, escheator, coroner, justice, constable, collector of tenths, fifteenths or other subsidies or quotas, arrayer, leader (ductor) or trier of men-at-arms, hobelers or archers, or other minister of the king against his will. (fn. 75) In spite of this exemption from public duty he acted as justice of the peace and commissioner of array for Bedford between 1382 and 1394, (fn. 76) and as knight of the shire in 1386. His son John Harvey died before 1419 and lies buried in Thurleigh Church. (fn. 77) His son John Harvey was Master of the King's Ordnance in 1461, and died c. 1475. (fn. 78) His son, who married Agnes daughter of Nicholas Morley, appears to have predeceased him, (fn. 79) but Agnes, married to a third husband, Paston, held the manor till her death in 1510–11, when her heir was her son by her first husband, George Harvey. (fn. 80)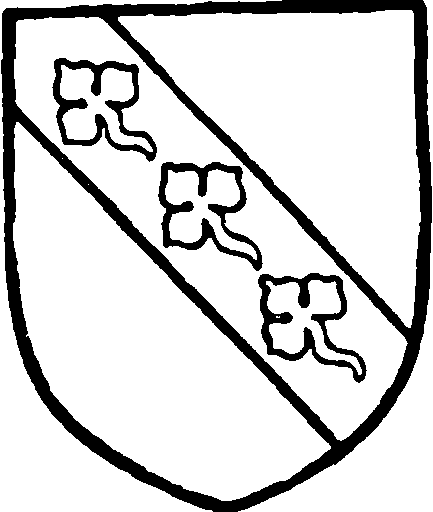 George Harvey had an illegitimate son Gerard Smart, to whom he devised Thurleigh Manor by will. (fn. 81) Gerard, who assumed the name of Harvey, made a settlement of Thurleigh in 1553. (fn. 82) He was member of Parliament for Bedford in 1554, but by 1569 had been succeeded by his son John Harvey. (fn. 83) He died in 1594–5, leaving seven sons and three daughters, Oliver the eldest son inheriting Thurleigh Manor. (fn. 84) In 1605 Oliver Harvey received a visit from James I, who stayed two nights at his house. (fn. 85) He died in 1627 and was succeeded by his son John Harvey, who is found making a settlement of the manor on the occasion of his marriage to Elizabeth daughter of Stephen Harvey in 1631–2. (fn. 86) He still held the manor in 1651, when it is found for the first time under the name of Whitwick, having hitherto been known as Thurleigh Manor. (fn. 87) His son John Harvey settled the manor by fine in 1703, (fn. 88) but on his death in 1715 this property was sold in accordance with the instructions contained in his will. (fn. 89) Whitwick Manor thus passed to Sir John Holt, the eminent lord chief justice, and was held in 1744 by Rowland Holt. (fn. 90) In 1790–1 it was sold to the Duke of Bedford by Thomas Holt for £1, 796, (fn. 91) and in 1880 was purchased from the duke's successor by William Thomson.
In 1086 Leviet held half a hide in Thurleigh of Hugh de Beauchamp, which had formerly been held by Moding, a man of Queen Edith. (fn. 92) This halfhide, attached to the barony of Bedford, was held for one-fortieth of a knight's fee by Simon de Patishull in the 13th century. (fn. 93) John de Patishull held it in 1316 (fn. 94) and in 1346, (fn. 95) and in 1428 it had passed to Robert Shottisbrook, after which no further trace of it can be distinguished. (fn. 96)
Robert de Oilgi also held land in Thurleigh at the time of the Survey. Two tenants held of him, Richard Basset having half a hide and Salomon the priest 1 virgate. The Bassets continued to hold in this parish till the 13th century, for in 1182 Thurstan Basset paid 2 marks to the sheriff in a plea against the Abbot of Missenden, (fn. 97) and in 1219 the abbot owed half a mark for summoning Thurstan Basset to warrant him land in 'Leghe,' (fn. 98) though there is no trace of the abbot holding land in Thurleigh after this date.
In 1278–9 Richard Bosard held 1 virgate of land in Thurleigh in right of his wife as of the honour of Belvoir. (fn. 99)
The Prior of St. John of Jerusalem claimed that his view of frankpledge extended into this parish in the 13th century. (fn. 100)
Caldwell Priory, (fn. 101) Dunstable Priory (fn. 102) and Warden Abbey also owned small meadows and pastures in this parish. (fn. 103)
CHURCH
The church of ST. PETER has a central tower 14 ft. 9 in. by 15 ft. wide, with a chancel 27 ft. 9 in. by 17 ft. on the east of it, and a nave 53 ft. 9 in. by 21 ft. 6 in. wide on the west, having north and south aisles 9 ft. 6 in. and 10 ft. wide respectively.
The oldest part is the tower (c. 1130), which seems to have stood then as now between nave and chancel, but there are no other remains of the church of that date. The present chancel was built in the 14th century of the same width as its predecessor, and in the 15th century the whole of the nave and the top story of the tower were rebuilt.
The chancel is of random rubble, which retains a little of the plaster with which it was covered, and the east end has a 15th-century diagonal buttress at each angle. The east window is 14th-century work, and consists of three trefoiled lights with net tracery under a pointed head, and there is a string underneath it on the outside which stops at the buttresses. The north side is covered with ivy and contains no windows. On the south side is a 14th-century piscina recess with two pointed hollow-chamfered arches, grooved in the jambs and heads as for a narrow board, and with a single drain in the east half, and two 15thcentury windows in ironstone of three cinquefoiled lights under a four-centred arch; under the west of these is a 14th-century square-headed low-side window of one trefoiled ogee-headed light. Between the windows is a plain south doorway.
The lower part of the tower has a round-headed south doorway in two square orders, with a billet label and a tympanum sculptured with the Fall. In the north wall is a low 14th-century arch, now blocked, which must have opened to a now destroyed building. At a higher level are small round-headed lights on north and south, widely splayed within; on the south side above the round-headed light is a lancet, and the belfry windows are pairs of two-light openings with cinquefoiled heads, of plain 15thcentury style. The tower ends in a short leaded spire. Its east and west arches are of two pointed chamfered orders on octagonal half-responds of the date of the nave.
The nave is of four bays with arcades of two chamfered orders on octagonal shafts and responds, with moulded capitals and bases; above these are clearstory windows of two cinquefoiled lights. At the west end is a large four-centred window of four cinquefoiled lights with perpendicular tracery and a plain transom; in the north-east angle is a rood staircase with upper and lower doors; it also serves as the tower stair.
The north aisle has a 15th-century east window, of which the cusps have disappeared, and one in the north wall with modern tracery; at the west end is a window of two cinquefoiled lights. The north doorway is pointed and has a similar label to the windows, and there is a piscina with a cinquefoiled head of clunch near the east end of the aisle, set in the angle of the rood stairs.
In the south aisle the windows are in two chamfered orders with three cinquefoiled lights and perpendicular tracery; the doorway is in two orders, the outer chamfered and the inner moulded with a double ogee; above it is a plain corbel, and to the west inside the church a wide cinquefoiled recess with a shallow oblong bowl for holy water. The font is of the 15th century, and consists of an octagonal panelled bowl on a shaft also panelled and bearing shields, one of which has on a bend three trefoils slipped; the rest are all blank. The porch has on each side two square-headed windows containing two cinquefoiled lights, and the outer arch is a good though dilapidated example with a pointed arch under a square head.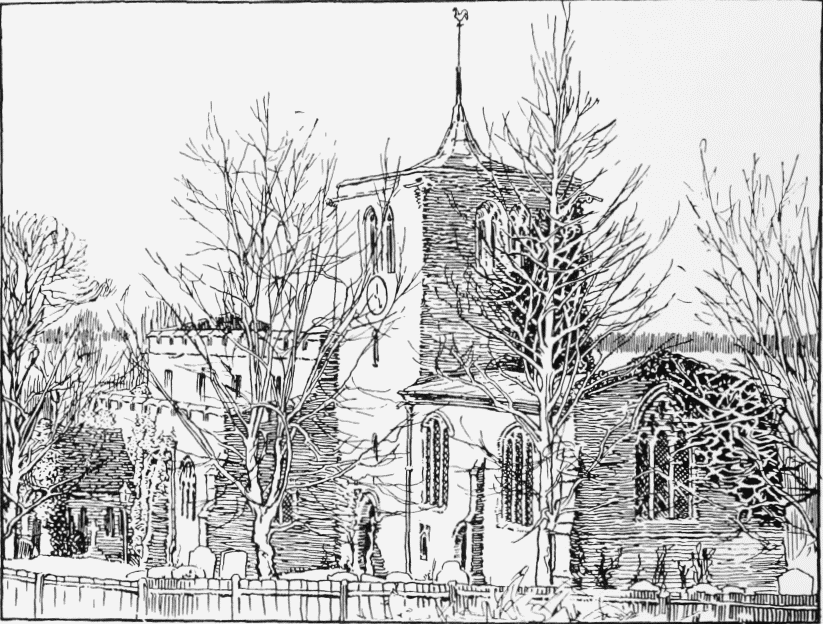 In the floor of the middle aisle of the nave is a large Purbeck slab with the brass of a knight c. 1420; the marginal inscription is gone, and three of the four shields; on the remaining one is a plain coat, per pale indented.
In the wall of the south aisle is a small Purbeck slab with brass plate inscribed 'Here lyeth Edmond Daye 1590–1,' with his arms: Gules two flaunches ermine and a chief azure with three suns or therein.
The roof of the chancel is plain but old.
The nave and aisles have simple 15th-century roofs of low pitch, with cambered ties and large braces to them; on the eastern tie-beam is painted the inscription referring to a now destroyed Doom—doubtless painted on the plaster which has been picked off the wall here and throughout the church. The ridge and purlins here are painted for a short length with cheveron pattern in red, white and black, and on the north wall is the figure of an angel, and something indistinct on the south wall. In the west window of the south aisle are some fragments of old glass borders set in modern patterns.
Near the south doorway is the octagonal panelled and traceried base of a churchyard cross, raised on three steps.
There are six bells: the first is modern; the second by Russell of Wootton, 1743; the third recast in 1864; the fourth is inscribed 'God save the Queene 1593'; the fifth is an old bell rudely cast and without inscription; and the sixth bears 'Ave Maria' with no other marks.
The communion plate consists of a cup with a foliated band and date letter 1577, and a modern set consisting of an electro-plated flagon, paten and plate.
The registers before 1812 are in six books: (i) contains all entries 1562 to 1653; (ii) the same 1653 to 1671; (iii) the same 1678 to 1683; (iv) the same 1705 to 1744; (v) marriages 1754 to 1812; and (vi) baptisms and burials 1806 to 1812.
ADVOWSON
Canons Ashby Priory, which was founded in the time of Henry II by Stephen de La Leye, received a grant of Thurleigh Church from his eldest son Hugh de La Leye towards the close of the 12th century. (fn. 104) In 1278–9 the parson of the church held half a virgate of land in pure alms, whilst the Prior of Canons Ashby had, together with the advowson, a virgate held by certain natives in villeinage. (fn. 105) In 1291 the church was worth £10, (fn. 106) and in 1394 the canons received a licence to appropriate the church, provided the vicar was endowed with a sufficient portion and a sum of money yearly distributed among the poor parishioners. (fn. 107) This licence was confirmed by the pope in 1397. (fn. 108) At the Dissolution Thurleigh Church, from which Canons Ashby at this time received a pension of £10, (fn. 109) became Crown property (fn. 110) and remained so till 1565–6, in which year Oliver Lord St. John received a grant of the rectory, (fn. 111) and his son Oliver Lord St. John died seised in 1618 of the rectory and advowson of Thurleigh Church. (fn. 112) The St. Johns continued to hold till 1722, (fn. 113) between which date and the presentation in 1731 it passed to Sir Jeremiah Sambrook, who had about this time acquired Thurleigh Manor, to which the advowson has since remained attached, (fn. 114) the right being exercised at the present day by Mr. Francis Crawley.
CHARITIES
The Free School, as appeared from an entry in a terrier formerly existing in the parish, was founded by George Franklyn in 1618, and endowed by him with an annuity of 40s. out of a close called Scott's Close in Goldington, which, if there were no schoolmaster, was to be given to other charitable uses. The old school buildings still exist, also a tenement and 2 a. 2 r. of land mentioned in the same terrier, producing £6 10s. a year. By an order of 15 April 1904, made under the Board of Education Act, 1899, the whole of the endowment was determined to be for educational purposes.
In 1861 Samuel Cooper by will, proved at London 1 July, bequeathed £50 consols, the dividends to be applied as rewards to poor children (not Dissenters) who should give best answers to Church Catechism. The stock is held by the official trustees.
In 1713, as appeared from the same terrier, John Harvey by his will devised a cottage near the church and certain lands, the rents to be distributed at Christmas amongst the poorest families not receiving parish relief. The trust property now consists of the Red Lion public-house, let at £16 a year, and 1 r. 16 p., known as Old Leyton Allotment, let at 10s. a year, which are applied in sums of 3s. to poor families and of 1s. 6d. to poor children. By a scheme of the Charity Commissioners of 1870 the income may at the option of the trustees be applied in education.
In 1814 Robert Jefferies by will charged his freehold estate at Park End with 2s. to each of four poor widows or widowers at Christmas time. The payment is made by Mr. Thomas Jefferies of Sutton, Beds., the owner of the property charged.
The Church Estate, the origin of which is unknown, consists of house and 4 a. 3 r. 33 p. and two cottages, producing about £24 a year, which is applicable for the repairs and sustentation of the fabric of the church and maintenance of divine service.
The Baptist chapel, built in 1888, is endowed with £10 a year for the minister, derived from a legacy of £200 by will of the late Mr. John Jefferies.