Pages 100-104
A History of the County of Bedford: Volume 3. Originally published by Victoria County History, London, 1912.
This free content was digitised by double rekeying. All rights reserved.
STEVINGTON
Stiventone, Stivetone (xi cent.); Stethintun (xiii cent.); Styventon, Stevyngton (xiii–xv cent.); Steynton (xvi, xvii cent.).
Stevington is a parish 4¾ miles north-west of Bedford, having an area of 1,820 acres, of which 642¼ are arable land, 951½ pasture and grass and 16¾ woods and plantations. (fn. 1) The slope of the ground is irregular, mainly from south-west to north-east; the greatest height attained is 303 ft. above the ordnance datum in the west, the lowest 126 ft. in the east. The soil is clay, the subsoil limestone and marl. The principal crops are wheat, beans, barley, oats and clover.
The village of Stevington, which is situated in the west of the parish, straggles on either side of the roads from Carlton and Stagsden, which here meet at right angles, at a point called the Cross. Lysons, writing of Stevington at the beginning of the 19th century, says, 'In the centre of the village is an ancient cross, consisting of a tall shaft with a capital, placed on an ascent of steps.' (fn. 2) The iron upright of this ancient cross was removed to the weathervane on the church tower, a modern capital has been imposed and the flight of steps restored. (fn. 3) The base of the cross is of four steps, the bottom one being circular, the upper ones square. The top step has a trefoiled panel on each face and supports the shaft, the neck and base of which are square, although the intervening angles have been chamfered off. A capital of sculptured foliage crowns the shaft and carries a square crocketed and gabled pinnacle, terminating in a carved finial. At the east end of the village, still known as Park End, there was formerly a park, long since turned into pasture, and now the property of the Duke of Bedford. The parish church of St. Mary is in the north of the village; from the rock on which it is built issues a spring of water called the Holy Well, of which the waters have never been known to freeze in winter nor dry in times of drought. (fn. 4) There is a Baptist meeting-house, established here in 1655, the present building dating from 1720, and a Primitive Methodist chapel, erected in 1863.
There is a windmill in Stevington and two small woods, Long Tag in the south and Woodcroft in the north, the latter being mentioned by name in an extent of Stevington Manor dated 1349. (fn. 5)
The population of Stevington is mainly agricultural, women are engaged in lace-making, and the manufacture of mats, established many years ago, still flourishes.
It would appear that Stevington at an early date was specially capable of agricultural development. From the entry in the Domesday Book it is shown that there was land there for twenty-four ploughs, (fn. 6) whilst Pavenham and Odell. the former of slightly less hidage, but the latter of greater, could provide only three and four ploughs respectively. (fn. 7)
The Black Death greatly impoverished the parish, as is evinced by an inquisition of the manor in 1349, by which we learn that the fulling-mill was worth less because it stood empty on account of the deadly pestilence, the dovecote was in ruins and the garden was worth nothing (fn. 8); but in the same year the value of the manor was assessed at £49 7s. 7d., which does not show a very marked diminution in value (fn. 9) from that given about a hundred years earlier.
Mr. Fisher, writing in the Gentleman's Magazine of 1812, mentions a range of low stone buildings, with traces of a gate-house or porter's lodge, and an unroofed chapel standing near Stevington Church, which he surmises to have been occupied by some religious fraternity, of which he has discovered no trace. Harvey identifies this as a building long known as the manor-house and now pulled down. When advertised for sale in 1873 (see history of Stevington Manor ut infra) it was advertised as a 'farm-residence of considerable antiquity, said to have been the Hospital to Harrold Priory.' (fn. 10)
Stevington parish received an Inclosure Award by Act of Parliament in 1805. (fn. 11)
It is stated in the middle of the 16th century that there was a certain yearly 'Drinking' in Steventon, provided from the farm of 7 acres of land in Steventon in the tenure of Thomas Derling. (fn. 12) It was worth 4s. 8d., and was charged with 4d. a year rent to Lord Vaux as to his manor of Carlton. (fn. 13) With other religious property this land was seized by the Crown, and in 1558 was granted to Thomas Reve and Henry Cotton. (fn. 14) Harvey, writing in the Hundred of Willey (1872–8), says 'Drinking-Bush Hill is the name of a hill towards the western boundary of the parish. The parishioners, "beating the bounds" on arriving at this place, used to dig a hole, jump in it, and then drink to satiety. It is not known when this annual custom was discontinued nor whether it had any connexion with the church ale; the situation of this hill, near the confines of Carlton, where Lord Vaux had a manor, seems to show that it had.' (fn. 15) Mr. Fisher, writing in the Gentleman's Magazine in 1812, also mentions and illustrates certain grotesque carvings, ornamental finishings to the upright ends of the benches in the nave, which seem likely, from their character, to have reference to the church ale. (fn. 16)
MANOR
At the Survey of 1086 STEVINGTON MANOR, assessed at 3 hides, belonged to Count Eustace of Boulogne, (fn. 17) and is subsequently found attached to the honour of Boulogne. In the 13th century the Count of Guînes held it as part of this honour, (fn. 18) to which the vill of Stevington was declared to be attached in 1278–9. (fn. 19) After the 13th century Stevington Manor is merely declared to be held in chief. (fn. 20)
During the Confessor's reign the tenant of Stevington was a thegn, Adelold by name, whose successor in 1086 was Ernulf of Ardres, (fn. 21) from whose family the manor passed to the Counts of Guînes. (fn. 22)
The Count of Guînes appears to have been holding in Stevington some time prior to 1153, (fn. 23) for his grant of Stevington Church to Harrold Priory is confirmed by 'Eustace the King's son,' who died in that year. (fn. 24) In 1205 Baldwin Count of Guînes, possibly grandson of the benefactor of Harrold Priory, (fn. 25) recovered possession of his lands in Stevington of which he had been deprived by the king's orders. (fn. 26) Henry de Trubleville received in 1221 the custody of this manor, (fn. 27) which is next found in the possession of Robert de Guînes, whom Dugdale states to be a brother of Baldwin. (fn. 28) He confirmed the advowson of Stevington Church to Harrold Priory in 1236–7, (fn. 29) and is named by the Testa as the representative of the Boulogne honour in this parish. (fn. 30) By 1252–3 Stevington had passed from Robert de Guînes to the de Quincy family, for in that year Robert de Quincy acknowledged the right of his elder brother Roger Earl of Winchester and his heirs male to the manor; in the event of Roger's dying without heirs it was to revert to the right heirs of Robert. (fn. 31) Roger de Quincy accordingly held Stevington until his death without male heirs in 1264, when Stevington Manor passed to Hadwisa wife of Baldwin Wake, one of the daughters and co-heirs of Robert de Quincy. (fn. 32) Baldwin Wake died in 1281–2, leaving a son John, and in 1284 Hadwisa Wake rendered feudal service for Stevington. (fn. 33) John Wake did homage for his lands in 1290, and was summoned to Parliament as Lord Wake of Liddell by writs dated from 1295 to 1299. (fn. 34) He died in 1300, his heir being his son Thomas, aged two, (fn. 35) who held by feudal service in Stevington in 1346. (fn. 36) Thomas Wake was made governor of Hertford Castle and of the Channel Islands by Edward III, and died without issue in 1349. (fn. 37) His heir was his sister Margaret wife of Edmund Plantagenet Earl of Kent, who died a few months after her brother; but his widow Blanche daughter of Henry Plantagenet Earl of Lancaster continued to hold Stevington Manor in dower till her death in 1380–1, (fn. 38) Joan daughter and heir of Margaret then inheriting. Joan, who is known to history as the Fair Maid of Kent, married, first, Thomas de Holand, created Earl of Kent, by whom she had two sons, and, secondly, Edward the Black Prince, by whom she became the mother of Richard II. (fn. 39) She died in 1385, and the inquisition held as to her property states that though Thomas de Holand Earl of Kent was her eldest son and heir, she had granted Stevington Manor for her lifetime to her younger son John de Holand, (fn. 40) and Thomas de Holand, after his mother's death, gave up all claim in the manor to his brother, (fn. 41) John de Holand, who was created Earl of Huntingdon and Duke of Exeter, and was executed in 1400 for taking part in a conspiracy against Henry IV to restore Richard II (fn. 42); in the same year his widow Elizabeth daughter of John of Gaunt and sister of Henry IV petitioned for and obtained the restoration of Stevington Manor as part of her dower. (fn. 43) At her death in 1425 the manor passed to her son John Holand Earl of Huntingdon, (fn. 44) who in 1443 was advanced to the title of Duke of Exeter forfeited by his father, and who died in 1447, leaving a son Henry, then aged seventeen and upwards. (fn. 45) Henry Earl of Huntingdon and Duke of Exeter fought on the side of the Lancastrians and was attainted in 1461, when all his honours were forfeited. His wife Anne, who was sister of Edward IV, received a life grant of Stevington Manor from her brother, with reversion to her daughter Anne, who predeceased her mother, however, leaving no heirs. Anne Duchess of Exeter died in 1475–6, when Stevington reverted to the Crown. (fn. 46)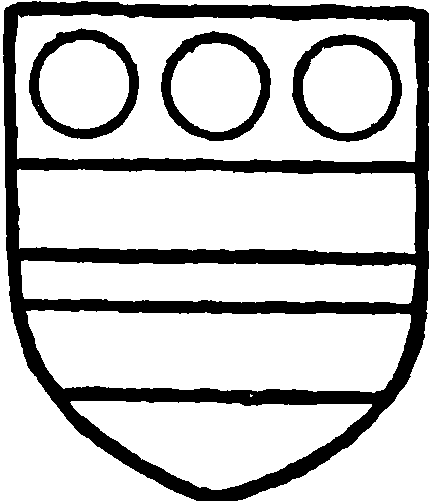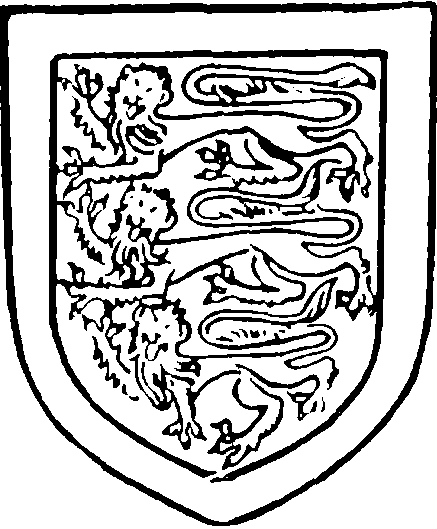 The manor remained Crown property until 1485, when Richard III granted it to Thomas Lord Stanley, created Earl of Derby in the same year. (fn. 47) His grandson Thomas Earl of Derby received a confirmation of the grant from Henry VII in 1488–9. (fn. 48) He died in 1521, leaving a son Edward Stanley, (fn. 49) who in 1533–4 granted Stevington Manor as security for a debt of £5,000 to the Crown. (fn. 50) Ferdinand Earl of Derby, grandson of the above-named Edward Stanley, left Stevington to his son William in 1594. (fn. 51) In 1599–1600 he made a settlement of the manor on the occasion of the marriage of his mother Alice, daughter of Sir John Spencer of Althorpe and widow of Ferdinand Earl of Derby, to Sir Thomas Egerton, Baron, Ellesmere, who was Lord Chancellor of England from 1596 to 1616–17. (fn. 52) Two years after its acquisition Thomas Egerton, together with his wife, alienated Stevington Manor to James Dean, (fn. 53) who in 1607 conveyed it by fine to Thomas Langhorne and other trustees. (fn. 54) In 1623 Sir Samuel Tryon and his wife Elizabeth alienated the manor to George Tuke, (fn. 55) who in 1636 conveyed it to William Alston. (fn. 56) It thus became attached to Odell (q.v.), with which parish its history is henceforward identical. In July 1873 two portions of this estate, described as 'the Manor Farm, 246 a. 24 p., and fishing in half the river,' and 'Burley Farm, situated at Pickshill,' were advertised for sale, and became the property of the Duke of Bedford. (fn. 57) This farm became later the property of Mr. F. C. Higgins of Turvey, who recently sold it to Mr. Cauvin of Bedford. With these exceptions, the manor of Stevington has remained in the Alston family, and is at present the property of Mr. Rowland Crewe Alston of Odell Castle.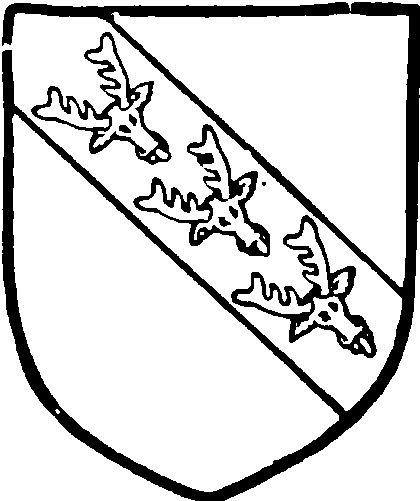 In 1280 Baldwin Wake received a charter of free warren in Stevington Manor, (fn. 58) in which he also exercised view of frankpledge. (fn. 59) In 1281 he further received a licence to 'crenellate a chamber in his marsh of Steventon,' (fn. 60) and a Close Roll of the following year states that, 'Whereas the king gave to Baldwin Wake, before his death, 10 oaks in the forest of Salcey for construction of his hall at Stivinton, and Baldwin before his death received only 6 oaks, as the king learns; the king wishing to show favour to Hawisia who was wife of Baldwin for the remaining trees orders Roger to deliver to her the remaining 4 trees if Baldwin received 6 only.' (fn. 61) No further mention has been found of this house, and it seems uncertain that it ever reached completion. Lysons says that no traces existed of it when he wrote, but Harvey considers that the site may be determined as the large earthworks near the Ouse, beside the footpath which leads to Pavenham, (fn. 62) and which is locally known as the Seeds, possibly 'Sedes.' Stevington Manor also included in the 13th century an ancient park 140 acres in extent, and the right of free fishery in the Ouse. (fn. 63)
CHURCH
The church of ST. MARY THE VIRGIN consists of chancel 26 ft. by 15 ft. 4 in., with ruined north and south chapels, nave 35 ft. 6 in. by 15 ft. 4 in., with north aisle 15 ft. wide and south aisle 12 ft. 8 in. wide, with a south porch and west tower 12 ft. 4 in. by 12 ft. 9 in., overlapped by the aisles. The lower part of the tower is Saxon work, and there was doubtless a contemporary aisleless nave and chancel; but about 1320 a general rebuilding was begun from the east, the chancel with its flanking chapels being first undertaken; the north arcade and aisle of the nave seem to be the next work, and are of better detail than the south arcade. The aisles were carried to the west face of the tower, which itself was left untouched, and in the 15th century the south chapel was rebuilt or remodelled and a new upper stage put to the tower. The nave clearstory is also of this date, but its windows have been renewed in modern times, together with a good deal of the other worked detail of the church.
The chancel has a modern east window of five lights, but the base of a shaft which belonged to an early 14th-century window still remains in the wall a little to the south of it. In the side walls are arches, now blocked, to the ruined chapels, and at the south-east is a blocked 14th-century window with shafted jambs, having a trefoiled piscina recess in its east jamb and a squint from the south chapel at the west; its sill is also carried down to serve as a seat. The 14th-century chancel arch has shafted responds with small rolls between the shafts.
The nave has arcades of three bays, the north arcade being of the same detail as the chancel arch, and the east arch of the tower belongs to the same work. The south arcade is of slightly later character, with arches of two wave-moulded orders. The nave roof is 15th-century work of four bays, with angels holding shields carved with Passion emblems, &c.
At the east end of the north aisle is the blocked arch formerly opening to the north chapel, and close to it on the north side is a recess of the same date, with a cambered wood lintel, moulded and retaining traces of colouring. In the north wall the two eastern windows are modern, with three lights and tracery under a segmental head; under one of them is a small 14th-century opening, with a pointed trefoiled head. The north doorway is in detail like the north arcade; further west, and in the west wall, are 14th-century windows, of two trefoiled lights with net tracery. The blocked eastern arch of the south aisle is of the same date as the south arcade of the nave, and has capitals resting on corbels. In the south wall are two modern windows like those in the opposite aisle, and at the south-east is a rood stair, a 15th-century addition. The south doorway opens into a contemporary porch with a pointed outer arch.
Further westward is a modern window with net tracery like that in the north aisle, and at the west end is a smaller modern window of two lights with net tracery. The font, which is for the most part modern, has a bowl, quatrefoil on plan, resting on four detached shafts ranged round one that is octagonal, and these have 13th-century capitals and bases; to the east of the doorway is a stoup, the head of which appears to have once formed part of an 11th-century window.
The tower is built of rubble with roughly shaped long and short quoins in the early work, which remains to about one-third of its height; on the south side is a tall, narrow arch with a semicircular head and square jambs with long and short work and a plain string at the springing; above it is a double-splayed window containing its original midwall wooden window board, pierced with a round-headed opening wider at the sill than the head. In the north wall is a similar window, but less perfect and without its board. The tower has a plain parapet and a twolight 15th-century window on each side of the belfry stage; in the west wall of the ground stage is a 14th-century two-light window with net tracery.
Beneath the east window of the ruined north chapel lies an altar slab 6 ft. 9 in. long, and there are several 13th-century grave slabs in the chapel. At the west end of the south aisle is a 14th-century headstone from a churchyard grave, with crosses on both sides of its circular head.
Parts of a 15th-century oak screen stand in both aisles of the nave, and retain a painted diaper of flowers and couchant deer, and in the nave are several bench ends with 15th-century finials of unusual detail, having the figures of men drinking, reading and lying down, while others are carved with animals. Under the tower arch is a tall late 15th-century oak screen with a 17th-century arched head inserted. In the south aisle is a fine brass, somewhat 'restored,' of a knight, his head on his helm; under is the inscription 'Orate pro aĩa Thome Salle (fn. 64) armig'i Đ obiit XXI die mens Aplis anno dĈ M°CCCCXXII,' and above it are two shields bearing salamanders in saltire.
There were four bells cast by John Hodson in 1654, but the first, second and third have been recast and a fifth added. The fourth has the inscription 'John Hodson made mee 1654, John Latton, Henery Negus churchwardens,' and the headstones of these churchwardens are now in the tower, the first having died in 1681, the other in 1678.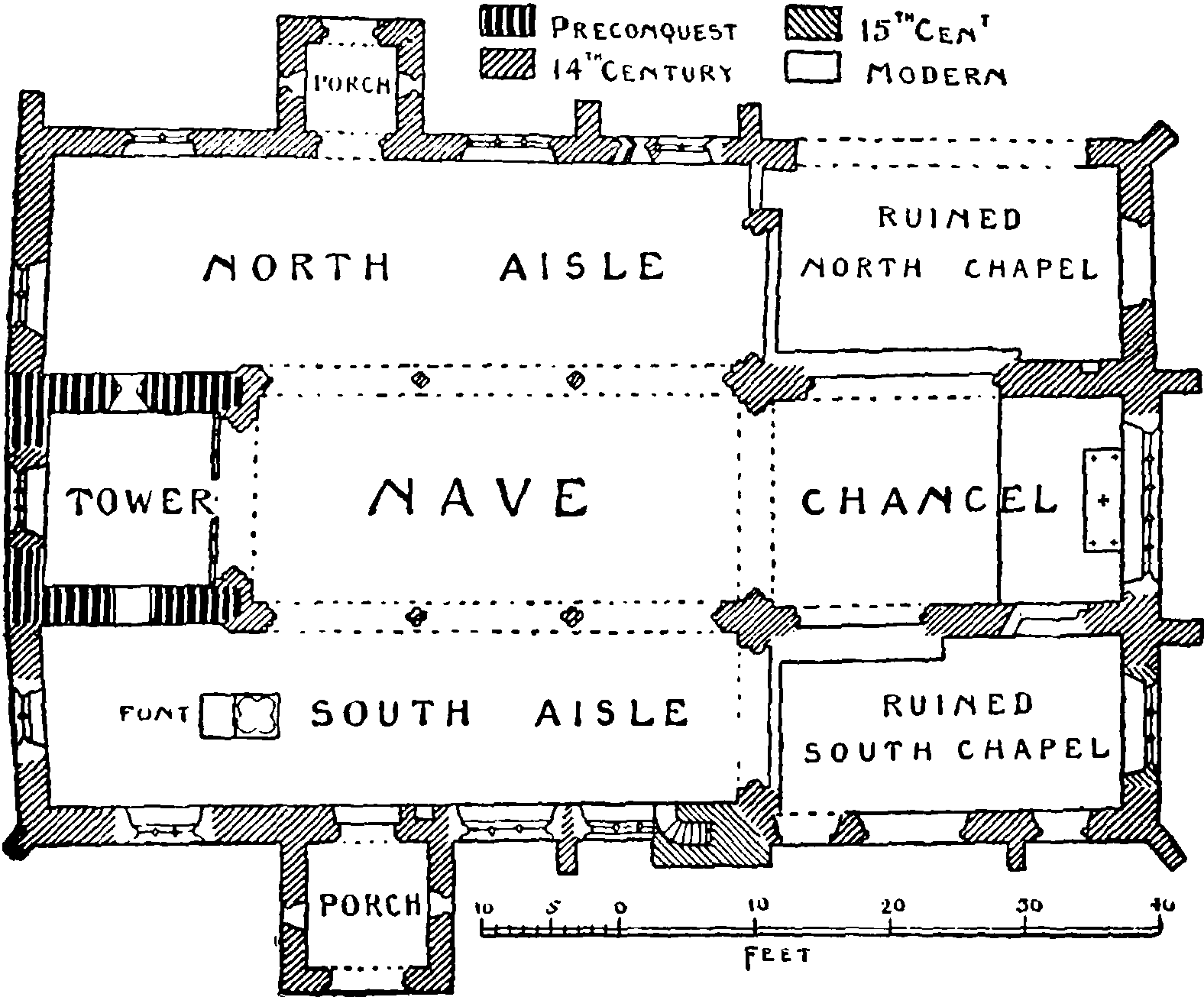 The church plate consists of a cup and paten cover with date mark 1569 and maker's mark—a horse's or ass's head, and a silver-plated flagon.
The registers before 1812 are in five books: (i) contains baptisms 1653 to 1701, marriages 1657 to 1695, burials 1690 to 1702; (ii) all entries 1702 to 1731; (iii) baptisms and burials 1732 to 1779, marriages 1732 to 1761; (iv) baptisms and burials 1779 to 1812; (v) marriages 1811 and 1812.
ADVOWSON
The first mention that has been found of Stevington Church is a grant, some time before 1153, of the advowson to Harrold Priory by Baldwin Count of Guînes. (fn. 65) The church remained in the possession of the priory till the Dissolution, when, valued at £12 13s. 4d., it became Crown property. (fn. 66) Thomas Adams obtained a lease of the rectory and church in 1574–5, (fn. 67) and two years later it was granted by the Crown to Sir Lewis Dyve of Bromham. (fn. 68) The Dyves retained both rectory and advowson until 1672, (fn. 69) in which year Francis Dyve and Theophila his wife conveyed them by fine to Thomas Raymond and other trustees. (fn. 70) This appears to have been preliminary to alienation, for in 1695 they reappear as the property of Henry Fleetwood, who between that date and 1700 made a series of conveyances of Stevington rectory and advowson to Peter Floyer. (fn. 71) The latter continued to present until 1738, (fn. 72) in which year he sold the rectory and advowson to Sarah Dowager Duchess of Marlborough, (fn. 73) who by her will, proved in 1744, left them in trust for her grandson John Spencer. (fn. 74) Between this date and 1776 the advowson was alienated to Francis Duke of Bedford, who presented to the vicarage in that year, (fn. 75) and it has since remained in his family, the present patron being Herbrand Arthur Russell eleventh Duke of Bedford. (fn. 76) Earl Spencer still owned the great tithes at the time of the Inclosure Award to Stevington in 1805, (fn. 77) but they were purchased in 1838 by the Dukes of Bedford. The Tithe Farm passed later to Mr. F. G. Higgins of Turvey, who recently sold it to Mr. Ibbot of Oakley, who is lay rector of Stevington. (fn. 78)
CHARITIES
The almshouses, built in 1654 with funds arising under the will of William Barringer and rebuilt in 1839, consist of five cottages, now occupied by five inmates who receive 2s. a week, derived from the rent of 25 a. 1 r. 8 p. situated in Pavenham. The charity was regulated by a scheme of the Charity Commissioners of 1863, which has given place to a new scheme dated 24 January 1911.