Pages 96-100
A History of the County of Bedford: Volume 3. Originally published by Victoria County History, London, 1912.
This free content was digitised by double rekeying. All rights reserved.
STAGSDEN
Stacheden, Stachesdene (xi–xvi cent.); Stagesden, Stagsden (xvi–xx cent.).
Stagsden has an area of 3,419 acres, of which 1,825¼ are arable land, 1,282½ permanent grass and 153¼ woods and plantations. (fn. 1) The slope of the ground is irregular, but mainly from north-west to south-east; the highest point is 270 ft. above ordnance datum in the north, the lowest 125 ft. The soil is strong clay, the subsoil blue clay and chalkstone. There is a limestone quarry in the east of the parish which provides a plentiful supply of stone. The parish is badly supplied with water, and in dry summers suffers from drought. It possesses a chalybeate spring, now in a neglected condition (fn. 2) and boarded up within the last few years.
The village is situated in the centre of the parish on rising ground, with the parish church dedicated to St. Lawrence on an eminence in the centre. There is also a Congregational chapel in the village. The villagers are still engaged in a small manufacture of pillow lace. Outlying portions of the parish are West End, a mile south of the village, Up End about the same distance west, North End a mile and a quarter north-west. Wick End, with a moat, about a mile and a quarter north-east of the church, marks the site of Dylywyk Manor, now a farm-house; Bury End, still further north, formerly a farm but now a private residence, possibly represents the site of another of the numerous manors which existed in Stagsden. It is a stone building with a tile roof, but has been much modernized. Within it are an 18th-century staircase and a richly panelled early 17th-century bedroom with a fine Jacobean fireplace. Traces of a moat are still to be seen. Stagsden is well wooded, the principal woods being Hanger Wood, Asty Wood and Lambert's Spinney in the south, How Wood, Upend Wood, Wickend Spinney and Bagley's Spinney. (fn. 3)
The parish was inclosed in 1812. (fn. 4)
MANORS
The principal of the four landowners found in Stagsden at the Survey of 1086 was Hugh de Beauchamp, who held a manor of 5 hides, (fn. 5) and with the exception of Gemys Manor the whole of this parish is subsequently found attached to the barony of Bedford. (fn. 6) The most important manor was known as DYLYWYK alias WICK END MANOR, (fn. 7) and was held by the Beauchamps and their lineal descendants of the king in chief. It follows the same descent as that part of the barony of Bedford which passed through Beatrice, co-heir of the barony in 1265, to the Botetourts, thence to the Latimers and Nevills of Raby. (fn. 8)
Dylywyk Manor was finally alienated in 1589 by Lucy, co-heir of Lord Latimer, and her husband William Cornwallis to Lewis Lord Mordaunt, (fn. 9) and was retained by the latter's family until 1710, (fn. 10) when it was purchased by Sir Thomas Trevor, (fn. 11) the descent of whose property has been discussed under Bromham. In 1873 it was purchased from the trustees of Lord Dynevor's estate by the Crown. After the close of the 18th century the name of Dylywyk disappears, and the several manors which unite to form the Stagsden property of Viscount Hampden in 1812 are grouped together under the common name of Stagsden Manor. (fn. 12)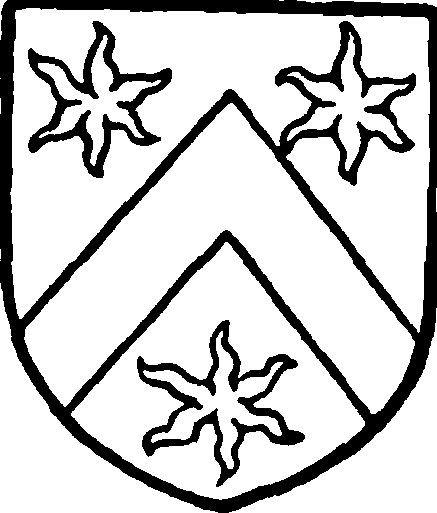 Dylywyk Manor had a park attached which is mentioned as early as 1086, in which year the Survey records that Stagsden contains 'a park for beasts of the chase.' (fn. 13) This park contained 180 acres in 1278. (fn. 14) In 1396 it was worth nothing beyond reprises except that Gilbert Deye the parker drew a salary of £4. (fn. 15) It is mentioned in the sale to Lord Mordaunt in 1589, (fn. 16) and in various extents of the manor during the 17th and 18th centuries. (fn. 17)
John de Botetourt received a charter of free warren in Dylywyk Manor in 1304, (fn. 18) which was confirmed in 1329 to his successor William Latimer. (fn. 19) A view of frankpledge was also attached to Dylywyk in 1330. (fn. 20)
A windmill formed part of the extent in 1278, of which, however, no further trace has been found. (fn. 21)
At the Domesday Survey the Bishop of Bayeux owned 3 hides 3 virgates of land in Stagsden, having as his tenant Herbert son of Ivo. (fn. 22) On his death in 1097 his lands escheated to the Crown, and are to be found later as GEMYS, JEMPSIS or STANFORD MANOR, the only manor in this parish held of the Crown in chief, and one whose extent in 1278, equalling as it does that of the Survey, justifies the assumption that it represents the Bishop's land. The family of 'Gemys,' (fn. 23) who subsequently obtained possession, are first found in the parish in 1233, when William de Gemys held land here (including a capital messuage) by service of one-third of a knight's fee. (fn. 24) Robert de Gemys, his descendant, held this same fee in 1278–9. (fn. 25) He died in 1310 and was succeeded by his son Robert, then aged twenty-four. (fn. 26) In 1334 John son of Robert Gemys acquired land in Stagsden on his father's death, (fn. 27) and in 1349 he, together with his wife Eleanor, made a settlement of the third of the manor on his mother Joan wife of Robert Mordaunt. (fn. 28) John Gemys died in 1366, when the manor, worth 100s., passed to his son John, (fn. 29) whose wife Christine survived him and held the manor till her death in 1423. (fn. 30) The heir for this property was William Gemys, brother of John Gemys, who had died without issue, though Christine's nieces Joan Bray and Joan Bosoun are also named. (fn. 31) William died seised of the manor in 1428, and it then passed to his daughter Joan wife of Nicholas Ravenhill. (fn. 32) Joan had a daughter Agnes, wife of James Fynaunce, to whom Gemys passed on her mother's death in 1447. (fn. 33) Agnes Fynaunce was followed in 1458 by a son John Fynaunce, aged seventeen at the time of his mother's death. (fn. 34) In 1468–9 John Fynaunce had this manor handed over to him by trustees assigned by his late mother (fn. 35); this appears to have been done preparatory to an alienation to John Stanford, who in the same year was enfeoffed of this manor by other trustees. (fn. 36)
At his death in 1493 he left two daughters as coheirs, Elizabeth wife of Sir William Cornwallis, and Margaret wife of George Harvey. (fn. 37) During the next half-century the manor was in moieties. Of these the share of Elizabeth Cornwallis was conveyed by her in trust to William Gascoyne and others in 1528. (fn. 38) It probably became absorbed in Dylywyk Manor (q.v.), and on the alienation of that manor by Sir William Cornwallis to Lord Mordaunt in 1588 was included in the sale, as certain lands in Stagsden stated to be held in chief are specially mentioned apart from Dylywyk. (fn. 39) The other moiety was conveyed in 1544 by the heirs of Margaret Harvey to Lord Mordaunt. (fn. 40) Though following the same descent as Dylywyk it did not lose its separate identity, but is mentioned by name as late as the 18th century.
A third manor in Stagsden is that known as BOSOMS, which name is derived from 13th-century tenants called Bosom, Bosoun or Buzum. It was held of the barony of Bedford, of which overlordship mention is found in the 13th and 14th centuries, a reference in 1366–7 showing that it passed to that branch of the barony which was held by the Patishulls. (fn. 41)
The first mention that has been found of the family is in 1276 when Bartholomew Bosom granted messuage, land and rents in Stagsden to Alexander Bosom and Ida his wife. (fn. 42) This land included 1 hide and was held chiefly in demesne. (fn. 43) He and his wife were still holding in 1286, (fn. 44) but it was probably their son Alexander whose right in the manor Edmund Bosom acknowledged in 1330. (fn. 45) One of the same name was holding in 1343 and again in 1366. (fn. 46) In 1398 William son of John Bosom sued Walter Bosom and Joan his wife for this property as lineal descendant of the Alexander who received a grant from Bartholomew Bosom in 1276. (fn. 47) The Bosoms continued to hold in Stagsden until c. 1459, when the co-heirs of Alexander Bosom were his daughters Elizabeth wife of John Halton and Anne wife of Nicholas Ovy. (fn. 48) Its history during the next forty years cannot be traced, though it evidently remained in moieties in the same families, for in 1497 Eleanor Coly, evidently representing Elizabeth Halton's portion, transferred her share to John Mordaunt, (fn. 49) and in 1506 William Villiers son of Philippa daughter of Anne Ovy granted his right in the manor to the same John Mordaunt. (fn. 50) Bosoms Manor henceforward follows the same descent as Dylywyk Manor, preserving, however, its distinctive name till the 18th century.
In the 13th century a fourth manor known as STAGSDEN or BURDELYS MANOR was held of the barony of Beauchamp of Bedford. In 1278 it was held of Roger L'Estrange (husband of Maude Beauchamp) and of the Abbot of Warden, (fn. 51) and four years later the overlordship was vested in Sir William de Monchensey (husband of Beatrice co-heir with and sister of Maud Beauchamp), Warden Abbey and Newnham Priory, both of which houses had largely benefited by Beauchamp donations. (fn. 52) Part of the service attached to tenure of the manor at this latter date and probably due to the religious houses was an obligation to feed and clothe three poor men for ever, 'whose food is worth yearly 39s. including garments and buskins (calciamentis).' (fn. 53) In 1348, when the last mention of the overlordship has been found, John de Burdelys is described as tenant in chief of the king. (fn. 54)
John de Burdelys, the first tenant of this manor of whom mention has been found, was holding land in this parish in 1278. (fn. 55) He died in 1283, when his son Geoffrey, then twenty-one years of age, acquired possession of the manor. (fn. 56) He was followed before 1321 by his son John de Burdelys, (fn. 57) whose widow some time previous to 1346 married Robert Hotot, and who died at that date, leaving the manor to her son by her first husband John de Burdelys. (fn. 58) He was then a minor (fn. 59) and died the following year, (fn. 60) when a partition of all his property took place between his sisters and co-heirs Elizabeth wife of Thomas Marshall and Joan wife of Gilbert atte Chamber. (fn. 61) To the latter was assigned Stagsden Manor, and in 1362 she together with her husband alienated it to Edmund Bosom. (fn. 62) In 1497 Eleanor Coly transferred this manor together with Bosoms to John Mordaunt and others, (fn. 63) and, though not again found mentioned individually by name, it became absorbed in and followed the same descent as Bosoms and other manors which he owned in this parish.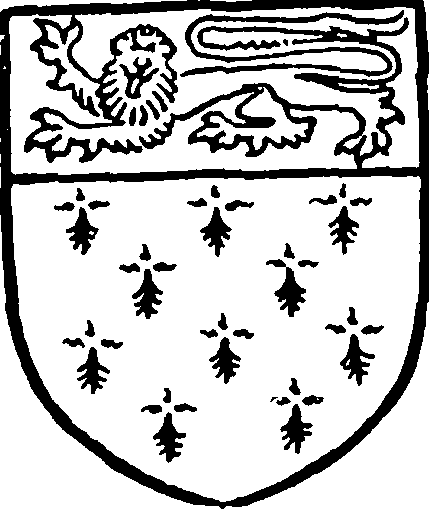 DUXWORTH or DUCKFORD MANOR
DUXWORTH or DUCKFORD MANOR, a property which appears in Stagsden in the early 16th century, seems to have originated in land held by tenants of the name of Dokesworth in the 13th century, whose property was held in 1278 by Henry de Dylywyk of Ralph Paynel as of the barony of Bedford. (fn. 64)
In 1310 William Sweyn conveyed a small portion of land in this parish to John de Dokesworth. (fn. 65) A few years later in 1316 John de Dokesworth held one messuage, 90 acres of land, 8 acres of meadow, 3 acres of wood and 7s. rent in Stagsden. (fn. 66) In 1346 Hugh de Dokesworth held land by knight's service in Stagsden of the barony of Bedford. (fn. 67) This is the property which appears in 1514 as belonging to Thomas Marlborough and Margaret his wife, who then conveyed it to Sir Ralph Lane. (fn. 68) He died seised of Duxworth Manor in 1540, when his son Robert, then aged thirteen, became his heir. (fn. 69) Nothing further is heard of this manor till the 17th century, when it had become the property of the Mordaunts, who at this time owned the greater part of the parish, separate mention of it being found only in 1644 (fn. 70) and 1685–6. (fn. 71)
From the 13th to the 16th century a family of the name of Goldstone held land in Stagsden of the barony of Bedford. In 1286 Geoffrey Goldstone was called to warrant his mother's dower in Stagsden, (fn. 72) and twenty years later Peter Goldstone held half a virgate of land here for one-fortieth of a fee. (fn. 73) John Goldstone held this fee in 1346, (fn. 74) and this family was still settled in the parish nearly 100 years later, for in 1439 Richard Goldstone of Stagsden 'gentilman' received a free pardon for breach of the peace. (fn. 75) The last mention found of them is in 1528, when John Goldstone died seised of lands and tenements in Stagsden, leaving a son Thomas Goldstone as heir. (fn. 76)
A family of Bray or Broy were 12th-century tenants of the Bedford barony in Stagsden. In 1196 Robert Bray owned land and services in Stagsden which he held of Simon de Beauchamp. (fn. 77) Eight years later his tenant Adam son of Drew held 2 hides of him by one-third of a knight's fee. (fn. 78) Roger Bray is mentioned in the feudal assessment of 1302 for this parish, (fn. 79) and his right had passed by 1346 to Robert Mordaunt, (fn. 80) a member of that family, which later held so largely in this parish. The Brays were very large benefactors to Warden Abbey, (fn. 81) and such alienations account for the scanty details concerning what was a comparatively large property at the beginning of the 13th century.
In 1278 Hugh le Blunt, Richard Koc and Adam Harlew all held small portions of land of the Beauchamp barony. (fn. 82) Of the two latter no further mention has been found, but the former was still holding in 1302, (fn. 83) and by 1346 had been succeeded by Matthew atte Wiche. (fn. 84)
The Abbot of Warden in 1278 was declared to hold 1 hide 3½ virgates of the gift of Robert Bray in the reign of Henry III. (fn. 85) No part of this land was held in demesne, but it was all in the hands of free tenants of whom John Burdelys held 1 hide for 1 lb. of cummin. (fn. 86) In 1330 the abbot claimed that his view of frankpledge extended into this parish. (fn. 87) At the Dissolution Warden Abbey owned 3s. yearly rent in Stagsden. (fn. 88)
Newnham Priory owned lands and rents in Stagsden, and in 1385 received a grant of free warren extending into this parish. (fn. 89)
CHURCH
The church of ST. LEONARD consists of a chancel 36 ft. 6 in. long by 15 ft. 8 in. wide with a north vestry, a nave 62 ft. 3 in. long by 19 ft. 9 in. wide, a north chapel 25 ft. 10 in. long by 11 ft. wide, a south aisle 11 ft. wide and a west tower 12 ft. 3 in. square.
The west tower is in part of the 13th century, and the western angles of the nave and probably part of its north wall are as old or older. In the early part of the 14th century a south aisle and south porch were added and the chancel was probably rebuilt except its north wall.
In the 15th century the chapel was added on the north side of the nave, and the upper parts of the tower built, and windows inserted in the south aisle.
The north wall of the chancel is thicker than the south, built of rubble and apparently of the 13th century; the east wall is quite modern and contains a three-light pointed window with net tracery, to the north of which is an image bracket. On the north side of the chancel is a shouldered arched aumbry, and at the north-west a 14th-century window much restored, with two ogee-headed trefoiled lights under a square head and label; to the east of it a doorway leads into a modern vestry. In the south wall is a 14th-century piscina with a trefoiled ogee head, and near it on the east is a small arched recess, higher in the wall; the priest's doorway is mostly new. To the west of it is a 15th-century window of two cinquefoiled lights under a four-centred head, and to the east is a 14th-century window in two trefoiled lights with a quatrefoil over. The chancel arch dies into the walls and is in two hollow-chamfered orders; the roof is modern.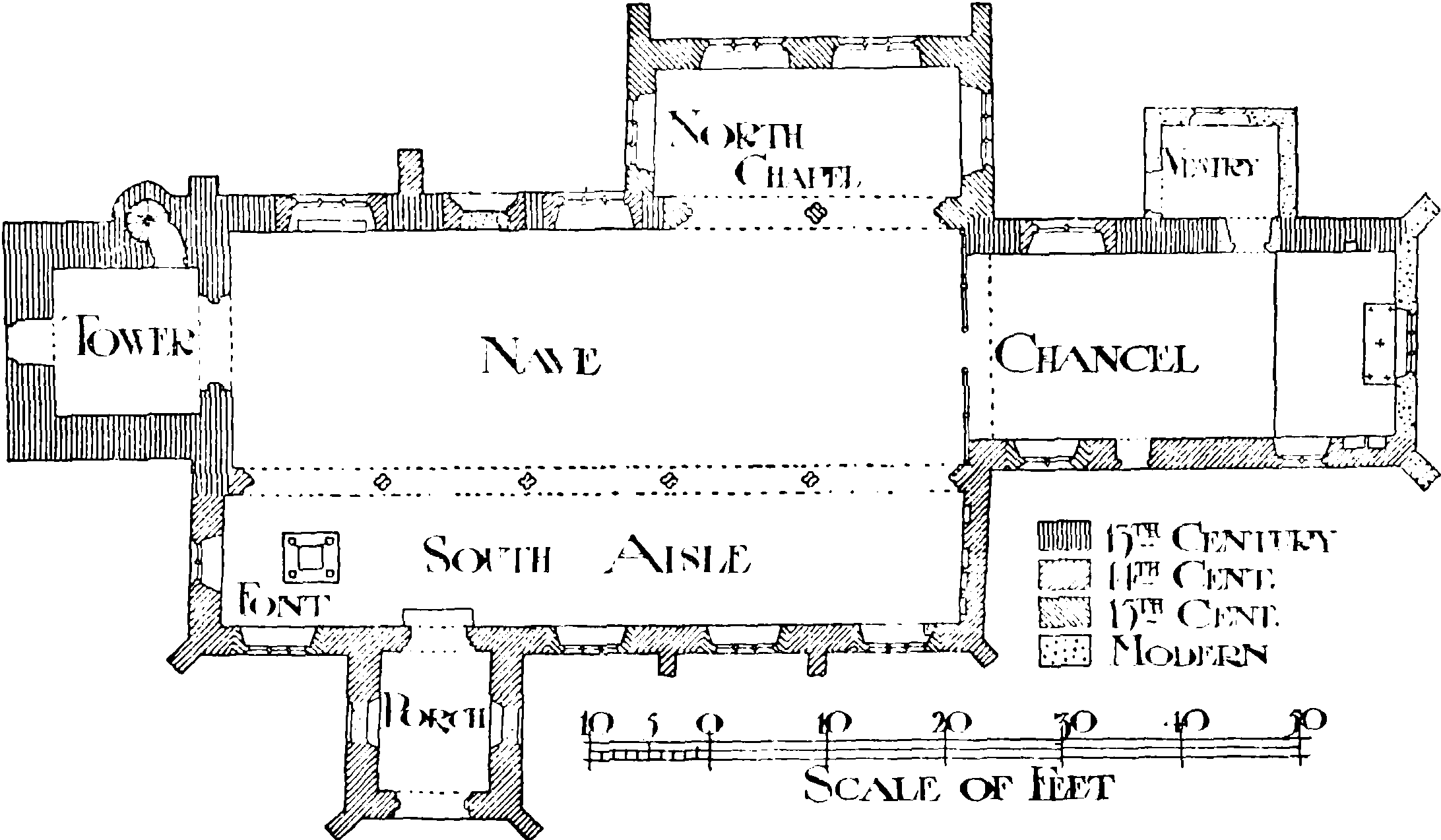 On the north side of the nave is a late 15th-century arcade of two bays with straight lined hollow-chamfered arches opening into the chapel; the arches rest on a quatrefoil shaft and responds having moulded capitals and bases. There is, further west, a blocked 14th-century moulded doorway, and to the east of this is a window of three cinquefoiled lights and flowing 14th-century tracery; near the tower is a similar window. On the south side of the nave is a 14th-century arcade of five bays in two chamfered orders, with quatrefoiled shafts and responds having moulded capitals and bases. There are five twolight clearstory windows on each side, of 15th-century date, and above the chancel arch on the south a small trefoiled opening which lighted the rood loft.
The north chapel is late 15th-century work, with a plain parapet and a chamfered plinth. There are four windows, two in the north wall and one each in the east and west walls; the north and east windows are of three cinquefoiled lights under a three-centred head and label, but the west window has trefoiled lights and may be 14th-century work adapted when the chapel was added. From the south-east angle the remains of the rood stair rise behind the last respond of the arcade.
The south aisle has four windows in the south wall, each of three cinquefoiled lights under a low head; they are 15th-century insertions. The south doorway is of the date of the arcade, with a moulded arch of two orders, the outer having moulded capitals and engaged shafts. The west wall is thicker than the others and contains a 14th-century window of two trefoiled lights and flowing tracery in a pointed head. At the east end of the aisle are four 15th-century niches, one of which is trefoiled and ribvaulted and another has an image bracket carved with a king's head; to the north of these is a plain corbel; there is another niche quite plain in the south wall. All these seem not to be in their original position, but in the easternmost window is a piscina-drain, and the sill is kept low to serve as a seat.
The porch is of 15th-century work with a doorway which on the outside is square-headed and on the inside is pointed; in the east and west walls are blocked pointed windows of two lights.
The tower has an embattled parapet and a small lead spire and has a circular stair at the north-east. At the west end is a shouldered doorway with a lancet window above it, both having restored heads. The top stage is of the 15th century with pointed windows of two cinquefoiled lights; in the middle stage on the south side is a tall chamfered window with a modern head which may have been a lancet. The eastern arch is of two chamfered orders, continuous.
The font is square with the angles chamfered off and rests on a central column of similar plan and four free octagonal columns with moulded capitals and bases; it is of the 14th century. The bowl is plain except for two faces, that on the north having the figure of a bearded man and the north-east a woman's figure, both very poorly worked and probably much later than the font; the chamfer below the bowl is ornamented with ball flowers.
There is a good 15th-century screen with solid lower panels and wide four-light open tracery bays above; the coved vaulting has gone, and modern panelling and cresting takes its place; the nave and north chapel have plain late Gothic roofs of low pitch, a good deal repaired.
In the north chapel on the north wall is a brass plate with the kneeling figures of John Cocke and his daughter Elizabeth, who both died in 1617. The arms are a cheveron between three cocks' heads razed.
The plate consists of a cup of 1825, an electroplated flagon and two plates of modern pewter.
The registers previous to 1812 are in five books: (i) has all entries 1671 to 1705; (ii) the same, 1705 to 1760; (iii) baptisms and burials 1761 to 1806; (iv) baptisms and burials 1806 to 1812; and (v) marriages only 1755 to 1812.
ADVOWSON
Stagsden Church formed part of the original endowment of Newnham Priory by Simon de Beauchamp (t. Henry II). (fn. 90) It was retained by the priory till the Dissolution, when the church and rectory, valued at £20, became Crown property. (fn. 91)
By 1546 the advowson had become the property of Lord Mordaunt, (fn. 92) and follows the same descent as the manor until 1879, when it passed by purchase to the Rev. William H. Jackson, who holds the living. (fn. 93)
Stagsden Rectory was granted in 1546–7 to Trinity College, Cambridge, (fn. 94) and according to Harvey the great tithes are still vested in this college. (fn. 95)
There are no endowed charities in Stagsden.