Pages 328-335
A History of the County of Bedford: Volume 3. Originally published by Victoria County History, London, 1912.
This free content was digitised by double rekeying. All rights reserved.
WOOTTON
Otone (xi cent.); Wutton (xii cent.).
Wootton is a large parish and scattered village covering an area of 3,788 acres, of which 1,423 are arable land, 1,803 permanent grass, and 97 consist of woods and plantations. (fn. 1) The soil is a rich, strong clay with a subsoil of gravel and marl, producing crops of wheat, beans and barley.
The village of Wootton lies towards the north of the parish about 150 ft. above ordnance datum, and has outlying districts known as Keeley, Causeway End, Tags End and Bott End.
Wootton House, which stands in a park of 70 acres at the west end of the village, is the residence of Colonel the Hon. Robert Villiers Dillon. The church and vicarage, a Georgian building, stand at the entrance to the park, and beyond is The Hoo, the property of Mr. Foster and at present occupied by Miss Rohrweger. A road which enters the parish in the north passes through Keeley, Bott End and Tags End to Wootton Green in the south, leaving on the right Hoo Farm, in the neighbourhood of which Wootton Hoo manor-house was probably situated.
The Bedford branch of the London and North-Western railway and the Midland railway both run through this parish.
The land slopes from west to east, and the highest ground is found at Bourne End, where in the grounds of a farm-house are remains of a moat, the site of one of the manors. Here an altitude of 317 ft. is reached, while in the north-east of the parish it sinks to 107 ft.
There are brickworks here, the most extensive of which were erected in 1899 by Messrs. B. J. Forder & Sons, Limited, and cover an area of 5 acres.
When a survey of the manors of Studleys and Cannons was taken in 1605 the metes and bounds of the parish were given, and were as follows: From the east end of Culey Grene to Hardwicke Bridge (a mile), thence to Houghton Brooke (a mile) to the west part of Pilling Grene (a mile), thence to Shelton Grene, to Washinglenes Gate, to the west of Kempston Wood, and thence to Culey Grene (each a mile). (fn. 2)
MANORS
In 1086 the manor of WOOTTON, extended at 10 hides, was held by Albert of Lorraine of the king in chief. (fn. 3) This manor continued to be so held, the last mention of the overlordship occurring in 1612. (fn. 4) Wootton Manor, like Sharnbrook and Chalgrave, became part of the barony of Bedford, but whereas in these latter parishes the Beauchamps are found as intermediary lords, in Wootton they acquired the ownership in fee and held of the king in chief. (fn. 5) As in Bromham (q.v.) the manor descended in the Beauchamp family until the death of the last male representative, John de Beauchamp, at the battle of Evesham in 1265, when the rights became vested in his three sisters Maud, Ela and Beatrice, who, however, did not enter into possession of the manor until the death in 1295 of Isabel widow of Simon de Beauchamp, the elder brother of John, to whom Wootton had been assigned in dower. (fn. 6) That third of the manor which was acquired by Maud the eldest sister, widow of Roger de Mowbray, (fn. 7) was held for the term of his life by her second husband Roger Lestrange, who died in 1311, when it passed to John de Mowbray the grandson of Maud, (fn. 8) who in 1316 settled it for life on his father-in-law William de Braose. (fn. 9) In 1320 he granted the reversion of the manor to Roger Marshall of Milton and Sarah his wife, to hold of him by service of a rose yearly (fn. 10); but William de Braose quitclaimed his life interest to them in the same year and they entered into possession. (fn. 11) Roger Marshall increased his estate in Wootton by the acquisition of land from John de Patishull without royal licence, for which offence his son John Marshall had to obtain pardon in 1353, when he received a grant of additional land from William son of John de Patishull. (fn. 12) John Marshall died in 1361 and was succeeded by his son Thomas, then two years of age, (fn. 13) at whose death without issue in 1374 his sister Maud, then wife of Walter Merwe and afterwards of — Dale, inherited the premises. (fn. 14) Maud died without issue in 1418, when the manor passed to her cousin and heir William Bosun, while the lands acquired from William Patishull in 1353 reverted to their heirs the Toddenhams, (fn. 15) and will be found treated with their other lands in the parish. William Bosun, from whom the holding derived the additional name of BOSOMS MANOR, died in 1424, (fn. 16) leaving a widow Margaret, who lived until 1447, (fn. 17) and two daughters, of whom Margaret the elder, the wife of William Burgoyne, inherited the manor, which on the death of her husband in 1456 passed to their son Richard. (fn. 18) The latter died in 1464, leaving a son John, then aged (fn. 19) seven years, during whose minority his wardship was bestowed on John Earl of Worcester. (fn. 20) The Burgoynes appear to have afterwards alienated Bosoms Manor, for in 1514 it was in the possession of Edward Langley, from whom it was purchased in that year by George Monoux, citizen and alderman of London, (fn. 21) in whose family it remained for many generations. In 1527 George settled the manor on his daughter Ann and her husband Nicholas Taylor for ninety-nine years, (fn. 22) and in 1531 he settled the reversion on Thomas, grandson of his brother and heir Humphrey. (fn. 23) George Monoux died in 1544, when the manor was inherited by George the son of Thomas, who had died in 1537. (fn. 24) In 1564 the manor was settled on George and his wife Elizabeth, daughter of John Lord Mordaunt, (fn. 25) and passed on his death in 1593 to Lewis son of his son Humphrey, who had died in 1585. (fn. 26) On his death in 1628 Lewis was succeeded by his son Humphrey, created a baronet in 1660, (fn. 27) and the manor then descended as in Sandy (q.v.) to the fifth baronet, Sir Philip Monoux, who succeeded to the title in 1757 (fn. 28); but there is no mention of the manor after 1770, and it did not by name form part of the property divided among Sir Philip's four sisters and co-heirs in 1809.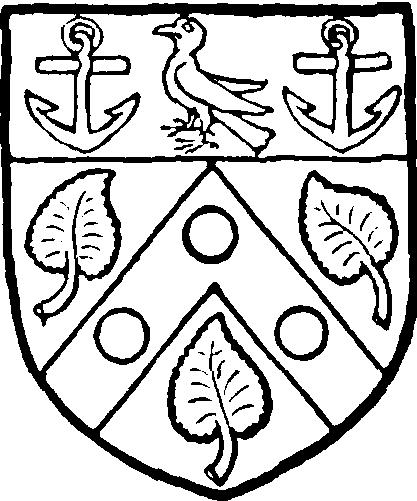 Another third of the manor which in 1295 became the right of Beatrice, the third sister of John de Beauchamp, passed to her daughter and heir Maud Fitz Otho, who married John de Botetourt. (fn. 29) This estate, known as the manor of WOOTTON, descended as in the case of Bromham Manor (q.v.) through the families of Latimer and Nevill of Raby (fn. 30); but on the death of Sir John Nevill Lord Latimer in 1577 its history becomes distinct from that of Bromham, as it was inherited by Dorothy his second daughter and co-heir, the wife of Sir Thomas Cecil, afterwards Lord Burghley and Earl of Exeter. (fn. 31) By a fine levied in 1605 the reversion of the manor was settled on their daughter Mary wife of Edward Lord Denny of Waltham and Earl of Norwich, and on their only child Honoria and her issue. (fn. 32) The latter married James Hay, Viscount Doncaster, Earl of Carlisle, and their son James was lord of the manor in 1638. (fn. 33) Between this date and 1666 the manor was acquired by Sir Humphrey Monoux, bart., (fn. 34) and descended in that family with the manor of Bosoms. On the death of Sir Philip Monoux in 1809 Wootton became the property of his second daughter and co-heir Mary, (fn. 35) whose second husband Joseph Francis Buckworth was lord of the manor in her right in 1836. (fn. 36) Mary died in 1850, when Wootton was inherited by Charles, her son by her first husband John, eldest illegitimate son of Sir Gillies Payne, bart. (fn. 37)
The manor continued in their descendants, and is at present vested in his great-nephew Philip. (fn. 38)
The remaining third of the manor, which in 1295 was inherited by Ela second sister of John de Beauchamp, was divided again into thirds between her three daughters Joan, Ida de Steingreve and Elizabeth. That portion acquired by Ida de Steingreve, which afterwards became known as the manor of WOOTTON HOO, passed to her daughter and heir Mabel the wife of Simon de Patishull, who subinfeudated the Trailly family. (fn. 39) The overlordship passed from the Patishulls by the death of William Patishull in 1360 to Robert de Toddenham, husband of Katharine, sister and co-heir of William, (fn. 40) and remained vested in that family as late as 1471. (fn. 41)
The connexion of the Trailly family with Wootton dates from 1228, when John de Trailly held a tenement in this parish of the Beauchamps (fn. 42); but the manor was not acquired by them until after the division of the Bedford Barony, and is mentioned for the first time in their possession in 1330. (fn. 43) The history of the Trailly family has been given under Yelden (q.v.), the head, (fn. 44) but Wootton Hoo was not alienated with Yelden by Reginald Trailly, the last male representative, and passed on his death in 1401 to his cousin and heir Margery wife of Sir William Huggeford and daughter of James Pavenham. (fn. 45) From this date until the middle of the 16th century the descent of the manor is similar to that of Pavenhams Manor in Carlton (q.v.), but it was not alienated with the latter and remained in the Lucy family. (fn. 46) Sir Thomas Lucy, who sold Pavenhams Manor in 1564, was succeeded by his son Thomas, who died in 1605, and whose son, another Thomas, transferred his right in Wootton Hoo to his younger brother Francis, whose son and heir Richard married Rebecca daughter and heir of Thomas Chapman of Wormley. (fn. 47) Richard appears to have conveyed the manor to his father-in-law, who was in possession in 1712, in which year it was purchased by Francis Duncombe. (fn. 48) It remained in the latter family and passed to Thomas Duncombe, who had married Elizabeth daughter of William Lowndes, Secretary to the Treasury in 1652, by his third wife Elizabeth Martyn. (fn. 49) Thomas Duncombe, whose wife died in 1712, appears to have alienated the manor to her brother, as the latter's grandson William Lowndes was lord of Wootton Hoo in 1781. (fn. 50) Richard Lowndes was in possession in 1831, (fn. 51) and in 1906 Mr. William Layton Lowndes of Dover was among the landowners in this parish. He was succeeded in that year by his cousin and heir the Rev. William Lowndes of Broughton, Buckinghamshire, who is rector of St. Mary's, Nassau, the Bahamas.
Elizabeth Hoobury, the second daughter of Ela, died without issue in 1314, (fn. 52) when her property passed to her sisters' descendants, John Picot and John de Patishull, and became absorbed in their estates (q.v.).
Joan, the third daughter of Ela, married, first, Michael Picot, and, secondly, Ralph Paynel, and died circa 1318, when John son of Baldwin Picot was her kinsman and heir, (fn. 53) and was succeeded on his death in 1337 by his son John. (fn. 54) The property, however, had been acquired in 1316 by Adam Picot and Anabella his wife from Thomas Paynel, with the consent of John son of Baldwin Picot, (fn. 55) but without royal licence, for which pardon had to be obtained in 1335, the date of Adam Picot's death, when he was succeeded by his son William. (fn. 56) In 1346 the heirs of Adam Picot were holding in Wootton, (fn. 57) but there is no further trace of this property.
The manor of CULY in Wootton, which was held of the Nevills, appears for the first time in 1474, when John Harvey died seised of it. (fn. 58) Until the beginning of the 17th century it remained in the Harvey family, whose pedigree will be traced under Thurleigh, where they resided. (fn. 59) The manor was alienated in 1617 by Oliver Harvey to Sir Oliver Butler, kt., (fn. 60) and descended in that family with the manor of Lorings in Sharnbrook (fn. 61) (q.v.). It is last mentioned in 1813, when it was in the possession of Admiral Cornish, (fn. 62) but it does not appear to have descended with the rest of his property to his wife's nephew Admiral Robert Gambier, for the hamlet of Keeley, which probably comprised this estate, was in the possession of Miss Polhill in the early 19th century, and has since been sold to Mr. Arthur Black, M.P.
Another manor in Wootton which became known after the Dissolution as the manor of CANONS belonged to Newnham Priory, upon whom lands in Woottonbourne, Church End and Campion's Hill in this parish were bestowed by David Loring, Hugh St. Edward and the Engayne family. (fn. 63) These possessions were rated at £2 4s. 3½d. in 1291, (fn. 64) and in 1330 the prior claimed the right to hold a view of frankpledge. (fn. 65) He was granted free warren in Wootton in 1385, (fn. 66) and in 1535 the estate was valued at £15 7s. 3d. with 8 acres of wood worth 8s., while rents repaid and wages amounted to £1 7s. 1d. (fn. 67)
After the Dissolution this property escheated to the Crown, and in 1542, when it was annexed to the honour of Ampthill, the value was only £10 10s. 8¾d. (fn. 68) Courts were held for the manor in 1547, (fn. 69) and a survey of the royal lands made in 1605, (fn. 70) while in 1613 Lord Fenton resigned the office of steward, which was then conferred on Lord Edward Bruce. (fn. 71) A grant of the manor with the assize rent of the free tenants, worth £1 3s. 8d. per annum, and the perquisites of courts, valued at 1s. 3d. yearly, was made in 1612 to John Eldred and William Whitmore, 'the fishing grantees,' and their heirs (fn. 72); but the manor was acquired shortly afterwards by Richard Button, who was in possession in 1623. (fn. 73) His daughter and heir married Edmund Wingate, the mathematician, who had resided for some time in Paris, where he was tutor to the Princess Henrietta Maria, afterwards Queen of England (fn. 74); and their son Button Wingate conveyed his right in Canons Manor in 1658 to Robert and Thomas Yarwey, (fn. 75) from whom it afterwards passed to the Monoux family, and is mentioned for the last time in 1729 in the possession of Humphrey Monoux. (fn. 76) After this date it doubtless became merged in their larger manor of Wootton.
The manor of STUDLEYS in Wootton, held of the barony of Bedford, originated in the subinfeudation of lands by the Beauchamps to the St. Edwards. The first mention of the family occurs in 1224, when Alice widow of Hugh St. Edward was confirmed in her dower by William de Beauchamp, (fn. 77) but the manor passed out of the possession of this family in less than a century, as Joan the daughter of John St. Edward and Alice his wife, upon whom this estate was settled in 1305, (fn. 78) carried it in marriage to her husband Thomas Studley, who was holding in her right in 1318. (fn. 79) In 1330 Thomas claimed to hold a view of frankpledge for this manor, (fn. 80) and in 1337 he brought an action against the Abbot of Ramsey for having trespassed upon his land and done damage to the value of £20. (fn. 81) Thomas died in 1342, leaving a son Thomas (fn. 82); but before his death he appears to have conveyed the manor to trustees, from whom it was purchased in 1389 by Newnham Priory, to whom Edward III had granted licence to acquire lands in mortmain to the value of £20 a year. At this date the manor consisted of one messuage, two cottages, 18½ a. 1 r. of land, 3 a. 1 r. of meadows, 7½ acres of pasture, 17 acres of wood and 16s. rent, (fn. 83) while 12 acres of land, part of this property, had already been acquired from Thomas Studley in 1341. (fn. 84) The manor then follows a descent similar to that of Canons (q. v.), with which it was valued in 1535 and afterwards annexed to the honour of Ampthill. The site of the manor was granted in 1610 to John Eldred for a term of sixty years, (fn. 85) but the manor was reserved by the Crown and was mortgaged in 1628 to Edward Ditchfield and others, trustees of the City of London, in return for loans obtained by the king. (fn. 86) Studleys Manor was subsequently bought by Richard Button, who held it jointly with Canons in 1637, (fn. 87) since which date the history of both manors is identical.
Lands in Wootton Pilling, which afterwards became known as the manor of PILLING ROWSBERRY, attached to the Mowbrays' portion of Wootton Manor, are mentioned for the first time in 1248 in the possession of Geoffrey le Rous, and remained in his descendants for several generations. (fn. 88) William le Rous, who settled the estate on himself and his wife Joan in 1305, (fn. 89) died in 1310, leaving a son Simon, aged nine, (fn. 90) who in 1347 settled £10 annual rent in Pilling on John Oyldeboef of Colmworth in marriage with his daughter Laura. (fn. 91) Simon died some time before 1368, when his widow Joan recovered the manor against John de Bracebridge and others, (fn. 92) but for the next 120 years there is no trace of the manor. In 1497 it was held by William Church and his wife Katherine, who conveyed it in that year to John Mordaunt, king's serjeant. (fn. 93) The latter's great-grandson Lewis alienated it in 1588 to Thomas Terle, (fn. 94) by whom closes called 'Bowes,' 'Garners' and 'the Greate Hayes,' parcel of the manor, were sold to Thomas Spicer alias Helder in 1596, and the rest of the manor was mortgaged to Anthony Jenkinson. (fn. 95) It was acquired by Sir Francis Clerke, lord of the manor in 1605, (fn. 96) who in 1627 bestowed it and the manor of Pilling Shingay upon Sidney-Sussex College, Cambridge, in order to found four fellowships and eight scholarships. (fn. 97) In 1836 both manors were in the possession of the College, which at the present day is a landowner in this parish. (fn. 98)
When Sir Francis Clerke granted the manors to SidneySussex College he apparently retained the capital messuage, and obtained a lease of the manors for ninety-nine years at a rent of £140. By his will dated 31 May 1632 the capital messuage and remainder of the lease were left to his nephew Francis Clerke, who in 1651 held a court baron for the manors jointly with the College. After his death in 1661 his executors, Richard Marsh and Thomas Warren, sold the remainder of the lease and capital messuage in 1662 to Sir William Thompson for £8,500. The latter in 1663 settled them on his son Samuel and his heirs male on the occasion of his marriage with Mary Buller, but as they had numerous issue Samuel broke the entail in 1681 in order to raise portions for his younger children. The estate was mortgaged at first to Edward Strode in 1694 and afterwards in 1700 to Joshua Lomax, and, as the Thompsons were unable to redeem the mortgage, it passed into the possession of the Lomax family. The ninety-nine years' lease of the manors expired some time in the first quarter of the 18th century, and was not renewed by Sidney-Sussex College, but the capital messuage and other lands were left by Joshua Lomax at his death in 1724 to his widow Ruth, who in 1720 sold them to their son Caleb for £7,000. The latter died shortly after, and the premises were conveyed by his trustees in 1734 to Thomas Inwen of Southwark, who in 1740 obtained licence by Private Act of Parliament to exchange lands in Wootton with Sidney-Sussex College. The capital messuage and premises were inherited by Sarah widow of Henry Earl of Suffolk and daughter and heir of Thomas Inwen, who married as her second husband Lucius Charles Viscount Falkland. By her will dated 25 May 1776 she vested her estate in trustees to the use of her husband after her death, and left as her residuary legatee Francis Mottey Austen, who obtained possession in 1785. (fn. 99) Austen sold the Bedfordshire estate in 1812, but the capital messuage by that time had been demolished, for the land purchased by William Parsons was described as 'the toft in which a capital messuage formerly stood wherein Francis Clerke deceased heretofore dwelt.' (fn. 100)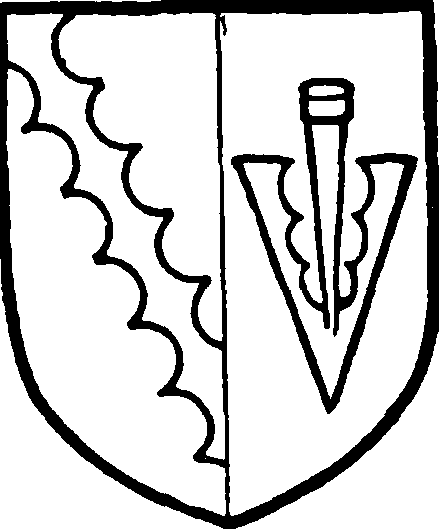 The manor of Pilling-in-Wootton, which was known in the 17th century as the manor of PILLING SHINGAY, was held by the Knights Hospitallers and attached to their preceptory of Shingay. The first evidence of their connexion with Wootton occurs in 1247, when a criminal took refuge in their chapel there. (fn. 101) In 1287 and in 1330 they claimed view of frankpledge held twice a year in their manor of Pilling, (fn. 102) and in 1338 their rental was as follows:— 1 mill, worth 13s. 4d.; 30 acres of wood, worth 10s.; 109 acres of land, worth 54s. 6d.; 2½ acres of meadow, worth 3s. 9d.; 4 acres of pasture, 4s.; while the rent of assize was 57s. 2¾d., and the works of tenants 20d. (fn. 103) After the Dissolution the preceptory and its possessions in Wootton were bestowed in 1540 on Sir Richard Longe, (fn. 104) and descended, as in Clifton (q.v.), to Elizabeth wife of William Lord Russell. Elizabeth died seised of the manor in 1617, leaving a son Francis, (fn. 105) by whom Pilling Shingay was doubtless alienated to Sir Francis Clerke, lord of Pilling Rowsberry, who in 1627 bestowed both manors on Sidney-Sussex College, Cambridge, (fn. 106) since which date their history has been identical.
At the Survey of 1086 Albert of Lorraine held a manor of 3 hides in Shelton, a member of Wootton. (fn. 107) It appears to have been obtained by the priory of Caldwell, who as early as 1276 received land in Wootton of the gift of William son of Ralph le Carter. (fn. 108) In 1291 the priory's possessions in Shelton, Kempston and Biddenham were assessed at £6 10s. 4½d., (fn. 109) and in 1387 additional land in this parish was acquired from Adam, vicar of Oakley. (fn. 110) In 1535 the priory's temporalities in Shelton were said to amount to £9 10s. 3d., (fn. 111) but in 1536 a total value of £9 14s. 2d. was recorded, of which £5 16s. was received as rent of the manor of WOOTTON SHELTON alias UPPER SHELTON, leased in 1532 to William Wheeler for a term of twenty years, and the rent was obtained from lands in Wootton. (fn. 112) This manor was taken into royal custody at the Dissolution, and William Wheeler's lease was renewed for a period of twenty-one years by Edward VI in 1550, while in 1560 the reversion was bestowed on Richard Champion, John Thompson and their heirs. (fn. 113) Wootton Shelton was afterwards obtained by John Matthew, who was lord of the manor in 1595, (fn. 114) and whose relative William Matthew and Sarah his wife alienated it in 1625 to Roger Pemberton. (fn. 115) The latter, who died in 1627, by a codicil dated 7 November 1627 to his will of 13 November 1624, left legacies of £40 a year each to his grandsons Robert and Ralph Pemberton, and six widows, 'in my almshouses to be erected' at St. Albans, were to receive £5 a year each. (fn. 116) He was succeeded by his son John, on whose death in 1645 the manor passed to his son, another John, who was lord in 1665. (fn. 117) Wootton Shelton remained in the Pemberton family for the next 120 years, and is last mentioned in their possession in 1784, when John Pemberton was the owner. (fn. 118) During the 19th century the history of this manor is obscure. Mr. Dimmock, who was lord of the manor at the close of the century, mortgaged the property, which mortgage has recently been foreclosed.
The hamlet of Upper Shelton is now in the parish of Marston Moretaine, about a quarter of a mile south of Wootton boundary.
Land in this parish was held by the Prior of Harrold, who in 1225 was granted custom and services by Hugh St. Edward, lord of Studleys Manor. (fn. 119) In 1392 the priory obtained licence to acquire a toft, 56 acres land, 1 acre of pasture, and 40s. 11d. rent in Wootton from Gerard Braybrook, (fn. 120) and in 1535 their estate was assessed at 33s. 7d. (fn. 121) After the Dissolution it was sold in 1557, when the yearly rental was £2 7s. 9d., the estate comprising Penneclose and Trawles Close. (fn. 122) There is no subsequent mention of their property, which was doubtless acquired in small parcels by many purchasers.
CHURCH
The church of ST. MARY consists of a chancel 35 ft. 3 in. by 17 ft. 8 in. with a north vestry, a nave 47 ft. 3 in. by 21 ft., north and south aisles 10 ft. 6 in. wide with north and south porches, and a west tower 14 ft. square, inclosed by the aisles on both sides. The whole has been much restored, and the north porch and west ends of the aisles are modern.
The church dates from the early part of the 14th century, the south porch being a slightly later addition, and the upper part of the tower being early 15th-century work. Fifteenth-century tracery has been inserted in several windows, and the lower part of the tower has been largely rebuilt. The north and south walls of the chancel have been refaced, and its tiled roof is modern, as are the low-pitched roofs of the nave and aisles; these latter have embattled parapets, while the chancel has plain eaves. The east window of the chancel is good early 14th-century work of three trefoiled lights with quatrefoiled net tracery. The north vestry is rebuilt, and has nothing old but part of its two-light east window, and west of it in the north wall is a restored 14th-century window of two lights; the two south windows and south doorway are modern, but the trefoiled piscina is old. On the outer face of the north wall of the chancel is a blocked trefoiled recess. The chancel arch is in two chamfered orders with a label and springs from responds of three rounds with moulded capitals and bases; on the gable over it is a sanctus bell-turret. The nave arcades are in three bays, very tall and slender, on quatrefoiled columns with moulded capitals of c. 1310, and there is no clearstory. The north aisle has a much-restored east window and two 15th-century north windows of three and four lights respectively; between them is a 14th-century doorway under a modern wooden porch. The south aisle has a modern east window and two restored four-light 15th-century south windows, and a three-light window over the south door. The doorway is 14th-century work recut, and opens to a later 14th-century stone porch, which has a two-light east window and a single light on the west. The western bays of both aisles are of poor early 19th-century Gothic, with plaster-vaulted ceilings. Their western gables are alike, with a pointed doorway in each and over it a circular traceried window. In the south aisle is a wide trefoiled recess for a piscina.
The western tower is of three stages, with an embattled parapet with gargoyles at the angles, that on the north-east angle representing a man with a shield lying at full length. The tower is surmounted by a small octagonal leaded spire. The west window is of three cinquefoiled lights with tracery in the head, and in the second stage is a two-light window on the south, and a door with a modern head on the east. The belfry windows are pairs of cinquefoiled lights with a quatrefoil over. The tower arch is in three chamfered orders, and its responds have been rebuilt on old bases, which they do not fit; the capitals are moulded like those of the north arcade, but the responds have small rolls between the main shafts, showing their date to be a little later than that of the nave arcades. The tower has a modern plaster-vaulted ceiling, like the west ends of the aisles.
Near the south door is the modern font. There is a good 15th-century rood-screen, in five bays, with tracery; it has a coved vault, which is modern. In the chancel are two 17th-century oak arm-chairs and a Jacobean table in the vestry.
In the chancel are many monuments to the Monoux family, the floor being almost entirely paved with memorial slabs, the oldest of which is that of Sir Humphrey Monoux, 1675, with his arms: impaling azure a bend or between three roses argent, with five drops gules on the bend. On the north wall is a marble monument, with Corinthian pillars, to Sir Humphrey Monoux, 1680, and a similar one to his son Philip, 1707, on the wall opposite. In the south aisle is the worn matrix of a very large 15th-century brass.
There are six bells: the treble by Emmerton of Wootton, 1779; the second and fourth by Taylor of Loughborough, 1874; the third by Thomas and William Russell, 1736; the fifth by Keene, inscribed 'God save our King 1641. J. H.'; and the tenor by Taylor, 1904. There is also a small bell in the turret on the apex of the nave roof, dated 1748.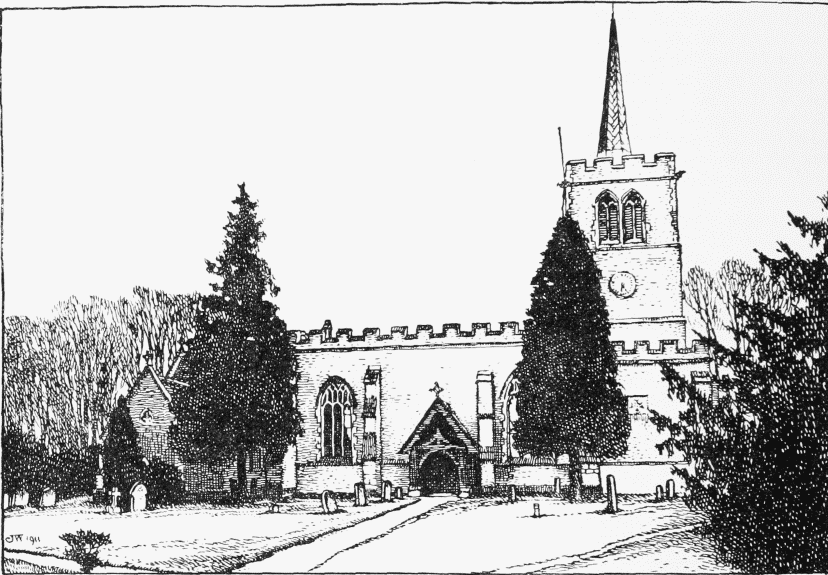 The communion plate consists of a flagon of 1684, the gift of Dame Alice Monoux, 1685, with the Monoux arms impaling a spread eagle.
The registers previous to 1813 are in six books: (1) all entries 1562 to 1652; (2) the same from 1653, the baptisms to 1665, the marriages to 1705, and the burials to 1667; (3) burials only 1668 to 1705; (4) baptisms 1683 to 1704; (5) all entries 1723 to 1812, marriages till 1754; (6) marriages (printed), 1754 to 1812.
The church is to the south of the village, and the churchyard is chiefly to the north of the church, surrounded by brick walls, and, where it lies by the side of the road, by a dwarf wall and iron fencing; to the north of the church is a coffin lid, with a beautifully carved 14th-century cross.
ADVOWSON
The church of Wootton was bestowed on Newnham Priory by Simon de Beauchamp in his foundation charter c. 1166, and the grant was confirmed by his son William, by Henry II, and afterwards by Edward II in 1317. (fn. 123) The descendant of the Beauchamps, Lord Thomas Mowbray, confirmed the charter in 1391, (fn. 124) and the tenure of the priory seems to have been untroubled but for one incident when William de Beauchamp son of the founder and Ida his wife attempted to dispute the priory's claim. (fn. 125) Hugh of Wells, Bishop of Lincoln, confirmed the appropriation of the church in 1224, (fn. 126) and a vicar's portion in the church was reserved by the pope in 1255, (fn. 127) although the ordination of the vicarage was the work of Bishop Gravesend in 1272. (fn. 128) In 1291 the church was assessed at £10, (fn. 129) and in 1532 the vicarage was valued at £13 17s. 2d. yearly, while the rectory was worth £20 per annum. (fn. 130) At the Dissolution both advowson and rectory escheated to the Crown, by whom the former was retained for many years. A report on the state of the church was issued by the Archdeacon of Bedford in his visitation in 1578, wherein he states that the 'Chauncell is in decay at Quene's defalt,' (fn. 131) but some time after 1605 the advowson was obtained by John Leigh, who died seised of it in 1620. (fn. 132) His son and heir Lewis doubtless sold it to Edmund Wingate and Elizabeth his wife, who already owned the rectory, for in 1644 they were in possession of both. (fn. 133) Their son Britton Wingate alienated the advowson and rectory in 1658 to Robert and Thomas Yarwey, when he sold them Studley and Canons Manors, (fn. 134) with which they passed to Humphrey Monoux, first baronet, and descended in his family as in Sandy (q.v.). (fn. 135) Some time, however, at the beginning of the 19th century the advowson was sold by Sir Philip Monoux, the fifth baronet, and was held in 1836 by John Jenkyn, then vicar there. (fn. 136) It was sold in 1873 to Mr. J. N. Foster, who was patron in 1895, (fn. 137) and at the present day is held by trustees of the late Edward J. F. Foster.
The rectory and other premises in Wootton had been granted by Newnham Priory in 1525 to William Borne for a term of forty-six years at £20 rent, and in 1537 William Clarke received a grant for sixty years at £26 rent to date from the termination of William Borne's lease. (fn. 138) Queen Elizabeth in 1587 granted to James Batten on the same terms a lease of the rectory for twenty-one years at the end of the term of William Clarke, (fn. 139) and on the strength of this grant Richard Batten laid claim to the rectory in 1605, (fn. 140) and apparently obtained the ownership in fee, for his daughter and heir Elizabeth carried it in marriage to Edmund Wingate. (fn. 141) From this date till the beginning of the 19th century it was held jointly with the advowson, but was retained by Sir Philip Monoux, bart., when he alienated the latter, and was inherited on his death in 1809 by his elder daughter Mary, widow of Sir John Payne, bart., who married in 1811 as her second husband Joseph Francis Beckworth. (fn. 142) The latter claimed to be impropriator in right of his wife when the parish was inclosed in 1836, and received land in commutation of the tithes. (fn. 143)
There was a chantry founded in Wootton Church before 1260, but there is no record of its history. (fn. 144)
At the dissolution of the chantries in the reign of Edward VI it was stated that one messuage and 3 acres of land, worth 5s. per annum, had been given for an obit in the church, out of which 1½d. and 2d. were repaid in rent to the king and Gerard Hervy respectively. There was also one close given for the maintenance of a light valued at 8s. (fn. 145)
CHARITIES
The Church and Poor's Land Estate consists of 1 a. 2 r. 13 p. of land, four cottages with gardens, and 31 a. 1 r. 14 p. (let in allotments), producing an income in 1909 of £75 6s.
It appears from the earliest deed extant, dated 23 March 1611, that the land was held for the repair of the church, and for the relief of the lame, blind and impotent poor, and orphans. Some portion of the land was acquired on the inclosure in 1804 of the parish of Kempston, in exchange for land in that parish which had anciently belonged to the poor of Wootton. The net income is applied in moieties for repairs of the parish church and for the poor.
In 1634 Mary Willoughby by deed dated 9 June in that year charged certain lands in the common field of Pillinge with £3 a year for the benefit of six poor widows. The charge is now paid out of land at Pillinge and Broadmead in the possession of different owners, and is distributed in doles of 5s. in June and December.