Pages 338-343
A History of the County of Bedford: Volume 3. Originally published by Victoria County History, London, 1912.
This free content was digitised by double rekeying. All rights reserved.
ASPLEY GUISE
Aspslea (x cent.); Aspleia (xi cent.); Asperele, Aspel (xiii cent.); Aspelegise (xiv cent.).
Aspley Guise is a parish lying on the Buckinghamshire border, on the extreme west of the county. The total area is 3,299 acres, 600 of which form Aspley Heath, constituted a civil parish in 1883, and 800 Woburn Sands, which has been a separate ecclesiastical parish since 1867.
Two small streams in the north, which rise near Glebe Farm and unite at Holcot Mill Pond, are joined there by another stream forming part of the north-eastern boundary of the parish.
The slope of the land is from the north—where the altitude is 230 ft.—to the south. The village of Aspley Guise is 400 ft. above ordnance datum, while the average heights of Aspley Heath and Woburn Sands are respectively 500 ft. and 330 ft.
The subsoil is clay, and the surface soil sand on the hills and clay in the lower parts. There are 382 acres of arable land, 758 acres of permanent grass and 665½ acres (fn. 1) of woods and plantations, the whole of the southern part of the parish being covered by Aspley Heath and Aspley Wood, with fine pine trees. In the northern part crops of barley, wheat, oats and beans are raised.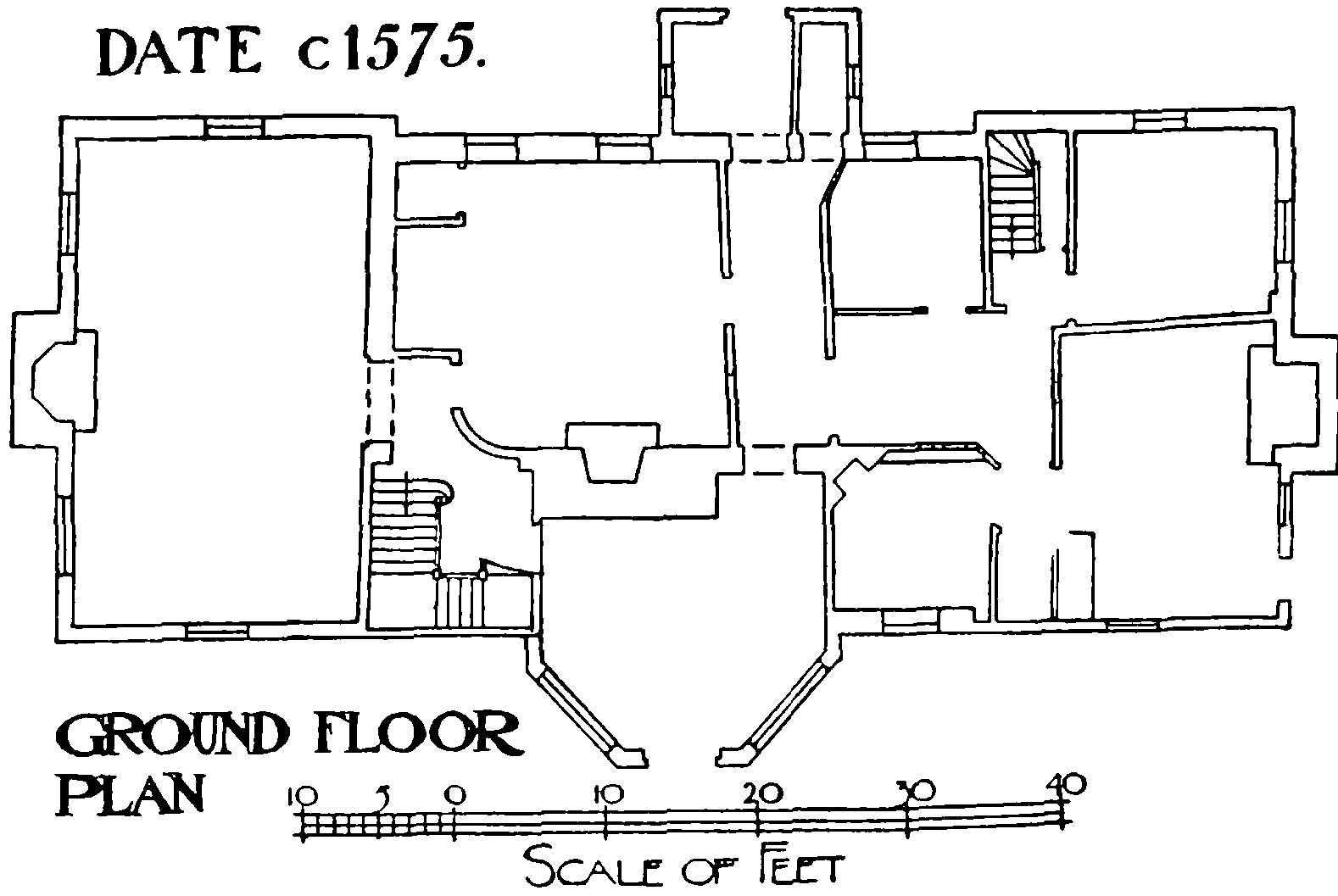 The village of Aspley Guise in the east of the parish is well situated at four cross roads. Although much modernized, a few half-timber and thatch cottages still remain. The parish church of St. Botolph is in the north of the village, the churchyard of which is entered from the south by a lychgate. Aspley House in the centre is the residence of Mrs. C. V. S. Downes, and was built c. 1690. Most of the rooms are panelled, and the house contains many fine portraits of the Hervey and Chernock families. Other houses in Aspley Guise are The Old House, the residence of Dr. G. H. Fowler, a halftimber house of about 1575, with oak-panelling and fine plaster-work, and Oaklands, the residence of Mrs. Dymond, from which an excellent view over Woburn Park and the surrounding district is obtained.
In Aspley Guise are Wesleyan and Primitive Methodist chapels.
West of Aspley Guise are Aspley Heath and Woburn Sands, of comparatively modern growth. Their development is due to the dry and salubrious climate, which, combined with the picturesque nature of the scenery in this district, with its large plantations of fir and pine, has made them much sought as health resorts. Woburn Sands contains many fine modern houses, and has a station on the Bedford and Cambridge branch of the London and North-Western railway, which runs through this parish. There are large brick works, but the fuller's-earth works here have been almost abandoned, as they prove unremunerative.
The parish church of Woburn Sands is at Aspley Heath near Edgebury, the residence of Mr. Alfred Alnutt. The Knoll, in the south, now used as a preparatory school for boys, stands in well-wooded grounds. At Daneswood is a Jewish sanatorium for consumptives.
There are Wesleyan, Primitive Methodist and Baptist chapels and a Friends' Meeting-house in Woburn Sands.
The following place-names occur in documents relating to this parish: Allumbridge, Swansnestemeade (xvii cent.). (fn. 2)
Camden in his Britannia of 1620 refers to 'Aspley Gowis,' where there was 'said to be an earth that turns wood to stone, in proof of which they show in the monastery (Woburn) a wooden ladder, which after lying some time in it was dug up all stone.' (fn. 3)
Benjamin Barron Wiffen, the biographer of early Spanish reformers, was born and educated in Woburn. He belonged to a Quaker family in this district, and lies buried in the Woburn Sands Friends' burial-ground. (fn. 4)
An Inclosure Act for Aspley Guise was passed in 1761. (fn. 5)
MANOR
The first record of ASPLEY occurs in 969, when land there comprising 15 hides was granted by King Edgar to his thegn Alfwold. (fn. 6) Under Edward the Confessor Aspley was held of Earl Waltheof by Leveva, and in 1086 it was assessed at 10 hides and formed part of the fief of Hugh de Beauchamp. (fn. 7) With other of his possessions it afterwards formed part of the barony of Bedford, of which it was held till the beginning of the 16th century. (fn. 8)
At the time of the Survey Acard de Ivri was Hugh's tenant in Aspley Guise. (fn. 9) More than a century later it is found in the possession of Guy de Valery, (fn. 10) to whom it may have passed by inheritance, as he was great-grandson of Ralph de Ivri, a contemporary of the Acard of Domesday. (fn. 11) He was lord of the fee in 1203, (fn. 12) and was succeeded by his son Reginald, from whom Aspley was held at farm for a certain term of years by Falkes de Breauté. On the confiscation of Falkes' estates in 1225 the remainder of the term was confirmed by the king to Henry Capella. (fn. 13) The manor was in the hands of Reginald de St. Valery in 1227, when he released the whole of the fee to Hubert de Burgh, who obtained a confirmation of the alienation for himself and Margaret his wife and their heirs in the same year. (fn. 14) Hubert de Burgh fell into disgrace and Aspley Manor was confiscated, being granted in 1233 (fn. 15) to Robert Passelewe. The estates of Hubert were restored in the following year, (fn. 16) and he was returned as lord of the Aspley fee in the Testa de Nevill. (fn. 17) He died in 1243, (fn. 18) and on the death of his widow Margaret Countess of Kent in 1259 the property passed to his son John by a former wife Beatrix. (fn. 19)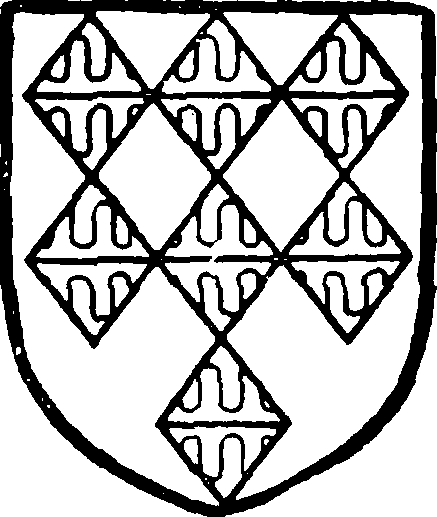 John de Burgh obtained a grant of free warren in his demesne lands in Aspley in 1260, (fn. 20) but before 1267 he had subinfeudated the manor to Anselm de Gyse. (fn. 21) The tenants in fee continued to hold Aspley from John de Burgh by knight service, (fn. 22) and on his son's death without male issue from the latter's daughter and co-heir Hawise wife of Robert de Gresley. (fn. 23) Joan daughter and heir of Hawise and Robert de Gresley married John de la Warr, and Aspley Manor was held of them in the middle of the 14th century. (fn. 24) After this date the interest of the heirs of Hubert de Burgh in Aspley seems to have lapsed, and the manor was held directly of the barony of Bedford.
Anselm de Gyse held the manor for one-twentieth part of one knight's fee in 1276 (fn. 25) and 1284, (fn. 26) and dying in 1295 left as heir a son John, then aged seventeen, (fn. 27) who was returned as lord of Aspley in 1302–3. (fn. 28) In 1313 John settled the manor—one-third of which was still held by his mother Beatrix as dower—on his son John by his wife Margaret, Robert Lovet being appointed trustee. (fn. 29) The younger John apparently succeeded his father shortly afterwards, for in 1316 he was lord of Aspley, (fn. 30) and in 1346 he and his tenants were returned as holding it for one-third of a knight's fee. (fn. 31) He died some time before 1363, (fn. 32) leaving as heir a grandson Anselm, then a minor, in the wardship of William Tyrington and Joan his wife. (fn. 33) Anselm entered into possession of the property—from this time known as Aspley Guise Manor—in 1375, (fn. 34) possibly on attaining his majority, and died in 1412, when he was succeeded by a son Reginald, aged twenty-four. (fn. 35) He settled the manor and advowson by a charter of 1420 on trustees to the use of himself and his heirs (fn. 36) and died before 1428, when Aspley Guise was in the hands of Giles Bridges, (fn. 37) who had married Catherine widow of Reginald Gyse. (fn. 38)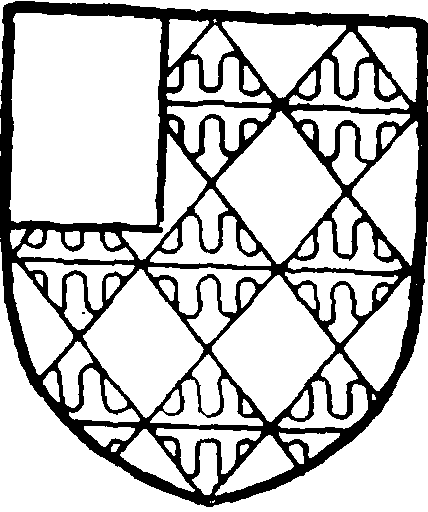 John Gyse, son and heir of Reginald, was living in 1470, (fn. 39) and his son John, created a knight by Prince Arthur, died seised of Aspley Guise Manor in 1501, (fn. 40) leaving as successor a son, also called John, then a minor, aged sixteen. (fn. 41) John Gyse was still seised in 1540, when by negotiation with the Crown he exchanged his estate at Aspley Guise for lands nearer to his large property of Elmore in Gloucestershire. (fn. 42)
In 1541 the manor of Aspley Guise was annexed to the newly-formed honour of Ampthill, (fn. 43) which in 1551 was granted to Princess Elizabeth for life. (fn. 44)
In 1560 Sir Richard Lee, the great military engineer, obtained the whole property, with rights of court leet, free warren, rent of assize worth £14 13s. 11½d., &c., by royal grant. (fn. 45) In the same year he received licence for its alienation to Edward Greves and John Kettell as trustees (fn. 46) for himself and his wife Margaret daughter of Sir Richard Greenfield. (fn. 47)
On the marriage of Anne elder daughter of Sir Richard Lee with Edward Sadleir Aspley Guise was settled on her and her issue, with remainder to the heirs of Sir Richard Lee. (fn. 48) Anne survived her husband, and married as her second husband Ralph Norwich, (fn. 49) with whom in 1591 she alienated Aspley Guise Manor to Francis Bury and his heirs. (fn. 50) The latter, by an indenture of 1596, vested the estate in trustees to hold for his only daughter and heir Frances, who afterwards married Thomas Lee Sadleir, grandson of Edward Sadleir and Anne, (fn. 51) and by this alliance brought back the manor of Aspley Guise to the Sadleir family. Frances succeeded her father in 1597, (fn. 52) and in 1645 was still seised of the manor, (fn. 53) her husband having died the previous year. (fn. 54) On her death in 1676 (fn. 55) Aspley Guise passed to her third but second surviving son William. Ralph Sadleir, son of William, made a settlement of the manor in 1684, (fn. 56) and the estate passed down from him in the direct line to Richard Vernon Sadleir, who died without issue in 1810. (fn. 57) His sister Ursula married Edmund Moody, and Aspley Guise passed to their son Robert Sadleir Moody, who died in 1825, and whose descendant, Mr. F. Moody, is the present owner.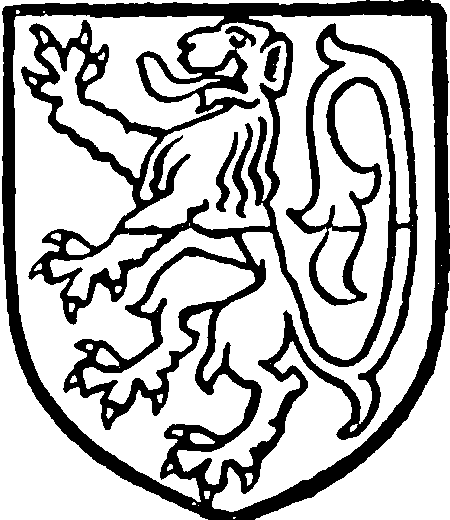 The rights claimed by Anselm de Gyse in 1287 as pertaining to his manor of Aspley were view of frankpledge, free warren granted to him by Henry III in 1267, and rights of gallows and tumbrils, which Hubert de Burgh had in the manor in the early part of the 13th century. (fn. 58) John de Gyse also claimed to have similar rights with pillory in 1331. (fn. 59)
A mill worth 10s. belonged to Aspley Guise Manor in 1086, (fn. 60) and an extent of the manor in 1560 mentions two windmills, (fn. 61) but none exist in the parish at the present day.
In 1267 Anselm de Gyse obtained a grant of a Friday market and a yearly fair on the vigil and feast of St. Botolph, (fn. 62) the patron saint, and the two following days. His grandson Anselm claimed these privileges in 1331. (fn. 63) Lysons, writing at the beginning of the 19th century, (fn. 64) states that both market and fair had long since been discontinued.
CHURCH
The church of ST. BOTOLPH has been so much altered and repaired in modern times that its architectural history is in large measure uncertain. The chancel, 27 ft. 6 in. by 18 ft., is entirely modern, parts of the nave and of the north aisle are old, and the tower contains old masonry; but the south aisle and chapel are new. The nave is 46 ft. by 18 ft. 5 in., and the north aisle 11 ft. 10 in. wide, overlapping the tower at the west.
The nave arcades are of four bays, in two chamfered orders, with moulded capitals; the arches of the bays at each end of the north arcade are cut through the responds and have piers of different section from the rest. The clearstories on both sides consist of four square-headed windows, each consisting of two trefoiled lights.
The north aisle is divided externally by buttresses into five bays, the two eastern of which are built of old walling. The roof is new, but with one old moulded king-post truss. In the east end is a window of three cinquefoiled lights, now opening into the organ chamber, and in the second bay from the east is a doorway with a four-centred head and over it a squareheaded window of two lights. There are a piscina and an image corbel at the east end of the aisle.
The west tower is divided by strings into three stages, with diagonal buttresses at the western angles. In each face of the belfry stage is a square-headed window of two cinquefoiled lights with a gargoyle in the cornice above it. The tower comes up to the west boundary of the churchyard, and in the lowest stage on both sides is a pointed doorway of two chamfered orders meant for use in processions. The west doorway is modern, with tracery over it; the tower arch is also modern, and has feathered cusping and widely splayed jambs with traceried panels. On the west front of the tower are dates of restorations— 1665, 1765 and 1855.
The font is circular, dating from the 14th century, with shafts at the angles with moulded capitals and bases.
In the north aisle is a plain 15th-century screen of square-headed lights containing tracery, with an embattled cornice. The pulpit is a good piece of modern work with finely carved panels of foreign workmanship. On the north side of the chancel is a brass inscription to William Stone, undated, and near the east end of the north aisle is a fine raised tomb, with panelled tracery on one side and one end, evidently moved from its original position; it bears the arms of Tyrington: on a bend three scallops in a border engrailed. On the tomb is a figure of a knight, c. 1400, with his feet resting on a lion, supposed to represent Sir William de Tyrington. On the floor of the north aisle are two brasses to the Gyse family: a man in plate armour, and shields in each of the angles, those in the top left and bottom right-hand corners being charged with the arms of Gyse with a pierced molet in the quarter: the other two bearing Quarterly: (1) Gyse, as above; (2) a cheveron between ten crosses formy in a border for Berkeley of Stoke; (3) a fesse between six martlets, for Wishaw, impaling a fesse between six billets for Beauchamp of Powicke; (4) a saltire engrailed for Botetourt.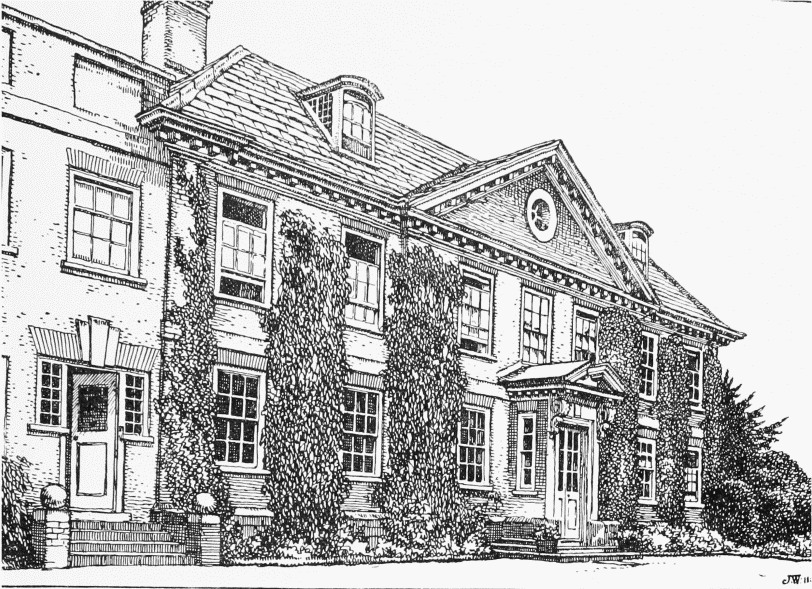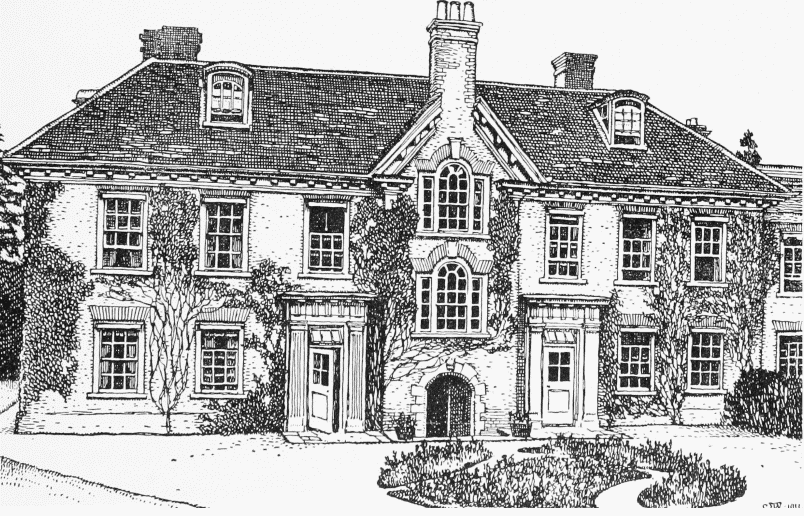 There are six bells, all by Taylor of Loughborough, 1883.
The plate consists of a communion cup and footpaten, inscribed with the name Aspley Guise, 1755. The date letter is 1754, maker's mark F. W. There are also a modern cup and a paten.
The registers previous to 1813 are in four books: (1) contains sundry entries of baptisms from 1563, and of marriages and burials from 1564, and is continuous, baptisms and marriages 1612 to 1705 and burials 1612 to 1695; (2) contains burials 1707 to 1758; (3) has marriages 1755 to 1812; (4) has baptisms and burials 1773 to 1812.
ADVOWSON
The church and two parts of the tithes of Aspley Guise were granted to Newnham Priory by Simon de Beauchamp, which grant was subsequently confirmed by the Bishop of Lincoln and Henry II. (fn. 65)
In 1223 Falkes de Breauté, who then held the manor at farm, unsuccessfully contested on behalf of the Prior of Dunstable the Prior of Newnham's right to the advowson, (fn. 66) and in 1227 the grant of Aspley to Hubert de Burgh included both manor and advowson. (fn. 67) In 1240, in a settlement of Hubert's estate in Aspley Guise, the church is specially excepted, (fn. 68) and in 1317 a further confirmation of Simon de Beauchamp's grant of the church and two parts of the tithes was made in favour of Newnham Priory. (fn. 69) During the following century, however, the advowson actually passed from the monks to the Gyse family, and was held by successive lords of the manor (fn. 70) until 1544, when both were released by John Gyse and Anselm his son and heir to the Crown. (fn. 71) It was the subject of various grants, and at the beginning of the 17th century was held by the Lukes of Arlesey Bury. (fn. 72) Before 1682 it had passed to Martin Hill, (fn. 73) and in 1718 William Booth was patron. (fn. 74) The advowson was purchased of the Rev. Edward Hall by the Duke of Bedford in 1752, and his successors have since then always presented to the living. (fn. 75)
The church was valued at £4 13s. 4d. in 1291, (fn. 76) and in 1535 at £15 16s. 10d. (fn. 77)
The rectory of Aspley Guise was consolidated with the vicarage of Husborne Crawley in 1796, (fn. 78) and the two were held by the same incumbent until the middle of the 19th century, when they were again separated.
At the dissolution of chantries 1 acre of land in Aspley Guise, of the annual value of 2s., went to endow a light in the parish church. (fn. 79)
CHARITIES
The Town Close, containing 4 a. 3 r., awarded under the Inclosure Act 1761 for providing furze and faggots for the poor, is let in allotments producing £8 18s. a year, which is accumulated and expended from time to time in labour in connexion therewith.