Pages 44-49
A History of the County of Bedford: Volume 3. Originally published by Victoria County History, London, 1912.
This free content was digitised by double rekeying. All rights reserved.
BROMHAM
Bruneham (xi cent.); Bruham (xiii cent.).
Bromham is a parish 3 miles north of Bedford, containing 1,827 acres, of which 664¼ are arable land and 921¼ permanent grass. (fn. 1) The slope is irregular, the greatest height attained above the ordnance datum is 222 ft. in the south-west, the lowest 109 ft. in the south. The River Ouse bounds the parish on the north, east and south, where the land lies low and is liable to floods. The soil is fertile, but various, red and sandy in the west and clay in the south, where there is good grazing land. During the last century woad is said to have been cultivated here; a close of 40 acres is called the 'Cabbin Ground,' where the huts of the labourers employed in its cultivation formerly stood. (fn. 2) The main road through the parish enters at the south and runs north-west, passing on to Stevington. The village of Bromham is situated in the south of the parish. On the west of the road passing through the village lies Bromham Park, upwards of 70 acres in extent, in which stands St. Owen's Church. From the park gates an avenue of fine elms leads to the hall, which is a late 16th-century brick building with a tiled roof. Much of the brickwork is covered with plaster. The hall has been added to at various times, and contains a good deal of fine 17thcentury oak panelling in various rooms. The staircase in the north of the house has solid oak steps, and on many of the windows are original fastenings. To the south of the hall runs the river, which is exceedingly beautiful at this point. The present occupier, Mr. F. W. Stobart, has spent a good deal of money on the gardens, which contain many fine trees quite foreign to the district. The head of a 14th-century traceried window stands on one of the beds in the garden. It is said to have been taken from the east window of the church. Other antiquities preserved at the hall are noted below. The gardener's house is a good half-timbered building.
Biddenham Bridge, which is now accounted in this parish, formerly consisted of twenty-one arches, of which four only, over the main stream, were in Bromham. (fn. 3) There are now twenty-six arches, but the river, except at flood-time, only flows under the four westernmost. Mention is found in 1281 of a severe frost which so injured Biddenham Bridge that it gave way and a woman was carried away by the stream and drowned. The chronicles relate that she sat on a floe as far as Bedford Bridge, when she was seen no more. (fn. 4) The mill by the side of Biddenham Bridge is an old brick structure. In a stone built into one of the door jambs is the date 1695, while a stone on the outside is dated 1722. The miller's house was pulled down some years ago and a modern one built in its stead. South of the bridge stand some old stone houses dated 1663. The water of the springs in this parish had the reputation of being very clear and of having some special quality for curing fresh wounds bathed in them (fn. 5) Bromham is well wooded, containing some 80 acres. Salem or Solemn Thrift is in the south-west and Bowells Wood and Molivers Wood in the centre of the parish.
In a field to the north of the Bedford Road opposite the road from Biddenham are the remains of a stone well said to be Roman. Many fossils, bones and a stone figure of Roman character were found here early in the last century. The fossils are now preserved in Bromham Hall, while the figure has been built into the north wall of that building.
MANORS
At the time of the Domesday Survey Hugh de Beauchamp held BROMHAM MANOR extended at 6 hides of land. This property, which was valued at £7 and included a mill worth 20s., had previously been held by Alsi, a man of Edith. (fn. 6) As in the overlordship of Astwick Manor (q.v.) the Beauchamps retained Bromham until the death of John de Beauchamp at Evesham in 1265, leaving his three sisters, Maud, Ela and Beatrice, as co-heirs. (fn. 7) Amicia their mother, widow of William de Beauchamp, retained the manor until her death in 1278, when it was divided into three parts. (fn. 8)
A part of the Beauchamp fee, later known as BRAYES or BROMHAM MANOR, passed to Maud Beauchamp, married firstly to Roger de Moubray, and secondly to Sir Roger Lestrange, who in 1311–12 died seised of tenements in Bromham in right of his wife. (fn. 9) Her heir was her grandson John Moubray, who in 1316 made a settlement on his father-in-law William de Braose for life. (fn. 10) From this point till its acquisition by Sir Reginald Bray in 1488 Bromham Manor follows the same descent as Stotfold Brayes (q.v.). (fn. 11) The Brays held Bromham until 1565, when Edmund, grandson of Sir Reginald Bray, sold the property to Sir Lewis Dyve, (fn. 12) who at this time possessed Wakes and Bowels Manors, besides a second manor called Bromham in this parish.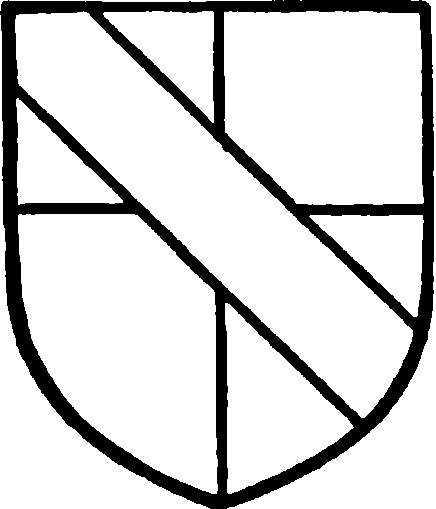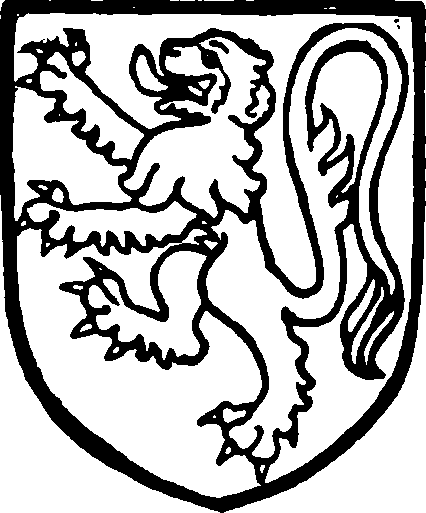 In 1592 Sir Lewis Dyve died seised of the four manors of Bromham, Wakes, Brayes and Bowels, and was succeeded by his eldest surviving son John, Sheriff of Bedfordshire, who was knighted on the occasion of the visit of James I to Salden House in 1603. (fn. 13) Sir John died in 1607, when his widow Beatrice married Sir John Digby, afterwards Earl of Bristol, who in a terrier of 1610 is called lord of the manor of Bromham in right of his wife. (fn. 14) The manor was settled on her for her life (she died in 1658), but her son Sir Lewis Dyve, knighted in 1620, appears to have made it his residence. He was a renowned Royalist, and Charles I is said to have stayed the night at Bromham House. He was made governor of Sherborne Castle in Dorset and commander in chief of that county. After the capture of Sherborne by the Parliamentarians in 1645 the estates of Sir Lewis Dyve were sequestered, (fn. 15) and he himself was brought to the bar of the House of Commons, where he refused to kneel till compelled, and committed to the Tower for high treason, whence he managed to escape, making 'a cleanly conveyance away from thence, though through a common shore, and so beyond sea, where he continued with his majesty during his banishment.' (fn. 16) He died in 1669, leaving a son Francis, who died in 1685 without male issue, when the Bromham estate devolved on his brother Lewis, (fn. 17) who in 1708 sold the property for £21,394 2s. 6d. to Sir Thomas Trevor. (fn. 18) The latter was appointed Chief Justice of the Common Pleas on the accession of Anne, and in 1712 was granted the title of Baron Trevor of Bromham. He died in 1730, and was succeeded by his eldest son Thomas second Lord Trevor, who died without issue in 1753–4, when his brother John succeeded to the title and estate. (fn. 19) On his death in 1764 without male issue Bromham passed to his half-brother Robert, who, in compliance with the will of John Hampden (his great-grandfather on the maternal side), assumed the name and arms of Hampden, and who in 1776 was created Viscount Hampden. (fn. 20) He died in 1783, and was succeeded by an elder son Thomas Trevor Hampden, who died childless in 1824, when his brother John Trevor, third Viscount Hampden, was his heir. (fn. 21) He died in the same year, and Bromham passed by will to his kinsman the Hon. George Rice Rice (only son and heir of George third Baron Dynevor). He succeeded to his father's title in 1852, when in accordance with the terms of the above will this estate passed to his daughter Miss Rice Trevor, and at her death to her great-nephew Trevor Wingfield, now lord of the manor. (fn. 22)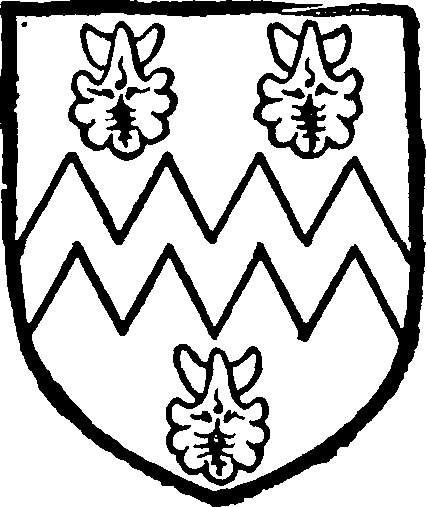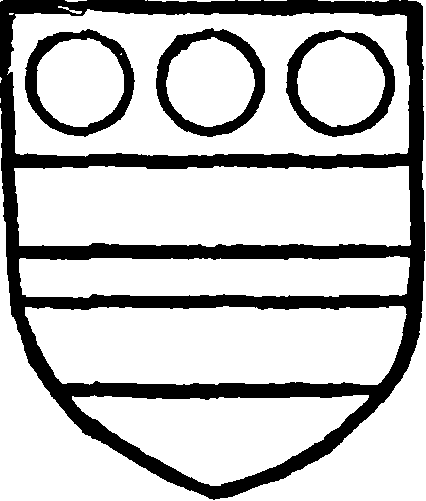 Ela, second sister and co-heir of John de Beauchamp, and wife of Baldwin Wake, acquired the third of her brother's estate in Bromham. She left three daughters and co-heirs, Ida de Steyngreve, Elizabeth de Hoobury and Joan, who married first Michael Picot, and secondly Ralph Paynel. To the first of these co-heirs, Ida de Steyngreve, passed that portion of Bromham later known as WAKES MANOR. Her daughter Isabel married Sir Simon de Patishull, and on his death Walter de Teye, and together with the latter in 1297 made good their claim to 'one-ninth of Bromham Manor.' (fn. 23) Walter de Teye held at his death in 1325 land in Bromham in right of his wife, whose heir was John de Patishull, her son by her former marriage. (fn. 24) He was still holding the property in 1346, (fn. 25) and was followed by a son William, who at his death in 1360 left four sisters as co-heirs, of whom Alice wife of Sir Thomas Wake received the Bromham property. (fn. 26) In 1373 Thomas Wake entailed these lands together with others in Cardington on his son Thomas by a second wife Maud. (fn. 27) Thomas Wake the younger succeeded to the property in 1423, (fn. 28) and held the manor of Bromham, here first so called, at his death in 1458. (fn. 29) A gap occurs at this time in the continuity of descent in this manor, which next appears in 1526 as the property of Nicholas Lord Vaux, (fn. 30) whose son Thomas sold it in 1555 to Sir Lewis Dyve, (fn. 31) and its history is henceforward identical with those of his other manors in Bromham. It is styled in an inquisition taken of this property in 1592 'the Manor of Bromham alias Wakes Mannour … held of the king in chief by knight service as parcel of the said barony of Bedford.' (fn. 32)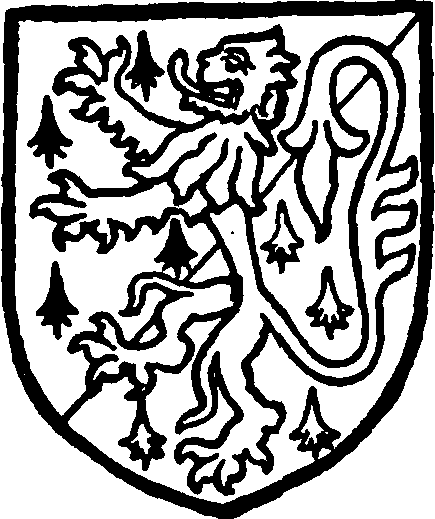 Elizabeth Wake, second daughter and co-heir of Ela de Beauchamp, died in 1314, when her share in her mother's property in Bromham was two bondmen, who paid 6s. a year. John Picot and John de Patishull were declared to be her 'cousins and heirs,' and her share thus became merged in their holdings (q.v.). (fn. 33)
Joan Wake, third daughter of Ela de Beauchamp, married first Michael Picot and secondly Ralph Paynel; and in 1318 an inquisition into her property in another parish states that John Picot, son of Baldwin Picot (who appears to have been a brother of Michael), was her heir. (fn. 34) He had acquired the Bromham property previous to this inquisition, however, for in 1316 Adam Picot and Anabella his wife, whose exact relationship to John Picot has not been ascertained, obtained a royal pardon for acquiring without licence '4 marks and 2s. rent in Bromholme' from Baldwin Picot and his heirs. Adam Picot died in 1335, when his property in Bromham and Lincelade together is valued at £4 4s. (fn. 35) He left a son William, but the property appears to have passed to the family of Dyve in the following century. Henry Dyve is described as of Bromham about that time, (fn. 36) and his son John Dyve died seised of Bromham Manor in 1537, (fn. 37) leaving a son William, whose son Sir Lewis Dyve acquired by purchase, between 1551 and 1565, the remainder of the Bromham Manor, with which descent this property is henceforward identical.
The third and last subdivision of the Beauchamp fee in this parish, later known as BROMHAM MANOR, passed to Beatrice Beauchamp wife of Thomas Fitz Otho, who died in 1274, when she married William de Monchensey. (fn. 38)
This property passed to Maud wife of John de Botetourt and daughter of Beatrice Beauchamp by her first marriage, and subsequently to the Latimers and Nevills of Raby, as in the case of the Astwick overlordship (q.v.), with which descent it coincides until the year 1500, when Sir Richard Nevill conveyed it to the Archbishop of Canterbury and other trustees. (fn. 39) Sir Richard Nevill was succeeded by his son Sir John Nevill, Lord Latimer, who died in 1544, when his son John acquired Bromham Manor. (fn. 40) He left four daughters as co-heirs in 1577, of whom Lucy wife of William Cornwallis received Bromham. (fn. 41) In 1589 she and her husband alienated Bromham Manor to William Boteler, (fn. 42) who held it at his death in 1602, (fn. 43) and whose son Thomas in 1612 conveyed it in trust to John Digby and others. (fn. 44) Here all further trace of this manor is lost, but it is possible that it became absorbed in the manor which the Botelers owned in Biddenham (q.v.), the adjoining parish, which subsequently became merged in the Bromham estate.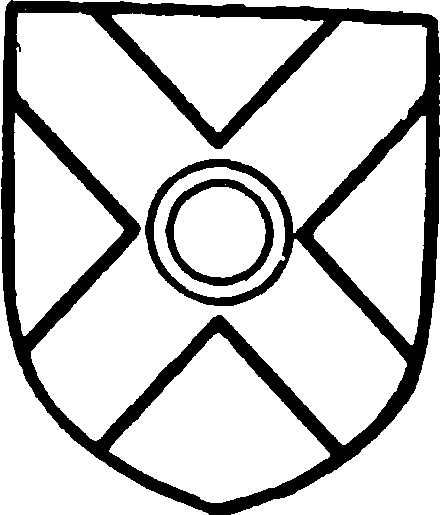 A fourth property in Bromham was known as BOWELS MANOR. (fn. 45) It may possibly have originated in the 2 hides which Hugh held of the Countess Judith at Domesday, (fn. 46) but no further trace has been found of her overlordship—subsequently known as the honour of Huntingdon—in this parish. The Passelowes were early holders of the manor. William Passelowe and Joan his wife held a messuage and 6 carucates of land in Bromham in 1280–1. (fn. 47) William Passelowe and Nicholas Fermband were holding onefourth of a fee in Bromham in 1302 and in 1316. (fn. 48) In 1326 William Passelowe conveyed a messuage, lands and rent to Richard de Ruthyn, (fn. 49) and by 1346 this property had passed to Ralph Butler. (fn. 50) It follows the same descent as Higham Gobion for upwards of two centuries, (fn. 51) until in 1551 John Butler alienated Bowels Manor to Robert Odell, (fn. 52) who two years later transferred it to Lewis Dyve. (fn. 53) It thus became attached to the larger estate which the Dyves held in Bromham, with which its history is henceforward identical.
In 1086 the reeves and almsmen of the king owned 12/3 virgates of land in Bromham. Osiel was then tenant, and had held it in the days of the Confessor. (fn. 54) This is possibly to be identified with the half-hide of land in Bromham which Bertram le Whyte held in 1284 by serjeanty and service of furnishing a pair of white saddle-bows (arsonum ad unum sellam). (fn. 55) Another Domesday holder in this parish was Count Eustace of Boulogne, of whom Ernulf de Ardres held 1½ hides. (fn. 56) From him they descended to the Count of Guines. (fn. 57) In addition to the rectory and advowson the Prior of Caldwell owned land in Bromham. In 1259 John son of Simon de Bromham held a messuage and land of the prior for the yearly rent of 5s. (fn. 58); and again in 1388 Adam vicar of Oakley and others assigned to Caldwell lands in Bromham. (fn. 59) At the Dissolution the temporalities of the priory in this parish were worth 15s. 11d., (fn. 60) and included a grange which, like the advowson (q.v.), passed to Eton College, and in 1593 was leased to Sir Lewis Dyve. (fn. 61)
Quarries were worked in this parish in the 16th century, and one pit, which belonged to Biddenham Bridge Chantry, was leased at 6s. 8d. (fn. 62) Two mills are mentioned in Bromham at the time of the Domesday Survey. One was attached to the land of the Countess Judith, and was worth 40s. and 100 eels (fn. 63) The other belonged to Hugh de Beauchamp, and was valued at 20s. (fn. 64) In 1593 both these mills were the property of Sir Lewis Dyve, who owned the Bromham estate, (fn. 65) which in 1700 included three water-mills. (fn. 66)
At the present time a water-mill stands near Biddenham Bridge.
A free fishery is mentioned as parcel of Bromham Manor in 1278, (fn. 67) and again in 1700. (fn. 68)
CHURCH
The church of ST. OWEN consists of a chancel 31 ft. 7 in. by 14 ft. 8 in., nave 42 ft. 6 in. by 20 ft., north aisle 10 ft. 6 in. wide, and a west tower 12 ft. 10 in. by 14 ft. 1 in. The church appears to have been built in the 13th century, the nave arcade and the walling of the north aisle being of this date; the west tower is of the 15th century, and the chancel has been rebuilt within recent years in rough coursed rubble, with a tiled roof of steep pitch.
The east window of the chancel is modern, of three trefoiled lights with tracery of 14th-century style. In the south wall are two modern two-light windows of the same style, and between these a pointed doorway of two hollow-chamfered orders with a label. In the jamb of the south-east window is a 14th-century piscina, re-used—a very good example, with a ribbed canopy, an octagonal shaft at the angle with a moulded capital and base, and trefoiled ogee arches springing from it opening north and west. In the west bay is a square-headed window of two ogee-headed cinquefoiled lights—15th-century work repaired, and containing a few pieces of old glass. To the north of the chancel are a modern vestry, a chapel built in 1868 by Lord Dynevor, and an organ chamber opening to the chancel by a now unglazed 15th-century window of three cinquefoiled lights, its mullions and sill being modern.
The chancel arch is modern, in two chamfered orders, with clustered responds. The 15th-century upper rood-loft door remains to the south of the chancel arch, and the lower door is also left at the south-east of the nave. The nave has a south arcade of three bays in two chamfered orders, springing from pillars formed of four slender engaged shafts with moulded capitals and bases; it is plain but good 13th-century work. In the south wall of the nave are two large three-light windows, both rebuilt and repaired; the old parts date from the 15th century, and are of good style, the jambs moulded internally as well as externally. Between them is the south doorway, the lower part of which has been restored, with a pointed head and no label, and a porch with diagonal buttresses at the angles, and an outer arch of two chamfered orders. Over the porch is a parvise with a doorway and modern steps leading up to it on the east side; it contains a library and an inscription on the east side stating that it was founded and given by Thomas Lord Trevor in 1740.
The walling of the north aisle is of rubble, of the 13th century, crowned by a 15th-century embattled parapet. The north doorway is of the 15th century, with moulded jambs and abacus and a pointed head. Over it on the inside is set a plain cross in a circle in stone; perhaps a consecration cross. The north porch has a small, deeply-splayed light with a square head in each side, that on the west being blocked by steps leading up to a parvise over; the external archway is of wood set in the stone wall, and may be of 15th-century date. Above is a parvise, lit by a modern wooden window on the north, with a sharply pitched tiled roof. There is a diagonal buttress of two stages at the western angle of the aisle, and in the west end is a 15th-century window of two cinquefoiled lights with a two-centred drop arch and label.
The tower arch is in two chamfered orders, the outer being continuous, but the inner springs from a shaft with moulded capital and base.
The tower is of the 15th century, divided into four stages by strings, with an embattled parapet having gargoyles at the angles; it has diagonal buttresses in four stages. It was considerably damaged by fire in 1906. The west doorway is in two moulded orders with a pointed head, and over it is a window of three cinquefoiled lights with tracery and jambs moulded like the doorway. In the story over is a pointed window of two cinquefoiled lights, with tracery, all modern but the sill and part of the label. The belfry windows were renewed after the fire; they each consist of two cinquefoiled lights with tracery under a two-centred drop arch, and have a transom, on the underside of which are quatrefoiled heads. There is a staircase turret at the south-east angle.
The nave has a plain roof of four bays, dating from the 15th century, though damaged by the fire of 1906, while that of the chancel is modern. The font is of clunch and dates from the 15th century, but has been restored; it is octagonal with traceried panels on an octagonal panelled shaft and base. There are some old bench ends in the nave, varnished over, and in the chancel are two old standards with finials carved with a face on both sides. Near the north door is a quaint 17th-century alms box with three hasps. On the wall near the pulpit is a plain iron hour-glass stand.
In the chancel is an exceptionally fine brass of the 15th century showing a knight in plate armour, with a collar of SS, between his two wives, with a cinquefoiled crocketed canopy with flanking pinnacles over each figure. It purports to be a memorial of Sir John Dyve of Bromham and his wife and mother. It was however originally made for Thomas Wydvile of Grafton, a maternal ancestor of the Dyves, and still has shields of Wydvile impaling the arms of his two wives. On the finial of the middle canopy is a shield of Dyve, perhaps a palimpsest; the shields that hung from the other two finials have long disappeared. The original inscription round two of the sides is gone, but there is another inscription referring to Sir John Dyve, who was buried 3 November 1535 in the same grave as his mother Elizabeth daughter and heir of Thomas Wilde of Bromham, and his wife Isabella daughter and co-heir of Sir Ralph Hastings, the two figures of the wives of Thomas Wydvile serving thus to commemorate these ladies.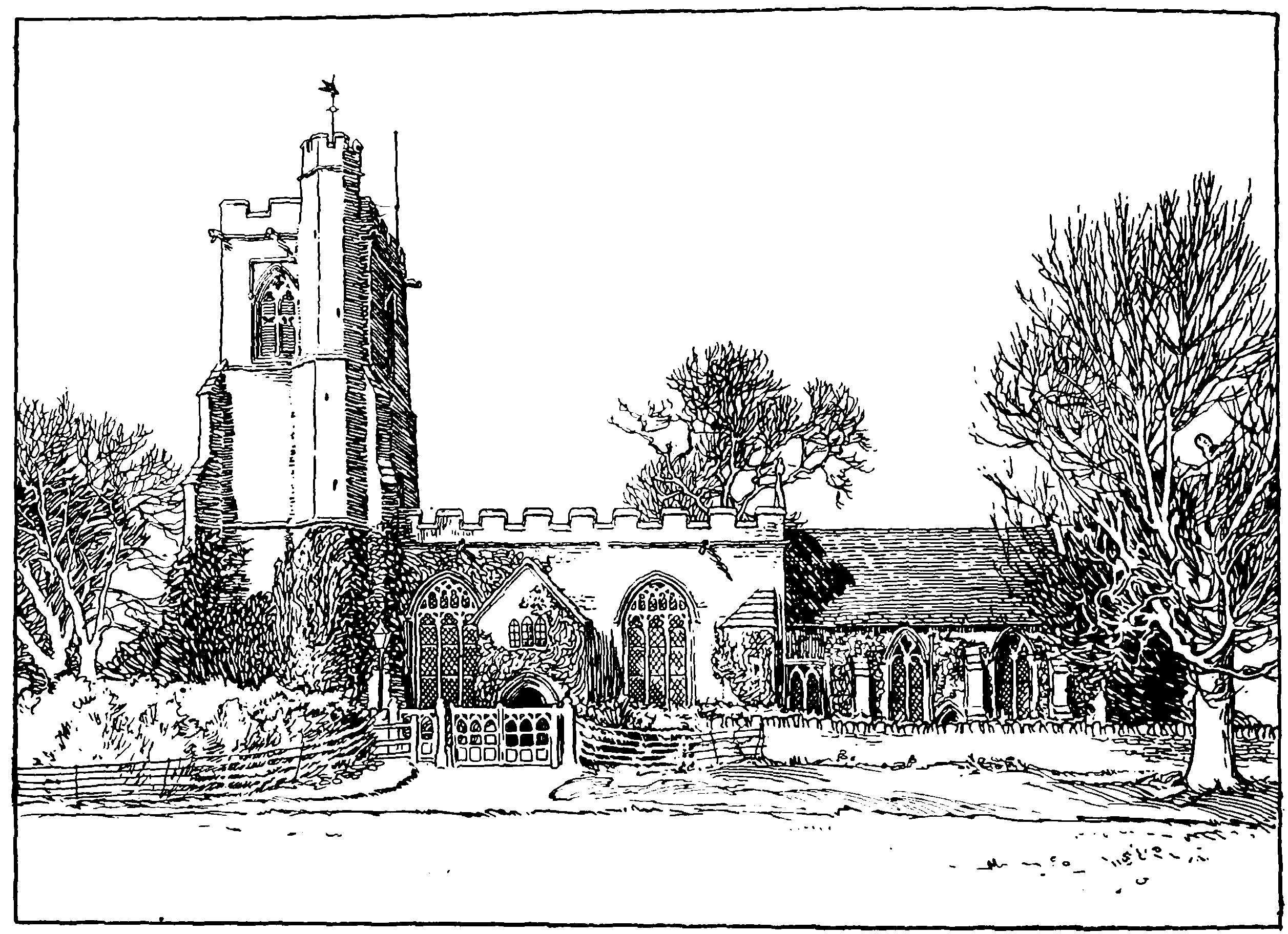 In the transept is a large Georgian monument to Thomas Lord Trevor, 1730, and his wife Ann, 1746, and in the floor of the aisle is a slab to Captain Lewis Trevor, 1686. There is a large alabaster monument with a canopy supported by six Ionic columns, over an effigy of an old man in full plate armour on a pedestal with shields. Above the canopy are the arms of Dyve, and at the west end the same impaling crusilly a saltire. On the south side are two shields, the first quarterly of eleven: (1) Dyve; (2) Bray; (3) Quynton; (4) Saywell; (5)? Roche. (6) not identified. (7) Wylde. (8) Ragon. (9) Wydvile; (10) Hastings; (11) Ap. Rice, the whole impaling three escallops for Strickland.
The second shield is Dyve impaling Strickland, which are the arms of Lewis Dyve and Mary his wife. On the wall-plate of the roof above is I.R.D. 1603 and the same coat.
There is a ring of six bells recast by Taylor in 1907.
The plate consists of a jewelled chalice inscribed beneath 'Ex dono domini Lodovici Diue militis,' and remodelled in 1884. Above is inscribed a cross and 'Bibite ex hoc omnes.' The paten is inscribed beneath 'Ex dono Thomæ Domini Trevor Baronis de Bromham A.D. 1737.'
The registers previous to 1813 are in five books: (i) all entries 1570 to 1653, (ii) the same 1672 to 1763, (iii) marriages 1755 to 1812, (iv) baptisms and burials 1763 to 1810, (v) baptisms and burials (printed) 1810 to 1812.
ADVOWSON
Bromham is one of the four churches which by the beginning of the 13th century formed part of the endowment of Caldwell Priory. (fn. 69) At the taxation of 1291 the church was worth £4 6s. 8d. The priory continued to exercise the right of presentation until the Dissolution, when the living, then worth £11, (fn. 70) became Crown property and was granted in 1547 to Eton College, to which with the exception of occasional leases it has since belonged. (fn. 71) In 1638 the rectory and parsonage were let on a twenty-one years' lease to Sir Lewis Dyve at a yearly rental of £12 13s. 4d., and also 9 quarters 4 bushels of best wheat, 13 quarters of good barley malt or as much ready money as these would fetch in Windsor market. Among the provisions of the lease were that Sir Lewis was to repair and maintain the chancel of Bromham Church, to give every year to the parishioners 'at some one time in Rogation week a drinking, there of old time used and accustomed,' to find straw at needful times for the church, and to provide the provost decent lodging with horse-meal and man's-meat for the space of one day and two nights each year when it should please him to come or send to survey the lands. (fn. 72) In 1633 John Digby Earl of Bristol presented to Bromham in right of his wife, the widow of Sir John Dyve, and in 1646, the lease not having yet expired, the Provost of Eton represented that Bromham Rectory belonged to the College, but was sequestered for delinquency as the estate of Sir Lewis Dyve, the tenant. (fn. 73)
A chantry dedicated to St. Mary and St. Katharine existed in Bromham from the 13th century, known as the chantry of Biddenham Bridge in Bromham parish. It was founded by Matthew of Dunstable in 1295 'for the safety of travellers who were in danger from thieves.' (fn. 74) In 1300 he obtained a licence to alienate land and rents in Bromham, Biddenham and other places to two chaplains to celebrate divine service in the chapel of St. Mary and St. Katharine, for the souls of Eleanor the late queen consort, the king, Matthew himself and his ancestors. (fn. 75) In 1311 sentence of excommunication was issued against those who had removed the charter of the chantry from the chapel, (fn. 76) and in 1320 Bishop Burghersh granted an indulgence to construct or repair the chapel. (fn. 77) Five years later Simon de Wolston (who is named as the founder of the chantry at the Dissolution) assigned lands and rents in Biddenham and Bromham to a chaplain 'to celebrate service daily in the chapel of the Blessed Mary of Biddenham brugg' for the souls of Geoffrey Smith and others. (fn. 78) At the Dissolution this chantry was valued at £7 5s. 6d., (fn. 79) and the incumbent received yearly rents to the value of £6 from the wardens of the Grocers' Company of London. (fn. 80) The site of the chantry was granted in 1551 to William Place and others, (fn. 81) from whom it passed to Francis Ventris, who sold it some time previous to 1593 to Sir Lewis Dyve, in whose possession it was at that date, (fn. 82) and it has since become absorbed in the Bromham property. Remains of the chapel are still traceable in the south portion of the millers' house there. (fn. 83)
CHARITIES
The church estate consists of 13 acres of land the origin of which is unknown, the rents being applied towards the repairs of the church.
The Hon. Elianore Mary Rice-Trevor by her will, proved 14 January 1898, bequeathed £400 £2 10s. per cent. annuities, the dividends, amounting to £10 a year, to be applied in the distribution of flannel, soup, coals and other gifts for the poor. The distribution is usually made in coals.
The same testatrix likewise bequeathed £480 like stock, producing £12 a year, to be applied in clothing for twelve girls attending Sunday school and church. The sums of stock are held by the official trustees.