Pages 63-68
A History of the County of Bedford: Volume 3. Originally published by Victoria County History, London, 1912.
This free content was digitised by double rekeying. All rights reserved.
HARROLD
Harewelle (xi cent.); Harewode (xiii cent.); Harewold (xiii–xvi cent.).
Harrold is situated on the eastern borders of Northamptonshire and Buckinghamshire. The area is 3,241 acres, of which 1,382½ are arable land and 1,396¾ permanent grass. (fn. 1) The slope of the ground is from west to south-east; the highest point attained above ordnance datum is 351 ft., the lowest 138 ft. The soil is clay, the subsoil clay, gravel, and rock; the principal crop is wheat.
The main road forms the eastern boundary of the parish, entering from Bozeat parish and passing on to Chellington. A branch of this road passes south-east through the town and then in a westerly direction to Lavendon. The parish is watered by the River Ouse, which forms its south-eastern boundary, and which has long been spanned at this point by a bridge connecting Harrold and Chellington. Mention of Harrold Bridge is found as early as 1278. (fn. 2) Here, as elsewhere in the neighbourhood of the Ouse, the ground is liable to floods. A mill, driven by both steam and water, stands on the banks of the river.
The town is situated on the north bank of the Ouse; it is compact in form and lighted by oil lamps. The church of St. Peter faces the river, and adjacent to it is Harrold Hall, approached from the east by an avenue of lime trees. (fn. 3) It is at present owned and occupied by Mr. A. Cecil Beck, M.P. West of Harrold Hall, and also on the banks of the Ouse, near a corn mill, is the site of the priory. The only part of the conventual buildings which remained at the time that Lysons wrote was the refectory, then used as a barn, and known as the Hall Barn. (fn. 4) This was pulled down in 1840. (fn. 5) There is a Congregational chapel, built in 1808 and enlarged in 1863. (See under 'Charities.') Harrold appears to have been at one time a market town. The market was held on a Thursday, and according to Marsh was obtained by charter about the beginning of the 17th century. (fn. 6) In Lysons' time it was so inconsiderable that he states that it had hitherto been overlooked by writers enumerating the market towns of this county, and that it was only attended by one or two butchers who opened shambles on that day. (fn. 7) On the triangular green in the centre of the village facing the school there is a small (late 17th or 18th-century) octagonal market-house, the tile roof of which surmounts a wooden classic entablature carried by eight Doric wooden posts on stone bases. The roof is crowned by a small wooden cupola. The lock-up which stands a little south of the marketplace is a small circular stone building with a stone conical roof. Neither of these erections is now used as originally intended, lamps being kept in the lock-up. Harrold also held three fairs yearly, on the Tuesdays before 13 May, 6 July and 11 October. (fn. 8) The small industries of lace-making and leather dressing are carried on here at the present day.
A Cromwellian document dated 1654, purporting to be information supplied by Thomas Burt and Hugh Covington of Harrold, throws an interesting side-light on parliamentary elections of the time. The deponents relate that as they were going to Bedford the morning before the election of a knight of the shire they were overtaken by Mr. Dell, minister of Yielden, who asked them for whom they intended to vote. They replied for Sir William Boteler, whereupon he spoke very reproachfully of him and bade them take care what they did, for the Protector did not wish Boteler to be chosen, and had sent down an order about it. Also that if they chose such men their tithes, taxes and other grievous burdens would be continued, but if they chose Colonel Okey and others whom he named, they were good men and against the paying of tithes and taxes. (fn. 9) The returns for this Parliament have unfortunately not been preserved for Bedford County, but Colonel Okey sat for the county in 1658. (fn. 10)
The parish of Harrold, as the earlier variants of its name would seem to imply, has always been well wooded. At Domesday the manor contained woodland for 200 swine, (fn. 11) whilst at the present day there are 282 acres of woods and plantations. (fn. 12) The principal wood is Dungee Wood in the extreme north of the parish. This was attached to the property in Harrold formerly held by the Pabenhams, who in 1278–9 held 20 acres of inclosed wood here. (fn. 13) In 1312 John Pabenham received a licence to inclose and impark his woods in Harrold, (fn. 14) and in 1399 Lawrence Pabenham had 200 acres of wood in this parish. (fn. 15) Robert Tyringham (a descendant of the Pabenhams) held Dungee Wood (so called for the first time) of Henry de Grey in 1531. (fn. 16) It is now the property of Lord Lucas. Park Wood, a large wood to the south of Dungee, was attached to Harrold Manor, belonging to the Greys, who had an ancient park of 240 acres here in 1278–9. (fn. 17) The wood and underwood in this park were valued at £12 10s. 8d. in 1512. (fn. 18) Nunwood in the southwest of the parish originally belonged to the nuns of Harrold Priory, who owned a wood of 20 acres in 1278–9. (fn. 19) At the dissolution of the priory it had increased to 50 acres, and was valued at 33s. 4d. (fn. 20)
Ancient earthworks have been found in this parish consisting of ramparts inclosed within a moat. (fn. 21) Harrold was inclosed by Act of Parliament in 1797. (fn. 22)
The following place-names have been found in documents connected with this parish:—Swanton, which remains in Santons Barn in the south-west of the parish. Other place-names are Cakebrokeslond in the 13th century, reappearing as Claybrooks or Keybrooke Slade in the 17th century; Roptons in the 16th, Arundells, Conigrean, Mumbles, Nethermoynes and Wellox in the 17th century.
MANORS
At the Survey of 1086 the whole of this parish was assessed at 10 hides under the land of the Countess Judith. During the Confessor's reign it had been worth £20, which had now diminished to £6. Gilbert de Blosseville, the Domesday tenant, had succeeded three thegns of King Edward. (fn. 23) From this Domesday manor there are subsequently found several properties, of which the principal is HARROLD MANOR, which in the 13th century is found in the Grey family. The overlordship of the manor was attached to the honour of Huntingdon, and was held of that part of the honour which fell to the Hastings Earls of Pembroke. (fn. 24) The service by which it was held varies, being assessed as high as two knights' fees in 1278–9. (fn. 25) Usually, however, it was assessed at half a knight's fee and suit of court every other month at the Hastings court of the honour of Huntingdon. (fn. 26) In 1346 the Prior of St. John of Jerusalem claimed overlordship in this manor, (fn. 27) and appears to have established some claim, though possibly at this period nominal, for in 1428, and again in 1509, the manor was declared to be held of the prior. (fn. 28) After this date no mention has been found of the overlordship.
Gilbert de Blosseville was the Domesday tenant of this manor, and the Blosseville family remained in Harrold certainly for the next 146 years, for in 1232 Simon de Blosseville acknowledged the right of Ralph Morin to 4 hides of land here. (fn. 29) The Morin family had at this time been established in the parish for some years, for as early as 1194 Ralph Morin paid the sheriff 62s. 1d. for a half fee here. (fn. 30) Between 1202 and 1235 Ralph Morin was engaged in various suits concerning small portions of land, (fn. 31) and in 1235 was acknowledged to hold two knights' fees in Harrold. (fn. 32)
Ralph Morin (presumably a son of the aforenamed Ralph) and John his son obtained a charter of free warren in their demesne lands in 1253, (fn. 33) and in 1271–2 they were accused of unjustly distraining Hugh Gobion and Maud his wife, free tenants in Harrold. (fn. 34) Between this date and 1278 an alienation of the manor took place to John de Grey, who held it in that year, (fn. 35) and who in 1286–7 claimed free warren in Harrold Manor of the inheritance of Ralph Morin, who came and joined himself with John in proving the latter's claim. (fn. 36) From John de Grey, who died in 1323, Harrold Manor passed to his younger son Roger de Grey de Ruthyn, (fn. 37) and from this date onwards the manor follows the same descent as that of Wrest (q.v.), passing through the Earls of Kent, the ownership being vested at the present day in Lord Lucas and Dingwall. In 1706 Henry Grey Earl of Kent was created Earl of Harrold. He died without male issue surviving in 1740, when the earldom of Harrold, with the dukedom, earldom and marquessate of Kent and other of his dignities, became extinct, the marquessate of Grey and barony of Lucas devolving on his granddaughter Jemima Campbell. (fn. 38)
Several interesting extents exist of this manor. In 1278–9 it included 3 carucates in demesne (240 acres), 10 acres of meadow and 3 of pasture. There were seven cottagers holding by works, and a half virgate held in villeinage, of which the tenant could neither sell his land nor give his daughter in marriage without the lord's consent. (fn. 39)
In 1325 the capital messuage together with the fruits of the garden and herbage was worth 40s., there were two dove houses worth 5s., two ponds worth 2s., 420 acres of demesne land worth 4d. an acre, 25 acres of meadow worth 3s. an acre, 100 acres of pasture worth 2d. an acre, eight bondmen held 6 virgates of land for £8 and no works, thirty-four cottagers paid 66s. 10d., payments for the use of the common oven amounted to 3s. 6d., the total value of the manor including mills, fisheries, &c., being £43 5s. 8¼d. (fn. 40) The heriot payable on death or alienation was a cow, which at this date was commuted for 12s. in money. (fn. 41)
The manor contained one mill at Domesday which was worth 36s. 8d. and 200 eels. (fn. 42) By 1278 there were two water-mills, which in 1324 were valued at 41s. (fn. 43)
A free fishery was from early times attached to this manor; in 1278–9 it extended from Budwell to Harrold Bridge, and in 1325 it was valued at 2s. (fn. 44) It was attached to the manor in 1627. (fn. 45)
The right of free warren was first granted to the lord of Harrold Manor by charter in 1253, (fn. 46) and mention is found of it at various times in documents relating to the manor, the latest bearing date 1805. (fn. 47)
Harrold Park, which was attached to the manor, is first found mentioned in 1278, when it contained 240 acres. (fn. 48) In 1325 it was stated to be a common park of 120 acres, of which the underwood every year was sold at 6s. 8d. per acre. (fn. 49) It is frequently found named in subsequent documents dealing with the manor, the latest mention occurring in 1805. (fn. 50)
A view of frankpledge was early appurtenant to the manor and was worth 6s. 8d. yearly in 1325. (fn. 51)
The small PRIORY OF HARROLD was founded in this parish between the years 1140 and 1150, and was originally granted to Gervase, Abbot of St. Nicholas of Arrouaise, that he might send there some nuns of his (the Augustinian) order. Until about 1181 they were governed by a prior with a few canons, but by this date the canons had ceased to exist, and the nuns succeeded in freeing themselves from the parent house. (fn. 52)
The early benefactors of the priory in this parish included Sampson le Fort, the de Blossevilles, the Morins and other landholders, whilst confirmatory charters were obtained from David I of Scotland, Malcolm IV, William the Lion and Robert Bruce as overlords of the honour of Huntingdon, to which Harrold belonged. (fn. 53)
In 1278–9 the prioress held in Harrold together with the church 1 virgate of land, 20 acres of wood, 1 carucate of land (120 acres) and 3 virgates of land from the Abbot of Battlesden, given by Ralph Morin in the reign of Henry III by service of 1 lb. of pepper. (fn. 54) Fresh accessions of land to the priory were made in 1392, when Gerard Braybrook and others granted a messuage, 5 roods of land, 2 acres of pasture held by Lord Grey de Ruthyn by the suitable service of a needle with silk thread. (fn. 55) In the following year the same grantor gave one messuage, 129 acres of land and rents in Harrold, worth in all 30s. per annum, to the priory. (fn. 56) The priory does not appear to have been a very flourishing community. In 1352 they pleaded poverty, (fn. 57) and some fifty years later they sought licence to appropriate the parish church of Shackerstone (Leicestershire) on account of the same lack of means, 'setting forth that the priory stood hard by the public road or street, and had to maintain great and expensive hospitality; that on account of the flooding of a certain great river called the Owse they very often suffered great losses; that its houses, buildings and inclosures were in a ruinous state, and that its fruits, &c., were insufficient for such hospitality, for rebuilding and for other burdens of the prioress and nuns, formerly, as then, thirteen in number.' (fn. 58) The priory surrendered in 1536, when its property was valued at £11. (fn. 59) In 1537 the site of the priory together with the rectory and advowson was granted on a twenty-one-year lease to John Cheney at a rent of £10, (fn. 60) but on the expiration of this lease Ralph Farrar of London, grocer, received a permanent grant of the site. (fn. 61) In 1560 he died seised of the 'site, ambit and precinct of the late priory of Harrold alias Yarrold with all mills, granges, fishings, court leet, &c.' (fn. 62) Of his two sons, Francis and Thomas, the former, who came of age in 1568, succeeded to this property. (fn. 63) Francis Farrar died in 1616, leaving a daughter and heir Anne, wife of Sir Thomas Boteler of Biddenham. (fn. 64) The manor (as it is occasionally called in documents of this period) only remained for two generations in the Boteler family, for in 1651 Helen daughter of Sir William and granddaughter of the above Sir Thomas married her second cousin Thomas Farrar, (fn. 65) and this property (exclusive of the rectory) formed part of the marriage settlement. (fn. 66) Some thirty years later, in 1680, on the occasion of another intermarriage between these same families, when William Farrar (son of Thomas) married Mary daughter of William Boteler, the rectory and other lands in Harrold formed part of her dowry. (fn. 67)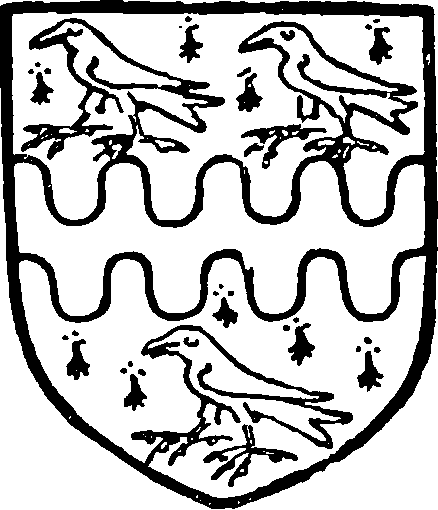 In 1714 William Farrar alienated a messuage and land in Harrold, which may be taken to represent the site of the priory, to Mrs. Anne Joliffe, (fn. 68) halfsister to Jemima wife of the Duke of Kent, who at that time owned Harrold Manor. (fn. 69) She died in 1732, when her estates in Harrold passed to her niece Anne Alston, daughter of Lady Wolstenholme. (fn. 70) She, together with her husband Dr. Mead, the celebrated physician, resided at Harrold Hall, part of this property, until her death in 1763. Harrold Hall, which was much enlarged in 1816, then appears to have reverted to the Alstons, who have since sold it to the present owner Mr. A. C. Beck, M.P. (fn. 71) Originally a late 16th-century [capital letter E, rotated 90 degrees clockwise]-shaped house with mullioned and transomed windows, Harrold Hall had early in the 19th century the middle recess on the south filled in, and about the same time many of the old casement windows were taken out and double-hung sashes substituted. Only two of the old windows now remain, both being in the north-west wing, although one restored window may be seen on the south-west corner.
There appears to have been a considerable dispersal of this property in the 18th century, for Lysons says that the site of the priory, then used as a farmhouse, was in the possession of Lady Lucas. (fn. 72) A farm of considerable extent (probably the above, though if so the transfer to James Garth must have taken place a few years earlier than when Lysons wrote) known as Priory Farm, with part of Nunwood, was owned by James Garth in 1799. (fn. 73) It is now the property of Mrs. Gambier, daughter and coheir of Charles Garth Colleton, whose husband William Gambier bought up and united the portions of his two sisters-in-law. (fn. 74)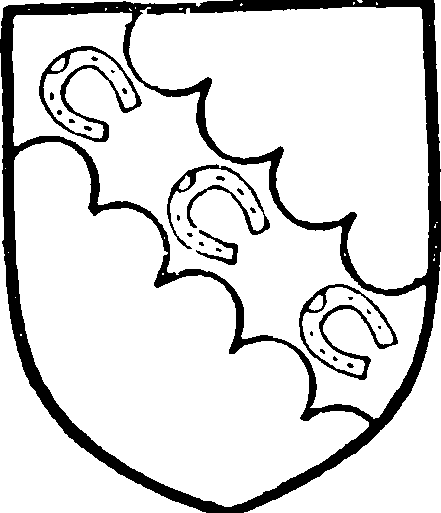 There was formerly attached to the Harrold Priory property a mansion-house, erected by Francis Farrar at the end of the 16th or beginning of the 17th century. (fn. 75) An old print in the parish institute shows a 16th-century H-shaped house. Of this only one of the end wings remains. It is a stone building with mullioned and transomed windows, and has a tile roof. In a room on the ground floor is a fireplace with the arms of Farrar, on a bend three horse-shoes, carved over the mantelpiece, and also an original panelled oak partition. Until recently it was used as labourers' dwellings, but is now in the occupation of Dr. Somerville.
The Knights Templars owned SWANTON MANOR in Harrold in the 13th century. They claimed in 1278–9 to hold it of John de Grey of the gift of a certain 'Flandrina Maudyt' in the reign of Henry III. (fn. 76) This refers to a grant made in 1240 by Ralph de Carun and Flandrina his wife and her heirs of one-sixth of a mill and 151 acres of land in Harrold to Robert de Sanford, Master of the Templars, (fn. 77) which grant was ratified in 1242. (fn. 78) In 1244 the Master made complaint that Ralph Moryn had trespassed on his common pasture, and Ralph recognized his right to common pasture for 460 sheep (of which pasture for 80 was of the gift of the said Ralph), 35 cattle and 40 pigs in Swanton. (fn. 79) In 1253 the Knights Templars obtained a grant of free warren in their demesne lands of Swanton and Harrold. (fn. 80) The extent of this manor was 200 acres of land, 2 acres of meadow and 3 virgates of land in demesne, four cottars holding in villeinage. (fn. 81)
About this time they also held a view of frankpledge twice yearly. (fn. 82) Very shortly after this the Knights Templars appear to have alienated this manor. Simon Croyser and Ellen his wife held it on a life grant in 1330, (fn. 83) but it had already passed into the possession of John de Grey, who died seised of it in 1323–4. (fn. 84) Its extent, which is given at this date in great detail, included a capital messuage, with herbage and fruit of garden worth 4s., 260 acres of demesne land worth 4d. an acre; six free tenants, five tenants at will, nine bondmen paying various services of cocks, hens, oats, ' lovebones' and harvest works; eleven cottars rendering similar services; and a court worth 12d. yearly, the total value of the manor being £16 9s. 6½d. (fn. 85) This property has henceforward followed the same descent as Harrold Manor (q.v.).
In the 16th century a property called CLAYBROOKES MANOR appears in Harrold. The first reference that has been found occurs in 1554, when Francis Lord Russell and Margaret his wife alienated it by fine to John Dobbe and Frances Dobbe. (fn. 86) Thirty years later it is found in the possession of Henry Laurence, a mercer of Bedford. He died in 1587, when his Harrold property passed by will to his cousin, Edward son of Geoffrey Laurence, with a charge of £60 to be paid to the testator's brother Nicholas. (fn. 87) Two years later Edward and Richard Laurence sold Claybrookes Manor to John Blott, (fn. 88) who died seised of the manor in 1630, and was succeeded by his son William Blott. (fn. 89) An inquisition was taken at his death in 1636–7, when his property in Harrold had diminished to one cottage and 13 acres of land. His son John was aged six, but no further trace of this estate has been found. (fn. 90)
The Pabenhams (whose pedigree will be found in detail under Pavenham) were, from the 13th century, tenants of the Greys in Harrold. In 1278–9 Richard de Pabenham held 4 virgates of land and 20 acres of inclosed wood, (fn. 91) and in 1312 John de Pabenham obtained a grant of free warren in his demesne lands which extended into this parish, (fn. 92) and in the same year licence to inclose and impark his woods there. (fn. 93) John de Pabenham died seised of 5 virgates of land here in 1321, (fn. 94) and in 1344 and again in 1399 this property was extended at nine messuages and 120 acres of land. (fn. 95) At the latter date the wood is extended at 200 acres, and in 1531 the possessions of Robert Tyringham (descendant of the Pabenhams) are given as Dungewood only, (fn. 96) and it appears to have become attached to Harrold Manor, of which it forms part at the present day.
When Ralph Morin alienated Harrold Manor to John de Grey (c. 1272–8) he does not appear to have parted with all his land in Harrold, for in 1279 he was declared to hold 3 hides of land there of John de Grey, including 10 acres of inclosed wood. (fn. 97) In 1290 Ralph Morin obtained licence to have an oratory in his manor on account of the distance from Harrold Church and the difficulty of getting there in winter. (fn. 98) In 1336 one of this name was still holding land in Harrold, for in that year he successfully claimed seisin of land which had belonged to Hamo an outlaw who held of him. (fn. 99) In the cartulary of Harrold Priory, under grants of lands described as 'newly acquired,' there is a considerable grant of land made by Philippa daughter of Ralph Morin and wife of Robert Esseby to the priory, (fn. 100) and, as no further trace has been found of the Morins holding in this parish, it is probable that the property was thus acquired in the 14th century by the priory.
In 1255 Adam, Abbot of St. James, Northampton, received a grant of lands in Harrold from John de Stoke, (fn. 101) and in 1291 the abbot's lands there were valued at £1. (fn. 102)
CHURCH
The church of ST. PETER consists of chancel 21 ft. by 15 ft., nave 46 ft. by 20 ft. wide, north aisle 14 ft. 6 in. wide, extending to form a chapel on the north of the chancel, south aisle 10 ft. 6 in. wide, extending the length of the nave and continuing westward to form a vestry, and a west tower.
Though not a large building, the interior is very imposing from its unusual height and the fine scale of the south arcade of the nave and the arches in the chancel.
The oldest details are those of the north arcade, which belong to the early part of the 13th century, the three bays of the arcade being of unequal span and probably cut through an older wall. The chancel arch is probably coeval with them, and the south arcade of the nave dates from c. 1250. The north aisle was rebuilt and a north chapel added in the last years of the century, and about 1330 the south aisle was remodelled. The tower belongs to the end of the 14th century, and the clearstory in nave and chancel is 15th-century work. The chancel has a modern east window of three trefoiled lights with geometrical tracery, replacing a squareheaded 18th-century light. The whole of the north side of the chancel is taken up by a tall late 13th-century arch in two chamfered orders with a label, the inner order springing from a filleted shaft with moulded capitals and bases; above the arch are two 15th-century clearstory windows, each of two trefoiled lights. In the south wall are a like window, near the west, and a plain pointed doorway, probably of no great age. The chancel has extended another bay eastward, and there has probably been a south chapel matching that on the north; but their site, and much ground formerly belonging to the churchyard, is now included in the grounds of Harrold Hall, where stone coffins were found about 1890. The chancel arch is very plain, of a single order with a label, springing from plain chamfered corbels.
The north chapel is lighted on the north side by a large window of three lights with intersecting mullions, having a small label and mask stops; it is clumsily reset, but probably in great part original; in the east wall is a 15th-century canopied niche with a cinquefoiled crocketed ogee head, and having small panelled side buttresses which have lost their finials. A second and earlier bracket is set close by, with a mask corbel.
The nave has an arcade of three bays on the north side with arches similar to the chancel arch resting on square piers and abaci ornamented with 13th-century trefoiled leaves. The middle arch is wider than the others, but it is possible that the west arch has been narrowed at the building of the tower. Both responds and the second pier have chamfered angles, and the east respond has a capital with a band of foliage; but the other pier has large bowtels towards the nave and is square towards the aisle. The south arcade of two bays has lofty arches with moulded outer order and label, and chamfered inner order, springing from an octagonal middle pillar and half-round responds, all with moulded capitals. There is a blocked doorway to the former rood loft, and an opening near the west end of the nave which led into a room over the vestry; above each arcade is a row of three 15th-century clearstory windows which consist of two trefoiled lights with tracery under a pointed head having an outside label. The nave roof is quite plain and low pitched, of three bays with grotesque heads on each side of the tiebeams under the ridge.
The north aisle contains two three-light uncusped windows originally of late 13th-century date, and between these is a tall pointed doorway, its details being of poor modern Gothic, and in the west wall is a 15th-century window of three lights with tracery and a small piece of contemporary glass, a head of Christ, in the top light.
The south aisle has two three-light 14th-century windows with net tracery and a wooden three-light east window; the vestry at the west is lighted by similar windows. In it is kept a painted panel from the screen, representing a saint holding a candle.
The tower is of the 14th century and has a parapet with corner pinnacles, above which is a tall octagonal spire with flying buttresses to angle pinnacles and three rows of spire lights; below the parapet is a string with grotesquely carved gargoyles. At each angle of the tower are two two-stage buttresses and on the south-west is a projecting stair turret; the tower is divided by a string into two stages, the upper one containing a window on each side consisting of two trefoiled lights with a quatrefoil under a pointed head and label. At the west end is a doorway with moulded jambs and a differently moulded arch which springs out of them, and above this door is a large three-light window with flowing tracery and a weather-worn label. The arch into the nave is in three chamfered orders, the inside one continuing down and the others springing out of the jambs. Under the tower is a stone coffin.
At the south side of the chancel is a large altar tomb with a brown marble slab to Oliver Boteler of Wootton Bourne End, 1657, and his son William, 1703, with the familiar arms of the checkered fesse and crosslets.
Above is a good white and grey marble monument to Dame Anne Jolliffe, 1732.
The font is at the west end of the nave and consists of a circular bowl on four shafts with 13th-century moulded capitals; the bases have disappeared.
The posts and five main arches of a fine 15th-century rood screen remain, pieced out with good 17th-century panelling below and on each side, and parts of the old cornice are worked into the pulpit. Behind the pulpit is a piscina belonging to the south nave altar.
In the nave are several rows of good plain 16thor late 15th-century seats and some 17th-century panels and balusters, and the altar rails also have 17th-century balusters.
There are six bells: the treble by Joseph Eayre of St. Neots, 1756, the second by Taylor of Loughborough, 1898, the third by Hugh Watts, inscribed 'Cum cum and praye 1603,' the fourth by the same founder, inscribed 'Prais the Lorde 1603,' the fifth has 'John Hodson of Landon made mee 1653,' and the tenor (recast 1898 by Taylor) was by Chandler, 1652.
The plate consists of a chalice inscribed 'Harrolde 1699,' a flagon, the gift of Lady Temperance Wolstenholme, 1726, date mark 1725, and a stand paten, the gift of the Hon. Ann Jolliffe, 1728, date mark 1728.
The registers previous to 1812 are in six books. (i) contains all entries 1598 to 1647; (ii) has the same, 1651 to 1692; (iii) the same, 1693 to 1749; (iv) has baptisms and burials 1750 to 1785; (v) marriages only 1754 to 1812; (vi) baptisms and burials 1786 to 1812.
ADVOWSON
The church of St. Peter, Harrold, formed part of the original endowment of the priory c. 1140–50, (fn. 103) and was retained by the prioress until 1536. The rectory and advowson of the vicarage followed the same descent as the site of the priory (q.v.), passing to the Farrar family, who have retained the rectory until the present day, Mr. George Farrar now being lay rector. (fn. 104) Between the years 1710 and 1734 the patronage of the vicarage was transferred from William Farrar to the Duke of Kent, who owned Harrold Manor, and whose representative Lord Lucas and Dingwall is the present patron. (fn. 105)
At the dissolution of the chantries Harrold Church had an endowment of 4d. to supply a lamp, and 20d., from a meadow in Felmersham, for a sepulchre light. (fn. 106)
CHARITIES
The almshouses founded by will of the Hon. Miss Ann Jolliffe dated 4 August 1723, and by Lady Ann Mead by deed dated 19 November 1736, are for six poor widows, who receive one loaf weekly and 10s. each for wood money, which is provided from rent of land producing £34 8s. a year, and rents of cottages known as Churchwardens' Cottages, let at £5 10s. a year.
John Goff by will dated 24 May 1883 bequeathed legacies in connexion with the Congregational chapel, now represented by £705 13s. consols, the dividends, amounting to £17 12s. 8d., to be applied in aid of fund raised annually for payment of minister, and by £984 0s. 2d. like stock, producing £24 12s. yearly, of which £20 is payable to the minister and the residue for the Sunday school. The sums of stock are held by the official trustees.