Page 178
A History of the County of Berkshire: Volume 3. Originally published by Victoria County History, London, 1923.
This free content was digitised by double rekeying. All rights reserved.
THE HUNDRED OF WARGRAVE
CONTAINING THE PARISHES OF
The hundred of Wargrave was formed during the 12th or early 13th century from the manors of Waltham St. Lawrence, Warfield and Wargrave, with their dependent manors which had come into the possession of the Bishops of Winchester. At the time of the Domesday Survey the three manors were in different hundreds, Waltham St. Lawrence in Beynhurst, (fn. 1) Warfield in Ripplesmere and Wargrave in Charlton. (fn. 2) Jurors at the special inquisition of the hundreds made in 1274 (fn. 3) stated that the hundred of Wargrave was given by King Stephen with the manor to his brother Henry, Bishop of Winchester. This grant of the manor, however, was annulled, since it was afterwards in the hands of Henry II. (fn. 4) It is not certain whether the separate hundred was permanently formed at the date of Stephen's grant or at the close of the 12th century, when the manors were finally confirmed to the see of Winchester. (fn. 5)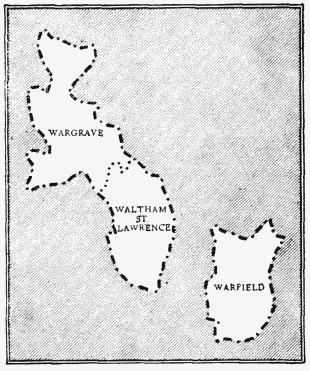 In 1284 (fn. 6) Bishop John of Pontoise (1282–1304) stated that he was seised of the hundred as appurtenant to the manor of Wargrave, and that it was coterminous with the manor. Waltham St. Lawrence and Warfield were not excluded by this description, since they were at this period sometimes called members of Wargrave Manor. Edward I granted very considerable hunting rights to the bishop in his lands and woods here, (fn. 7) both within and without the royal forests, and in the next reign the hundred was said to be held in free forestry. (fn. 8) The bishop held all the pleas of the Crown, (fn. 9) and had gallows, the assizes of bread and ale, &c., and the view of frankpledge for the men of his hundred, who, moreover, did not appear before the king's coroners. (fn. 10) The descent of the hundred is identical with that of the manor (q.v.), remaining among the possessions of Winchester until the fall of Wolsey and afterwards passing to Sir Henry Neville and his descendants. It is mentioned as the property of Lord Braybrooke in 1826, (fn. 11) but all rights attached to it have presumably disappeared. At the present day it forms a separate area for certain purposes of local government and consists of the three parishes of which it was originally formed.