Page 452
A History of the County of Berkshire: Volume 4. Originally published by Victoria County History, London, 1924.
This free content was digitised by double rekeying. All rights reserved.
THE HUNDRED OF GANFIELD
Containing The Parishes Of Buckland; Hatford; Hinton Waldrist; Longworth; Pusey; Shellingford; Stanford In The Vale
At the time of the Domesday Survey the hundred of Ganfield included nearly all the parishes contained in the modern hundred, (fn. 1) though 5 hides in Buckland were entered under Wantage, possibly by mistake. (fn. 2) Hatford was in Marcham Hundred (fn. 3) and Stanford with part of Pusey was entered under Sutton, but in this case the rubrication has apparently been omitted. (fn. 4) Littleworth, now in the hundred of Faringdon, may have formed part of Ganfield at this date, (fn. 5) but was apparently transferred before 1316, (fn. 6) by which time Ganfield Hundred had reached its present limits. In the reign of Edward the Confessor the assessment of Ganfield Hundred was 124 hides 1 virgate 4 acres, which in 1086 had been reduced to 45 hides 3 virgates.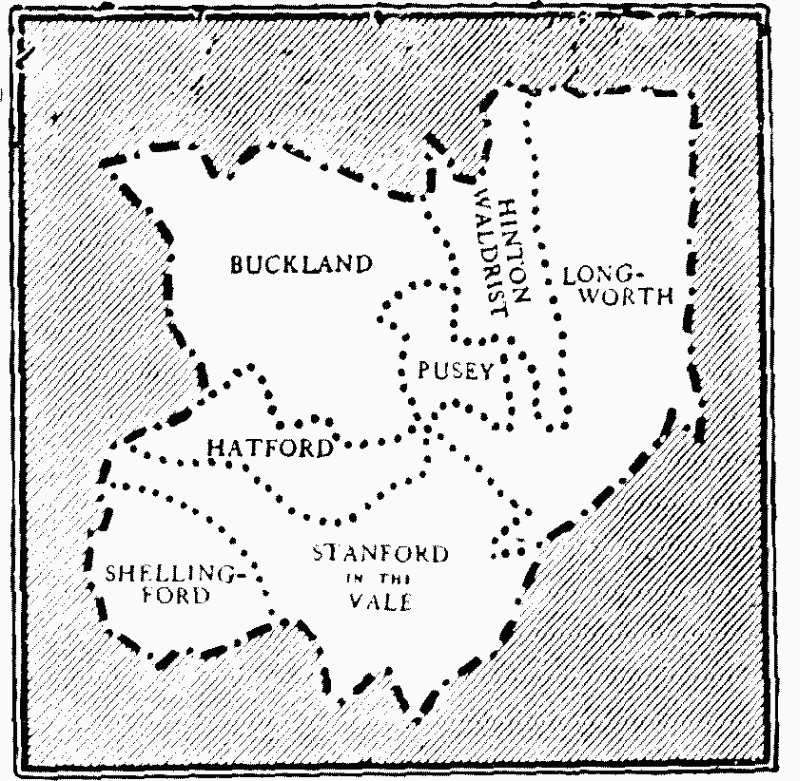 During the 13th century Stanford in the Vale was withdrawn from suit at the hundred court of Ganfield by a grant of Henry III to William de Ferrers Earl of Derby, (fn. 7) which was confirmed by Edward I to Gilbert de Clare Earl of Gloucester, then owner of the manor. (fn. 8) By 1275 2 hides in Pusey held by Roger le Coumber had been annexed by Henry of Allemagne to 'the Earl of Cornwall's hundred in North Oseney,' (fn. 9) and John de Limesey, who held 4 hides in the same place, also neglected to do suit at the hundred court. (fn. 10) All these places, however, seem to have been included in the hundred of Ganfield in 1316. (fn. 11)
The hundred at first belonged to the king, but afterwards came into the hands of Fulk Fitz Warin, (fn. 12) who was holding it in 1275 together with the hundred of Wantage, the descent of which it seems always to have followed. (fn. 13)
It would appear from 14th-century documents, (fn. 14) and also from the survival of Gainfield Farm as a place-name, that the site of the ancient hundred court was in Buckland parish.