Pages 391-392
A History of the County of Berkshire: Volume 4. Originally published by Victoria County History, London, 1924.
This free content was digitised by double rekeying. All rights reserved.
THE HUNDRED OF HORMER
Containing The Farishes Of Bagley Wood (extra-parochial); Bessels Leigh; Cumnor; North Hinksey; South Hinksey; Radley; St. Helen's; Seacourt; Sunningwell; Wytham; The Borough Of Abingdon;
The boundaries of the hundred at the time of the Domesday Survey were approximately the same as they are at the present day, except that Bessels Leigh was in 1086 entered as 'Leie' under Marcham Hundred. (fn. 1) In 1316, however, it was included in the hundred of Hormer. (fn. 2) Grandpont, a tithing in St. Aldate's parish, was part of Berkshire in 1831, but was transferred by an order of the Local Government Board in 1889 to Oxfordshire. Seacourt is now considered to be extraparochial, and Wootton, formerly a chapelry of Cumnor, is now a separate parish.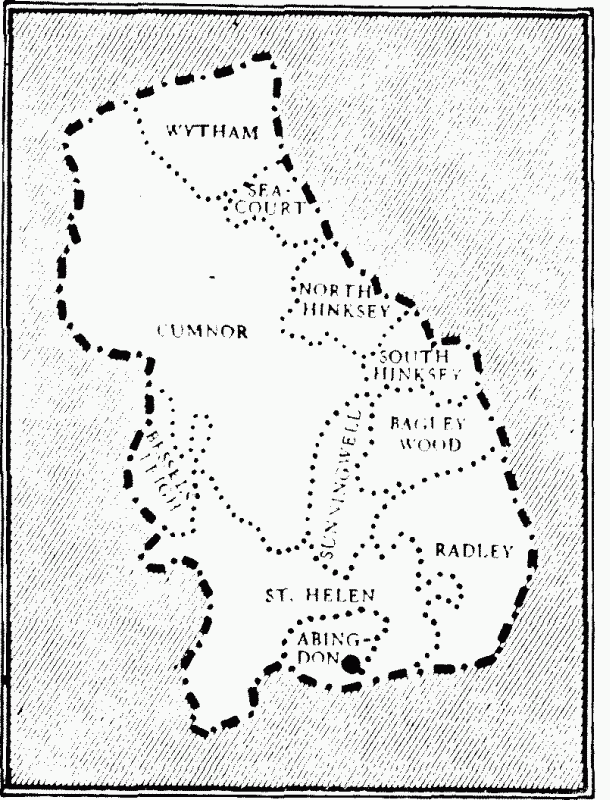 The fee of the hundred was from the 11th century the possession of the Abbot of Abingdon, to whom in 1086 all the land in the hundred belonged. Edward the Confessor granted it to the Abbot Ordric, exempting it from the jurisdiction of the sheriff. (fn. 3) This grant was confirmed by William the Conqueror and his successors. (fn. 4) In the early 13th century the abbot claimed that attachments should be made by his bailiffs, (fn. 5) and his right was established in 1230 by a charter of Henry III, (fn. 6) granting that the hundred of Hormer should be exempt from the view of his coroner for Berkshire. (fn. 7) In 1276 complaint was made that at the sheriff's tourn 6d. had been taken from each tithing of the hundred. (fn. 8)
By the surrender of the abbey in 1538 the hundred came into the king's hands, and Oliver Wellesbourne was appointed bailiff there in 1539. (fn. 9) Edward VI granted it in 1553 to George Owen, lord of the manor of Cumnor. (fn. 10) From that date it has followed the descent of the manor of Cumnor, passing to Anthony Forster and ultimately to the Norreys family. (fn. 11) Their title to it was called in question by the Commonwealth Government, which surveyed it in 1651 as a possession of the Crown. (fn. 12) The fact that Edward Wray of Rycote (fn. 13) was in possession of the revenues was recorded, and he was called upon to prove his claim. This he presumably did.
At the time of the survey the profits of the hundred amounted to 68s. 8d. (fn. 14) The courts leet, which were held at Michaelmas and Lady Day, with a 'three weeks' court' for actions involving not more than 39s. 11d., brought in 53s. 8d. There was also tithing silver of 1s. each from the various tithings in the hundred, and 2s. from the 'township' of Abingdon.
The hundred courts were held in 1547, (fn. 15) and probably long before that date, at Bagley; hence the name 'Hormer or Bagley Hundred' which appears frequently in the 16th century. (fn. 16) In 1577 they were held at Cumnor. (fn. 17) A separate court for the abbot's lands in Oxford was held at Grandpont. (fn. 18)