Pages 141-155
A History of the County of Buckingham: Volume 3. Originally published by Victoria County History, London, 1925.
This free content was digitised by double rekeying. All rights reserved.
THE HUNDRED OF BURNHAM
THE BOROUGH OF AMERSHAM
Elmodesham (xi cent.); Amodesham (xii–xiii cent.); Augmodesham (xiii cent.); Agmodesham, Amundesham (xiv-xvi cent.); Agmondesham alias Amersham (xvii cent.).
The parish of Amersham with its hamlet of Coleshill comprises an area of 7,969 acres, of which 39 are covered by water. Of these there are in Amersham proper 2,940 acres of arable land, 1,699 acres laid down in pasture, and 388 acres of woods and plantations. (fn. 1) The soil is chiefly chalk and flint. The land is hilly and the slopes are in many places covered with beech and other woods. It reaches 400 ft. above ordnance datum in the south, rises to 560 ft., the highest elevation, at Coleshill, and is about 500 ft. high in the north. It is watered by the Misbourne stream, which flowing from west to east across the parish has cut out for itself a valley through which runs the road from Uxbridge to Wendover. Sheltered in this dip is the town of Amersham with a low-lying quarter at Bury End where 291 ft. only are recorded. Amersham has now a station on the Metropolitan and Great Central joint railway, situated on a hill about a mile north-east of the town. The easy communication with London has led to the development of the northern heights of the parish, where a large and growing villa community forms the new town, but the parish, nevertheless, abounds in old houses and other memorials of the past. Leland, who visited Amersham c. 1540, speaks of it as 'a right praty market [towne] on Friday, of on strete well buildyd with tymbar,' (fn. 2) and it retains to the present day much of its old-world character. Lying between the wooded sides of the valley, it still consists of one main street, High Street, intersected by a short road. The general aspect is that of an 18th-century town, and there are some good specimens of Georgian work, but many examples of a still earlier period survive in half-timbered cottages. The most prominent object in the High Street is the Market Hall, a two-storied building of brick with stone dressings, the upper story of red and blue bricks being supported on semi-circular arches and surmounted by an octagonal wooden bell-turret and clock. The lower story thus forms a covered piazza and the upper consists of a large hall and western dais. The bell within the turret is inscribed 'C. H. [Christopher Hudson] made me, 1682.' On the southern wall of the Market Hall are the arms of Drake of Shardeloes impaling Montague. As a stone tablet on the wall of the Market Hall records, it was built by Sir William Drake, kt., in 1682. It succeeded the building on which in 1653 were posted up scandalous papers tending to the disturbance of the poor. (fn. 3) It was his uncle, Sir William Drake, bart., who in 1657 built the six almshouses lower down on the south side of the street. They consist of six one-story tenements surrounding on three sides a courtyard and form a good example of 17th-century brickwork. In the centre of the south elevation is a gable containing a tablet recording the foundation by Sir William Drake and the arms of Drake. Very disorderly scenes were enacted here on 31 October 1699, when several poor old women were turned out at the instigation of the governors to make room for some persons, one of whom was a Quaker, another a drunkard, and another a dissolute and scolding woman. The ejected inmates declared that the reason for this violent action was the desire of Mr. Drake, one of the governors, to obtain additional votes at the Parliamentary elections by putting servants of his into the houses formerly occupied by the undesirable female characters, accommodation for the latter at the almshouses being forcibly made at the expense of the peaceful residents there. (fn. 4)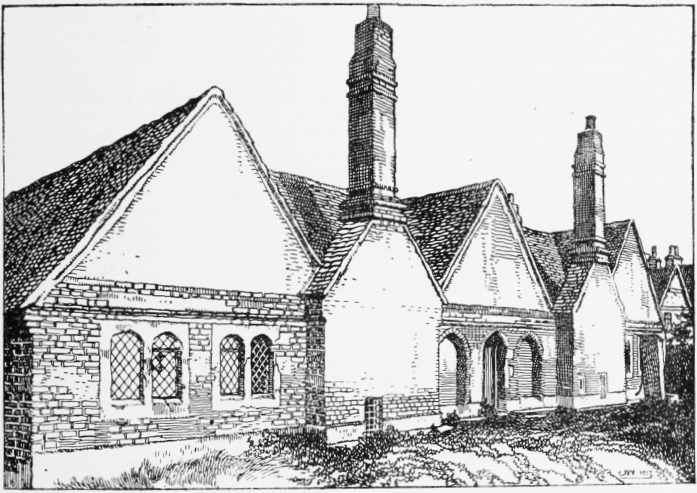 Church House, in High Street, was formerly occupied by the free grammar school, founded by Dr. Robert Chaloner, rector of Amersham, who died in 1621. (fn. 5) The school, reference to which occurs in 1650, (fn. 6) has now been removed to a modern building near the station. The nucleus of the old grammar school, now a timber house with modern brick facing, is rectangular in plan and probably of early 16th-century date; an east wing was, however, constructed about 1621 and other additions made later. The old timber framing can be seen in the southern part of the gabled eastern side of the house.
St. Mary's Church lies further east off the High Street, in its churchyard, where trouble arose in 1624 through a muster which had been kept there, the deputy-lieutenants threatening vengeance on those responsible. (fn. 7) Complaints were made at the same time of the behaviour of parishioners in church. They lay at ease in their high pews, with their hats on, and neither knelt at the Litany nor bowed at the name of Jesus. (fn. 8)
One John Foster, appointed to the rectory in 1544, (fn. 9) was ordered in 1553 as a 'sediciouse' preacher to appear before the Privy Council with a note of his late sermon. (fn. 10) Matthew Griffith, a later rector, was fined as a delinquent in 1647. (fn. 11) The rectory-house, a large early 18th-century building, built by the Rev. Benjamin Robertshaw, D.D., rector, is about a quarter of a mile to the north on high ground in a fine situation overlooking the town.
In the High Street, not far distant from the church, is the old Crown Inn, which probably dates from about 1620, but was refronted in the 19th century. Although the house is much restored, old ceiling beams and some early 17th-century panelling remain. In documents of the early 18th century it is referred to as the property of James Child. (fn. 12) His family existed for generations at Amersham, (fn. 13) and their name survives in Child's Farm. Some of the members were Quakers, (fn. 14) and one branch acquired Coleshill Manor (q.v.). In 1598 they quarrelled over a close with the Snells, (fn. 15) who are also represented to-day by a farm bearing their name.
Another old inn on the south side of Broadway is the 'Wyvern' or 'Griffin,' (fn. 16) restored or largely rebuilt in the late 17th century, though part of the out-buildings are of earlier date. In 1788 it afforded a night's lodging to Stebbing Shaw on his tour in the west of England. (fn. 17) In the 17th century there is mention of the 'White Hart' (fn. 18) and of the 'Saracen's Head,' then held by William Grimsdell. (fn. 19) The still existing King's Arms Hotel in High Street is a three-storied brick and timber house of the 16th century gabled at the back but with a modern front. The Swan Inn on the same side of High Street, not far from Little Shardeloes, bears the date 1671 on the central chimney. The wings are gabled, but the house has been refronted. The rectangular house to the west of the Swan Inn is of 1678. One other inn may be mentioned, the 'Elephant and Castle' on the north side of High Street, a half-timber house with gabled front and an old brick chimney at the east. This house, probably of the early 17th century, has been plastered in modern times and otherwise altered. Besides the inns already mentioned there are a number of old houses in the main street. The Gables, near the Market Hall, on the north side of High Street, is a late 16th-century house of two stories and an attic, now cemented. Some of the bays have mullioned windows, and interesting internal fittings remain, such as a late 16th-century stone fireplace in a ground floor room and in a room above it a finely carved oak fireplace and overmantel probably of the reign of Charles I. The front of Tresco House is of 18th-century brick, but the main building was probably erected in the early 17th century. The original timber work with brick nogging can be seen in the west end. The Town Mill and the back portion of the Mill House are of half-timber and brick and date from about 1600, the front block being a later addition. In the upper story at the back is an eight-light mullioned window, and an original three-light dormer window remains in the attic.
At the western end of Amersham High Street on its south side stands Little Shardeloes, a gabled brick house of two stories and an attic, the main portion dating from the second half of the 17th century, with later additions, a south-east wing of the 18th and a south-west wing of the 19th century. This house is now the residence of Mr. E. Mathews, J.P. Not far off is a house of later date, probably of the 18th century, the Firs, in the occupation of Dr. James Gardner. No. 61 in the High Street, an early 16th-century half-timbered house altered and heightened in the 17th century, preserves an old brick chimney with four octagonal shafts. It is now divided into three tenements.
One of the most interesting houses in Amersham from the architectural standpoint is No. 47 on the south side of High Street. It is a 15th-century house consisting of a hall of one story with a west wing which was enlarged in the 16th century, the central chimney stack of four semi-octagonal shafts being then added. In the next century an east wing was built and part of the hall demolished. In the part left standing an upper floor was constructed at the same date. The original timber work is preserved in the upper story at the east and west fronts and in the west bay of the lower story at the north front. The western half of the ceiling of the front room in the east wing is of open timber work, probably of the 16th century; the other half is plastered. The west wing also possesses a 16th-century ceiling of open timber work. On the first floor of the main building part of the roof is that of the 15th-century hall. On the north side of Broadway the old half-timber malt-houses of the 16th or 17th century are still standing, and not far off is a 16th-century half-timber cottage with gabled ends now divided in two. A prominent feature is the two-shafted massive central chimney stack.
Relatives of William Grimsdell, already mentioned in connexion with the 'Saracen's Head,' lived at Coke's Farm, perhaps identical with the 15th-century Cokeyes, (fn. 20) where several of them were buried in the orchard. The fact is attested by entries in the parish register and by a still extant tombstone placed in the orchard in 1793 by Mrs. Hannah Grimsdell. (fn. 21) The farm, at present occupied by Mr. Robert Moore, lies about 3 miles from the church, north of Snell's Farm.
The eastern extremity of Amersham called Bury End, Borough End (xviii cent.), (fn. 22) contains Bury Farm, at the corner of the Beaconsfield Road, a 16th-century brick house now rough-cast in front and considerably altered. The present oak inner doorway of the lobby at the back was the outer doorway of the original building. This house has been identified as the 'Berrie House,' occupied by Mary Penington in 1666 when her husband was in Aylesbury gaol. (fn. 23) She also purchased and rebuilt Woodside, still adjoining the common but much altered and enlarged, which passed at her death in 1682 to her son John, (fn. 24) and now belongs to Mr. George Weller. Over the dairy at Woodside Farm is a little room said to have been used as a secret Quaker meeting-house in the 17th century.
Tradition has assigned the burning of the martyrs, of whom Amersham has produced so many, to a place east of Bury End where no crops would grow, but an examination of the soil has proved this to be due to an abnormal formation of flints. Among the Lollards who perished here were Richard Turner, Walter Young and John Horwood (fn. 25) in 1414, though Richard Sprotford, a carpenter, was pardoned in that year for heresy. (fn. 26) In 1506 took place the burning of William Tilsworth in Stanley Close; his daughter Joan Clerk was forced to set fire to the pile and her husband also carried a faggot. (fn. 27) Thomas Chase of Amersham was taken to the bishop at Woburn and strangled in 'Little Ease' there. (fn. 28) Other martyrs were James Morden and Thomas Barnard, who suffered together in 1522 as relapsed heretics, (fn. 29) their lands being given to Thomas Ward and others. (fn. 30)
The clear flowing stream of the Misbourne turns several mill wheels on its way through Amersham. Quarrendon Mill near the east boundary may take its name from the Querendons or Quarrendons who had rights in Amersham in the 13th century. (fn. 31) Quarrendon Farm lies some distance away from the stream. Further up the stream in Bury End is a corn-mill which is perhaps identical with the Bury Mill of 1504, (fn. 32) and the malt-mill of that date (fn. 33) is perhaps the corn-mill, now with the old timbered mill-house situated at the western extremity of the town where the Misbourne enters Amersham. It has been in the same ownership for about a century as the brewery and malt-house of Messrs. W. & G. Weller, which lie off the High Street near the church. The business was acquired by the Weller family in 1772, and employs about half the labour of the town.
Before the Misbourne enters Amersham town it flows through the extensive park of Shardeloes, where it is artificially widened into a lake of about 40 acres. At the head of the lawn sloping to the water stands Shardeloes House, the seat of Mr. W. W. Tyrwhitt-Drake. Shardeloes is a large rectangular house of two stories dating from about the middle of the 18th century. The walls are covered with rough-cast and surmounted by a dentil cornice and plain parapet. On the front facing the lake is an open portico which has four Corinthian columns supporting an entablature with dentil cornice and pediment. Shaw describes it in 1788 as having been lately rebuilt 'in a manner much admired, but it does not seem to make a great figure from the road.' (fn. 34) The gardens which were formed out of marsh by Sir William Drake, kt., have always been remarkable for their beauty. (fn. 35) To the north of Shardeloes beyond the Uxbridge Road lies Mantle's Green with Lot's and Piper's Woods. Pipers is mentioned in the will of John Cheyne, 1578. (fn. 36) Here also is Wedon Hill Farm and Wood, reminiscent of the family who owned Wedon Hill Manor.
By walking due east from Wedon Hill and skirting Chesham Bois Common Amersham Common is reached with its numerous scattered farms around, among which is Raans Farm on the site of the old manor of that name. This house, originally of half-H shape, was built towards the close of the reign of Henry VIII, but the original central block alone remains, modern work having replaced the older wings. Over the interesting brick doorway of the porch is a stone carved with a shield of arms, (fn. 37) mantled helm and crest. Several of the original windows with stone mullions still remain, some in use and some blocked. The other farms on Amersham Common are all of rather later date. Both Reeves Farm-house and the adjacent barn and Barker's Farm were built early in the 17th century, but have been very much altered. Woodside Farm has already been mentioned. Stanley Wood House bears the initials IH and the date 1678 on the south side of the rectangular chimney stack.
On the south side of Amersham High Street, Whielden Street, which may take its name from the 14th-century William de Whildene, (fn. 38) leads past the General and Particular Baptist and the Wesleyan chapels with their cemetery, and past the union workhouse, and as Whielden Lane reaches Coleshill, nearly 2 miles south. This hamlet and chapelry were transferred from Hertfordshire in 1832. The area is 1,810 acres, (fn. 39) much of which is wooded. There are 894 acres of arable land and 591 of permanent grass. (fn. 40) Coleshill House stands at the entrance to the hamlet, and beyond it is Stock Place Farm, the ancient manor-house of the Brudenells, where the poet Waller was born on 3 March 1606. (fn. 41) It is a half-timbered house probably of the 16th century, but altered in the next century and later. Here still stands an old oak called Waller's Oak, under which Waller is supposed to have composed some of his poetry.
Bower's Farm, half a mile south-east of Coleshill Church, is a half-timber house of late 16th-century date. It retains most of the old framing and an original chimney stack with octagonal shafts. Inside the old timbers remain, and there is an old fireback of 1687. A well-house at the rear covers a disused well and contains a curious old wooden windlass, and a large barn, with massive principals and probably contemporary with the house, adjoins it at the south-east end.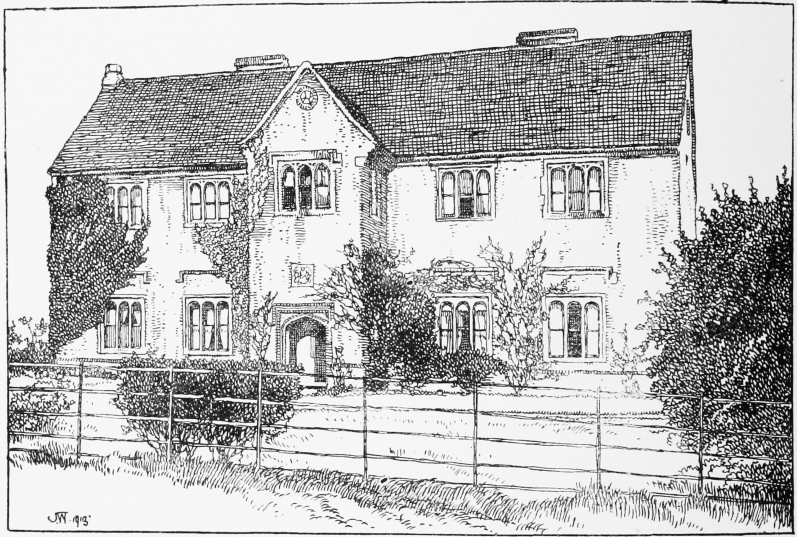 Still further to the east of Coleshill are several farms, among them Stocking's Farm, a brick building of late 17th-century date, mentioned with Barton's Farm in 1701 and charged with an £11 rent to Sir William Drake's almshouses (fn. 42); also Brentford Farm, near which are brickworks. Winchmore Hill, consisting of two or three farms, lies 1¼ miles west of Coleshill, and Larkins Green is also in this hamlet.
Woodrow, a collection of farms and cottages west of Coleshill, is reached from Amersham by Cherry Lane, which turns south from the High Street by Little Shardeloes and passes through wooded country. Woodrow High House, a modern building, is the residence of Mrs. C. S. Pelham-Clinton, and lies back from the lane in its own grounds. The house which formerly stood here was once occupied by Oliver Cromwell's wife and daughters. (fn. 43) Its name was afterwards changed to Woodside Lodge, but it is now known by its old appellation. Woodrow Farm and Wood are in this neighbourhood. It was here that Richard Morris became pastor of a Particular Baptist chapel in 1776, but left it when one of the same denomination was built at Amersham in 1784. (fn. 44)
The Parliamentary army was often in the neighbourhood during the Civil War, (fn. 45) and Jeremiah Wharton, writing in 1642, describes it as 'the sweetest country that I ever saw, and as is the country, so also are the people.' (fn. 46)
Among place-names are Katestrop (fn. 47) (xii cent.); Castropmede (fn. 48) (xiii cent.); Whelpes (fn. 49) (xiv cent.); and Bentleys (fn. 50) (xv cent.). There are many references to Semaines, Grants and Redes in the 15th century (fn. 51); Hygbete occurs in the 15th century, (fn. 52) Awstins and Sylvesters Wheledene in the 16th. (fn. 53) Part of the parish was inclosed under an Act passed in 1815. (fn. 54)
BOROUGH
The exact date of the establishment of the borough of Amersham is unknown, but it is possible that the grant of burgage rights to a certain section of the tenants may have followed the royal grant of a market and fair (fn. 55) in 1200. It is also significant that the 'trithinga' or 'fridboru' mentioned in 1276 was held within a liberty then believed to have been granted by King John. (fn. 56) However this may be, the institution of a borough within the township was probably due here, as frequently in similar cases, to some industrial settlement or development of trade, (fn. 57) encouraged or at least allowed by the lord of the manor. By 1262 we hear definitely of the township of Agmondesham outside the borough (fn. 58) (extra burgum). At the end of the 13th century the borough is specifically included among the possessions of the Earls of Essex as attached to their manor of Amersham, (fn. 59) the earl contributing as lord of Amersham borough to the aid of 1316. (fn. 60) For financial purposes a clear distinction appears to have been made between borough and manor. The burgesses were called upon in the 15th century to pay a rent of £4 14s. 7½d., those residing without the borough in the foreign manor paying 115s. 2½d. for the March term and 115s. 10½d. for the Michaelmas term. (fn. 61) The borough court is included in 1299 in the extent of the manor. (fn. 62) The constables of the borough and foreign were appointed at the court baron until as late as the middle 19th century, (fn. 63) and acted as receivers of the fifteenths granted by Parliament to the Crown. (fn. 64) The proof of their existence and duties was to some extent instrumental in recovering in 1624 the right of Parliamentary representation (fn. 65) and they hence-forward acted as returning officers. (fn. 66)
Little is known of the communal organization of the burgesses. A reference occurs to the portmote under that name as contributing 5s. yearly to the lord of Amersham in the 15th century. (fn. 67) The names of Thomas le Provost of Amersham in the 13th century, (fn. 68) of Robert and William le Budel or Beadle (fn. 69) and of John Portreve of Amersham in the 14th and 15th centuries (fn. 70) may be taken as evidence of the existence of such offices, and duties of a burghal nature may have been exercised in connexion with the 15th-century Fraternity of St. Katherine. The known deeds, however, which relate to it record only a legacy of 20s. by Drew Brudenell in 1490, (fn. 71) and its valuation at the dissolution of the chantries at £4 7s. 6d., of which 60s. was allotted to the priest's salary. (fn. 72) Attempts were certainly made by the townspeople to remedy the disadvantages due to the absence of a charter of incorporation, and in the 17th century the plan was conceived of securing greater liberties for the burgesses by forging a charter supposed to date from Henry IV, and which was exemplified by Charles II in 1665. The suspicion of Judge Jefferies secured the arrest of James Child, who had procured the exemplification and the charter was annulled as a forgery. (fn. 73)
From an early date Amersham exercised the privilege attached to a borough of Parliamentary representation. Two members were returned for the years 1300–1, 1306, 1306–7 and 1309, (fn. 74) but after the latter date the right was allowed to fall into abeyance for over 300 years. The question was revived in 1624 by William Hakewill, then living at Windsor, who had discovered from a search among the Parliamentary writs in the Tower of London that Amersham, Marlow and Wendover had all formerly returned members to Parliament. (fn. 75) At his suggestion the boroughs petitioned for the restoration of their rights and the case was laid before the election committee of the House of Commons. (fn. 76) The king declared himself very unwilling to have the number of burgesses increased; 'he was troubled with too great a number of them already,' and he instructed his solicitor-general, Sir Robert Heath, to oppose the petition. The claim was upheld on several grounds—the writs of a date later than 2 Edward II might have been lost, the sheriffs might have been negligent in sending precepts to the boroughs, poverty was the reason for abstinence, and anyhow no lapse of time could act as a deterrent. After hearing the evidence, the chief justices advised the king of the justice of the petition, and writs were sent to the three boroughs. (fn. 77) Amersham sent John Crewe and Francis Drake to the Parliament of 1625 (fn. 78) and William Hakewill was returned to that of 1628. (fn. 79) The Drakes, who were lords of Amersham, were generally returned as members for the borough during the next two centuries, (fn. 80) but there were several contested elections in the 17th century. On one occasion in 1669 Sir William Drake obtained a majority of six by procuring the Speaker's letter to the sheriff to hasten the election. (fn. 81) His opponent, Sir Robert Bovey, was returned by a constable who, for some reason, was not duly qualified to serve as such an officer, and on his election being quashed he objected to Sir William Drake's return as false. (fn. 82) In 1679 Algernon Sydney created a sensation by defeating Sir William Drake, though he was totally unknown in the place. (fn. 83) The election, however, was declared void in 1680, (fn. 84) and the right of election was then declared to be limited to the inhabitants paying scot and lot. (fn. 85) A petition of a large number of the poorer inhabitants in 1701 that the vote should be as formerly, the due prerogative of all householders, only resulted in a confirmation of the 1680 decision. (fn. 86) The number of electors was said to be about 130 in 1725 (fn. 87) and the right of voting was restricted to those paying scot and lot up to the Reform Act of 1832, (fn. 88) by which Amersham was disfranchised.
MANORS
AMERSHAM MANOR
AMERSHAM MANOR, which had belonged to Queen Edith before the Conquest, was held in 1086 by Geoffrey de Mandeville for 7½ hides, (fn. 89) half a hide of which he had taken from Farnham Manor while its lord Bertram de Verdun was over seas on the king's service. (fn. 90) The manor was always held in chief, a fresh grant being made in 1526. (fn. 91) Geoffrey's son William de Mandeville, who was constable of the Tower of London in 1101, (fn. 92) was succeeded by his son Geoffrey, who was created Earl of Essex c. 1139. (fn. 93) After his death in 1144, Amersham passed through his two sons Geoffrey and William, who died without heirs respectively in 1167 and 1189, to his sister Beatrice, who had married William de Say. (fn. 94) Their son and heir William died in his mother's lifetime, leaving two daughters and co-heirs, of whom the elder Beatrice married Geoffrey Fitz Piers, created or confirmed Earl of Essex in 1199, (fn. 95) who held Amersham in her right in 1200. (fn. 96) He died in 1213, and on the death without issue of his elder son Geoffrey in 1216 his younger son William succeeded to the title and Amersham, and assumed the name of Mandeville. (fn. 97) His aunt, Maud de Say, co heir with her sister Beatrice, brought an action against him in 1218 to recover half of Amersham Manor, (fn. 98) but evidently without result, as after William de Mandeville's death in 1227 the manor was allotted in dower to his widow Christian, (fn. 99) who shortly afterwards married Raymond de Burgh. (fn. 100) William de Mandeville's heir was his sister Maud, whose husband Henry de Bohun Earl of Hereford had died in 1220. (fn. 101) She was divorced from her second husband Roger de Dantes about 1232, when she asked for Quarrendon and Amersham, but obtained the former only. (fn. 102) Amersham passed to Maud's son Humphrey de Bohun Earl of Essex and Hereford, (fn. 103) who died in 1275. (fn. 104) His grandson and heir Humphrey claimed return of writs here in the following year, (fn. 105) and in 1278 was defendant in an action brought to recover the manor by William de Mandeville or Say, a descendant of Geoffrey de Say, the second son of Beatrice sister of the first earl. (fn. 106) His ancestor Geoffrey, son of the said Geoffrey de Say, had put forward a similar claim in 1214. (fn. 107) An arrangement was come to between the parties in 1284 by which William de Say renounced all right in Amersham in return for lands elsewhere. (fn. 108) Humphrey Earl of Hereford and Essex died in 1298. (fn. 109) His son another Humphrey married in 1302 Eleanor daughter of Edward I, on which occasion he received to himself and his issue a grant of Amersham (fn. 110) which had been handed over to the king by his father. (fn. 111) He was killed at the battle of Boroughbridge in 1322, and his son and heir John died without issue in 1336. (fn. 112) The manor, valued at £52 16s. 8d., was assigned to John's widow Margaret in dower with the consent of his brother and heir Humphrey. (fn. 113) On the death of the latter without issue in 1361 his nephew and heir Humphrey Earl of Northampton succeeded to the titles and estates, (fn. 114) but died in 1373, leaving two daughters and co-heirs Eleanor and Mary. (fn. 115) The manor of Amersham, which was farmed by John Jourdelay for £40 13s. 4d., (fn. 116) was held by the earl's widow Joan until her death in 1419, (fn. 117) and was assigned in 1421 to Anne Countess of Stafford, daughter and heir of Eleanor the daughter of Humphrey and Joan, (fn. 118) Henry V, the son of the other daughter, obtaining other of the lands. (fn. 119) Anne's son Humphrey Earl of Stafford, who was created Duke of Buckingham in 1444, (fn. 120) was succeeded on his death in 1460 by his grandson Henry, (fn. 121) his widow Anne receiving the manor for life. (fn. 122) On the execution of Henry Duke of Buckingham for treason in 1483 Amersham reverted to the Crown and was granted for life in that year to Thomas Fowler. (fn. 123) It was afterwards recovered by Edward the son of the late duke, who gave instructions in 1520 for the sale of his wood at Amersham. (fn. 124) He was executed in the following year and attainted. (fn. 125) In 1522 Thomas Ward was made bailiff and woodward of Amersham, (fn. 126) which had thus reverted to the Crown. The site was granted in 1523 for twenty-one years to Alice Carter, (fn. 127) but in 1526 Sir John Russell and Anne his wife obtained a grant of the manor in fee. (fn. 128) From this date Amersham descends with Chenies (fn. 129) (q.v.) until Francis Earl of Bedford conveyed it in 1637 to William Drake of Shardeloes. (fn. 130) He was created a baronet in 1641, (fn. 131) and made chirographer of the Court of Common Pleas in 1652. (fn. 132) The baronetcy expired on his death unmarried in 1669, (fn. 133) and the estate passed to his nephew Sir William, son of his brother Francis Drake. (fn. 134) Sir William Drake, kt., died in 1690 (fn. 135) and his son and heir Montague Drake was in possession of Amersham in 1694. (fn. 136) On his death four years later (fn. 137) the manor passed to his son Montague Garrard, (fn. 138) who was succeeded by his son William in 1728. (fn. 139) The latter died in 1796, (fn. 140) when, his eldest son William having died without male issue, (fn. 141) the second son Thomas inherited. (fn. 142) Thomas, who had assumed the name of Tyrwhitt in 1776, resumed that of Drake on succeeding to the family property. (fn. 143) At his death in 1810 (fn. 144) Amersham passed to his son Thomas Tyrwhitt-Drake, (fn. 145) who was sheriff in 1836 and died in 1852. His son, another Thomas, (fn. 146) also sheriff, was succeeded in 1888 (fn. 147) by his eldest son Thomas, upon whose death without issue in 1900 Amersham passed to the present owner, his brother, Mr. William Wykeham Tyrwhitt-Drake, J.P.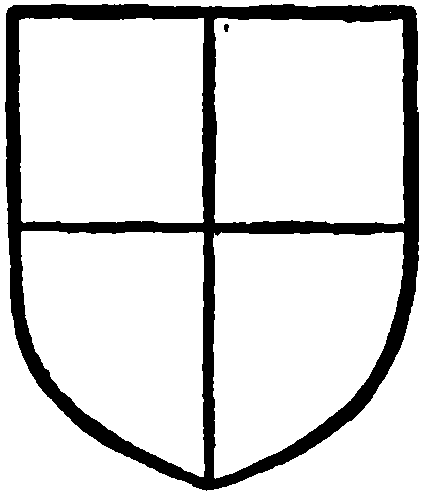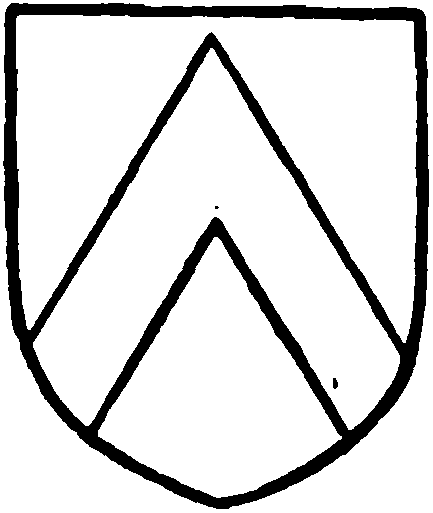 Geoffrey Fitz Piers Earl of Essex received in 1200 a grant of a Friday market and fair on the vigil and day of the Nativity of the Virgin. (fn. 148) In 1336 the market was appraised at 30s. yearly. (fn. 149) A fresh grant was made in 1613 to Edward Earl of Bedford of a Tuesday market, that on Friday being abandoned; the fair was confirmed and an additional one given on the Monday and Tuesday in Pentecost week. (fn. 150) The market has ever since then been held on Tuesday, (fn. 151) though it was said in the middle of the last century to be insignificant. (fn. 152) In 1891 the market rights were vested in Mr. Drake of Shardeloes, but the market was then temporarily in abeyance, though the bell was still rung regularly at twelve in the morning. (fn. 153)
Since the end of the 18th century the two fairs are held on Whit-Monday and 19 September. (fn. 154)
On the death of Geoffrey Fitz Piers Earl of Essex in 1213 John his son by his second wife Aveline (fn. 155) successfully claimed some of the Mandeville estates in Amersham, also known as Amersham Manor, which passed as in Whaddon (q.v.) to Lord Richard Fitz John, who died in 1297. (fn. 156) With the exception of 34s. 4d. of land and rent, the whole of this estate called the hamlet of Amersham was granted in 1299 to Robert de Clifford and Idonea de Leyburn, (fn. 157) grandson and daughter respectively of Richard Fitz John's second sister and coheir Isabel de Vipont. (fn. 158) From this date this manor descended with Buckland Manor (fn. 159) (q.v.) until 1546, when Richard Greenway obtained a grant in fee of the manor then known as AMERSHAM WOODROW. (fn. 160) On his death in 1552 it passed to his son Anthony, then aged four, (fn. 161) who in 1591 sued his mother Joan and her second husband Michael Harcourt for having kept him out of the manor. (fn. 162) Anthony was engaged in several other lawsuits (fn. 163) and conveyed the manor in 1595 to Henry Fleetwood, (fn. 164) by whom it was probably alienated with Shardeloes in the same year to William Tothill, as he died seised of it in 1626. (fn. 165) From this date it descends as Shardeloes (q.v.), the present owner being Mr. W. W. Tyrwhitt-Drake.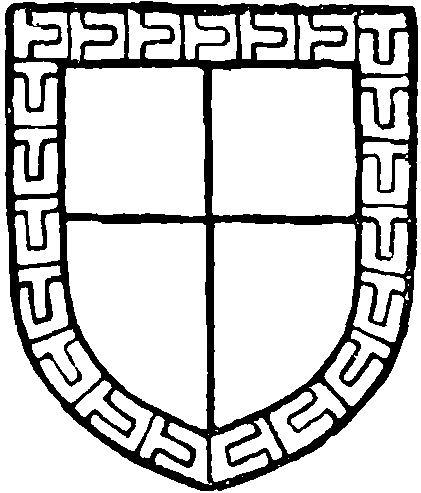 A view of frankpledge claimed by Richard Fitz John in 1286 (fn. 166) was still appurtenant to the manor in the 16th century. (fn. 167)
The 34s. 4d. of land and rent reserved in the grant to Robert de Clifford and Idonea de Leyburn was acquired by Richard de Burgh Earl of Ulster (fn. 168) and descended with his manors of Bierton and Hulcott (fn. 169) (q.v.), being last mentioned in 1511, when it was settled on Henry VIII. (fn. 170)
WEDON HILL MANOR
WEDON HILL MANOR appears to have been formed out of 2 half hides held in 1086 by Almar and Ulviet respectively of the Count of Mortain and Hugh de Bolbec. (fn. 171) The honour of Berkhampstead, representing the Count of Mortain's interest, had rights in Wedon Hill as late as 1601, when a dispute arose as to whether the freeholders and copyholders of the manor paid 5s. to the bailiff of Berkhampstead Manor for every fifteenth granted by Parliament. (fn. 172) Hugh de Bolbec's interest was vested in the 15th century in the Earl of Oxford, as lord of Chesham Higham, (fn. 173) and towards the end of the 16th century his rights appear to have been divided between Miles Sandys, lord of Chesham Higham, and Peter Palmer, by grant of Edward Earl of Oxford. (fn. 174) The lords of Amersham Manor also received overlordship dues in the 15th century. (fn. 175)
Almar, the under-tenant at Domesday, (fn. 176) also held Wedon in the Vale in Hardwick (q.v.), where also he was succeeded by the Wedons. The names of William Wedon and of his wife Mabel and son Ralf occur towards the end of the 12th century, (fn. 177) and also that of Richard son of Ralf Wedon. (fn. 178) Ralf occurs as lord of the manor in 1218, (fn. 179) and his successor, Sir John de Wedon, witnessed a charter at Amersham in 1273. (fn. 180) This holding was assessed at 1½ hides in 1284 in the hands of Ralf de Wedon, (fn. 181) who died seised of it in 1302. (fn. 182) His son and heir Ralf obtained in 1312 the manor of Drayton Beauchamp (fn. 183) (q.v.) in marriage, with which Wedon Hill descended until 1365, when it was bestowed in fee upon Peter Brewes. (fn. 184) His successor Sir John Brewes died seised of it in 1426 (fn. 185) and his wife Margaret, with whom he was jointly seised, in 1449. (fn. 186) Sir John Brewes's sister and heir, Beatrice wife of Sir Hugh Shirley, (fn. 187) had died c. 1440, (fn. 188) and her son and heir Ralf died shortly after, so that on Margaret's death Ralf's son Ralf entered into possession of Wedon Hill. (fn. 189) He and his second wife Alice, upon whose issue Wedon Hill appears to have been settled, both died in 1466, (fn. 190) and their son Ralf died in 1510, leaving as heir a son Richard, (fn. 191) afterwards knighted, upon whose death in 1540 the manor descended to his son William. (fn. 192) The latter died in 1551, leaving a young son Thomas and a widow Mary, (fn. 193) who married Richard Elderton. (fn. 194) They were defendants in an action brought in 1563 by William son of Thomas Shirley, the brother of Sir Richard, to recover a five years' annuity of £20 granted in 1526 by Sir Richard to Thomas his brother, and thirteen years of a life annuity of £6 13s. 4d. granted by Sir Richard in 1516 to his sister Anne, who died c. 1537, both charged on Wedon Hill Manor. (fn. 195) The plaintiff appears, however, to have renounced all claim in the same year, (fn. 196) and the manor was enjoyed by Thomas the son of the William who died in 1551, and by him alienated in 1575 to Richard Tothill, (fn. 197) on whose death in 1593 it passed to his son William Tothill. (fn. 198) After his acquisition of Shardeloes in 1595, its descent is identical with that manor.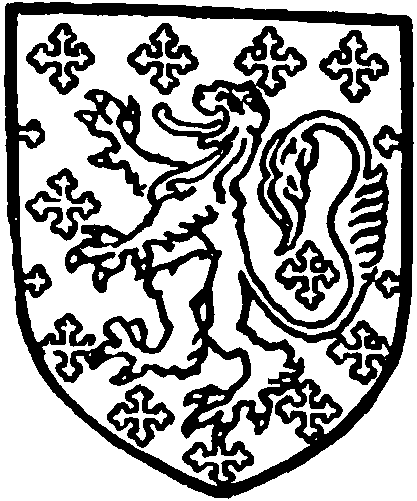 A virgate of land in Amersham held of Sir Henry de Bohun by Laurence de Broc at his death in 1275 (fn. 199) passed to his son Hugh, to whom the executors of his father's will handed over various goods in the same year. (fn. 200) Part of this estate appears to have been granted in 1308 by Hugh's son Laurence de Broc to Adam de Shardeloes, (fn. 201) from whom it took its distinctive name of SHARDELOES MANOR, held in the 15th century of the Duke of Buckingham, (fn. 202) and an arrangement was come to in 1315 by which it was settled on Adam and his wife Alice for life with reversion to Laurence de Broc, his wife Ellen and son Ralf. (fn. 203) In 1328 Ralf de Broc transferred his interest to Simon de Bereford for eleven years, (fn. 204) but on the attainder of Bereford in 1330 the land reverted to the king, who intended to regrant it to Ralf de Broc. (fn. 205) In the following year, however, a twelve years' lease was obtained by William Latimer, (fn. 206) and John Latimer received a further grant in 1334. (fn. 207) Shardeloes afterwards came into the possession of Henry Brudenell, living in 1406, (fn. 208) whose brother Edmund (fn. 209) was lord of Ranes. Henry Brudenell, who died in 1430, (fn. 210) by his will left Shardeloes to his eldest son John, with remainder to his second son Edmund. (fn. 211) The latter, who was called of Shardeloes in 1455 (fn. 212) and again in 1471, (fn. 213) is probably identical with the Edmund Brudenell who died in 1481, leaving as his heir Thomas, then aged two, the son of his dead son Thomas Brudenell. (fn. 214) Shardeloes Manor, however, had been conveyed in 1479 for 200 marks to Thomas Cheyne, who had married Elizabeth daughter of Edmund Brudenell. (fn. 215) His son and heir Drew married Ann daughter and heir of Sir John Longville and their son John Cheyne (fn. 216) settled the manor in 1553 on himself and his wife Margaret and on their sons Henry, Timothy and William. (fn. 217) John Cheyne died in 1578, (fn. 218) and his son and heir Henry leased the manor c. 1586 to Henry Vernon for twenty-one years. (fn. 219) A claim to Shardeloes, however, was brought forward in 1590 by George Cheyne, (fn. 220) youngest son of John Cheyne by his second wife Elizabeth, (fn. 221) who based his rights on his father's will. In the following year Henry Cheyne and his son Henry alienated their right in Shardeloes to William Bowyer and others, (fn. 222) trustees for Henry Fleetwood, who in the same year brought an action against William Cheyne, Henry's brother, for obstructing the conveyance. (fn. 223) Henry Fleetwood shortly afterwards obtained a renunciation of the Cheyne claims, (fn. 224) which were also expressly barred in 1595, when he alienated Shardeloes to William Tothill. (fn. 225) On the latter's death in 1626 his heirs were William, son of Francis Drake and Joan his wife, daughter of William Tothill, and Catherine Tothill, his other daughter, (fn. 226) who in 1632 renounced her right in Shardeloes to her nephew William Drake. (fn. 227) A few years later he acquired the main manor of Amersham, with which Shardeloes has since descended. The Drakes, however, took up their residence at Shardeloes, and have always been called of that place.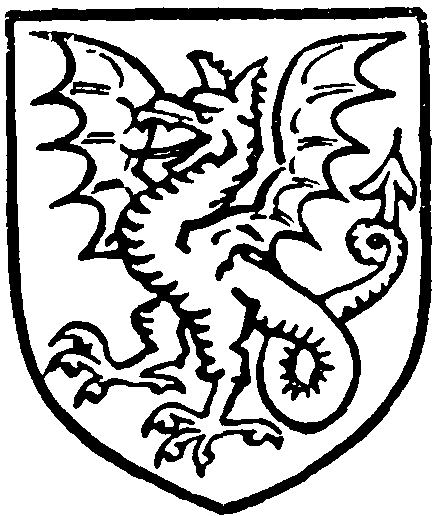 RANES or RAANS MANOR
RANES or RAANS MANOR (Rana), in Amersham, originated in land held in 1166 of Geoffrey second Earl of Essex, (fn. 228) and afterwards of his descendants as lords of the principal manor. (fn. 229) In 1625 the overlordship was vested in Francis Lord Russell as lord of Amersham Manor, (fn. 230) and in recognition of this claim a quit-rent of 20s. was paid to the lord of Amersham Manor in 1735. (fn. 231) The under-tenant in 1166 was Jordan de Rane, (fn. 232) who was succeeded before the end of the century by John de Rane, (fn. 233) who may be identical with the John holding in 1236. (fn. 234) The name of Walter de Rane occurs in 1273 (fn. 235) and again in 1284, (fn. 236) and in 1293 he settled lands in Amersham on his sons John and Walter. (fn. 237) Walter the son was evidently in possession in 1308 (fn. 238) and was alive in 1335. (fn. 239) Another Walter de Rane is mentioned in 1372, (fn. 240) and he had a daughter and heir Alice, who married Thomas Grove. (fn. 241) It was doubtless on account of this connexion that the latter had obtained in 1332 the custody for ten years of 12 of the 26 acres of this fee which had been held by Simon Bereford. (fn. 242) Thomas Grove died leaving a daughter and heir Agnes, who carried this estate in marriage to William Brudenell of Aynho, Northants, by whom she had three sons, William, Edmund and Henry, (fn. 243) of whom Edmund obtained Ranes Manor. He died without issue male, and by his will dated 21 June 1425 left Ranes to Edmund son and heir of his brother William (fn. 244) Brudenell, who entered into possession in the following year. (fn. 245) It henceforward followed the descent of the Brudenells' manor in Chalfont St. Peter (fn. 246) (q.v.) until 1508, when it was alienated by Edmund Brudenell to his uncle Robert Brudenell, justice of the King's Bench. (fn. 247) He made a settlement of the manor in 1521 on the occasion of his son Thomas's marriage with Elizabeth daughter of Sir William Fitz William and died in 1531, when Thomas succeeded him. (fn. 248) The latter died in 1549, leaving a son and heir Edmund, (fn. 249) who in 1583 made a settlement of Ranes, (fn. 250) and in 1585 granted it to his brother Thomas, (fn. 251) who entered into possession on the death of Edmund in that year. (fn. 252) On Thomas's death in 1587 Edmund's daughter and heir Audrey, then aged seven, came into the property. (fn. 253) She married Sir Basil Brooke and in 1608 obtained a renunciation of their claims from Thomas Brudenell, a relative, and Mary his wife. (fn. 254) In 1610 the Brookes alienated Ranes to Sir Richard Spencer, (fn. 255) by whom it was conveyed in 1619 to Peter afterwards Sir Peter Proby. (fn. 256) He died in 1635, and his son and heir Sir Heneage, (fn. 257) who was sheriff in 1632, (fn. 258) died on 10 February 1662–3. (fn. 259) By his will he bequeathed to his wife the use of the house and household stuff at Ranes and the coach and four horses. (fn. 260) His eldest son Thomas, created a baronet in 1662, (fn. 261) member for Amersham during the Long Parliament, (fn. 262) died without male issue in 1689, (fn. 263) as did his brothers John and Heneage, (fn. 264) and Ranes passed to William Proby, Sheriff of Bucks. in 1719, (fn. 265) who was the son of Charles, a younger brother of Sir Heneage. (fn. 266) In 1735 William Proby and his son and heir John sold Ranes Manor for £8,000 to John Duke of Bedford, (fn. 267) lord of Chenies (q.v.), with which it descended until the end of the 18th century, when it was purchased of the fifth duke by Lord George Cavendish, (fn. 268) created Earl of Burlington in 1831. On his death in 1834 it passed to his fourth son Charles Compton Cavendish, (fn. 269) created a baron under the title of Lord Chesham in 1858, (fn. 270) and is now in the possession of the fourth Lord Chesham.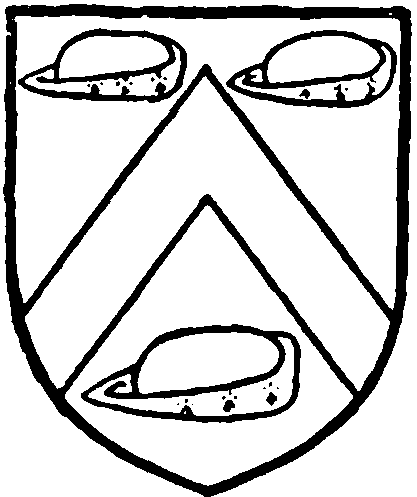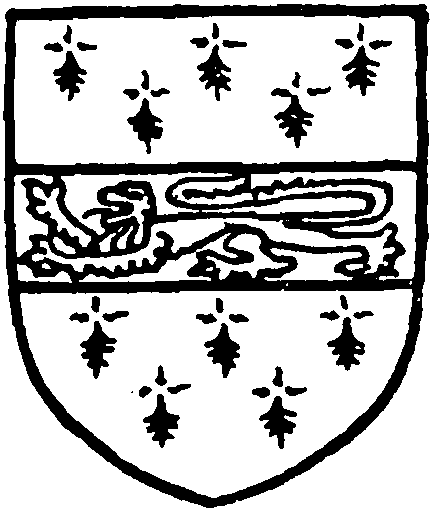 The hamlet of STOKE, now known as COLESHILL, which was part of Hertfordshire until the 19th century, has been confused with Stocks in Aldbury, Hertfordshire. (fn. 271) The Mandevilles, lords of Amersham Manor, also held Stoke in Amersham, and William de Mandeville is the first mentioned in this connexion in 1176–7. (fn. 272) Their position in Stoke is not very clear. They appear to have subinfeudated Stoke at first, and later to have recovered an ownership in fee over certain portions which they held as a manor in chief, the remainder of the place being held of them as another manor. The portion which they acquired in fee appears to be identical with a messuage, a carucate and 30 acres of land which a certain Thomas de Brayford subinfeudated in 1273 to Master Henry Sampson, already a tenant of the earl in Stoke. (fn. 273) Manorial rights over this had evidently been acquired by the Mandevilles before 1286–7, in which year Humphrey de Bohun, the eighth Earl of Essex, made a new warren at Stoke (fn. 274); and further proof is afforded by the inquisition on Joan Countess of Hereford in 1419, when lands called Braynfords, with Stokebury Wood, were numbered among her possessions. (fn. 275) Under the name of STOKEBURY MANOR alias BRAYNFORD, in Hertfordshire, it was held at farm with Amersham in 1472 by William Saunders, (fn. 276) and is mentioned in the early 16th century. (fn. 277) It may be identical with the manor-house called the Bury and Bury Farm bought by Sir William Drake before 1690, and wherein Sir Thomas Saunders had formerly lived (fn. 278); and its name probably survives in Bury End, Amersham, and in Brentford Farm and Wood near Coleshill.
Overlordship rights over the rest of Stoke were claimed in 1277–8 by the Earl of Essex, who made the men of Stoke come to his view of frankpledge at Amersham, (fn. 279) and who in 1281 distrained beasts there by judgement of his manor court of Amersham. (fn. 280) His right as overlord was recognized in 1283–4, (fn. 281) and in 1531 it was vested in Sir John Russell, lord of Amersham Manor. (fn. 282)
Holding under the Mandevilles in 1211–12 was Geoffrey de Quarrendon, (fn. 283) and his successor Ralf occupied the position of mesne lord as to 1 carucate of land in 1270 (fn. 284) and in 1281. (fn. 285) Other mesne rights were exercised over a small piece of land in 1270 by Katharine daughter of Arnold de Berkeley, (fn. 286) who may be identical with Katharine wife of Walter de la Mare, who received a recognition of these claims in 1273. (fn. 287)
The mesne tenant of these holdings was the Stoke family, of whom Henry and Sampson his son are mentioned in the early years of the 13th century. (fn. 288) John de la Stoke died seised of them in 1270, his heir being unnamed. (fn. 289) His successor, however, was Master Henry Sampson, in possession in 1273. (fn. 290) He was in debt in 1278, (fn. 291) and was accused in 1281 of having assaulted the men sent from Amersham Manor to distrain his beasts, which he rescued. (fn. 292) In the same year the reversionary interest in his land appears to have been obtained by Walter Agmondesham or Amersham, (fn. 293) who in 1283–4 submitted to his overlord, the Earl of Essex. (fn. 294) This portion of Stoke, assessed at a messuage and a carucate, (fn. 295) passed through the Agmondesham family with Tomlyns Manor (q.v.), but was alienated to the Brudenells before 1469, in which year Edmund Brudenell died seised of it, then called COLESHILL MANOR. (fn. 296) As the manor of Coleshill alias STOKEFEE or PLACE alias OLD STOKE it descended in the Brudenells with Ranes Manor (fn. 297) (q.v.) until the early 17th century. In 1616 it was alienated by Sir Basil Brooke and his wife Audrey to George Coleshill, (fn. 298) and in 1665 was in the possession of Henry Child. (fn. 299) He retained it until 1684, (fn. 300) when he conveyed it for £200 to Edmund Waller, junior. (fn. 301) It was afterwards acquired by the executors of Mrs. Elizabeth Bent, who by her will proved 9 June 1730 left £700 to be laid out in lands, the income of which was to be paid to the rector of the parish for ever on condition of his preaching four annual sermons at stated times. She left the income of another £100 to be divided among six poor godly widows. (fn. 302) Coleshill was purchased for both benefactions, and the manorial rights, comprising courts leet and baron, have since been exercised by the rector for the time being, (fn. 303) wherefore it has acquired the name of the Rectory Manor. (fn. 304)
TOMLYNS MANOR
TOMLYNS MANOR in Amersham, held in the 16th century of the Duke of Buckingham, (fn. 305) appears to have been composed of lands held in the 14th century partly of the Crown by a petty serjeanty of 6s. 8d. (fn. 306) and partly of the Earl of Essex and Hereford, the Despensers and the Abbot of Missenden. (fn. 307) It was for nearly 300 years in the Agmondesham family. (fn. 308) Walter Agmondesham, king's clerk, received in 1279 from Walter Mansel a grant of lands in Amersham out of the serjeanty held by Henry III in Little Missenden. (fn. 309) Walter Agmondesham was granted free warren here in 1281 (fn. 310) and acquired additional land in Amersham in 1286. (fn. 311) His son Adam (fn. 312) is mentioned in 1296 as holding Tokevill Manor, (fn. 313) which may be identical with Tomlyns. In 1302, however, Walter Agmondesham granted the reversion of three messuages, a carucate and other lands in Amersham, then held by Sara atte Ash (de Fraxino) for life, to his son and heir Thomas Woburn, (fn. 314) to hold of Walter and his heirs for £10 per annum, (fn. 315) reversion on failure of Thomas's issue to Adam Woburn or Agmondesham, another son. (fn. 316) Thomas Woburn, (fn. 317) or, as he became known, Thomas Agmondesham, was pardoned in 1317 for having acquired this estate without licence. (fn. 318) At his death, some time about 1336, (fn. 319) he was succeeded by his son and heir Thomas, (fn. 320) a younger son John, (fn. 321) whose name occurs in 1346, (fn. 322) being returned as member for Buckingham county in 1357. (fn. 323) Thomas Agmondesham, the son, died in 1351, leaving a son Thomas, then ten years old, (fn. 324) who at once received his lands, (fn. 325) which he held until his death in 1385. (fn. 326) His daughter and heir Joan (fn. 327) left a daughter and heir Alice, (fn. 328) the wife of John Dalton, (fn. 329) upon whose death without issue shortly before 1430 the trustees handed over the estate to Ralph Agmondesham, son of Ralph son of the John Agmondesham who was M.P. in 1357, (fn. 330) Ralph's brother Philip and the latter's son and heir Ralph having previously waived their claim. (fn. 331) Ralph Agmondesham held this land until his death in 1459. (fn. 332) He left a widow Milicent, but no children, and the Amersham property passed to his brother Philip, who with his wife Margaret is mentioned in Ralph's will. (fn. 333) Philip's second son William (fn. 334) appears to have held the estate, now first called Tomlyns Manor, for a short time, as in 1461 he successfully resisted the claim brought forward by Maud wife of Edward Dive, a distant relative (fn. 335); but the manor eventually reverted to Philip, the son of his elder brother Ralph, (fn. 336) as Philip died seised of the manor in 1490, (fn. 337) and his son and heir John obtained in 1499 a recognition of his right from his great-uncle William's sons William and Ralph, (fn. 338) and from John and Thomas, the two sons of the latter. (fn. 339) John Agmondesham died in 1509, when his son and heir John was fifteen. (fn. 340) His widow Emma, who had a life interest in Tomlyns, (fn. 341) married Sir William Herbert, (fn. 342) and survived her son John Agmondesham, on whose death in 1522 the reversionary interest vested in his son Edward, then aged seven. (fn. 343) As Edward Agmondesham died without issue, his heirs were his aunts Jane wife of Thomas Sandes, Mary wife of William Hussey and Denise (Dyones), who had married William Herbert, (fn. 344) probably a son of her mother Emma's second husband. Denise died before 1560, in which year her husband William Herbert and their son Matthew conveyed her share of Tomlyns to John Stydolf, (fn. 345) who died seised of it in 1576, leaving a son and heir Thomas. (fn. 346) The Sandes' interest in Tomlyns was held after Jane's death in 1557 by her husband Thomas Sandes until his death in 1579, (fn. 347) when it passed to their son Robert. (fn. 348) It was purchased from him in 1586 by Thomas Stydolf, (fn. 349) who thus held two parts of the manor. The remaining third was alienated by the Husseys (fn. 350) in 1571 to Sir John Goodwin, (fn. 351) who in 1586 settled it on his son and heir Francis. (fn. 352) He succeeded at his father's death in 1600 (fn. 353) and immediately leased it for fifteen years. (fn. 354) In the following year a dispute arose between the said Francis, then a knight, and Thomas Stydolf, the owner of the other two parts, as to their respective interests. Both put forward false claims, Goodwin to the Sandes' third as well as to the Husseys' and Stydolf to the whole of the manor as that portion of John Agmondesham's estates allotted about 1540 to the Herberts, alleging that the Sandes had received lands in Surrey and the Husseys the manor of Glory in Wooburn. (fn. 355) Sir Francis Goodwin still claimed the two parts in 1604, (fn. 356) but in the following year came to some arrangement with Sir Francis Stydolf, (fn. 357) son of the above Thomas, who had died in 1603. (fn. 358) By this arrangement Tomlyns Manor became the sole property of Stydolf, whose son Richard conveyed his right in it to Sir William Drake, bart., in 1657. (fn. 359) It henceforward descended with Shardeloes, but is not mentioned by name after 1694. (fn. 360)
Westminster Abbey obtained in 1065 or 1066 from Edward the Confessor a half-hide in Amersham and 1 hide in Wedon. (fn. 361) No reference has later been found to any rights claimed by the abbey in Amersham, and these 1½ hides may be identical with the 3 half-hides following.
A half-hide in Amersham was held by Alwin, a man of Queen Edith, with power of sale. It was among the Bishop of Bayeux's lands in 1086, of whom it was held by Roger. (fn. 362) The bishop's land passed, as in Weston Turville, (fn. 363) to the honour of Leicester and was held as a tenth of a fee in 1227 by Roger Galian. (fn. 364) His successor Adam Galian had quittance of common summons in Bucks. in 1286, (fn. 365) but there is no mention of this holding after a reference to Bartholomew Galian and his wife Joan in 1328. (fn. 366)
Another half-hide, formerly held by Alvric, a man of Godric the Sheriff, also with power of sale, was held as a manor in 1086 by Gozelin le Breton. (fn. 367) His lands afterwards passed to the honour of Gloucester, as in Cublington and Grove (q.v.), but no trace of Amersham has been found under that honour.
A third half-hide in Amersham held of King Edward the Confessor by his man Turchil, who could sell it, was in 1086 among Turstin Mantell's possessions. (fn. 368) It was probably amalgamated with the half-hide he held in Little Missenden to form Mantell's Manor (fn. 369) (q.v.). The two parishes are adjacent, and part of Amersham lying near the boundary is still known as Mantles Green.
An estate in Amersham was acquired by Missenden Abbey, which held lands at Katestrop here as early as 1159. (fn. 370) Among donors of land occur the names of the Wedons, who conveyed half a virgate to the abbey, (fn. 371) of the Stokes, who gave a house in Amersham market-place, (fn. 372) and of William de Mandeville Earl of Essex, who bestowed 20s. rent, (fn. 373) included amongst the possessions of the abbey in 1291. (fn. 374) Another benefactor, Walter Agmondesham, secured for the abbey a grant of free warren in 1302. (fn. 375) In 1333 the abbot recovered a tenement in Stoke of which he had been unjustly disseised. (fn. 376) The abbey's property here amounted in 1535 to 79s. 2d. in rent and farms. (fn. 377)
Three mills stood in Amersham in 1086, one on the land of Hugh de Bolbec, worth 5s., (fn. 378) and the two others, worth 4s. each, on the lands of the Bishop of Bayeux and Gozelin le Breton. (fn. 379) Ralf de Wedon, who later held the Bolbec lands, gave a mill called Brigthriches to Missenden Abbey, (fn. 380) and the Bayeux mill appears to have been later obtained by Robert Cheyne of Chesham Bois, who died in 1552 seised of a water-mill in Amersham worth £20 held of the honour of Leicester. (fn. 381) Three water-mills were attached to Amersham Manor during the 14th and 15th centuries (fn. 382) and were described in 1419 as corn-mills let at 100s. (fn. 383) Two are specified in 1504 as the Bury and Malt Mills. (fn. 384) The Drakes afterwards held two of these water-mills, (fn. 385) and three are mentioned in 1804. (fn. 386) They own two at the present day and the third belongs to Mr. G. Weller. Another water-mill was part of Tomlyns Manor in 1303, (fn. 387) and was held in 1351 by John le Barde. (fn. 388) No reference to it has been found after 1430. (fn. 389)
CHURCHES
The church of ST. MARY consists of a chancel 40 ft. 6 in. by 16 ft. 6 in., Drake chapel 45 ft. 6 in. by 21 ft. 6 in. at the east and 16 ft. at the west end, Raans chapel 19 ft. by 17 ft. 6 in., both on the north, north vestries, south organ chamber, nave 74 ft. 6 in. by 16 ft. 6 in., north transept 21 ft. 6 in. by 16 ft. 6 in., south transept 21 ft. by 16 ft. 6 in., north aisle 10 ft. 6 in. wide, south aisle 10 ft. 6 in. wide, south porch, and west tower 13 ft. 6 in. by 13 ft. All these dimensions are internal. The church is built of flint with stone dressings, some large stones being also used in the walling of the tower, and the roofs are covered with lead and slate.
The church dates from the 13th century, and probably consisted then of a chancel, nave, and north transept. The only surviving details of this church are a lancet in the east wall of the north transept, possibly the chancel arch, and lower parts of the north transept arch. In the 14th century the chancel and nave were lengthened and the south transept and the nave aisles added. The tower and porch were built late in the 15th century, when a chapel, then probably known as St. Catherine's, but now called the Raans chapel, was added on the north-west of the chancel. A clearstory was also added to the nave at this period, and both the transept arches were stilted, probably that the rood-loft might be continued through them. Early in the 18th century a mortuary chapel for the Drake family, with a vestry on the north side of it, was built on the north-east of the chancel, access to the chancel from the vestry being obtained through a passage railed off to the west of the chapel. About a century later this mortuary chapel was lengthened, and now extends considerably beyond the east wall of the chancel. The whole fabric has been much restored. In 1908 the Raans chapel, which had been used as a mortuary chapel for the town, was restored to its original purpose, and its north wall, which blocked a 13th-century lancet in the transept, was rebuilt further north.
The chancel is lighted by a large modern traceried window on the east and three windows on the south, almost entirely renewed. An early 18th-century round-headed doorway on the north admits to the Drake chapel, and further west is a late 15th-century depressed arch to the Raans chapel. The cinquefoiled piscina with moulded jambs, originally in the chancel, but now reset in the east wall of the modern organ chamber, dates from the 14th century, and retains its original round bowl and credence shelf. The pointed chancel arch, which is of two plain chamfered orders, was heightened in 1870, and its responds and capitals are modern.
The Drake chapel is lighted by a large modern window on the east, and has a flat plastered ceiling. Being built over a vault, its floor is considerably higher than that of the chancel, from which it is reached by a flight of steps. The iron railing screening off the passage on the west is original. The Raans chapel has a late 15th-century arch to the transept similar to that opening into the chancel, and in its east wall is a recess which is probably a blocked window.
In the east wall of the north transept, and now looking into the Raans chapel, is a repaired 13th-century lancet window. In the north wall is a large traceried window of three lights, entirely modern except the 14th-century moulded jambs, and on the west is a two-light 14th-century window, renewed externally. The south transept is lighted by a large modern window on the south and a long trefoiled light of the 14th century on the west. Below the south window with a low moulded arch is a tomb recess 7 ft. 10 in. long, containing a coffin slab with a carved cross having two blank shields at the foot. This tomb dates from the 14th century, and is probably that of the builder of the extensive additions to the church then carried out.
The stilted arches from the nave to the transepts have 15th-century depressed heads and modern responds and capitals. They had been underbuilt at some period, and were re-opened in 1870. West of them, on each side of the nave, is an arcade of four pointed bays rebuilt in 1870. The pointed tower arch is of late 15th-century date. The clearstory is lighted on each side by five restored square-headed windows of two lights.
The windows of both aisles are modern externally, but some of them retain their original inner jambs. The nave has a moulded, low-pitched roof of the 15th century, with traceried trusses supported on stone corbels, carved as angels, heads and grotesques.
The tower, which is of three stages with an embattled parapet, was restored in 1888, when most of the external stonework was renewed. The stair turret projecting on the south-east was originally entered by a doorway in the west wall of the south aisle, but this has been blocked and it is now entered from the tower. In the south wall is an oblique arched opening from the turret stairway, the head of which has been much rubbed by a bell rope. It probably led to a gallery some 8 ft. above the present floor level, but before that it was evidently used for ringing a bell.
The porch, now much restored, appears to have been designed to have an upper story, as it has a fine stone vault, and in the south wall of the south aisle is a blocked doorway, intended as the entrance to a stairway. The vault is quadripartite with moulded diagonal and intermediate ribs springing from shafts at the corners and rising to carved bosses at their intersections with the ridge ribs.
The font dates from the restoration of 1870. On the north wall of the chancel is a brass with inscription and figures to Henry Brudenell, who died in 1430, and Eleanor (Preston) his wife, who wears the early form of the horned head-dress; and on the south wall is a brass with the kneeling figure of a child to John Drake, who died in 1623, aged four years. There are three brasses on the walls of the north aisle, one to Thomas Carbonell (d. 1439) and Elizabeth his wife (d. 1438), another to John de la Penne (d. 1537) and Elizabeth daughter of Peter Hally, his wife (d. 1521), and the third the figure of a civilian of about 1430 with the head missing. There is also a brass inscription in the south transept to Richard Champeneys, draper (d. 1439). On the north of the chancel there is a large marble monument to Sir William Drake, who died without issue in 1669. He was the eldest son of Francis Drake of Esher, Surrey, and Joan eldest daughter and co-heir of William Tothill of Shardeloes. The upper part of the monument has a recess containing the halflength figure of Sir William, who is represented in a shroud with one hand raised in adjuration, flanked by Corinthian columns which support an entablature and broken pediment, with arms above. On the base of the monument are inscriptions to his mother Joan and grandfather William Tothill. Opposite this is a large monument with medallion portraits to Mountague Drake (d. 1698) and Jane his wife (d. 1724), daughter of Sir John Garrard of Lamers, in Wheathampstead, Hertfordshire. Mountague was the son of Sir William Drake (who was a nephew of the above baronet and succeeded to his estates) and Elizabeth daughter of Sir William Mountague, Lord Chief Baron of the Court of Exchequer. In the chancel there are also monuments to Francis, William, Elizabeth, Charles, and Dorothy, children of Sir William Drake and Elizabeth (Mountague) his wife; Henry Curwen, only son of Sir Patrick Curwen of Workington, Cumberland (d. 1636); and Elizabeth Bent (d. 1730) and George her son (d. 1714); some benefactions of Elizabeth Bent are recorded on a tablet near her monument. In the Drake chapel are several 18th-century monuments to members of the Drake family, including an elaborate monument to Mountague Garrard Drake (d. 1728) and another to Elizabeth (Raworth) wife of William Drake (d. 1757), and on the west wall is a tablet to Joan (Tothill) wife of Francis Drake of Esher, Surrey (d. 1625). There are also mural monuments in the vestry to Benjamin Robertshaw (d. 1743) and Dr. Thomas Drake (d. 1775), both rectors of the parish; to Charles Ecles of London (d. 1727) in the north transept, and to Philip Ayres (d. 1712) in the south aisle. On the floor of the Raans chapel is a slab to Sir Heneage Proby, lord of the manor of Raans (d. 1662), and Helen (Allen) his wife (d. 1678). In the vestries are an iron-bound chest, probably of the late 16th century, and a panelled chest of the 17th century. On the floor of the tower are several late 14th-century tiles in various patterns, and in the Drake chapel are some fragments of mediaeval carved stonework.
There is a ring of six bells: the treble is by Pack & Chapman, 1771; the second, from which the inscription has been cut, is by R. Phelps; the third, given by Thomas Tyrwhitt-Drake, is by Thomas Mears, 1818; the fourth, presented by William Drake of Shardeloes, is by Lester & Pack, 1754; the fifth, by Pack & Chapman, 1776, and the tenor is by Robert Catlin, 1745, and bears the inscription 'Unto the church I doe you call. Death to the grave will sumons all.'
The plate consists of two chalices and cover patens of 1777, a standing paten of 1718, and another paten, not hall-marked, but dated 1718, and a flagon of 1717.
The register dates from 1561.
The church of ALL SAINTS, Coleshill, is built of flint and brick in the Gothic style from the designs of G. E. Street, and consists of chancel, nave, south porch and small tower containing one bell.
ADVOWSON
Amersham Church was bestowed by Geoffrey de Mandeville, first Earl of Essex, upon Walden Abbey (Essex) in his foundation charter c. 1140, (fn. 390) and the grant was confirmed by Henry II (fn. 391) among others. The advowson was afterwards alienated for life to Geoffrey Fitz Piers, the fourth earl, and his son Geoffrey, (fn. 392) and was finally reserved in 1283 by Humphrey de Bohun, the eighth earl, to himself and his heirs. (fn. 393) The eleventh earl obtained licence in 1348 to alienate the church to Brecknock Priory, (fn. 394) but the transaction did not take place, and the advowson descended with the manor (q.v.) and was granted to the Earl of Bedford and his heirs in 1550. (fn. 395) It was still in the possession of the Earls of Bedford in 1616, (fn. 396) but by the following year it was the right of Henry Lord Herbert and Anne his wife, (fn. 397) the daughter and co-heir of John son and heir-apparent of the second Earl of Bedford, (fn. 398) and does not appear to have been re-united to the manor until the Minshulls alienated it in 1662 to Sir William Drake, bart. (fn. 399) Since then it has descended in the Drake family with Amersham Manor (fn. 400) (q.v.).
A pension of 5 marks in Amersham Church (fn. 401) was confirmed to Walden Abbey in 1283, (fn. 402) and is mentioned in 1291 as deducted from the value of the church, then £40. (fn. 403) In 1358 seven years' arrears were owing, (fn. 404) and the abbot appears to have had further trouble over payment in 1423. (fn. 405) No claim to this pension appears to have been made in 1535, when the church was assessed at £48. (fn. 406)
Hurley Priory, which had been founded by Geoffrey de Mandeville, the grandfather of the first Earl of Essex, (fn. 407) claimed in 1222 one-third of the tithes of the demesnes of Lord William de Mandeville, (fn. 408) and a pension rated at £2 in 1291. (fn. 409)
There was a chapel at Coleshill which had been demolished towards the end of the 18th century. (fn. 410) The chapelry was annexed to Amersham and is now served by All Saints, a chapel of ease to the mother church.
Towards the end of the 12th century Richard de Wedon received licence to build afresh a chapel in his court at Amersham, where a chaplain might celebrate divine service all the year except at Christmas and certain other feast days, when Richard was to attend the mother church. (fn. 411)
In 1296 Master Adam Agmondesham was allowed an oratory in his manor of Tokevill (? Tomlyns) in Amersham. (fn. 412)
A chapel was attached to Shardeloes as being remote from the parish church, and in 1668 leave of absence was granted to a Fellow of St. John's, Oxford, in order that he might officiate as chaplain to Sir William Drake, bart. (fn. 413)
A chantry within Amersham Church was valued at £6 in 1535. (fn. 414) Lands given for sundry uses were worth £4 2s. 8d., and a quit-rent for a lamp was 2s. (fn. 415)
CHARITIES
For the Grammar School and Lord Cheyne's Writing School see article on Schools. (fn. 416)
The United Pension Charities are regulated by a scheme of the Charity Commissioners, 15 November 1898. They comprise the charities of Agnes and John Bennett, founded by deed poll 21 April 1604; John Cheyne, deed 21 November 1577; John Child, deed 24 September 1621; Andrew Hall, founded by will, proved in the P.C.C., 5 February 1697.
The endowments consist of £652 16s. 4d. India 3 per cent. stock, producing £19 11s. 8d. per annum, and a yearly sum of £2, part of a rentcharge of £5 issuing out of a farm at Chesham.
By the scheme the income is applicable in pensions to three persons who from age or ill-health are unable to maintain themselves and resident for at least five years in Amersham or in the hamlet of Coleshill.
The following charities are also administered by the trustees of the United Pension Charities, namely, the charities of
Robert Chaloner, D.D., rector, founded by will, 20 June 1620, trust fund, £420 consols, income £10 10s. a year.
Ann Elizabeth Lawrence, by will, proved at London, 15 January 1886, trust fund, £98 17s. 8d. consols, income £2 9s. 4d. a year.
By a scheme of the Charity Commissioners, 16 June 1908, a portion of the income of Dr. Chaloner's charity is made applicable in augmentation of the stipends of the pensioners appointed under the scheme of 15 November 1898, and the income of Ann Elizabeth Lawrence's charity towards providing a pension for a poor person of Amersham, who is a member of the Church of England.
The almshouses erected by Sir William Drake and endowed by his will, proved in the P.C.C. 8 September 1669, for six poor widows are endowed with 182 acres in Chalfont St. Giles, known as Barton's Farm, let at £120 per annum, a rent-charge of £11 issuing out of Stocking's Farm, Coleshill, and £805 2s. 4d. consols, producing £20 2s. 4d. a year, which includes a legacy of £300 bequeathed by William Drake the younger. Each of the inmates receives 7s. a week.
In 1627 William Tothill by his will, proved in the P.C.C. 9 June, gave £500 'for work for poor of Amersham in linen and his house there.' The charity is endowed with 47 a. 2 r. 25 p. at Hundridge let at £30 a year, house in High Street let for £21, and £719 18s. 7d. consols, arising chiefly from accumulations of income, producing yearly £28 14s. 11d. The income is applied in apprenticing.
In 1692 Nathaniel Snell by his will, proved in the P.C.C. 16 April, charged his lands and tenements in Amersham and Chalfont St. Giles with £5 yearly for putting out poor boys or girls apprentices, which is duly effected.
Charity of Edmund Waller, founded by will, 1699, see under Beaconsfield. The moiety of the net income, £3 a year, or thereabouts, is under the scheme of 15 November 1898 above referred to administered by the trustees of the United Pension Societies.
The charity of Mrs. Elizabeth Bent, founded by will dated 25 June 1728, is endowed with a farm and cottages known as Stock Place, containing 28 acres, of the annual rental value of £42 15s., 1 a. 1 r. 8 p. of woodland at Coleshill, and manor of Coleshill with rents, services, &c., producing £1 11s. yearly. The official trustees also hold a sum of £1,173 2s. 1d. consols, which is about to be sold for providing a residence for a curate, subject to replacement.
The charity is regulated by a scheme of the Charity Commissioners, 23 March 1910, whereby one-eighth part of the net yearly income is made applicable as a pension for a poor widow, being a member of the Church of England, and the residue is payable to the rector for preaching sermons on the first Thursday in January, April, July and October, and administering the sacraments upon the Sunday following the sermons.
In 1795 William Drake by his will, proved in the P.C.C. 22 August 1796, gave £400, one moiety of the income to be applied towards the expenses of the Sunday school and the other moiety in the distribution of wood to the poor. The trust fund consists of £709 10s. 8d. consols, producing £17 14s. 8d. a year. The moiety for the poor is distributed in coal.
Lord Wharton's charity.
The poor children of this parish (among others) are entitled to receive Bibles and other religious books provided originally out of the rents of certain properties in Yorkshire settled in 1692 by Philip Lord Wharton, but now from stock held by the official trustees.
The almshouses, founded by Miss Day, by deed 27 November 1875, consist of six freehold cottages in an alley at the rear of the post office, accommodating six poor widows. The trust estate consists of the post office in the High Street, the ground rent of £5 4s. issuing from the Red Lion public-house, a cottage, 5 a. and 1 r. of land at Swan Bottom, Wendover, of the aggregate letting value of £100 a year or thereabouts; also £100 4 per cent. debenture stock of Style & Winch, Ltd., £2,330 7s. 3d. Middlesex County 3 per cent. stock, £177 10s. 8d. consols, and £500 consols, producing £90 yearly, of which £12 10s. a year is applicable in providing fuel for the inmates, who receive 7s. a week. A sum of £332 9s. 4d. consols was sold in 1905 to provide funds for the repair of the post office, which is in course of being replaced.
Nonconformist charities.
In 1878 Miss Ann Climpson, by her will, proved at London, 26 January, bequeathed £270, the income to be applied in promoting divine service at the Lower Baptist Chapel.
In 1886 Miss Sarah Climpson, by her will, proved at London, 25 September, bequeathed £250 for the same object.
These legacies are represented by £466 4s. 5d. consols, producing £11 13s. a year, which is applied towards the general purposes of the chapel.
The several sums of stock belonging to these charities are held by the official trustees.