Pages 155-165
A History of the County of Buckingham: Volume 3. Originally published by Victoria County History, London, 1925.
This free content was digitised by double rekeying. All rights reserved.
BEACONSFIELD
Bekenesfeld (xii–xvi cent.).
The parish of Beaconsfield covers an area of 4,504 acres, of which 1,994 are arable land, 1,294 are laid down in permanent grass, and 995 included under woods and plantations, chiefly beech trees. (fn. 1) The soil is gravelly loam with a subsoil of chalk. The ground rises from 241 ft. above ordnance datum in the south to 378 ft. about the centre of the parish, from where it drops slightly to the north.
The picturesque town of Beaconsfield was said in 1769 to be 'only famous for being the residence of the poet Waller.' (fn. 2) It is now rapidly increasing in population and is governed by an urban district council under the Local Government Act of 1894. (fn. 3) It lies slightly south of the station on the main line of the Great Western and Great Central joint railway. The town stands at the crossing of the roads from London to High Wycombe and Oxford, and from Windsor to Aylesbury. The roads as they pass through the town widen out considerably; the more important of them running east and west forms the main street, the eastern extremity of which is called London End and the western Wycombe End, while the road going north and south is to the north of the crossing called Aylesbury End and to the south Windsor End. No doubt the market originally extended into all these streets, but the so-called market-place, though there is no longer a market, is now restricted to Aylesbury End. It is interesting to note that nearly all the old houses in the town are of the early part of the 17th century, which probably indicates a period of prosperity at that time. The church stands in the south-western angle of the crossing. In the churchyard under a fine walnut tree is the tomb of Edmund Waller the poet. It was in this churchyard that Hampden held a muster in 1634, and on being presented at the metropolitan visitation promised to amend his ways. (fn. 4) Within the church is a tablet to the statesman Edmund Burke. He lived at Gregory's, which he renamed Butler's Court, on the north side of the town and considerably enlarged the house, an early 18th-century rectangular building of two stories with an open parapet and pedimented front. It was burnt down in 1813, but Gregory's Farm House was left standing. Sheahan, who wrote about 1860, says that the park, girt with a belt of trees, was entered by a small half-ruined gateway, leading up a turf-grown carriage drive to a few grass-grown mounds which marked the site of the house. (fn. 5) Since his time houses have covered part of the grounds, and the modern Butler's Court, lately the residence of Field-Marshal Lord Grenfell, has been sold to Mr. Reckett. The former rectory-house, which overlooks the churchyard, is a fine old timbered building dating from the early 16th century. It forms three sides of a courtyard and contains a wainscoted room and staircase of oak. On two of the chimney-pieces and over a small gateway in the outer high brick wall are the arms of Burnham Abbey, which held Beaconsfield Manor, and this was probably their capital messuage. In 1901 it was repaired by Lord Burnham and is now used for parochial purposes.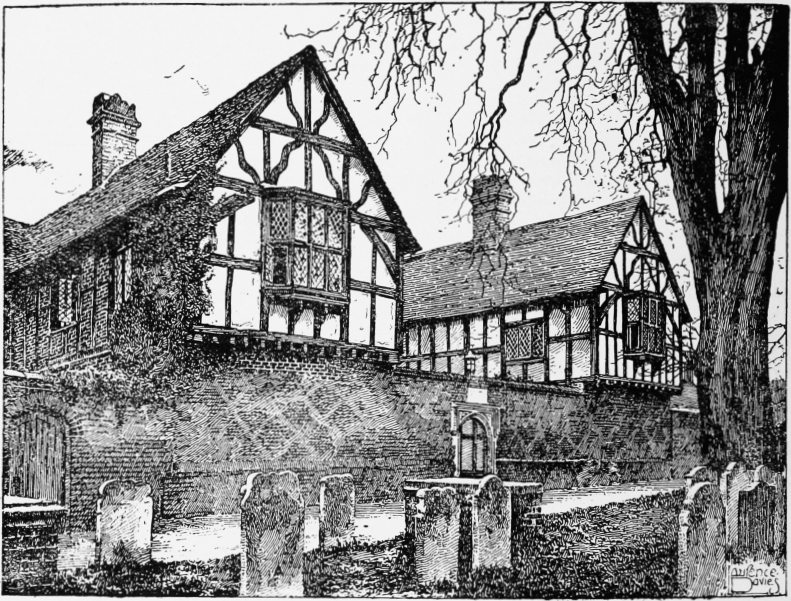 The present rectory, which lies to the north of the old one, is an 18th-century building, but contains much 17th-century panelling, and the stables belonging to it are of the 16th century. Opposite to the rectory is the George Inn, a timber and brick house of about 1600, now refronted in brick with a large gateway from the street into the yard. Inside are the original oak staircase and a fireplace with chimney corners in the kitchen. There are several other houses and cottages of about the same date in Wycombe End and Aylesbury End. At the corner of Market Place and Shepherd's Lane is the White Hart Inn, built of timber and brick at about the same date. Essex House, on the north side of London End, is a 16th-century building of brick and timber and brick, once probably an inn. Further east is another 16th-century house much altered and now divided into three tenements, but formerly an inn, and opposite to it is the Old Swan Inn, a late 16th-century house. Along the south side of London End are 17th-century houses and cottages; among them Burke House and Burke Lodge together, formerly forming an inn, were built in the latter part of the 16th century and altered later. At the corner of London End and Windsor End is the 'Royal Saracen's Head,' (fn. 6) a 17th-century house, opposite to which lived Robert Waller, who died in 1545; he owned the 'Bull,' formerly the George Inn. (fn. 7) In Windsor End are the Greyhound Inn, a 17th-century half-timber house with a gateway to the yard behind, and opposite a house and group of cottages of about the same date.
Hall Barn, south of the town, is now the residence of Lord Burnham, K.C.V.O. The house was apparently built about 1675, but much altered and added to in the 19th century. It is surrounded by magnificent grounds, which extend to the southern boundary of the parish, and contain the 'Grove,' in which are placed statues and an obelisk. Access to the park is obtained through gates guarded by a lodge, which is covered with early 17th-century oak carving said to have been brought from Italy by Sir Gore Ouseley. In the south of the parish are several farms: Over's, Woodlands, Hyde, Sealey's and Hulmott's. The last is mentioned in 1579. (fn. 8) and again in a sale of 1706 which included Gode's Farm. (fn. 9)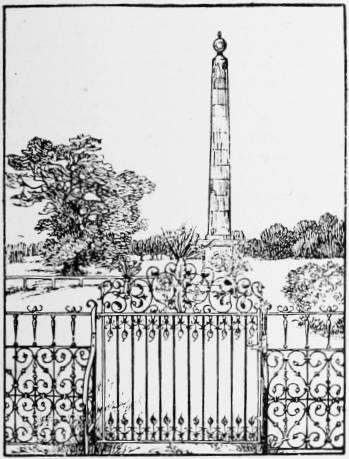 Hyde Farm is a 17th-century house which has been considerably altered in later years, and Sealey's Farm, to the north of the latter, dates from the 16th century, but was altered in the 17th century and recently. It contains a good deal of original detail, including several panelled rooms.
Just over the boundary in Burnham are Penland's Woods and Farm, which doubtless mark the site of Penland Manor. Another farm in the south is Holloway's; entries relating to a family of that name occur in deeds from the late 13th century onwards, (fn. 10) and the farm was the possession of Robert Waller in 1616. (fn. 11)
A large estate lying to the north-east of the town is Wilton Park, of about 400 acres. The house is an early Georgian building said to have been restored at a later period by Adam, and consists of two stories and attics with basement. The entrance front is embellished by flat pilasters rising to the height of both stories, above which is a deep moulded cornice. All the rooms are lofty, the entrance hall being a large square space, the ceiling of which is supported on columns, and the library, reached through a room to the left of the hall, extends the full width of the house. The old stables adjoining the house form a long line of picturesque brick buildings of two stories with a tiled roof, and have a wide central archway, over which is a small square clock tower. In the park is a tumulus known as 'The Mount.'
Widgenton House, the residence of Mr. R. H. Rolfe, opposite Butler's Court, has been the property of his family for many years and is mentioned in 1702 as Waddenton House. (fn. 12)
There is a Congregational chapel built in 1880 and a Wesleyan Reformed chapel built in 1900.
Among place-names in Beaconsfield occur Walter's land, in the 15th century, (fn. 13) and Garston's Oak, which derived its name from a family residing here from the 14th to the 16th century. (fn. 14) In the 16th century occur Cosinsfield, Veers, Burgeses, (fn. 15) Mogan Woods, Hobby Hill, Bannocks, Castle le more and Castle le less, (fn. 16) Nan or Naven Castle (fn. 17); in the 16th and 17th Laun Castle (fn. 18) and in the 17th Parva Brimsden. (fn. 19)
MANORS
Beaconsfield is not mentioned in the Domesday Survey, but was probably included in Burnham, of which it was afterwards called a member, (fn. 20) and as such held by Walter Fitz Otho in 1086. (fn. 21) The pedigree of the Windsors, his descendants, has been worked out under Eton (q.v.). Walter de Windsor about the end of the 12th century enfeoffed Robert de Burnham of 8 virgates in Beaconsfield (fn. 22) and his son-in-law Ralph de Hodeng confirmed the enfeoffment, (fn. 23) not-withstanding a grant of Beaconsfield in 1200 to Godfrey Maudit by Constance daughter of Walter son of William, (fn. 24) and doubtless the wife of Ralph de Hodeng. The Missenden Abbey chartulary records a grant of all these lands by Robert de Burnham, (fn. 25) but later history does not confirm this statement, and in 1205 Robert de Burnham granted the 8 virgates to Hugh son of Robert, retaining them for life at the rent of a sparrow-hawk or 2s. (fn. 26) The Hodengs appear to have renounced their claims in this estate to the Lascelles, for BEACONSFIELD MANOR must have passed with the latter's portion of Burnham to Richard Earl of Cornwall, and as a member of that more important manor have been comprised in the grant made by him in 1266 to Burnham Abbey. (fn. 27) It descended with Burnham Manor until 1545, when it was granted in fee to Robert Browne, (fn. 28) goldsmith. It was alienated by him in the following year to Sir John Williams, (fn. 29) lord of Hall Barn Manor (q.v.), with which it has since descended.
A market at Beaconsfield on Tuesday was granted in 1255 to Richard Earl of Cornwall, (fn. 30) and in 1551 Sir John Williams received a grant of a Wednesday market. (fn. 31) It continued to be held until about the middle of the 19th century, when it fell into disuse owing to the neighbouring markets of Wycombe and Uxbridge. (fn. 32) The right to hold a fair on the vigil, feast and six days following the Ascension was bestowed in 1269 on Burnham Abbey, (fn. 33) and a fresh grant of the same was made in 1414 on the ground that royal licence had never before been obtained. (fn. 34) In 1551 Sir John Williams was given the right to hold a fair on the vigil, day and morrow of the Purification. (fn. 35) By the end of the 18th century these two grants were represented by fairs on Holy Thursday and 13 February, (fn. 36) which are held at the present day, though about 1870 the former was fixed on 10 May.
Part of the Windsors' lands in Beaconsfield became known as HALL alias HALLAND MANOR or HALL BARN in the 16th century. It was held in the 15th century of Burnham Abbey (fn. 37) and in the 16th of George Rotherham as of his manor of Cold Norton. (fn. 38)
The first under-tenant mentioned is John son of Ralph Loveday of Hedsor, who in 1331 settled lands in Beaconsfield on himself and wife Margaret. (fn. 39) It was probably their son John Loveday who in 1358 granted the reversion of Hall Manor to Sir Hugh Berwick and Isabella his wife, it then being held as to two parts by Richard Gregory, jun., and the remaining third by Nichola wife of Gilbert Wace. (fn. 40) John Loveday's widow Cecilia put forward a claim against Sir Hugh Berwick in 1362 for a messuage and a carucate of land, &c., as dower in Beaconsfield. (fn. 41) Sir Hugh died in 1403, (fn. 42) and in 1410 his son Thomas Berwick enfeoffed trustees of his lands in Beaconsfield. (fn. 43) A further settlement was made in July 1415, (fn. 44) but he died before the following March, when his sister and heir Margaret wife of Ralph Butler of Badminton, Gloucestershire, entered into possession. (fn. 45) The Court Rolls for this manor for 1420–3 still exist, and it appears to have been let at farm at a rent of £7 9s. 10d. (fn. 46) John Butler, probably the son of the above, is mentioned in connexion with lands called 'Hallemore' in 1443. (fn. 47) He was Sheriff for Bedfordshire and Buckinghamshire in 1465 and 1472 (fn. 48) and knight of the shire in 1467, (fn. 49) and on his death in 1477 was succeeded by John the son of his dead son William. (fn. 50) In 1503 a settlement was made by John Butler on the marriage of his son Ralph with Alice Baynam, and a further settlement was made in 1521 to the uses of his last will. (fn. 51) Ralph Butler having died, the Beaconsfield and other property was settled in 1524 on Ralph's son John on the occasion of his marriage with Silvester daughter of John Eyes. (fn. 52) John Butler, sen., died in the following January, and his grandson John inherited the possessions. (fn. 53) In 1545 he and his wife Silvester conveyed Hall Barn to Sir John Williams, afterwards Lord Williams of Thame. (fn. 54) He died in 1559, leaving two daughters and co-heirs, Isabel wife of Richard Wenman and Margaret wife of Sir Henry Norreys. (fn. 55) The latter quitclaimed their right in the manor to the former in 1561, (fn. 56) and in 1572 the Wenmans settled the Beaconsfield estate on themselves for life, with reversion to their son and heir Thomas. (fn. 57) Richard died in the same year, (fn. 58) and Isabel married Richard Huddleston, and in 1577 renounced her claims on the estate to Thomas Wenman in return for an annual pension, (fn. 59) obtained by leasing the manor for forty years to William Norreys. (fn. 60) A further lease to this effect was made in 1579 to Richard Tredway (fn. 61) during the minority of Richard son and heir of Thomas Wenman, who had died in 1577. (fn. 62) Isabel died in 1587, and Richard Wenman inherited her rights. (fn. 63) Various settlements were made of the manor, (fn. 64) which was alienated in 1608 by Richard Wenman and his wife Agnes to Ralph Smith and Martha his wife, (fn. 65) by whom it was conveyed in 1624 to Anne Waller, widow, and her son Edmund. (fn. 66) The Wallers, who came from Speldhurst, Kent, were settled at Beaconsfield as early as the 14th century. (fn. 67) John Waller, who witnessed a charter at Beaconsfield in 1471 (fn. 68) and died in 1498, left all his lands here to his son Robert. (fn. 69) The latter, who was bailiff at Beaconsfield for Burnham Abbey, (fn. 70) had thirteen children by two wives, and died in 1545, leaving a widow Elizabeth. (fn. 71) The youngest son Edmund, to whom the lease of Little Dernedene Farm had been left, (fn. 72) had married Cecilia before 1563, (fn. 73) and is called of Coleshill in Amersham in 1569. (fn. 74) His son and heir Robert, who owned Holloways Farm and the 'Bull,' died in 1616, (fn. 75) and it was his widow and son who purchased Hall Barn Manor in 1624. This son Edmund, who was the famous poet, represented Chipping Wycombe in the second and Amersham in the third and fourth Parliaments of Charles I. (fn. 76) In 1631 he married Anne daughter and heir of John Banks, who in Lent 1632 received licence to eat all manner of flesh except veal and beef. (fn. 77) Implicated in the design called 'Waller's Plot,' Edmund Waller was banished the kingdom and fined £10,000 in 1644. (fn. 78) With his second wife Mary Bracey he retired to France, his mother Anne looking after Beaconsfield in the meanwhile, (fn. 79) but was pardoned and returned to England in 1651. (fn. 80) The closing years of his life were spent at Hall Barn, where he died in 1687. He was buried in Beaconsfield churchyard, and an imposing monument marks the spot. His eldest son Edmund, (fn. 81) who was recorder for Chipping Wycombe in 1689, (fn. 82) died without issue in 1699. (fn. 83) His brother Stephen Waller, LL.D., who had married Judith Vernon in 1693, (fn. 84) settled the Beaconsfield estate on her in 1705 in lieu of dower. (fn. 85) After his death in 1708 (fn. 86) Judith married in 1713 John Aiselabie, chancellor of the exchequer, (fn. 87) who in 1721 renounced any claim he might have in the property. (fn. 88) Edmund Waller, son of Dr. Stephen Waller, (fn. 89) was appointed cofferer of the king's household in 1744, and represented Marlow and Wycombe many times in Parliament. (fn. 90) He held the manor until his death in 1771, (fn. 91) and left it in tail-male to his eldest son Edmund, (fn. 92) who died in 1788. (fn. 93) His son Edmund died without issue in 1810, (fn. 94) when Hall Barn passed to his brother the Rev. Harry Waller. (fn. 95) The latter was succeeded in 1824 by his son Harry Edmund, (fn. 96) who sold the Beaconsfield property in 1832 to Sir Gore Ouseley, bart., for £75,000. (fn. 97) Sir Gore Ouseley, who was high sheriff in 1835, died in 1844, (fn. 98) and was succeeded by his son the Rev. Sir Frederick Arthur Gore Ouseley, (fn. 99) who sold the estate in 1846 to Mr. John Hargreaves, then in residence at Hall Barn. (fn. 100) It was purchased about 1870 by Mr. Allan Morrison, J.P., and afterwards became the property of Sir Edward Levy-Lawson, bart., the present owner, who in 1903 was created Lord Burnham of Hall Barn, Beaconsfield.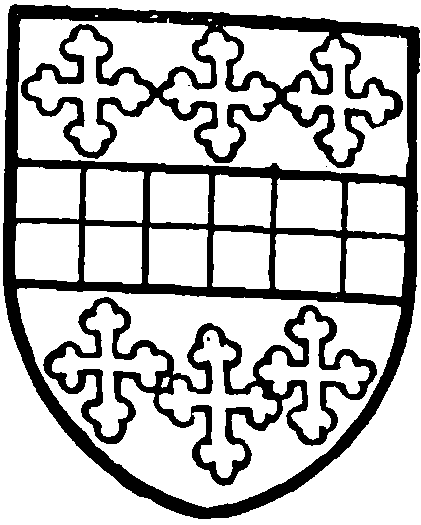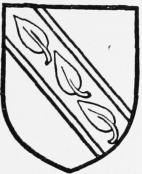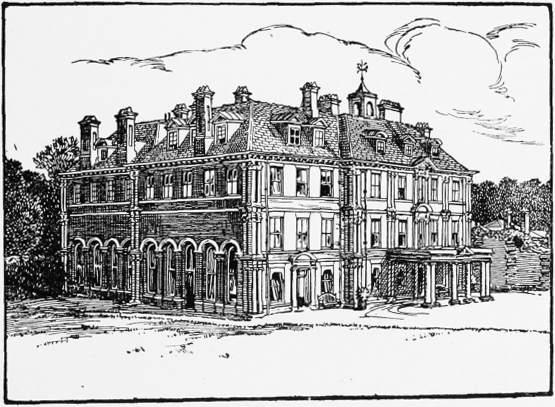 Lands in Beaconsfield which afterwards became known as HIDE MANOR, held in the 16th century of Edmund Brudenell, (fn. 101) were in the possession of William de Alkeshill in 1323, (fn. 102) and were acquired from his son John by William Montagu Earl of Salisbury, who gave them to Bisham Priory, Berks., which he had founded in 1337. (fn. 103) In 1345 the priory conveyed these lands to Sir Hugh Berwick, (fn. 104) who is mentioned as holding Hide Manor in 1349. (fn. 105) It afterwards descended with Hall Barn (q.v.), into which it probably merged, as it is not mentioned by name after 1624, the date of its acquisition by the Wallers. (fn. 106) The capital messuage at Hide was made ready in 1420 for the visit of the Butlers, the rooms being repaired and two ash trees being cut down. (fn. 107) The site was leased by Richard and Isabel Wenman in 1563 to George Langton for thirty-one years at a rent of £12 16s. 8d. and two capons at Christmas. (fn. 108) In 1569 Joan widow of George Langton assigned her interest in the lease to Edmund Waller of Coleshill. (fn. 109) Hyde Farm, which was included in the sale of the Wallers' estates in 1832, (fn. 110) is doubtless on the site of this manor.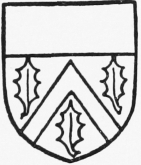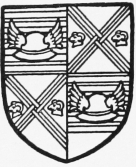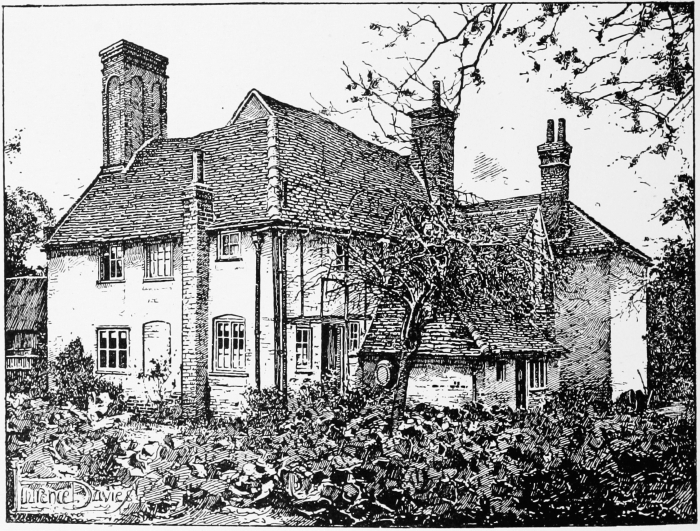 GREGORY'S MANOR alias BUTLER'S COURT
GREGORY'S MANOR alias BUTLER'S COURT in Beaconsfield, held in the 15th century of Burnham Abbey, (fn. 111) originated in land held by the Gregory family. Towards the end of the 13th century occurs the name of Christina Gregory in connexion with this parish, (fn. 112) and in 1328 Isabel the widow of John Gregory brought an action to recover her dower in Beaconsfield. (fn. 113) Many references are found to Richard Gregory, sen. and jun., during the 14th century, (fn. 114) and in 1385 Richard Gregory, sen., settled premises here on himself, his daughter Katherine and her daughter Alice for life. (fn. 115) The last mention of this family is dated 1391, (fn. 116) and the property was probably acquired by Sir Hugh Berwick, as in 1477 it appears as Gregory's Manor in the possession of Sir John Butler. (fn. 117) From this date it descends with Hall Barn (q.v.), but an eighty years' lease of the capital messuage then known as Gregory's or Butler's Court or Place was made by Lord Williams of Thame in 1556 to his servant George Handford. (fn. 118) After Handford's death in 1580 his wife Cecily married Edward Dun-Lee, with whom she joined in 1584 to alienate her interest to Richard Tredway. (fn. 119) The latter died there in 1604, (fn. 120) and his widow Ellen carried away jewels and chattels from the house contrary to the provisos of his will. (fn. 121) In 1624 Gregory's Manor passed with Hall Barn to Anne and Edmund Waller, (fn. 122) but it appears to have been acquired from them by another branch of the family, for Edmund's cousin Thomas Waller, (fn. 123) who in 1616 settled property in Beaconsfield on his son Edmund, and the latter's wife, Mary Smith, (fn. 124) died seised of it in 1627. (fn. 125) In 1632 Mrs. Mary Waller obtained a dispensation to eat meat during Lent. (fn. 126) In 1637 their family pew in Beaconsfield Church was said to be too high and had to be taken down a 'handful' lower. (fn. 127) Edmund Waller died in 1667, (fn. 128) leaving a son Thomas, who was omitted from the list of justices of the peace in 1680. (fn. 129) On his death in 1682 (fn. 130) Thomas Waller was succeeded by his son Edmund, (fn. 131) who was Sheriff for Buckinghamshire in 1689 (fn. 132) and living in December 1702. (fn. 133) His wife Theophila died at Gregory's in 1708, (fn. 134) and the estate passed to their son John, (fn. 135) who died in 1726. (fn. 136) By his will dated 1722 John left Gregory's, if his son Henry should die without issue, to his wife Frances for life, then to Henry's wife Elizabeth for life, with reversion to his nephew Francis Fuller, who was to take the name of Waller. (fn. 137) Henry died childless in December 1723, leaving all his estate to his wife Elizabeth. (fn. 138) His mother's lands in Bucks. and elsewhere were conveyed in 1731 to Francis Fuller and the agreement confirmed in a codicil to her will, which was proved in 1735. (fn. 139) It may have been from Fuller that Edmund Burke, the statesman and orator, purchased Gregory's in 1768. (fn. 140) The purchase-money was said to have been provided by Earl Verney, by whose influence also Burke was returned to Parliament as member for Wendover. (fn. 141) The transaction gave rise to a great political scandal at the time. Burke spent a great deal of his time at Gregory's, (fn. 142) and died there in 1797. (fn. 143) His widow sold the estate to James Du Pré of Wilton Park (fn. 144) (q.v.), with which it has since descended.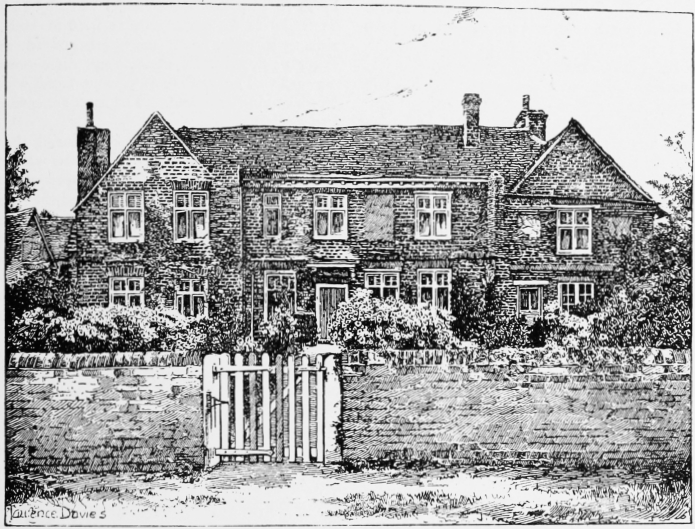 In the 15th century WILTON MANOR in Beaconsfield was held of Missenden Abbey by a rent of 8s. 4d. (fn. 145) Missenden Abbey towards the end of the 12th century received a gift of 7s. rent in Beaconsfield from Robert de Burnham, (fn. 146) and is returned in 1291 as receiving 8s. rent in Beaconsfield, (fn. 147) probably for lands held by the Whelton family. Thomas de Whelton was witness to a charter here in 1344, (fn. 148) and his son Richard in 1364 alienated all his rights in Beaconsfield to Richard Gregory, sen. (fn. 149) The estate doubtless passed with Gregory's Manor (q.v.) to Sir Hugh Berwick, as it was held by the Butlers in 1421. (fn. 150) It descended with their manor of Hall Barn (q.v.), but was mortgaged by John Butler in 1539. (fn. 151) Lord Williams of Thame and his daughter Isabella Wenman made various leases of the farm or manor, which were not respected by James Cressy, who had married the widow of Thomas Wenman, Isabella's son. (fn. 152) The manor had been leased to James Cressy on condition of discharging Wenman's debts to the Crown, but he was accused in 1582 of failing to fulfil the contract. (fn. 153) With Hall Barn Wilton was acquired by Anne and Edmund Waller in 1624, (fn. 154) and was purchased of that family by the Basils some time in the 18th century. (fn. 155) Martin Basil of Beaconsfield was sheriff for the county in 1724, (fn. 156) and in 1755 the death is recorded of William Basil of Wilton Park. (fn. 157) Another member of this family, Edmund, was sheriff in 1770, (fn. 158) but the estate was sold about this time to Josias Du Pré, Governor of Madras, (fn. 159) who died at Beaconsfield ten years later. (fn. 160) His son James, who was member for Aylesbury in 1803 and sheriff in 1825, (fn. 161) held Wilton Park till his death in 1870 at the age of ninetytwo, (fn. 162) when he was succeeded by his son Caledon George Du Pré. On the latter's death without issue in 1886 Wilton Park passed to his great-nephew, Mr. William Baring Du Pré, M.P., the present owner.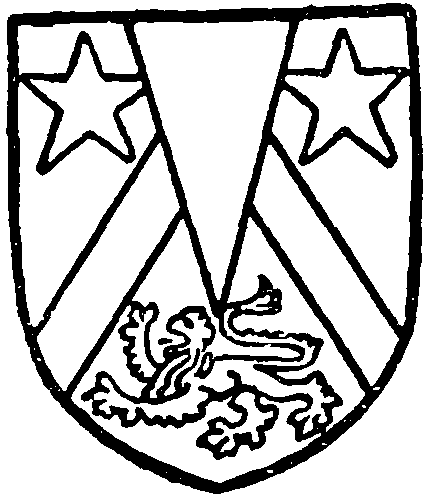 PENLAND MANOR
PENLAND MANOR, which was held in 1477 of Sir Oliver Manningham and Eleanor his wife for 16s. 4d. (fn. 163) and in 1525 of Richard Sacheverel as of his manor of Stoke Poges for the same rent, (fn. 164) derived its name from the Penne family, who held lands in Beaconsfield. Colin de la Penne was accused in 1223 by Lucy de la Sere of having driven a stake through the head of her husband Henry, whereof he died. (fn. 165) The names of John son of John de la Penne and of William de la Penne occur in 1278, (fn. 166) and in 1308 John de la Penne brought an action to recover woods and rents in Beaconsfield. (fn. 167) A carucate of land, woods and rents were settled in 1336 on John atte Penne and Agatha his wife and their issue, (fn. 168) but by 1421 this property known as 'le Penneland' had passed to the Butlers. (fn. 169) It henceforward descends with Hall Barn (q.v.), and is last mentioned in 1612, (fn. 170) the manorial rights probably merging in those of the more important manors.
CHURCH
The church of ST. MARY AND ALL SAINTS consists of a chancel 36 ft. by 21 ft., with north chapel 15 ft. 5 in. by 12 ft. 3 in. and south chapel 14 ft. by 13 ft., nave 61 ft. by 21 ft., north aisle 12 ft. 6 in. wide, south aisle 13 ft. wide, north and south porches, and west tower 14 ft. 6 in. by 13 ft., these dimensions being internal. The walling is of flint faced with stone dressings much restored. The roofs are covered with lead and slate.
The church was probably built during the second half of the 15th century. The nave was extended eastwards and the chancel and its chapels were rebuilt in 1869, the north and south aisles and the west tower being also restored at the same time and the south porch added in 1886. An old print shows the church in 1802 with a high-pitched chancel roof and clearstoried nave, and the tower, without pinnacles, to have a conical spire and an iron railing in place of the parapet.
The chancel and chapels preserve no original work with the exception of a 15th-century piscina with a trefoiled head, which is reset in the south chapel.
The north and south arcades of the nave are each of five bays, of which two and part of the third from the east are modern; the arches are two-centred and of two orders springing from octagonal pillars with moulded capitals; the bases and labels in both arcades are modern. The 15th-century tower arch is pointed and of four hollow-chamfered orders springing from semi-octagonal responds with moulded bases and capitals. The nave clearstory was rebuilt in the 19th century.
All the details of the north and south aisles are modern with the exception of the jambs and rear arches of the four windows in the south wall of the south aisle and a few old stones in the jambs of the west window.
The tower is of three stages with an embattled parapet and has four angle turrets which terminate in pinnacles, the stair being in the turret on the south-west. There is a clock on the west side. The doorway in the west wall is modern and the window above it is also modern with the exception of a few of the stones of the inner jambs. The bell-chamber is lighted by four two-light traceried windows. The four-centred doorway to the stair turret on the ground stage is of the 15th century. On a square stone built into the west wall is a weather-worn consecration cross carved in relief within a circular panel. The font is modern.
On the north wall of the north aisle there is a brass to Robert Lee, who died in 1572, and Katherine his wife, and in the nave is another brass to John Warren of Whites Farm (d. 1609), Elizabeth his wife, their four sons and two daughters. In a recess on the north side of the chancel is a fine example of a late 15th-century altar tomb, possibly to John Butler, who died in 1477. (fn. 171) It is of Purbeck marble, the base being panelled and having four shields with indents for brasses in quatrefoils. There is an indent of a small shield in the top slab, the edge of which is moulded. The elaborately carved canopy above has an embattled cornice and a depressed arch enriched with cusping resting on columns, with moulded capitals and bases. The recess is of Purbeck marble and at each side is a panel carved like the four panels in the base. In the back are indents for brasses of a man in armour, his wife and their children and on either side indents for shields. Above these indents is another, now very indistinct, which has been attributed to a representation either of the Virgin and Child or of the Trinity. In the westernmost bay of the south chancel arcade is an early 16th-century altar tomb, the base of which has quatrefoil panels containing shields, those on the south side being carved with the arms of Bulstrode quartering Goostrey, differenced with a crescent, and of Mayne, and that at the west end with the arms of Bulstrode and Goostrey impaling Mayne. The top slab contains indents of a man in armour, a woman and three sons and two daughters.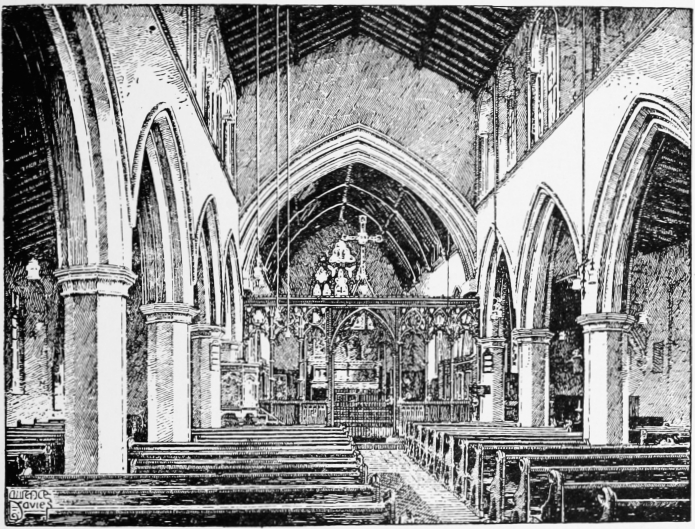 On the south wall of the south aisle there is a tablet to Robert Thorpe, who died in 1623, and a monument placed here in 1898 to Edmund Burke, who died in 1797. In the north chapel there are two floor slabs, one to Thomas Waller, who died in 1627, and his wife Dorothy, who died in 1626, and the other, attributed to Lucy wife of Edmund Waller, who died in 1668, and in the north aisle there is another floor slab to Edmund Waller of Gregory's, the poet's cousin, who died in 1667. The churchyard contains the tombs of Edmund Waller the poet, who died in 1687, Maria his wife, 1700, and of Anne widow of Sir Frederick Hyde, who died in 1687.
In the chancel are two 17th-century chairs of oak, one of which bears the date 1663, and in the north aisle is an unusually fine example of an iron chest, probably of 17th-century date, with bands, between which are small painted landscapes. The screen to the south chapel from the chancel is of 15th-century date and of four bays, one of which forms the doorway. It is traceried and has a carved cornice, which has been repaired. The lower part of the tower arch is occupied by a similar screen, the cornice of which is backed by some 17th-century carving.
There is a ring of eight bells: the second by Thomas Mears, 1794; the sixth by Lester & Pack, 1760; the third, fourth, fifth and seventh were recast in 1884, when a new treble and tenor were added.
The plate includes a paten of 1705 and a chalice of 1725.
The registers begin in 1631.
ADVOWSON
Beaconsfield Church is first mentioned in 1238 as the right of Hugh de Hodeng and Thomas de Lascelles from the inheritance of their ancestor Hugh de Windsor. (fn. 172) John, the parson of Burnham, wrongfully claimed the right of presentation, alleging that Beaconsfield was only a chapel to Burnham Church, to which it paid 40s. a year. Ralph, his predecessor, had agreed to pay the money to William son of Hugh de Windsor. (fn. 173) The Lascelles evidently quitclaimed their right in the advowson to the Hodengs, as it henceforward descended with the Hodengs' manor in Burnham (fn. 174) (q.v.), afterwards known as Huntercombe, until 1566, when Ralph Scudamore alienated it to Thomas Handford. (fn. 175) The latter appears to have transferred his right to his brother George, who had obtained a lease of Gregory's (q.v.), for Laurence, George's son, received livery of the advowson at his father's death in 1580. (fn. 176) In 1629 he conveyed the church to Sir Marmaduke Darrell, (fn. 177) who died seised of it in 1632, (fn. 178) when it passed to his son Sir Sampson, who in the following year granted the first vacancy to Sir William Ashton. (fn. 179) The advowson is enumerated among Sir Sampson's possessions at his death in 1635, (fn. 180) but the Handfords had evidently not relinquished their claim. A Francis Handford, who was described in 1647 as a Papist and delinquent, had an estate then valued at £22, (fn. 181) and the names of Laurence and George Handford occur in 1661 as property owners. (fn. 182) Walter Handford presented to the church in 1668, (fn. 183) and in the following year mention was made of the division of the tithes between two patrons. (fn. 184) The second one may have been Sir William Bowyer, bart., who with his wife Margaret joined Walter Handford and his wife Frances in conveying the advowson to Richard Robinson in 1673. (fn. 185) His son Philip Robinson and Thomas Dakin alienated it in 1700 to Edward Wetherley and Thomas Watson, (fn. 186) and in December 1701 it passed from William Dod and others to Christopher Nowell, (fn. 187) who presented to the church in 1705. (fn. 188) It was shortly afterwards acquired by Magdalen College, Oxford, the present patrons. (fn. 189) The church was assessed at £15 6s. 8d. in 1291 (fn. 190) and at £26 13s. 4d. in 1535. (fn. 191) The consolidation of the vicarage and rectory took place in 1305. (fn. 192) In 1519 it was complained that the rector was non-resident and the rectory ruinous. (fn. 193)
By his will proved in 1535 John Aldridge left 2d. to every light in the church and chapel (fn. 194) and lands worth 31s. 8d. were left for an obit. (fn. 195)
CHARITIES
In 1664 Henry Clowberry by will gave £220 to be laid out in land, the rents, subject to the payment of 20s. a year to the minister for a sermon on New Year's Day, to be given to the poor. The legacy is represented by a rent-charge of £11 issuing out of land in the parish of Penn, now the property of Lord Howe.
In 1699 Edmund Waller by will gave £100 for the poor of this parish. The legacy together with a further legacy of £100 for the poor of Amersham was laid out in the purchase of 15 a. 2 r. 30 p. in Wendover, called Bowwood, in respect of which 3 r. 35 p. at Barcroft were allotted in 1795 upon the inclosure in Wendover. A moiety of the net rents, amounting to £3 a year or thereabouts, is applied in this parish.
In 1779 Thomas Read by will bequeathed £100 reduced annuities (now £100 consols), the income to be distributed in bread on Christmas Day. The distribution is duly made in bread together with the income of the above-mentioned charities.
In 1687 Lady Anne Hyde by will devised her houses in White's Alley, Coleman Street, the rents to be applied in the upkeep of her tomb and the residue for the benefit of poor widows and orphans. The property has been sold and the proceeds invested in £1,828 19s. 1d. consols, producing £45 14s. 4d. yearly, which is distributed in money among poor widows and orphans.
In 1728 Francis Waller by will bequeathed £500, the income thereof to be applied in clothes for poor men and women. The legacy is represented by £492 13s. consols, producing £12 6s. 4d. a year, which is duly applied.
In 1818 Mary Stevenson by a codicil to her will, proved in the P.C.C. 15 January, bequeathed £200 Bank 3 per cent. annuities, the dividends to be applied as to 40s. to the minister, 10s. each to the overseers, and the residue in keeping in repair her vault and tombstone, and any surplus to the poor. The legacy was augmented by a sum of £100 like stock, the gift of Elizabeth Sarah Stevenson. The dividends on the sum of £300 consols in question are accumulated and distributed in coal from time to time. In 1909 a sum of £27 4s. 8d. was so distributed, there being 227 recipients.
In 1810 Edmund Waller by will, proved in the P.C.C. 3 August, bequeathed £5,000 consols, the dividends to be equally divided between this parish, Farmington and Upper Turk Dean and applied in the distribution of bread, clothing and blankets for the poor. Owing to a deficiency of assets the share of this parish was reduced to £1,230 10s. consols, producing yearly £30 15s. 4d., which is distributed in calico and bread.
In 1837 John Stransum by deed gave a messuage in Beaconsfield, the income to be applied in keeping in repair the family vault and the residue for poor widows. The property was sold in 1875 and the proceeds invested in £244 0s. 8d. consols. The annual income of £6 2s. is distributed from time to time among poor widows.
In 1886 Charles Harford by deed settled a sum of £1,623 8s. 9d. consols upon certain charitable trusts. The income, amounting to £40 11s. 8d. a year, is, in accordance with a scheme of the Charity Commissioners, 9 June 1903, applied towards the provision of a nurse for the sick and infirm and in medical appliances and aids in sickness.
In 1891 Mary Thompson by will, proved at London 23 September, bequeathed a legacy for charitable purposes, which is represented by £5,260 15s. 11d. consols, the yearly income of which, amounting to £131 10s. 4d., is in accordance with a scheme of the High Court of Justice, 26 April 1898, applied in subscriptions to a nursing fund, coal and clothing clubs and in pensions. In 1909 £67 15s. was divided among eleven pensioners.
Lord Wharton's Charity.
The poor children of this parish are entitled to receive Bibles, Testaments and other religious books in respect of the charity (see Amersham). The several sums of stock belonging to these charities are held by the official trustees.