Pages 289-293
A History of the County of Buckingham: Volume 4. Originally published by Victoria County History, London, 1927.
This free content was digitised by double rekeying. All rights reserved.
BOW BRICKHILL
Brichelle (xi cent.); Brichull (xii cent.); Bolle Brichulle, Bellebrikhulle (xiii cent.).
This parish, the northernmost of the three Brickhills, covers about 1,848 acres. Of these only 301 are arable, with wheat, barley and beans the chief crops, 916 permanent grass, and 288 woods and plantations. (fn. 1) The surface soil is clay on a subsoil of Lower Greensand. In the village itself and in the woodlands to the east the ground rises from 400 ft. to 500 ft. above the ordnance datum, the average height elsewhere being 300 ft.
The Bletchley and Bedford section of the London and North Western railway, which runs through this parish, has a motor halt here.
The village stands on rising ground to the northeast of Watling Street, and is approached by a by-road from Fenny Stratford. There is a number of whitewashed cottages on either side of the road leading to the church, which stands on higher ground at the southeast end of the village. Some of the houses are of 17thcentury date, and are built of half-timber with brick nogging. The Congregational chapel contains some remains of 17th-century work, but was almost entirely rebuilt in 1810. There is also a Wesleyan chapel, built in 1840. The Wheatsheaf Inn is a picturesque half-timber and brick building of about 1600, with a thatched roof.
Caldecott (Caldecote, xi cent.; Calcott, xvi cent.) lies to the east of the River Ouzel. It contains an early 17thcentury farm - house with thatched roof and walls of half-timber and brick. To the west is a homestead moat, partly levelled.
In 1208 a wood in Caldecott bore the name of 'Le Impehey.' (fn. 2) Place-names of the 13th century are 'Russesled,' 'Chaldewelleridie' and 'Rielond' (fn. 3); of the 17th century, Bow Close and Grove Close. (fn. 4)
Bow Brickhill was inclosed by an Act of Parliament of 1790, (fn. 5) the award being dated 16 October 1793. (fn. 6)
Manors
In 1086 two manors in this parish belonged to Walter Giffard. One of these consisted of 5 hides, of which 2 had been held before the Norman Conquest by Goduin, a man of Wulfwig, Bishop of Lincoln, as one manor, the other 3 by Godbold, Alric and Ordric, each owning a hide and all four having power of sale. (fn. 7) The other contained 4 hides. Two belonged to the same Goduin as a manor, the rest to five other thegns, and the right to sell was included in this case also. (fn. 8)
This land was later attached to that part of the honour of Giffard afterwards known as the honour of Gloucester, from its descent through the Earls of Gloucester and Hertford. (fn. 9) It afterwards passed to the Earls of Stafford, Dukes of Buckingham, (fn. 10) after whose attainder it escheated to the Crown, of which Bow Brickhill was held in 1530 as of the honour of Gloucester. (fn. 11) It remained attached to the honour, of which it was held by knight service until the abolition of feudal tenure in the 17th century. (fn. 12)
From one or both of the tenants of the two manors of Walter Giffard in 1086, of whom Ralph held 5 hides and Robert 4, (fn. 13) a manor of BOW BRICKHILL came eventually to the Chaunceys. (fn. 14) Geoffrey Chauncey (Cauceis, le Cauchois, Cauceys, Causers), who acquired 2 hides in this parish, which had hitherto been included in Little Brickhill Manor, from Stephen de Thurnham at the close of the 12th century, (fn. 15) was dead in 1216, when his 'land of Brickhill' was assigned to his daughter Margaret wife of Geoffrey Martell as her inheritance. (fn. 16) The male line of the family, however, had not died out, William Chauncey, a minor, having rights here in 1221. (fn. 17) Another member, Robert Chauncey, in the reign of Henry III was lord of a knight's fee in Bow Brickhill, (fn. 18) part of which, described in the middle of the 14th century as a manor, he had acquired in free marriage with Joan daughter of Robert de Hoo. (fn. 19) In 1243, presumably for the sake of Joan, then a nurse in the royal household, the scutage owing for this fee was respited. (fn. 20) That Robert had rights in Bow Brickhill apart from his wife seems likely from the renunciation made to him by Margaret daughter of Geoffrey Chauncey and her second husband, Roger de Ibelun, of houses and lands, once her father's, in this parish, and confirmed in 1257 at the instance of the queen and of Robert's wife Joan, 'sometime nurse of Margaret the king's daughter, Queen of Scotland.' (fn. 21) Robert, still lord of Bow Brickhill in 1276, (fn. 22) and living in 1283, (fn. 23) died not long after. (fn. 24) The tenure of his son John had ceased in or before 1291, when John son of John, son of Robert Chauncey, sold his lands in Bow Brickhill to Henry Cheval, (fn. 25) a member probably of the same family as Roger, Robert and Hugh Cheval, who had owned land here in 1208, (fn. 26) 1235, (fn. 27) and 1276 respectively. (fn. 28) Henry had probably been succeeded before 1301 by his son Robert, (fn. 29) who conveyed part of his inheritance here to Nicholas Frembaud, (fn. 30) owner of half a knight's fee in this parish in 1302. (fn. 31) The occupation of Nicholas was chequered by disputes with the late owners. In 1309 and the three succeeding years he, his wife Annabel and their son John went to law against Robert Cheval to compel him to abide by his agreement made with them concerning the manor of Bow Brickhill, which they held, and claimed to hold, of him. (fn. 32) Nicholas Frembaud also recovered 384 acres of land and some rent in this parish from Nicholas Cheval, (fn. 33) perhaps a younger brother of Robert, whom he charged about this time and later with trespass and violence. (fn. 34) A considerable amount of land still remained in the Cheval family. Osbert Cheval made a settlement of over a hide on his daughter Alice and her husband Robert Maunsel in 1312. (fn. 35) Robert Cheval held upwards of 200 acres besides other property in Bow Brickhill in 1315, when they were settled on himself and his wife Alice, with remainders to Nicholas Cheval and his sister Alice. (fn. 36) The manor itself, however, was in the hands of Nicholas Frembaud, returned as tenant of the Earl of Gloucester in 1314 (fn. 37) and as lord of the parish in 1316. (fn. 38) In or before 1346 he was succeeded by his son John, who, with his tenants, then held a diminished share of the half fee enjoyed by his father. (fn. 39) His right to the manor of Bow Brickhill was challenged in 1347 or 1348 by Robert Noble and his wife Margaret, daughter and heir of the last John Chauncey. (fn. 40) Later it possibly passed by marriage to John Woodville, (fn. 41) who held here with his wife Katherine in 1366. (fn. 42)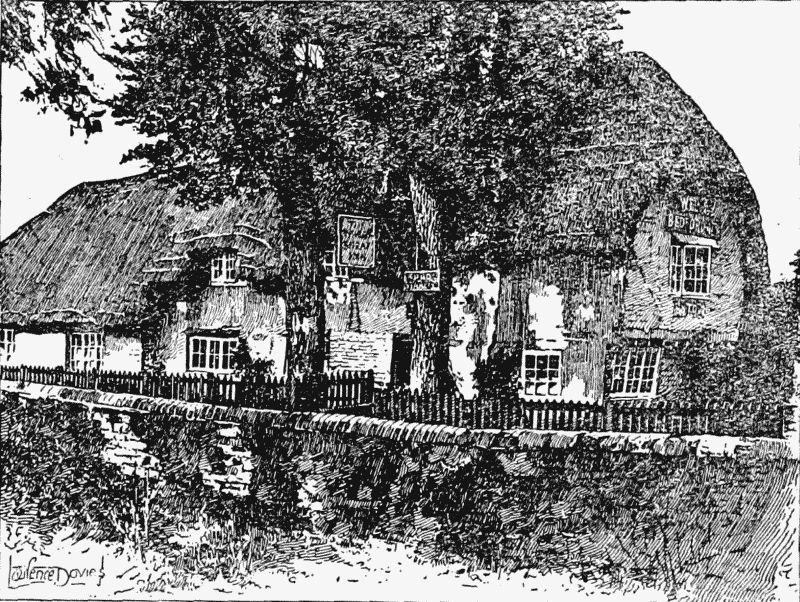 The manor remained in the possession of the Woodville family until 1403, (fn. 43) and probably afterwards, the heirs of Nicholas Frembaud being described as late tenants in 1460. (fn. 44) For the following sixty years its history is obscure. (fn. 45)
In 1530 Edward Watson died, leaving his manor of Bow Brickhill (which had been in his possession since 1520, if not earlier) to a younger son Kenelm. (fn. 46) In 1587 Kenelm acquired about 100 additional acres from John Richardson, (fn. 47) who sued him two years later for non-fulfilment of the contract. (fn. 48) At Kenelm's death in 1598 the manor passed to his son and heir Anthony. (fn. 49) Anthony, a lunatic in 1601, when an inquiry was made into his condition and possessions, (fn. 50) was seised at his death in 1619. (fn. 51) A third of the manor came in dower to his widow Elizabeth, who married Sir Francis Browne, (fn. 52) and was in her possession nine years later, when Francis, son and heir of Anthony, came of age. (fn. 53) In 1632, with his wife Mary, Francis sold Bow Brickhill to Robert Staunton, (fn. 54) son and heir-apparent of Sir Francis Staunton of Birchmore in Woburn (Bedfordshire). (fn. 55) Robert's son Robert held in 1659 (fn. 56) and also in 1664 with his wife Elizabeth. (fn. 57) Perhaps, like Birchmore, Bow Brickhill remained with the Stauntons until the end of the 17th century. (fn. 58) In 1742 a moiety was in the possession of Ann Bartlett, widow, who mortgaged it at that date to William Rhodes. (fn. 59) The whole had been acquired before the close of the century by Francis Moore of Hockliffe, Bedfordshire, (fn. 60) to whom as lord of the manor compensation was made in 1793 for his manorial rights over certain waste grounds then inclosed. (fn. 61)
Bow Brickhill came afterwards, probably through intermarriage with the Hilliers of Stoke Park, (fn. 62) to the Delaps of Monellan, Lieut.-Col. James Bogle Delap owning the manor in 1847, his widow in 1854. From her it descended to the Rev. Robert Delap, nephew of the last lord, (fn. 63) whose trustees are still considerable landowners in the parish, though the manor itself now belongs to the Duke of Bedford.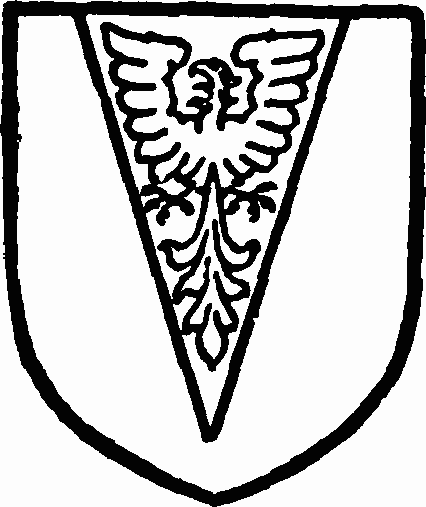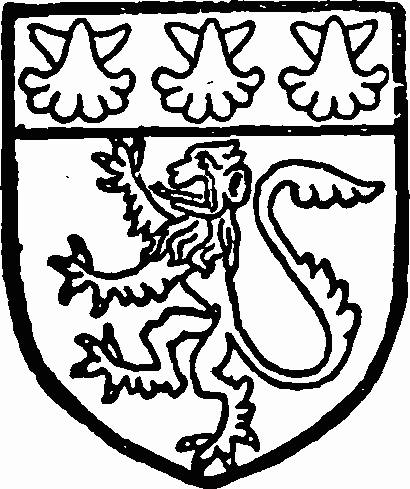 CALDECOTT MANOR is not mentioned in 1086, but was probably included in Bow Brickhill Manor, as the first mention of the overlordship in 1261 assigns Caldecott to the honour of Gloucester. (fn. 64) Though the right of the earl was impugned by the officers of the Crown in 1276, (fn. 65) it descended in his heirs and successors, as did the overlordship of Bow Brickhill.
Colour to the supposition that this small manor was comprised within the larger at the Domesday Survey is lent by the fact that the Chaunceys, lords of Bow Brickhill, were also lords of Caldecott. Geoffrey Chauncey owned Caldecott Mill in 1208, (fn. 66) and the lands surrendered nearly fifty years later by his daughter Margaret to Robert Chauncey were in Caldecott as well as Bow Brickhill. (fn. 67) Robert's knight's fee in this parish was described in 1261 as in Caldecott, (fn. 68) in 1276 as in Caldecott and Bow Brickhill, (fn. 69) and from that time until the 17th century Bow Brickhill and Caldecott were in the same hands as one knight's fee, but two manors. (fn. 70) They descended together until 1628, when Francis Watson and his wife Mary sold the manor of Caldecott to Sir Francis Staunton, (fn. 71) who four years later settled it on his second son Francis. (fn. 72) At his death in 1639 Sir Francis Staunton was seised only of three messuages and 100 acres of land in Caldecott and Bow Brickhill. (fn. 73) No mention of Caldecott has been found in public records from that date until 1798, when, with his wife Mary, Joseph Ager, a landowner here in 1793, (fn. 74) sold the manor to Elizabeth Hillier, spinster. (fn. 75) She was probably a relative of Nathaniel Hillier of Stoke Park, whose daughters Harriett and Susan Eliza, with their respective husbands James Bogle Delap and the Hon. Thomas Cranley Onslow, (fn. 76) and Susan Hillier, made a settlement of the manor of Caldecott twenty years later. (fn. 77) From that time it has followed the descent of Bow Brickhill.
The mill of Caldecott, probably on the site of the mill on the smaller of Walter Giffard's manors in 1086, (fn. 78) was granted with some land in 1208 by Geoffrey Chauncey to Robert de Braybrook, (fn. 79) from whom this estate descended to Gerard de Braybrook, probably his great-grandson. (fn. 80) He alienated it before 1293 to John Grey, (fn. 81) who in 1307 settled lands, a mill and rent in Bow Brickhill and Caldecott on himself and his sons. (fn. 82) The rent attached to this property appears to have been claimed by the Greys of Wilton, the descendants of the eldest son, who held Water Eaton in Bletchley (fn. 83) (q.v.), but the more important part passed to the younger son and his descendants the Greys of Ruthyn who had Bletchley Manor (q.v.), and was held in 1526 by Henry Grey, de jure Earl of Kent, (fn. 84) as a so-called manor of Bow Brickhill. (fn. 85) This younger branch had also held the manor of Brogborough in Ridgmont (Bedfordshire), (fn. 86) to which Caldecott Mill was deemed appurtenant in the reign of Elizabeth. (fn. 87) The miller, Humphrey Blackshaw, (fn. 88) paid a rent of £4 13s. 4d., which was granted to Edward Ferrers and Francis Philipps in 1610, and sold to Andrew Rowley of Birchmore, Woburn (Bedfordshire), in 1650. (fn. 89) In 1653 the water-mill with a windmill and messuage in Bow Brickhill and Caldecott were in the possession of Robert Morgan. (fn. 90)
Another holding originated in gifts made in the 12th or 13th century by Geoffrey Chauncey and his tenants to Woburn Abbey (Bedfordshire), and confirmed in 1315. (fn. 91) The temporalities enjoyed here by this house, valued in 1337 at £6 8s. 4d., (fn. 92) were described in 1346 as a sixth part of the half fee once of Nicholas Frembaud. (fn. 93) In 1535 they were leased to William Burre and Edward Staunton, (fn. 94) and fourteen years later they were granted as the farm called Bow Brickhill, formerly of the late monastery of Woburn, to William Lord Grey de Wilton, and John Bannester. (fn. 95)
At the ecclesiastical taxation of 1291 the rent of £1 was due to Delapré Abbey, near Northampton, for a mill in 'South' Caldecott, (fn. 96) so-called in distinction to the hamlet in Newport Pagnell. (fn. 97)
From 1166 onwards the nuns of Fontévrault Abbey were paying 32s. a year for lands in Brickhill (fn. 98) said to amount to a quarter of this parish and called a manor in the 13th century, (fn. 99) though only an insignificant rent was ascribed to them in Brickhill in 1291. (fn. 100) As a member of their manor of Grovebury, Leighton Buzzard, (fn. 101) it descended with Radnage, another of their estates in Buckinghamshire, with which it was bestowed on Eton College in 1444. (fn. 102)
A grant of free warren in 1292 to Henry Cheval (fn. 103) was renewed in 1366 to John Woodville and his wife Katherine. (fn. 104) In 1284 the Abbess of Fontévrault was required to make good her claim to view of frankpledge in her manor of Bow Brickhill, (fn. 105) but this liberty and court leet seem afterwards to have been associated only with the overlordship here. (fn. 106)
Church
The church of ALL SAINTS consists of a chancel measuring internally 25 ft. 6 in. by 11 ft., nave 34 ft. 6 in. by 15 ft., north aisle 9 ft. 6 in. wide, south aisle 9 ft. wide, west tower 12 ft. square, and south porch; it is built of rubble with stone dressings, and the roofs are covered with tiles.
The nave probably dates from the 12th century, but it was so completely remodelled in the 15th century as to obliterate the earlier details. At this period both aisles and the tower were added and the chancel was probably rebuilt. In 1630 the nave was reroofed. The whole building was restored in 1756–7 by Browne Willis, who rebuilt the east wall of the chancel in brick. The church was again restored in 1883, when the porch was added.
All the windows and other details of the chancel are modern, but the chancel arch, though considerably restored, dates from the 15th century. The nave has a south arcade of three pointed arches, supported by octagonal pillars with moulded capitals and bases, and springing at the responds from moulded corbels. The north arcade is of similar character but without respond corbels; the western arch on each side is wider than the other two. Both arcades date from the 15th century, and the pointed tower arch in the west wall is of the same period. At the south-east is a pointed niche. The low-pitched king-post roof with plain cambered beams bears the date 1630.
The east window of the north aisle is of two trefoiled lights, and dates from the 15th century, though it has been considerably restored; all the other windows in this aisle are modern. The south aisle is lighted from the south by three windows, each of two cinquefoiled lights in a square head, from the west by a similar window, and from the east by a window of three trefoiled lights in a four-centred head, all of the 15th century. At the south-east is a pointed piscina of the same period with a round bowl. The south doorway is modern.
The tower is of two stages, with a vice-turret at the south-east, and is surmounted by an embattled parapet. In the west wall of the ground stage is an original window of three plain lights in a three-centred head, and the bell-chamber is lighted by plain windows, also of the 15th century, each of two lights in a pointed head.
The octagonal font has a panelled bowl, below which are figures of angels with outspread wings. It dates from the 15th century. In one of the panels is a shield charged with two implements, perhaps instruments of the Passion. The pulpit, which is of the same period, though considerably restored, is hexagonal and has some traceried panels. On the north wall of the chancel is a tablet to William Watson, rector of the parish, who died in 1608.
The tower contains a ring of four bells: the treble, inscribed 'God Save Ovr King 1634,' is by James Keene; the second is by Anthony Chandler, 1670; the third is of the 16th century and bears the inscription [ABGD. SRQ. DEAG. FE. W.] the tenor, inscribed 'Soli Deeo Gloria Pax Hominibus 1649' (some letters reversed), is by Henry Bagley. The framework is inscribed '1628 I. I.'
The communion plate includes a cup and paten of 1626, both inscribed 1627.
The registers begin in 1687.
Advowson
The church dedicated in honour of All Saints (fn. 107) is said to have been given by the Chaunceys to Woburn Abbey in 1185. (fn. 108) In 1221, however, the guardian of William Chauncey presented with the consent of the king and the Abbot of Woburn, (fn. 109) and the abbot's successor, Roger, fourteen years later surrendered all right in the advowson to Robert Chauncey. (fn. 110) The living fell vacant in 1283, when Richard Justin and his wife Alice, who held a considerable amount of land in the parish, (fn. 111) after claiming the advowson as Alice's right, agreed, with a reservation of their right to another vacancy, that Robert Chauncey should present on this occasion. (fn. 112) From that date until 1628 the advowson descended with the manors of Bow Brickhill and Caldecott. It passed into other hands soon afterwards, being in the possession of Robert Barker, clerk, at his death in 1632. (fn. 113) Christie his son and heir (fn. 114) perhaps sold it to Sir William Ashton, who is said to have presented in 1636. (fn. 115) Elizabeth Ashton was patron in 1668 or 1669, (fn. 116) Mary daughter of William Ashton and widow of Sir John Buck, bart., (fn. 117) in 1671, (fn. 118) in which year a later presentation was made by the Crown. (fn. 119) Samuel Barker, whose title appears to have been doubtful, (fn. 120) presented in 1680, (fn. 121) Sir William Buck, son and heir of Sir John Buck and Mary Ashton, (fn. 122) in 1681 and 1687. (fn. 123) It is said that Sir Charles Buck, son and heir of Sir William, (fn. 124) and patron in 1722, (fn. 125) sold the advowson of Bow Brickhill in 1726 to Sir John Statham, (fn. 126) of whom it was bought in 1735 by David Willaume. (fn. 127) David, patron in 1742, 1744, 1751, and 1760, (fn. 128) was succeeded in or before 1780 by John Williams Willaume, (fn. 129) perhaps acting as trustee for David's son Edward, (fn. 130) who in 1782 presented himself, (fn. 131) in 1783 presented James Bestham, the historian of Ely. (fn. 132) The next patron, John Dupré, who presented himself in 1795, (fn. 133) took part in a settlement of the advowson on John Ward more than fifteen years later, (fn. 134) but was again patron in 1817. (fn. 135) John Ward, patron in 1822 and 1829, (fn. 136) was succeeded by Mrs. Davis in or before 1836. (fn. 137) From 1841 to 1892 the living was in the gift of Queens' College, Cambridge (fn. 138); Mr. R. Knight was patron from 1893 to 1898, (fn. 139) and the Rev. Robert Knight, now rector, has been patron since 1899. (fn. 140)
Tithes of Brickhill of the gift of Walter Giffard, confirmed to the priory of St. Faith, Longueville, by charters of Henry I and Henry II (fn. 141) and valued at £1 in 1291, (fn. 142) belonged to the priory of Newton Longville in 1325. (fn. 143) At the close of the 14th century these were in the possession of Sir Gilbert Talbot. (fn. 144)
In 1384 there is mention of a newly-constructed chapel, as yet unlicensed for divine service. (fn. 145)
Charities
Charles Parrett, by his will proved in the P.C.C. in 1634, gave £5 yearly for the relief of the poor, £5 towards teaching poor children, £5 for apprenticing poor children and 20s. to a preacher for a sermon on 25 March and another on Michaelmas Day in each year. The several annuities were redeemed in 1863 by the transfer to the official trustees of £533 6s. 8d. consols. Under a scheme of the Charity Commissioners of 14 May 1897 £33 6s. 8d. consols, part thereof, was set aside to form the endowment of the ecclesiastical branch, and the sum of £166 13s. 4d. consols, further part thereof, was, together with £79 7s. 11d. consols, representing accumulations of income, set aside in 1904 to form the endowment of the educational foundation, the annual dividends of which, amounting to £6 3s., are applied in supplying outfits to poor children. The residue of the stock, amounting to £333 6s. 8d. consols, represents the endowment of Parrett's eleemosynary and apprenticing charity, producing £8 6s. 8d. yearly, which is applicable, one moiety for apprenticing and the other moiety for distribution among the poor.
In 1719 Augustus Shaw, by his will, gave £2 10s. yearly, to be applied in putting forth an apprentice to some handicraft trade, issuing out of land at Bow Brickhill belonging to the Duke of Bedford. The annuity is applied, with Parrett's charity, in apprenticing. The premium is usually £25, paid in two instalments.
In 1722 Jane Shaw, by her will, gave £3 yearly for the benefit of the most aged and impotent poor, issuing out of land called Beresteeds. It is distributed among fifteen poor.
Under the Inclosure Award of 1793 land called Black Ground was awarded in trust for the use of the poor for firing. The land was sold in 1896 and the proceeds invested in £101 10s. 8d. consols, with the official trustees. The annual dividends, amounting to £2 10s. 8d., are, together with the income of Parrett's eleemosynary charity, distributed among about seventy poor.
Under the same award 6 a. or. 19 p. of arable land in Bow Brickhill were awarded to the churchwardens and overseers. The land is let at £9. The net income is applied towards church expenses.
The Protestant dissenting chapel and endowment for the minister, chapel and Sunday school are comprised in indentures of lease and release, dated respectively 24 and 25 November 1800. The endowment consists of £1,000 consols, with the official trustees, producing £25 yearly.