Pages 395-401
A History of the County of Buckingham: Volume 4. Originally published by Victoria County History, London, 1927.
This free content was digitised by double rekeying. All rights reserved.
LOUGHTON
Lochintone (xi cent.); Luhtona, Lutton, Lucton (xiii cent.); Loutone, Loghtone (xiv cent.).
This parish covers 1,536 acres, of which 353 acres are arable, 945 permanent grass and 9 woods and plantations. (fn. 1) The level of the land is for the most part about 300 ft. above the ordnance datum, and the soil is Oxford Clay. Limestone is quarried. The chief crops grown are wheat, oats, barley and beans. The London and North Western railway crosses the parish, and the scattered village, 2¾ miles from Bletchley station, lies along a road running north-east from the Watling Street to the railway.
The church of All Saints stands at the north-east end of the village, at the crossroads. A little south of the church are the rectory, a modern house built in 1868, and the school, originally erected in 1867 for forty children, and since enlarged to accommodate seventy children. About a quarter of a mile to the west, on the Green, is Manor Farm, formerly Little Loughton Manor House, and now occupied by Mr. Arthur Fuller. It is a long stone building, with a gabled porch on the south front rising to the full height of the house. The house was originally built about 1500 of half-timber, but about 1580 it was encased with stone by Valentine Pigott, whose initials with those of Anne his wife appear on the porch. Many of the older windows have been blocked, and those which remain have been modernized. The house was altered and enlarged in the 17th century, but contains some curious 16th-century mural paintings. There are several other old houses and cottages of the 17th and 18th centuries in the village, mostly of halftimber, a few of them being thatched. The Baptists had a place of worship here before 1849; the present chapel was enlarged in 1884, and stands in its burial ground a short distance to the north of the Memorial Cottages built to commemorate the Diamond Jubilee of Queen Victoria. North-west of the cottages are the Bell and Talbot Inns, and to the south-east are the Plough (in Shenley parish) and Fountain.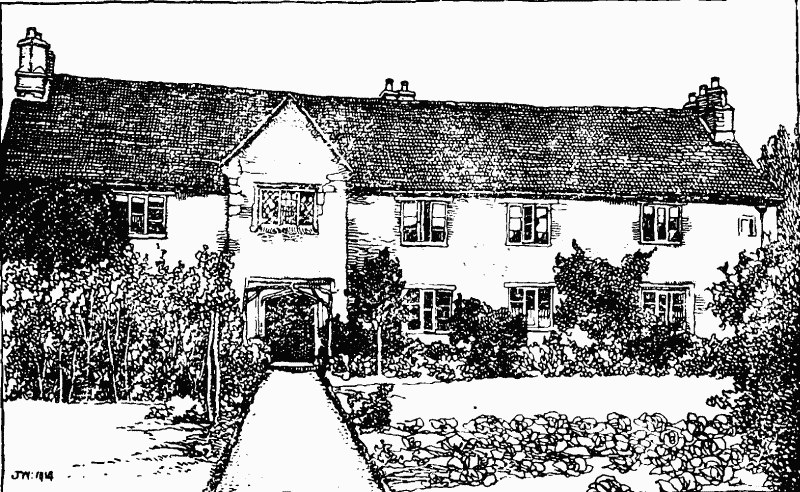 The parish is watered by Whaddon Brook, which runs north to the River Ouse, and which formerly separated the two parishes of Great and Little Loughton until their union in 1409, Great Loughton lying to the right of the brook and Little Loughton to the left. The ruins of Little Loughton Church, whose site was near the manor-house, were said to be standing at the beginning of the 19th century. Brook Farm lies on this brook about half a mile south-east of Manor Farm. Cell Farm, immediately south of Manor Farm, was probably originally the property of Bradwell Priory. It was bought for small holdings in 1914 by the County Council. East of the railway is Rectory Farm, with Old Farm about 700 yards south of it, possibly the site of a Loughton manor-house.
The parish was inclosed by Act of Parliament in 1768, the award being dated 17 June 1769. (fn. 2)
Among place-names have been found Wholme End, Eyle Field (fn. 3) (xvi cent.) and Curtisse House (fn. 4) (xvii cent.). In the 17th century there is also mention of the Church House and a croft abutting upon the church and extending to Church Lane. (fn. 5)
Manors
At the date of the Domesday Survey Walter Giffard was holding 4½ hides in LOUGHTON, the manor having been previously held by five thegns who could sell. (fn. 6) The overlordship remained vested in the descendants of Walter Giffard, and on the death of Anselm Marshal, Earl of Pembroke, in 1245, (fn. 7) it appears to have been at first obtained by his sister and co-heir Isabel, wife of Gilbert de Clare, Earl of Gloucester, since the Earl of Gloucester was overlord in 1284–6. (fn. 8) Afterwards these rights were exercised by Aymer de Valence, Earl of Pembroke, son of Joan daughter of Warine de Monchesney by Joan, another sister and co-heir, (fn. 9) but they appear to have lapsed during the conflict of claims, as no further trace is found of them. An intermediary lordship in this manor was vested in the Braose family in 1284–6, (fn. 10) and continued to be exercised by them as lords of Buckingham during the 14th century. (fn. 11) In 1386 it was vested in John Frome of Buckingham, of whom the manor was held by scutage and suit of court of the Earl of Ormond, (fn. 12) but a century later he had been replaced by the Abbot of Peterborough, (fn. 13) who was also holding in 1525. (fn. 14) The Bishop of Peterborough held these rights in 1573 in right of his see, (fn. 15) but in 1596 and 1622 the Crown was returned as overlord. (fn. 16)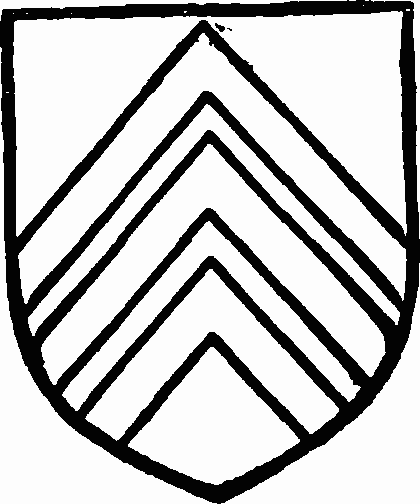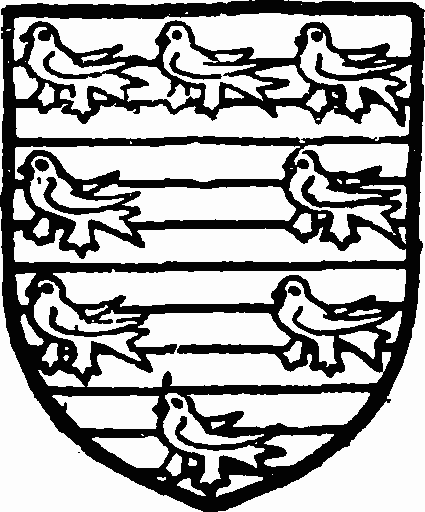 Ivo, the Domesday tenant, (fn. 17) was probaly the ancestor of the family of Loughton who held Loughton for many generation. Sir John de Loughton is mentioned in connexion with Loughton about 1219, (fn. 18) and it was probably a son of the same name who was lord of this fee in 1254–5. (fn. 19) In 1270 this John de Loughton granted lands and rent in Loughton to William his son, (fn. 20) and in the same year granted to another son, John de Loughton, what was probably GREAT LOUGHTON MANOR, (fn. 21) though it was not so known until the early years of the next century. This estate was to be held by the rent of a white glove, and by finding a wax candle of 1 lb. before the altar of the Virgin in the church at the feast of the Assumption. (fn. 22) John de Loughton, the son, (fn. 23) was holding great Loughton in 1284–6, (fn. 24) but was probably dead by 1294, when his son William, rector of Great Loughton, granted to another son Ivo and Cecilia daughter of Robert of Stoke Hammond the principal messuage and lands, &c., which he had of Ivo's gift in Great Loughton. (fn. 25) Ivo was holding in 1302–3, (fn. 26) but the reversion of the manor after the death of Ivo, who held at a rose rent, was obtained in 1313 by Henry Spigurnel, (fn. 27) who in the following year acquired the reversion of lands in Great and Little Loughton from Nicholas de Eure or Iver and Margery his wife. (fn. 28) Henry Spigurnel was returned as lord in 1316, (fn. 29) and in 1317 obtained from Alexander of Stoke Hammond a renunciation of any right he might have in the manor. (fn. 30) He continued to hold Great Loughton (fn. 31) until his death circa 1328. (fn. 32) He was succeeded by his son Thomas, who is evidently identical with the Thomas de Loughton holding in 1346 the half-fee in Great Loughton formerly Ivo de Loughton's. (fn. 33)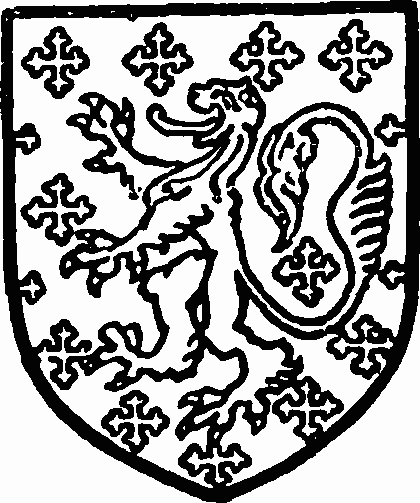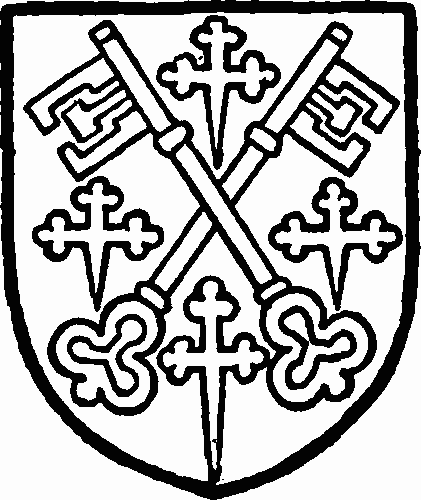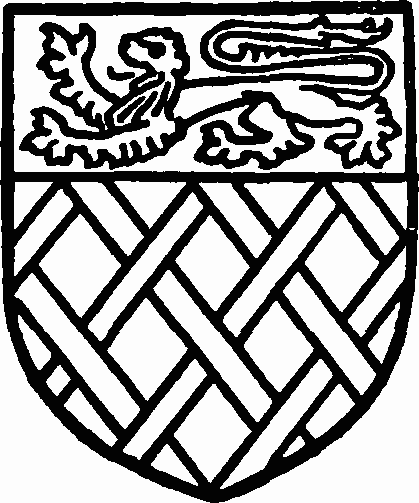 William Spigurnel died seised of the manor in 1366, (fn. 34) as also of Dagnall Manor in Edlesborough (q.v.), with which Great Loughton henceforward descends until about the middle of the 16th century. (fn. 35) The Lucys then retained Great Loughton while alienating Dagnall, and after the death of William Lucy in 1551 his son and heir Thomas Lucy (fn. 36) conveyed it in 1557 to Thomas Hopper. (fn. 37) Thomas Hopper died in 1573, (fn. 38) leaving his dwellinghouse to his wife Audrey for life, with reversion to his son Thomas. (fn. 39) On the death of the latter in 1596 Loughton passed to his son, another Thomas, (fn. 40) who was succeeded in 1618 by his brother John. (fn. 41) He died in March 1621–2, leaving a son Thomas. (fn. 42) From these owners the manor seems to have passed to the family of Alston. In 1693 it was held by Edward Alston, (fn. 43) who, with his son Joseph, was dealing with it in 1695 (fn. 44) and 1696, (fn. 45) and with whom in 1697 he conveyed it to Thomas Hanslapp. (fn. 46) Thomas Hanslapp died seised of it in 1717. (fn. 47) It was held by his son John Hanslapp in 1727, (fn. 48) and in 1735, at which latter date he had 'new built Part of the Capital House.' (fn. 49) John Hanslapp died in May 1746, (fn. 50) after which date little is known of the manor. Before 1813 it had passed from the Hanslapps to Mr. Gee of Newport, who was then holding it. (fn. 51)
Mr. Walter Cadman is now lord of the manor.
The moiety of the manor to which Alice Cavendish and Margaret Quadring, probably the granddaughters of John Brecknock, were heirs descended with their moiety of Dagnall Manor until about the middle of the 16th century, (fn. 52) after which date it was doubtless acquired by the owners of the other moiety.
The Ivo de Loughton who acquired his brother William's rights in Great Loughton in 1294 does not appear to have succeeded to all the possessions of his father John. An estate was retained by another member of the family with which the sole presentation to Great Loughton Church, and afterwards the alternate presentation to the combined churches of Great and Little Loughton, descended, and it is from deeds relating to the advowson that the history of the holding can for the most part be traced. There is mention of John son of John de Loughton in 1311. (fn. 53) He seems to have been succeeded by the Ardres of Turvey (co. Bedford), (fn. 54) from whom this estate became known as ARDRES MANOR. John de Ardres was alive in 1357, (fn. 55) but Iseult his wife held as a widow after his death in 1361. (fn. 56) From 1371 to 1395 Alan Rushley of Turvey appears to have acquired the rights over this manor, (fn. 57) but Thomas, the son of the aforesaid John de Ardres, (fn. 58) was in possession in 1414. (fn. 59) A Robert Fitz Herbert and Thomas Loughton were apparently joint lords of Ardres about fifty-five years later, (fn. 60) Thomas Loughton acquiring the whole interest before 1485. (fn. 61) He was involved in a quarrel over the presentation to the church with the lord of Little Loughton Manor in 1486. (fn. 62) Nothing further is known of this holding, unless a presentation in 1625 by the heirs of Loughton, John B— William Hitcham or Hicks, and John Tresham, (fn. 63) was made in right of ownership of Ardres Manor.
In the time of Edward the Confessor 5 hides in Loughton were held as one manor by Alvric, a thegn of the king, who could sell. (fn. 64) This manor was given after the Conquest to Manno the Breton, (fn. 65) and was afterwards held of his descendants as of their barony of Wolverton, (fn. 66) rights in Loughton being claimed as late as 1625. (fn. 67)
In the Domesday Survey the manor was entered as held of Manno by two knights. (fn. 68) It was next held by a branch of the family known as Loughton, a member of which, Bartholomew, was in possession in 1166. (fn. 69) Geoffrey de Loughton held in the first quarter of the 13th century, (fn. 70) but by 1254–5 he had been succeeded by William de Loughton, (fn. 71) probably identical with the William holding here in 1284–6. (fn. 72) He had been succeeded before 1302–3 by Thomas de Loughton, (fn. 73) who acquired additional lands here in 1309 (fn. 74) and 1314, (fn. 75) and was returned as lord in 1316. (fn. 76) Thomas de Loughton, probably the same, in 1330 settled LITTLE LOUGHTON MANOR, first so-called, on himself and his wife Elizabeth for life, with remainder to his sons Thomas, William and Robert and their heirs successively. (fn. 77) It was doubtless the son, Thomas de Loughton, who was holding in 1346 Little Loughton, then described as a fee previously held by Ivo de Loughton, (fn. 78) but the entry probably shows confusion with Great Loughton. Thomas de Loughton was still alive in 1350 (fn. 79) and 1351, (fn. 80) but appears to have died about 1361, when another Thomas de Loughton obtained livery of the manor. (fn. 81) John de Loughton must have been holding the manor at the end of the 14th and beginning of the 15th century, as he presented to Little Loughton Church from 1386 to 1407. (fn. 82) There appears to have been a minority in 1418, with Elizabeth Lady Clinton as guardian, (fn. 83) probably of John de Loughton, son of the last-mentioned John, who was holding twenty years later, (fn. 84) and who refers to his father John and grandfather Thomas in a deed of 1440. (fn. 85) This John is referred to with his wife Margaret in 1446, (fn. 86) and made a feoffment of the manor to the use of George Loughton, who with Arnetrua his wife conveyed it to trustees in 1461. (fn. 87) The trustees transferred their rights to John Edy of Stony Stratford, who, as lord of the manor of Little Loughton, claimed to present to the church in 1486. (fn. 88) By his will, proved 12 June 1488, John Edy left Little Loughton Manor to Edmund his second son, with reversion, failing issue, to his eldest son Jakes. (fn. 89) Edmund seems to have died shortly afterwards, and Jakes called upon the trustees to make an estate of Loughton to him. (fn. 90) They refused, probably at the instigation of Isabel wife of John Pigott of Beachampton, and Margaret wife of William Shirley, sisters of Jakes Edy, who claimed an interest in the manor under the will of their father John. (fn. 91) Jakes finally obtained possession of Loughton, which he left at his death in 1493 to his wife Philippa, with reversion to his right heirs, his sisters. If, however, they molested Philippa in any way, the manor was to be sold by his executors and the money spent in good works. (fn. 92) Philippa married Francis Catesby, but died before 1500, (fn. 93) and John and Isabel Pigott obtained sole rights in the manor, assigning Adstock, the other family estate in Buckinghamshire, to Benedict Lee and his wife Isabel, daughter of Margaret, who was sister of Isabel Pigott, by her husband— Clarell. (fn. 94) Robert son of John and Isabel Pigott had succeeded by 1514, (fn. 95) and had trouble with Benedict and Isabel Lee. (fn. 96) Robert Pigott was dead in 1557. (fn. 97) His son Thomas (fn. 98) made a settlement of the manor in 1570 on his eldest son Valentine, Anne his wife, and Mary their daughter, for sixty years, if any one of them should live so long. The reversion was to Valentine's brothers, Arthur, George, Edmund, Robert, Matthew and Francis, and their heirs male in succession. (fn. 99) After the death of Anne, Valentine Pigott married Eleanor daughter of John Fortescue, and a fresh settlement was made in 1585, whereby Eleanor was to hold for the life of Thomas Pigott, the father, with remainder to Valentine and their heirs male. (fn. 100) Valentine, as lord of the manor, brought an action against certain freeholders as to rights of common two years later, (fn. 101) and died in 1590, leaving three daughters by his first wife: Ursula wife of Christopher Pigott of Dodershall, a relative; Mary wife of Thomas Waterhouse; and Judith wife of William Tresham. (fn. 102) Valentine's brothers, George and Clement Pigott, tried to set aside the will, but it was pronounced valid in the same year. (fn. 103) The daughters and their husbands all made settlements of their thirds in the following two years, (fn. 104) but George Pigott, the brother of Valentine, and his next heir in Loughton according to the settlement in 1570, Arthur Pigott having died in 1585, (fn. 105) attempted to deprive them of their inheritance. (fn. 106) Ursula died in December 1592, leaving by Christopher a daughter, Anne Pigott (fn. 107); her grandfather, Thomas Pigott, also died in the same month, (fn. 108) leaving all his goods to his wife Alice, who had some trouble in proving the will against her husband's sons, Edmund, Robert, Matthew, Francis, and Clement Pigott. (fn. 109) Eleanor, widow of Valentine, was then alive, and as the wife of Edward Huberd brought an action in November 1593 against the husbands of Valentine's daughters to recover the rent from the manorhouse, which she had leased to John Mattock. (fn. 110) George Pigott, Valentine's brother, still continued to trouble his nieces and their husbands, and with his brothers, the reversionary legatees named in the settlement of 1570, was defendant in an action brought by them in January 1594–5 to prevent him from presenting to the church. (fn. 111) About this time, however, he obtained a quitclaim of their interest from Christopher Pigott and William Tresham and Judith, (fn. 112) and probably from the Waterhouses also. His brothers renounced their claim in 1596 for £300, (fn. 113) and in 1599 George Pigott made a settlement of the manor thus acquired. (fn. 114) The next year, however, he transferred his interest to his brother Edmund, another brother Clement at the same time relinquishing any title in the premises. (fn. 115) Edmund, by his will, dated 14 August 1612 and proved 12 May 1613, empowered his wife Elizabeth to sell Loughton Manor to John Crane, with whom an agreement had already been arrived at on the 30 July preceding, (fn. 116) but the transaction was completed by Edmund Pigott himself in the autumn of 1612. (fn. 117) John Crane married Mary daughter of Sir Thomas Tresham of Newton, Northamptonshire, by whom he had eleven sons and five daughters. (fn. 118) In 1635 he was chief clerk of His Majesty's kitchen, officer of the Admiralty and marine affairs, and surveyorgeneral of all victuals for ships. (fn. 119) On 21 November 1646, when comptroller of His Majesty's house, he begged to compound for delinquency on the Oxford Articles, having been at Oxford at its surrender, and the 'King's ancient servant during the late unhappy troubles.' (fn. 120) He complained in 1647 that he had only a life interest in Loughton, and that he had been fined as if he held in fee. (fn. 121) In 1655, with William Crane his son, (fn. 122) he conveyed the manor to Ralph Holt. (fn. 123) Ralph Holt died in 1678, and was succeeded by his son Charles, (fn. 124) who in 1722 made a settlement of Loughton with Ralph his son and heir. (fn. 125) Ralph succeeded in 1731, (fn. 126) and at his death in 1758 bequeathed the manor to his nephew Thomas Holt of Newport Pagnell, (fn. 127) upon whom a settlement had already been made. (fn. 128) He was in possession in 1768, (fn. 129) but the estate had passed to the Swans by the beginning of the 19th century, perhaps by the marriage of one of Ralph Holt's daughters. (fn. 130) It was later held by Mr. Whitworth, who bequeathed it at his death in 1832 to his two sons, Henry Billington Whitworth and Robert Whitworth of London. The latter's moiety was purchased from him by his brother in 1851. (fn. 131)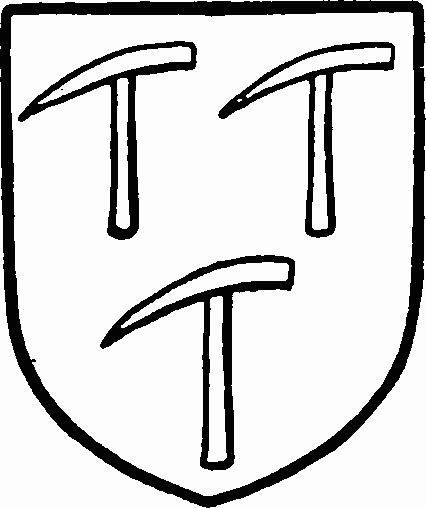 George Loughton, after his sale of the manor to John Edy, appears to have retained a messuage and 80 acres of land in Little Loughton, together with three messuages and 160 acres of land in Great Loughton, which descended to his son Thomas, and from Thomas to his daughter Isabel married to— Knyveton. (fn. 132) Their son Humphrey Knyveton died seised of this property about 1587, and was succeeded by his son Matthew, (fn. 133) who in 1597 appears to have made a presentation to the church which was set aside. (fn. 134) He died in 1610, when his son John succeeded him. (fn. 135) John died in 1614, and was succeeded by his brother Charles, (fn. 136) who was engaged in a suit as to lands in Loughton in 1625. (fn. 137)
Half a hide in Loughton was held at the date of the Domesday Survey by the Count of Mortain. (fn. 138) It was afterwards attached to the little fee of Mortain (fn. 139) or honour of Berkhampstead, (fn. 140) the last reference to the connexion occurring in 1434. (fn. 141)
The under-tenant at Domesday was Walter, who had succeeded Elmær, a man of Alvric, son of Goding, who could sell. (fn. 142) In the earlier 13th century it was held by Nicholas the Falconer, (fn. 143) who was followed by his son John. (fn. 144) Alan the Falconer was in possession in 1284–6, (fn. 145) and again in 1302–3, (fn. 146) but by 1346 Edith de Stoke was holding. (fn. 147) Its history then becomes obscure, but it may be identical with the property known as LOUGHTON MANOR held at the end of the 15th century by William Saunderson, who died without issue, and whose brother and heir John brought actions against John Broughton and John Edy, the feoffees. (fn. 148)
A messuage and 8 acres in Loughton were stated in 1360 to have been appropriated by the Prior of Bradwell without licence, (fn. 149) but an inquiry revealed that the appropriation took place before the Statute of Mortmain. (fn. 150) This estate was included in the grant of Bradwell Priory in 1524 to Cardinal Wolsey, (fn. 151) and by him transferred immediately to his college at Oxford, the dean and canons holding a court for Bradwell with its members, including Loughton, in 1526. (fn. 152) A further grant, probably in confirmation, was made early in 1528 to Wolsey, (fn. 153) but after his fall these appurtenances in Loughton were granted by the Crown in 1531 to the priory of Sheen. (fn. 154) They were probably comprised in the rent of 9s. in Loughton, formerly of Sheen, which in 1543 was bestowed on Arthur Longville of Wolverton. (fn. 155)
In 1535 Snelshall Priory held lands and tenements worth 24s. in Loughton, and paid a rent of 7s. 5d. to Robert Pigott for lands in Beachampton and Loughton. (fn. 156)
There was a windmill in Little Loughton Manor in 1361. (fn. 157)
There is mention of a mill on the holding of the honour of Berkhampstead in 1497. (fn. 158)
A fishery in Loughton Brook was held with the manor of Little Loughton in 1587. (fn. 159) James Farnell held fisheries in Loughton with lands and messuages at his death in January 1603–4. (fn. 160) This property passed to his son John Farnell, who died seised on 28 September 1624, leaving three daughters as heirs. (fn. 161)
Church
The church of ALL SAINTS consists of a chancel measuring internally 20 ft. by 13 ft., nave 40 ft. by 19 ft., continuous south chapel and aisle 36 ft. by 8 ft. 6 in., south porch, and west tower 11 ft. by 9 ft. It is built of rubble with stone dressings and is coated with cement. The chancel has a high-pitched roof covered with tiles, which stands conspicuously above the lead-covered roofs of the other parts of the church.
The chancel and nave probably date from the first years of the 13th century, though all the original details have been removed during subsequent alterations. The east window of the chancel, the blocked north doorway of the nave, and the lower part of the window immediately to the west of the latter are probably insertions of about 1250, altered later; but these are the earliest details which now remain. During the latter part of the 15th century the south chapel and aisle, the porch and the tower were added and the nave was reroofed. The fabric was restored about 1700 and again in 1851, while in 1886 the seating was renewed.
The chancel is lighted only by its east window, which is of two pointed lights with a round reararch and probably dates from the 13th century, though its head was altered at a much later period. Near the west end of the north wall is a low-side window of one square-headed light, now blocked, and on the south, opening to the chapel, is a pointed arch supported by semi-octagonal responds with moulded capitals and bases. This arch is pierced in the north wall of the chapel, which, in order that it might directly abut the nave arcade, was built against but independently of the chancel wall, the western part of the latter being then entirely removed.
At the north-east of the nave is a late 15th-century three-light window with a four-centred head and modern tracery, and further west are the doorway and window mentioned above, the former being completely blocked. The window, which is a tall single light, appears to have been considerably heightened about 1700. Opposite to this on the south is another tall single-light window which has been similarly treated, but was originally of two lights and probably dates from a century later. The south doorway has a two-centred drop arch, and is of about 1400. Opening to the aisle at the south-east is a late 15th-century arcade of two pointed arches with an octagonal pillar and responds of the same details as the arch on the south side of the chancel. The pointed tower arch on the west, which is pierced through a wall of considerable thickness, is of four moulded orders supported by responds composed of three flat segmental shafts divided by fillets, these shafts having coarsely moulded capitals and plain bases. The chancel has a segmental plastered ceiling, and the nave a low-pitched open-timber roof of the late 15th century.
The south chapel and aisle form one rectangular building, which is lighted from the south by three windows of the late 15th century, each of four cinquefoiled lights with tracery in a four-centred head, and from the east by a three-light window of the same character. Between the easternmost windows of the south wall is a small plain doorway. On the east wall are two brackets with carved heads. The moulded lean-to roof is also of the late 15th century and has carved bosses, one of which bears the arms of Boteler. The porch is of slightly earlier date than the aisle and originally had a gable over the entrance, the outline of which is still visible. It is lighted by a plain square-headed window in the west wall, and has an entrance on the south with a depressed arch in a square head. The walls of the chapel, aisle and porch are crowned by a continuous embattled parapet.
The tower is of three stages surmounted by an embattled parapet. Although the walls are 5 ft. 5 in. thick, and are supported by heavy diagonal buttresses, the structure must have shown signs of weakness soon after its erection, for a strong buttress was placed against the middle of the west wall. This buttress passes through the thickness of the wall, and rises to support the head of the west window, partially blocking it and completely blocking the doorway below. The doorway has a four-centred arch in a square head with traceried spandrels, and its outer mouldings are continuous with those of the window above, so that they form one composition. Two cinquefoiled lights of the window, which originally had a traceried head, are preserved, one on either side of the buttress. The second stage is lighted from the south by a small window with two quatrefoils arranged vertically, and the bell-chamber has on each side a restored window of two trefoiled lights under a pointed head.
The plain octagonal font probably dates from about 1700. On the chancel floor there is a half-length brass of a priest in mass vestments, with the inscription, 'Hic jacet Hugo Parke quondam istius ecclie Rector in artibus magister sacreque theologie bacularius.'Hugh Park died in 1514. On the north wall of the chancel are monuments with arms to Mary (Tresham) wife of John Crane of Loughton (d. 1624), and to Felice [(Phyllis) Moorton], wife first of William Mortoft of Itteringham, and secondly of John Crane of London (d. 1622). On the south wall is a monument to Robert Crane, D.C.L., Fellow of Trinity College, Cambridge (d. 1672), and his father John Crane of Loughton (d. 1660). On the chancel floor are slabs to all of the above, that to Felice Crane having a brass inscription.
In the tower is a large iron-bound poor-box dating probably from the late 16th century, with two holes for money, and in the south chapel are two grotesquely carved wood panels, while some fragments of old glass, mounted in a frame, are placed on the north wall of the nave. At the east end of the chancel is a painting by Gonzales of Christ and the two disciples at the supper at Emmaus. This picture was given to the church by the Rev. John Athawes on his induction to the living in 1833.
The tower contains a ring of six bells: the treble and second are modern; the third is by Robert Atton, 1631; the fourth, inscribed, 'Hec Nova Campana Margareta Est Nominata,' and the fifth, 'Sit Nomen Domini Benedictum,' are both by Henry Jordan, about 1460 (fn. 162); and the tenor is by Bartholomew Atton, 1590.
The communion plate consists of a paten of 1679, given by Dr. Brettell, rector of the parish, two cups of the same gift, but remade in 1865, two plated patens and a plated flagon.
The registers before 1812 are as follows: (i) all entries 1707 to 1755, baptisms and burials to 1778; (ii) baptisms and burials 1797 to 1813; (iii) marriages 1755 to 1787; (iv) marriages 1788 to 1812.
Advowson
A church of Great Loughton was recorded as early as 1219, (fn. 163) and the advowson was held at first by the lords of the manor of Great Loughton, and then by the holders of Ardres Manor until 1409. (fn. 164) At that date the church of Little Loughton, which was also first recorded in 1219, (fn. 165) and the advowson of which was attached to Little Loughton Manor, (fn. 166) was united with Great Loughton, (fn. 167) and the presentation was made alternately by the lords of Little Loughton Manor and of Ardres Manor. (fn. 168) The right of presentation was a matter of dispute in 1486, (fn. 169) and after that date seems to have been vested solely in the lords of the manor of Little Loughton, (fn. 170) with the exception of a presentation in 1625 by the heirs of Loughton (of Ardres Manor apparently). (fn. 171) It became the right of Clement, younger brother of Valentine Pigott, who, by his will dated 12 December 1615, left it to his wife Frances, (fn. 172) and joined with her a year later in conveying it to John Crane, (fn. 173) already lord of Little Loughton Manor. It does not appear to have been sold with the manor in 1655, but to have passed to Robert Crane, by whom it was bequeathed to Trinity College, Cambridge. After his death in Feb. 1672–3, it was confirmed to the college by his brother Francis Crane by a deed of gift of 14 November 1678. (fn. 174) The advowson has since remained in the possession of Trinity College. (fn. 175)
In 1291 the Prior of Longville received a pension of £1 from the church of Loughton, (fn. 176) mentioned again in 1327. (fn. 177) It was held by Sir Gilbert Talbot at his death in February 1398–9. (fn. 178)
Tickford Priory held tithes in Loughton, (fn. 179) assessed at 5s. at the Dissolution. (fn. 180) These were included in the grants of Tickford Manor in Newport Pagnell (fn. 181) (q.v.), with which they were held by Henry Atkins, M.D., in 1623. (fn. 182) New College had a pension of 6s. 8d. in Great Loughton Church. (fn. 183)
Lands and tenements in Loughton, valued at 52s. 4d. yearly in 1548–9, were given by Richard Stoke, rector of Loughton, for the purpose of giving in Lent to each householder thirty herrings. Five shillings were to be spent in gifts of bread and drink, and 2s. 1d. set aside for an obit. (fn. 184)
Charities
The charity of Hugh Park, settled by deed dated 1 December 1609, is endowed with two pieces of land containing together 8 a. 3 r. let at £22 a year, and with £757 16s. 2d. consols, arising from sales of land from time to time, producing £18 18s. 8d. yearly. By a scheme of the Charity Commissioners of 3 February 1882 one moiety of the net income is made applicable for the repair of the church and one moiety for the poor, which is applied in the distribution of coal.
In 1721 William Binion, by his will, devised a yearly rent-charge of £5 issuing out of Church Farm for apprenticing a poor boy. The charity is applied as required, a premium of £10 being usually paid.
The Faggot Money.—By the Loughton Inclosure Act, 1768, the allottees of the common lands were required to deliver yearly a certain number of faggots, or a money equivalent, for the poor in lieu of the right of cutting furze on the waste. A sum of £2 9s. 5d. is paid every two years in respect of this charity.
In 1878 Mrs. Whitworth, by deed dated 31 October, gave £104 5s. 11d. consols, the annual dividends, amounting to £3, to be distributed in blankets and flannel to poor widows.
Frederic Wills Bignell, by his will, proved 28 September 1905, bequeathed £95 2s. 3d. India 3½ per cent. stocks, the annual dividends, amounting to £3 6s. 8d., to be distributed on Christmas Eve among the occupants of the four memorial cottages on the London Road. The several sums of stock are held by the official trustees.