Pages 466-470
A History of the County of Buckingham: Volume 4. Originally published by Victoria County History, London, 1927.
This free content was digitised by double rekeying. All rights reserved.
STOKE GOLDINGTON
Stoches (xi cent.); Stokes, Stocking, Stok Goldington (xiii cent.).
Stoke Goldington has an area of 2,352 acres, of which about 190 acres are woodland and the remainder equally divided between grass and arable land. (fn. 1) The land rises from 175 ft. above the ordnance datum near the River Ouse in the east of the parish to 387 ft. on the western boundary. The soil is chiefly stiff clay and limestone; the subsoil is similar. Brickmaking was carried on here until about ten years ago. The village, in the centre of the parish, lies in a hollow on the road between Newport Pagnell and Northampton. The rectory with its farm is situated near the entrance to Dag Lane. This leads up to the church of St. Peter, which stands on high ground a quarter of a mile northwest of the village. North of the church is Church Farm, a stone house originally built in the early part of the 17th century, but much altered and added to at a subsequent period. The house is surrounded by the remains of a moat, now dry, apparently circular in shape. In the village street there is a late 17th-century stone house with gabled ends. A nearly rectangular moat (fn. 2) lies to the west of Stoke Park Wood. The village contains a Congregational chapel; west of the school at the southern end is an old well.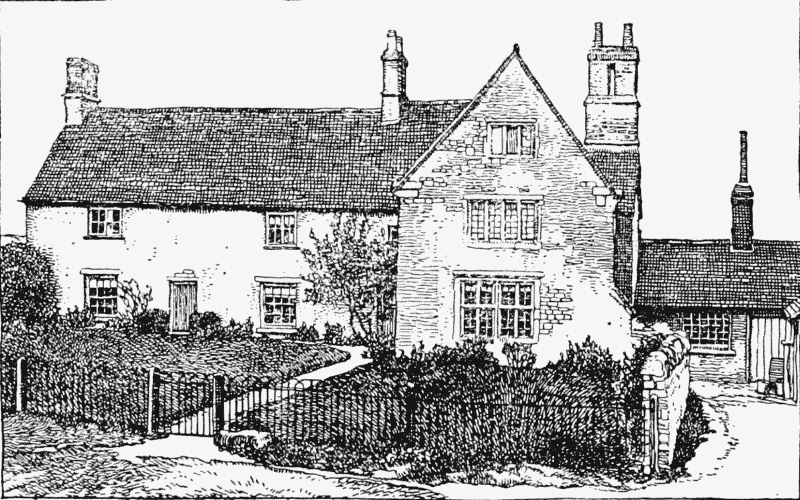 Eakley (Ickele, Gikkele, Jocle, xiii cent.; Icoley alias Ikeley, xvi cent.) is a straggling hamlet with two farms and an old inn, 'The Coach and Horses,' in the north of the parish on the main road from Newport Pagnell to Northampton. It was formerly of much greater importance than at the present day, and seems to have been returned as a hamlet distinct from Stoke Goldington (fn. 3) until after the middle of the 16th century, when it was assessed with it. (fn. 4) In 1802 Lysons was informed that Eakley had once been a separate parish with a chapel of its own which had been destroyed. (fn. 5)
Gorefields, a piece of land of 65 acres without inhabitants in the west of the parish, formerly extraparochial (fn. 6) and mentioned in connexion with Gayhurst in 1848, (fn. 7) was annexed to Stoke Goldington in 1865 by an order of quarter sessions.
Ram Alley is a small hamlet to the south-east of the village, comprising a group of 17th-century stone cottages with thatched roofs.
This parish, exclusive of Eakley, was inclosed by Act of Parliament in 1770. (fn. 8)
The following place-names have been found: le Brende Close (fn. 9) (xv cent.); Cabb yard, Dove House Close (fn. 10) (both in Eakley), Storbury Close in Gorefields (fn. 11) (xvii cent.); Augur's or Orgar's Hill (fn. 12) (xix cent.).
Manors
STOKE GOLDINGTON MANOR, held before the Conquest by Countess Gueth, was in 1086 assessed at 3 hides 3 virgates, under the lands of William Peverel. (fn. 13) The overlordship rights appertaining to the honour of Peverel, (fn. 14) last mentioned in this connexion in 1428, (fn. 15) gradually merged into those of the Crown. (fn. 16)
Drew was tenant of Stoke Goldington under William Peverel in 1086. (fn. 17) It was held by Peter de Goldington between 1163 and 1177, (fn. 18) and in the early 13th century by Peter de Goldington, presumably a different person. (fn. 19) He died about 1218, when the custody of his lands here was given to Walter de St. Owen. (fn. 20) Peter de Goldington, who was holding in 1234, (fn. 21) died about 1252, leaving three daughters and co-heirs, Denise, Isabel and Maud. (fn. 22) Maud may have married William de Grey, whose manor in Stoke Goldington is mentioned in 1265, (fn. 23) Denise married Miles Hastings, (fn. 24) and Isabel William de Nowers of Gayhurst, (fn. 25) and their husbands held Stoke Goldington Manor in two moieties in 1276. (fn. 26) The Nowers moiety augmented by one-third of the Hastings moiety was afterwards called Stoke Goldington Manor. Aumary de Nowers was holding in 1279 (fn. 27) and 1284, (fn. 28) in the lifetime of his father William. Grace de Nowers, called lady of Stoke Goldington in 1336, (fn. 29) only held one-third of this manor at her death in 1349, (fn. 30) the remaining two-thirds reverting to the next heir John de Nowers on the death of Agnes de Nowers between 1357 and 1370. (fn. 31) From that date Stoke Goldington Manor descended with Gayhurst (fn. 32) (q.v.), which the Nowers had held since the 11th century, to Mr. W. Carlile, (fn. 33) the present owner.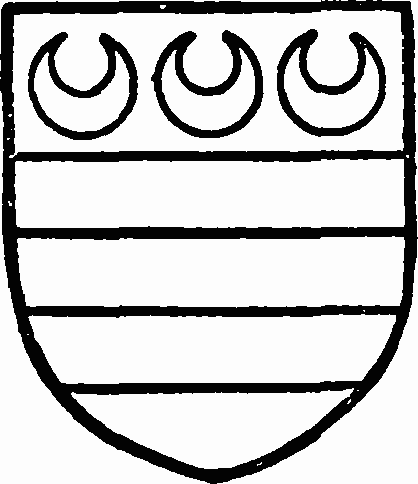 The other moiety of Stoke Goldington Manor was held by Miles Hastings (fn. 34) until his death about 1305. (fn. 35) His grandson and heir Miles, (fn. 36) son of Philip Hastings, died seised of it about 1311. (fn. 37) The heirs were Giles Rivel, or Revel, son of Giles Rivel and of Isabel, sister of Miles, and two other sisters Alice wife of Thomas de Furneaux and Margery wife of Roger Boteler, (fn. 38) Maud, widow of Miles, receiving dower. (fn. 39) The Furneaux portion was acquired later in the century by John son of Aumary de Nowers from William son of Alice de Furneaux. (fn. 40) It is mentioned as a distinct part of the Nowers' estate in Stoke Goldington in 1357. (fn. 41)
In 1317 Giles Rivel the younger obtained a licence to grant his interests in Stoke Goldington to Simon de Drayton, (fn. 42) who also acquired the Boteler portion from William son of Roger and Margery Boteler (fn. 43) presumably before 1324, (fn. 44) and obtained a grant of free warren in 1327. (fn. 45) In 1344 he received licence to alienate his estate here (including the reversion of the land held by Maud Hastings, then widow of John Picard) in mortmain to Ravenstone Priory. (fn. 46) This estate (fn. 47) augmented by grants to the priory in 1360 (fn. 48) was afterwards called Stoke Goldington Manor. Under this name it descended with Ravenstone Manor (q.v.) to Daniel second Earl of Nottingham, owner of both manors in 1694, and afterwards seventh Earl of Winchilsea. (fn. 49) His estate in Stoke Goldington, into which the Wolf holding in Eakley (see later) had long been apparently absorbed, is presumably that sold in the middle of the 18th century as WOLFSFIELDS MANOR by Daniel eighth Earl of Winchilsea to the trustees of Dr. Busby's charities (fn. 50) (cf. Willen). It has since remained in their possession. (fn. 51)
A licence was granted to Peter de Goldington in 1214 to inclose his wood at Stoke and to make a park there. (fn. 52) Free warren was granted to his son Peter de Goldington in 1251 (fn. 53) and claimed by the owners of both moieties with rights in the 'new park' in 1276, (fn. 54) and a moiety of Stoke Park Wood is mentioned as appertaining to the principal manor in 1495. (fn. 55) A grant of court leet and view of frankpledge in this manor was made to Mary Lady Digby in 1620. (fn. 56)
Before the Conquest two thegns held a hide and a virgate of land in Stoke Goldington as two manors. (fn. 57) Their land in 1086 had passed to the Bishop of Coutances, (fn. 58) and was afterwards subordinate to his manor of Olney, the head of the honour of Arundel in Buckinghamshire. (fn. 59) John l'Estrange laid claim to the overlordship rights in 1284, (fn. 60) and in 1343 they were vested in Ralph Lord Basset of Drayton. (fn. 61)
The bishop's holding in Stoke Goldington was held under him by an Englishman in 1086. (fn. 62) Part of it, possibly the messuage and 40 acres of land quitclaimed by Thomas son of William de Woolaweston and Beatrice his wife to Roger son of William de Morewell in 1271, (fn. 63) appears in 1279 in the tenure of John de Morewell, (fn. 64) who was holding a carucate of land in 1284 (fn. 65) and is mentioned in 1287 with his brother Roger. (fn. 66) A reference to John de Morewell occurs in 1313. (fn. 67) His land in Stoke Goldington was held for life by Robert de Morewell and his wife Lucy in 1317, when Giles Rivel the younger granted the reversion to Simon de Drayton (fn. 68) with his interests in the Hastings moiety of Stoke Goldington Manor into which this small holding eventually merged.
A property in Stoke Goldington called in the late 16th century GERVEYS PLACE MANOR derived its name from the family of John Gerveys, who held land here in the late 14th century. (fn. 69) In 1392 he leased it to John Smart, his wife Joan, and their son John in survivorship. (fn. 70) In January 1569–70 Thomas son of William Astry stated that his father (whose death occurred in 1542) (fn. 71) had died seised of this manor, and that the deeds were detained by Robert Willoughby, (fn. 72) then owner of Eakley Manor. The latter probably secured the property, of which no later mention has been found. The name perhaps survives in Jarvis's Wood.
Delapré Abbey in Northamptonshire had a small holding in Stoke Goldington in the later 13th century, (fn. 73) possibly LA GARE, originally granted by Richard de Bosvile and included in the confirmation grant of 1328. (fn. 74) This corresponds to the close of pasture called GOREFIELD alias MARYMAWDELYN alias CHAPELFIELD, (fn. 75) afterwards GOREFIELDS, which in 1536 was reserved to the Crown in a re-grant of its possessions to the abbey. (fn. 76) In 1540 Gorefields was leased for twenty-one years to Arthur Longville, (fn. 77) and in 1545 granted in fee to George Tresham. (fn. 78) He shortly afterwards transferred his rights to Thomas and Isabel Pigott. (fn. 79) In the next century Thomas son of Christopher Winkles was seised of Gorefields and died there in 1633, when he was succeeded by his nephew Thomas, son of Richard Winkles. (fn. 80) In the later 18th century this property, subject to a quit-rent of 8s. 7d. yearly to Wolfsfields, was purchased from a family named Wilkinson (fn. 81) by the last George Wright of Gayhurst (fn. 82) (q.v.) and added to his Stoke Goldington estate.
The hamlet of Eakley is first mentioned in the early 13th century as forming part of a knight's fee, including Plumpton and Harpole in Northamptonshire, which was held of the honour of Peverel. (fn. 83) The overlordship of Eakley, which was held by the service of one-sixth of a fee in the 13th and 14th centuries, continued in the Peverel fee, (fn. 84) afterwards annexed to the honour of Gloucester (fn. 85) and last mentioned in this connexion in 1615. (fn. 86)
Baldwin Wake, (fn. 87) and afterwards Edmund Mortimer, held mesne rights in one-half of Eakley in the later 13th century. (fn. 88)
References occur from 1182 to Robert Saucey (fn. 89) (de la Salceto, Sausere), who was holding Eakley in 1211. (fn. 90) This property is called EAKLEY MANOR in 1218, when Hugh son of Gwalerat quitclaimed to him certain rights there. (fn. 91) In 1230 it was agreed that Robert Saucey was to hold the park of Eakley of Robert son of Hugh for life at a rent of a pair of white gauntlets, with reversion to Robert son of Hugh and his heirs, who were to hold of the heirs of Robert Saucey at a rent of a pair of gilded spurs. (fn. 92) In 1235, on the death of Robert Saucey, Robert son of Hugh surrendered all claims in the manor, park and mill of Eakley to his heirs. (fn. 93) These heirs were four nephews and two sisters, two of the nephews Waleran Mortimer (fn. 94) and Robert Wolf (le Lup, Lou or Lowe) (fn. 95) evidently succeeding to Eakley. Waleran's estate passed to William Mortimer, who died about 1273. (fn. 96) Another William Mortimer followed, who was holding of Waleran Mortimer in 1279 (fn. 97) and was succeeded by him or another of the same name between 1287 (fn. 98) and 1302. (fn. 99) Edmund Mortimer was holding in 1316 and 1346 (fn. 100) and John Mortimer before 1439, when he received a grant of free warren in Eakley. (fn. 101) In 1458 a settlement of Eakley Manor was made on Baldwin Willoughby with reversion to Agnes daughter and heir of John Mortimer the younger of Grendon (co. Northampton), (fn. 102) whom he afterwards married. (fn. 103) At the end of the century Baldwin Willoughby, and after him his son and successor John Willoughby, had to defend their rights in Eakley against William and John Holdenby. (fn. 104) These were finally secured to the aforesaid John Willoughby and Richard Willoughby by an award in 1513. (fn. 105) In the following year Elizabeth Giles, her son George Hatton, and John Holdenby (fn. 106) quitclaimed Eakley Manor to Richard Willoughby, (fn. 107) and his son and successor Edward died seised in 1558. (fn. 108) On the death of his son and heir Robert Willoughby (fn. 109) in February 1614–15 it passed by marriage settlement to his widow Mary. (fn. 110) She was living in 1621, at the death of Robert's brother and heir Richard Willoughby. (fn. 111) His son and heir Philip (fn. 112) was in possession before 1630, (fn. 113) and in 1636 he and his wife Mary conveyed Eakley Manor to Robert, Richard and William Hocknell, (fn. 114) subject to an annuity of £110 to Mary Willoughby, who died in 1657. (fn. 115) The Hocknells mortgaged Eakley to Richard Lane and complained in 1658 that his sons William, Charles and Henry Lane refused to accept the repayment of the principal without interest, the Lanes having agreed to forgo the interest during the Civil Wars and Mrs. Willoughby's lifetime. (fn. 116) The Lanes, however, who based their right upon their father's will, evidently proved their title, and in November 1671, shortly before his death, Charles Lane settled two cottages called the Dovehouse and the Tollhouse, parcel of Eakley Manor, on his wife Mary and his younger children, who sued the son and heir Henry Lane in the following year. (fn. 117) A settlement was made by Henry and William Lane in 1681. (fn. 118) Charles Lane was owner in 1766, (fn. 119) and Charles Burton Lane and his wife Grace made a settlement of the manor in 1784. (fn. 120) He died before 1802, when his executor was in possession. (fn. 121) Lysons states that the estate known as EAKLEY LANES, chargeable with repairs to the chancel of Stoke Goldington Church, was sold in 1804 to Sir Robert Gunning, bart., (fn. 122) but it has not been found possible to trace its later descent.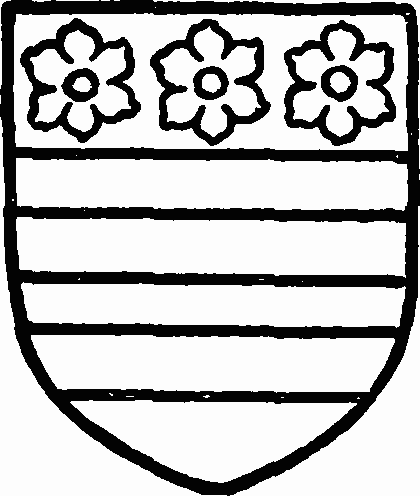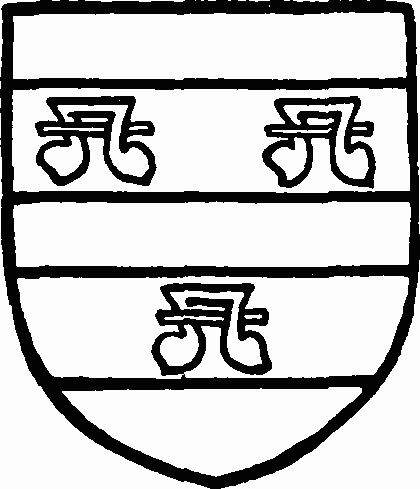 Tolls from fairs in Eakley were appurtenant to the manor in the 17th century. (fn. 123) No grant of these fairs has been found, nor any particulars as to their discontinuance.
The estate in Eakley inherited from Robert Saucey by Robert Wolf passed in 1262 (fn. 124) to his son and heir John, (fn. 125) who is called Sir John Wolf in 1276. (fn. 126) He granted it in 1280 to his son Robert and his heirs to hold of himself for £10 and of his heirs for 1d. yearly. (fn. 127) This Robert Wolf, or possibly his son of the same name, was holding in Eakley (fn. 128) apparently into the middle of the 14th century. (fn. 129) The absence of documentary evidence as to the later descent of the Wolf estate (fn. 130) points to the conclusion that it was absorbed, as already stated, into the Stoke Goldington Manor belonging to Ravenstone Priory. (fn. 131)
Church
The church of ST. PETER consists of a chancel 29 ft. 6 in. by 13 ft., south chapel 29 ft. 6 in. by 11 ft., nave 38 ft. by 18 ft. 6 in., north aisle 7 ft. wide, south aisle 8 ft. wide, west tower 11 ft. square and a south porch. All these measurements are internal.
The earliest part of the structure is the nave, which is shown by the chancel arch to be of the early 12th century. North and south aisles were added about the middle of the 13th century, and in the first half of the succeeding century the chancel was rebuilt with the addition of a south chapel, and the south porch was erected. In the early part of the 15th century considerable alteration was made to the church, the north aisle being rebuilt, while a little later the tower was added. The north aisle was shortened and the nave clearstory added in the 16th century. During the restoration of the church in 1897 the south wall of the south chapel and the north wall of the chancel were rebuilt.
The chancel is lighted from the east by a window of three cinquefoiled lights, the tracery of which is of the 15th century, and has evidently been inserted in a 14th-century opening. In the north wall are two square-headed 14th-century windows of three cinquefoiled lights. The south wall is chiefly occupied by an arcade of two bays opening into the south chapel; the arches are chamfered, the column is circular and the responds semicircular. This work has been entirely rebuilt, partly with the old stonework. The semicircular chancel arch dates from the early part of the 12th century and is of a single plain order. Most of the arch stones and the chamfered abaci have remains of a carved diaper pattern. The jambs are plastered. In the south wall of the chancel, in the usual position, is a 15th-century piscina with a trefoiled head and circular basin.
The south chapel, now used as a vestry, is lighted from the east by a 14th-century pointed window of two cinquefoiled lights with quatrefoil tracery, and from the south by a small reset window of the same date of two uncusped lights. Towards the west end of the south wall is a doorway with a few old stones in the jambs. In this wall has also been reset a piscina with a trefoiled head and large circular basin of the 15th century.
The nave has north and south arcades, each of three bays, dating from the middle of the 13th century, the south arcade being a few years earlier than the north. The arches are pointed and of two chamfered orders springing from circular columns; the responds of the north arcade have moulded abaci, and, like the arches, are of two chamfered orders, while the responds of the south arcade are semicircular. The capitals and bases are moulded, except those of one column on the north, which are chamfered. There are three plain rectangular windows on the south side of the clearstory. The nave has a plastered ceiling with 17th-century tie-beams.
The north aisle is lighted from the east by a window of two cinquefoiled lights under a square head, the mullion of which is badly broken and decayed, from the north by a late 14th-century traceried window of two lights with an internal rebate for a wooden frame, and from the west by a 16th-century window of two lights under a square head. The north doorway is of 13th-century date; the external label is mostly modern, but incorporates some old stones carved with nail-head ornament. On the inside of the door, which has a modern casing, are the letters SK with the date 1716 in nail-heads. The south aisle is lighted by two windows in the south wall; the eastern, a 16th-century insertion, is of two uncusped lights under a square head, and has an internal rebate for a wooden frame; the western is modern. Between them is the 13th-century north doorway. Both aisles have 17th-century lean-to roofs.
The 15th-century west tower is of two stages and has diagonal western buttresses, a vice in the southwest angle and an embattled parapet. The tower arch is of three chamfered orders, the innermost order resting upon semi-octagonal responds with moulded capitals and bases. In the west wall of the ground stage, above the moulded west doorway, is a two-light window, with tracery in a pointed head, and there are small lancet lights high up in the north and south walls. The bell-chamber is lighted from all four sides by two-light windows like the west window of the ground stage. The south porch has a much-restored outer archway with a 14th-century label.
The font is quite plain, and has a tapered circular bowl of the 12th or 13th century. In the cusping of the east window of the north aisle is a piece of 15th-century glass, now broken, with IHS in yellow on white. Under the modern communion table is a smaller table of late 17th-century date with turned legs. A 17th-century chest with a carved front, much restored, stands in the vestry. In the nave and north aisle are several fragments of oak pews and moulded framing of early and late 17th-century work.
On the north side of the chancel are four floor slabs to Ann widow of Robert Howard (d. 169–); Edmund Butt, rector (d. 1701); John Hillersdon, rector and Archdeacon of Buckingham (d. 1684); and John Deane, rector (d. 1759). At the south-east of the nave is a marble tablet to Thomas Hodgkins (d. 1720), his wife Sarah (d. 1710) and daughter Sarah (d. 1738). In the south aisle is an early 14th-century slab with a much defaced marginal inscription in Lombardic capitals, and indents of two shields. Only the name 'Alianora' can now be deciphered. In the vestry is a much-worn late 17th-century carved slab.
In the churchyard, against the east wall of the porch, is a 13th-century stone coffin-lid, much worn, with a hollow-chamfered edge and an eight-pointed foliated cross carved upon it.
There are five bells: the treble is by Henry Penn, 1707; the second, third, fourth and tenor, by Robert Atton, (fn. 132) are inscribed, 'God save Kyng Charles 1625.' The bell-cage is dated 1625.
The plate consists of a standing paten inscribed 'Ex dono Johan. Hillersdon Archd. Bucks. 1673'; a large cup with curved bowl, the top edge defective, and moulded stem and base, probably of the 18th century, unmarked; and a modern electro-plated chalice.
The registers begin in 1538.
Advowson
The advowson of the rectory of Stoke Goldington, valued at £13 6s. 8d. yearly in 1291 (fn. 133) and at £14 6s. 8d. in 1535, (fn. 134) has descended with certain exceptions with the principal manor. (fn. 135) During the minority of the younger Peter de Goldington it came into the possession of Huntingdon Priory, and a presentation was made by the prior before 1220. (fn. 136) In 1234, however, Peter de Goldington used his right of presentation, having sued the prior and recovered the advowson. (fn. 137) When the manor was divided into moieties the holder of each presented alternately. (fn. 138) The disintegration of the Hastings moiety in the early 14th century eventually gave the Nowers family a greater share in the advowson, and John de Nowers in 1376 nullified a presentation made by Ravenstone Priory. (fn. 139) The latter seems to have presented for one turn in every three until the Dissolution, when this right lapsed to the lord of the principal manor. (fn. 140) The present owner of the advowson is Mr. W. W. Carlile.
The rectory of Stoke Goldington was united with that of Gayhurst in 1736, (fn. 141) and an allotment in lieu of tithes except of those in Eakley was made in 1770. (fn. 142)
In 1548 an obit in the church was maintained by 17s. 10d. and a light by 9d. yearly from certain lands and tenements in Stoke Goldington. (fn. 143)
Charities
Parish Houses, otherwise known as Widows' Money.—It appears from the Parliamentary Returns of 1786 that a person unknown gave some houses for six poor widows and for apprenticing children. The property formerly consisted of thirteen houses let by the overseers. The houses having been destroyed by fire, the site was sold in 1891, and the proceeds invested in £103 9s. 2d. India 3 per cents., the dividends of which, amounting to £3 2s., are applied for the benefit of poor widows.