Pages 471-476
A History of the County of Buckingham: Volume 4. Originally published by Victoria County History, London, 1927.
This free content was digitised by double rekeying. All rights reserved.
STOKE HAMMOND
Stoches (xi cent.); Stokes (xii, xiii cent.); Stokes Hamund (xiii cent.).
The parish of Stoke Hammond derives its distinguishing name from Hamon son of Meinfelin, a 12th-century holder. It covers 1,566 acres, including 1,080 acres of permanent grass and 343 of arable. (fn. 1) The land rises from 238 ft. above the ordnance datum near the Grand Junction Canal to 340 ft. in the west of the parish. The soil is light clay, the subsoil clay and gravel, and the chief crops are wheat, oats, beans and barley. The River Ouzel forms the eastern boundary, and the main line of the London and North Western railway runs through the middle of the parish. The somewhat scattered village is situated in the south-east. It contains many halftimber 17th-century cottages, some of which have thatched roofs. The Bell Inn is a 17th-century brick building rearranged internally.
The church, standing on high ground at the north end of the village, is approached through an avenue of lime trees. In the churchyard there are two yew trees planted in 1687. The rectory is on the south-west of the church and the school a short distance east of it.
Stoke Lodge, to the south of the road between the Bell Inn and the post office, is the residence of Mr. Percival Lovett. It was built before the middle of the 19th century by one of the Bernard Fountaines, (fn. 2) members of an old yeoman family which has been connected with Stoke Hammond from the 17th century. (fn. 3) There is a Wesleyan chapel in the village.
Tyrell's Manor, so called from the 16th-century owners, lies about a quarter of a mile south-east from the church. Stoke House, the property and residence of Mrs. Percival, stands in the north-east of the parish, east of the Fenny Stratford road. A short distance eastward from the dairy farm is the corn-mill known as the Orchard Mill. The Rectory Farm is in the north-west of the parish.
Inclosures for turning arable land into pasture were being made here in the 15th century, (fn. 4) but the general inclosure of the common lands including Cow Common was made by Act of Parliament in 1774, the award being dated 25 March 1775. (fn. 5)
The following place-names occur: Levedenemade (fn. 6) (xii cent.); Saddeston, (fn. 7) Hollond (fn. 8) (xvi cent.); Coyes, Herring leyes, (fn. 9) the Tiled House Pools, (fn. 10) Docky Hooke (fn. 11) (xvii cent.).
Manors
Before the Conquest STOKE HAMMOND MANOR was held by eight thegns, one of them holding 6 hides less half a virgate as one manor. (fn. 12) In 1086 it was assessed at 10 hides among the lands of Manno the Breton, (fn. 13) and was afterwards attached to his barony of Wolverton, (fn. 14) paying in the middle of the 16th century £1 3s. 4½d. for castle ward. (fn. 15) Stoke Hammond is mentioned as one of the fees of Wolverton Manor in 1619, (fn. 16) but the idea of feudal tenure was then lost and the manor had been granted in socage in 1607. (fn. 17)
Stoke Hammond descended with Wolverton (q.v.) to William son of Hamon, (fn. 18) who subinfeudated it in 1247 to Alan son of Robert (fn. 19) [de Stoke]. He was perhaps a descendant of Owen de Stoke, who in 1166 held by recent enfeoffment of Hamon son of Meinfelin (fn. 20) a quarter fee corresponding to the hide of land which his successor Owen quitclaimed in 1198 to the aforesaid William son of Hamon in return for a virgate. (fn. 21) Alan was holding Stoke Hammond in 1254, (fn. 22) but his son Robert had succeeded before 1284 (fn. 23) and Alexander de Stoke before 1302. (fn. 24) In 1311 John de Stoke, parson of Strixton (co. Northampton), granted two parts of this manor to John Grey, Lord de Grey, with the reversion of the remaining part which John de Eton and Lettice his wife held for life of her dower. (fn. 25) John Grey's share of Stoke Hammond Manor. (fn. 26) and the whole manor when the reversion fell in (Lettice was still living in 1327), (fn. 27) descended with Bletchley Manor (q.v.) to Richard Earl of Kent. (fn. 28) In 1506 he settled this manor with those of Great Brickhill and Simpson, (fn. 29) and it was again settled with Simpson in 1512 on John Huse, who was about to marry Richard's sister Anne. (fn. 30) In 1514 John and Anne Huse conveyed Stoke Hammond Manor to Sir Henry Wyatt and others, trustees (fn. 31) for Richard Wyatt, and the legality of this transfer was acknowledged in 1518 by Sir Henry Grey, (fn. 32) half-brother and heir of Richard Earl of Kent. (fn. 33) This manor passed to Sir John Williams, who in 1541 exchanged it for other lands with the Crown, (fn. 34) the transaction being completed in 1542. (fn. 35) Stoke Hammond Manor was retained by the Crown (fn. 36) until 1607, when it was granted to Robert Earl of Salisbury. (fn. 37) He died in 1612, when he was succeeded by his son William. (fn. 38) He sold this manor to William Ashton, who with his wife Anne transferred it in 1619 with warranty against claimants through Robert Earl of Salisbury to Levinus Monke. (fn. 39) He was one of the Clerks of the Signet and died in 1623. (fn. 40) His widow Elizabeth was holding in 1625, during the minority of their son Robert. (fn. 41) Later in the century Stoke Hammond Manor fell into moieties. A settlement of one moiety was made in 1648 (fn. 42) on the marriage of Jane daughter of Richard Bennet by his first wife Jane, daughter of Levinus Monke, (fn. 43) with James Scudamore, son of John first Viscount Scudamore of Sligo. (fn. 44) Their son John, who succeeded his grandfather as viscount in 1671, (fn. 45) made a settlement of his moiety in 1682. (fn. 46) His son James succeeding in 1697 (fn. 47) also made a settlement respecting it in 1706. (fn. 48) He died in 1716 and his only daughter and heir Frances in 1750. (fn. 49) A settlement of her moiety was made in 1771 (fn. 50) on the marriage of her only daughter Frances Fitzroy Scudamore (fn. 51) to Charles Howard the younger. (fn. 52) The manorial rights of the Smiths, owners of the other moiety, were purchased in trust for her in 1773, (fn. 53) and she was sole lady of the manor in 1774. (fn. 54) Her husband, who succeeded to the dukedom of Norfolk in 1786, (fn. 55) made a settlement of Stoke Hammond property in 1811 (fn. 56) and died in 1815, his widow, then a lunatic, surviving until 1820. (fn. 57) His cousin Bernard, the next Duke of Norfolk, (fn. 58) sold the Stoke Hammond estates chiefly to members of the Fountaine family, (fn. 59) and Bernard Fountaine was lord of the manor in 1862. (fn. 60) It remained in his family (fn. 61) until recently. Mrs. Percival is the present owner.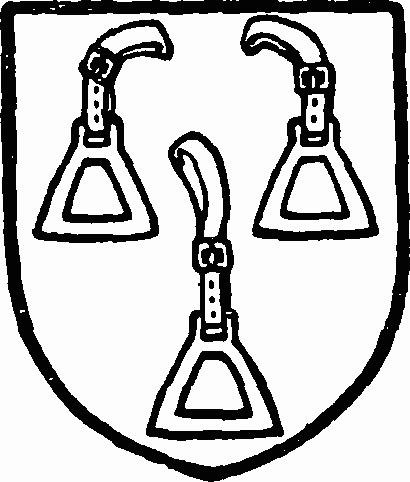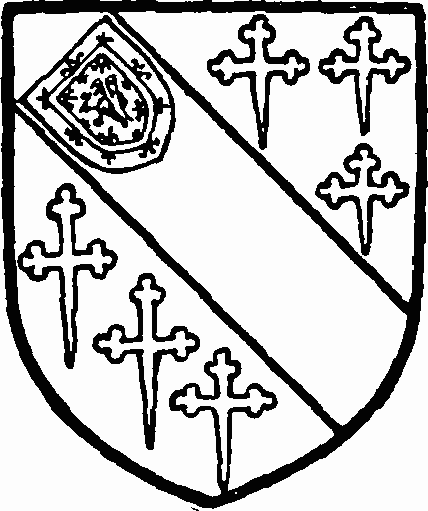 The other moiety of Stoke Hammond Manor passed by the marriage about 1630 of Mary daughter of Levinus Monke to Thomas, younger brother of Richard Bennet. (fn. 62) They made a settlement concerning it in 1653, (fn. 63) on the marriage of their son Levinus to Judith daughter of William Boevey. (fn. 64) Thomas Bennet was made a baronet in 1660 and was buried at Babraham (co. Cambridge) in 1667. (fn. 65) In 1672 his widow and son conveyed their estate in Stoke Hammond to Sir John Pye, bart., and Sir Michael Heneage. (fn. 66) A moiety of this, equivalent to a quarter of the whole manor (the remaining quarter cannot be traced), was conveyed in 1682 by Sir John Pye to Harris Smith of Padbury, (fn. 67) father of Richard Smith, who owned it in 1736. (fn. 68) It appears to have been his widow Penelope, (fn. 69) who made a settlement respecting it in 1752 with the heir Richard Smith. (fn. 70) He was probably the Mr. Smith (fn. 71) who sold his manorial rights to Charles Howard in 1773, so that the whole manor, as already said, became vested in his wife Frances. The land previously owned by the Smiths passed through various hands before 1802 and does not reappear. (fn. 72)
An estate including the site and capital messuage of the manor, a messuage called White House and Lord's Close, was leased for twenty-two years by Sir John Williams in 1539 to Thomas Golsew. (fn. 73) It was held later by Edmund Atkinson, and granted in 1569 to Henry Fowler, his wife Alice and their son John for their lives in survivorship. (fn. 74) An additional term of twenty-one years was granted in 1585 to John Fowler. (fn. 75)
A mill at Stoke Hammond worth 8s. yearly in 1086 (fn. 76) descended with the manor to Sir John Williams, (fn. 77) and was included in his lease of the site of the manor, but excepted from the Crown leases. The mill-house with some 70 acres of land was held in chief of the Crown by William Turney at his death in 1610, when it passed to his son John. (fn. 78) John Hillersdon held a piece of land in the neighbourhood of Orchard Mill (the name of the present mill) in 1637, (fn. 79) and Browne Willis states in 1735 that the Turney property in Stoke Hammond was acquired by the Hillersdons. (fn. 80)
A dove-house on the manor is named in 1323 (fn. 81) and 1619, (fn. 82) and references to it occur later in both moieties. (fn. 83) The right of free fishery is mentioned in the 17th century. (fn. 84)
A second manor called STOKE HAMMOND MANOR belonged to Dunstable Priory, which in 1245 acquired about 2 virgates from Adam de London and his wife Alice. (fn. 85) The priory built a great barn at Stoke in 1246 and a hall and a cattle shed in 1249, (fn. 86) and in 1284 Robert son of Alan de Stoke cleared for it another virgate of land belonging to his fee and given by John Hastings. (fn. 87) This manor was leased by Dunstable Priory for £3 6s. 8d. yearly until the Dissolution. (fn. 88) Thomas Page was lessee in 1535, (fn. 89) but in 1538 a sixty years' lease was granted by the priory to Sir John Williams, (fn. 90) then apparently lord of the principal manor. In 1543 he exchanged his leasehold interest for a grant from the Crown, (fn. 91) but some compromise must have been effected, since the priory lands, including two messuages, were comprised in the survey of the Crown manor in 1555. (fn. 92) Both messuages, one under the name of Pervaunts, were granted by the Crown in 1564 to John Somer and Thomas Kerry. (fn. 93) The second messuage is apparently that of which John Fowler above mentioned died seised about 1609. (fn. 94) This property, which his widow Alice and her second husband Thomas Voggett were holding for life in 1610, was acquired from the son and heir Henry Fowler (fn. 95) by Levinus Monke before 1623. (fn. 96) It is not afterwards distinguishable from the manorial estate of Stoke Hammond.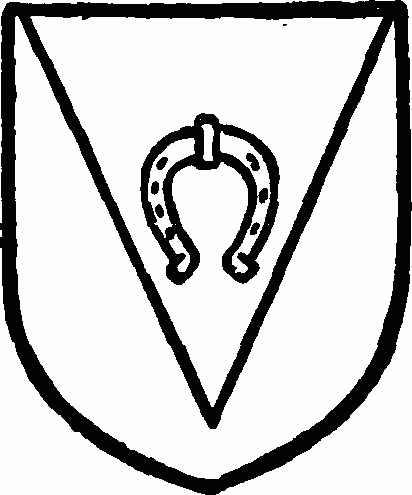 The right of the Prior of Dunstable to view of frankpledge and assize of bread and ale in Stoke was called in question in 1286, (fn. 97) and evidently established from general charters in his favour. (fn. 98) The view of frankpledge and court baron were included in the priory lease to Sir John Williams, but do not reappear.
An estate in Stoke Hammond known as INGLETONS, originally a freehold of the principal manor, (fn. 99) appears in the late 15th century as STOKE HAMMOND MANOR, held of the king in chief by service of one-thirtieth part of a fee, (fn. 100) for which tenure in socage was afterwards substituted. (fn. 101) George Ingleton held this estate at his death in January 1493–4, (fn. 102) and it descended with Thornton Manor (q.v.) to George Tyrell, (fn. 103) who sold it in 1557 to Edward Kirke of Bow Brickhill, yeoman. (fn. 104) He was pardoned for acquiring it without licence in 1558, but had to prove his title in the following year. (fn. 105) Edward Kirke died in 1573, leaving his estate to be divided equally between his sons William and Kenelm. (fn. 106) William Kirke obtained livery of Stoke Hammond Manor in 1574, (fn. 107) and later in the year he and his wife Joan surrendered it to Kenelm. (fn. 108) Difficulties arose with the Crown, which were finally adjusted in 1579. (fn. 109) In 1598 Kenelm Kirke and his wife Joyce conveyed this manor to Thomas Cripps, (fn. 110) who in 1608 settled it on himself and his wife Joan for life with reversion as to one half to Frances wife of John Hillersdon of Ampthill (co. Bedford). He was to enjoy all the manorial privileges after his wife's death with remainder to their son and heir Thomas Hillersdon. (fn. 111) Joan was living when Thomas Cripps died in 1611. (fn. 112) John Hillersdon, styled of Stoke Hammond in 1634, (fn. 113) died seised of some property there in 1637. (fn. 114) His son and heir Thomas (fn. 115) was fined in 1646 for the discharge of his estate in Stoke Hammond, valued at £130 yearly, which had been sequestered for delinquency. (fn. 116) He died in 1658, (fn. 117) and in 1676 his son John (fn. 118) cut off the entails and remainders on the estate entitled TYRELLS MANOR, then partly in the tenure of his mother Elizabeth and partly in that of William Abwell. (fn. 119) Elizabeth Hillersdon died in 1705 (fn. 120) and John Hillersdon in 1729. (fn. 121) His family held property in Stoke Hammond later in the century, (fn. 122) but there is no mention of it or of Tyrell's Manor in the Inclosure Act of 1774. It is perhaps included in the estate owned before 1862 by Baron Lionel Nathan de Rothschild, (fn. 123) which has since descended to his third son Mr. Leopold de Rothschild.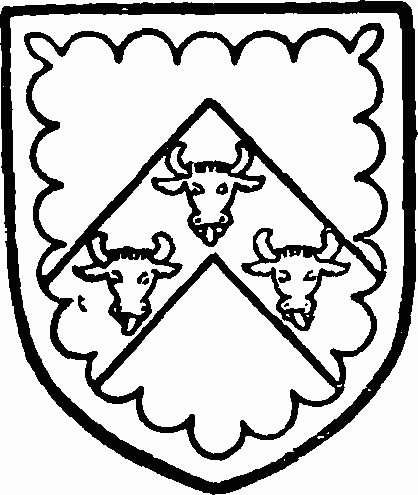 A small property in Stoke Hammond confirmed to Missenden Abbey by Pope Innocent IV in 1253, (fn. 124) and described as 2 virgates of land worth £2 yearly in 1291, (fn. 125) was again confirmed to this abbey by papal authority in 1401. (fn. 126) The rents were valued at £1 6s. 8d. yearly in 1535. (fn. 127) After the Dissolution this property appears to have passed with other possessions of Missenden Abbey to the Dormers, (fn. 128) since in 1615 Robert Lord Dormer sold some land here to Henry Fowler. (fn. 129) He transferred it in 1616 to William Ashton, who sold it with the principal manor of Stoke Hammond to Levinus Monke in 1619. (fn. 130) This land, worth £5 yearly in 1625, (fn. 131) is not afterwards distinguishable from the manor.
Church
The church of ST. LUKE consists of a chancel 23 ft. by 16 ft., central tower 9 ft. by 8 ft., north and south transepts each 10 ft. by 8 ft. 6 in., nave 33 ft. 6 in. by 20 ft., south porch and small modern north vestry. All these measurements are internal.
There was apparently an early church here consisting of a chancel and nave, the eastern angle of the south wall of the latter being still visible in the east wall of the south transept. In the middle of the 14th century the church assumed its present cruciform plan, the chancel being rebuilt and enlarged, and the central tower and transepts added. Repairs were effected in the 15th century, when the north and south walls of the transepts were rebuilt, the nave walls heightened, the roofs renewed, and the south porch added. Some work seems to have been done to the nave roof in 1703, as that date appears on one of the tie-beams, and it is said that the tower was raised and embattled in the same year, a former saddle-back roof being then removed. To the same date must probably be assigned the brick gable of the south porch. The west wall of the nave was rebuilt and the whole building restored in 1852. The church is built of stone; the mullions and tracery of many of the windows have been patched with cement.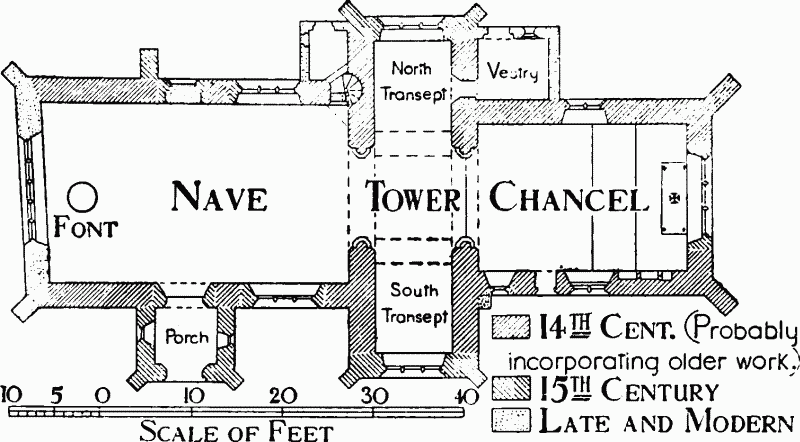 The east window of the chancel is of the late 15th century and has three cinquefoiled lights under a three-centred head. In the north wall is a 14thcentury window of two cinquefoiled lights with tracery in a pointed head, and opposite to it in the south wall is a similar window. At the south-west is a low-side window, much restored externally. This window contains an oval quarry dated 1682, with an armorial achievement. The shield is quarterly, 1 and 4 Argent a fesse gules with three fleurs de lis gold thereon; 2 and 3 Argent three leopards passant gules, with a sable martlet on the centre point for difference. The crest is a lion gules standing on a helmet with wreath and mantling, and the motto 'Deus scutum meum' on a scroll below the shield. The priest's doorway between the windows is of 14thcentury date, with head and jambs moulded in two orders. Near the east end of the wall are two sedilia with cinquefoiled ogee heads and foliated spandrels in range with a piscina having a trefoiled head and sexfoil basin. The eastern sedile communicates with the piscina niche by a small trefoil-headed piercing on a level with the seat. The 15th-century tiebeams of the roof are still in position, though the roof has been much restored.
The tower is of two stages and is carried by four 14th-century pointed arches, each of two chamfered orders. Those opening to the chancel and nave have their outer orders continuous, while the inner orders rest on semi-octagonal pilasters with moulded capitals and bases. The two orders of the arches opening to the transepts die into the walls at their springing. The bellchamber is lighted by four pointed windows, each of two trefoiled ogee lights with tracery; the east and west windows are at a higher level than the others, owing to the former higher pitch of the roofs, the weatherings of which are visible.
In the end wall of each transept is a 15th-century window of three cinquefoiled lights under a four-centred head. The east and west walls are probably of the same date as the tower, as they are of the same thickness as the tower arches between them, but the windows are of late 15th-century work. Each transept has a late 15th-century roof of two bays with central and wall trusses; each truss consists of a cambered tie-beam with a modern carved boss in the middle of the soffit, and curved brackets resting on stone corbels carved as demi-angels holding plain shields. In the east wall of the north transept is a small modern door leading to the vestry.
The nave has a three-light window towards the east end of the north wall and another opposite to it on the south side, both late 15th-century work, and of three cinquefoiled lights with tracery in a four-centred head. The north window contains some contemporary 15thcentury glass consisting of six small figures, more or less perfect. These are as follows: a bishop in mitre and mass vestments holding a staff, on a diapered background; a man in a cap and loose robe holding a book, with a scroll inscribed 'Johel' in black letter, much discoloured and imperfect; the half-figure of a man in a cap and a white robe over an elaborate undergarment holding a book, with a scroll inscribed 'Osee' in black letter; a man in a robe similar to the last, but smaller, and holding a book, with a scroll inscribed 'Sofonias' in black letter, the background diapered; a man similar to the foregoing, but holding a scroll instead of a book inscribed 'Ezekiel' in black letter, the background diapered; and fragments of the figure of an archbishop in vestments and pallium, holding a crozier. In the north-east corner is a narrow doorway with rebated jambs and pointed head and two hooks for hinges; some of the jamb stones on the west side have diagonal tooling, and may be earlier material reset. This doorway formerly opened into the tower staircase, but is now blocked, and access is at present gained through a small chamber entered from outside in the corner between the nave and north transept, and apparently of much later date. The north doorway of the nave, which is blocked with modern masonry, has chamfered external jambs with a label, probably of the late 15th century. The west wall, window and buttresses are modern, but a few old stones have been re-used. The south doorway has moulded jambs and head, and is of the same date as the south porch; the door is modern, but has ancient strap hinges on the inside. The nave roof, which is of three bays, is late 15th-century work, but, as mentioned above, appears to have been reconstructed in 1703; the tie-beams are cambered and hollow-chamfered and have modern carved bosses; one beam has the date 1703 cut upon it. The ridge and purlins are moulded and the rafters chamfered; the wall-plates, brackets and corbels are modern.
The south porch has a plinth and angle buttresses and a late 15th-century outer archway repaired with cement. The gable has been rebuilt in brick in the early 18th century, and the weathering of the former roof is visible in the nave wall; the brickwork is covered with cement and has a sunk panel with a lead slab bearing the words 'Reverence my sanctuary' between two cherubs' heads and surrounded by a moulded frame, all cast in relief. In each side wall of the porch is a small single light with a deep internal splayed opening.
There are remains of ancient sundials on the south doorway of the chancel, the outer archway of the porch, and the south-east buttress of the south transept; the last has a small iron gnomon.
The 14th-century font has a circular bowl supported by a stem surrounded by four circular shafts with moulded capitals which die into the bowl; the shafts, originally detached, are now joined to the stem by modern cement. The communion table is of oak, with six turned legs, and bears on its upper rail the date 1619 in four small panels. In the south transept is a 17th-century oak coffin-stool with carved legs and rails. In the nave is an oak poor-box dated 1618 with a turned baluster stem. The hinged lid is secured by three iron fastenings and a padlock.
On the north wall of the chancel is a marble tablet with a pediment and two columns, commemorating the following members of the Disney family: Mary daughter of Thomas Disney (d. 1658), Thomas son of Sir Henry Disney of Norton Disney and Swinderby (co. Lincoln), rector of Stoke Hammond (d. 1686), Joan daughter of Edward Wilks and wife of Thomas Disney (d. 1680), and Mark son of Edward Wilks (d. 1678). In the pediment are five kneeling figures in relief, and below them an hourglass with a skull and cross-bones between two shields: the dexter quarterly, 1 and 4 three fleurs de lis on a fesse, 2 and 3 three leopards; the sinister, paly a chief charged with three roses. Adjoining this tablet is a smaller one with an inscription to Mary daughter of Thomas Disney (d. 1658), above are a skull and cross-bones and a lozenge charged with three fleurs de lis on a fesse. On the west wall of the north transept is a slab divided into eight compartments commemorating Mary wife of Thomas Fountaine (d. 1650), Joanna wife of William Fountaine (d. 1680), Thomas son of Thomas Fountaine (d. 1636), Thomas Fountaine (d. 1668), Thomas son of William Fountaine (d. 1656), Bernard Fountaine (d. 1690), Agnise wife of Bernard Fountaine (d. 1703), and William their son (d. 1709). In the west jamb of the transept window close by is a small tablet inscribed T.F. 1704. On the north wall of the nave is a tablet of Trimnell (d. 1765) and Catherine (d. 1743), son and daughter of Hillersdon Frank. In the chancel are floor slabs to Thomas Hillersdon (d. 1658) and his widow Elizabeth (d. 1705), and in the nave are floor-slabs to Richard Wigg (d. 1701), his daughters Frances (d. 1689) and Elizabeth (d. 1701), his widow Frances (d. 1728), Elizabeth daughter of John Frank (d. 1709) and another daughter of the same, whose name and the date of her death are no longer legible, and John Pettingall, D.D., rector (d. 1781).
There is a ring of three bells and a sanctus: the treble is by Bartholomew Atton, 1590; the second, a 14th-century bell inscribed 'Ave Maria,' is probably by John Rufford (fn. 132); the third was recast by John Taylor & Co. of Loughborough in 1882 and is inscribed 'Sancta Trinitas Ora Pro Nobis.' The sanctus is inscribed I.S. (for John Sturdy) and is of the 15th century.
The plate consists of a parcel-gilt cup of Elizabethan type, the marks on which have been destroyed by modern alterations, a small parcel-gilt cover paten unmarked, a larger paten with a foot inscribed 'Tho. Disney minister Barnerd Fountaine Tho. Fountaine Churchwardens 1686,' a Sheffield-plate flagon with the date 1827 scratched on the foot, and a modern flagon of 1897.
The registers down to 1812 are as follows: (i) baptisms and burials 1537 to 1758, with a gap from 1723 to 1728 in the burials, marriages 1538 to 1756, with two entries of 1534; (ii) baptisms and burials 1724 to 1807, marriages 1724 to 1759; (iii) marriages 1760 to 1807; (iv) baptisms and burials 1807 to 1812, marriages 1808 to 1812.
Advowson
The rectory of the church of Stoke Hammond formed part of the original endowment of Bradwell Priory in the 12th century, (fn. 133) and a presentation was made by the prior between 1209 and 1220. (fn. 134) In 1254 Alan son of Robert unsuccessfully claimed the right of presentation against the prior, (fn. 135) who in 1259 granted this church with that of Chalfont St. Giles to the Bishop of Lincoln. (fn. 136) The advowson of Stoke Hammond, valued at £8 yearly in 1291 (fn. 137) and at £20 in 1535, (fn. 138) descended with the diocese of Lincoln (fn. 139) until 1852, when it was transferred to that of Oxford. (fn. 140) It was acquired by the Rev. John Hart, the rector, in 1860, (fn. 141) and has since remained in his family, (fn. 142) Mr. Edward Hart being the present owner.
John Chedworth was rector of Stoke Hammond in 1452, when he was elected Bishop of Lincoln, (fn. 143) and John Hacket, who was rector here between 1621 and 1624, became Bishop of Coventry and Lichfield in 1661. (fn. 144)
A terrier of the rectory dated 1639 is quoted in full by Willis in 1735. (fn. 145) An allotment in lieu of tithes was made to the rector in 1774. (fn. 146)
In 1548 1 acre in the west field called 'parsonage land,' yielding 10d. yearly for the maintenance of a light in the church, was claimed by the rector as part of his land. (fn. 147) This acre with another acre in Wodiche Furlong was included in a grant to Sir Edward Bray, John Thornton and John Danby in 1552. (fn. 148)
Charity
For the charity of John Hillersdon for a schoolmaster, see article on Schools. (fn. 149)