Pages 155-164
A History of the County of Cambridge and the Isle of Ely: Volume 8. Originally published by Victoria County History, London, 1982.
This free content was digitised by double rekeying. All rights reserved.
FOWLMERE
The parish of Fowlmere (fn. 1) lies c. 13 km. south of Cambridge and c. 8 km. north-east of Royston. (fn. 2) It covered 2,272 a. until 1965, when 26 ha. were transferred from Chrishall, Essex, and thereafter 945 ha. (2,335 a.). (fn. 3) The land rises gently from c. 23 metres. in the north of the parish to 30 metres south of the village and 55 metres further south. It lies on the Lower Chalk in the north and the Middle Chalk in the south, with small deposits of Taele Gravels in the south-east and north-west corners. (fn. 4) The parish is approximately rectangular, with a projection south-eastwards into Heydon parish. The south-western boundary follows the Bran or Heydon Ditch (fn. 5) and part of the north-eastern boundary the Wallington brook, deviating eastwards near the village to include the Lynch, c. 15 a. projecting into Thriplow parish. (fn. 6) The southern boundary follows field boundaries and old trackways, (fn. 7) just touching the Icknield Way at its southernmost point. Until 1965 the south-eastwards projection was a forked shape, but when Chrishall Grange was brought into Fowlmere parish the boundary moved to the Chrishall road.
The south-eastern extremity was probably inclosed at an early date (fn. 8) as was the land around and north of the village, but the rest of the parish was not inclosed until 1845. Until then c. 60 a., and earlier 90 a., in the south was heath land, a popular venue for prize fights in the early 19th century. (fn. 9) In the north-west the Great Moor and North Moor, c. 200 a. of marshy ground fed by springs on the Melbourn border at Black Peak, formed a mere from which the parish took its name. (fn. 10) Until it was drained after inclosure it provided food and fuel for the parishioners and sport for visitors from Cambridge who shot duck, teal, and other waterfowl there. The mere also harboured the edible frog. (fn. 11) Part of the moor was not completely drained and after use as watercress beds again became the home of wildfowl, and in 1977 the R.S.P.B. bought 27 ha. (66 a.) there as a Nature Reserve. (fn. 12) Trees have grown up around the springs in that area but there is no other woodland in the parish.
In 1915 the War Office occupied 30 a. of land south-west of the village on Fawden or Farthing Hill as a landing station for aeroplanes, taking over another 220 a. to the south, near the London road, in 1917. By 1918 there were 700 R.A.F. staff there but in 1919 it was abandoned and the buildings were demolished in 1923. (fn. 13) In 1940 another airfield was developed a little to the north. It was extended in 1943 and in 1944 became a U.S.A.A.F. station; soon after 1945 it reverted to farmland. (fn. 14)
Fowlmere is crossed by what was once the main London-Kings Lynn road, already in use in 1260. (fn. 15) It was turnpiked in 1725 and disturnpiked in 1872. (fn. 16) There was a tollgate immediately east of the village. (fn. 17) The southern end of the parish is crossed by the Royston–Newmarket road. (fn. 18) Before inclosure many other roads and trackways ran across Fowlmere. (fn. 19) Ashwell Street, a prehistoric trackway crossing it from Melbourn to Thriplow, probably followed the old Melbourn Way, used until inclosure, west of Fowlmere village, then following the modern road to Thriplow. An alternative route, north of the marshy area and coinciding partly with the modern Melbourn road before following King Lane to a trackway in Thriplow, may have been used after the Bran Ditch was made. (fn. 20) The old Norwich Way, called Broadstreet in 1279, (fn. 21) which crossed the south-western corner of the parish may have been a northerly branch of the Icknield Way. (fn. 22) The Old Walden Way formed part of the southern parish boundary before turning northwards to cross the Bran Ditch with yet another old track, Royston Joint Way, which ran west from the London road. With other tracks they were closed in 1845 and the pattern of roads was much simplified. After 1845 only the Shepreth road, cut in 1811, (fn. 23) the Melbourn, Chrishall, and Heydon roads, and the turnpikes remained.
Thirty-six inhabitants were recorded in Fowlmere in 1086. (fn. 24) There were nearly 100 tenants, and 102 messuages, there in 1279 (fn. 25) but numbers had declined by 1302 (fn. 26) and only 31 people paid the subsidy there in 1327. (fn. 27) In 1447 there were at least 70 tenants, and 39 inhabitants paid the subsidy in 1523. (fn. 28) Thirty-four households were recorded in 1563, (fn. 29) and numbers thereafter rose gradually. There were 45 families in 1665, and 50 in 1672. (fn. 30) In 1676 139 adults were recorded, (fn. 31) but numbers thereafter seem to have fallen a little and in 1728 there were 40 families, 183 people. (fn. 32) By 1794, however, there were c. 70 families and 350 people. (fn. 33) The rise continued from 420 inhabitants in 1801 to 616 in 1841. Numbers fell thereafter, apart from a slight increase in 1871 attributed to coprolite digging, to low points of 477 in 1901 and 452 in 1931. A post-war refugee immigration brought them to 769 in 1951, before they fell to 587 in 1971. (fn. 34)
Fowlmere village, the only centre of settlement, lies on the Cambridge–London road where it turns eastwards near the eastern edge of the parish; some houses at the east end of the village are in Thriplow parish. Near the boundary, south-west of the Lynch, is the Round Moat, probably an ancient British earthwork, which may have been reoccupied in medieval times. To its south is a square moated area known as Crow's Parlour. (fn. 35) Houses in the village lie along High Street (the London road), Long Lane (the Shepreth road), and a network of lanes including Rectory or Moule's Lane north of High Street, Lynch Lane south of it, partly stopped at inclosure, and Brook, later Chapel, Lane east of it. A medieval hall with cross wings, once Jackson's shop, in the centre of the village was demolished after 1972. (fn. 36) A few houses, or parts of houses, survive from the 16th or early 17th century, but a fire in 1634 seems to have destroyed much of the village. (fn. 37) By 1665 there were 45 houses, 33 of which had only one or two hearths. (fn. 38) A number of surviving buildings date from the 18th century, including the Green, a timber-framed house of c. 1700, long the home of the Wedd family. There were c. 75 houses in the village by 1801 and new building brought the numbers to 120 by 1841. (fn. 39) Most were then on the High Street, at the Cross, earlier called the Townhead, where High Street joined Long Lane, or on Lynch Lane. (fn. 40) That part of the village north of High Street retains several old cob walls. During the Second World War Nissen huts to house American servicemen were erected near the Round Moat and south of the village, bringing the number of dwellings to 220 in 1951. After 1945 they were occupied by squatters and refugees; the rural district council took them over as extra housing, but by 1960 most had been demolished and replaced by purpose-built council houses elsewhere in the village, (fn. 41) numbering 68 by 1972. (fn. 42) Twentiethcentury building, including a ribbon development south along London Road, and houses north of Rectory Lane, and south of the village on Ryecroft Lane, has extended beyond the old village bounds, and new houses have also filled in the area along Chapel Lane, including old people's bungalows in Dovehouse Close, and around the Round Moat where extensive development began in 1976.
The mill on the north-west boundary near Black Peak was long the only house in the fields, but after inclosure Heath Farm, derelict by 1979, was built south of the Newmarket road and Dottrell Hall north of it.
Because of its position on the London–King's Lynn road Fowlmere has long had several inns which in 1686 provided 13 beds and stabling for 20 horses. (fn. 43) A tenement called the White Hart, recorded in 1629, (fn. 44) and the Cock, recorded in 1645, (fn. 45) were probably inns, but the three longest surviving inns were the Chequers, the Swan, and the Black Horse, said to have divided trade between them by serving respectively post chaises, stage coaches, and stage waggons. (fn. 46) The Swan, at the corner of High Street and Long Lane, was recorded from the 1630s. Rebuilt in the 18th century it was known successively as the Black Swan, the Swan, and the White Swan. It had ceased to be used as an inn by 1912; it was a private house until 1972 when a restaurant still in business in 1979 was opened there. (fn. 47) Samuel Pepys stayed in 1660 at the Chequers, east of the Swan; (fn. 48) it incorporates a large 16th-century room with a decorated brick fireplace at its north end. The rest of the main building is mostly 17th century, but was altered in the 18th and 19th centuries. A 19th-century lessee is said to have removed a window decorated with carvings of the Virgin and child. (fn. 49) It was still (fn. 50) used as an inn in 1979. The Black Horse, west of the church, was recorded in 1776 and was still an inn (fn. 51) in 1979. The two-storey building dates from the early 18th century. The Queen's Head at the south end of Long Lane may have been an inn by 1861, (fn. 52) as it was in 1979.
White Hall, a mid 17th-century house on the north side of Chapel Lane, was a boarding school for boys in the early 19th century and a mixed school in 1847. (fn. 53) It was heightened by one storey c. 1840. In 1818 there was also a girls boarding school, and in 1833 a third, for boys, was recorded. (fn. 54)
A recreation ground on the Butts, west of Long Lane, was allotted at inclosure in 1845, when the inhabitants were concerned that it should be large enough for a cricket ground. (fn. 55) In 1864 the village had a flourishing choral society. (fn. 56) F. M. BeldamJohns, lord of the manor, in 1894 built a public hall near the Cross, and also gave a reading room and another cricket field for the use of the village. (fn. 57) In 1911 he put a pump with a brick shelter at the Cross, in memory of his wife Edith: the village had no piped water until after 1950. (fn. 58) In 1911 BeldamJohns gave 1 a. in the angle between the Melbourn and Shepreth roads as a public burial ground, run by the parish council as a burial board. A small red-brick chapel was built there in 1912. (fn. 59) The Fowlmere Festival, devoted to music, was held annually between 1970 and 1975 and revived in 1979. (fn. 60)
Manors and other Estates.
FOWLMERE manor was held in 1066 by Aluric Campe of King Edward and by 1086 by Robert Gernon (fn. 61) (d. after 1118) whose lands were granted to William de Munfitchet (d. after 1137). Fowlmere was held until at least 1185 by William's wife Margaret de Clare (fn. 62) and later descended with the barony of Stansted Mountfichet, passing in turn to William's son Gilbert (d. 1186x7), Gilbert's son Richard (d. 1204), and Richard's son, also Richard (d. s.p. 1267). The latter left three sisters and the barony was divided between them c. 1274, Fowlmere passing to the descendents of Philippa (d. c. 1232) who had married Hugh de Plaiz. (fn. 63) In 1279 the manor was held by her grandson Ralph de Plaiz (d. s.p. 1283). (fn. 64) He was succeeded by his brother Sir Giles Plaiz (d. 1302), (fn. 65) summoned to Parliament as was his son Richard (d. 1327). Richard was succeeded in turn by his sons Giles (d. s.p. 1334) and Richard, (d. 1360), and Richard's son John, all Lords Plaiz. (fn. 66) John (d. 1389) was succeeded by his daughter Margaret (d. 1391) whose husband Sir John Howard (fn. 67) held Fowlmere by the curtesy until his death in 1438. He was then succeeded by Elizabeth, daughter of their son John and wife of John de Vere, earl of Oxford (fn. 68) (executed 1462). In 1473 Elizabeth was made to grant Fowlmere to Richard, duke of Gloucester, later Richard III, (fn. 69) who in 1477 gave it to Queens' College, Cambridge. (fn. 70)
The college held Fowlmere manor in 1484, (fn. 71) but following Henry VII's accession (fn. 72) it was restored to John de Vere, earl of Oxford, who held it at his death in 1513. (fn. 73) It thereafter descended with the earldom (fn. 74) until 1583 when Edward, earl of Oxford, sold it to Thomas Skinner. (fn. 75) On Skinner's death in 1596 Fowlmere passed to his youngest son Richard, and on Richard's death in 1597 to his elder brother Sir John Skinner. (fn. 76) After mortgaging Fowlmere several times Skinner sold it in 1600 to Edward Aldred, (fn. 77) a member of a Fowlmere yeoman family who was sheriff of Cambridgeshire in 1614. (fn. 78) Edward (d. by 1619) was succeeded by his son (d. 1629) and grandson, both Edward. (fn. 79) The latter sold Fowlmere in 1635 to John Lamott, a London merchant (d. 1655). (fn. 80) The manor seems to have been settled on Lamott's elder daughter Hester, who married as her second husband Sir Thomas Honywood. (fn. 81) Their son John Lamott Honywood died without issue in 1693 and his sister and heir Elizabeth married Sir John Cotton, Bt. (d. 1702), lord in 1695. Their son Robert Cotton of Steeple Gidding (Hunts.) (fn. 82) sold Fowlmere in 1703 to James Mitchell, a London merchant. (fn. 83)
Mitchell (d. 1728) was succeeded by his son William Mitchell of Hemingford Greys (Hunts.) (d. 1745). William's three sons William (d. c. 1764), James (d. 1768), and Knight (d. 1798) inherited the manor in turn. (fn. 84) Knight was probably succeeded by Knight George Coote Mitchell (fl. 1801), (fn. 85) and the Revd. James Mitchell held Fowlmere in 1820 and at his death in 1838. (fn. 86) His daughters and heirs Mary, wife of Capt. Henry Sholto Douglas, and Anne were allotted over 1,350 a. in Fowlmere in 1845. (fn. 87) In 1862 Anne was found to be of unsound mind; Douglas was made committee of her estate, and in 1867 his and his wife's title to the whole Fowlmere estate was registered. (fn. 88) In that year the estate was sold to Henry Perkins of Thriplow, who immediately resold much of the land (fn. 89) to John Mortlock of Melbourn and William Nash Woodham of Shepreth. By 1871 Mrs. Nash Woodham's son Frederick M. Beldam-Johns owned his stepfather's estate, as he did until his death in 1919 (fn. 90) when it was sold to J. M. Coleman. (fn. 91) Capt. Douglas had however retained the lordship of Fowlmere manor, and he was succeeded in it in 1892 by his son Lieut.-Col. H. M. S. Douglas (fl. 1932). (fn. 92) Lieut. H. J. S. Douglas was lord in 1934. (fn. 93)
The manor house, recorded from the early 14th century, (fn. 94) probably stood on the site of the later house west of the Townhead. The Old Manor House was probably built by the Aldreds in the earlier 17th century and extended later in that century. By 1919 it had been divided to form three tenements and a village reading room and remained so in the 1950s, (fn. 95) but by 1979 it had been restored as one house. In 1865 farm buildings north of the house were burned down and after 1867 a new brick Manor House was built there (fn. 96) which survived in 1979.
Part of Robert Gernon's estate in Fowlmere remained with a branch of his family. In 1166 Ranulph Gernon held a half fee of William de Munfitchet (fn. 97) and in 1220 Cecilia, widow of Richard son of Ralph, claimed dower in the land in Fowlmere which Richard had held of Ranulph Gernon. (fn. 98) In the 1230s and 1240s however William son of Richard, presumably her son, was said to hold his half fee directly of Richard de Munfitchet. (fn. 99) By 1279 moieties of Gernon's half fee were held by Mabel, widow of John son of John, and Gilbert of Barrington and others. (fn. 100) They may have been reunited to form the manor later known as HESLARTONS or HUTTONS which seems to have descended in the Barrington family, being held in 1332 by Sir Thomas Heslarton, husband of Alice, the Barrington heiress. (fn. 101) It was settled with Heslartons manor, Barrington, on Sir John Salvayn, perhaps Alice's son-in-law, but by 1382 it was held by Sir John Engaine (d. c. 1395), husband of a granddaughter of one of Alice's aunts who had challenged her claims to those lands c. 1325. Engaine's will directed that the Fowlmere land should be sold on his second wife's death. (fn. 102) In 1417 his son William sold it to William Cavendish and Thomas Roos. (fn. 103) By 1494 it belonged to Thomas Childe who was then succeeded by his daughter Alice, wife of John Hutton. (fn. 104) She was succeeded after 1537 by her son Thomas Hutton (d. 1552) (fn. 105) who by 1547 was disposing of fractions of Heslartons. (fn. 106) Most of it was later bought by Edward Aldred and subsequently descended with Fowlmere manor. (fn. 107) It has been suggested that Bury Farm, which stood west of the church and the Black Horse, was Heslartons manor house. (fn. 108)
Land in Fowlmere given c. 1181 by Richard de Munfitchet to the monks of Stratford Langthorne (Essex) was probably the 80 a. which William of Stratford claimed there in 1201. (fn. 109) In 1268 the abbot of Stratford held land of Richard de Plaiz, (fn. 110) presumably in Fowlmere, but it has not been traced later.
In 1228 Tilty abbey (Essex) acquired land in Fowlmere (fn. 111) and in 1251 it was confirmed in its possessions there held of Richard de Munfitchet, (fn. 112) which in 1291 were said to be worth £8 a year. (fn. 113) After the abbey's dissolution its Fowlmere land descended as part of Chrishall Grange (fn. 114) to Thomas Brand, Lord Dacre, who held c. 150 a. in the south of Fowlmere in 1845. It was sold with Chrishall Grange by Viscount Hampden in 1925. (fn. 115) The Grange, which since 1965 has been in Fowlmere parish, is now detached from most of the land. It is an early 18th-century house of red brick with a main front of five bays and two storeys with attics, and side elevations of three bays with ornamental gables. There were some alterations, mostly to windows and doorways, in the early 19th century and again in the later 19th century when the back service wing appears to have been added or rebuilt.
In 1615 Christ's College, Cambridge, held c. 46 a. in Fowlmere. (fn. 116) The college was allotted 65 a. in the south of the parish in 1848 (fn. 117) which it still held in 1873. (fn. 118) The land was sold to Whittome Estates Ltd. in 1938. (fn. 119)
The little land held of Fowlmere rectory was reckoned as a manor from the 15th century; (fn. 120) the hide in Fowlmere said in 1086 to belong to Count Alan is treated under Foxton.
Economic History.
Half of the ten hides in Fowlmere in 1086 was in demesne. There were 2½ demesne ploughteams with four servi and sufficient meadow and pasture. The remaining five hides were cultivated by 22 villani and 10 bordars with 8½ ploughteams. The estate had retained its preConquest value of £12. (fn. 121) About 1185 the demesne was worth £16, but it was said that it could carry more ploughs and stock and yield £20. (fn. 122) In 1279 of c. 1,225 a. of arable in Fowlmere, 350 a. formed Ralph de Plaiz's demesne, with 2 a. of meadow and 3 a. of several pasture. (fn. 123) In 1302 that demesne had 360 a. of arable and 3 a. each of meadow and pasture, (fn. 124) but in 1327 only 214 a. of arable and 11 a. of pasture were recorded. (fn. 125) The demesne arable continued to contract: in 1361 there were 180 a., with 28 a. of meadow and pasture, (fn. 126) and by 1438 120 a.; the demesne then included 300 a. of pasture and heath, but only 100 a. of it were worth anything. (fn. 127)
In 1086 there were 80 sheep on the demesne, 8 cattle, and 34 pigs. (fn. 128) By 1185 there were only 40 sheep in the demesne flock, but the land was said to be able to support 200, and 21 pigs. (fn. 129)
In 1279 c. 20 tenants held c. 90 a. of free land of Fowlmere manor, including one yardland of 30 a. and one half-yardland. Twenty-four customary tenants held half-yardlands: they owed one work a week between Michaelmas and Easter and between Midsummer and Lammas, two a week during harvest, but paid 15d. in commutation of all works between Easter and Midsummer. Besides other usual labour and carrying services they owed two harvest boonworks, a small rent in money and kind, and heriot and gersum. Eight more customary tenants held half-yardlands for reduced labour services and higher rents; ten had customary holdings of 10 a., and 16 had holdings of 5 a. for proportionately reduced services, and 16 cottars held 1 a. each for a money rent. Of Gernon's fee were held two estates of 40 a. by knight service, two customary yardlands by labour service and rent, and three small freeholdings. (fn. 130) In 1302 four free tenants of Fowlmere manor held 75 a. between them, and there were 22 half-yardlanders, eight tenants holding 10 a., two holding 5 a., and 38 cottagers, all owing rents and services similar to those of 1279. (fn. 131) By 1361, and perhaps by 1327, some further works had been commuted. (fn. 132) In 1446 there were c. 70 tenants of Fowlmere manor. Some demesne and customary land was then leased for terms of nine years, (fn. 133) and in 1483 all the demesne seems to have been leased. (fn. 134) In 1523 only two inhabitants were taxed on their land. The largest taxpayers, Richard Hicks, Robert Austin, Robert Payn, and John Putterning, all paid on over £10 of goods, six men paid on goods worth between £10 and £5, nine on goods worth between £5 and £1, and 18 on wages only. (fn. 135)
The number of sheep kept in Fowlmere, partly on the heath in the south, had increased by the 16th century. Robert Austin (d. 1524) had a flock of at least 60 (fn. 136) and Heslartons manor had right of sheepfold for 300. (fn. 137) The heath also supported a coney warren, which in 1623 was hindering the king's sport on Royston heath. (fn. 138)
In the 16th and 17th centuries barley was the main crop, followed by rye, oats, wheat, pease, and lentils, grown on a three year rotation based on the three open fields: North or Moor field, West, Barr, or Fawden field, and South field, sometimes divided into Heath and Waterdrain fields, all sub-divided into named shotts. (fn. 139) In the early 17th century South field covered c. 755 a., perhaps including the heath, West field 440 a., and North field 245 a. (fn. 140) In 1757 there were c. 1,270 a. of arable and 370 a. of heath land in Fowlmere. (fn. 141) There was also the common moor in the north-west, periodically cleansed by the parish. Inclosed pasture near the village (fn. 142) included parcels of up to 7 a. in the open fields; similar encroachments had been made on the heath. (fn. 143) In the later 18th century most of the arable was cultivated on a three-course rotation, but until 1795 half of Heath field was always reserved for sheep, each half being cropped for 3 years and then left fallow. (fn. 144)
From the 16th century the lord of Fowlmere manor owned almost all the parish, but some copyholders and lessees had estates of 100 a. or more and the Aldred family rose from that group of farmers. (fn. 145) The Sweet, Finckell, and Hicks families were also prominent and John Morden, rector from 1610, had a farm there. (fn. 146) In the mid 18th century the main landowners, apart from the lord and the rector, were Christ's College and William Hicks. (fn. 147) The concentration of ownership had probably allowed considerable consolidation of estates by the early 19th century, (fn. 148) when most of the 1,200 a. of arable was divided between two or three large farms growing in addition to the accustomed crops trefoil, clover, and turnips. In 1794 there were still only c. 60 a. of inclosed pasture, but 200 a. of heathland and 200 a. of badly drained common or moor. The latter provided game for the Cambridge market, and reeds for thatching; the former fed at least 500 Southdown sheep. (fn. 149)
In 1830 the agricultural labourers struck for higher wages; constables from Royston had to be summoned to suppress the resultant riots. In 1834 the 60, out of c. 85, in regular work were paid 10s. to 12s. a week. (fn. 150) Before 1845 (fn. 151) all parishioners had the right to feed cattle, pigs, and poultry on the open fields for one month after harvest, and to feed cattle on the balks without stint. They could also pasture cows on c. 60 a. of heath in the south, but that right had little value as sheep were also run there. On Great and North Moors parishioners could pasture cattle without stint, cut sedge and reeds, gather dung, and dig clay. In 1831 the poor had also been given 15 a. or 20 a. of waste land to cultivate as allotments. Valentine Beldam and Lord Dacre claimed rights of sheep walk on their lands, and the lords of Fowlmere claimed sheep walk for their tenants' sheep over all land in the parish, subject to some customary limitations. (fn. 152)
Inclosure was undertaken in 1845 (fn. 153) when the tithes were also commuted, but the inclosure award was not enrolled until 1850. (fn. 154) As a result all common rights were extinguished, but the major divisions of landholding were changed little, Lordship, Bury, Brook, Mill, and Papworth's farms all surviving from the early 19th century. (fn. 155) The award covered 180 a. of old inclosures around the village, and another 150 a. in the south of the parish belonging to Chrishall Grange, and 1,880 a. of open and common land. Of the 46 allottees 12 received less than one acre and 17 between 1 a. and 5 a. By far the largest estate, c. 1,350 a., went to the ladies of the manor. The only other estates over 100 a. were Lord Dacre's 150 a., Thomas Nash's 185 a., and Octavius Wedd's 100 a. The rector received 82 a., Christ's College 65 a., Richard Papworth c. 50 a., and William Nash Woodham 45 a. Most of the land was freehold, but c. 380 a. were copyhold of Fowlmere manor, and c. 4 a. of the rectory manor.
The manorial estate was divided into two large farms. Manor farm, c. 670 a., was farmed by Octavius and William Wedd who also owned c. 125 a., and Bury farm, c. 645 a., by Thomas Nash who also owned Brook farm, 185 a. Octavius Wedd also farmed the Christ's College land. Only a small proportion of the large farms was pasture. (fn. 156) The arable was farmed on a four-course rotation including as well as wheat, barley, rye, and oats, clover and trefoil, peas, coleseed, mangolds, swedes, turnips, and kohlrabi. (fn. 157) Sheep were still kept: six shepherds lived in Fowlmere in 1861, (fn. 158) and there were over 1,200 sheep in the parish in 1866. (fn. 159) In 1896 Lower farm had a flock of c. 150, and in 1901 Dotterel Hall farm had over 200 sheep. Between 1905 and 1925 most flocks disappeared. Lower farm kept c. 90 pigs and Dotterel Hall large numbers of poultry. (fn. 160) In 1905 about a tenth of the land returned was permanent pasture. (fn. 161)
Brook farm, with a 16th-century farmhouse on Chapel Lane, extended in the 18th century, was owned by the Nash family well into the 20th century. (fn. 162) Bury farm had been divided into Bury, Heath, and Lower farms: Heath farm, c. 320 a., had a homestead south of the Newmarket road by 1867, and Lower or North farm had c. 170 a. north of the village. Manor farm was held by the Wedd family until the 1870s. (fn. 163) It was then farmed by Frederick Beldam-Johns until 1912, while the Wedds continued to farm Heath farm and other land from the Green. (fn. 164) During the First World War over 200 a. of Manor farm were taken over by the War Office and in 1918 only 265 a. of it were being cultivated. (fn. 165) It was subsequently farmed by the Jackson and Sheldrick families: Jacksons started a hatchery there by 1933 which survived in 1960. (fn. 166)
Mill farm, near Black Peak, remained part of the manor estate. (fn. 167) In 1968 the farmstead and 6 a. were sold to Wall's Livestock Ltd. who developed a pig artificial insemination unit there. In 1979 when it had 30 boars it was the largest such centre in the United Kingdom. In that year it became a subsidiary of B.O.C.M. Silcock. (fn. 168) Nearly 100 a. near Black Peak were laid down as watercress beds c. 1890 and their produce was exported to London, Manchester, and other cities. They ceased to be cultivated between 1960 and 1965. (fn. 169) In 1977 apart from the specialist poultry and pig units most farms concentrated on cereals, barley and wheat remaining the principal crops. (fn. 170)
A water mill was recorded in Fowlmere in 1086, in the 13th century, (fn. 171) and continuously until the 17th century. (fn. 172) An early mill may have stood near the village but by the 1680s the water mill stood in the west corner of the parish, on the Melbourn boundary. (fn. 173) It was in use in 1825 (fn. 174) and 1845, and passed with Mill farm, but by 1859 the old mill had been converted into corn-drying chambers (fn. 175) and was later demolished.
In 1207 Richard de Munfitchet's guardian was granted the right to hold a three-day fair at Fowlmere at Midsummer, and a weekly Thursday market. The fair was not recorded later but the market was probably held until the 14th century, its value gradually declining. (fn. 176) In 1298 corn was sold there, and the market revenues were farmed by the lord's bailiff. (fn. 177) In the early 17th century Edward Aldred (d. by 1619) or his son Edward (d. 1629) acquired a new grant of a market at Fowlmere, but the proximity of established markets at Cambridge, Royston, and Saffron Walden soon forced it to cease. (fn. 178)
Fowlmere has long been predominantly agricultural, but in the mid 18th century it was said to be much occupied in the wool trade. (fn. 179) In 1776 there were at least two woollen manufacturers there (fn. 180) and in the 1790s many women and children were employed in spinning at home for a small wool factory which produced woollen and worsted cloth for Norwich and northern markets until c. 1800. (fn. 181) There was still one wool stapler in Fowlmere in the mid 19th century. (fn. 182)
In 1811 seventy families depended on agriculture and 19 on other trades, most of which served the agricultural community. In 1841 there were eight retailers, ten makers of clothing and shoes, seven men in the building trade, four blacksmiths, and five other craftsmen. (fn. 183) In the 1870s coprolite digging provided some alternative employment, (fn. 184) but numbers in other trades declined during the 19th century. (fn. 185) William Jackson and Sons kept a grocer's and general stores at the Cross from the 1870s. In 1948 it became a co-operative store, and it closed in 1972. (fn. 186) In the 1970s the village was still a minor centre for the surrounding countryside. Most inhabitants travelled outside the parish to work, (fn. 187) but there was some light industry there.
In 1965 Welding Alloys Ltd. was started in Fowlmere. In 1969 new premises were opened in the village, including by 1970 a mineral-grinding plant. After continued expansion the company had 34 employees in 1973. (fn. 188) Analytical Instruments Ltd. started making scientific instruments at Fowlmere in 1968 in premises shared with Welding Alloys. By 1974 the company employed 50 people there. The need for further expansion caused them to move to Pampisford in 1976. (fn. 189) In 1972 two other Fowlmere firms, Fowlmere Engineering and J. E. K. Barnes Engineering, designers of plant for the plastics industry and of dust extraction and ventilation equipment, merged to form a new company called Barmere. (fn. 190)
Local Government.
In the 1270s and in 1299 the lord of Fowlmere manor claimed view of frankpledge, the assize of bread and of ale, and a pillory, tumbrel, and gallows. (fn. 191) The manor's courts leet and baron were mentioned from the early 14th century to the 19th. (fn. 192) Court books and minutes survive for 1695–1725, 1747–99, and 1820–1934. They dealt solely with tenurial business, and record courts held at irregular intervals, at the manor house in the mid 18th century, and at the Swan inn in 1873. (fn. 193) Courts were also held for the rectory manor. Court books survive for 1762–1938, recording tenurial business. Courts met occasionally in the rectory house. From 1898 the enfranchisement of copyholds was recorded. (fn. 194)
A churchwarden was recorded in 1446. (fn. 195) In the early 18th century the parish was served by two churchwardens, two constables, and two overseers. In the mid 18th century annual expenditure on poor relief was £80–£100. Coals were given to the poor, and weekly doles to c. 8 people, and money was also spent on clothing and medical aid. In the early 19th century the parish paid a man to keep the common herd, some others were employed digging gravel, and some wages were supplemented. (fn. 196) Repairs were recorded to a town house, presumably the workhouse of 1793 where a small wool factory was perhaps run until c. 1800. (fn. 197) William Metcalf, rector 1814–50 and an overseer for Fowlmere, developed a method of accounting which was adopted by many other Cambridgeshire parishes. (fn. 198) Expenditure on poor relief rose to c. £285 in 1803 when 18 adults received permanent relief. (fn. 199) In the next 30 years it fluctuated between £570 and £270. (fn. 200) By the 1830s c. 10 labourers were usually unemployed. (fn. 201)
In 1835 Fowlmere became part of the Royston poor law union. In 1894 it joined the Melbourn rural district and in 1934 the South Cambridgeshire R.D. (fn. 202) From 1974 it was part of the South Cambridgeshire district.
Church.
Architectural evidence testifies to the existence of a church in Fowlmere in the 12th century. (fn. 203) It was presumably endowed by a lord of Fowlmere manor whose successors held the advowson of the rectory until the 18th century. In 1353 Richard, Lord Plaiz (d. 1360), granted the advowson to Bury St. Edmunds abbey (Suff.), (fn. 204) but the grant did not take effect. The Crown presented during minorities in 1313, 1361, and 1570, (fn. 205) as did the duke of Norfolk in 1517. (fn. 206) In 1604 John Brampton was patron for one turn (fn. 207) and the Crown presented through lapse in 1610 and 1662. (fn. 208) The advowson was sold with the manor in 1703 to James Mitchell, but in 1719 the patron was Thomas Rumbold, perhaps for one turn. (fn. 209) About 1750 the advowson was acquired by Pulter Forester, who sold it before 1753 to Anthony Stephenson, who was presented as rector in 1757 by William Kilborn. (fn. 210) The advowson passed, probably in 1780, from Thomas Parker to Freshney Ginnis who sold it to John Haggerston, patron in 1789. (fn. 211) Haggerston sold it before 1808 to the earl of Hardwicke and it descended with his estates until 1896. (fn. 212) From 1897 the patrons were the trustees of J. Martineau, who in 1920 transferred the advowson to the bishop of Ely. (fn. 213)
In the late 12th century the nuns of Ickleton unsuccessfully claimed a pension of 40s. out of Fowlmere church. (fn. 214) Fowlmere rectory was worth 19½ marks in 1217, 36 marks in 1254, and 45 marks in 1291. (fn. 215) It was valued at £29 14s. 2d. in 1535; (fn. 216) by 1650 it was worth £168 and by 1728 £200. (fn. 217) In the late 18th century it was said to be worth £260 (fn. 218) and by 1831 the net income was £675. (fn. 219) The living retained its value until the 1880s. (fn. 220) In 1897 it was charged with a pension of £140 for H. M. Lower (d. 1900) who had resigned the rectory. (fn. 221)
In the late 18th century tithes were still paid in kind. In 1845 they were commuted for a rent charge of £640. (fn. 222) The rectory estate included a manor with some copyhold. (fn. 223) In the early 17th century there were c. 105 a. of glebe; (fn. 224) almost all the 82 a. allotted to the rector in 1845 (fn. 225) were retained by the incumbent until 1978 when they passed to the Ely Diocesan Board of Finance. (fn. 226) In the mid 17th century the rectory house, opposite the church, was in such decay that the patron was allowed one third of the benefice's income to repair it for a new incumbent. (fn. 227) In the 1660s it had 8 hearths. (fn. 228) It was kept in reasonable repair until the mid 19th century. In 1853 the rector started to build a large new brick house south of the older one, to a design by H. E. Kendall the younger. The old house, possibly a medieval aisled hall altered in the 17th century, (fn. 229) was sold and later demolished. (fn. 230) A new rectory house was built west of the 19th-century one in 1973. (fn. 231) Both survived in 1979.
The earliest named rector, James of Berkhamstead, was in 1317 dispensed to hold a canonry of Beverley (Yorks.) and the deanery of the chapel royal at Wallingford (Berks.) with Fowlmere. (fn. 232) Robert of Henley, rector 1342–61, was frequently licensed for absence, (fn. 233) and the rector in 1397 was allowed three years absence for study. (fn. 234) A guild of St. Mary was recorded in 1488. (fn. 235) Chaplains and curates occur throughout the 14th and 15th centuries. (fn. 236)
Matthew Knightley, rector 1517–61, lived at another benefice in Northamptonshire, and although he employed successive curates, one of whom served for over 20 years, the churchwardens reported in 1554 that they had no priest. The site of the altar had not been levelled by 1561, and repairs had been neglected. (fn. 237) Edmund Freake, rector 1562–70, an exAugustinian canon, also held Fowlmere in plurality, but resigned it before his elevation to the see of Rochester in 1572 in favour of his son John, rector of Fowlmere until 1604, and of Purleigh (Essex), and archdeacon of Norwich. (fn. 238) Both employed curates at Fowlmere, (fn. 239) one of whom, Henry Brampton (d. 1609), became the next rector. (fn. 240) In 1605 it was said that he did not read the necessary services. (fn. 241) In 1610 the Crown presented Samuel Nicholls, but Edward Aldred presented John Morden, whom Nicholls accused, unsuccessfully, of simony. (fn. 242) Morden seems to have been on bad terms with some parishioners by 1622, and 14 of them in 1644 testified against him and his Laudian sympathies. (fn. 243) He was ejected, but remained in Fowlmere and tried to prevent the payment of tithes to his successors, (fn. 244) even though one fifth of the rectory's income had been granted to his wife and children. Ezekiah King, rector from 1646, was a member of the Cambridge classis and was ejected in 1660. (fn. 245) His successor Simon Potter, ejected from a Cambridge fellowship c. 1644, held Fowlmere in plurality (fn. 246) until 1666 when he was succeeded by John Crackenthorpe, rector until 1719. Crackenthorpe was a puritan sympathiser and most of his children became nonconformists, one daughter marrying Benjamin Wedd, a prominent Fowlmere dissenter. (fn. 247) Anthony Stephenson, rector 1757–88, lived on one of his two Essex benefices and kept a curate at Fowlmere who in 1775 held two Sunday services and communions at least thrice yearly. (fn. 248) W. L. Mansell, rector 1788 to 1814, was also master of Trinity College, Cambridge, where he lived, and from 1808 bishop of Bristol. He served Fowlmere through a curate who in 1810 kept a small boarding school there. (fn. 249) Mansell's successor served the cure himself. He held two Sunday services and quarterly communions, the number of communicants at which had risen from c. 3 in 1814 to 30 by 1825. (fn. 250) Arthur Savile, rector 1850–70, a grandson of the earl of Hardwicke, also served the cure himself. In 1851 c. 50 adults attended Sunday morning services and c. 95 the afternoon ones. (fn. 251) Savile's successor came to Fowlmere from Canada. By 1873 he was holding monthly and by 1885 weekly communions. (fn. 252) A surpliced choir was introduced in 1875. (fn. 253) A. C. Yorke, rector 1897–1925, nephew of another earl of Hardwicke, had spent his early career in Australia and New Zealand. He was a keen student of Fowlmere's history. (fn. 254) Since 1939 Fowlmere has been held with Thriplow, the incumbent living at Fowlmere. (fn. 255)
The church of ST. MARY THE VIRGIN, so called in 1455, (fn. 256) is built of rubble with ashlar dressings and consists of a chancel with north vestry, a central tower, north and south transepts, and a nave with a north aisle and porch. The coursed rubble walls of the nave survive from a 12th-century church. Presumably it had a chancel, but c. 1300 that was replaced by a central tower and a new chancel was built. Early in the 14th century the chancel was extended eastwards, and a three-bay north aisle was built. A little later transepts were added or rebuilt north and south of the tower. In the later 15th or early 16th century the nave was heightened to receive a clerestory and a roof of lower pitch, and given a new west doorway and window. The north porch and the upper stage of the tower, which has the Vere arms on its battlements, were added at about the same time. Altars in the transepts may have been dedicated to St. Mary, St. John the Baptist, and St. Christopher. (fn. 257)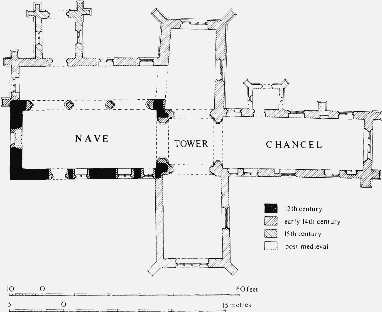 In 1644 William Dowsing removed several pictures and carvings from the church and ordered the altar steps to be levelled. (fn. 258) The steps had been restored by 1742. (fn. 259) Routine repairs were regularly undertaken, (fn. 260) and may have included the renewal of the tracery in many of the windows. In 1857 a new facsimile west window was put in, and by 1859 the transept roofs had been repaired and a vestry and buttress built north of the chancel. In 1863 part of the north transept was rebuilt and in 1864 much of the clerestory was renewed. (fn. 261) In 1869 a thorough restoration was undertaken by Thomas Whitehead including much rebuilding of the chancel, tower, and north porch. (fn. 262) It was probably then that the medieval pews, which had survived in 1853, (fn. 263) were replaced. Extensive repairs and renovation were also undertaken in 1956. (fn. 264)
The rood screen dates from the 14th century. (fn. 265) In the early 17th century there survived in the chancel a brass to Henry Walter, rector (d. 1392), and some memorial glass. The brass had disappeared by 1742. (fn. 266) The chancel contains several monuments to members of the Mitchell family including one against the north wall to William (d. 1745) by Thomas Ady, which replaced an older monument, perhaps an Easter sepulchre. (fn. 267) In the mid 18th century there hung in the chancel pennons, escutcheons, shields, swords, surcoats, and helmets bearing the arms of Mitchell and Benet. After 1869 most were too decayed to be replaced, but two helmets and swords remained in the late 1890s, (fn. 268) and two helmets in 1979.
A rector gave a new chalice in the later 14th century. (fn. 269) In 1552 there were two silver chalices and patens. (fn. 270) The plate in the 20th century included a cup and paten dated 1569. In 1685 the church was required to provide a silver paten (fn. 271) and there is one dated 1706. (fn. 272) The registers are continuous from 1561, save for a break in the 1650s. (fn. 273)
Nonconformity.
William Sherwin, a puritan divine, lived in Fowlmere where his son-in-law, John Crackenthorpe, was rector in the 1660s. (fn. 274) In 1676 eleven nonconformists were recorded there, (fn. 275) by 1728 almost half the parishioners were Independents, (fn. 276) and in 1768 the parish was said to abound with them. (fn. 277) In 1758 an Independent meeting had been licensed in a house belonging to the Wedd family. (fn. 278) A large brick meeting house was built in 1780 at the southern end of the village opposite White Hall, on land given by Benjamin Wedd, and licensed the following year; (fn. 279) it became a centre for dissenters in neighbouring parishes. (fn. 280) It was well attended in 1825 when there was also a Sunday school. In 1836 dissenting opposition to the church rate jeopardised the parish clerk's salary. (fn. 281) In 1851 the chapel was attended by c. 250 adults on Sunday mornings, 300 in the afternoon, and 80 in the evening, more than three times the numbers attending the parish church. (fn. 282) The meeting belonged to the Congregational, and later to the United Reformed Church. From c. 1866 it had an outstation at Thriplow. (fn. 283)
In 1870 an apse was added to the east end of the chapel which was restored in 1878. In 1881 a bell tower with a clock was added. (fn. 284) In 1885 just under half of the parishioners were thought to be dissenters. (fn. 285) In 1905 the congregation had 88 members, 80 in 1935, and 25 in 1973. (fn. 286) The chapel remained in use in 1979.
Education.
Schoolmasters were recorded in Fowlmere in 1593, 1618, and c. 1664. (fn. 287) In 1783 a schoolmistress taught some poor children there. (fn. 288) By 1818 there were two private boarding schools, church and dissenting Sunday schools, and day schools which taught 24 children, and some girls learnt needlework. (fn. 289) By 1825 there were two church Sunday schools teaching c. 50 children to read and write. (fn. 290) In 1833 a further 34 children were taught at dame schools, 90 at the dissenting Sunday school, 15 at an industrial school, and six boys at Melbourn school. (fn. 291)
In 1861 the ladies of the manor gave land east of the recreation ground at the Butts for a National school which was opened with accommodation for 100 children in the same year. (fn. 292) The children paid school pence in 1871 when the average attendance was 75. The school was under the direct management of the rector who helped to support it. (fn. 293) Numbers fluctuated between 75 and 90 until the 1930s. (fn. 294) The school had been transferred to the county council in 1912 and enlarged in 1913 to accommodate 78 juniors and 46 infants. The seniors were transferred to Melbourn in 1954 and to Melbourn village college in 1959. (fn. 295) Fowlmere school was further extended in 1957 and 1974. (fn. 296) In 1972 c. 75 children attended from Fowlmere, Heydon, and Great and Little Chishill. (fn. 297)
Charities for the Poor.
Fowlmere was one of the parishes to benefit from Lettice Martin's charity. (fn. 298) In the 1760s the income, 26s. 8d., was distributed in bread; by the 1830s it was given every five years and from the 1840s was apportioned with other parish charities. (fn. 299) By the mid 20th century its income, £1 6s. 4d. a year, was distributed every few years in cash.
In the 1830s it was thought that the church and town estate, comprising 8 a. of open-field land, the town close of 1½ a., and seven cottages, (fn. 300) had been given by Thomas Wesley in the late 17th century. The income was to be devoted to the repair of the church, any surplus going to the poor, but in the 18th century it was regularly carried to the poor rate; (fn. 301) by 1816 it was distributed with Martin's dole. (fn. 302) In the 1830s most of the cottages were inhabited by paupers and the income from the land was applied first to church repairs, which by 1863 took the full income of £25. (fn. 303) The cottages, in poor repair by the 1830s, had disappeared by the 1890s. A Scheme of 1898 confirmed that the income from the land should go first to the church, and the surplus to the poor. In 1965 the gross income was nearly £60 and £1 was given to each of 45 people.
In 1837 the profits from the five-yearly lopping of the town willows growing on the waste were distributed with Martin's dole. At inclosure two allotments of 14 a. each were made to the poor in place of that and other common rights. (fn. 304) The land was let to parishioners in small parcels, and the income, c. £18 10s. in 1856, was given among 80–115 poor people in coal or in cash doles. (fn. 305) In 1976 the income was £318, and 60 doles of £3.50 were given to pensioners and widows in Fowlmere.