Pages 178-194
A History of the County of Cambridge and the Isle of Ely: Volume 8. Originally published by Victoria County History, London, 1982.
This free content was digitised by double rekeying. All rights reserved.
HARSTON
Harston lies some 3 km. south of Cambridge (fn. 1) in the valley of the Cam or Rhee, by which it is bounded on the west. From north to south it extends for nearly 2 km., between a narrow tongue of former fenland lying between the Rhee and the Cam or Granta, and the Hoffer brook on the south-west. (fn. 2) Its boundary with its eastern neighbours, Hauxton and Newton, which mostly follows roads and field boundaries, was not formally laid down until its inclosure in 1800; much land previously intercommonable to those three parishes, which had perhaps anciently formed one unit, was then finally divided between them. (fn. 3) Of 1,098 a. said to tithe to Harston rectory only 820 a. lay in fields several to Harston. (fn. 4) At inclosure 1,228 a. was claimed as held of the manors at Harston, (fn. 5) and the Harston land, whose owners were entitled to vote about inclosure, was reckoned as over 1,404 a. (fn. 6) As defined in 1800 the parish covered 1,481 a. (fn. 7) In 1891 its area was 1,741 a., to which a 10-a. enclave of Hauxton was added in 1934, (fn. 8) so that in 1971 it covered 709 ha. (fn. 9)
The soil lies upon gault near the river, and chalk on the south-east; the bedrock is overlaid with alluvium beside the Rhee, and elsewhere with valley gravels, except along the south-eastern boundary and just north of the village. The land is mostly nearly flat, rising very gently from under 15 metres by the river to over 20 metres in the south-east. There it slopes sharply up to over 30 metres at St. Margaret's Mount in the east, and over 45 metres at Rowley's Hill to the south-east. The former is topped by an obelisk erected in memory of Gregory Wale (d. 1739). (fn. 10) The belt of conifers around that hilltop and a few scattered 19th-century plantations form the only woodland recorded in historical times. Harston lay in open fields under a triennial rotation until 1800, and remained devoted to arable farming until the 20th century.
Some burials, probably Anglo-Saxon, though once popularly ascribed to a skirmish in the 1640s, have been found north-west of the village. (fn. 11) In 1086 Harston had 29 peasants. (fn. 12) In 1279, when there were 63 messuages, c. 65 landholders were probably resident, (fn. 13) and in 1327 there were c. 35 taxpayers. (fn. 14) The village probably continued in the 1350s at least 60 males over 12, sharing 35 surnames, (fn. 15) and in the late 14th century c. 90. There were 50 males about 1400, but 72 in 1410, 56 in 1420, (fn. 16) and 73, sharing 43 surnames, in 1463. (fn. 17) There were 31 taxpayers in 1524. (fn. 18) In 1563 38 families were recorded, (fn. 19) and under Charles II c. 55 dwellings, (fn. 20) containing c. 170 adults. (fn. 21) In 1728 there were 57 families comprising 160 people. (fn. 22) By 1811 the population numbered 412. It rose steadily to 562 in 1831, (fn. 23) 770 in 1851, and in 1871 c. 860, besides c. 55 immigrant coprolite diggers. (fn. 24) Numbers then declined gradually, falling below 800 in the 1880s, to c. 670 in the 1910s. Thereafter they recovered slowly to 764 by 1931 and 938 by 1951, then grew more rapidly to 1,186 in 1961. In 1971 the population stood at 1,218. (fn. 25)
The village stands close to the river, at the western edge of the parish. From the river crossing a street runs eastward to meet the main CambridgeRoyston road, called from the 13th century (fn. 26) to the 15th (fn. 27) the Portway. It was a turnpike between 1793 and 1872. (fn. 28) That road briefly bends west to follow the street for c. 275 metres before turning southwest again towards Royston. At the two bends there are small greens. The Ridgeway, so named before 1700, (fn. 29) straightened at inclosure, (fn. 30) leads south-east from the eastern green towards Newton. Another road diverging from the main one c. 1 km. northeast of Harston also leads to Newton.
In the 15th century the number of dwellings in Harston was shrinking: 4–6 tenements were often presented as ruinous c. 1410, 10 by 1437, 12–13 by 1450, but slightly fewer from the 1460s. (fn. 31) At inclosure (fn. 32) the houses lay partly along the street running west towards the manor house, church, and rectory, which stood together near the river. Dwellings, mostly cottages, also stretched north for almost half a mile from the eastern green, along the west side of the Cambridge road. The long, narrow closes that they occupied faced an extensive ancient common green. Such houses at the 'North street' were recorded from the late 14th century. (fn. 33) It was probably those closes that were called c. 1426 the Moor street or North street crofts. (fn. 34) They may have been inclosed from open field strips.
The farmsteads of the larger estates were mostly on the east-west street, whose south side was largely occupied to the west with ancient manorial closes. A few houses also lay by a lane winding north from the church, called from the 19th century Button End. (fn. 35) Among the few houses south of the southern Newton road is Baggot Hall; its four-bay mid 18thcentury front, in plastered brick, possibly covers an earlier structure. Other early houses include the Old House, basically a timber framed 17th-century building, and several 17th- and 18th-century timber framed cottages, some brick-fronted, on the Cambridge road. (fn. 36)
The 19th century saw little growth outside the limits of the ancient inclosures, except that Manor Farm was built near the Hoffer brook. The Cambridge road became the most heavily populated area. In 1851 it had over 90 houses, compared with 30–40 on Church Street to the west and 15 at Button End. Off the main street a few blocks of cottages went up, including c. 1860 the surviving Hurrell's Row off Church Street, twelve mean dwellings, built of clunch blocks. The Newton road, once Baggot Road, was renamed Station Road, after the station opened by 1861 on the line to Cambridge via Royston, on which 20 men were working in 1851. Opened later that year, (fn. 37) the line was still in regular use in 1980, but the Harston station had been closed and mostly demolished by 1969. (fn. 38)
The increase in the number of dwellings from 72 in 1811 to 90 by 1831, accommodating 127 households, and over 150 by the 1840s, was effected mainly by rebuilding and infilling within the old limits. In the later 19th century several substantial houses were built by the two greens, but the total number of dwellings occupied fell from c. 185 in the 1870s to under 165 by 1901. (fn. 39) Thereafter the village began to expand northward. About 1912 several large villas were being built west of the Cambridge road, and some of the small inclosure allotments opposite were for sale as building land. (fn. 40) The larger houses in the village, including some former farmhouses, came to be occupied by newly resident outsiders, who numbered c. 15 in the 1900s, c. 35 by the 1930s. (fn. 41) From 1901 to 1921 30 houses were built, in the 1930s 30 more, and 60 others by 1951. (fn. 42) By then ribbon building along both sides of the Cambridge road had reached the northern road to Newton, and turned along it. (fn. 43) Another 95 houses had been added by 1961, and although the pace slackened in the 1960s when only 46 were built, extensive further development occurred in the 1970s: (fn. 44) two estates of 60 houses went up east of the village. (fn. 45) Council building, which had begun c. 1917, had produced 35 council houses by 1930, (fn. 46) and an enlargement of one of two council estates with 92 houses began in 1974. (fn. 47)
The road through the village was probably already busy in the Middle Ages, when alewives were sometimes fined for selling drink to travelling strangers, rather than to their neighbours. (fn. 48) Later there were several inns. Most important by the 1790s was the White Swan, south of the western green, probably owned by a tanner in 1673. (fn. 49) It is said to have been a coaching inn until the 1870s. The late 17th-century house that it occupied was burnt down in 1928. (fn. 50) The Coach, or Waggon, and Horses on the Cambridge road, recorded by 1800, (fn. 51) in a possibly 16th-century house, and the Queen's Head, opened by 1851, facing the White Swan, were both still open in 1980. Also on the main road were the Green Man, recorded by 1851, (fn. 52) converted to a bakery after 1904; the Pemberton Arms, built c. 1865 east of the eastern green; and, at the junction of the northern road to Newton, the Old English Gentleman, newly built in 1839 and named for the then rector of Fowlmere. The last two were still open in 1980. There were also in the 19th century several beerhouses, one specially started at Button End, frequented by coprolite diggers. (fn. 53)
Membership of a friendly society recorded in 1803 rose from 25 then to 42 by 1815. (fn. 54) A Shepherds' Club, set up c. 1848, had 120 members by 1862. A branch of the Oddfellows, meeting regularly at the Green Man in the 1870s, probably survived c. 1970. (fn. 55) The holding of 'horkeys' after harvest, and the ringing of a bell to permit gleaning, ceased in the late 19th century, and the traditional festivities on Plough Monday and Mayday c. 1914. (fn. 56) The village feast, which in the 1870s occupied the first week of June, was still held on the western green on Whit Monday in the 1930s. (fn. 57)
Harston had a resident doctor, probably from the 1870s, when one was active against contagious diseases, (fn. 58) to the 1970s. (fn. 59) Henry Hurrell of The Park gave a reading room, opened in 1866, (fn. 60) and Sir William Graham Greene of Harston House paid for building a reading room, opened in 1923 and thoroughly refurbished in 1972. (fn. 61) Greene's family had in the 1910s sponsored at their home a 'Weaving House' for tapestry work and similar crafts. (fn. 62) The village had many clubs. A cricket club was recorded in 1847, and a football club, started by a visiting miner, in 1890. (fn. 63) From the 1930s there were, besides various sports clubs and a men's club and women's institute, societies for horticulture, drama (started by 1920 and revived in 1974), and amateur operatics and music. (fn. 64)
Manors.
In 1086 Picot the sheriff held 7½ hides, including 4 that the thegn Orgar had held in 1066 under Earl Harold, 2 then held by six sokemen of King Edward, and 1½ once held by the sokeman Fredebert of the abbot of Ely. The last fee was still held in 1086 of the abbot, the rest in chief, (fn. 65) but in the 13th century the whole manor was said to be held of the bishop of Ely. (fn. 66) It passed with Picot's barony of Bourn to Pain Peverel, and, when the barony was divided between coheirs c. 1150, was assigned to Alice, wife of Hamon Pecche (d. by 1185). Their son Gilbert (d. 1212), (fn. 67) who held it of the bishop, (fn. 68) or his son Hamon gave it in marriage with Hamon's sister Maud to the Essex baron William de Lanvaley (d. s.p.m. 1217). (fn. 69) Mesne lordship over it remained with the Pecches (fn. 70) until they sold that barony to the Crown in 1284. (fn. 71) The Harston manor, thenceforth called TIPTOFTS, was held of the Crown, of the Pecche fee, as ½ knight's fee until c. 1500, (fn. 72) later in chief as 1/20 fee. (fn. 73)
As a widow Maud de Lanvaley gave her water mill to the Hospitallers of Shingay and a half-yardland to St. John's abbey, Colchester. (fn. 74) Land at Harston was still attached to Shingay manor in the 16th and 18th centuries. (fn. 75) At inclosure in 1800 17 a. there were still copyhold of Abbotsbury manor in Barley (Herts.), (fn. 76) once owned by the abbey. (fn. 77) Maud also granted 40 a. to John of Croydon. In 1221 he leased them, with 40 a. of his inheritance, to William le Breton, justice of the Jews from 1234, (fn. 78) to whom John's widow Sybil released the land in 1235. (fn. 79) At his death in 1261 William left 120 a. in demesne to his son John, (fn. 80) also a royal judge until 1271. (fn. 81) In 1265 the royalist Payn de Chaworth seized that manor, (fn. 82) which by 1279 was incorporated with Tiptofts, whose then lord Robert Tiptoft had married Payn's sister Eve. (fn. 83)
Maud de Lanvaley had died by 1233. Her daughter and heir Hawise (d. after 1248) had married John de Burgh. (fn. 84) John still possessed the Harston manor in 1261 and 1272, (fn. 85) but before his death in 1274 (fn. 86) had probably sold it to Sir Robert Tiptoft, or Tibotot, a life-long minister of Edward I and justice of West Wales 1281–98. (fn. 87) In 1279 he had over 330 a. at Harston, holding Tiptofts of John de Burgh's son John and the Breton fee of the Bretons of Boxted (Essex). (fn. 88) He died in 1298. His son and heir Payn, of age in 1300, (fn. 89) was justice of Chester 1309–11 and fell at Bannockburn in 1314, leaving as heir a son John, aged one. (fn. 90) In 1297 Harston Tiptofts had been settled for life on Payn's wife Agnes (d. 1328), (fn. 91) who by 1315 married Sir Thomas Vere. (fn. 92) He occupied it until his death in 1329. (fn. 93) John, Lord Tiptoft, of age in 1334, (fn. 94) settled that manor c. 1365 in tail male upon his issue by his second wife Elizabeth. When he died in 1367, (fn. 95) it descended to their only son Payn, knighted c. 1386, who left his mother in possession until she died in 1390. (fn. 96) Upon his death in 1413, (fn. 97) it passed to his son John, (fn. 98) a minister to Henry IV, V, and VI. Created lord Tiptoft in 1426, he died in 1443. His son John, of age in 1447, (fn. 99) was created earl of Worcester in 1449 and executed as a Yorkist in 1470. (fn. 100) Harston Tiptofts passed for her life to his widow Elizabeth, who married next Sir William Stanley, guardian of the earl's son and heir Edward, (fn. 101) who died in 1485. Tiptofts was claimed, the entail having expired, by Sir Payn Tiptoft's heirs general, decended from the three daughters and coheirs of his elder half-brother, Robert, Lord Tiptoft (d. 1372). After long litigation they recovered it from Stanley and his wife in 1493. (fn. 102) Those coheirs and their successors occupied it as coparceners until after 1600, jointly holding a single manor court, but dividing the estate's profits. (fn. 103)
The successful claimants in 1493 were John Scrope, 5th Lord Scrope of Bolton (d. 1498), greatgrandson of Robert Tiptoft's eldest daughter Margaret; (fn. 104) Sir John Scrope of Castle Combe (Wilts.), grandson of her sister Millicent; (fn. 105) and Sir Henry Wentworth of Suffolk, grandson of the third sister Elizabeth. (fn. 106) Lord Scrope's third share descended with his peerage to his son Henry (d. 1506), grandson Henry (d. 1533), and great-grandson John (d. 1549), whose son Henry, Lord Scrope, (fn. 107) sold his interest in 1564 to John Duckfield, a Harston yeoman. (fn. 108) Sir Henry Wentworth was succeeded in 1500 by his son Sir Richard (fn. 109) (d. 1528), whose third was inherited by his son Sir Thomas, (fn. 110) created lord Wentworth in 1529 (d. 1551). Thomas's son Thomas, the second lord, sold it to John Duckfield in 1560. (fn. 111) Sir John Scrope died in 1517. He devised his third to his younger son Anthony, of age by 1535. (fn. 112) By 1565 Anthony's son Nicholas Scrope was joint lord with John Duckfield, (fn. 113) to whom he had leased his rights by the 1580s. (fn. 114) Nicholas died in 1604. In 1624 his six daughters and coheirs released their interest to Duckfield's successor, Thomas Wale the younger. (fn. 115)
John Duckfield had died in 1584, leaving as heirs two daughters, Catherine, wife of John Bucke, and Elizabeth, wife of Christopher Fletcher. (fn. 116) In 1589 Bucke arranged to buy out Fletcher's rights in Tiptofts. (fn. 117) Catherine died in 1606 and Bucke in 1607. Their daughter and heir Annabel and her husband Ralph Wilkinson (fn. 118) sold their estate in 1613 to Thomas Wale (fn. 119) (d. by 1617), and his son and namesake, sole lord from 1624 to 1641. Thomas and Robert Wale were jointly lords from 1647 to 1654, (fn. 120) Thomas Wale of Lackford (Suff.) alone by 1666. (fn. 121) He died in 1679 and his son Gregory in 1739. (fn. 122) Gregory settled Harston Hall farm on his younger son Hitch Wale (d. s.p. 1749), (fn. 123) but the manorial rights passed to his elder son Thomas (d. 1796), who also succeeded Hitch in the farm. (fn. 124) From Thomas the estate passed to his only surviving son Charles, (fn. 125) who in 1802 sold the manor and his 390 a. in Harston to Rivers Taylor, tenant of the Hall farm since the 1770s. (fn. 126) Taylor died in 1821. His son and heir William (fn. 127) (d. s.p. 1843) left Tiptofts for life to his widow Anne (d. 1855), then to his cousin William Taylor of Histon's daughter, Margaret Anne. Her husband, Frederick William Rowley, lord from 1855, died in 1886, owning c. 580 a., (fn. 128) and Margaret Anne c. 1906. Walter Thomas Rowley was named as lord from the 1880s to 1904, William Taylor Rowley from 1908 to 1937. (fn. 129) The 265 a. of Manor farm south of the Harston–Foxton road were sold to Henry William Hurrell before 1915, when he resold them to the county council for smallholdings. The council sold the 147 a. south of the railway in 1915 to Sir Charles Walston of Newton Hall. (fn. 130) In 1951 R. H. Taylor Rowley as executor sold the manor house and the last 84 a. of the estate. (fn. 131)
Tiptofts manor house, standing by 1279 in a 3-a. close (fn. 132) south-east of the church, included c. 1390 a chapel, a chamber, and a kitchen. (fn. 133) The site is occupied by Harston Hall. Its main block, in red brick, dates from the early 18th century. The south front has five bays, with a Venetian window over the central doorway and pedimented dormers. Short wings, one bay wide, were added later. The irregular north side incorporates 19th-century additions. (fn. 134)
SHADWORTHS manor derived largely from an estate held of Barnwell priory, to which Picot had given the church before 1100. (fn. 135) Somewhat before 1200 the priory granted much church land, to be held as ½ knight's fee, to Alan of Harston, (fn. 136) whose son Gilbert (fn. 137) held that estate until c. 1250. (fn. 138) In 1279 Gilbert's son John held a manor, with 100 a. of demesne, of the priory under the honor of Peverel. (fn. 139) John was dead by 1286 when his brother Niel was compelled to admit Barnwell's right to scutage from him. (fn. 140) Barnwell's lordship was still recognized after 1350, (fn. 141) but in 1524 the manor was said to be held of the bishop of Ely. (fn. 142) Niel of Harston died between 1297 (fn. 143) and 1314, when the estate was held by the judge Robert of Madingley. (fn. 144) The judge had inherited an estate built up by Herbert of Hauxton (fn. 145) (fl. 1240–60), (fn. 146) whose son Stephen died after 1275. Stephen's widow Avice (fn. 147) and son Herbert held in 1279 30 a. and 82 a. of various fees, (fn. 148) which by 1292 they had sold to Mr. Giles of Barrington, (fn. 149) from whom, with another 40 a. of freehold acquired piecemeal, those lands descended to Robert as nephew and heir. (fn. 150)
He died in 1321. (fn. 151) His daughter Alice married Sir Thomas Heslarton. In 1328 Sir John de la Haye, a son of Robert's sister, released the Harston manor to them, after much dispute. (fn. 152) Heslarton, lord in 1346, (fn. 153) died c. 1356, (fn. 154) and Alice c. 1375. (fn. 155) In 1373 she had sought to grant 200 a. in Harston, of which 140 a. were held of Barnwell, to Michaelhouse, Cambridge. (fn. 156) That college had only 38 a. there c. 1535. (fn. 157) The rest was occupied by 1379 by Sir John Engaine, husband of Sir John de la Haye's daughter Margaret. (fn. 158) He sold 100 a. in 1382. (fn. 159) The rest came c. 1387 to John Shadworth, a London mercer, who retained it until the mid 1420s. (fn. 160) By 1428 it belonged to John, Lord Tiptoft, (fn. 161) and descended with Tiptofts manor until his grandson Edward died in 1485. Being outside the 1365 entail Shadworths passed to Edward's aunts and coheirs; it was probably assigned to Philippa, Lady Roos. (fn. 162) In 1524 her son-in-law Sir Thomas Lovell devised his Harston land to his brother Sir Gregory's son Francis (fn. 163) (d. 1552). Sir Francis's son and heir Sir Thomas Lovell (fn. 164) (d. 1567) left Shadworths to his younger son Francis, (fn. 165) who sold it in 1585 to Christopher Fletcher. (fn. 166) By 1597 Fletcher had resold to Robert Symons of Whittlesford (d. 1611). (fn. 167) Robert's grandson Thomas sold it to Thomas Wendy of Haslingfield (fn. 168) (d. s.p. 1634). He settled it on his nephew Francis Wendy (fn. 169) (d. c. 1645), who was succeeded by 1646 by his elder brother Sir Thomas Wendy (fn. 170) (d. s.p. 1673). Descending with Haslingfield to the Wendy heirs, Shadworths was sold with it in 1733 to Baltzar Lyell (d. 1740), whose son Henry (d. 1803) (fn. 171) was allotted 72 a. in Harston at inclosure. (fn. 172) Through Henry's daughter Catherine that estate came, until 1900, to the earls De la Warr. (fn. 173) The land was for sale in 1886. (fn. 174) The manorial rights, acquired in 1900 by the jam maker John Chivers, passed after 1907 to a solicitor, S. R. Ginn, lately steward. (fn. 175)
In the 1310s Robert of Madingley's manor house included a hall and solar, the lord's chamber, and a great wardrobe. (fn. 176) The site was called the Hall yard c. 1435, when the house had gone. After 1450 it was occupied by a dovecot and orchard. (fn. 177) Its position is uncertain: no closes belonged to Shadworths at inclosure, (fn. 178) although the 'Old Manor House' on the Cambridge road was later supposed to belong to it. (fn. 179)
The 1¼ hide possessed in 1066 by four sokemen under Eddeva and by a priest was by 1086 held of Count Alan of Richmond by Odo his chamberlain. (fn. 180) Its lordship probably descended with the Richmond chamberlainship to Odo's son Robert (fl. 1130–60), and Robert's sons George (d. by 1173) and Niel (d. 1191). After the 1190s their rights were divided between five coheirs, (fn. 181) and the Harston estate was fragmented. In 1279 Herbert of Hauxton held 15 a., under the honor of Richmond, of the Furneaux lords of Barham, and 37 a. of the Clement fee. A fraction, comprising 55 a. held by customary tenants, but no demesne, was then held of William Mortimer of Kingston. (fn. 182) Until after 1800 c. 70 a. in Harston remained copyhold of Mortimers manor in Foxton. (fn. 183) Other land was held, under the same honor, of the FitzRalphs of Shepreth, partly by John of Harston, partly by Hugh Clement. (fn. 184) Hugh's ancestor William, son of Robert Clement, was before 1200 lord of more than 50 a. at Harston, partly under the Pecches. (fn. 185) From Robert Clement (d. c. 1220) that manor passed to his son Walter, (fn. 186) who c. 1236 held a fee of the bishop of Ely and died after 1261. (fn. 187) In 1279 Hugh Clement held for one fee 47 a. in demesne and 90 a. of freeholdings. (fn. 188) He died c. 1300; in 1302 Alice Clement held the fee of the bishop. Robert, probably Hugh's son (fl. 1318–37), was dead by 1344. (fn. 189) In 1346, perhaps as coheirs, John Gauge and Millicent Saleman held the former Clement fee, (fn. 190) probably acquired by 1356 by William Boteler, (fn. 191) and held from the 1360s to 1381 by Margaret Boteler. (fn. 192)
As BOTELERS manor, it descended from Thomas Whaddon, a London mercer, to his brother Nicholas, (fn. 193) and belonged by 1424 to John, Lord Tiptoft. (fn. 194) In 1495 Edward Sutton, Lord Dudley, son of Joyce, another aunt and coheir of John's grandson Edward, released the reversion of Botelers to Sir Henry Wentworth. (fn. 195) In 1560 John Duckfield acquired it with Wentworth's third of Tiptofts. (fn. 196) It was sold, perhaps by Christopher Fletcher, to George Duckfield, a Harston yeoman, (fn. 197) (d. by 1614), and passed to George's son Daniel (fn. 198) (d. 1653), who left it to his youngest son John, (fn. 199) a clergyman (d. 1685). John's son Daniel, vicar of Hauxton 1700 (d. 1702), settled Botelers in 1690. (fn. 200) It was soon united to 95 a. of copyhold held by the Cundalls by 1715 (fn. 201) and sold with that land c. 1767 to Edward Chapman, later Green, of Cambridge (d. 1779). Green's son Edward (d. 1804) (fn. 202) claimed at inclosure to own Botelers manor and 241 a., including 115 a. of copyhold, in Harston, Hauxton, and Newton. He emerged with c. 230 a., (fn. 203) which descended to his son Edward Humphreys Green de Freville of Hinxton (d. 1868). The latter's cousin and successor Edward Henry sold the land in 1886: 102 a. north of the village went to John Ives (fn. 204) (d. 1897). As part of the Iveses' Beech farm (210 a.) they were resold in 1900, and bought in 1926 by Jesus College, Cambridge, still the owner in 1980. (fn. 205)
Another 1¼ hide occupied in 1066 by a sokeman of King Edward, and held in 1086 by Ranulf of Robert Gernon, (fn. 206) was probably the Gernegan fee, recorded c. 1235 and in 1275. (fn. 207) Lordship over it passed to the cadet line of Gernons, descended from Ranulph. In the 1270s it was held of Walter of Hereford under Ralph Gernon. (fn. 208) From Adam of Harston, who acquired 40 a. before 1207, (fn. 209) an estate passed to his son Richard of the stone hall (d. after 1253), (fn. 210) whose son William 'de la Stonehall' held 90 a. of the Gernon fee in 1279 (fn. 211) and died after 1298. (fn. 212) John de la Stonehall, who had 92 a. in 1305, (fn. 213) was not recorded after 1330. (fn. 214) STONEHALLS was apparently held by coparceners from the 1360s until after 1400, (fn. 215) and from 1411 by Sir John Felbridge of Norfolk (d. 1423). (fn. 216) In 1541 Thomas Hutton granted Stonehalls manor and c. 180 a. to Agnes Game, widow. (fn. 217) About 1630 it was divided between the sisters Catherine Swan, widow (d. 1632), and Elizabeth, married to Richard Adam, who devised the manor house to his son Richard in 1637. (fn. 218) In 1798 Edward Green claimed to own Stonehalls reputed manor and its manor house site. (fn. 219)
The impropriate rectory, held by Barnwell priory until its surrender in 1538, (fn. 220) was granted by the Crown to the bishop of Ely by exchange in 1562. The beneficial lease under the bishop, at a rent unchanged from the 1530s to the 1850s, (fn. 221) was acquired soon after 1600 by the Bulls of Hertford. The rectorial glebe, actually occupied under them by 1650 by the Swans of Newton, then comprised 8 a. of grass and 34 a. of arable. (fn. 222) Dr. Henry Brunsell, canon of Ely, obtained the lease c. 1673 and in 1677 gave it, to support exhibitions, to Jesus College, Cambridge, (fn. 223) which remained head lessee under the bishop until 1858. (fn. 224) Under the college the rectory was long occupied by Allen Hurrell and his descendants at a rent seldom increased. (fn. 225) They had also a substantial private estate, partly inherited in 1693, and enlarged by 1800 to cover 197 a. (fn. 226) Allen (d. 1740) was succeeded by his son Allen (d. 1745), upon whose widow Margaret's death in 1762 (fn. 227) the lease and land passed to their daughter Margaret's husband John Bridge (d. 1776). (fn. 228) His son Thomas Bridge Little of Shudy Camps (fn. 229) was allotted at inclosure 123 a. for himself, and an adjoining 23 a. for the rectory glebe and 184 a. for the great tithes. (fn. 230) Jesus College ended the beneficial lease c. 1820, (fn. 231) and in 1858 bought out the bishop's interest in the 206-a. rectory estate. (fn. 232) T. B. Little had left his own land c. 1830 for his natural daughter Henrietta, wife of William Long, (fn. 233) (d. 1883), who also farmed the college land from 1845 to 1877. (fn. 234) In 1893 the former Little estate was mostly sold to C. J. Ives, (fn. 235) and passed with Beech farm to Jesus College. Following other purchases in the 1930s, including the former vicarial allotment, the college had in 1980 c. 510 a., comprising most of the north of the parish. (fn. 236)
The Barnwell priory grange and tithe barn stood by 1430, probably by 1250, (fn. 237) in a close north of Tiptofts manor house. At inclosure the site passed by exchange from the rectory to the vicar. (fn. 238) Harston House, called the New House at inclosure when it belonged to T. B. Little, (fn. 239) was probably built as the Hurrells' residence north of the western green c. 1700. It has a seven-bay front in red brick with plain corner pilasters, and was enlarged on the north-east c. 1840. (fn. 240) In 1893 Sir William Graham Greene, an eminent Admiralty official, bought it. He died owning it in 1950. (fn. 241)
From the 1830s William Hurrell of Newton (d. 1854) and his elder son Henry accumulated a substantial estate in the east of Harston for Henry. Their purchases included c. 1830 the Wallises' 119 a., in 1869 the reversion, effective from 1902, of the Whitechurches' Baggot Hall land (145 a.), and by 1900 the Shadworths 72 a. (fn. 242) When Henry, latterly of Madingley Hall, died in 1906, his Harston estate passed to his younger son Arthur, permanently chairman of the parish council 1897–1929 (d. 1940). (fn. 243) Arthur's son, Col. G. T. Hurrell, lord lieutenant of Cambridgeshire 1965–75, still owned c. 300 a. at Harston in 1980. (fn. 244) The Hurrells' Harston house, The Park, standing back from the Cambridge road, was built in 1854. (fn. 245)
Economic History.
Of the 10 hides recorded in 1086 over 5½, including c. 3 on Picot's manor, were probably in demesne, as were almost 6 of the 11 ploughlands, with 4¾ teams. Seven substantial peasants, all but one holding of Picot, had 4 teams between them, and there were 22 smallholders. The vill's total yield had fallen by half from £13 between 1066 and the 1070s, and only recovered to £10 10s. in 1086, when it was still short of two teams. (fn. 246)
In 1279 (fn. 247) about half the 1,256 a. of recorded fieldland belonged to the manorial demesnes and other large estates. Tiptofts demesne comprised 296 a. of arable. The Harston and Hauxton families each had 112 a., the Stonehalls 105 a., and Hugh Clement 47 a. Those four estates included c. 3/5 of the 268 a. of non-demesne freehold. Of the rest one large freeholder held 56 a. of five different fees, while 45 smallholders had, besides their houses, barely 50 a. of arable altogether. Of c. 270 a. held in villeinage 210 a. belonged to Tiptofts. John of Harston had eight customary tenants with 3-rood crofts, who owed only haymaking and two harvest boons, as did twelve men sharing 10 a. on the Mortimer fee. Another five holding 9 a. each of it also owed 80 works between Michaelmas and Lammas.
On Tiptofts there were, besides four cottars and a smith with 6 a., ten villeins with half-yardlands of 15 a.; three, later four, villeins held 9 a. each, one 6 a., four 3 a., all being liable to quite heavy services. Those with 15 a. and 9 a. owed three works a week for 41 weeks from Michaelmas to Lammas, and four a week during harvest. Tenants of 6 a. and 3 a. owed two and three, cottars one and two, weekworks at the same periods. Thus 656 works were nominally due in harvest, 2,500 for the rest of the year. Tenants must also plough for the lord for two days a year, and come to one harvest boon. Shortly before 1400 57 men still came to that boon, while 72, two to a plough, worked at the autumn, and 56 at the spring, ploughing. (fn. 248) Those tenants' liability to tallage was in practice converted to a payment called from the 1370s the 'unyeld' or 'angyld', (fn. 249) of 6s. 8d. to 10s., (fn. 250) increased c. 1390 to 13s. 4d. to £2. (fn. 251) Regularly respited from 1423, it fell thereafter into desuetude. (fn. 252) In 1393 it was admitted that Tiptofts customary tenants were not subject to heriots, (fn. 253) nor were those of Shadworths. (fn. 254) By 1372 only four of Tiptofts 36 customary tenants were bondmen by blood, the rest, although twelve still held 'neifly', being treated as personally free. (fn. 255) One bondman was heavily fined in 1380 for surreptitiously purchasing his freedom from Payn Tiptoft, while Payn's mother still occupied the manor. (fn. 256) Customary land remained in practice heritable, subject to entry fines, until the late 14th century: one prosperous family of bondmen still held three half-yardlands on such terms in 1435. (fn. 257) The widow of a first marriage could keep her husband's complete holding for life, that of a second only a third of it. (fn. 258)
Tiptofts demesne was reckoned to cover 300 a. in 1298, but 400 a. in 1328 and 360 a. c. 1340. (fn. 259) In the 1310s (fn. 260) Robert of Madingley farmed his smaller estate quite intensively, even selling the feathers from his nine peacocks. He kept both cattle and sheep. Harvesting was done by hired labour supplemented by his 13 tenants' one boon work, the other work by a permanent staff of six, including two ploughmen, a carter, a cowman, a shepherd, and in summer a swineherd. Their corn liveries consumed 20–25 qr. of the 180–185 qr. usually harvested on c. 100 a. of his demesne sown yearly. Sales of corn barely paid for the costs of growing it. Instead, Robert took for his household substantial supplies in kind, including 16–18 qr. of wheat a year, barley for malting, pigs, poultry, apples, and eggs from Christmas rents. His cash income, £16– 20, from the manor came mostly from his tenants' rents in Harston and Hauxton, and wool sales. In the late 1310s he sold yearly 165–180 fleeces, averaging by weight eight to a stone. His flock was expensively kept at a size of 175–200 mature sheep by purchases, after the frequent and devastating murrains, at Royston or at Barnwell fair.
By 1330 Sir John de la Haye had leased out Madingley's demesne arable. About 1350 the whole manor, including the farmstead and closes, 21 a. of meadow, and two sheepfolds, was at farm, for £23 in all. (fn. 261) Tiptofts demesne, however, was still in hand in the early 1360s. (fn. 262) In 1340 100 a. in Harston had lain uncultivated, (fn. 263) and by 1367 the Tiptofts demesne arable farmed by the lord was reduced to 240 a.; (fn. 264) pieces of it, by 1372 totalling 32 a., were leased out from 1365, and the whole was at farm by 1371. (fn. 265) The farmer let its buildings fall into disrepair; (fn. 266) and the demesne was taken in hand again in 1387 (fn. 267) and expensively restocked. No demesne sheep were kept at Harston, the lord's pastures being fed with a flock based at Burwell. The permanent staff was small, a bailiff and two or three ploughmen. Villein services available had fallen by 1397 to c. 870 ordinary and 226 harvest works. About half were used, mainly for ploughing, haymaking, and harvesting: the works sufficed c. 1390 for reaping 120 a., the boon only for 24 a., but the harvesters were regaled with beef, mutton, cheese, duck, and fish. Other customary labour was called on for heavy routine work.
Rents, including leases of demesne and customary land, whose yield rose from £7 in 1388 to £10 8s. by 1398, and £6 from the mill, produced £40 a year c. 1390, £30 in the late 1390s. They were worth far more than the farming cash receipts which came mainly from corn sales: over 150 qr. were sold in 1388–9, 2/3 being wheat or maslin. In the 1390s barley sales predominated and profits fell to under £7 by 1399. In 1399 and 1401 the lord leased out his two folds for 100 sheep each, and from 1401 the main farm was leased for 12 years to two villagers, (fn. 268) who neglected the buildings. (fn. 269) The demesne was possibly again in hand between 1418 and 1435, (fn. 270) and the lord may have kept up to 80 sheep at Harston in the 1430s. (fn. 271) From 1445 Tiptofts demesne was normally let to farmers, (fn. 272) as was Shadworths in 1411 and 1429, (fn. 273) and Botelers by 1432. (fn. 274)
The lord's claim to his tenants' services had been increasingly abandoned in favour of cash. In the 1360s reaping, carrying, and harvest works were reluctantly performed. (fn. 275) Sheep were kept from the lord's fold, (fn. 276) and the villagers poached his game. (fn. 277) Tenure by labour services was increasingly rejected: in 1393 one widow refused to take up her husband's half-yardland, if so burdened. (fn. 278) The number of larger holdings rendering full services fell to ten by 1372, (fn. 279) and eight by 1387. In 1398 only five of ten half-yardlands and two of 13 lesser holdings rendered any labour. (fn. 280) The others were let out, from the early 1360s no longer heritably, but for terms, varying from 5 to 20 but usually of 12 years at rents of 16–20s. for a half-yardland, and entry fines usually equalling one year's rent. (fn. 281) Much demesne arable was let similarly for 1s. an acre. In 1399 135 a. of arable and 18 a. of meadow were thus leased to 23 people. (fn. 282) About 1400 tenure for years became the most common way of holding customary land, even bondmen paying rent, (fn. 283) although the lord still demanded suit to his fold and mill. (fn. 284) In the 1460s, however, heritable grants of copyhold, at fines of half the rent, were reappearing. (fn. 285) From the 1520s copyholds were again fully heritable, subject to fines at the lord's will, which by 1600 were double the rent. (fn. 286) At inclosure there were c. 350 a. of nonmanorial freehold; the copyhold included 186 a. held of Tiptofts, 135 a. of Shadworths, c. 138 a. of Newton, and c. 110 a. of other manors. (fn. 287)
By the 1180s the arable was divided in three, into the North, East, and South fields. (fn. 288) They were disposed concentrically around the village in a pattern that in substance survived until inclosure. (fn. 289) From the 14th century the East field also bore the name of White field, (fn. 290) applied more particularly after 1400 to the area near the village. (fn. 291) The northernmost section of its eastern part was called the Peasehill from the 1360s, (fn. 292) later the Pessills. The medieval names remained in regular use until 1700: from the 1630s part of North field near the river was sometimes styled Park field. (fn. 293) In the 18th century, however, North field was renamed Red field and South field Hoffer, (fn. 294) and in the 1790s Baggot, field. About 1790 the eastern field's eastern part was called White field, the western one Green field, (fn. 295) after the large adjoining green.
That green, so situated by 1452, (fn. 296) was presumably part of the village's public moor, recorded from the late 13th century. (fn. 297) It stretched for c. 1 km. along the west side of the Cambridge road, called from 1410 Moor street. (fn. 298) There were also extensive meadows, reserved for the lord in severalty at certain times of year. They ran from Ham meadow (132 a.), between the Granta and Rhee in the north, (fn. 299) through the Hassocks (50 a.), Langholm meadow (29 a.) near Haslingfield mill, Alice Dam (30 a.), and Red meadow (20 a.), all recorded from the 14th century, (fn. 300) to the Frith hey by the southern field. (fn. 301) A boggy northern part of North field, called by 1250 the Glitton, (fn. 302) was used as leys, covering 45 a., from the mid 17th century. (fn. 303)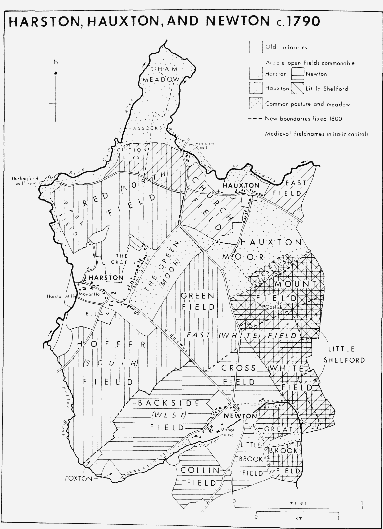 At inclosure the ancient closes, including the crofts opposite the green, came by local measure to 162 a., of which 55 a., mostly south-west of the village street, belonged to Tiptofts manor. (fn. 304) The grasslands were reckoned as 535 a., including the 208 a. of the green (125 a. by statute measure). (fn. 305) Of the arable, the northern field was said in 1785 to cover 393 a., the southern one 370 a., and the eastern one 370 a., besides the intercommonable 100 a. of White field further east. (fn. 306) Of the land allotted at inclosure that north of the village, including meadows, Park field (146 a.), the remaining arable Crofts (84 a.), west of those long inclosed, and Red field (195 a.), came to 425 a., Baggot field to 369 a., and Green and Mount fields to the east to 245 a. and 136 a., besides 112 a. of White field further south assigned to Newton. (fn. 307)
Much of that arable was intercommonable. From the Middle Ages Harston's sheep and cattle had been entitled to common in much of Hauxton and Newton, and theirs in parts of its fields. Under the system recorded c. 1800 the parts of Harston's three fields nearest the village were several to its own livestock, the land further north and east intercommonable with Hauxton, Newton, and in places Little Shelford. Ham meadow was intercommonable to Harston and Hauxton, and Hauxton Moor to all four parishes. (fn. 308) The custom involved strains and disputes between the intercommoning villages, sometimes leading to violence, as when a Hauxton bailiff ambushed the Tiptofts manorial shepherd in 1420. (fn. 309) The men of Harston regularly alleged that the lord and villagers of Hauxton had ploughed up Harston land, or trespassed with their sheep into areas where they had no customary rights; in 1420 Hauxton men were said to have sown peas on arable that should have lain fallow for Harston's flock to feed over. Harston tried to enforce its claims by lawsuits, impounding, and fines, and by laying down boundaries, such as the bishop's ditch, mentioned in 1371, which Hauxton's beasts should not pass. (fn. 310) Similar lines were being fixed in the 16th century. (fn. 311)
The arable was cultivated by the 14th century on a triennial rotation, with barley usually predominating. In the late 1310s the crops on Madingley's demesne, 100 a., indeed, averaged 40–50 a. of wheat, and occasionally maslin, 55 a. of barley and dredge, but only 10 a. of peas. (fn. 312) On Tiptofts demesne, however, the 232 a. cropped in 1340 included only 74 a. of wheat and 13 a. of rye, far exceeded by 133 a. of dredge. (fn. 313) In the 1380s and 1390s that demesne usually grew 40 a. of wheat, but 100–120 a. of barley c. 1390, rising later to 125–140 a. of barley and dredge. The usual rotation was apparently barley, then wheat, then fallow. (fn. 314) In 1410 the demesne farmer's impounded goods included 30 qr. of wheat and 10 of rye, but 80 qr. of barley, in sheaves. (fn. 315) The peasantry in the early 16th century also grew mainly barley. (fn. 316) From the 15th century to the 18th the two fields cultivated annually were styled the Wheat field and the Pease field. (fn. 317) Saffron was grown from the early 16th century to the early 17th on temporary inclosures in the open fields. (fn. 318) The customary cropping in 1785 of the land titheable to Harston rectory still comprised 351 a. of barley, but 239 a. of wheat, and 112 a. of oats. (fn. 319) In 1772, however, the farmers had agreed to lay down under grass seeds, presumably as leys, 2 a. for every 20 a. that they owned. (fn. 320)
In 1086 the two smaller manors had flocks of 135 sheep. (fn. 321) Many peasants kept sheep, often in largish numbers: in 1366 two men had 60 and 40, (fn. 322) and c. 1375 65–75 were often kept outside the lord's fold. (fn. 323) One man had 200 in 1385, and c. 1390 numbers of sheep ranging from 540 to 680, usually in flocks of 100 or more, were often impounded. (fn. 324) Besides milking cattle, of which 53 were recorded in 1388, (fn. 325) the villagers kept many mares, which when not working ran free over the meadows. Usually well over 40, and c. 1400 up to 80, mares were impounded each year for straying in the corn; on average each man had one or two, but a few owned ten or more. (fn. 326) After 1500 smaller farmers kept fewer sheep, although one husbandman bequeathed 120 in 1541, (fn. 327) and byherds were still being forbidden in the 1560s. (fn. 328) Instead manorial flocks predominated. In 1411 the Shadworths lessee had kept 200 sheep, and a man who had leased from Tiptofts a fold for 100 was keeping 200. (fn. 329) In 1456 another demesne farmer overcharged Harston's commons, only to use his sheepfold at night to manure land in other vills. (fn. 330) Later rights of sheep walk and foldcourse for 720 sheep were claimed for Tiptofts manor farm, (fn. 331) and of 240 each for Shadworths, (fn. 332) Botelers, and Stonehall manors. (fn. 333)
No stints for sheep owning were formally laid down. The moor, with 40 a. of balks and c. 230 a. of meadows, also remained unstinted for cattle and horses until inclosure. Instead rights of pasturage were restricted as to particular seasons and areas, on a system well established by the 15th century. Besides the stray over the harvested fields all of Ham meadow was commonable from Michaelmas to 25 March, and 100 a. of its 132 a. throughout the year except in April and May, while 40 a. of Lammas meadow were opened after the hay harvest. (fn. 334) Sheep were by 1425 excluded from the stubble for several weeks after harvest, (fn. 335) and the Ham was reserved by 1450 for ploughbeasts and great cattle almost until Michaelmas. (fn. 336) From the 1540s only those owning ploughs could keep horses on the commons. (fn. 337) New regulations in 1561 and 1601 forbade villagers to take in outsiders' cattle and sheep, and in 1566 to common in summer horses for which they had no winter fodder, implying increased pressure on the available grassland. About 1600 landless inmates were forbidden to common cattle. (fn. 338) At inclosure there were 63 cow commons, shared among 42 people at Harston. (fn. 339)
In the later Middle Ages a few peasants had large holdings, one of 83 a. being recorded in 1359, (fn. 340) but the average tenement remained one of 16 a. or less well into the 16th century. In 1398 11 customary tenements of Tiptofts still had 10 tenants. (fn. 341) In 1524, while the wealthiest villager had £11 6s. 8d. of the £46 13s. 4d. of goods assessed, four others paid on £4–6, and five on c. £2 each; another 20 men were taxed only on wages. (fn. 342) Even in 1600 most copyholders had only small properties, nearly equal in size: although the Swans had owned since the 1570s four 'yardlands', and the Bevises had c. 55 a., the other 170 a. of copyhold was divided between seven men with 13–18 a., and eight with 3–10 a., each. (fn. 343)
Inequality increased during the 17th century. In the 1660s over 40 dwellings contained only one or two hearths, only 9 or 10 three or four. (fn. 344) Copyholdings of 30–40 a. were more common from the late 17th century. (fn. 345) In 1762 one yeoman family had 66 a. (fn. 346) At that time Manor farm included 59 a. of closes, 42 a. of meadow, and 271 a. of arable. (fn. 347) At inclosure, of the 162 a. of ancient closes, 1,177 a. of arable, and 184 a. of meadow claimed, 835 a., including 93 a. of closes and 92 a. of grass, belonged to three manors and the rectory lessee, and 133 a. to substantial owners based at Hauxton and Newton. Three large farmers, one with 150 a., had 286 a.; the other 370 a. was owned by 25 people, only two having over 25 a., and fourteen under 10 a., each. (fn. 348)
The inclosure bill for Harston and Hauxton proposed in 1796 (fn. 349) was strongly opposed. The lords of manors and almost all the absentee landlords supported it, but only one, the largest, resident landowner favoured it, while eleven others, owning, however only 220 a., dissented, as did 27 of the 48 resident house owners. (fn. 350) The notification of the bill in 1797 caused rioting among the labourers, and a yeomanry detachment sent to take the ringleader was attacked and pursued back to Cambridge after his arrest with scythes and pitchforks. (fn. 351) The bill was nevertheless passed in 1798, (fn. 352) the fields were divided early in 1800, and the award was executed in 1802. (fn. 353) Of the Harston land involved, 1,481 a., besides 206 a. of old closes, some exchanged, 316 a. were allotted for glebe and tithes, and c. 325 a. for Tiptofts, besides 74 a. of closes; 232 a. belonged to the Greens, 140 a. to T. B. Little, 72 a. to Shadworths, and 120 a. and 60 a. to two other men. Another 46 landowners had between them 42 a. of closes and 315 a. of former field land, of which 111 a. went to four with 20–50 a., 73 a. to five with 10–20 a., and 72 a. to 14 with under 10 a. each. For common rights 59 a. was allotted to 22 others, all declining the option of continuing to share a small area as common pasture. (fn. 354) Many of the smaller allottees, too poor to cultivate their properties, soon mortgaged or sold them. (fn. 355)
Following inclosure Harston was divided into four or five large farms, and 8–10 smaller holdings. (fn. 356) In 1861 four men farming over 100 a. each occupied 961 a. altogether, while eight smallholders, mostly with under 40 a., shared 250 a. Similarly in 1955 27 holdings of under 100 a., including three averaging 60 a., comprised 305 a., and four large farms 1,162 a. (fn. 357) The Taylors and Rowleys farmed their Manor farm (355 a.) south of the village themselves until after 1900: from 1915 to the 1970s the county council let part of it as smallholdings. (fn. 358) North of the village lay Beech farm (240–60 a.) and the Jesus College and Little farms (356 a.), often combined until the 1870s. The more divided land to the east was occupied partly by the Hurrells, partly by the Hays family, farmers at Harston by 1800 and owning 32 a. by 1810; (fn. 359) for three generations a Thomas Hays occupied Baggot Hall farm (145 a.) between 1850 and 1900, (fn. 360) and the Jesus College one also from the 1880s to the 1930s, then taking over the Rowley and Hurrell farms. (fn. 361) In 1979 two of that family still farmed 700 a. there, working with six men, including themselves, land that had once needed 40 labourers. (fn. 362)
About 1830 Harston had had c. 85 adult labourers, mostly regularly employed, and 36 more under 20. Many were let plots for planting potatoes. (fn. 363) Farmwork had provided before 1811 three quarters, and by 1831 two thirds of the employment in the parish. (fn. 364) In the 1850s and 1860s the 75 resident farm labourers only slightly exceeded the number of men, 65–70, whom, with 26 boys, the farmers usually employed. (fn. 365) Coprolite digging, which continued from the early 1860s to the 1890s, (fn. 366) occupied 54 men in 1871: none, however, were natives of Harston, and 40 came from outside Cambridgeshire. (fn. 367) In the 1890s many labourers lacked work: the vicar later let 16 a. to such men as allotments. (fn. 368) The number of farmworkers employed fell from 63 in 1925 to 40 in 1955. (fn. 369)
The amount of wheat sown had increased slightly after inclosure, when the vicar, William Leworthy, began farming his new glebe intensively, bringing from Doncaster a four-horse threshing machine, fitted with a winnower and chaff cutter. He grew turnips for sale at London, and experimented with draining and lime composts. In 1817, however, he gave up farming. (fn. 370) By then the Jesus College farm was under a six-course rotation, including a fallow under turnips, barley, two years of clover, pulses, and wheat. (fn. 371) Although the number of sheep was said c. 1806 to have fallen by a third, one farm still carried 130, mostly Southdowns, in 1812, and there were 255 ewes on Manor farm c. 1825. (fn. 372) In the late 19th century (fn. 373) over 600 grown sheep were still kept, requiring three or four shepherds; numbers declined to c. 325 by 1925, and sheep farming ceased thereafter. Numbers of milking cattle, however, increased from under 40 before 1900 to over 70 by 1925 and c. 230 after 1950. The parish, nevertheless, remained mainly arable, with wheat, barley, and oats the principal corn crops. During the agricultural depression the area of permanent grass rose from 54 a. in 1866 to 320 a. by 1885, but fell again to 230 a. by 1905. In 1955 there were 369 a. of grass compared to 660 a. under corn and c. 140 a. of clover and roots. Sugar beet, grown since the 1920s, then covered 102 a. Fruit growing had also increased. Several orchards, containing c. 800 trees, were planted soon after inclosure. (fn. 374) By the 1920s 42 a., mostly slightly west of the Cambridge road, (fn. 375) were growing fruit, three-fifths of c. 6,000 trees being apples, the rest mostly plums. From the 1930s one or two nurserymen grew tomatoes and similar produce in glasshouses, and there had been a small poultry farm since the 1910s. (fn. 376)
Besides smiths and carpenters, and such tradesmen as butchers, mentioned from 1313, (fn. 377) Harston had textile workers by 1400. Three weavers were recorded in 1392, (fn. 378) others in 1463 and c. 1510, (fn. 379) a tailor in 1402, (fn. 380) and a fuller in 1445. (fn. 381) The mill was partly used for fulling from 1384 to the 1460s. (fn. 382) A tanner, who probably owned 33 a., died c. 1675, (fn. 383) and there was a collarmaker in 1709. (fn. 384) In the 19th century, (fn. 385) besides shops, including from 1851 to the 1930s grocers, drapers, butchers, and bakers, there were numerous craftsmen, including tailors until the 1880s; several shoemakers, 10 in 1841, 7 in 1871; and wheelwrights until 1900. The Wedds ran a saddlers' business that closed in 1920. (fn. 386) The village's main smithy, worked by the Hatleys from c. 1700 (fn. 387) to the 1850s, then passed to the Lawrences, still in business, partly making ornamental ironwork, in the 1960s. (fn. 388) From the 1840s to c. 1910 the Newlings made and hired out drills and other farm machinery. The two brickpits included one at Button End, where gravel was also dug: (fn. 389) of 7 to 10 bricklayers working c. 1850 three were employed by the Judes, whose builders' business flourished into the 1930s. The Willers building firm, still active in the 1970s, had grown out of a wheelwright's shop started in 1870. (fn. 390) Trades associated with transport after 1900 included a cyclemaker between 1908 and the 1930s, one garage in the 1930s, and in the 1960s and 1970s two, besides two rival adjacent car repair workshops. (fn. 391) A Harston man had started the Premier Travel Coach Co. c. 1930 to provide better local transport. (fn. 392)
The watermill owned by Picot in 1086 (fn. 393) and by the Hospitallers in the 1270s (fn. 394) had been reunited by 1298 to Tiptofts manor, (fn. 395) with which its ownership passed until after 1900. (fn. 396) It was farmed to the miller for yearly renders of corn, 36 or 24 qr., in the early 14th century, (fn. 397) but from the 1380s for cash. (fn. 398) By 1778 the mill included two waterwheels. (fn. 399) The mill was reconstructed in 1869, and again in the 1880s. The Smiths, its lessees from the 1840s, bought the freehold from the Rowleys in 1933. By then it was seldom used to grind corn, but mainly for storage and making poultry feed. (fn. 400) Sold in 1964 it was bought in 1966 by Trouw and Co. Ltd., an animal feed company, incorporated in 1976 into B.P. (Nutrition) U.K. Ltd. The latter still produced sheep and cattle feed there in 1980. (fn. 401) A windmill erected after inclosure near the turn to Newton was burnt down c. 1830. A tower mill built by 1823 on the Newton road close to the south-eastern boundary was in use until c. 1905. (fn. 402) Only its brick base survived by 1972. (fn. 403)
Local Government.
In the 1270s Robert Tiptoft claimed to have view of frankpledge, the assize of bread and of ale, and a gallows and tumbrel. In 1299 his widow Eve claimed infangthief also, (fn. 404) and in 1380 and 1461 later lords took felons' goods. (fn. 405) Courts leet were held for Tiptofts until the early 17th century. Court rolls survive for 1313– 14, (fn. 406) 1359–1470, (fn. 407) and 1529–1725, (fn. 408) followed by court books for 1731–1869 and 1901–2. (fn. 409) The other manors had at most courts baron for tenurial business. For Shadworths, besides a few rolls c. 1400, (fn. 410) others survive for 1597 and 1634–80, and court books for 1729–1922. (fn. 411)
Tiptofts court supervised the villagers' life from the 14th century to the early 17th. From the 1360s to c. 1460 it met several times a year, from the 1520s to the 1610s annually, usually at Martinmas. In the late Middle Ages the court often dealt with pleas of debt and petty trespass, usually settled by wager of law. It was jealous for its jurisdiction: one man was fined in 1396 for suing a villager in a court at Royston, (fn. 412) another was attacked in the 1440s for vexing his neighbours with citations before church courts, contrary to ordinances made in 1443 and 1445. (fn. 413) Its civil jurisdiction was less used by the 1450s, and had virtually ceased by 1470. In 1463 it enforced instead the outcome of an arbitration. (fn. 414) It was still then enforcing the entry of adolescents into tithings. (fn. 415)
Reeves were frequently elected until the 1420s, (fn. 416) being then for a time replaced by a manorial rent collector. (fn. 417) Aletasters were appointed until the 17th century, (fn. 418) and messors, (fn. 419) later haywards, until the early 18th. The rent of one rood, the pinder's land, attached by 1530 to that office, (fn. 420) was devoted after inclosure to parish purposes. (fn. 421) The village night watch was mentioned in 1374, and the cucking stool in 1391. (fn. 422) Two constables were elected as late as 1693, as were two field reeves: (fn. 423) the latter enforced the agrarian bylaws, which the court had regularly enforced since the mid 14th century, and which the lord enacted, with his tenants' assent, from the 1410s. In 1541 it was formally declared that the lord of Tiptofts, as chief lord of the vill, had power to make such orders for the common weal. (fn. 424) Their issue briefly ceased in the 1620s, after the Wales bought the manor, (fn. 425) but they were occasionally reenacted in stereotyped form from 1649, (fn. 426) for the last time c. 1770. (fn. 427) In 1434 half the fines for breaking bylaws were assigned to the parish church reeves, (fn. 428) but in 1693 to the field reeves. (fn. 429) The bylaws were frequently concerned with the drainage works, needed in the nearly level parish, which the hayward was supervising in 1611, (fn. 430) and with roadwork, for which all plough owners were ordered to go with the common plough in 1575. (fn. 431) There were frequent legacies for repairing highways and footpaths in the early 16th century. (fn. 432) From 1567 to 1620 the court sometimes, with little success, tried to prevent the harbouring of inmates and subdividing of houses. (fn. 433) From the 1620s its main activity was the registration of copyhold transfers.
Three almshouses mentioned in 1728 (fn. 434) were perhaps the predecessors of the three cottages, called the Town Houses, at Button End, which the parish had built before 1806 for the casual poor. (fn. 435) In 1759 Harston paid 6d. a week to 29 people on regular relief, besides distributing, then and later, coal and clothing. (fn. 436) The cost of poor relief doubled from c. £130 c. 1785 to £265 by 1803, when 24 adults were on regular outside relief, besides 25 children and 11 old and sick people. (fn. 437) About 1814 some 25 people normally assisted cost c. £410. (fn. 438) Expenditure on the poor thenceforth until 1834 usually cost over £400 a year, only falling below £350 in five out of twenty years. (fn. 439) In 1818 67 people had the weekly pay, 20–30 more occasional help. In 1819 the parish distributed 200 bu. of coal, and 2 loaves a week to each family of more than five. (fn. 440) Large families were still assisted c. 1830. (fn. 441) About 1834 many unemployed labourers were digging in the parish gravel pit at 5d. or less a load. (fn. 442) The pit was exhausted by 1837 and sold in 1838. (fn. 443) From 1835 Harston belonged to the Chesterton poor law union, (fn. 444) and from the 1890s to the Chesterton R.D., merged in 1974 into the South Cambridgeshire district. (fn. 445) The parish council acquired land c. 1896 for a recreation ground, (fn. 446) and in 1927 for a new burial ground, opened in 1928. (fn. 447)
Church.
A priest held ½ yardland in 1066. (fn. 448) By 1090 Picot had given the church to the canons of Barnwell priory, to whom Pain Peverel confirmed it c. 1112. (fn. 449) Hamon Pecche's elder son Geoffrey (d. s. p. 1188) again granted it to the canons for their clothing. (fn. 450) Probably by 1200 the church, worth £8 in 1217 and 1254, had been appropriated to the priory. (fn. 451) By the 1270s there was a vicarage, (fn. 452) whose patronage belonged to Barnwell until the Dissolution. (fn. 453) In 1539 Thomas Brakyn presented for one turn, by grant of the prior in 1535; (fn. 454) in 1556 John Baker, the rectory farmer, presented. (fn. 455) The advowson was granted with the rectory in 1562 by the Crown to the bishop of Ely, (fn. 456) who retained it until the 20th century. (fn. 457) After the union of Harston with Hauxton in 1930, the bishop had two turns out of three to present to the combined benefices. (fn. 458)
Until inclosure in 1800 the land titheable to Harston did not form a single block, but beside 820 a. of Harston's own fields included in 1785 278 a. in the intercommonable ones, of which c. 160 a. held of Harston manors lay close to Newton. (fn. 459) Harston vicarage, endowed only with the small tithes, and without any glebe save the vicarage close, (fn. 460) long proved a poor living. In 1291 it was taxed at £4 6s. 8d., a quarter of the income of the church. (fn. 461) By the 1530s the vicar also received 2 marks a year out of the rectory. His income was £5 10s. in 1535, (fn. 462) £18 by 1650. (fn. 463) Bishop Gunning (1675–84) added by 1677 another £9 2s. 6d. payable by the rectory lessee, (fn. 464) and the living was worth £39 2s. 6d. by 1763. (fn. 465) At inclosure the vicar was awarded 103 a. for common rights and tithes. (fn. 466) By 1830 his income was £244, (fn. 467) and, after Jesus College raised its augmentation to £15 from the 1880s, and by £30 from the 1870s, stood at £125 net in 1873, and £245 gross, half from land, in the early 1880s. (fn. 468) The tithe allotment was sold in 1917. (fn. 469) The vicarage house originally stood in a small close just east of the church. (fn. 470) It had 3 hearths in the 1660s, (fn. 471) and in 1686 included a hall, study, and two bedrooms. (fn. 472) William Leworthy, vicar from 1795, largely rebuilt it c. 1800. (fn. 473) A large, new house built c. 1850 across the road, on the 2-a. former rectory close, (fn. 474) was sold in 1972, a new vicarage being built on the garden behind. (fn. 475)
The first named vicar was a local cleric from Pampisford. (fn. 476) One new vicar was unsuccessfully appealed for rape and abduction in 1385. (fn. 477) Around 1400 the vicars were occasionally assisted by chaplains. (fn. 478) Two canons of Barnwell were presented in 1461 and 1475, (fn. 479) another in 1521. (fn. 480) Church reeves were recorded from the 1380s. (fn. 481) Guilds included one of St. Stephen, recorded by 1507, (fn. 482) and one of St. Mary, by 1521. (fn. 483) A guildhall with 8 a., and 6½ a. given for obits were sold in 1553. (fn. 484) A former Cambridge Austin friar was presented in 1539. (fn. 485) His successor, who was deprived c. 1554, or the latter's curate, apparently demolished the altar. (fn. 486)
From 1564 to 1572 the living was under seques- tration and served by curates, (fn. 487) and from 1572 to 1591 was held by two Welshmen, Griffin and Owen Rowland. (fn. 488) The parish was troublesome in the 1590s, and failure to attend church frequent, one landowner, even when churchwarden, being often absent. In 1601 the vicar threatened to summon the churchwardens before the High Commission, if they failed to present recalcitrant parishioners. (fn. 489) Between 1607 and 1626 Harston had nine vicars, mostly young men recently graduated, who rapidly quitted it for better livings, (fn. 490) and including under James I two Scots and from 1611 to 1614 Matthew Wren, the future bishop of Ely. (fn. 491)
Robert Wallis, however, presented in 1626, remained at Harston until his death, aged 86, in 1686, when his goods, including books, were worth only £20. (fn. 492) He was succeeded by Edmund Dickman, latterly his assistant, who also held Thriplow until he died, aged 80, in 1735. (fn. 493) Thereafter, until the 1790s, Harston was usually held with fellowships at Cambridge. (fn. 494) The vicars usually employed no curates, but themselves rode over from Cambridge to hold one service every Sunday, and the thrice yearly communion. (fn. 495) They failed to catechize, and in 1793 the church lacked even a prayer book. (fn. 496)
William Leworthy, 1795–1837, (fn. 497) was more diligent. He lived at his vicarage for eleven months in the year, held two services every Sunday, preaching at both, and catechized the Sunday-school children regularly in summer. Regular attendance at communion rose from 12 in 1807 to 18 by 1825. (fn. 498) F. J. Durbin, vicar 1848–88, (fn. 499) had an afternoon attendance of 120, besides 46 Sunday-school pupils, in 1851. (fn. 500) He shared a curate with Newton in the 1870s and 1880s. By 1873 he held three services every Sunday, and communion monthly, and also on some holy days. Nevertheless, of the 35 communicants in 1873, less then two thirds attended regularly, of the 105 in 1897, barely 30. A choir of 22 was established by 1889. Although the vicar gave regular instruction at the board school, he had little success with the village lads: even of those confirmed under half came to communion afterwards. In the 1870s there were 300 churchgoers, a third of the inhabitants, by 1897 350, almost half the reduced population. (fn. 501)
The church of ALL SAINTS, so named by 1520, (fn. 502) consists of a chancel with vestry, aisled and clerestoried nave with north porch, and west tower, and is built of field stones with ashlar dressings. It is mainly 15th-century, although the narrowness of the south aisle suggests a rebuilding then on older foundations. The former low chancel, which retained lancet windows in 1743, (fn. 503) and the lower part of the west tower were probably 13th-century. About 1370 £20 was given for work on the church fabric. (fn. 504) The tower was probably heightened when the nave and aisles were rebuilt in the early 15th century, in five bays, with three 3-light windows in each aisle side wall, a clerestory of 2-light windows, and embattled parapets. (fn. 505) The chancel arch and that of the north porch match the arcades, the tower arch may be a little later. The nave roof is of that period. The north aisle, double the width of the southern one, widens still more at its east end, perhaps for a chantry or guild chapel. A door from it leads to the rood stair, topped by a conical-capped turret. Of the rood screen, extant in 1743, but ruinous by 1778, (fn. 506) only fragments of tracery fastened to its modern successor remain. An oak pulpit of c. 1450 on a narrow stair survives, (fn. 507) and the octagonal font is also 15th-century. The rebuilding was probably accomplished by 1450. The north aisle east window once contained glass dated 1449, and armorial glass, destroyed in 1644 by William Dowsing, still c. 1630 commemorated John, Lord Tiptoft's marriage to Joyce Charlton. (fn. 508)
By the 1590s the chancel, already decaying in 1554, and neglected by the rectory lessees, had lost so much of its glass and tiles that no one could sit there. (fn. 509) By the 1660s a large manorial pew largely filled the north aisle. (fn. 510) The altar rails were still lacking in 1689, when the chancel again needed tiling and repairs to its seating. (fn. 511) In 1793 it was unceiled, and its north wall was leaning. (fn. 512) Jesus College obtained permission in 1805 to demolish it, and built a new, shorter one, only 22 by 15 ft., (fn. 513) with plain, roundheaded windows. In 1853–4 it was again rebuilt to match the earlier fabric in style and materials; a north vestry was added. The nave roof had been repaired c. 1845. (fn. 514) Further restoration was effected c. 1870. An organ was installed in 1883. (fn. 515) In the 18th century the churchwardens held for church repairs 10 a., yielding £3 a year. (fn. 516) The 3½ a. allotted to them at inclosure, producing £6 6s. in 1837, (fn. 517) were still held for that purpose c. 1975. (fn. 518)
There were four chalices, one given by Eve Tiptoft, c. 1300, (fn. 519) and two, one silver gilt, in 1552. (fn. 520) The existing plate dates from 1889. (fn. 521) In 1552 there were 3 bells, (fn. 522) by 1743 6; (fn. 523) 3, of 1634, 1684, and 1777, were recast in 1937 as part of a peal of 6, not rung until 1957. A fourth, of c. 1550, is preserved, cracked, in the church. (fn. 524) The registers are complete from 1687; (fn. 525) bishops' transcripts run from 1599. (fn. 526)
Nonconformity.
The Baptist Henry Denne preached at Harston in 1654, (fn. 527) when some inhabitants were already Baptists. (fn. 528) A Baptist conventicle organized, perhaps from Caxton, by 1669 was licensed in 1672, when it was served by itinerant preachers. Drawn from the 'meaner sort', (fn. 529) it probably included the 20 dissenters recorded c. 1676, (fn. 530) when six or seven people were regularly presented for absence from church. (fn. 531) In 1728 five dissenting families were described, however, as Independents. (fn. 532) John Berridge and in 1761–2 John Wesley both preached at Harston. (fn. 533) In 1778 Elizabeth Hurrell preached in a barn there to a large assembly. (fn. 534)
Dissent grew strongly in the late 18th century. A Baptist congregation was worshipping in a barn registered in 1786. Its seven sponsors included several small yeomen and Swan Wallis, who owned 140 a. (fn. 535) He gave the site for the meeting house built c. 1799, with a graveyard and a pool for baptizing annexed. The teacher was then, as in 1825, a General Baptist, though others, including labourers, also preached, propounding different views. (fn. 536) In 1836 the tradesmen and the poor were said to be mainly dissenters. (fn. 537) The congregation at the Baptist chapel in 1851, when it could seat 270, was said to rise to c. 240, besides 70 Sunday-school children, at one of the three Sunday services then held. (fn. 538) William Garner, minister c. 1840–70, was followed until the 1930s by a continuous succession of ministers, for whom a manse was provided by 1890. (fn. 539) A new and larger chapel, holding 300, was built beside the old one in 1871. (fn. 540) Built of red brick with stone dressings, it stands slightly west of the Cambridge road. In 1873, when it still provided three Sunday services, almost two thirds of the inhabitants were said to be dissenters, in the 1880s and 1890s about half, 350–400 people. (fn. 541) The chapel was still regularly used in the 1960s and 1970s, when it was served by a pastor. (fn. 542)
There was a young Methodist preacher, by trade a brickmaker, in 1871. (fn. 543) In 1897 some 'Ranters' were using a room. (fn. 544)
Education.
No schools were recorded before the 19th century. (fn. 545) By 1818 both the church and the Baptists had started Sunday schools: the Church school, partly supported from the church lands, had 30 pupils, the Baptist school, maintained by subscription, 60. It was linked with a day school, at which the preacher taught 28 pupils. Three dame schools had 28 pupils between them, who paid 2d. to learn to read, 1d. more for writing. (fn. 546) In the mid 1830s, when there were two or three dame schools under dissenting influence, the church still had only a Sunday school for 30 girls, held in the vestry. (fn. 547) By 1846 a National day school, dependent on subscriptions and schoolpence, had been added. It had 80 pupils, mostly infants. (fn. 548) In 1852 Jesus College gave a site on Church Street, beside Beech Farm, on which a small school, in Gothic style, with two rooms, one for infants, was shortly erected. The vicar brought in two Irish girls to teach it; one was still in office in 1869. They had to teach c. 55 children, mostly under nine. Both sexes learnt reading and writing, the girls also needlework. In 1873, when the vicar gave evening classes, the 91 children on the books included 38 dissenters. (fn. 549)
The Baptist day school, which William Garner the minister partly taught himself as an 'Academy', and managed with his deacons, remained open into the 1870s. A schoolroom for it was included when the chapel was rebuilt in 1871. Of its 63 pupils in 1873, all but 14 girls or infants, c. 40 usually attended. (fn. 550) One or two dame schools survived into the 1860s, (fn. 551) and the number of children receiving some education rose from c. 55 in 1851 to c. 145 by 1861. (fn. 552) In 1876, since the church and chapel would not combine their schools voluntarily, (fn. 553) a school board was set up, and both were closed. The new board school, opened in 1877, east of the Cambridge road had three classrooms, one for infants, and could hold 152 pupils. It was taught by one certificated master and his wife until c. 1908. Average attendance, c. 115 at first, (fn. 554) ranged between 120 and 140 until after 1900, (fn. 555) then declined to c. 100, and remained about that level until the 1930s. (fn. 556) From 1959 the older children were sent to Melbourn village college. (fn. 557) Between the 1950s and the 1970s, when the school was extended, the annual entry averaged 50: in 1979 there were 183 pupils. (fn. 558) The old church school, used from 1903 to the 1940s for an overflow from the county school, was sold in 1976. (fn. 559)
Charities for the Poor.
Harston's share in Lettice Martin's charity, established in 1562, was 6s. 8d. c. 1730, 13s. 4d. by the 1780s, (fn. 560) and £1 6s. by the 1830s when it went in cash doles to the old and needy. (fn. 561) By 1865 £2 6s. 8d. was given in kind, (fn. 562) probably in coal, as in the 1890s. From 1895 the income was accumulated for distribution at intervals. (fn. 563)