Pages 194-207
A History of the County of Cambridge and the Isle of Ely: Volume 8. Originally published by Victoria County History, London, 1982.
This free content was digitised by double rekeying. All rights reserved.
HAUXTON AND NEWTON
The parishes of Hauxton and Newton, (fn. 1) lying a little south of Cambridge, have been closely associated tenurially, ecclesiastically, administratively, and agriculturally for about a thousand years. (fn. 2) They belonged to one principal manor. Until 1930 they formed a single ecclesiastical parish, although by the 16th century they were distinct civil parishes. Until 1800 they were virtually contiguous. The fields cultivated from the two villages were separated only by a moor formerly intercommonable to them and their eastern and western neighbours, Little Shelford and Harston. (fn. 3) With Harston, from whose territory they had perhaps been originally carved out, they had also strong links, much of their arable and pasture being intercommonable with it. Of 1,347 a. mostly held of Newton manor, said in 1793 to tithe to Hauxton church, c. 70 a. in 1785 lay in Harston's several fields; while 278 a. of the intercommonable fields further east tithed to Harston. (fn. 4) The men of Harston too considered that their eastern boundary marched with Little Shelford, so taking in much fieldland now in Hauxton and Newton. Thus while beating their bounds in 1436 they clashed with the lord and villagers of Little Shelford, and were forced to retreat. (fn. 5)
Only when Harston and Hauxton were inclosed in 1800 were clear boundaries at last set out for the four parishes. To the north the land allotted to Harston and Hauxton landowners was assigned to their respective parshes; a tongue of formerly intercommonable meadowland, c. 150 a., between the rivers Rhee and Granta being thus almost equally divided between the two parishes. To the east c. 125 a. allotted to Harston owners, stretching from the Hauxton– Newton road towards Little Shelford, was also included in Harston, so dividing Hauxton from Newton. Another 83 a. of Newton fieldland further south-east went to Little Shelford. Most of the 97 a. owned by Harston men in the fields of Newton, which were not inclosed until 1854, was exchanged in 1800 for land held by Newton owners of Newton manor in the other parishes, so separating them tenurially also. (fn. 6)
Hauxton emerged, although over 3 km. long from north to south, with only 601 a. In 1934 a 10-a. enclave by a bend in the Rhee north of Harston village, where a mill belonging to Newton manor had once stood, was transferred to Harston. (fn. 7) Hauxton thereafter covered 239 ha. (591 a.). (fn. 8) Its boundaries remained the artificial ones of 1800, partly following roads, except to the north-east, where the meandering river Cam or Granta had long divided it from Great Shelford. The more compact Newton, about 2.5 km. from east to west and 1.5 km. wide, covered after 1800 402 ha. (994 a.). (fn. 9) Its boundaries mostly run along those of ancient furlongs, but to the south partly follow the Hoffer brook, a tributary of the Rhee, which occasionally ran dry in the 1970s. (fn. 10)
Hauxton lies largely on gravels beside the rivers, but partly on chalk in the south. It is nearly flat at c. 15 metres. In Newton the ground, lying on chalk, slopes very gently from c. 30 metres by the Harston border on the north-west down to the Hoffer brook which flows south-west past the village. Both parishes were almost entirely arable, and were under a triennial rotation from the 13th century until inclosure.
A crossing of the Granta at a ford near Hauxton mill, supplemented by the 14th century with a bridge, (fn. 11) was probably in use from the Bronze Age. (fn. 12) A settlement nearby, marked by a cemetery with almost 100 burials found north-east of the mill, partly in Great Shelford, was probably inhabited from the Early Iron Age (fn. 13) through the Belgic (fn. 14) and Roman periods (fn. 15) to Anglo-Saxon times. (fn. 16) Hauxton was presumably occupied before Newton, itself established before the late 10th century. (fn. 17) The two vills had together 27 recorded peasants in 1086 (fn. 18) and 83 landholders, but only 66 messuages, in 1279. (fn. 19) In 1319 the main manor had only 23 tenants at Newton, but 38 at Hauxton, where another one had 18 more, mostly smallholders. (fn. 20) In 1327 35 people paid tax for Hauxton. (fn. 21) Later the two populations were nearly equal until after 1700. In 1524 Hauxton contained 19 and Newton 14 taxpayers, (fn. 22) but in 1563 respectively 16 and 20 households. (fn. 23) Under Charles II there were 27 or 28 households in each. (fn. 24) In 1676 Hauxton had 20 families, Newton 23, (fn. 25) and in 1728 the former's 27 families comprised 100 people, the latter's 20 c. 90. (fn. 26) By 1801, however, Hauxton's population had risen to 144, but Newton's was still only 114. While Hauxton's grew to c. 235 by the 1820s and over 300 in 1841 and usually stood at 260–280 until the 1890s, that of Newton increased only slowly to 161 by 1831 and c. 220 from the 1860s to the 1880s. (fn. 27) After falling sharply to 213 in 1901 numbers at Hauxton again rose steadily to 381 in 1951, then stabilized at c. 475 from the 1950s. At Newton likewise they grew from 156 in 1901 to 279 by 1951 and were just over 300 by the 1960s. (fn. 28)
The village of Hauxton lay by 1800 along a street running nearly parallel to the Granta, eastward from the church towards Little Shelford. About 1630 there were c. 30 dwellings (fn. 29) and in 1800 c. 20 houses, mostly on the north side. (fn. 30) The older buildings include the Old House at the west end, the south part of a timber framed early 16th-century house. It has a gable over its jettied south end and inside a slightly later central fireplace with chimney stack. Near the church stands the 17th-century Little Manor House, also timber framed, with a gabled east cross wing and large central chimney with four altered shafts. One or two small 18th-century cottages survive. (fn. 31)
By the 14th century there was also a detached settlement, near the bridge and mill, called Mill Street or Mill End. (fn. 32) Ancient closes there recorded in the 1670s contained, besides the mill and millhouse, other dwellings (fn. 33) bought in the 18th century by Cambridge tradesmen, especially brewers. (fn. 34) By 1778 they had opened the Ship and Chequers alehouses there to serve travellers along the London–Cambridge road, (fn. 35) then a turnpike. (fn. 36) A tollbar and its keeper's cottage stood near the bridge c. 1800. (fn. 37) South of the village street two cottages built on the waste by the 1730s (fn. 38) later formed part of a detached group of five standing in 1800 by a lane leading south towards Newton.
The number of inhabited dwellings in Hauxton rose from 30 c. 1810 to 55–65 from the 1840s, (fn. 39) of which 35 stood in 1851 along the street, c. 20 by the Newton lane, and c. 10 at Mill End. (fn. 40) In the 1930s land east and south of the village, along the Cambridge road and another branching off it towards Newton, was sold for building plots. (fn. 41) Many houses, forming part of the northward growth of Harston, were built along the branch road just inside Hauxton parish. A smaller growth of housing along the road west from the village was partly removed as the adjoining Fisons works spread during the 1960s, as were almost all the houses at Mill End. (fn. 42) In the village itself, besides infilling between the surviving humble 19th-century cottages, some derelict, some refurbished, a large housing estate was laid out south of the street, and two others east of the Newton lane. The number of houses inhabited grew from 81 in 1931 to 117 by 1951 and 165 in 1971. (fn. 43)
In the 19th century, besides the Chequers at Mill End, Hauxton village had the King's Head, recorded by 1840, incorporating a gabled, 16th-century cross wing, (fn. 44) and the Leather Gaiter, established by 1869. All three were still open in the 1930s. (fn. 45) The first two were closed by 1961, the last soon after, but the village fair, held on 13 May, still then survived. Disused gravel pits south of the street had become a refuge for bird life. (fn. 46)
Newton grew up, perhaps on heathland, where five roads from Harston, Hauxton, Whittlesford, Thriplow, and Foxton, mostly straightened after 1800, met and crossed. The Foxton road, which, having lost its crossing into Foxton when that parish was inclosed, declined to a footpath after 1854, (fn. 47) had formed the village street, running parallel to the Hoffer brook. The few smaller houses stood mostly on its north side, the church and manor house to the south. Top Farm in the south angle of the cross roads has a five-bay timber framed house of c. 1700; Home Farm across the street is of the same period. The more ambitious brick-built Manor House Farm further west has pedimented dormers over a symmetrical three-bay front, a flight of steps rising past a basement to its reeded central doorcase. (fn. 48) Much of the village was destroyed in a fire of 1746. (fn. 49) In 1801 there were c. 20 dwellings, (fn. 50) in 1840 6 houses and 12 cottages. (fn. 51) In 1861 there were c. 20 dwellings along the street, 8 or 9 off it to the north on Coach House Lane, and 6 around the cross roads, while nearly 10 more, called the Field Houses, had lately been built by a small farmer slightly to the east on the Whittlesford road. (fn. 52) Later Newton grew only slowly. There were still only 60 dwellings in the 1910s, 80 by 1931, 110 by 1971. (fn. 53) The new houses, including 12 council houses, stood mostly along the northward roads: one large private estate was built in the 1970s south-east of the cross roads. (fn. 54) At the south-east angle stands the Queen's Head, in a timber framed house, established by 1729 and bought by a Royston brewer in 1794. (fn. 55) It was still open in 1980. In the northern angle is the village hall, built by Sir Charles Walston in 1919 and used in the 1970s by a flourishing sports and social club with over 250 members. (fn. 56)
Manors and other Estates.
About 970 the Essex thegn Edric left to his lord, King Edgar, 4½ hides at Hauxton and 3 at Newton. The king promised those lands to Bishop Athelwold for the newly founded Ely abbey, but died before the transfer was legally completed. Edric's brother Alwold, possessing the deeds, then seized the Newton land, claiming it to be a distinct estate, whereas the monks alleged that it was inseparably combined with Hauxton. After long disputes Ealdorman Beorhtnoth purchased it on behalf of the monks. (fn. 57) Under Canute the manor rendered two weeks' food farms to the abbey. (fn. 58) The estate, reckoned as 8½ hides and styled in 1086 Hauxton manor, remained with Ely through the Conquest, (fn. 59) and when the abbey estates were divided in 1109, on the foundation of the see of Ely, was assigned to the prior and monks. (fn. 60) They and their successors, the dean and chapter, to whom it was confirmed in 1541, (fn. 61) retained the manor, commonly called NEWTON CUM HAUXTON because the manorial farmstead stood at Newton, until the 19th century. (fn. 62) In 1252 the prior was granted free warren there. (fn. 63)
The priory's Newton Bury farm was on lease by the mid 15th century, (fn. 64) at first to local men such as John Swan, farmer in 1535 (d. 1546), (fn. 65) whose family owned 3 yardlands at Harston. (fn. 66) After 1600 the beneficial lease came to Dr. John Hills, a canon of Ely (d. 1627), whose widow Anne possessed it until the 1650s for their sons Robert and John. (fn. 67) Robert was still lessee in 1663. (fn. 68) About 1718 the physician Dr. Gideon Harvey sold the lease to William Hurrell, a prosperous local farmer, who also occupied the rectory (fn. 69) under his brother-in-law Robert Swan, then its lessee, (fn. 70) and died in 1757. The Bury lease, to which much land was gradually added by purchase, descended to Hurrell's son (d. 1779), (fn. 71) grandson (d. c. 1830), and great-grandson (d. 1854), each named William. (fn. 72) About 1840 William (d. 1854) and his son William between them owned c. 330 a. in Newton and occupied over 300 a. more including the Bury farm. (fn. 73) The elder William, dividing his lands between his sons Henry and William, assigned those at Newton with the Bury lease to William, (fn. 74) who after its inclosure in 1854 owned 302 a. there. (fn. 75) In 1858 he bought from the dean and chapter the reversion of his lease of 348 a. under them, including 32 a. in adjoining parishes. (fn. 76) At his death in 1901 the Newton land was divided between his sons; 213 a. went to William Philip, archdeacon of Loughborough 1923–40 (d. 1952), and 403 a. to Harold William (d. 1926), who farmed it in person. The latter had also c. 125 a. in the strip, just north of his Newton farm, belonging to Harston only since inclosure, which his father had bought in 1886 and 1893. Both died without issue. The Hurrells' Newton estate was settled c. 1930 on Henry's grandson Reginald Metcalf Hurrell (d. 1973), whose son H. C. Hurrell owned 900 a. there in 1980. (fn. 77)
By 1300 the priory's Bury farmstead probably stood in a moat within a 9-a. close just south-east of Newton church, (fn. 78) where it remained until recent times. In 1650 the tiled, timber framed house included a hall, parlour, kitchen, and several chambers. (fn. 79) Probably by 1855 (fn. 80) the Hurrells built on the site the long, greybrick house in Tudor style, later called Newton Manor, which they still owned in 1980.
The impropriate rectory, usually styled that of Hauxton, was also by the 1510s on lease to local men; c. 1535 the lease was acquired by Nicholas Freville, lord of Little Shelford. (fn. 81) From the 1590s it was held by the Swans. From John Swan, lessee by 1590, (fn. 82) it passed c. 1606 to his brother Robert, lessee in 1641 (fn. 83) (d. 1652). He was succeeded by his son (d. 1695), grandson (d. 1718), and great-grandson (d. 1727), each named Robert. (fn. 84) The last Robert's daughter and heiress Elizabeth married John Stevenson, who added his 72 a. at Hauxton to the Swans' leasehold and 115 a., mostly copyhold, near Newton. (fn. 85) He died probably in 1748. (fn. 86) His son Robert had to recover the estate from Elizabeth's second husband, the Revd. William Bening of Thriplow, after her death c. 1762. (fn. 87) Robert died without issue in 1792, whereupon his property was auctioned. (fn. 88) William Hurrell (d. c. 1830) who acquired the rectorial lease in 1801 had the 50 a. just allotted at inclosure for the Hauxton great tithes leased separately from those of Newton. (fn. 89) That land could thus, along with the Hurrells' purchased land in Hauxton, be assigned in the 1840s to his grandson Henry Hurrell (fn. 90) (d. 1906), who in 1871 bought out the dean and chapter's interest. Henry's son Arthur sold that land in 1916. (fn. 91) The rectorial tithes of Newton were commuted in 1841 for a tithe rent charge of £292, (fn. 92) which William Hurrell (d. 1901) ceded to the dean and chapter when he acquired the manor. (fn. 93) The Stevensons' copyhold land in Newton, nominally 250 a., had been bought in 1794 by John Faircloth of Fowlmere (fn. 94) (d. c. 1810), whose son Seagrave (fn. 95) sold 350 a. at Newton in 1834. William Hurrell (d. 1854) bought 242 a., thenceforth part of the Hurrells' Newton estate. (fn. 96)
About 1630 Robert Swan (d. 1652) built a neat, brick house, allegedly on disputed ground, (fn. 97) which his descendants occupied until the mid 18th century. Following the 1790s sales it was mostly demolished, only the outbuildings being left standing. (fn. 98) It probably stood near the present Newton Hall, in whose grounds an 18th-century icehouse survived in the 1970s. (fn. 99)
In 1086 Hardwin de Scalers held 1½ hide formerly owned by two sokemen, one a man of the abbot of Ely. (fn. 100) Hardwin's descendants of the Shelford line had given that fee, including 100 a. of demesne arable, before 1235 in free alms to Ely priory, which in 1279 held it of Richard de Freville under the bishop of Ely. (fn. 101)
The later HAUXTON manor derived from the land of the Hauxton family. About 1140 the prior of Ely granted to Serlo of Hauxton (fl. to 1154), to hold freely, all but ½ hide of the land there lately held by his reeve with a former manor farmstead. (fn. 102) In 1166 Thorold of Hauxton held a knight's fee, of old feoffment, of the bishop of Ely. (fn. 103) A later Serlo of Hauxton had land there c. 1200–20 (fn. 104) and held of the bishop c. 1235. (fn. 105) Wymund of Hauxton (fl. 1250–3), probably his son, (fn. 106) was succeeded there by his son Thomas Wymund, who in 1279 held freely c. 85 a., including 26 a. under the priory and 24 a. of the Freville fee. (fn. 107) He died after 1298. (fn. 108) By 1319 Thomas's estate belonged to Hugh of Tickencote, (fn. 109) whose widow Avice entailed Hauxton manor in 1345 on their daughter Alice, wife of William Good. (fn. 110)
In 1368 Nicholas Barber and his wife Isabel, perhaps its heiress, sold the manor to John Waryn of Purleigh (Essex), still owner in 1373. (fn. 111) It came soon after to John Walton of Wivenhoe (Essex). In 1411 a £2 rent charge upon it was granted to St. Botolph's priory, Colchester, to sustain a chantry for Walton's widow. (fn. 112) His son Richard Walton dying without issue in 1409, Hauxton manor descended to John's daughter Joan, wife of Sir John Howard (fn. 113) (d. 1409). She shortly married Sir Thomas Erpingham (d. 1428), (fn. 114) who occupied the manor into the 1420s. (fn. 115) The next possessor, Joan's father-in-law Sir John Howard (d. 1438), granted it for life to Edmund Walton of Calais. The reversion descended in 1438 to Joan's daughter, Elizabeth Howard, who married John Vere, earl of Oxford (d. 1462). (fn. 116) The manor remained with the Veres and, from 1526, their heirs general until the late 16th century, (fn. 117) except that during the 13th earl's forfeiture between 1471 and 1485 it was given in 1473 to Richard, duke of Gloucester. As king he granted Hauxton in 1484 to his yeoman John Abell. (fn. 118) Under a repartition among the Vere coheirs in 1580 it came to Sir Robert Wingfield (d. 1596), whose son and heir Anthony (fn. 119) sold it in 1596 to Dr. Isaac Barrow (d. 1617). (fn. 120) The doctor's nephew and namesake sold it to Robert Symons of Whittlesford (d. 1622) whose sons Thomas and Robert (fn. 121) resold it in 1630 to Thomas Wendy (fn. 122) (d. 1634). Wendy left Hauxton manor to his nephew Francis (d. s.p. c. 1645), (fn. 123) after whose death it remained with the Wendys' Haslingfield estate (fn. 124) until Sir Roger Burgoyne sold it c. 1730 to John Stevenson (d. 1748). (fn. 125)
In the Stevenson sale of the 1790s Edward Lilley of Bourn bought c. 350 a., by local measure, around Hauxton, of which 160 a. represented the manor land, the rest being mostly copyhold of Newton manor. (fn. 126) The copyhold was for his son David, allotted at inclosure 66 a. in Hauxton, (fn. 127) who died in 1863. David's Hauxton land, then c. 80 a., was then bought by Henry Hurrell (fn. 128) who following other purchases owned in 1906 c. 170 a. there, mostly sold by his son Arthur from 1908. (fn. 129) Edward Lilley (d. c. 1803) left the manor and freehold land, in all after inclosure c. 187 a., to his other son Samuel (fn. 130) (d. s.p. 1831). Hauxton Manor farm, later 238 a., passed successively to Samuel's brother Joshua (d. 1848), and Joshua's sons James (d. 1883) and George Lewis Lilley, after whose death c. 1894 it came to a mortgagee, W. J. Bruty. (fn. 131) His successor, W. G. Bruty, sold it in 1922; after it had belonged briefly to a building company in the 1930s, half the remaining farmland, 76 a., was bought in 1935 by Jesus College, Cambridge. (fn. 132)
One of the Hauxtons had a substantial house there c. 1261, when a gang of Cambridge clerks who had seized it for plunder were captured and beheaded by the villagers, incited by the sheriff. (fn. 133) Hauxton manor house was later represented by a small brick farmhouse sold in 1942. (fn. 134)
The modern Newton Hall estate was founded by Christopher Pemberton, (fn. 135) who married Robert Stevenson's sister Anne, and from the 1760s farmed from the Swan mansion. (fn. 136) Having bought 125 a. between 1796 and 1801 (fn. 137) he died in 1809. His son, the Cambridge solicitor Christopher Pemberton (1767–1850), owned by 1840 c. 193 a. at Newton, which, being childless, he left to Maj. Christopher Robert Pemberton, a grandson of his uncle Jeremy. (fn. 138) C. R. Pemberton, who came to live at Newton, and owned 200 a. in the south-west of the parish after inclosure, (fn. 139) died in 1884. His son Francis Alexander Richard died without issue in 1892. (fn. 140) Their estate, for sale in 1908, (fn. 141) was bought in 1910 by Sir Charles Waldstein, from 1918 Walston, a wealthy GermanAmerican classical archaeologist, who died in 1927. His son Henry David Leonard Walston was created a life baron in 1961. Lord Walston sold Newton Hall with 12 a. of grounds to the National Seed Development Organization in 1970, but the Walstons retained the remaining farmland in 1980 as part of their Thriplow estate.
Newton Hall was built by Sir Charles Waldstein c. 1910. It is a large and imposing redbrick building designed by Foster in Neo-Georgian style. The 11bay east front has a pedimented centre. At the back it incorporates much of the Pembertons' smaller, greybrick 19th-century house. (fn. 142)
Economic History.
The monks of Ely claimed in the 12th century that c. 975 Hauxton and Newton had formed one agrarian unit, 'acre placed under acre', (fn. 143) and they remained so in many respects until after 1400. In 1086 5 out of 8½ hides on the Ely manor and all the Scalers 1½ hide were in demesne, with 4 and 2 ploughteams respectively. The abbey's 16 villani had 8 teams on their 3 hides, and there were probably 8 bordars. The yield of the manors had fallen by only £2 to £16 since 1066. (fn. 144)
About 1300 the Ely manor still dominated the parish economy. (fn. 145) Apart from the vicar's glebe and the 78-a. demesne of the later Hauxton manor, of which 16 customary cottagers held minute half-rood crofts at Hauxton, there were barely 43 a. of freehold arable. In 1319 the priory manor comprised 24 a. of several meadow, 28 a. of mowable pasture, mostly by the rivers, and 634 a. of arable, of which 428 a. lay in large blocks of 12–25 a. The arable was apparently distributed throughout both later parishes from the Bury croft north of Hauxton street to Newton's Brook field in the south. Almost 420 a. of arable and c. 60 a. of closes were held of the prior by customary tenants. There were three full yardlanders with 24 a. each, all at Newton, but the standard holding was a 12–a. half-yardland, of which there were 13 at Newton and c. 15 at Hauxton. Many cottagers had only their 1–1½ a. crofts; in 1319 there were three at Newton, and at Hauxton twenty including twelve rent paying molmen.
The half-yardlander's labour services were heavy. If required he had, outside the harvest season, to plough a rood every Monday and work for the lord every Wednesday and Friday. He must also harrow 3 a., mow the lord's meadow, and transport his crops to Cambridge and thence by boat to Ely. During harvest (1 August–8 September) he owed 25 works, and must also come with two men to two harvest boons: at one, the 'waterbederepe', the lord provided bread and water, but at the 'great' one they had white loaves and as much ale as they could drink from him. Those tenants also owed suit to the lord's fold and mill, tallage, leyrwite, heriots, and entry fines. The full yardlanders owed double services, so sending two men to each weekwork and four to each harvest boon. At Newton cottagers owed 2 works a week, at Hauxton only one: they sent one man to each boonwork. A smith at Newton held 12 a. by doing ironwork on the lord's farm gear. At Hauxton two half-yardlands were held by 1279 by molmen who paid 6s. rent instead of regular weekwork, but still owed the ploughing and mowing services and harvest boons. In 1319 two villeins were paying chevage to live elsewhere.
At that period the arable around both villages was grouped for cultivation into three seasons within a single rotation, land included in each season being scattered throughout both vills. The fields recorded, divided into numerous doles, included Brook field, probably south-east, and Colland field, south-west of Newton village, a West field to its north-west, White field between the villages, and Hauxton croft field, perhaps south of Hauxton village. The Ely demesne arable included the ditched inland (23 a.) and Bury croft (14 a.), held in severalty. About 1300 wheat, maslin, dredge, barley, and peas were grown. (fn. 146) Of 420 a. of demesne arable sown in 1302 181 a. were under wheat, 36 a. under maslin and rye, 106 a. under barley, and 50 a. under oats. (fn. 147)
The demesne grassland included the Little Moor and Little Fen (15 a.) near Hauxton; other land by the rivers near the priory's mills, and along the brook south of Newton was common after haymaking. (fn. 148) Customary tenants might put their young beasts there with the lord's cattle until Whitsun, but the prior claimed rights of pre-emption over his villeins' calves and colts. (fn. 149) In the early 11th century the abbot of Ely had kept 400 swine at Hauxton, (fn. 150) but later sheep were more numerous. In 1086 the demesne carried 296 sheep, but only 57 pigs. (fn. 151) After 1250 the priory bought out one free tenant's right to a fold. (fn. 152) About 1300 the demesne livestock included 26 cattle and 32 horses. (fn. 153) In the 14th and early 15th century largish flocks from Newton and Hauxton frequently strayed onto the fields and commons of Harston. (fn. 154) One Newton family, the Raymonds, were keeping over 180 sheep c. 1380–90, (fn. 155) and the Bangles, professional shepherds at Newton, had charge of c. 200 from the 1390s. (fn. 156) The Hauxton shepherd c. 1390 was herding c. 300 sheep. (fn. 157) In 1410 William Raymond hired from the lord of Harston Tiptofts a fold for 200 there. (fn. 158) The Newton cattle herd included 40 bullocks in 1424, and one man had 16 cows in 1413. (fn. 159)
After 1350 the prior of Ely began gradually to reduce the amount of demesne that he farmed himself. (fn. 160) The area sown fell from the former 420–460 a. to 390 a. (of 508 a. in hand) in 1353, 347 a. in 1366, and 316 a. by 1402. The rest was increasingly let to the customary tenants, whose works were gradually commuted. In 1319 only 62½ a. had been on lease, (fn. 161) but by 1345 87 a. was let. The assize rents from 450 a. of copyhold rose from £7 5s. 6d. c. 1300 to £10 by 1403, when another £6 came from leases for lives and over £23 from those for years. At some stage 5 a. of demesne was added to each half-yardland. (fn. 162) The remaining demesne was sometimes at farm from the 1380s. Similarly that of Hauxton manor, 200 a. of arable and 50 a. of grass in 1438, was occupied by two farmers by 1416. (fn. 163) In 1426 450 a. of the Ely demesne were let in parcels, while 174 a. lay fallow.
By the 1430s a smaller Ely demesne farm was leased as one unit, at first comprising c. 275 a., and by 1457 297 a. of arable and 19 a. of meadow. At Newton 275 a. were then leased to others, one man occupying 63 a., and at Hauxton 145 a., including the Bury croft. The lord still reserved the right to keep 160 sheep on the main Bury farm. Its rent fell steadily from 40 marks in the 1380s to £19 by 1420 and £10 in 1451. The reduced Bury farm was moreover consolidated around Newton, the arable near Hauxton being abandoned to the peasantry; while by the 1470s that close to Newton had been re-arranged to give the lord two areas, (fn. 164) uninterrupted by other men's strips, north and south of the village street, called the Hundred and the Eighty acres (by statute measure 73 a. and 53 a.). Another 83 a. (really 64 a.) lay in seven smaller blocks near by. There were also 15 a. of inclosed arable and 16 a. of meadow near the farmhouse. The only demesne kept in Hauxton was 20 a. of Lammas meadow. The Newton Bury farm, 295 a. c. 1650, retained that size and layout until inclosure.
That contraction of the demesne permitted the disentangling of the fieldland of the two villages into separate units. (fn. 165) By 1650 the arable around Newton was divided south of the Hoffer brook into Collum, later Collin, field (96 a.) to the west, and Great and Little Brook fields (119 a. and 69 a.), divided by Mutlow way leading towards Whittlesford, to the east. North of the village lay from west to east the West field, so named by 1250, (fn. 166) renamed after 1670 Backside field (fn. 167) (280 a.), Cross field (136 a.), and White field (c. 360 a.); the latter stretched as far as the high ground between Hauxton and Newton. Its northern part, where the ancient clunchpit lay, (fn. 168) was intercommonable to four neighbouring parishes, and was called in the 18th century Mount field. (fn. 169) To its north and west lay Hauxton moor (fn. 170) (probably 165 a.) and east of it Little Shelford moor, both permanent common pasture. (fn. 171) Those moors were first clearly recorded in 1559. (fn. 172) The little arable belonging solely to Hauxton (245 a. by local measure in 1798) was divided by the 1660s (fn. 173) into Church field (c. 90 a.) south of the village and East field (c. 40 a.) by the Little Shelford border.
From the 16th century Newton, being small, was dominated by a few farmers. In 1524 the wealthiest villager, taxed on £19 6s. 8d. of the £44 6s. 8d. assessed there, was William Hawke, who had inherited the Bury lease from a nephew in 1521. Another £14 6s. 8d. belonged to four Raymonds, while six of the nine others taxed paid only on their wages. (fn. 174) The copyhold land held of the Ely manor, c. 610 a. prior to inclosure, was steadily accumulated by a few families. William Raymond (d. 1555) held 3 half-yardlands and 22 a. of former demesne. (fn. 175) His descendants, styled gentlemen, owned 53 a. in the 1660s, when the Goodes had 60 a., the Fullers 70 a., and the Primes of Weston Colville 81 a., (fn. 176) which was mostly soon bought by the Hurrells of Harston. (fn. 177) Of 27 houses recorded in 1666 18 had only 1 or 2 hearths and only three, including the Bury farm and vicarage, more than five. (fn. 178) Those larger holdings were occasionally divided between coheirs, and a few lesser ones of 20–30 a. survived through the 18th century, but much land was then acquired by the Swans and Stevensons. (fn. 179) In the 1790s the three Stevenson farms covered 590 a., including 80 a. of grass, in Hauxton and Newton. (fn. 180) By the 1840s the Hurrells of Newton possessed c. 550 a. of Newton, and the Pembertons 193 a., while of the other 150 a. of arable under 40 a. belonged to three or four resident smallholders, the rest to seven outsiders. (fn. 181)
The land close to Hauxton apparently belonged after 1550 largely to men resident there. One man holding ¾ yardland in 1558 had it all close to that village. (fn. 182) Of the land claimed in 1798 as part of Hauxton c. 150 a. of freehold and c. 205 a. of copyhold, all but 25 a. of which were held of Newton manor, c. 77 a. belonged to Harston landowners, but barely 15 a. to Newton ones. (fn. 183) In the 16th century there were several small yeomen: in 1524 two men were taxed on £13 each, one probably the Hauxton manor lessee, five others on £6–7 each, and ten only on wages. (fn. 184) In the 1660s 19 of the 27 houses there had only 1 or 2 hearths, only one over four. (fn. 185) In the 1770s Hauxton Manor farm was let as 220 a. of arable and 60 a. of pasture. (fn. 186)
The traditional system of farming continued at Hauxton until 1800, and at Newton until the 1850s. There Bury farm remained under a triennial rotation in 1774, (fn. 187) while c. 70 a. of the open fields were still occupied by grass balks in 1850. (fn. 188) Barley had been the main peasant crop in the 16th century. One Hauxton man left 40 qr. of it and 5 of rye in 1529. (fn. 189) Saffron was introduced at Hauxton, where it was grown in fenced-off plots in the fields, c. 1510, (fn. 190) and was still cultivated in closes at Newton in 1718. (fn. 191) After 1700 sheep owning at Newton was probably confined to the Bury farm, for which sheep walk for 300 sheep was claimed in 1650 and later, (fn. 192) the few owners of commonable messuages being only entitled to keep two cows each. (fn. 193) In 1798 Edward Lilley claimed for Hauxton manor sheep walk for 480 sheep; (fn. 194) 20 cow commons were then recognized at Newton and 19 at Hauxton. (fn. 195)
Hauxton was inclosed with Harston in 1801 under an Act obtained in 1798. (fn. 196) The area involved for Hauxton, which had 75 a. of old inclosures, was reckoned as 272 a. of arable and 20 a. of pasture, besides commons. Thenceforth 69 a. belonged to the impropriate rectory, 58 a. to the vicar, 255 a. to the Lilleys, 47 a. to the Hauxton mill lessee, and 37 a. to two large Harston owners. Eight smallholders, only three of them resident, emerged with 37 a., and 12 a. were allotted in 1½ a. lots for common rights. (fn. 197)
At Newton inclosure was perhaps less urgent because occupation of the farmland was so concentrated. By 1840 the two William Hurrells were farming respectively 460 a. and 221 a., including the 348-a. Manor farm, of which 269 a. of arable and 47 a. of grass lay within the parish. Christopher Pemberton occupied 90 a., three small resident farmers only 30 a., and Harston farmers c. 90 a. (fn. 198) In 1808 William Hurrell, who had introduced a threshing machine, lost several barns full of corn through arson. (fn. 199) By the 1830s the fallow was being sown with grass, fed off with sheep. (fn. 200) There were then 83 a. of old inclosures, all but 15 a. under grass, c. 35 a. of permanent common east of the village, and c. 850 a. of open fields. (fn. 201) Inclosure was finally effected in 1854 under an order of 1851. William Hurrell's allotment, comprising most of the north and east of the parish, included 288 a. for his own land and 323 a. for the Bury farm, including 74 a., equivalent to the balks, for sheep walk. The Pembertons had 180 a., the Bendyshes 22 a. adjoining Foxton, nine Harston landowners 53 a., and five local men 50 a. (fn. 202)
After inclosure (fn. 203) the Hurrells continued to occupy their Newton farms themselves, working them through bailiffs. The Pembertons did the same at first, but from the 1880s Newton Hall farm, 215 a. including 120 a. in Newton, (fn. 204) was usually let. Of the three smallholdings one of 24 a. remained owneroccupied until the 1920s. In 1830 there were 32 adult farm labourers at Newton, and 12 under 20, all usually at work. Labourers had then rent free allotments to grow potatoes. (fn. 205) In the mid 19th century there were usually 25–30 adult farm workers. The Hurrells provided most work, employing 34 men in 1861, 25 in 1871. In 1897 half the working population were labourers, the rest mostly landowners and their servants. (fn. 206)
Newton remained a mainly arable parish, growing wheat, barley, and until the 1920s oats, although the amount of permanent grassland nearly doubled from 75 a. in 1866 to 136a. by 1905. The number of mature sheep kept rose temporarily by the 1880s from 450 to c. 1,100, and that of milking cattle quadrupled. Sheep farming had ceased by the 1920s, but the Walstons kept from 1910 a herd of 100 pedigree Jersey cattle. By the 1950s almost 100 a. of sugar beet and vegetables were also grown. (fn. 207) Newton was too small to have many craftsmen. Bricklayers were recorded in the 1660s and 1801. (fn. 208) In the mid 19th century, besides a tailor and a shoemaker, there was a small carpenter's shop which survived into the 1930s. Between 1900 and the 1920s H. W. Hurrell sponsored classes in metal work, especially beating copper and brass. (fn. 209) Since 1970 Newton Hall has been the headquarters of the National Seed Development Organization, which prepares and markets new strains of seeds, mainly for food crops. (fn. 210)
At Hauxton the Lilleys kept their Manor farm of 230 a., the largest in the parish, in hand until the 1860s. From 1870 it was usually let, after 1900 to the Edwards family, who briefly owned it in the 1920s. (fn. 211) There were two or three smallholdings, one of 50 a., between the 1890s and 1930s, (fn. 212) while a farm of over 150 a. in 1861 was attached until the 1870s to Hauxton mill. From the 1940s the farmed land was almost all attached to farms outside the parish. (fn. 213) The arable mostly grew wheat and barley. The number of mature sheep fell from 300 in the 1860s and 1880s to below 200 by 1905 and to none in the 1920s, when the grassland, increased from 84 a. in 1866 to 174 a. by 1925, supported instead milking cattle, of which 100 were kept in the 1920s and 1950s. (fn. 214) Manor farm was a dairy farm with stabling for 48 cows in 1935 when 88 a. of its 171 a. were under grass. (fn. 215) In 1830 there were 45 farm labourers at Hauxton, including 17 under 20, (fn. 216) and c. 40 altogether in 1841 and 1861, but only c. 25 in 1871, when 42 men, 30 of them Hauxton-born, were employed in coprolite digging, which continued until the late 1870s. (fn. 217) In the 1850s Hauxton had, besides carpenters and bricklayers, two or three each of tailors and shoemakers, but there were few craftsmen later. In 1897 the whole population, except the three farmers and an innkeeper, were described as labourers. (fn. 218) Camtiles, established in 1947, was employing nearly 60 people to make roofing tiles at Hauxton in 1960, but soon after moved across the river to Sawston. (fn. 219)
In 1086 there were already three mills, two attached to the Ely manor. It was perhaps of the third, then held by Hardwin de Scalers, (fn. 220) that c. 1150 Ralph de Berners released the lordship, if he should regain it, to the priory. (fn. 221) The Ely mills, both worth over £3 a year, each had fulling mills attached by 1279. (fn. 222) One, called by the 1360s Haslingfield mill, (fn. 223) stood far to the west on a bend in the Rhee a mile north of Harston; the site was later called Burnt Mill close. From the 14th century to the 16th its miller was regularly accused of flooding Harston's meadows to its south by raising his mill dam too high. (fn. 224) Its lease was separated from that of Newton manor by 1530, (fn. 225) and by 1560 was possessed by the Wendys of Haslingfield. (fn. 226) The mill was burnt down c. 1643 and not rebuilt. (fn. 227)
Hauxton mill, just east of the bridge over the Granta, and possibly the one that Chaucer had in mind, (fn. 228) survived into the 1970s. About 1530 it was leased with Newton manor, for a rent twice that of Haslingfield mill. (fn. 229) By the 1630s it was leased separately to a Cambridge baker, and held thereafter until the 1820s by beneficial lessees, who usually sublet to the actual miller, (fn. 230) but owned the adjacent miller's house independently as copyhold. (fn. 231) The existing Old Mill House is a square late 17th-century building, much remodelled, of white brick trimmed in red with hipped roofs and dormers. Its five-bay east front has a late 18th-century central doorway. (fn. 232) About 1908 it was sold as a private residence, a new millhouse being built north of the river c. 1910. The brick slated mill, straddling the millstream, was rebuilt in the 18th century, again between 1845 and 1867, and also after a fire c. 1880. (fn. 233)
Corn was already being brought from Cambridge to be ground at Hauxton by 1600, (fn. 234) but the mill's heyday was the late 18th century. By the 1770s there had been added to the cornmill an oilmill which could grind into oilcake for animal feed 10 lasts (c. 16,000 kg.) of coleseed a week, and which dominated the local market. The mill's managers including merchants from Cambridge and Peterborough also traded extensively from it in corn, coal, pitch and tar, and brick and timber for building. (fn. 235) In 1815 there were a separate trefoil mill, a large malting, and storage for oilseed and oilcake, and for seed for grasses and turnips. (fn. 236) By then the mill's oil business was declining. By 1830 it usually closed in the summer, throwing many Hauxton labourers out of work. (fn. 237) The oil-pressing machinery was removed between 1842 and 1845, but corn was still ground. The mill was managed from 1824 to 1853 by the Fosters, also bakers and brewers at Cambridge, as lessees and from 1853 to c. 1890 by the Pearces, who bought the freehold from the Ecclesiastical Commissioners in 1877. Steam machinery installed in 1864 was removed in 1937, but the undershot waterwheel continued to grind corn, mainly for neighbouring farmers, until 1975. The Hurrells, owners since 1893, then sold it to Fisons, but although it was closed the machinery was left in place and in working order. (fn. 238)
Pest Control Ltd., founded in 1939 by the entomologists Sir Guy Marshall and Dr. Walter Ripper, the latter, a refugee Austrian scientist, then living at Harston, began operations in 1940 from a disused garage near Hauxton mill. Its first business was spraying crops, by contract, against insects. By 1943 it had begun also to make there for itself insecticides and weedkillers, and spraying machines, besides doing research on them. When, after 1945, it started producing such chemicals for the market the Hauxton site was selected as its centre for their manufacture and sale, which grew rapidly from 1950. In 1954 the firm, then in grave financial trouble, was taken over by Fisons, which invested in much new plant at Hauxton between 1954 and 1958. After the takeover Fisons Agrochemical Division bought 81 a. each side of the road and erected a large office block and laboratories just east of it, with factory buildings and stores behind, on a 13-a. site. The numbers employed, half office staff, grew from 409 in 1970 to 714 by 1975. Only 70 were actually employed in production in 1972. The factory manufactured chemicals, developed elsewhere after 1959, for crop protection from insects and weed control, and also several industrial chemicals. (fn. 239) In the mid 1970s the expansion of the works was opposed by many villagers, who disliked the demolition of housing involved, and feared defoliation and pollution of the river with toxic chemicals. (fn. 240)
Local Government.
The Ely manor court had jurisdiction over both Newton and Hauxton. In the 13th century the prior claimed to have view of frankpledge with the assize of bread and of ale, infangthief, sake and soke, and a gallows and tumbrel. (fn. 241) The tenant of Hauxton manor had to attend the prior's leet once a year and when captured thieves were tried, and the prior could require from that manor's undertenants suit to his leet, the view of their tithings, and all royalties and amercements. (fn. 242) Courts baron, purely tenurial, were still held for Hauxton manor c. 1800. (fn. 243) For the Ely manor a draft court book survives from the 1550s, (fn. 244) followed by court books for 1661–1702, 1702–33, 1733–69, 1770– 1802, 1806–46, 1847–86, and 1887–1952. (fn. 245) In the 1550s the court still regulated the parishes' farming, but after 1660 confined itself almost entirely to handling copyhold transfers.
The upkeep of Hauxton bridge sometimes fell upon Hauxton. In the 14th and 15th centuries it had been partly maintained through indulgences, lasting two or three years, occasionally procured from the bishops of Ely. (fn. 246) They were probably collected by the keeper of the bridge chapel, established by 1391, when the rent of 2 a. was given for bridge repairs, (fn. 247) and later styled a hermitage. (fn. 248) Its site was probably the chapel yard near Hauxton mill recorded from 1650 to 1800. (fn. 249) Sometimes, as c. 1445 (fn. 250) and in 1559 the villagers claimed that the lord ought to repair the bridge, but he in turn ordered them to do so. (fn. 251) In the 17th century the bridge was maintained by the hundred, but in the 18th responsibility was sometimes laid upon the Stevensons. (fn. 252)
At Hauxton (fn. 253) the yearly cost of poor relief rose from c. £40 in the 1770s and 1780s to over £150 in 1803, when 15 people, about half of them old or sick, were on permanent outside relief. In 1814, when 22 were regularly supported, the cost was £120, but was cut by almost half next year when the number fell to 15. Thenceforth until the late 1820s the cost usually fluctuated around £110–£125, but in the early 1830s, although no special allowances were given, it gradually rose to c. £200. Newton, though smaller, also increased spending on the poor fourfold from c. £20 in 1776 to £85 in 1803, when 15 people, 8 of them regularly, were assisted, perhaps a fifth of the adult population. Expenditure, c. £140 by 1814 when 19 were relieved, again rose to up to £170 in the late 1810s, then varied between £110 and £125 until c. 1830, when coal was being provided for poor widows.
From 1836 both parishes were included in the Chesterton poor law union, (fn. 254) and from the 1880s in the Chesterton R.D. (fn. 255) After 1974 both belonged to the South Cambridgeshire district. (fn. 256)
Churches.
Both at Hauxton and at Newton churches were established well before 1150. (fn. 257) Hauxton church, dedicated to St. Edmund, (fn. 258) may well be of pre-Conquest foundation. That at Newton, though serving a separate village, was and long re- mained legally a chapel dependent on Hauxton church, (fn. 259) with no incumbent of its own. The patronage belonged to the Ely manor; and the prior and convent and, after 1541, the dean and chapter regularly presented parsons and later vicars to Hauxton cum Newton from the 12th century to the 20th. (fn. 260) About 30 a. there, however, were titheable to Little Shelford rectory, to which a portion of 28s. was paid out of Hauxton rectory until the 18th century. (fn. 261) The ancient link between the two churches was at length broken in 1930, when Hauxton vicarage was united to Harston, Newton to Little Shelford. The dean and chapter were assigned one turn in three to present to the former living, every other turn for the latter. (fn. 262) Hauxton and Newton remained, however, distinct parishes.
About 1150 the archdeacon William occupied both churches in defiance of the priory's claims. Following an appeal to the Pope, Archbishop Theobald directed that William should retain them for life, paying a pension to the monks, who might appropriate the benefice on his death. (fn. 263) The appropriation was only gradually accomplished. A papal bull of 1191 again authorized it and the establishment of a vicarage, but c. 1214 the prior presented to Hauxton a clerk who merely paid it a pension. (fn. 264) The incumbent was styled a vicar at latest by 1245 when the bishop of Ely ordered that, besides retaining 2/3 of their demesne corn tithes, the priory as parson should have a 10-mark pension, the vicar whom it should name keeping the rest. (fn. 265) As a result, of the £10 income assessed in 1254, the priory had ten marks, the vicar only five. (fn. 266) The real value was over £14 c. 1275, (fn. 267) when the bishop finally, following a vicar's death, appropriated Hauxton to the priory's chamber, and set the vicar's income at 12 marks. (fn. 268) In 1291 the vicar had only 6½ marks out of the church's yield of 26½ marks. (fn. 269)
Besides the small tithes the vicar had a glebe reckoned in 1279 and 1650 as 28 a. of arable, (fn. 270) of which 14¼ a. lay c. 1800 in Newton, 8½ a. in Hauxton, and 4 a. in Harston. (fn. 271) An augmentation of £2 3s. paid by 1500 out of the Newton Bury farm (fn. 272) raised his income to £6 16s. by 1535. (fn. 273) He had £28 from Hauxton and £10–12 from Newton in 1650, (fn. 274) and c. £45 in the 18th century. (fn. 275) When Hauxton was inclosed he was allotted 3 a. there for glebe and 48½ a. for tithes. (fn. 276) About 1830 his income was £107, by 1836 £120, (fn. 277) to which was added in 1840 an augmentation of £40, half from the dean and chapter. (fn. 278) Since the 1780s the small tithes of Newton had usually been covered by a composition of £11: the vicar alleged in 1832 that the Hurrells, the only sheep owners, had lately failed to render any tithe of lambs or wool. (fn. 279) The Newton tithes were commuted in 1841 for a £50 rent charge, (fn. 280) and at the inclosure of 1854 the vicar was allotted 17 a. for his glebe there. (fn. 281) In 1870 he was also assigned the rectorial tithe rent charge, lately ceded by William Hurrell, of 487 a. in Newton, nominally worth £170. (fn. 282) His income of £270 in 1885 came mostly from Newton. (fn. 283) In 1930 the Newton glebe and rent charges were annexed to Little Shelford. The remaining endowments went to the vicars of Harston, including 46 a. of glebe in Hauxton of which 12 a. near the main road had been sold by 1970. (fn. 284)
In 1650 the vicar had a house in each parish. That at Hauxton stood in a 2-a. close by the rectory barn, near the middle of the street. It comprised a hall and a parlour and chamber above, and had only three hearths in the 1660s, when that at Newton, though small, had five. (fn. 285) The Hauxton house had fallen down by 1775. (fn. 286) The one at Newton, whose site just west of the church eventually passed to the Pembertons at inclosure, (fn. 287) had been described as a wretched, mud-walled cottage, and was let to labourers. (fn. 288) About 1830 therefore the minister lived elsewhere. (fn. 289) A new vicarage house was built in Hauxton c. 1853 on glebe just west of the main road. It was sold in 1932. (fn. 290)
One 14th-century vicar, John Cock, probably served from 1355 to 1397, (fn. 291) but the next two both resigned within three years. (fn. 292) Cock had earlier been chaplain at Newton, where other chaplains were recorded in 1378, 1406, and c. 1490. (fn. 293) One appointed by the prior of Ely in 1450 to serve the chapel there for ten years had his own house and 6 marks a year from the priory chamberlain. (fn. 294) About 1500 chaplains at Newton were paid £2 a year out of the Bury farm, (fn. 295) but in 1543 the vicar was paying a curate there, and any permanent chaplaincy lapsed after the 1560s. (fn. 296) The early 16th-century vicars, one a former Newton curate, who mostly served until their deaths, (fn. 297) in any case ministered at Newton as well as Hauxton. (fn. 298) A guild of St. Catherine recorded at Hauxton c. 1530 (fn. 299) was perhaps linked with the bridge chapel where her image was to be set up c. 1522. The hermitage there was called St. Catherine's in 1503. (fn. 300) The guild's land was sold in 1550, and 16 a. at Newton, given for obits, in 1553. (fn. 301) By the 1550s Newton had its own churchwardens. (fn. 302)
Robert Sharp, who succeeded as vicar a namesake deprived in 1573, like himself a fellow of King's College, held the living until 1625. (fn. 303) At first he tried to serve both churches in person. In 1579 he was accused of failing to catechize regularly, and not preaching or even reading the Homilies on Sundays, and in 1582 of not wearing his surplice at Easter. (fn. 304) By 1581 he had a curate at Newton. (fn. 305) Several Hauxton people were presented for absence from church in the 1590s. (fn. 306) The next vicar, a pluralist from 1633, (fn. 307) also employed a curate at Newton in 1638, when the vicar was reported for preaching too seldom. (fn. 308) Thomas Linsdell, presented in 1640, allegedly by the archdeacon of Ely, retained the living through all changes until 1675. (fn. 309) The next three vicars all resigned after a few years. (fn. 310) Zachary Brooke, vicar from 1702, was obliged by financial troubles to withdraw c. 1720 to Virginia, leaving a Cambridge fellow to serve the cure. (fn. 311) In 1742 the curate held one Sunday service at each church, preaching at one. (fn. 312) From 1747 to 1788 Hauxton was held by two sons of a precentor of Ely. The second, Francis Gunning, held it from 1759 with Thriplow, (fn. 313) where he lived, though serving Hauxton in person, in the 1770s and 1780s. He provided one Sunday service at each church and the sacrament thrice yearly. (fn. 314)
Gunning's successor, Thomas Finch (1788–1837), already also vicar of Barrington (fn. 315) where he resided, did the same until the 1820s. In 1807 he had 12 communicants. (fn. 316) George Williams, his curate from 1832, succeeded Finch as vicar (1837–90). At first Williams lived at Fowlmere, and held Sunday services for Hauxton and Newton on alternate mornings and afternoons at each. Although he diligently visited and gave out tracts, dissent was so strong that c. 1836 his only communicants were the squire, William Hurrell, and the parish clerk, and the dissenters hindered church rates being levied. (fn. 317) In 1851 the afternoon congregation at Hauxton numbered c. 40, and that at Newton c. 50, besides 22 and 36 Sunday-school children respectively. (fn. 318) From the 1850s to the 1880s the Newton landowners subscribed to pay a curate, sometimes shared with Harston, to perform an extra Sunday service at their church; another £20 given by the dean and chapter for that purpose went from the 1890s to the vicar instead. (fn. 319) By 1873 c. 100 people at Hauxton and c. 80 at Newton, almost all of the labouring class and comprising a third of the inhabitants, were regular churchgoers. At communions held almost monthly c. 18 attended in each village. In 1885 two services with sermons were held weekly at Newton, only one at Hauxton. (fn. 320) By 1897, when there were weekly communions at one or other church and c. 54 communicants, and a choir of 50, half the inhabitants at Hauxton and all those at Newton were professedly church people, but a quarter at each were practically indifferent to religion. (fn. 321)
The small church of ST. EDMUND, Hauxton, so named by 1498, (fn. 322) is basically 12th-century. It consists only of a chancel, nave, and west tower, and is built of field stones with clunch dressings. (fn. 323) Probably c. 1100 the monks of Ely had built a church with a round-ended apse, and a short nave reaching not far west of the present north and south doors. The south door has roll mouldings over colonnettes and chip-carving on its lintel, as has one of the small roundheaded windows, set in deep splays in the thick wall, which then alone lighted the church: there were one in each chancel side wall, and two each side of the nave. Inside the massive chancel arch has shafted jambs and, to the west, double roll mouldings. Perhaps c. 1200 the chancel received a straight east end, while the nave was extended westward by one bay, with thinner walling, re-using the Norman quoins at the new west end. The new section had a lancet each side. In the early 13th century recesses, perhaps to accommodate altars, were cut in the nave east wall: that to the north has an elaborately moulded arch, that to the south contains a well drawn contemporary painting of Archbishop Becket in his vestments, rediscovered in 1860. In the 14th century the chancel received a three-light east window and two square-headed windows, since renewed, in its south wall. Side chapels, then added at the east end of the nave, were later, perhaps c. 1500, removed, windows being inserted within the blocked arches once leading to the chapels. That on the south, and another window further west are 19thcentury, Perpendicular replacements. The battlemented three-storey west tower was added in the 15th century. (fn. 324)
There is a plain, octagonal, 13th-century font. The nave has a high-pitched roof, probably 15thcentury. The pulpit and blocks of seating with panelled ends in the nave also survive from that period. Money was bequeathed in 1546 for building a stair to the rood loft. (fn. 325) The screen, whose tracery was possibly altered in the 17th century, survived in 1742, but was removed in the 1860s, along with a Jacobean reading desk. (fn. 326)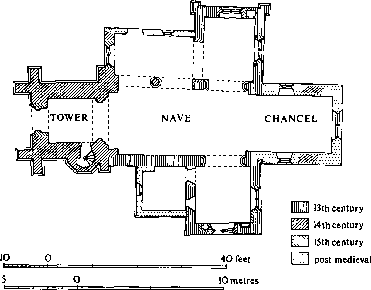 The chancel was said to be ruinous in 1567, (fn. 327) and in the late 17th century the church windows were darkened with thick growths of ivy. (fn. 328) The east window, decayed in 1783, (fn. 329) was soon after replaced with a square-headed sash window, itself in turn replaced, at the restoration, with a traceried triplet. (fn. 330) William Hurrell had the chancel restored c. 1860–1; the nave was restored between 1861 and 1865, some Norman windows being reopened, and a brick south porch and high pews removed. (fn. 331) In 1929 J. H. Stevens, a local farmer who had bought part of the former rectorial glebe, was briefly imprisoned by the bishop's court for refusing to repair the chancel roof. (fn. 332)
Hauxton church had two chalices c. 1300, as in 1552. The modern plate includes a possibly 16thcentury cup reset on a modern stem. The three bells recorded in 1552, (fn. 333) including a great one given by John Colyn c. 1500, (fn. 334) were cracked by 1665 and recast in 1666. (fn. 335) There were still three in the 20th century. (fn. 336) The registers are complete from 1560. (fn. 337)
The small, dark church at Newton was named from ST. JAMES c. 1500, (fn. 338) but by the 18th century from ST. MARGARET. (fn. 339) In 1522 money had been left to build a chapel to her, (fn. 340) and the hill between Hauxton and Newton is called formally St. Margaret's (colloquially Maggot's) Mount. (fn. 341) The church, built of plastered clunch, comprises a chancel, nave with transeptal chapels and north aisle, and west tower. The earliest part is probably the short nave, to which north and south chapels were added in the early 13th century. The northern chapel has the responds of a nook-shafted arch, perhaps for a reredos, in its east wall. In the south chapel is the fragment of a similar feature; 13th-century floral scrolls are painted in red above a piscine and around a lancet there. The chancel was probably rebuilt in the 14th century, as appears from remains of its largely renewed windows. A two-bay arcade, with chamfered arches on one octagonal pier, was then cut through the nave north wall to make a short, low aisle, and the north and south chapel received new north and south windows. The tower, which has a west window with reticulated tracery, all renewed, is probably late 14th-century in its two lower storeys. The third stage and west doorway were added in the 15th century, perhaps when the nave was heightened with a clerestory. In 1365 it was declared that, by a custom of over 80 years' standing, the duty of providing straw for the chapel at Newton fell on the Ely manor, not on the priory chamberlain, the nominal rector. (fn. 342) The square 13th-century font, upon five squat columns, has its corners decorated with volutes. An old pulpit survived in 1742. (fn. 343)
In the late 16th century the chancel was threatening to fall. (fn. 344) William Dowsing broke 22 'superstitious' windows in 1644. (fn. 345) Under Charles II the sides of the north porch, still standing in 1742, were open to grazing cattle, and the chancel roof, floor, and glazing were in poor condition. Anne (d. 1748), widow of the rectory lessee Robert Swan (d. 1727), restored the chancel, flooring it with marble and freestone, pewing and panelling it in oak, and providing a new screen; (fn. 346) the panelling partly survives. The interior was restored in the 1850s, the chancel being remodelled and receiving new glass c. 1855. The nave and transept roofs were entirely renewed c. 1901. (fn. 347)
There are several 18th-century tablets to the Swan family. The nave south wall is largely covered with white marble 19th-century monuments to the Pembertons, ranging from 1809 to 1892, which later overflowed above the north arcade. They are mostly simple, Neo-Classical ones, the two earliest, of 1809 and 1815, being by Rossi. Two of c. 1870 have allegorical female figures. An Art Nouveau plaque in beaten brass in the chancel to a vicar (d. 1900) was possibly made locally. Pemberton and Hurrell family vaults lie each side of the west tower, and a pavilion-like pillared Classical mausoleum of 1922 by Ambrose Poynter stands in the churchyard. (fn. 348)
Newton had one chalice c. 1308 and in 1552. The parishioners gave several good service books in the 14th century. (fn. 349) The plate includes a cup of 1640. (fn. 350) The three bells recorded in 1552 and 1742 and surviving in the 20th century (fn. 351) include one of the 15th century with a blackletter inscription to St. Catherine and one of c. 1550. The third was recast in 1603. (fn. 352) The registers begin in 1560. (fn. 353) About 1837 William Hurrell, then rectory lessee, occupied rent free 4 a. of church or town lands, spending more than their imputed rent on church repairs. Of 2 a. held by the churchwardens after 1854 for the same purpose part was sold in 1966. (fn. 354)
Nonconformity.
The Baptist Henry Denne was preaching at Hauxton in 1653. (fn. 355) A house was registered in 1700 for dissenting worship at Hauxton. There were three dissenting families, styled Presbyterians, there in 1728 and two at Newton. (fn. 356) In 1783 almost the whole population of Hauxton were dissenters. They had a meeting house, gone by 1807, and prevented the vicar handing out tracts to their children. (fn. 357) Houses were again being used for such worship in 1812 and 1828, (fn. 358) and the dissenters were still strong in the 1830s. (fn. 359) In 1851 a meeting house seating 40 or 50 and served by preachers from Great Shelford and Harston was shared by Baptists and Independents. (fn. 360) It had closed by 1873, but most of the farmers and tradesmen were still rigid dissenters in the 1880s, as were a quarter of the inhabitants in 1897. (fn. 361) At Newton there was no organized dissent in the 1780s, (fn. 362) but local men, including members of the prominent Faircloth family, registered houses for dissenting worship four times between 1799 and 1834. (fn. 363) Formal nonconformity there disappeared after 1850. (fn. 364)
Education.
A school was kept at Hauxton in the 1580s. (fn. 365) At Newton a schoolmistress was teaching the poor children to read in 1783. (fn. 366) Neither parish, however, had any regular schools in the early 19th century. (fn. 367) At Hauxton the new curate started c. 1832 a free Sunday school, at which he taught himself, for 20 boys and 4 girls. Newton also had then a Sunday school, possibly started in 1812, with 28 pupils, besides a paying day school. (fn. 368) By 1846 both parishes had small day schools, taught in improvised schoolrooms by dames whose salaries were mainly provided from subscriptions by the landowners and farmers, the pupils paying only 1d. a week. Attendance, however, was not large, at Hauxton c. 25, at Newton only 16: many parents preferred to send their children to National schools in neighbouring parishes. (fn. 369)
At Hauxton, where there were still only 25 pupils in 1861, (fn. 370) the vicar gave in 1869 a piece of glebe on which a small school and teacher's house were built in 1870. It had c. 40 pupils in 1871. A school board was established in 1876, to which the vicar let those buildings at a nominal rent for the board school opened in 1877. They could hold 74 children, including by 1900 30 infants. In the 1870s the teacher received the schoolpence besides her salary. (fn. 371) Attendance usually ranged until 1910 between 37 and 50, (fn. 372) rising from the 1910s to c. 60. After 1928, when the older children were sent to Harston, it fell to c. 20. (fn. 373) Adult evening classes were also held at the school from the 1870s to the 1890s, and the vicar used it after hours for his Sunday school. (fn. 374) A new primary school to hold 90 children, built by a lane south from the village, was opened in 1974, when it had 24 pupils. (fn. 375) The old school was sold in 1976 for a village hall. (fn. 376)
At Newton Christopher Pemberton (d. 1850) left £500 to establish a Church of England school and teacher's house. (fn. 377) His heir C. R. Pemberton spent £350 of it in building a modest school just west of the village crossroads in 1854. It held 57 children, and later after enlargement 23 infants. The remainder of the legacy yielded an endowment of £9 a year. (fn. 378) Pemberton managed the school himself, meeting part of the costs until his death, after which the Hurrells took on financial responsibility. As trustees from 1895 they and the vicar ran it as a voluntary school. (fn. 379) There had been c. 35 pupils in 1861, apparently taught by a butcher. (fn. 380) Later attendance fluctuated between 25 and 30 until 1900, (fn. 381) rising until 1914 to c. 40 and gradually falling to c. 20 by the 1930s. (fn. 382) From 1927 the older children went to Harston school, which the younger ones also attended after Newton school was closed in 1967. (fn. 383) About 1976 the building was sold for a private house. (fn. 384)
Charities for the Poor.
In 1783 1½ a. at Hauxton, possibly derived from 3 a. held in 1728 for church repairs, was let for £1 a year for the poor. (fn. 385) The 3 roods allotted at inclosure for those town lands, apparently the modern village green, (fn. 386) were later held for the general benefit of the village. (fn. 387) Part was sold in the 1920s, and stock bought yielding c. £5 a year, then sometimes given in coal, but from the 1960s seldom expended. Hauxton also received under Lettice Martin's bequest of 1562 13s. 4d. yearly c. 1780, £1 6s. by 1837, when it was used for cash doles, and later; in the 20th century the money was given at intervals to old people.
Newton had no charities before 1800, except for its share of Lettice Martin's charity, 6s. 8d. increased to 13s. 4d. by 1837. Christopher Pemberton (d. 1850) by will proved 1851 left £100, yielding £2 10s. a year for the poor. Charlotte Jane Hurrell by will proved 1891 left the income from £100 for the five oldest inhabitants on poor relief at Christmas. H. W. Hurrell by will proved 1927 left stock yielding £4 10s a year for the five oldest poor residents not on relief at Easter. Those four charities were merged under a Scheme of 1977, which gave preference to five old people. Their combined income, c. £10 10s. in the 1960s, £20 by the mid 1970s, was then usually given to ten old people in cash.