Pages 207-219
A History of the County of Cambridge and the Isle of Ely: Volume 8. Originally published by Victoria County History, London, 1982.
This free content was digitised by double rekeying. All rights reserved.
GREAT SHELFORD
The parish of Great Shelford, (fn. 1) c. 5 km. south of Cambridge, lies on the north bank of the river Cam or Granta. (fn. 2) It covered 2,258 a. until 1934 when 188 a. in the north of the parish were transferred to Cambridge, and thereafter 838 ha. (2,070 a.). (fn. 3) It lies mainly on the Lower Chalk, with isolated areas of Middle Chalk; there are alluvium and valley gravels along the river valley and the valley of a brook running north-west through the centre of the parish. (fn. 4) The parish is roughly rhomboidal in shape, the south-west boundary being formed by the river Cam, and the ancient north-east boundary following Wort's Causeway, possibly a pre-Roman trackway. (fn. 5) The other boundaries mostly follow field boundaries. Some areas were intercommonable with the neighbouring parishes of Trumpington, Hauxton, and Stapleford until inclosure. (fn. 6) The land slopes gently up from the river to nearly 23 metres in the centre of the parish, and then more steeply in its north and east, on the slopes of the Gog Magog Hills, rising to 45 m. on Whites and Clarkes Hills and c. 55 m. on the north-eastern boundary.
Hobson's brook, fed by springs near the northern edge of the parish known as Nine Wells and by a north-westward flowing brook rising in Great Shelford village, flows northwards to Cambridge, supplying Hobson's Conduit. From 1610 the land through which it flows belonged to the town and University of Cambridge to safeguard the supply. (fn. 7) The chalk springs at Nine Wells and c. 40 a. around them were scheduled as a site of scientific interest in 1951. (fn. 8) Land near the river Cam is liable to flooding, and the scouring of watercourses in the parish has been a recurrent problem. (fn. 9) The land along the river and that along Hobson's brook has since the Middle Ages been mostly meadow, the latter finally being built over in the early 20th century. (fn. 10) With land north of Nine Wells, known in the 15th century as Trumpington Moor, (fn. 11) they remained mostly common until inclosure in 1835 when the parish's complicated pattern of medieval open fields was finally broken up. (fn. 12) Most of the remaining land outside the village has been cultivated as arable. In 1900 c. 218 a. in the extreme north of Great Shelford and in Stapleford, on the Gog Magog Hills, was laid out as a golf course, with a club house in Great Shelford parish. (fn. 13) It was still used as such in 1980.
A number of important routes cross the parish. Wort's Causeway on the north-eastern boundary, part of the Cambridge-Colchester road, was rebuilt in 1709. (fn. 14) The Cambridge-Haverhill (Suff.) road runs south-east across the northern corner of the parish from Red Cross. As Babraham Way it was recorded from the mid 15th century; (fn. 15) it was turnpiked in 1765 and disturnpiked in 1876. (fn. 16) The Cambridge-Chesterford road, running from Trumpington through Great Shelford village to Sawston, was turnpiked in 1724 and disturnpiked in 1870; (fn. 17) and in 1729 the road running south-west from it to Shelford Bridge (fn. 18) was brought under the same trust. (fn. 19) In 1814 a tollgate was put across the latter road west of the church, and another across Mill Lane. (fn. 20) Two roads run north-east from the village to the Haverhill road: Hinton Way was recorded from the early 15th century (fn. 21) and Granham's Road, known in the 19th century as Hollow Willow Balk, was perhaps Hornings way recorded in the 14th and 18th centuries. (fn. 22)
The parish was also crossed by three railway lines. The Great Eastern's London (Liverpool Street) to Cambridge line, with a station at Great Shelford, east of the village, was opened in 1845. The RoystonShelford line, joining the Liverpool Street line north of the village, was opened in 1851, and the line from Haverhill, joining the Liverpool Street line in the south-east corner of the parish, was opened in 1865. (fn. 23) The Haverhill line was closed in 1967. (fn. 24)
In 1086 c. 38 tenants were recorded in Great Shelford, (fn. 25) and in 1279 over 90 tenants and c. 105 messuages. (fn. 26) In 1327 42 inhabitants were taxed, (fn. 27) and 70 in 1524. (fn. 28) There were c. 60 households in the parish in 1563 (fn. 29) and numbers rose thereafter. Seventy houses were recorded in 1666 and over 80 in 1672. (fn. 30) There were c. 200 adults in 1676 (fn. 31) and c. 80 families, 350 people, in 1728. (fn. 32) Numbers had risen sharply to 570 by 1801, and continued to rise rapidly to 803 by 1841 and over 1,000 by 1851. In the 1860s the parish was the second most densely populated in the county. The population remained fairly stable during the later 19th century, but by 1911 there were 1,466 inhabitants. Numbers rose steadily thereafter to 1,864 in 1931 and c. 3,700 by 1961. (fn. 33)
The earliest settlement in the parish was probably on the north bank of the river almost 2 km. west of the modern village, where remains of a complex settlement indicate occupation from the Neolithic Period until the 2nd century or later. (fn. 34) However the shallow ford through the river, which gave the Shelfords their name, has probably been in use since prehistoric times, and it was on the rising gravel east of that ford that the village of Great Shelford was established. (fn. 35) From a nucleus near the ford, including the church, the rectory, and the Ely manor house, the village grew eastwards towards higher ground and the CambridgeChesterford road, which originally bypassed it. By the mid 11th century there was a second settlement c. 1 km. to the north-east around Granhams manor house. The earthwork there was already known as Aldwerk in the early 13th century. (fn. 36) In the mid 11th century Church Street running north-east from the ford, Mill Lane running south from it and known in the 15th century as Tryggelane, and a track, probably on the course of the later High Street, running north to Granhams were presumably in existence. Throughout the Middle Ages the two settlements grew towards each other, as houses were built along the edge of the meadow, later called High and Ashen Greens, between them. Nevertheless they remained distinct into the 19th century. (fn. 37)
In the late 16th and 17th centuries many new houses were built in Great Shelford including Four Mile House, once the home of G. G. Coulton, Bridge House, the Grange, de Freville Farm, and some cottages on Church Street. There was still much open ground within the village in the 1630s, although some houses had encroached on the common. There were in all c. 70 houses, at Townsend or Charity Townsend near the river, around Ashen Green, and around High Green at Northend. (fn. 38) By 1672 there were 83 houses, 66 with only one or two hearths, and 9 with five hearths or more. (fn. 39) In the 18th century there was further building on the edges of High Green and within the village, (fn. 40) but c. 1800 there was still a distinct gap between the groups around High Green and Church Street. By then a few houses had been built on the later Woollards Lane, running east from the end of Church Street towards Stapleford. Tunwells Lane, south of High Green and part of the Chesterford road, was in use but not built along. (fn. 41) During the next thirty years the increase in population prompted the subdivision of some older houses, and the building of new ones, some on High Green itself. By 1835 there had also been some building on the west side of Tunwells Lane, and along High Street, (fn. 42) and there were c. 155 houses in the parish. (fn. 43)
Development was further accelerated by inclosure which broke up High and Ashen Greens and other common land, releasing more land for building. The opening of the railway line to Cambridge in 1845, making the village only a few minutes' journey from the city, attracted an influx of middle class families. Between 1851 and 1901 only c. 60 houses were added to the parish's total, but most of those were large houses (fn. 44) built either on the edge of the village on newly inclosed land such as Abberley House near Granhams, or on open land within the village such as the Elms, built in the 1850s between Tunwells Lane and High Street and later demolished. Some older houses, notably the Red House and the Grange, were enlarged. Throughout the later 19th century estates were increasingly sold already divided into building plots. (fn. 45) The middleclass development continued in the early 20th century: c. 1906 c. 6 large houses were built on Woodlands Road, south of Woollards Lane, but further expansion in that area proceeded slowly, (fn. 46) and other early 20th-century development was mostly of pairs or terraces of smaller houses, such as those on the north side of Woollards Lane, at the north end of High Street, and along Hinton Way and Cambridge Road.
By 1908 the village was already described as a suburb of Cambridge, with new houses being built every day. (fn. 47) In the 1920s and 1930s it continued to grow rapidly, with building along Cambridge Road, eventually forming a continuous ribbon, and along Hinton Way. Small cul-de-sacs filled the gaps between older houses. Growth continued after the Second World War, but was increasingly confined to small estates within and around the village. The sites or gardens of some 19th-century houses such as the Elms and Browning House have been built on, as has land north-west of Hinton Way and south-east of the station. Over 200 new houses were built between 1945 and 1963 and the demand for building land remained high. (fn. 48) In 1973 over half of the households in Great Shelford had been there for less than 10 years. (fn. 49)
Until the 19th century there were no houses in the fields. After inclosure a few farmhouses were built outside the village, (fn. 50) and some larger houses, such as Uplands and Nine Wells House, were built on the hills north-west of the village. There was also building in the northern corner of the parish near Red Cross, a name recorded from the early 16th century, (fn. 51) on land later transferred to Cambridge. Part of the south-eastwards development of the city, that building included the Strangeways Research Laboratory, built in 1912 as the Cambridge Research Hospital and renamed in 1928. The laboratory is devoted to research into rheumatoid arthritis and cell biology. (fn. 52)
An alehouse was recorded in Great Shelford in the 1630s. (fn. 53) Old Thatch, a 17th-century building west of the church, was an inn known as the George and Dragon in the 18th and early 19th centuries. It was last recorded as such in 1859. (fn. 54) In the early 20th century the building was used as a men's club. (fn. 55) The Black Swan east of the Grange was recorded as an inn from 1791 and until after 1937. (fn. 56) The Red Lion, recorded in 1835, stood on Cambridge Road north-west of de Freville Farm. (fn. 57) After the cutting of the Royston-Shelford railway in 1851 it was demolished and a new inn, the de Freville Arms, was built east of the road nearer the village. (fn. 58) It survived in 1980. The Compasses or Square and Compasses on the west side of High Street, recorded since 1847, (fn. 59) occupies a 17thcentury timber framed building encased in brick c. 1800. Soon after the opening of the railway station in 1845 Richard Headley built the Railway Tavern, still open in 1980, east of the station. (fn. 60)
Facilities in the village developed with the rising population throughout the 19th and 20th centuries. There were c. 12 tradesmen there for most of the later 19th century, and 19 shops by 1916. (fn. 61) One bank had opened a branch there by 1925, and by 1937 there were 3 banks, 3 hairdressers, a library, and at least 23 shops. (fn. 62) A hut built on the south side of Woollards Lane during the First World War served as a village hall until c. 1957. In 1958 a new hall, built as a war memorial, was opened on the same site. Land stretching south from the hall to the river forms one of the best equipped recreation grounds in the county. (fn. 63) By 1980 there was a branch library on Woollards Lane, and a newly opened health centre at Ashen Green.
Manors and other Estates.
The manor of GREAT SHELFORD, later called the BURY manor, was given to Ely abbey by the parents of Leofsige, abbot 1029–44, when he became a monk there c. 990, and was confirmed to the abbey by King Edward in the mid 11th century. (fn. 64) The abbey held 9 hides there in 1086. (fn. 65) On the creation of the see of Ely in 1109 the manor passed to the bishop, (fn. 66) whose successors held it until 1600, (fn. 67) when Bishop Heton alienated it to the Crown. (fn. 68) In 1609 it was sold to George Salter and John Williams of London. (fn. 69) They presumably resold it to John Goldwell, who by 1614 had sold it to Christopher Rogers (d. 1614). Under Rogers's will the manor, except for the manor house and c. 72 a. of land left to his son William, was to be sold to pay his debts and legacies. (fn. 70) It was bought in 1614 by Gonville and Caius College, Cambridge, (fn. 71) which held c. 330 a. in Great Shelford in 1708 (fn. 72) and was allotted over 400 a. there at inclosure in 1835. (fn. 73) In 1920 c. 380 a. were sold to the Cambridgeshire county council. (fn. 74)
A manor house, south-east of the church, was recorded on the Ely manor from the 14th century. In 1321 it had a hall, kitchen, and at least two chambers. (fn. 75) In 1356 much of the building was ruinous, but by the following year the hall had been rebuilt and two new chambers, one over the gate, were under construction. (fn. 76) The house was kept in repair throughout the later 14th and 15th centuries. (fn. 77) It was probably rebuilt in the 16th century. Having been reserved to William Rogers in 1614 the house was sold in 1632 with a small estate to Richard Foxton. (fn. 78) It was probably the house with 10 hearths occupied in the 1660s and 1670s by Robert Baron, (fn. 79) and later known as the Grange. In the mid 18th century, when it was surrounded by a small park, it belonged to a Captain Church. (fn. 80) From the early 19th century it belonged to the Grain family who in 1890 sold it to Mr. Carter Jonas of Cambridge. (fn. 81) The gabled east wing of the present house dates from the later 16th century, and it was extended in the 1890s and in the 20th century. Near the house stand a 17th-century granary and an 18th-century brewhouse. Remains of medieval fish ponds survive between the house and the river.
By 1086 Hardwin de Scalers had seized c. 2½ hides in Shelford from Ely abbey. (fn. 82) In the 12th century his grandson Stephen owed the abbey 126 qr. of grain a year as compensation for that land, (fn. 83) and Stephen's grandson William gave back to Ely c. 90 a. there instead of that payment. (fn. 84) The remaining Scalers land in the vill descended with their manor in Little Shelford to the Frevilles, and in 1279 several tenants held land in Great Shelford of Richard Freville. (fn. 85) In 1481 the Frevilles held c. 200 a. there of the bishop of Ely. (fn. 86) In 1554 Robert Freville sold his Great Shelford manor, later known as FREVILLES, to William Rogers. (fn. 87) William was succeeded by his son John (d. 1589) and John's son William (d. 1614). William's lands were left to the use of his three daughters, Hester, Agnes, and Susan. (fn. 88) By 1635 Frevilles probably belonged to Stephen Weslie. (fn. 89) In 1701 it was settled on William Freeman of Burwell, and in 1756 it belonged to a Mr. Freeman or a Mr. Cox of Peterborough. (fn. 90) By 1835 the manor belonged to Edward Humphrys Green who had probably inherited it from his father Edward (d. 1804). Green was allotted c. 295 a. at inclosure in 1835. He later took the additional name de Freville and in 1868 was succeeded by his cousin Edward Henry Green (later de Freville). (fn. 91) In 1900 the estate was broken up, c. 160 a. known as the de Freville farm being bought by Caius College. (fn. 92)
The farmhouse, north-west of High Green, is an early 16th-century H-shaped building with three front gables. It was altered in the 17th, 18th and 19th centuries, and restored in 1907.
The manor later known as VALENCE, MOYNES, GRENDONS, or GRANHAMS probably derived from the 3 hides held in 1086 by Peter de Valognes in chief. (fn. 93) A William le Moyne (Monachus) held land in Great Shelford in 1138 (fn. 94) and in 1198 another William le Moyne held 100 a. there, probably the former Valognes land, of the king by serjeanty of being a goldsmith. (fn. 95) The 3 hides that he held by that serjeanty c. 1212 (fn. 96) had descended by 1219 to Nicholas le Moyne, presumably his son (fl. 1222). (fn. 97) Nicholas was succeeded before 1235 by his son John, (fn. 98) sheriff of Cambridgeshire 1253–5, and John in 1275 by his son Tibbald. (fn. 99) By 1279 Tibbald had sold or granted the manor to Agnes de Valence. (fn. 100)
Despite claims that Tibbald had been insane when he conveyed the estate it was confirmed to Agnes by his nephew and heir John Bernham in 1287. (fn. 101) She was granted free warren in Great Shelford in 1309 (fn. 102) and on her death in 1310 was succeeded by her brother Aymer de Valence, earl of Pembroke (d. 1324). (fn. 103) His Shelford manor passed to his nephew John, Lord Hastings (fn. 104) (d. 1325). In 1334 it was in the King's hands during the minority of John's son Laurence, (fn. 105) who in 1343, when earl of Pembroke, granted it for life to John Grendon. (fn. 106) On Grendons death in 1359 Laurence's son John, earl of Pembroke, was a minor, (fn. 107) and custody of the manor was granted to Grendon's widow Matilda and son Laurence, who had both died by 1360. (fn. 108) In 1364 the manor was assigned as dower to Earl John's mother Agnes. (fn. 109) On her death in 1368 it reverted to John. He was succeeded in 1375 by his son John, the next earl, whose mother Anne held Grendons as dower until 1384. (fn. 110) On John's death in 1389 the manor was assigned as dower to his widow Philippa (d. 1400), who married Richard earl of Arundel. (fn. 111) On her death it passed to John's kinsman Reginald Grey, Lord Grey of Ruthin, who settled it on the bishop of London and other feoffees. (fn. 112)
Before 1462 Granhams had passed to Sir William Vaux; upon his attainder in 1461, Edward IV granted it to his esquire Ralph Hastings. (fn. 113) It was held under Hastings by Sir Richard Charlton (killed 1485), (fn. 114) but in 1485 was restored to the Vaux family, passing from Nicholas, Lord Vaux (d. 1523) to his son Thomas. (fn. 115) Thomas perhaps sold it to Sir John Hinde, a justice of the Common Pleas, who held Granhams at his death in 1550. (fn. 116) Hinde's son Francis sold the manor in 1563 to John Goldwell (fn. 117) whose son, also John, inherited it in 1595. (fn. 118) John and his son Thomas sold it to Valentine Carey, bishop of Exeter (d. 1626). Carey left the manor to his wife Dorothy with remainder to his nephew Ernest Carey, (fn. 119) who sold it in 1646 to Edward Ventris, lessee of the Bury manor. (fn. 120) By c. 1708 Granhams had been bought by Francis Duncombe who assigned it to his daughter Anne. She and her husband John Robinson sold it in 1714 to St. John's College, Cambridge, which also acquired a rent charge of £60 which had been reserved by Carey in 1646. (fn. 121) In 1835 St. John's was allotted c. 290 a. for Granhams. It retained the land in 1980. (fn. 122)
Granhams manor house stands north-west of High Green, on a moated site. (fn. 123) John le Moyne had a house in Great Shelford in 1269 and a manor house is recorded regularly from 1275. (fn. 124) In 1392, when many of the buildings were ruinous, there stood within the moat a hall and adjoining chamber, a kitchen, porter's room, chapel, and farm buildings. (fn. 125) The Goldwells seem to have lived there in the late 16th and 17th centuries. (fn. 126) In 1805 the house was said to be too small for the farm. (fn. 127) It was probably rebuilt after inclosure and was extended c. 1870 and 1890. (fn. 128) In 1968 the house was sold to J. S. Morrison. (fn. 129)
By 1138 William le Moyne had given the nuns of St. Radegund 2 yardlands and 6 a. in Shelford, (fn. 130) confirmed to them in the early 13th century by his successor Nicholas and in 1247 by Nicholas's son John. (fn. 131) When the priory was suppressed in 1496 its land was transferred to Jesus College, Cambridge, which held c. 63 a., later called Nun's Lands, in the parish in the early 16th century. (fn. 132) In 1834 the college claimed c. 50 a. for that estate, but at inclosure was allotted only c. 30 a. (fn. 133) which it retained in 1980 with the rectory estate. (fn. 134)
In 1506 the bishop of Ely had appropriated Great Shelford rectory to Jesus College. (fn. 135) In 1834 the college claimed c. 75 a. of rectorial glebe, and in 1835 was allotted c. 445 a. for that glebe and the great tithes. (fn. 136)
The rectory house, west of the church, included a hall, parlour, chapel, kitchen, gatehouse, and other rooms in the mid 16th century. The chapel and part of the house were probably demolished soon afterwards. (fn. 137) The house had 6 hearths in 1672. (fn. 138) In 1980 it retained two bays of a 14th-century hall, with part of its hammerbeam roof, and a cross wing; both hall and wing had been altered in the 17th and later centuries.
John le Moyne (d. 1275) c. 1250 founded the chantry of St. Stephen, later called Grendon's chapel, in Great Shelford church and endowed it with c. 30 a. (fn. 139) After the chantry's suppression the land was sold in 1553 to Sir John Butler and Thomas Chaworth. (fn. 140) It has not been traced later.
Economic History.
In 1086 the abbot of Ely held 9 hides and 24 a. in Great Shelford. Five demesne hides were cultivated with 3 ploughteams and there were 7 servi and meadow for 4 teams. The remaining land was cultivated by 20 villani and 8 bordars with 8 teams. (fn. 141) Half of Peter de Valognes's 3 hides was probably in demesne, worked with one ploughteam although there could have been two. Five villani and 6 bordars had 2 teams, and there was c. 15 a. of meadow, enough for 4 teams. (fn. 142)
In 1251 the Ely demesne included c. 400 a. of arable, 55 a. of several meadow, and 26 a. of pasture. (fn. 143) In 1279 it was said to have only 280 a. of arable, perhaps the amount sown each year, and 20 a. of meadow. (fn. 144) The demesne was farmed by Ely until the early 15th century (fn. 145) but from the 1320s increasingly large amounts of demesne, c. 38 a. in 1326 and 110 a. in 1395, were let out. (fn. 146) In 1275 Granhams demesne included c. 200 a. of arable and 20 a. of meadow. (fn. 147) The arable remained constant throughout the 14th century, but the amount of meadow fluctuated. (fn. 148)
The standard customary holdings on the Ely manor were half-yardlands of 18 a. and nineacre lands. In 1222 there were 14 standard half-yardlands whose tenants owed customary payments of 'londonlode', 'witepund', and winesilver, as well as ploughing services, 3 works a week between Christmas and Candlemas and at harvest, and 2 a week for the rest of the year. They also performed reaping services called loveboons and owed harvest boonworks, carrying services, and heriots. Nine other half-yardlands, including the miller's and the smith's, were held for combinations of rent and services. Eleven nineacremen owed similar but lesser services, and 7 others, including the swineherd and the fold warden (custos faldae), owed a combination of rent and services. There were also 11½ cotlands whose tenants owed 2 works a week and reaping services. (fn. 149) In 1251 the customary labour services totalled 4,626. (fn. 150) By 1356 the services due from half-yardlanders and nineacremen had been slightly reduced, but the cottars' were unchanged. (fn. 151) From the late 13th century a considerable, but variable, number of works were commuted each year. (fn. 152) The proportion of wage labour employed gradually increased throughout the 14th century, (fn. 153) and by the mid 15th century all the customary tenements were held for money rents. (fn. 154)
In 1279 six free tenants held between c. 100 a. and 1 a. of Granhams manor, and fourteen villeins held between c. 10 a. and ½ a. for combinations of money and labour services. Ten of them owed 95 works a year each. A further 17 tenements were held for money rents. (fn. 155) The services owed were similar in the late 14th century. (fn. 156) In 1279 Richard de Freville also had free and customary tenants in Great Shelford. Four of the former held c. 90 a. between them: four villeins, one of whom held 15 a. and the others c. 1 a., owed labour services, boonworks, and loveboons, and four cottars paid money rents. Another four tenants held small amounts of land from the church, mostly for money rents, but one owed 96 works a year, apparently commuted. (fn. 157) The two major manors dominated the parish's economy: in 1327 the lord of Granhams paid 14s. 8d. of its 78s. 2½d. contribution to the subsidy, and only 2 other inhabitants paid over 5s. (fn. 158)
Arable land in Great Shelford, lying north-west and north-east of the village, was at an early date divided between a number of open fields, and although they were in 1392 described as the North, South, East, and West fields, (fn. 159) c. 12 named subdivisions are recorded before that date, including Heathfield, Millfield, Aldework, and Dunefield. (fn. 160) There was much meadowland, including Rod meadow within West field, first recorded in 1219, (fn. 161) Estophill, probably the later Hophams on the river, Fen meadow, Russeholm, and meadow within Aldework, Manmeadow, and Wrongholm. (fn. 162) There was also a common moor, later Back Moor, on the northern boundary, pastured in common with Trumpington. (fn. 163) In 1356 there was c. 100 a. of common heath, (fn. 164) presumably in the north-east of the parish on the Gog Magog Hills.
The arable was cultivated on a three-course rotation. (fn. 165) Much of the meadow was held in common when the surrounding fields were fallow, and at other times in severalty by the Ely manor. (fn. 166) Barley, dredge, wheat, and maslin were the major crops in the 14th century, when rye, pease, vetch, and oats were also grown. Much malted barley and wheat was sent from Great Shelford to other Ely manors. By the late 14th century barley was by far the most important crop, usually accounting for over three-quarters of the arable sown on the Ely demesne. (fn. 167)
In 1086 there were c. 240 sheep, 80 pigs, 15 cattle, and 24 goats recorded on the Ely and Valognes demesnes. (fn. 168) Sheep remained important in the parochial economy: Ely tenants had to keep their sheep in the lord's fold and the manor employed a shepherd. The demesne flock numbered c. 500 in 1251, and cattle and pigs were also kept throughout the 13th and 14th centuries. (fn. 169) The frequency of regulations and presentations in the manorial court concerned with the pasturing of livestock suggests that from the mid 15th century there was a shortage of grassland in the parish. (fn. 170)
From the later 16th century all the manorial demesnes and the rectory were let out, and there were a number of substantial copyhold estates, so that the land was divided between several large farms. (fn. 171) In 1640 John Fuller, who farmed at least 200 a., was taxed on 40s. worth of lands and 12 other inhabitants paid on 20s.–40s. worth. (fn. 172) Edward Ventris, lord of Granhams, in 1646 also leased the Bury manor and other lands amounting to 720 a., much of which he sublet. (fn. 173) From the 18th century the Tunwell, Grain, and Maris families were prominent. (fn. 174) In 1756 John Faircloth farmed the Bury demesne, 273 a., William Butler farmed Granhams, 270 a., John Maris and Widow Tunwell together farmed Frevilles, 272 a., Thomas Banks farmed c. 140 a., and there were eight further estates between 50 a. and 100 a. (fn. 175) John Corney (d. 1791), lessee of the Bury manor, also held the Grange and other lands amounting to well over 500 a., (fn. 176) much of which was acquired by Peter Grain (d. 1818) who also farmed the Bury and Granhams. (fn. 177)
By the later 16th century the open fields had been further subdivided. In 1578 besides Heath and West fields Beanshill, White, and Foulden fields were recorded. Arable east of the village, intercommonable with Stapleford, was known as the Mingle lands. (fn. 178) By the 1630s West field had also been subdivided (fn. 179) and the complex field pattern resembled that of the early 19th century, (fn. 180) but was still subject to a three-course rotation. (fn. 181) The area of inclosed pasture around the village probably increased during the 16th and 17th centuries. (fn. 182) By 1657 there were c. 200 a. of inclosed and common pasture besides the meadows. (fn. 183) By 1754 the Bury estate had c. 30 a. of inclosed arable, (fn. 184) and in 1756 there was c. 65 a. of inclosed arable in the parish, 40 a. of inclosed pasture, 62 a. of inclosed meadow, and c. 143 a. of common meadow. The latter, being near the river and subject to frequent flooding, was of little value. (fn. 185) By the later 18th century the inclosed land covered the same area as that recorded in the 1830s (fn. 186) and some exchanges of land may already have created larger holdings in the open fields. (fn. 187) There was by 1800 c. 375 a. of wet heathland along the stream through the middle of the parish, feeding cattle and sheep. (fn. 188)
Saffron was grown from the early 16th century; (fn. 189) in 1756 c. 70 a. were sown in the open fields, a third being re-sown each year. It was no longer grown by 1814. (fn. 190) Through the 16th, 17th, and 18th centuries barley, wheat, and rye continued to be the major crops, and oats, pulses, tares, and bullymong were also grown. (fn. 191) In 1756 c. 500 a. of openfield arable were sown with wheat and rye, 500 a. with barley and pease, and 500 a. were fallow. Wheat, barley, and oats were sown on the inclosed arable. (fn. 192)
Sheep remained important and each manorial estate had right of sheep walk, Granhams for 350 or 400, the Bury for 400 or 480, and Frevilles for 100. The town flock of c. 100, composed of the smaller flocks of c. 16 farmers, which fed with the Bury flock, brought the total to c. 1,000 in 1756. (fn. 193) Cattle were also kept. John Fuller had a herd of 20 milk cows in the 1630s and Granhams had 24 c. 1716. Many tenants had right of common for cattle which fed with the parish herd. (fn. 194) That herd in 1756 included c. 120 cows and 90 calves. (fn. 195)
Rights of common (fn. 196) over the whole parish were regulated by the Bury manor court. The inhabitants of c. 44 houses with common rights claimed unlimited rights of cow common over High Green, Bailies, and the Back Moor, at certain times over Crow Land and the May pastures, part of Rod Meadow, the balks, and the fallow, and over the common meadows after haymaking. Hopham common provided pasture for horses, and cows and horses had some rights of common over Hollick meadow. The sheepowners, the three manors and Peter Grain, had right of common for sheep over all open, common, and meadow lands, except those sown with wheat, rye, or turnips, over Hollick meadow from December to March, over the Sheep Common and Cabbage Moor, and over the fallow and balks after the cattle.
In the early 19th century the number of common rights prevented any extensive growing of turnips or other improvements. (fn. 197) By 1814 all the neighbouring parishes had been inclosed, (fn. 198) but an Inclosure Act for Great Shelford was not obtained until 1834. The award, (fn. 199) enrolled in 1835, settled the boundary with Hauxton in Hollick meadow and allotted land in place of common rights. It dealt with c. 1,925 a. of open and common land and facilitated exchanges of some of the c. 245 a. of old inclosures. Of the land allotted c. 300 a. was copyhold of the Bury manor, 6 a. of Frevilles, and 3½ a. of Granhams. The largest allotment was to Jesus College and its lessee Henry Headley whose rectory estate totalled c. 445 a. and who received c. 90 a. of his own. The college's other lessee Thomas Stacey received c. 30 a. for Nuns Land and c. 55 a. of his own. The largest farmer was Peter Grain who had 83 a. of open and c. 70 a. of inclosed land, and leased St. John's College's 293 a. and most of Caius College's 396 a. E. H. Green received c. 290 a. for Frevilles, and Susan Headley was allotted c. 73 a. A further 12 people received over 10 a., and c. 40 had less than 10 a.
The major allotments adjoined their farmsteads, although Frevilles also had c. 100 a. west of the Hinton road. Peter Grain's closes lay south and east of the Grange, and he had an allotment on the Red Cross road. Caius College's land lay in the north of the parish where they built a new homestead in 1836. (fn. 200) Farmhouses were also built on Susan Headley's land, later Jones' Farm, (fn. 201) and on White Hill, on land allotted to Henry Headley and several smaller owners. The latter was farmed with Nuns Land by the Hurrell family until the 1930s. (fn. 202) Henry Hurrell also farmed Rectory farm until the 1880s. (fn. 203) Caius College farm was let to Peter Grain's son, also Peter, in 1873. (fn. 204) Some of that land was incorporated in a golf course c. 1900; the rest was sold to the county council in 1920 for smallholdings. (fn. 205) Grain's personal estate was broken up on his death c. 1890. (fn. 206) Granhams farm was occupied c. 1847–80 by Henry Grain, (fn. 207) and later by Arthur Gee who also farmed other land in the parish. (fn. 208) Henry Grain also farmed the Hinton road portion of the Freville estate in 1852; (fn. 209) the remaining 175 a. was farmed by William and Henry Maris. (fn. 210)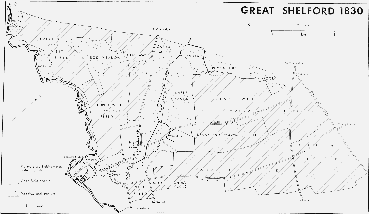 After inclosure the arable was cultivated on a four-course rotation. Wheat and barley remained the main crops; oats, turnips, beans and peas, vetches, and clover were also grown. (fn. 211) Turnips and roots were grown for sheep fodder in the 1880s when some arable was being turned over to grass on Granhams farm. (fn. 212) In 1905 however there were only c. 230 a. of grass in the parish and 1,220 a. of arable. (fn. 213) By the 1920s more land was devoted to oats, and potatoes, sugar beet, and mustard had been introduced, but in 1977 wheat and barley were still by far the largest crops. (fn. 214) Over 1,000 sheep were still kept in the parish in 1885, and over 600 in 1955, but only c. 250 by 1977. (fn. 215) The riverside meadows, although still liable to flooding, continued to support dairy and beef cattle: there were c. 150 in the parish in 1885 and c. 270 in 1955, but only 175 in 1977. (fn. 216) There was a poultry farm there in the 1920s and 1930s, (fn. 217) and large numbers of poultry were kept in the 1950s and 1970s. (fn. 218)
Between 1905 and 1925 the acreage of orchards in Great Shelford more than doubled, to c. 33 a. devoted to apples, plums, and pears, but it declined thereafter. (fn. 219) A market garden was recorded in 1883. (fn. 220) Red Cross Nurseries were recorded from 1904, and other nurseries at Shelford Bottom from the 1920s. (fn. 221) Davey Brothers' Nurseries north-east of Cambridge Road occur from 1916: in 1964 they produced tomatoes, plants, and flowers for local and wholesale markets. (fn. 222) By 1980 there was a garden centre on that site.
In 1086 the abbot of Ely had two mills in Shelford. (fn. 223) The Ely manor had a water mill in 1251, (fn. 224) presumably on the site of later mills, c. 300 m. south of the church. It was let out throughout the Middle Ages. Repairs were a frequent charge on the Ely estate, as in 1367 when the mill was partly rebuilt. (fn. 225) From the 1390s there was a corn and a fulling mill. (fn. 226) They were bought with Bury manor in 1614 by Caius College which later bought a fee farm rent previously due from them to the crown, probably the source of their name, the King's Mills. (fn. 227) They were extensively repaired in 1634, (fn. 228) and were enlarged from the 1780s. In 1785 they were able to grind c. 300–400 loads of wheat each week. (fn. 229) By 1799 one was a flour and one an oil mill. The wooden corn mill, part of which survived in 1980, had been repaired and improved; a new brick miller's house, which also survived, was built c. 1812, and by 1828 a new brick oil mill had been built south of the corn mill. There were also extensive outbuildings, including stores, stables, carpenters' and wheelwrights' shops, and cottages. (fn. 230) Josiah Living and Sons, millers in 1847 and 1873, had a large flour-milling business, relying on the railway to transport their produce. From 1869 the mills were worked by steam and water, (fn. 231) and they were modernized and partly rebuilt c. 1890. (fn. 232) The Livings were followed by Alexander Pearce, miller until the 1930s. (fn. 233) The mills were disused by 1960, when part was converted to a private house. A steam flour mill, north of the station, run by F. F. Chaston from c. 1879, was taken over by Sanders Bros. in 1929, (fn. 234) and by McDougalls Ltd. in 1952. After several mergers it has belonged to Rank Hovis Ltd. since 1962. In 1980 65 people were employed there in the production of flour and in wholesale food distribution. (fn. 235)
In the later 14th century a carter seems to have plied between Great Shelford and London. (fn. 236) A shopkeeper was recorded there in the 1520s. (fn. 237) Weavers occur in the mid 16th and mid 17th centuries and c. 1790; (fn. 238) there was a tanner there in 1658, (fn. 239) and a number of cordwainers in the later 18th century. (fn. 240) Otherwise the population was almost entirely occupied in agriculture until the mid 19th century and even later most occupations were linked to agriculture. From the 1840s to c. 1900 Great Shelford had a number of maltsters and corn merchants, notably the Clark and Maris families. (fn. 241) Soon after the opening of the railway Richard Headley built a large brewery, malting, and coal store next to the station. By 1896 it was occupied by the Shelford Corn and Coal Company, which remained there in 1980, still dealing in corn and corn products, fertilizers, and solid fuel. (fn. 242) To the south, on land belonging to Peter Grain, stood a factory built in the 1850s and sold in 1879 to English Fibre Industries, which used it to make hemp and flax fibre and rope. It was resold in 1900. (fn. 243)
In the later 19th century coprolites were dug in the western corner of the parish, near the Hauxton boundary. (fn. 244) In 1888 E. C. Colchester built a brick kiln c. 500 m. east of Hauxton mill to burn clay from the coprolite pits, and by 1890 he had established a cement works there, also producing some bricks. The business had failed by 1905 and the buildings, including a factory, stores, and cottages, were later used as a farmstead. (fn. 245) There were also lime pits and kilns in the east of the parish, bought by Caius College from A. Jones in 1875. They were worked by H. & A. Swann Ltd. The college kept them when it sold its other land in 1920. (fn. 246)
In the 1940s Leslie Wheeler founded the Shelford Engineering Company; it was continued by his sons, Messrs. A. and B. Wheeler, making golf trolleys and equipment. A subsidiary firm, Shelford Mouldings Ltd., was established to provide the tyres. The company, on Orchard Road, expanded in the early 1970s and in 1975, when it had over 100 employees, was taken over by the Acushnet Company of Massachusetts. (fn. 247)
In the 1970s local industry provided work for nearly 30 per cent of Great Shelford's population, the remainder commuting to Cambridge or elsewhere. (fn. 248)
Local Government.
In 1275 the bishop of Ely claimed return of writs, vee de naam, gallows, and the assize of bread and of ale on his Great Shelford manor, and in 1279 he had view of frankpledge there. (fn. 249) Courts are recorded from the early 14th century when they were held five or six times a year. (fn. 250) Court rolls survive for 1426–70, 1486– 1500, and 1547–57 with some gaps, (fn. 251) and for 1574– 1679, (fn. 252) and 1693–1719. (fn. 253) In the 15th and early 16th centuries courts were held two or three times a year. They appointed aletasters, rent collectors, a reeve, and a messor. The court dealt with cases of assault, debt, trespass, and breaches of the assizes besides the maintenance of roads, paths, and watercourses. It also made and enforced agricultural regulations, and dealt with tenurial matters. In the mid 16th century the lord claimed the right to take felons' goods. From the mid 16th century to the mid 17th a constable was also elected. The court continued to deal with breaches of the peace and heard cases of slander. Its 15th-century functions continued, and it regulated tolls taken by the miller. From the mid 17th century it met only every one or two years. The leet business declined sharply, and apart from the enforcement of some agricultural regulations it was mostly occupied with tenurial matters.
In 1275 John le Moyne claimed the assize of bread and of ale and right of gallows on his manor, and in 1279 Agnes de Valence had view of frankpledge there. (fn. 254) Courts were recorded in 1275, 1332, and 1392. (fn. 255) Court rolls and books survive from 1725 to 1880. By the 18th century the court was concerned solely with tenurial matters; it met infrequently at intervals of up to 10 or 12 years. Later courts were concerned with the enfranchisement of copyholds. (fn. 256)
The parish has long held the building opposite the church, known in the 16th and 17th centuries both as the Guildhall, to serve as which it was probably built in the 16th century, and as the Smith house, and later as the Town Malting. (fn. 257) In the mid 17th century it was held by trustees for the maintenance of the parish's poor. (fn. 258) The trustees also held c. 13 a. of land. In the 1780s and 1790s the Malting was used as a parish workhouse, but by 1827 it was divided into three tenements. In 1836 one was let out and the other two, and converted outhouses, provided dwellings for paupers. The 13 a., east of the Cambridge road, was let in one-rood allotments to the poor. The income was distributed with the parish charities, and the town estate was later regarded as a charity. (fn. 259) The early 17thcentury building near the church, divided by 1974 into 5 cottages, (fn. 260) survived in 1980. From the 1630s or earlier the parish owned a house known as the College, also used for paupers. It still stood in 1835 near the east side of High Green, (fn. 261) but has not been traced later.
In the 18th century the income from parochial charities was often used to supplement the poor rate. (fn. 262) Expenditure on the poor rose sharply from c. £145 in 1776 to over £400 by 1803 when 27 adults and 10 children received permanent relief as well as 15 old or infirm people. (fn. 263) With some fluctuations it continued to rise, more sharply than the average for the hundred, reaching £650 in 1821 and c. £980 in 1834. (fn. 264)
In 1834 Great Shelford joined the Chesterton poor law union, (fn. 265) passing in 1894 to Chesterton rural district, and in 1934 to the South Cambridgeshire R.D. Since 1974 it has been part of the South Cambridgeshire district. (fn. 266)
Church.
Architectural evidence attests the existence of a church at Great Shelford in the 12th century. In 1251 the bishop of Ely was patron of the rectory. (fn. 267) In 1506 the rectory was appropriated to Jesus College, Cambridge, the advowson of the vicarage being retained by the bishop, who still collated to the living in the 1970s. (fn. 268)
The rectory was valued at 25½ marks in the early 13th century, rising to 36 marks in 1254 and 40 in 1291. (fn. 269) The income was derived from tithes and c. 32 a. of glebe given by the bishop of Ely before 1279. (fn. 270) After the appropriation of the rectory there was no vicarial glebe. In 1534 the vicarage was worth £13 6s. 8d., the stipend paid by Jesus College which was the vicar's only income until the mid 18th century. (fn. 271) It was augmented by four grants of £200 from Queen Anne's Bounty between 1753 and 1811, and one of £1,400 in 1816. (fn. 272) By 1830 the living was worth c. £100. (fn. 273) In 1880 the Ecclesiastical Commissioners assigned £100 a year from Newton rectory to Great Shelford vicarage, (fn. 274) and in 1897 its gross income was c. £170. (fn. 275)
The vicarage house, standing immediately east of the churchyard, was rebuilt c. 1539. (fn. 276) It had three hearths in the mid 17th century (fn. 277) and was in good repair in 1775, but not by 1783. (fn. 278) In the early 19th century it was repaired by a sequestrator, but by 1835 was said to be too small, and unfit for residence. (fn. 279) A large new brick house was built on the same site in 1850. (fn. 280) By 1922 it was occupied as a private house and the vicar lived temporarily at Red House, immediately to its east. By 1929 he had moved to a new vicarage, (fn. 281) a neo-Georgian building east of Red House; it was still the vicarage in 1980.
At inclosure in 1835 the vicar was allotted c. 1½ a. west of the Cambridge road for common rights. (fn. 282) In 1894 it was exchanged for land adjoining the school, but retained the name Church Allotments. (fn. 283)
In the mid 13th century John le Moyne founded a chantry in Great Shelford church, known as St. Stephen's or Grendons chapel. (fn. 284) It was endowed with land and a pension of 20s. a year from Granhams manor, (fn. 285) whose lords remained its patrons. (fn. 286) In 1534 it was worth 33s. 4d. a year. (fn. 287) After its suppression the last chaplain Robert Dullingham, perhaps a canon of Anglesey, received a pension of 25s. in the 1550s. (fn. 288) In the early 16th century many parishioners made bequests to guilds of Our Lady and of St. Anne. (fn. 289)
In 1244 the rector, Oliver Sutton, was licensed to hold an additional cure. He later became bishop of Lincoln. (fn. 290) Richard Otteringham, rector c. 1294– 1323, acted as official of the diocese and administrator of spiritualities during vacancies of the see of Ely. (fn. 291) Thomas Eyton, rector c. 1340–80, was in 1340 licensed to lease the church for two years while he studied. (fn. 292) In 1378 there were three clerks in the parish as well as the rector and chantry priest. (fn. 293) William Dounebrigge, rector 1380–92, was also a baron of the Exchequer, and was licensed for non-residence. (fn. 294) Thomas Patesley, rector c. 1396– 1418, was responsible for rebuilding the church. (fn. 295) In 1464 the bishop collated his nephew, Alexander Woodrington. (fn. 296) John Rocliffe, rector c. 1464–93, was a wealthy man who became involved in disputes with the lord of Little Shelford. (fn. 297) After the appropriation of the rectory, however, the living ceased to attract eminent incumbents.
Ralph Shawe, vicar from 1527 and probably curate from c. 1521, was a White friar. (fn. 298) Robert Holland, vicar 1551–69, was unable to preach, (fn. 299) and John Walters, vicar 1580–1624, was accused of simony. In 1605 he was said not to say prayers every Sunday, nor to catechize, and he preached without a licence. (fn. 300) In 1615, when charged with similar lapses, he was described as 'crazy' and very old; he then lived mostly at Cambridge. (fn. 301) During his long incumbency several parishioners were accused of failing to attend church or to receive communion. (fn. 302) Walters's successor George Welborne had formerly served at Little Shelford. (fn. 303) From the 18th century the vicarage was several times sequestrated, presumably because of its low value, the sequestrator usually being licensed to serve the cure. (fn. 304) A Mr. Hurst, vicar in the late 18th century, served Great and Little Shelford through a curate, himself living at Boxworth. (fn. 305) The sequestrator in the early 19th century served the cure himself, but by 1807 had moved to Steeple Bumpstead (Essex). His curate held one Sunday service and quarterly sacraments for c. 12 communicants. The churchwardens complained in that year of the frequency with which the curates changed. (fn. 306)
Henry Finch, sequestrator c. 1812–49, also held Little Shelford, where he lived. His curate held alternate morning and afternoon Sunday services in 1825, and there were c. 20 communicants. In 1836, although he had also acquired Longstanton, Finch served the cure himself. (fn. 307) In 1851 c. 200 people attended the morning and 350 the afternoon Sunday services, and c. 120 attended a Wednesday evening service. (fn. 308) A. T. Crisford, vicar 1852–85, by 1873 was holding three Sunday services with sermons, and monthly communions. He also assisted at the day school, and promoted evening and Sunday schools. (fn. 309) By 1897 there were weekly communions, and four Sunday services, as well as two on week days and at other festivals; the parish then had a bible class, a women's guild, and a parochial library. (fn. 310) F. W. Jeeves, curate from 1913, served as vicar for 26 years from 1919. (fn. 311)
The church of ST. MARY, so called in 1519, (fn. 312) consists of a chancel with north vestry and south organ chamber, an aisled and clerestoried nave with a south porch, and a west tower. Several carved and moulded pieces of ashlar in the walls of the chancel and south aisle are evidence of a 12thcentury church. A 13th-century piscina in the south aisle and a 14th-century niche, partly obscured by the east respond of the south arcade, are probably in situ. Those features as well as the different widths and bay lengths of the aisles suggest that parts of the walls were re-used when the church was largely rebuilt by Thomas Patesley, rector 1396–1418. Part of his memorial brass survives south of the altar. (fn. 313) His work appears to have included the chancel and its north vestry, the nave arcade of five bays, the clerestory and nave roof with alternate hammer- and tiebeams, the south porch and a west tower with stone spire. (fn. 314) The rood stair was added later in the 15th century. From the later 16th century the fabric, particularly that of the tower and vestry, seems to have been neglected. (fn. 315) The vestry eventually collapsed c. 1700, and in 1703 the spire was blown down. (fn. 316) The top of the tower was repaired with an octagonal crown work. (fn. 317) Cracks lower down the tower were, however, neglected and gradually widened. In 1798 a storm brought down the south-west angle and almost half of the 80-ft. tower. (fn. 318)
By 1808 (fn. 319) the tower had been rebuilt with the old materials. In the course of rebuilding the nave was shortened by one bay. The new tower had an octagonal upper stage, topped by a small spire. By 1843 the church needed further attention: the 15thcentury east window had been replaced by a square wooden one, other chancel windows had been blocked, and the fire engine and other equipment were being kept in the church. (fn. 320) Restoration, under the direction of R. R. Rowe, was mostly completed by 1868. The chancel was reroofed and a new east window, new floors, and seats were put in; in cleaning the walls a medieval Doom painting, probably contemporary with the chancel arch, was found above it. (fn. 321) New choir stalls were put in c. 1890, and in 1912 the chapel at the east end of the north aisle was restored, and a new vestry and organ chamber were built onto the chancel. (fn. 322) The carved stone reredos was put in as a war memorial after the First World War, and the roofs were extensively repaired c. 1931. (fn. 323) In 1972 the Doom painting was restored. (fn. 324)
In 1644 William Dowsing ordered the removal of many pictures from the church, perhaps including the paintings of St. Mary and St. Anne recorded in the chancel in the 1520s. (fn. 325) In the north wall of the chancel are the remains of a large elaborate monument to John Redman. That monument and one to the Goldwell family, fragments of which are set in the south wall, with several early brasses recorded in the mid 18th century, were probably damaged or removed in 1798. (fn. 326) There survived in 1980 an early 15th-century rood screen, elaborately carved on the east side, and the rood-stair turret. The chapel in the north aisle is enclosed by a light early 15th-century parclose screen. The pulpit dates from 1636.
In 1961 the church plate included a chalice and paten of 1568. (fn. 327) Of the five bells two were recast in the late 19th century; the others date from c. 1590, 1614, and c. 1670. (fn. 328) The parish registers date from 1557. (fn. 329)
Nonconformity.
A few recusants were reported in Great Shelford in the late 16th century, (fn. 330) but there were neither catholic nor protestant dissenters in the parish in 1676 (fn. 331) despite preaching there by the Baptist Henry Denne in the 1650s. His influence was apparently counteracted by the vicar and local landowners. (fn. 332) By 1727, however, there were c. 50 Independents with their own meeting house. (fn. 333) Their numbers seem to have declined in the later 18th century and there was no meeting house in 1807. (fn. 334)
J. Nutter of King's Mill c. 1812 built a small Baptist meeting house on Church Street, near the bridge. (fn. 335) Its congregation gradually increased and in 1851 between 100 and 150 people attended each of the three Sunday services. (fn. 336) The building was then in poor repair and in 1856 a new brick chapel, seating c. 470, was built on the east side of High Street, on land given by R. W. Maris. A new manse was built next to it in 1896. (fn. 337) The chapel had 103 members in 1876 and c. 150 in the 1920s. (fn. 338) Schoolrooms were added in 1912, and a new hall in 1973. (fn. 339) The chapel remained in use in 1980.
Education.
No school was recorded in Great Shelford before the early 19th century when a charity school was established to teach poor girls to work. (fn. 340) By 1818 there were also a girls' and a boys' day school and two mixed schools, teaching c. 50 children from Great and Little Shelford. There was also a Sunday school. (fn. 341) By 1833 as well as a Baptist Sunday school for over 100 children there were five day schools teaching c. 80 children, paid for by parents, and a boys' and a girls' day school supported by subscription. (fn. 342) The latter seem to have been run jointly by the established and Baptist churches. (fn. 343)
In 1843 a church school was built, for 75 children, north-west of the church, with grants from the government, the National Society, and the Cambridge Board of Education. (fn. 344) Serving both Great and Little Shelford it was attended by c. 170 children in 1846 and c. 130 in 1861. (fn. 345) New buildings were added, for girls in 1872, for boys in 1886, and for infants in 1893; thereafter it could accommodate up to c. 400 children. (fn. 346) Attendance increased from 129 in 1883 to 199 in 1902. (fn. 347) From 1906 it has been known as Great and Little Shelford Church of England school. Seniors were transferred to Sawston village college in 1930. (fn. 348) Numbers rose after 1945 with the rising population to c. 300 in the 1960s. (fn. 349)
A British school was built c. 1845, near the junction of High and Church Streets and Woollards Lane. (fn. 350) In 1870 a new, larger school, with accommodation for c. 194, was built opposite the old one south of that junction. It was attended by 84 children from Great and Little Shelford in 1879. Attendance rose to 96 in 1884, and then fell gradually to 44 in 1905. (fn. 351) The school was closed in 1906 and the pupils transferred to the church school. (fn. 352) In 1914 the building was used as a meeting room. It was sold in 1921 and by 1956 was used as a garage, (fn. 353) as it was in 1980. The proceeds of the sale were devoted under a Charity Commission Scheme of 1953 to the promotion of non-denominational education in Great and Little Shelford and Stapleford. (fn. 354)
In the later 19th and earlier 20th centuries there were also several private schools in Great Shelford. (fn. 355)
Charities for the Poor. (fn. 356)
Great Shelford was one of the parishes to benefit under Lettice Martin's charity. (fn. 357) The income has since the late 18th century, as probably earlier, been distributed with other parish charities. (fn. 358)
The town lands and several houses belonging to the parish came in the 19th century to be regarded as a charity estate. (fn. 359) The income, £37 8s. in 1863, was distributed with other charities.
John More, by will proved 1705, left houses and land in Great Shelford, the income to be used amongst the poorest inhabitants. The land was sold for building in 1931. (fn. 360) The income, £28 by 1863, was distributed with other charities.
In the early 18th century income from the charities was used to supplement the poor rate. (fn. 361) By the 1780s it was given to the poor in cash, (fn. 362) and by the 1830s in coals (fn. 363) in proportion to the size of families: poor parishioners living elsewhere received cash doles instead. In the 1860s Martin's charity was distributed in cash and the others in fuel. Under a Scheme of 1890 the joint income, then c. £80, was devoted to general charitable purposes, (fn. 364) as it was under a new Scheme in 1973.